Serve these quiche side dishes up for a tasty hearty breakfast, or a simple and elegant brunch with family or friends! From sweet to savory, these fantastic brunch side dish recipes all taste amazing served up with a delicious slice of quiche.
From pancakes to potatoes, crepes to chai lattes – serve any combination of these delicious dishes with quiche.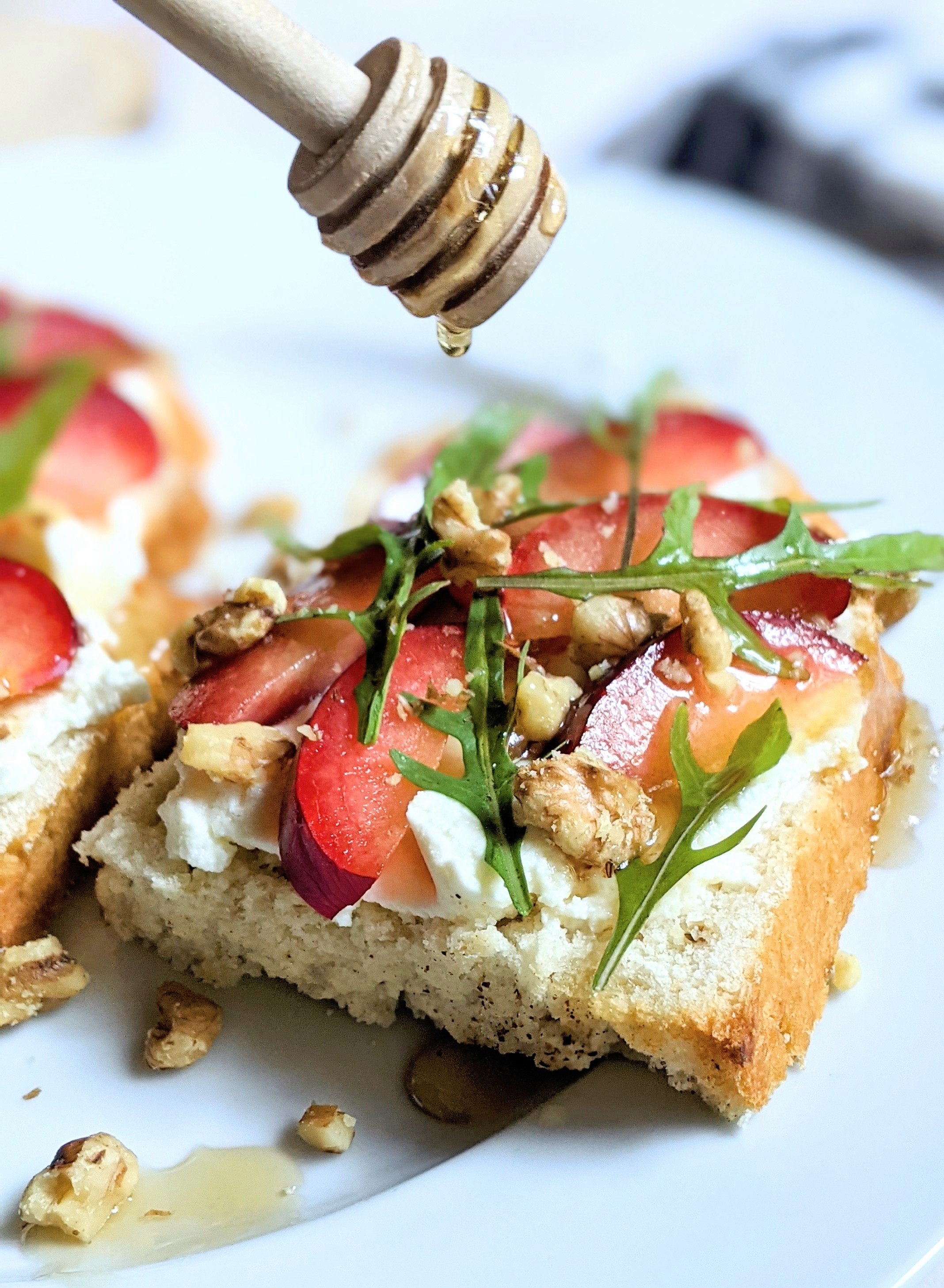 This arugula plum toast recipe is the perfect quiche side dish when you want something a bit decadent but also want it in 5 minutes. This beautiful toast takes advantage of fresh sliced plums, sweet and in season, loaded on creamy and sweet ricotta. Drizzle some honey on top, add a sprinkle of sea salt, and breakfast is served.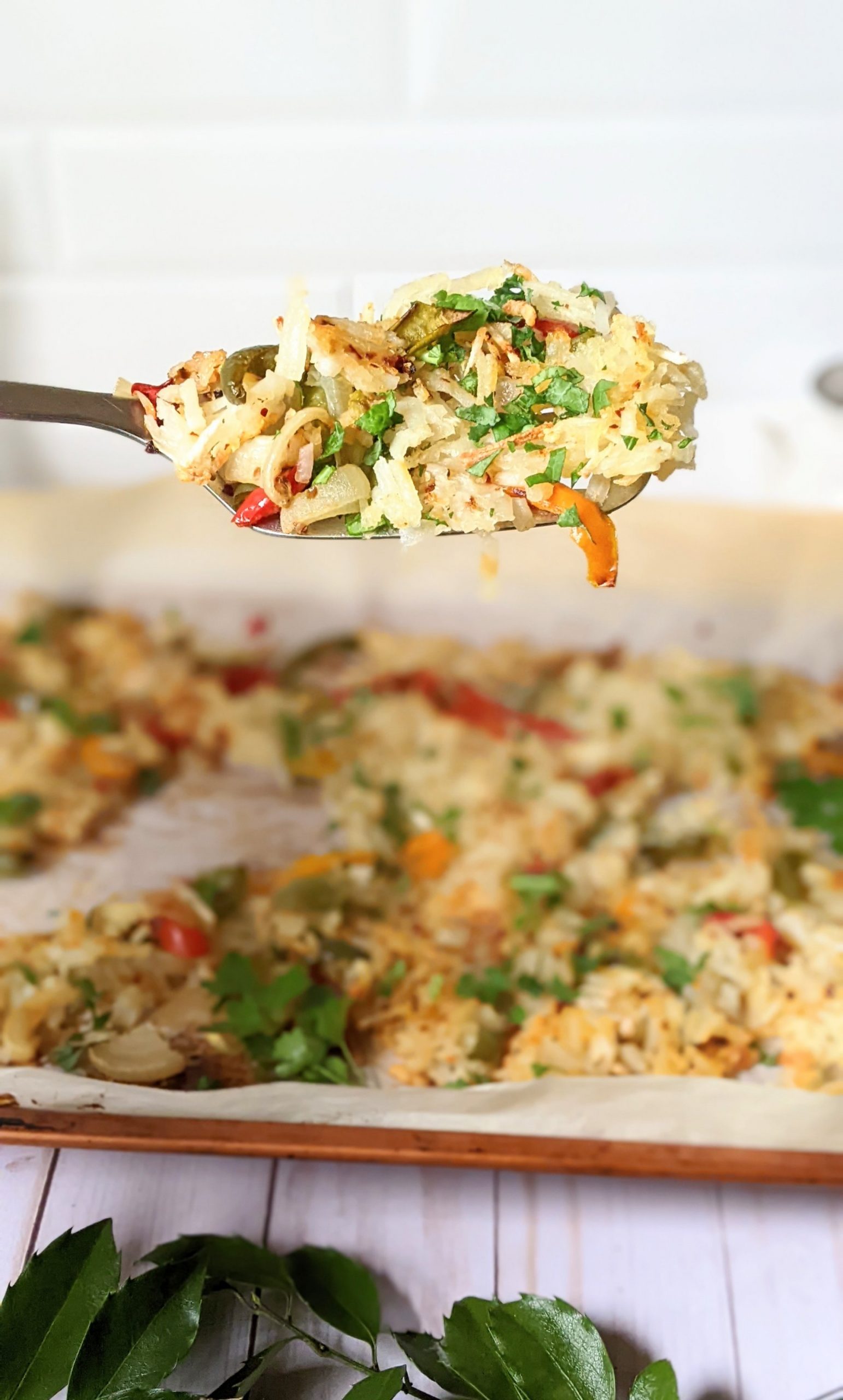 These sheet pan hash browns are a quick and delicious breakfast or side for quiche: made with baked shredded potatoes, onion, garlic, pepper, & spices. These baked hash browns are a simple one-pan recipe that can cook at the same time as the quiche.
Baked hash browns are a fantastic vegetarian and gluten free weekend brunch option! Great served up with plant-based scrambled eggs, toast with avocado or hummus, and a tall glass of your favorite smoothie.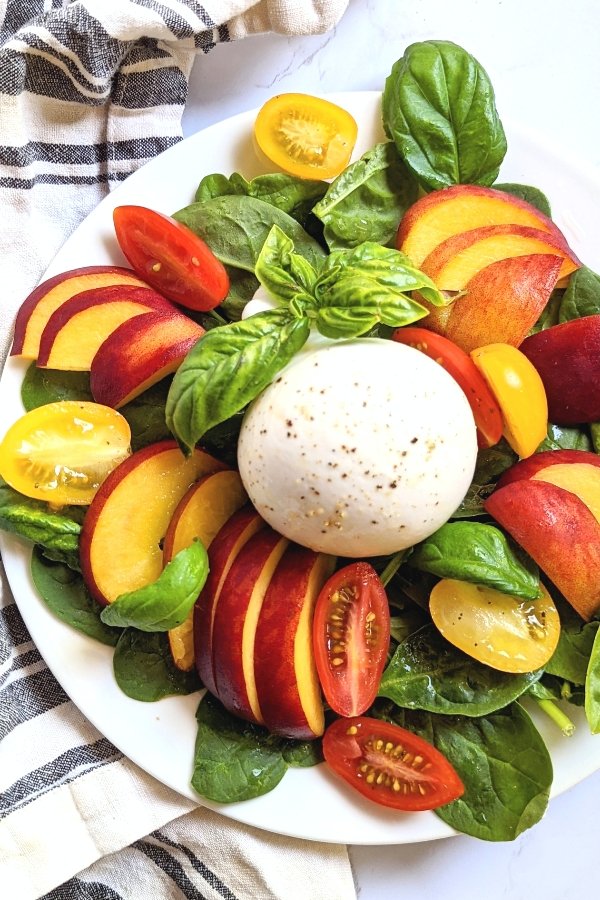 If you like fresh mozzarella cheese, then you'll love burrata! It's firm enough to hold it's shape like a mozzarella, but filled with creamy fresh cheese in the middle. Creamy enough to spread! I love serving this salad with peaches or nectarines which have a sweet delicious finish – a fantastic brunch side dish for quiche or any high protein main course.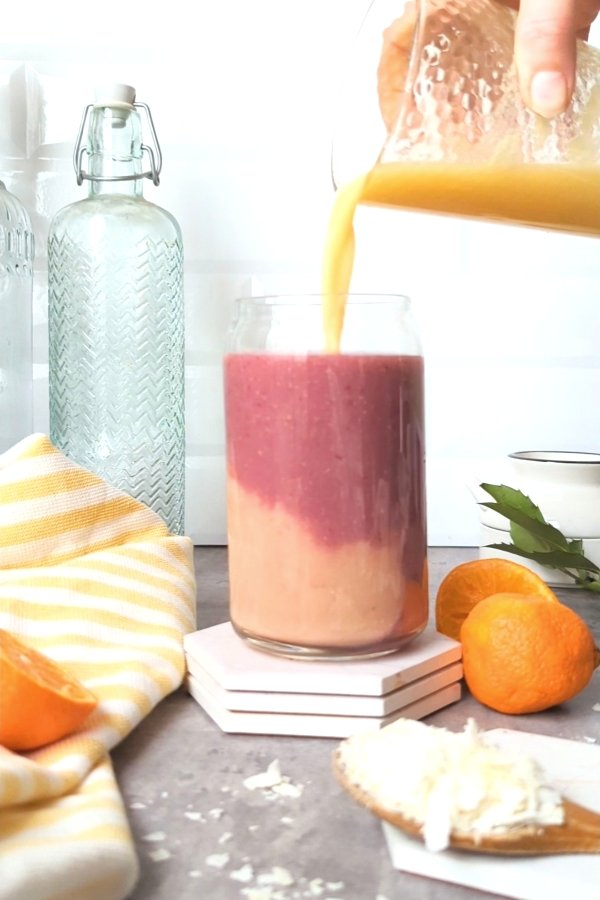 A fun brunch drink everyone can enjoy. This smoothie is a fun take on a classic cocktail: the Bahama mama! A Bahama mama is typically made with orange juice, pineapple juice, coconut rum, and grenadine. We've given this cocktail a healthy twist by blending fresh fruit and unsweetened coconut flakes.
I added some vanilla protein powder to make this a heartier smoothie as well. This smoothie feels like a vacation in a glass, and is loaded with good-for-you fruits, is high in fiber, and loaded with plant-based protein.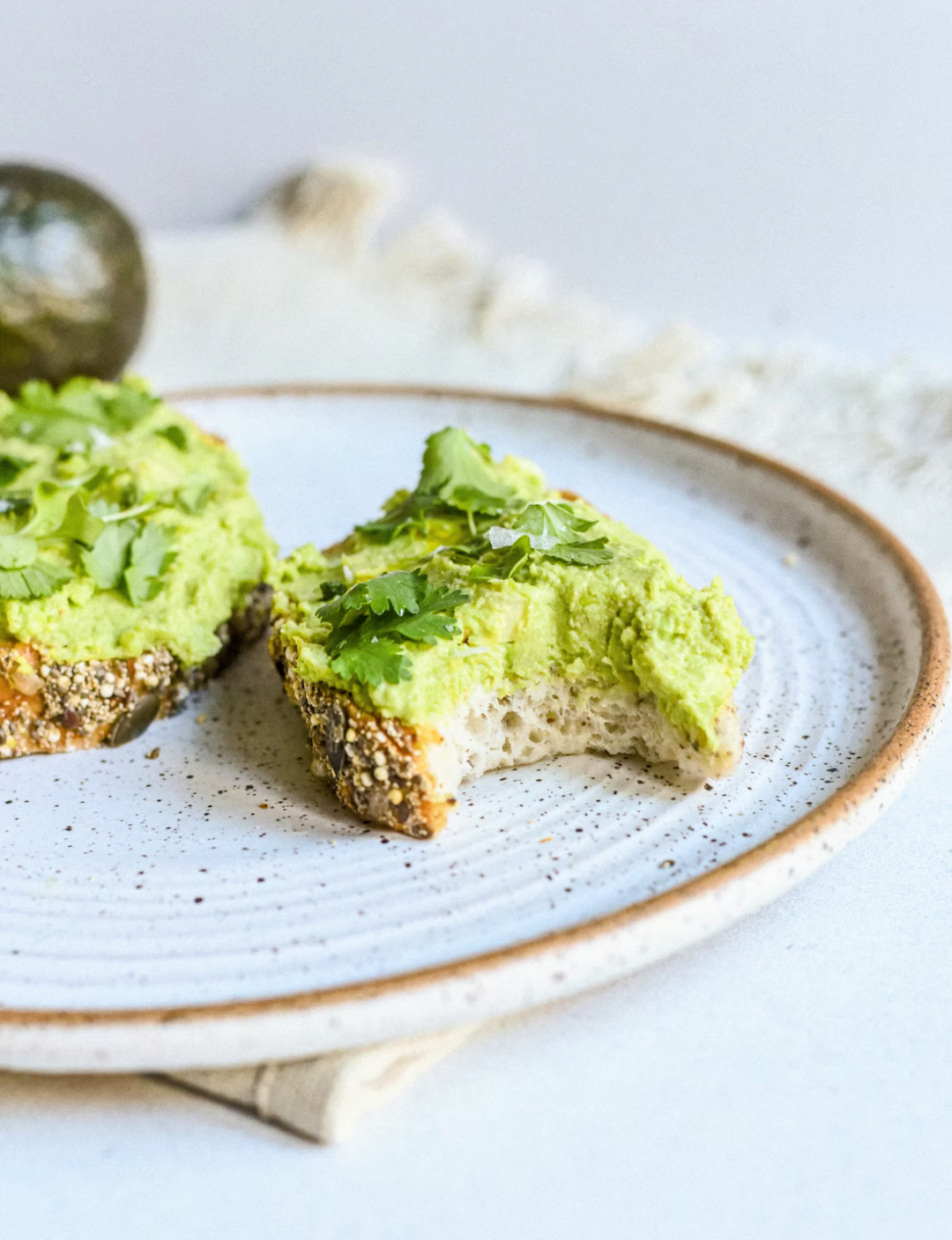 I love the balance of flavor in this toast: it's a little spicy, a little sweet, creamy, and crunchy. You can add your favorite toppings too: sprouts, greens, fresh herbs, or just fresh cracked black pepper for flavor.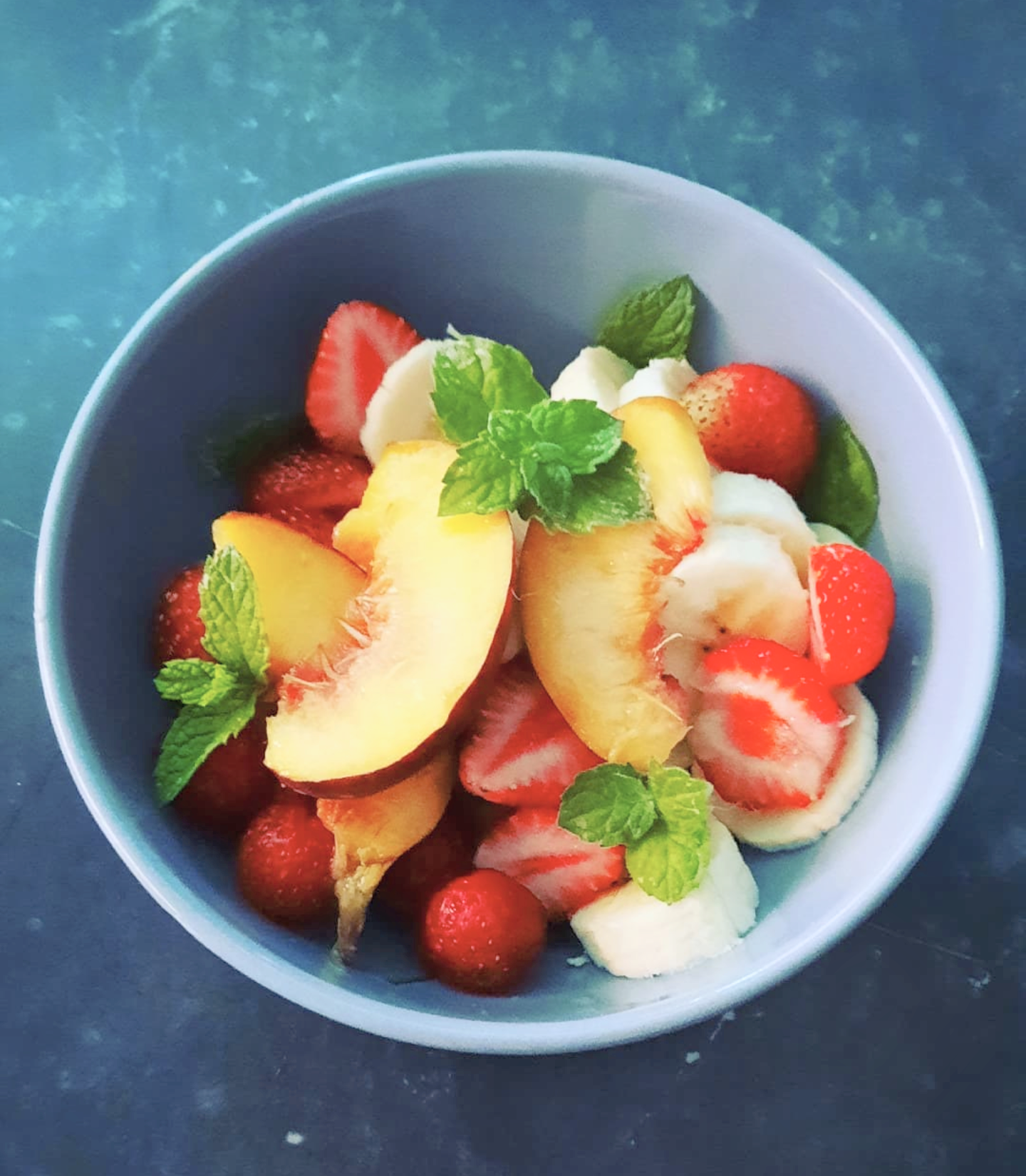 One of our favorite (and healthiest!) quiche side dishes. This peach fruit salad with mint is like eating a big bowl of summer! I love making a big bowls of fruit salad on the weekends or during the week because its a great snack anytime. It's perfect to put in a jar and take on-the-go for a quick breakfast. Its super easy to make for a big crowd, or meal prep.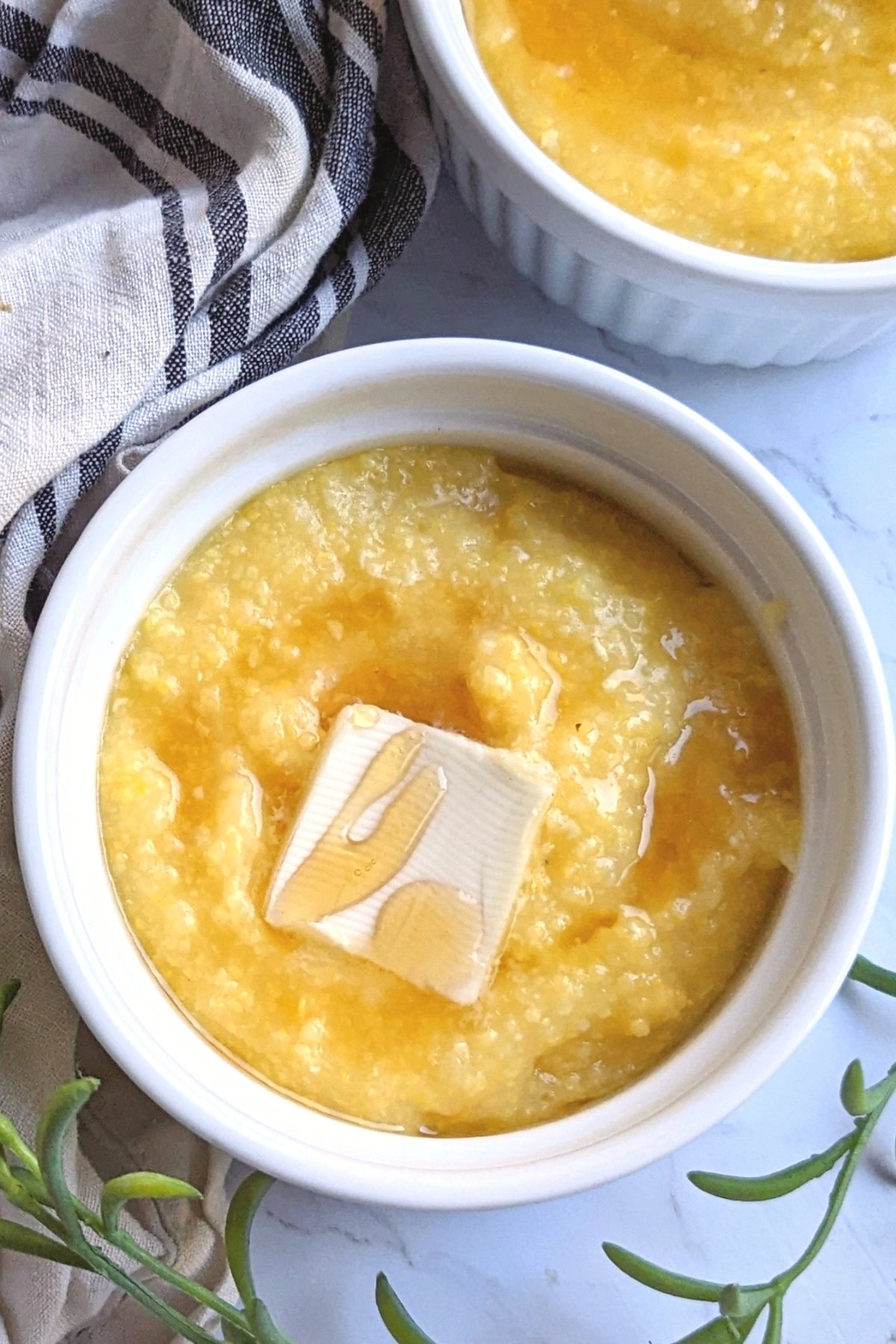 Grits are a great sweet or savory breakfast recipe, and a wonderful swap if you want to switch up your daily oatmeal or smoothie. You can add cheese if you like, but my favorite grits toppings are a simple pad of butter and honey.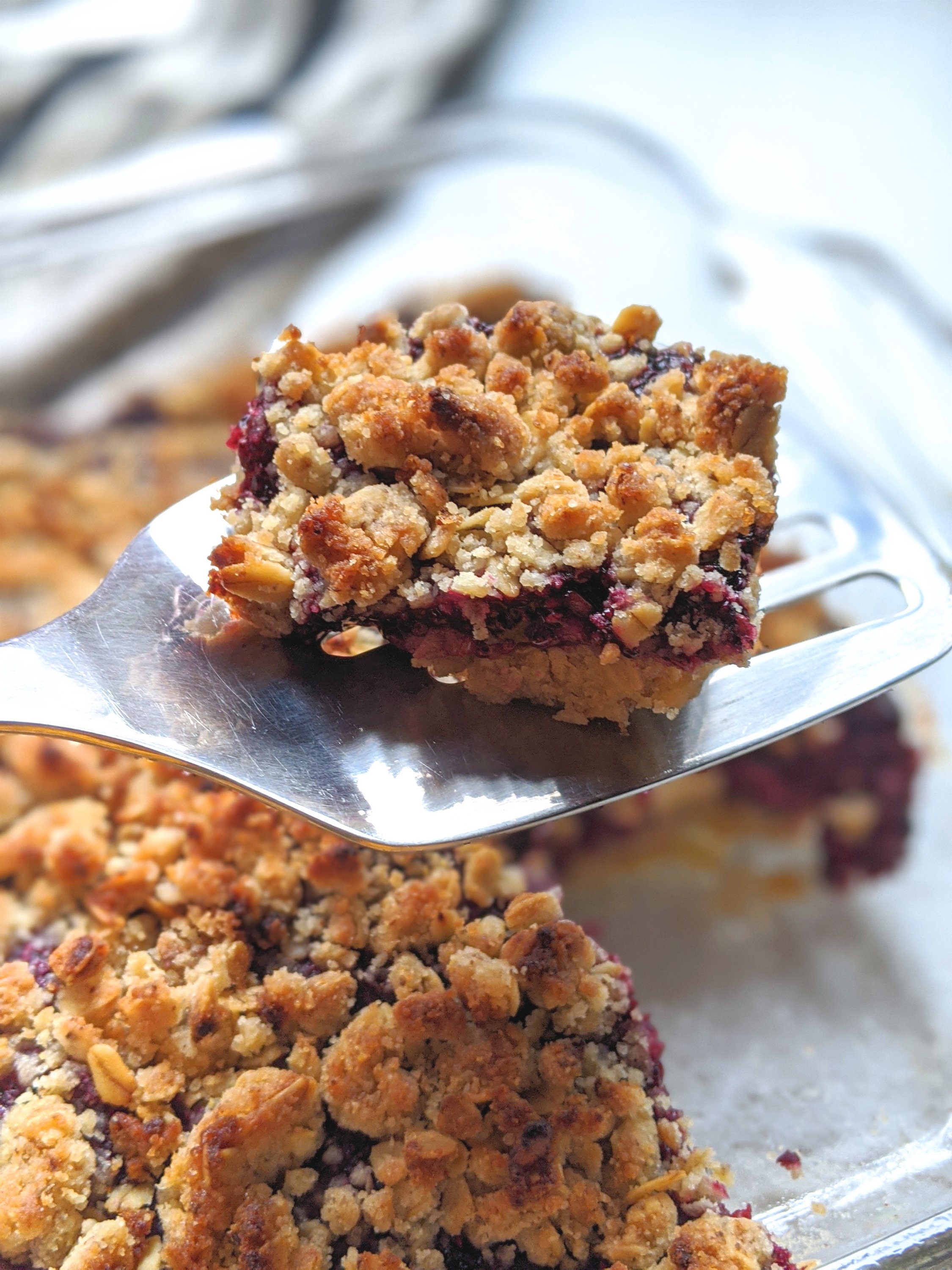 A simple and delicious quiche side dish – and one brunch recipe you can make ahead! One great thing about these oat bars, is that they can be made ahead of time and you can freeze any leftovers. I love an easy make-ahead recipe, and these are perfect for a little breakfast meal prep.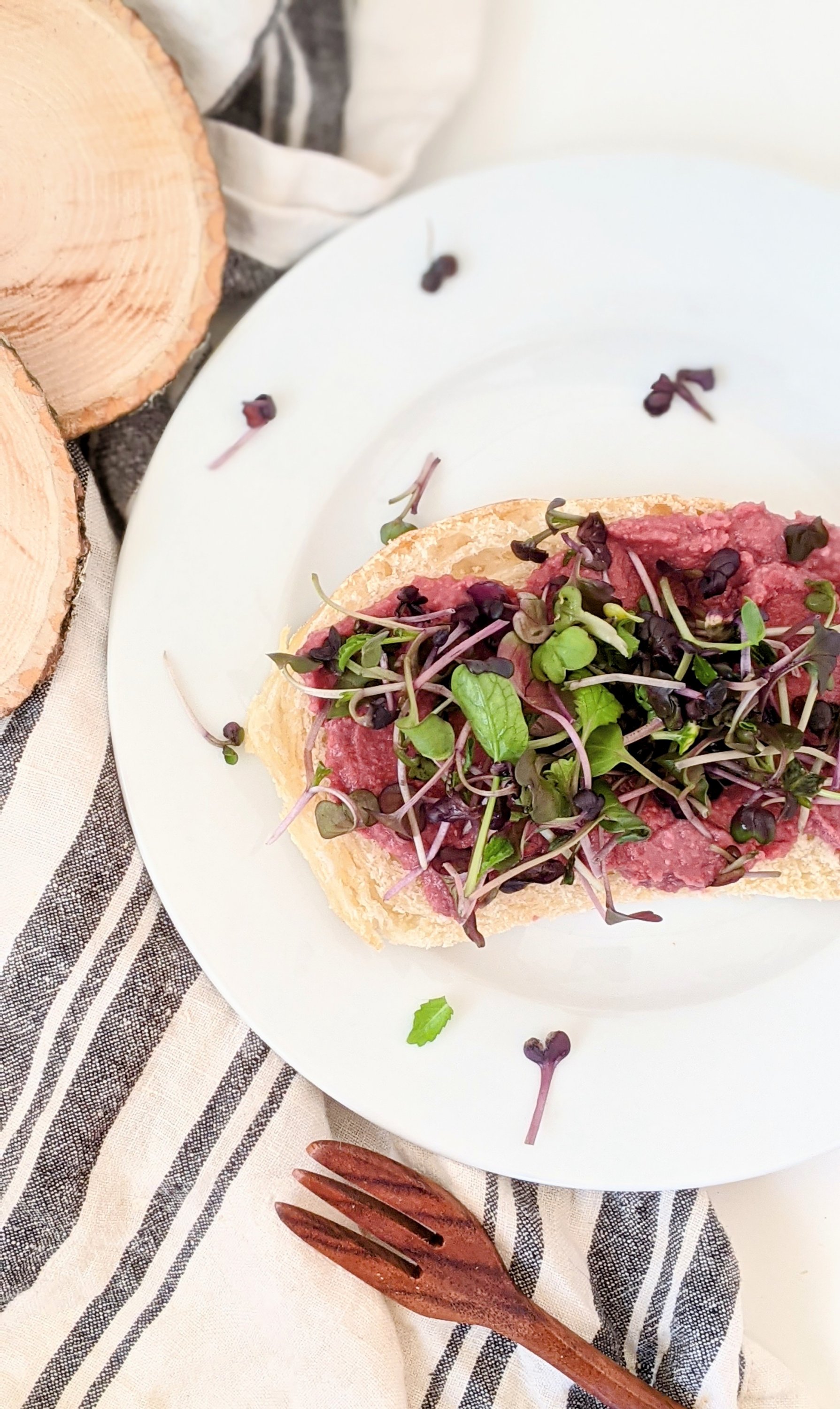 I absolutely love bright and healthy light quiche side dishes like this beet toast tartine! A tartine is a French open face sandwich, meant to be eaten with one hand. I made a huge batch of beet spread the other day, and absolutely loved adding a scoop on toast with some homegrown microgreens.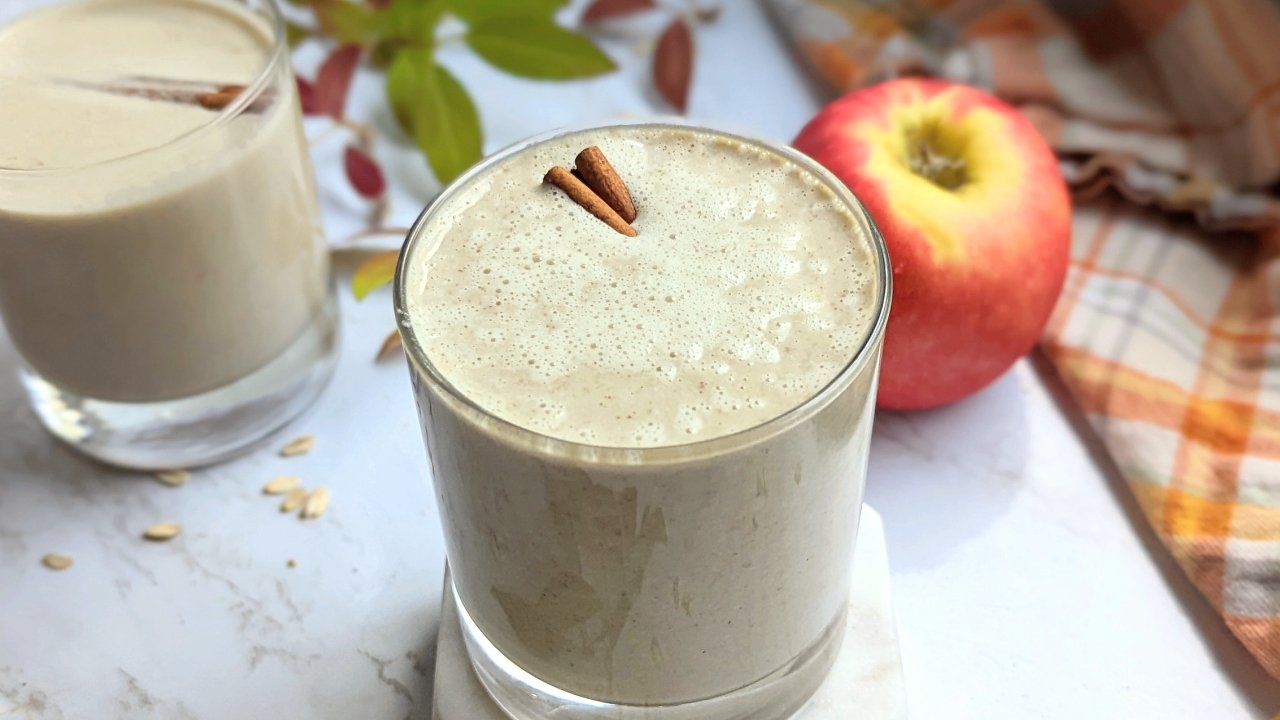 This smoothie has many ingredients that are in traditional apple pie: apples, oats, walnuts, and vanilla. It's like a healthy glass of apple pie, a totally delicious and healthy way to start the day.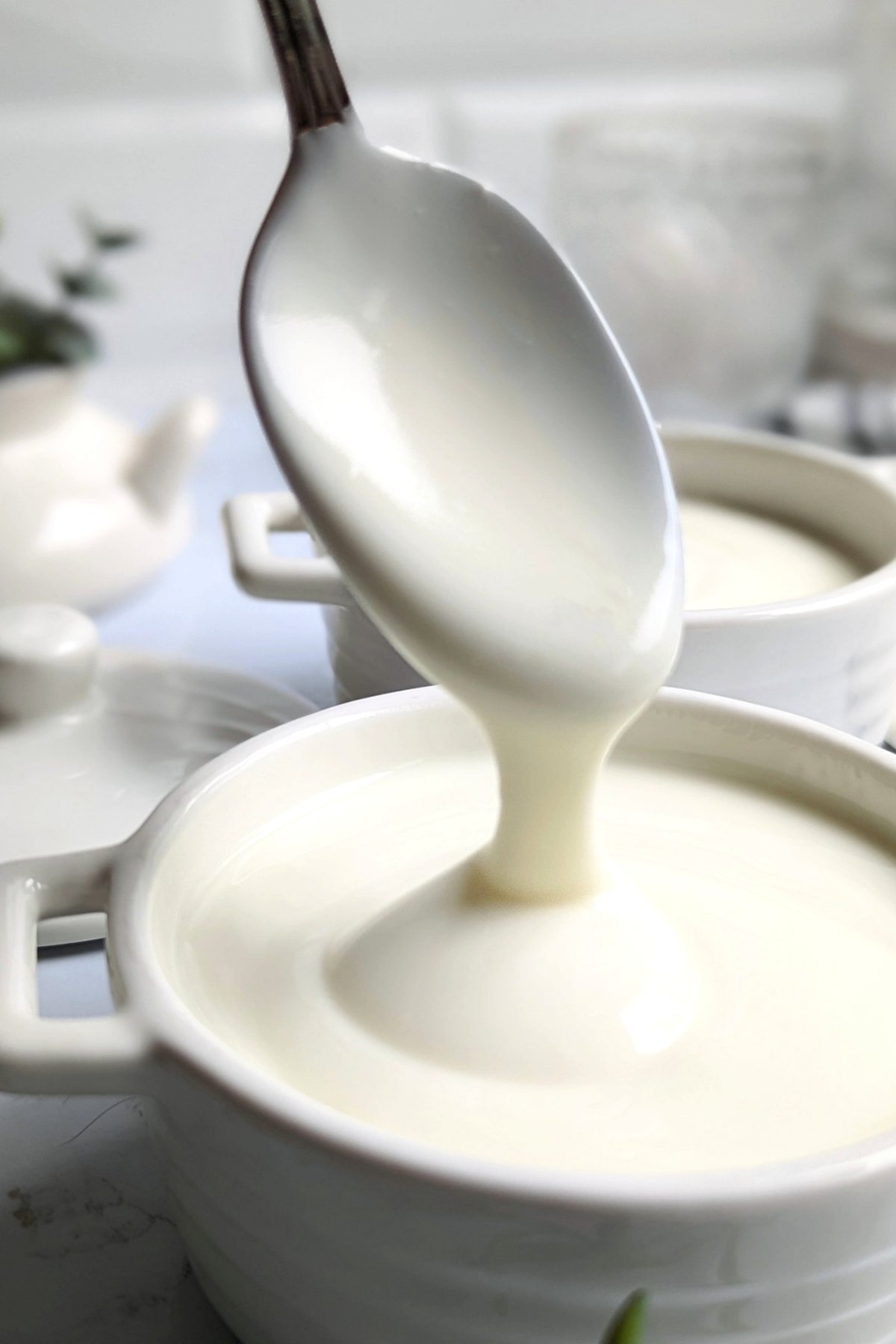 Making your own yogurt couldn't be easier, and it's simple to get the consistency that you want. You can make a thinner yogurt, or a thicker one by straining the yogurt with a cheese cloth. Grab your favorite fruit and homemade easy cinnamon granola and breakfast will be served!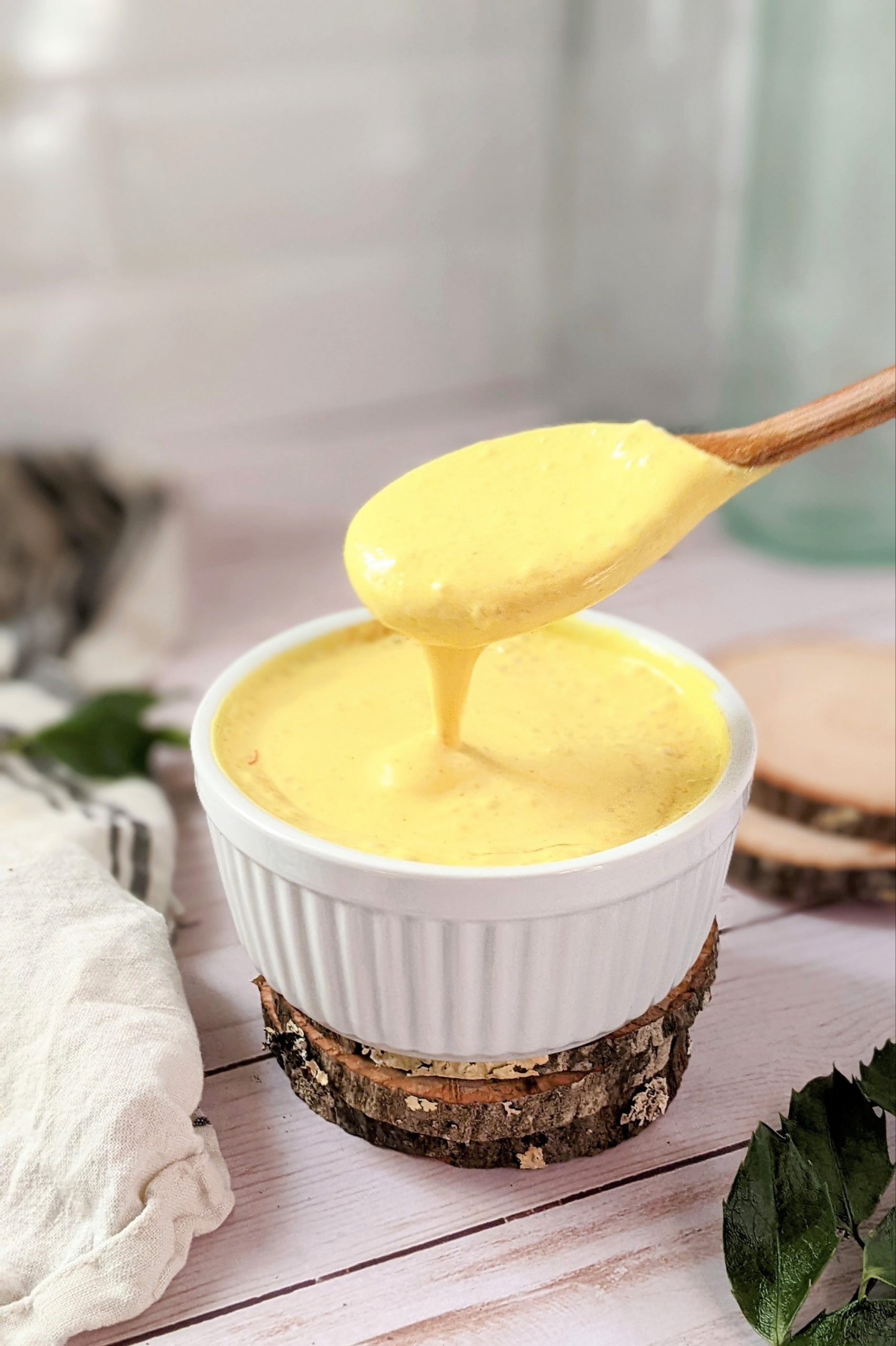 Make it a quiche Benedict, with a drizzle of this thick and dairy-free/vegan tahini Hollandaise sauce! Add the ingredients to a blender, and whirr until smooth and creamy. Drizzle on quiche, potatoes, or dip toast ends into it. It's a fantastic addition to any brunch, and loaded with amazingly deep flavor.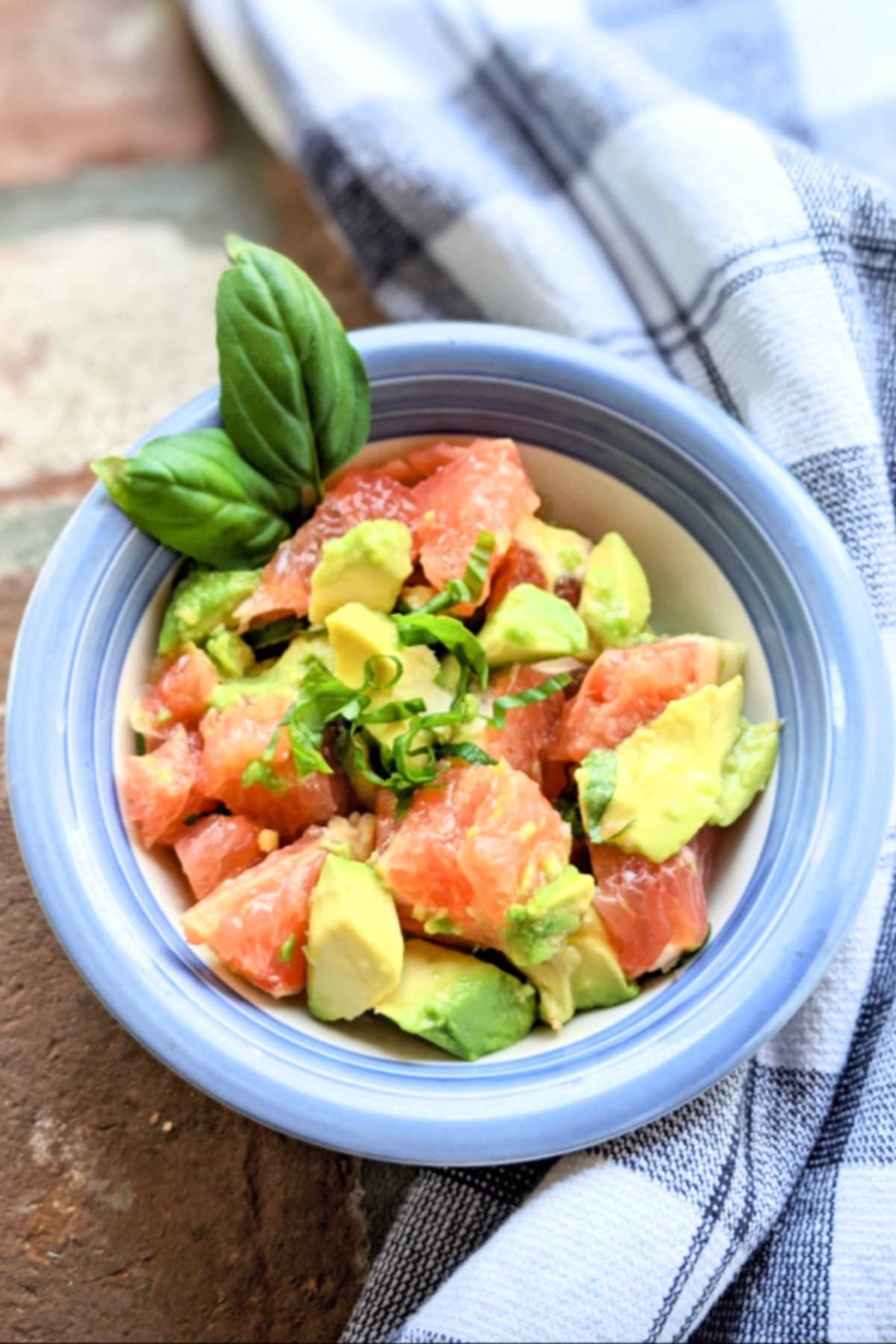 A fun take on fruit salad! If you want avocados for breakfast but want to change it up from avocado toast…. this grapefruit avocado salad is the recipe for you! It may seem like a strange combination, but diced avocado and grapefruit together really makes an amazing pair and the flavors balance out each other perfectly.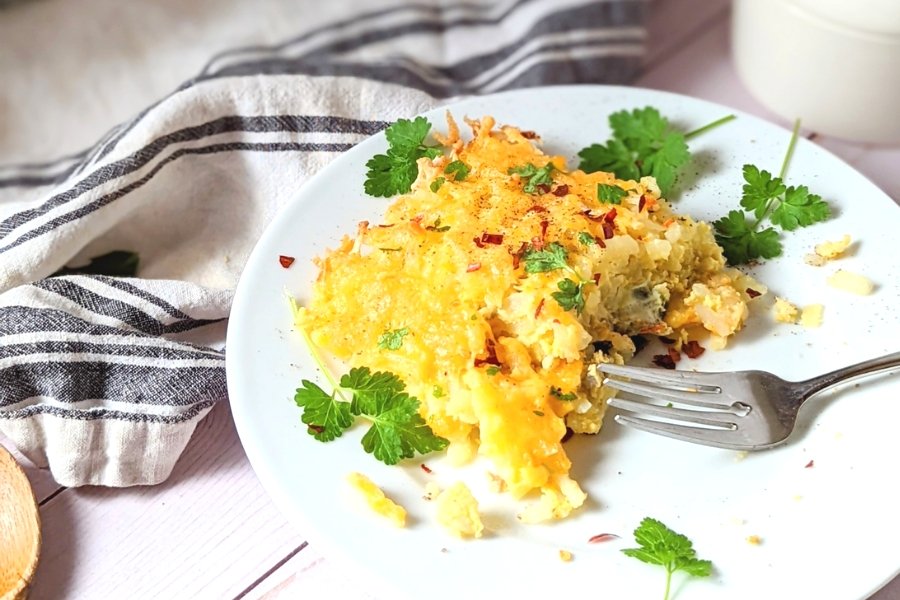 Just like quiche, this breakfast casserole is amazingly customizable. A great thing about this casserole is that it versatile and you can make it with whatever veggies you have on hand. Don't have a bell pepper? Use asparagus or spinach instead! Add mushrooms or broccoli, or substitute a different cream soup or type of cheese.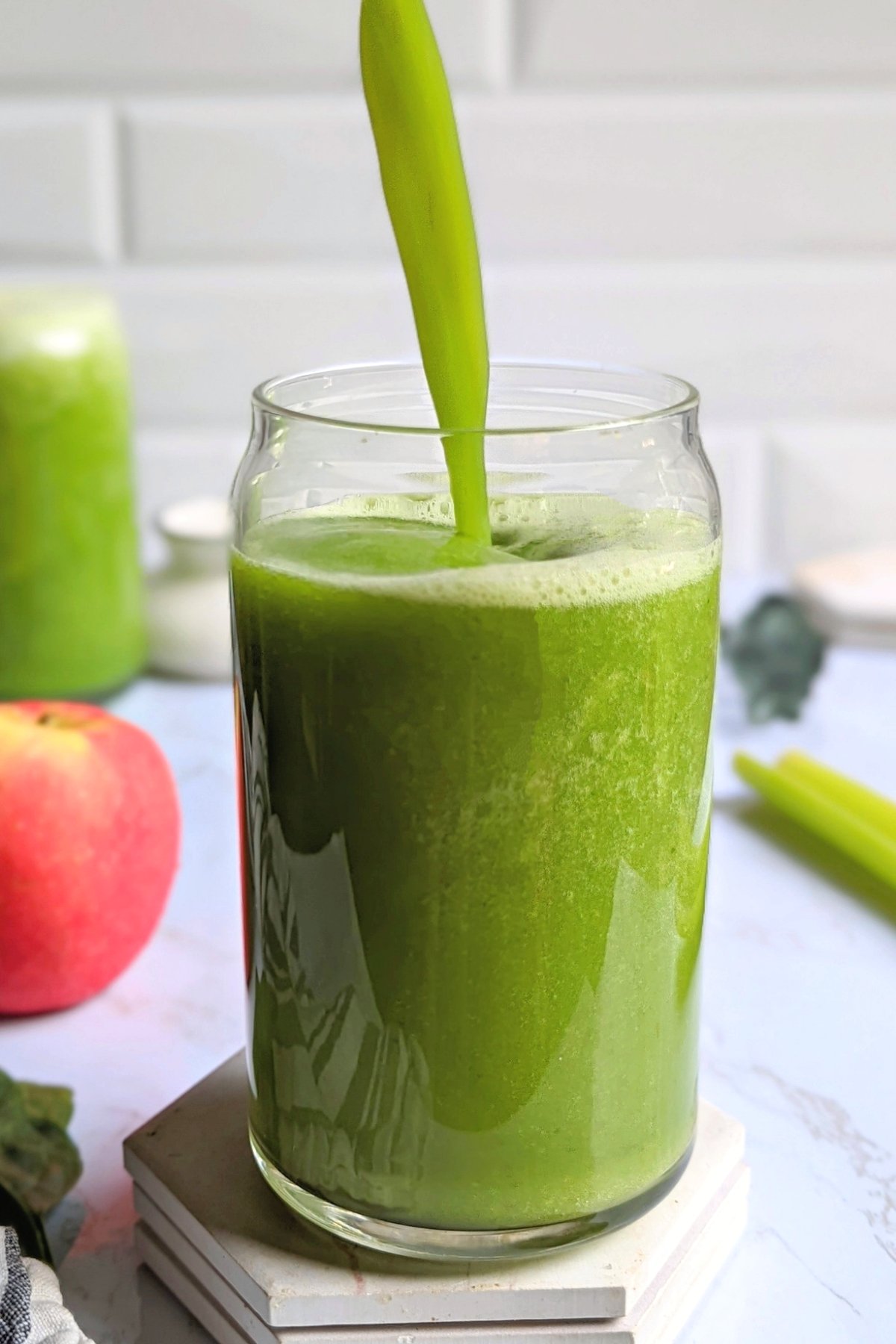 This blender juice recipe is perfect because it's not too sweet, it has just the right combination of fruits and veggies. Also you don't need any fancy juicing equipment, just a regular blender. It's a refreshing beverage, making it a great pairing with quiche or a heavier breakfast main course.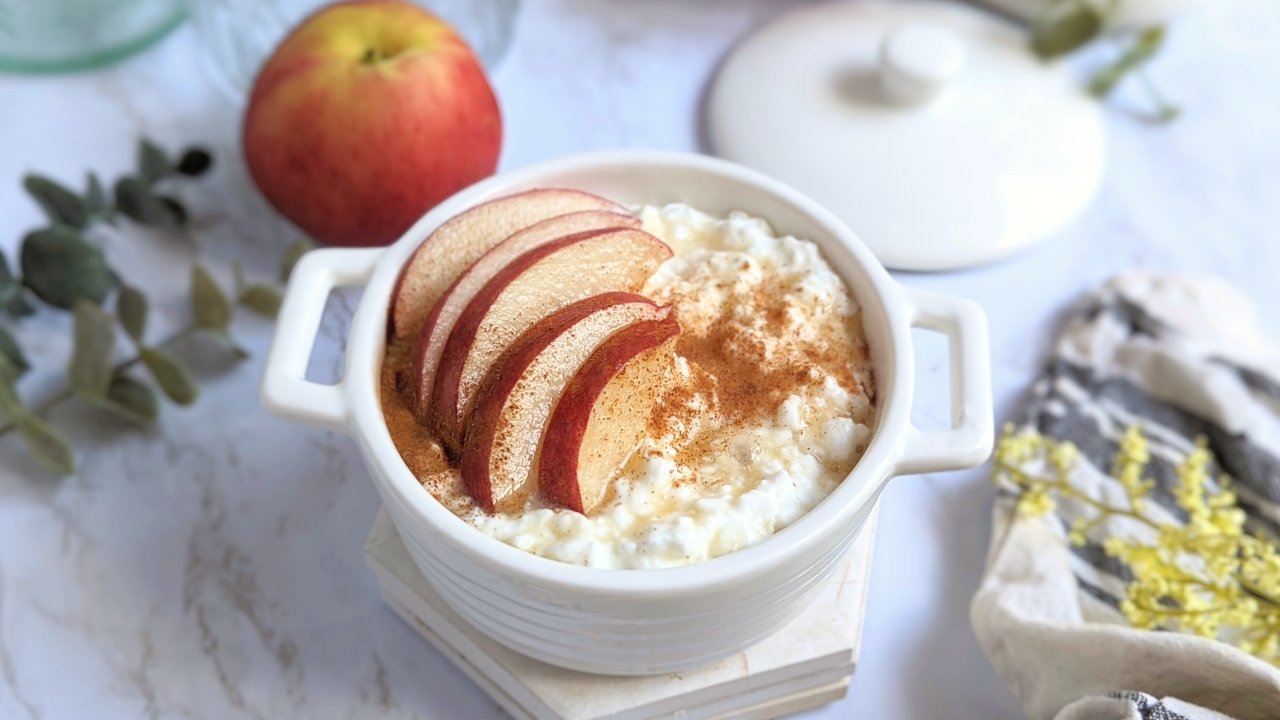 This peach and cottage cheese bowl recipe is one of our favorite quiche side dishes. This beautiful breakfast takes advantage of fresh honey, and is loaded on creamy salty cottage cheese. Layer in some fresh peaches, drizzle some honey on top, add a sprinkle of cinnamon, and breakfast is served.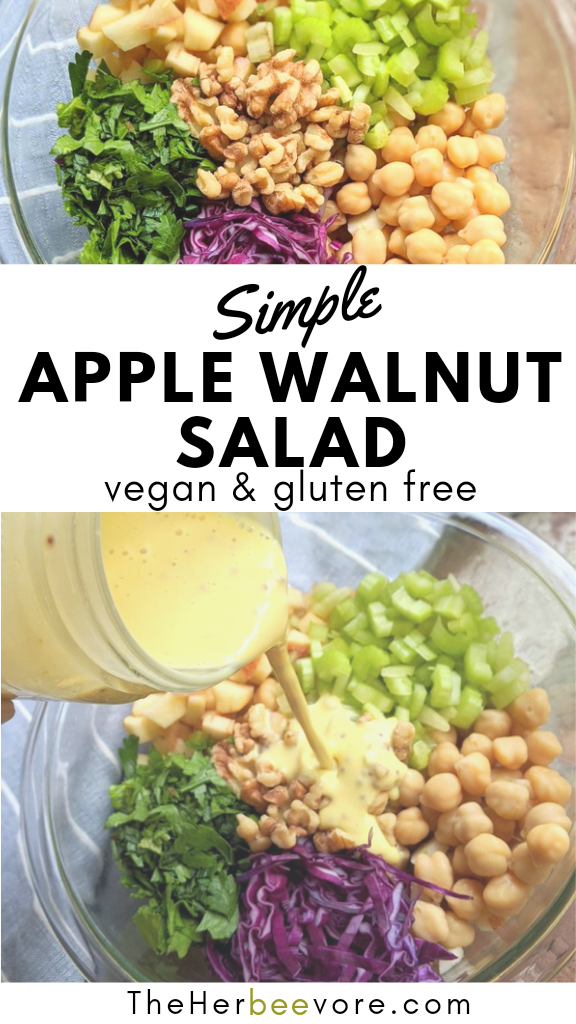 Brunch salads for the WIN! This awesome apple walnut salad is a treat, and the perfect quiche side dish. The sweet crunchy apples pair so well with the herby parsley and soft walnuts. This is a great salad to bring to a brunch, pot luck, or BBQ. And its vegan and gluten free, so everyone at the table will be able to dig in.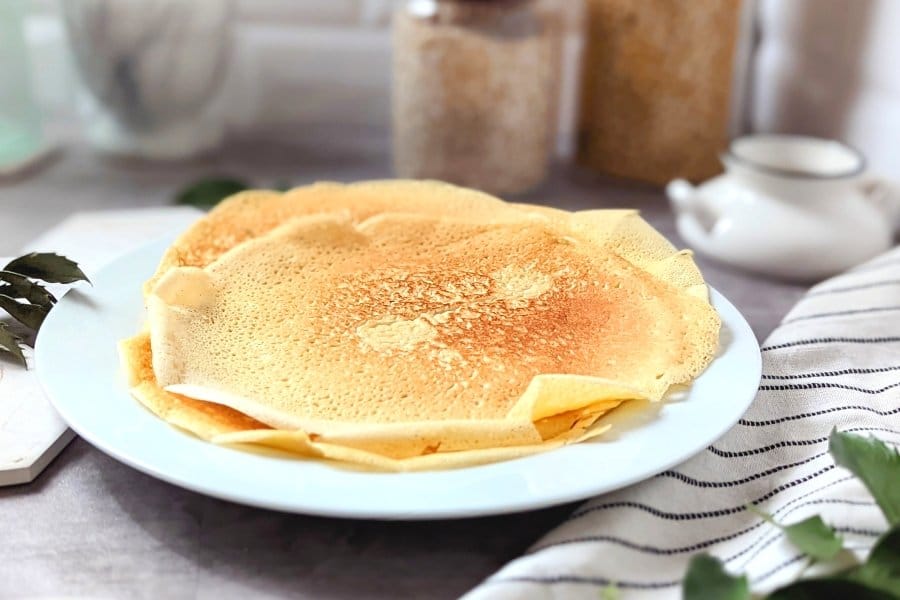 This delicious crepes would make a fantastic quiche side dish, especially when loaded with fruit and/or whipped cream! Simple to make, all you need are a few pantry staples and a good non-stick skillet for a great brunch side.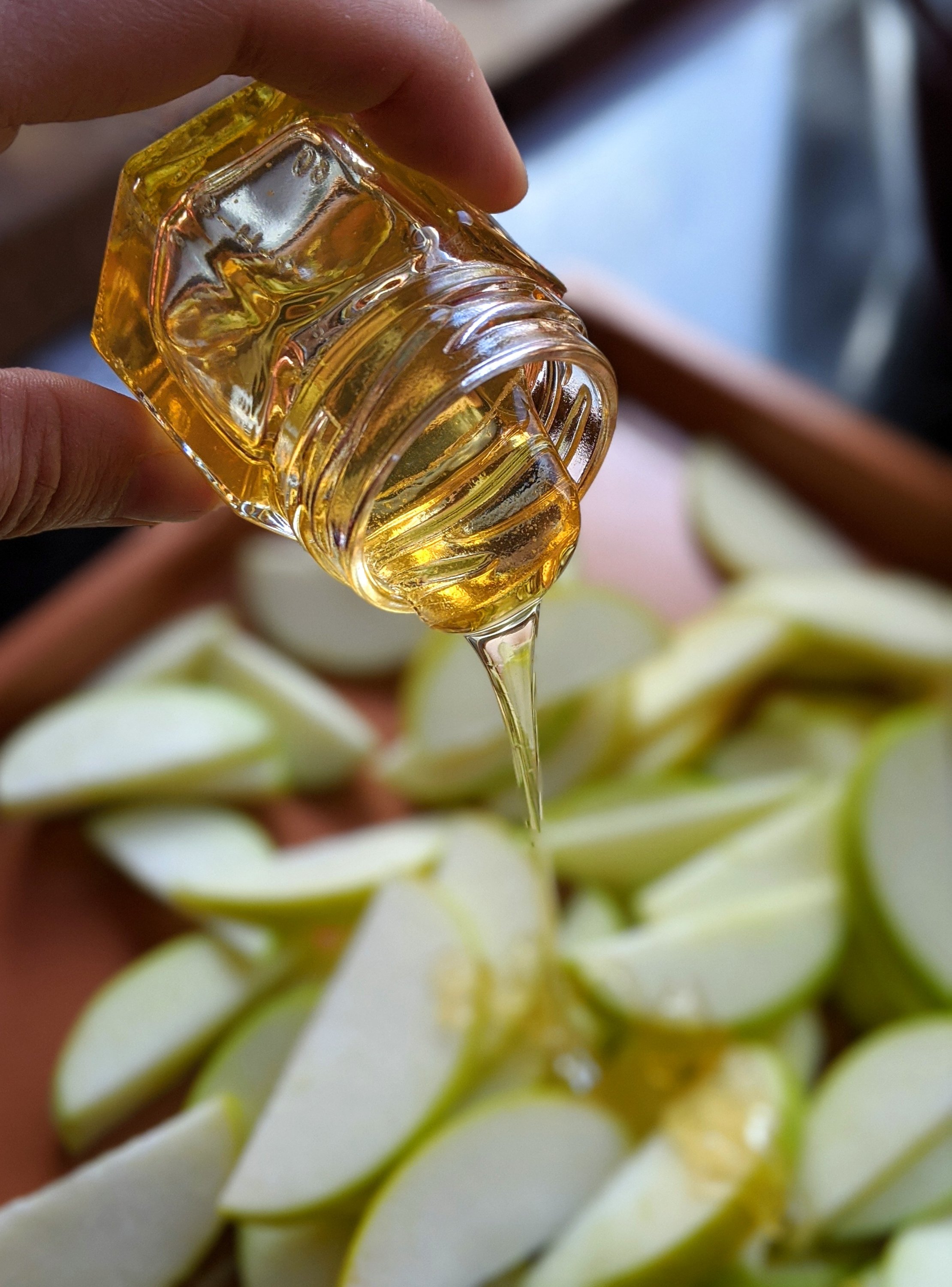 These Baked Caramel Apple Slices are a healthy addition to your breakfast or dessert. Great with oatmeal, on top of ice cream, or just eaten plain!
This amazing sheet pan apple recipe is a fantastic way to use up extra apples you have around from a fall harvest (or just a sale at the store). Apple slices are coated in cinnamon and honey, and caramelized in the oven to perfection.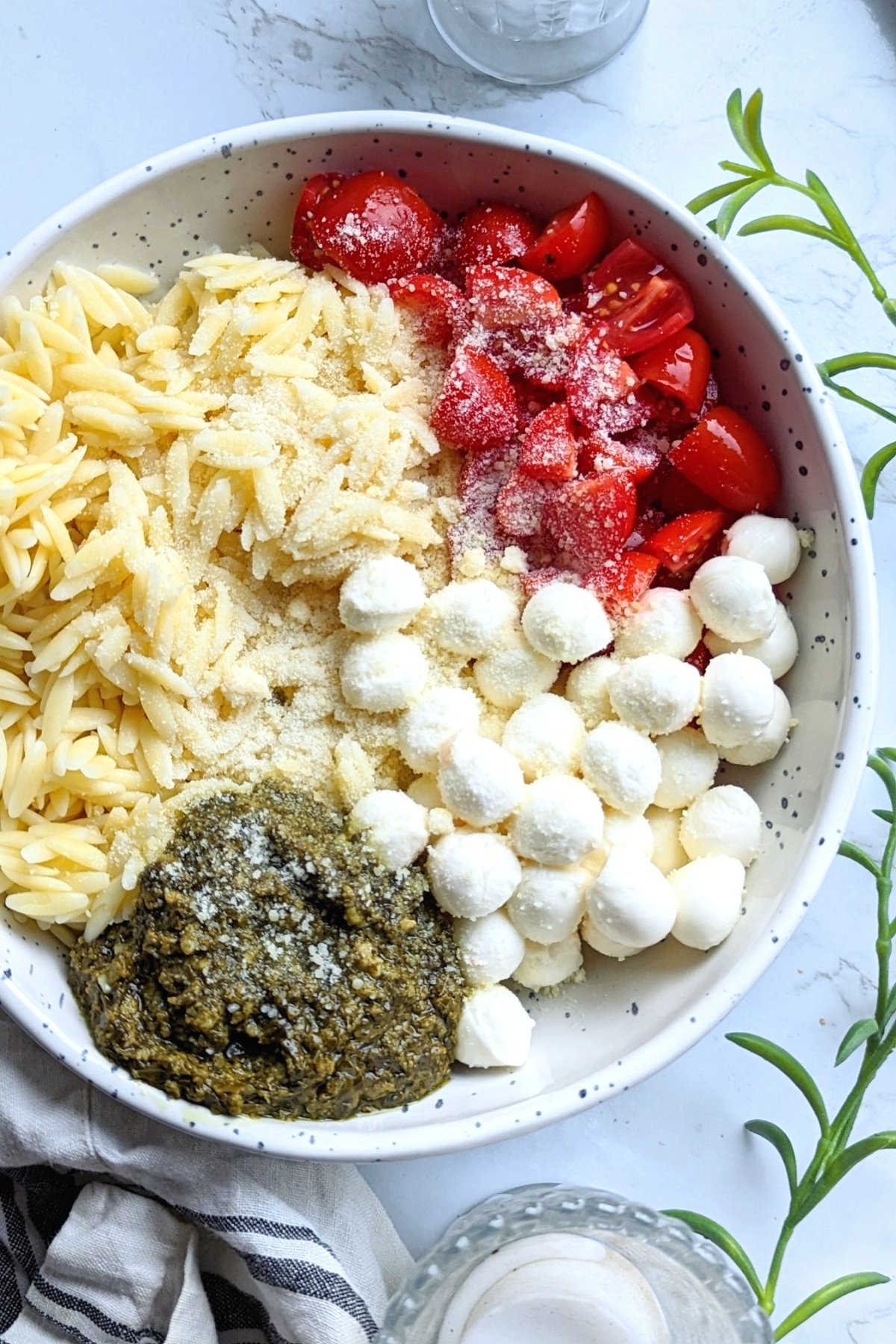 I love a good pasta salad, and this orzo pesto salad is a bright & fresh recipe that is great all year long! This Caprese Pesto Pasta Salad is a fun twist on a classic salad! I added both fresh basil and parsley to make this dish extra vibrant. I love the red & green colors in this, it would be great for a holiday or Christmas brunch as well.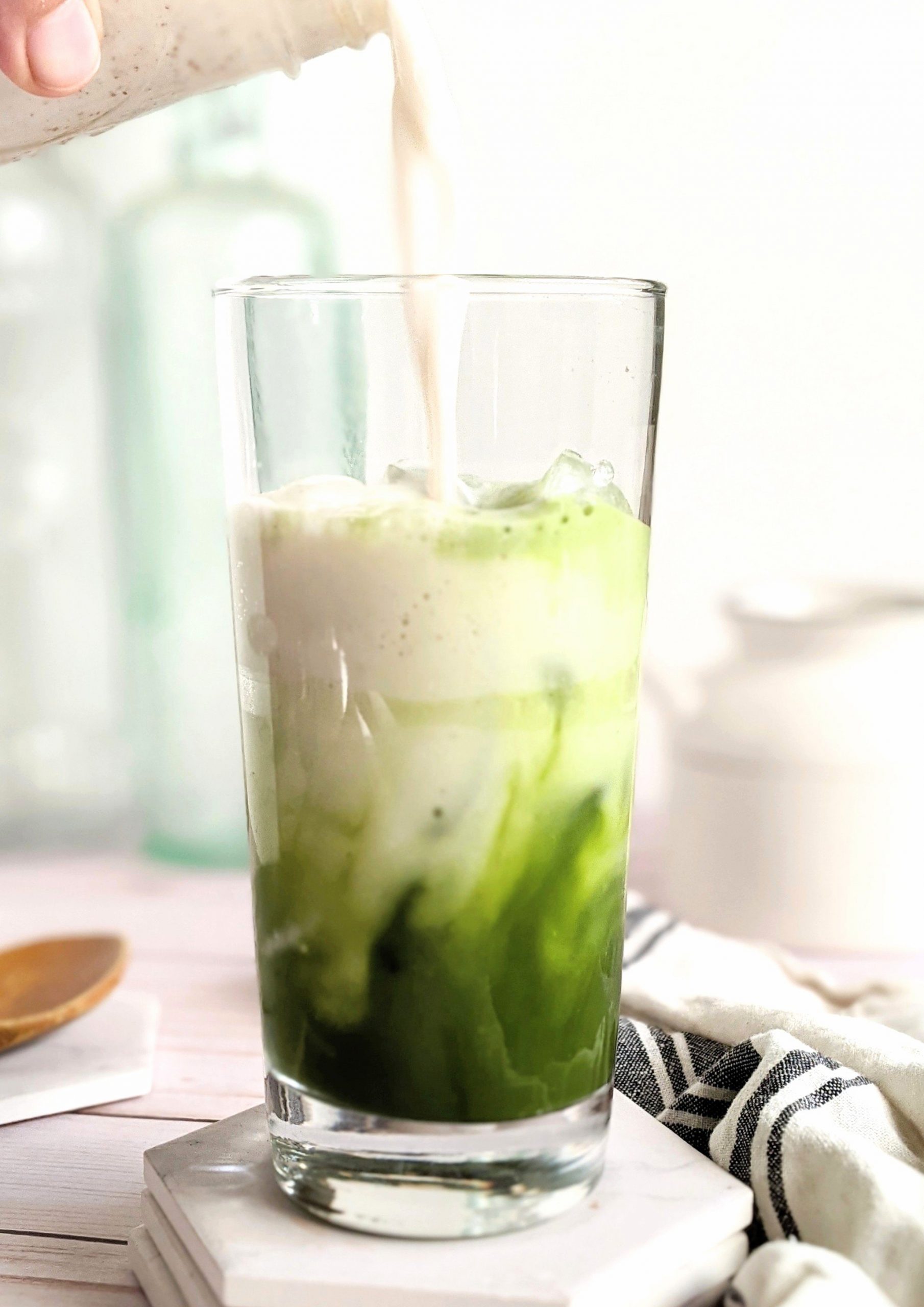 Not only a fun brunch drink, but a great beverage that doubles as a quiche side dish. Each glass feels like a work of art. This easy dairy free matcha latte recipe uses homemade (or store-bought) oat milk for just a touch of sweetness to this drink. Rise and SHINE with this amazing drinks, which costs a fraction of what they charge you at the coffee shop (and tastes even better)!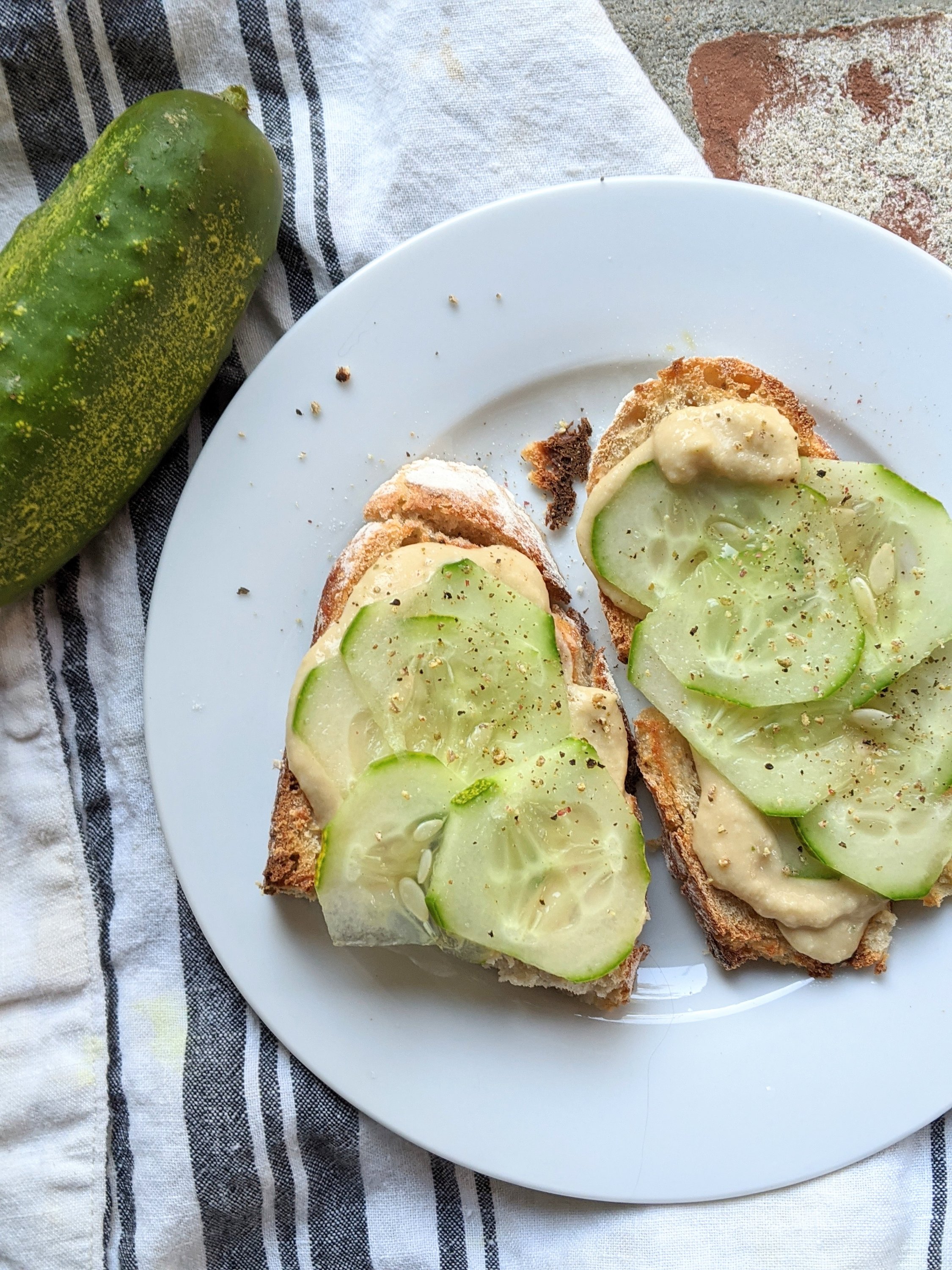 A bright and fresh brunch experience. The quick marinated cucumbers are ready in about 5 minutes, and give this toast a fresh crunch! This makes a perfect fast snack or meal anytime. It's great in the summer if you are overloaded with garden cucumbers, or just fantastic to have when cucs or hummus is on sale!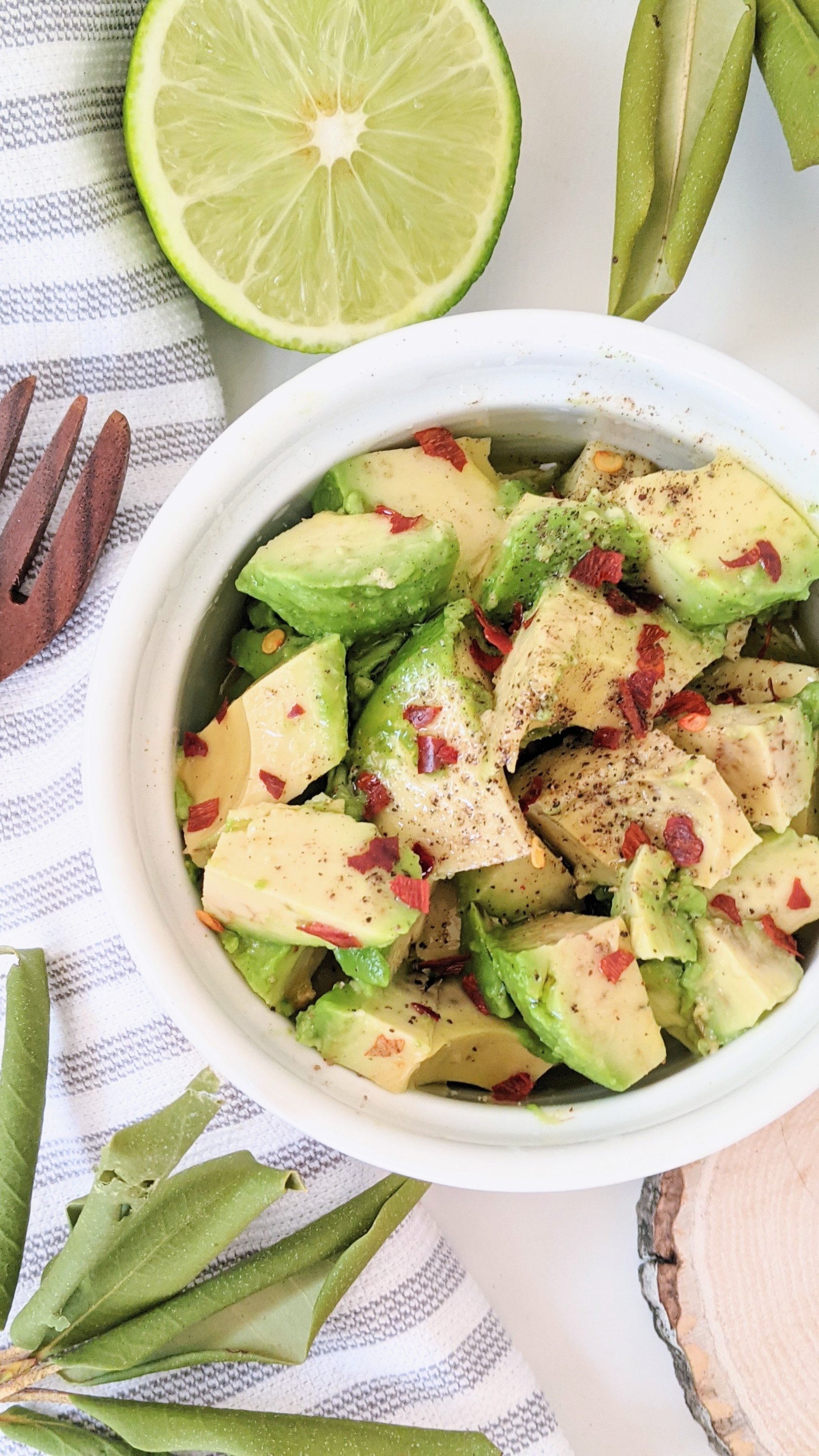 You can serve this fantastic lime avocado salad with the quiche, or right on top of it! It only takes a few simple ingredients to make this fresh breakfast salad, one of the most perfect quiche side dishes around.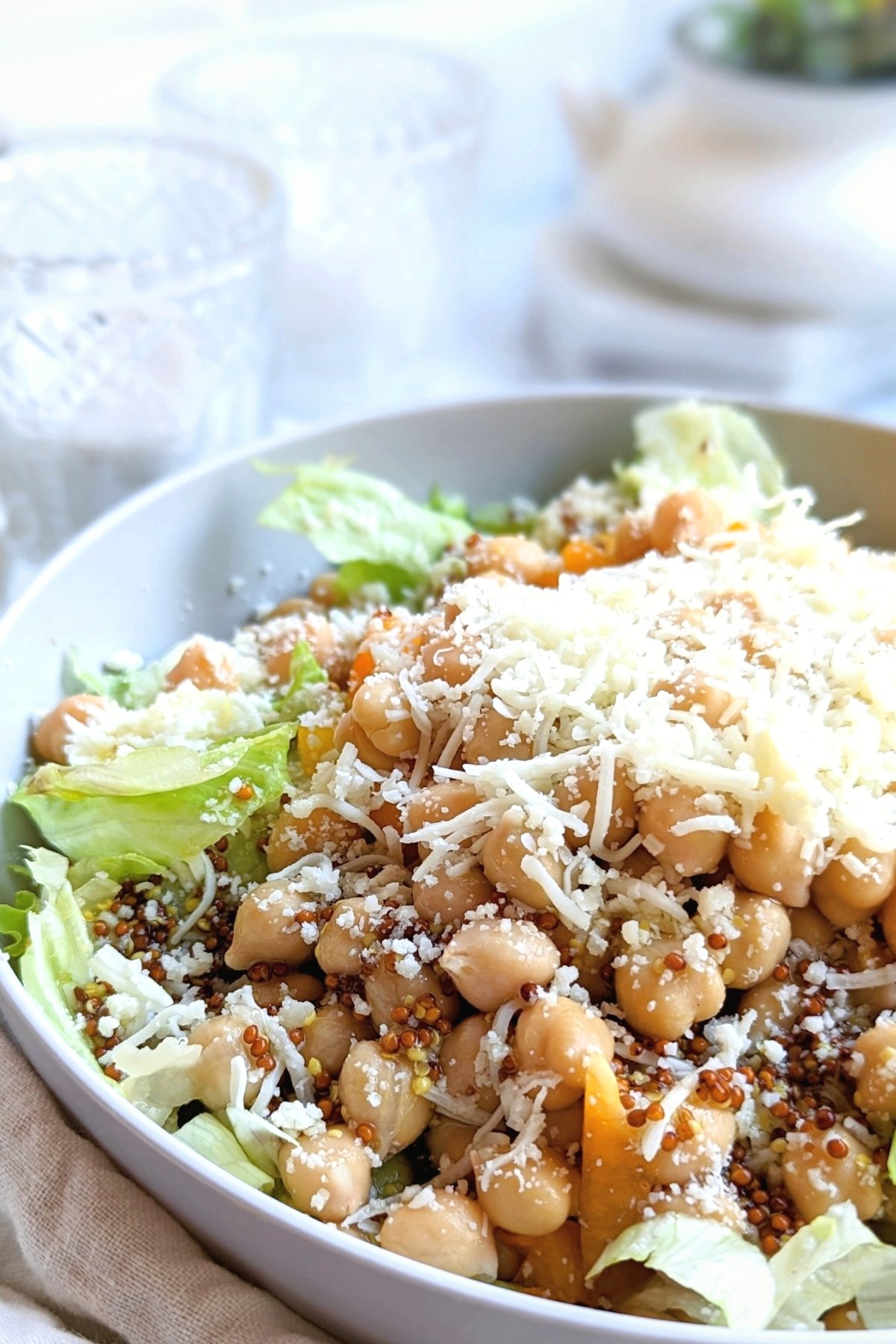 Quiche and salad go hand-in-hand! This chickpea chopped salad is super refreshing and is made with a 5-minute vinaigrette dressing.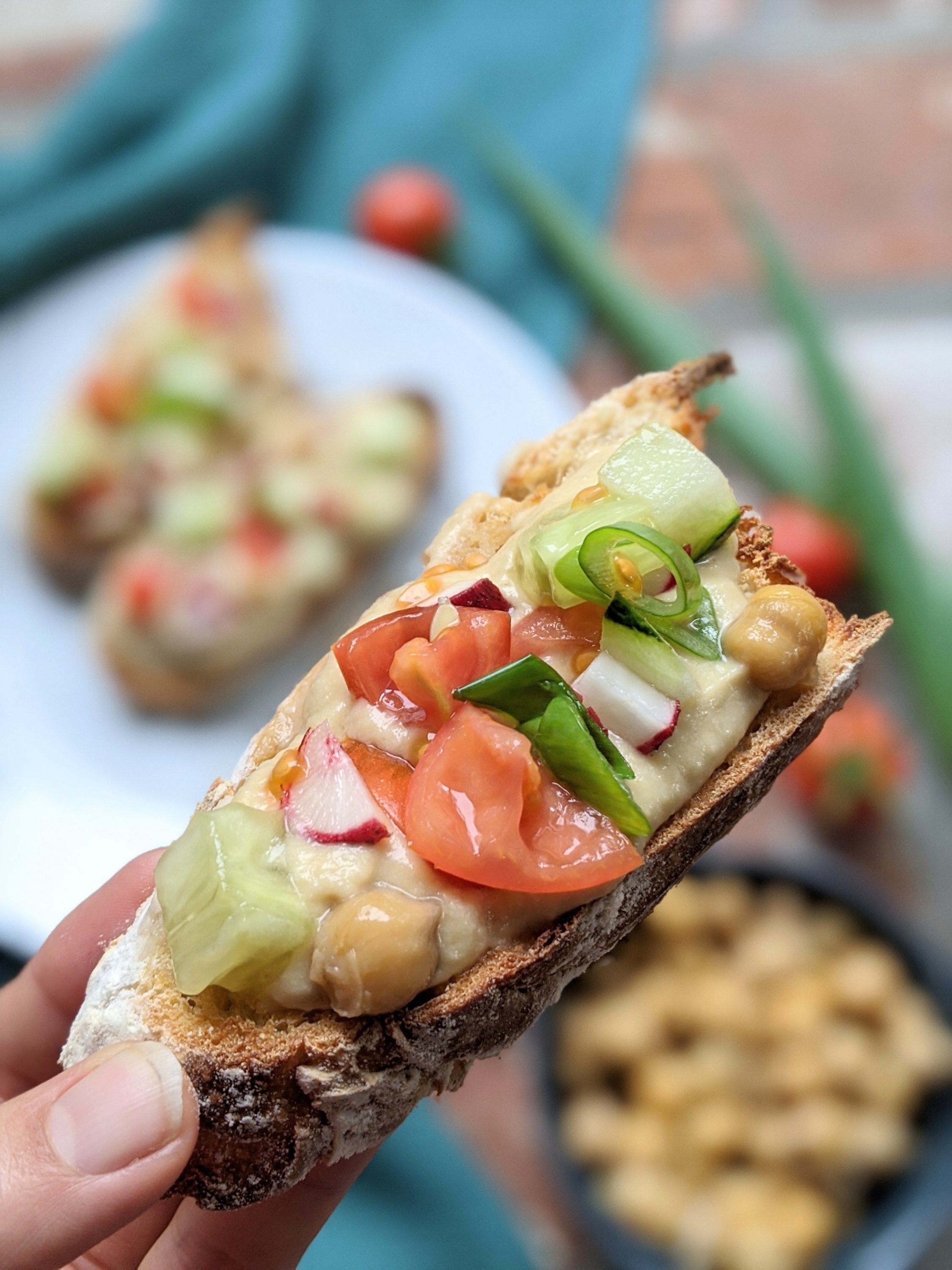 Veggie Toast is the perfect pairing for quiche – using any seasonal vegetables. The quick marinated veggies ready in about 5 minutes, and give this toast a fresh crunch! This makes a perfect fast snack or meal – a great light lunch or work-from-home snack idea.