This savory cottage cheese salad with vegetables recipe is a bright & fresh bowl, a with creamy cottage cheese & crunchy vegetables. A savory high-protein breakfast or light lunch, that's satisfying and a great way to dress up plain cottage cheese.
This fantastic cucumber and tomato salad is ready in 10 minutes, and requires no cooking. Add delicious crunch and flavor to your cottage cheese without fruit, this tasty bowl makes a filling and satisfying meal or snack.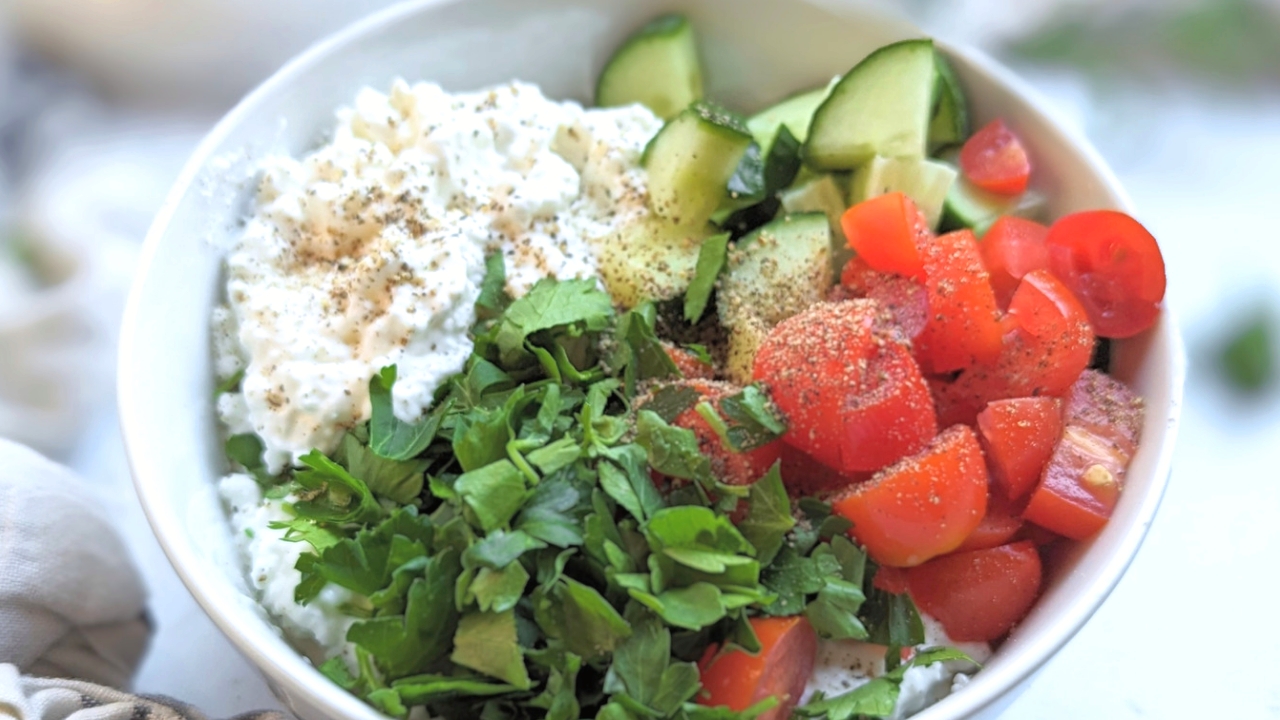 I love adding protein-rich cottage cheese to my meal plan, but I'm always looking for ways to dress it up. This tasty cottage cheese vegetable salad is a light and refreshing recipe – it makes a fantastic savory breakfast, or a light lunch in the summer when you want something cool.
It's ready in minutes – all you need to do is chop the veggies and mix the ingredients together. It's a great no-cook recipe, and is fantastic to eat year-round.
This Cottage Cheese Salad with Vegetables Recipe Is
Creamy
Bright
Fresh
Crunchy
Loaded with Flavor
Ready in 10 Minutes
Vegetarian, Low Carb, and Gluten Free – Naturally!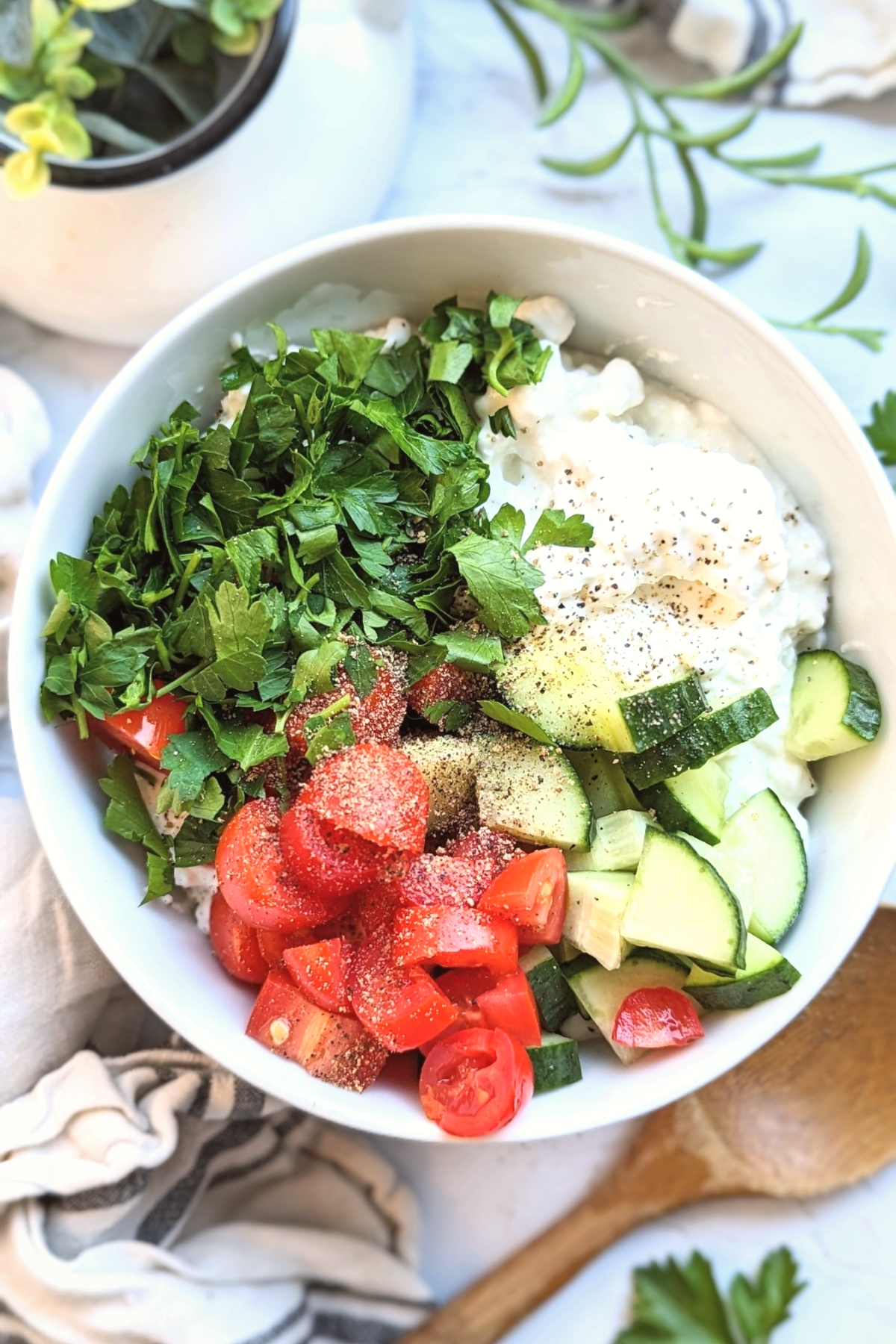 A No Cook Savory Breakfast Recipe That's Perfect All Year
This no-cook cottage cheese salad is a quick and simple recipe. I love a good no-cook recipe for those days when I'm not feeling like standing around the stove, or for summer mornings when it's too hot to cook. I have a whole collection of recipes that require zero cooking at all, check them out here!
This vegetable cottage cheese salad comes together in about 5-10minutes, and doesn't require the stove or microwave to make. Just use a few fridge & pantry ingredients and you have a quick meal ready in no time. And very little to clean up afterwards… an added bonus!
What's In This Cucumber and Mint Salad with Tomatoes?
I cook with fresh produce from my garden and from Misfits Market– they sell fantastic fruit, vegetables, & pantry staples at a discounted price. We get Misfit boxes every other week and love picking out favorite produce for delivery. Get $10 off your first box here!
Cottage Cheese – I like getting a low-fat cottage cheese for this salad, but you can use any variety you prefer (fat-free, whole milk, etc). Cottage cheese is high in protein and low in carbohydrates.
Tomatoes – I used cherry tomatoes, but you can use any variety you have on hand. If you're making this in the winter or when tomatoes aren't in season, I'd recommend using cherry tomatoes, which are usually sweeter.
Cucumber – I used English cucumber for this salad.
Parsley– I always have fresh parsley in the fridge, and in the winter we grow some in our Aerogarden on the counter too!
Red Wine Vinegar:

I used red wine vinegar to give this dish a really nice bright Mediterranean flavor – for that,

this red wine vinegar is my go-to

!

Oregano

: a spice I always put in my salad dressings, marinades, or soups! Dried oregano has a bright and earthy flavor, and goes so well with the vegetables.

Garlic Powder:

Also a major pantry staple ingredient that gets used in our house daily!

I love this garlic powder

and add it to a lot of recipes that I would use fresh garlic in too.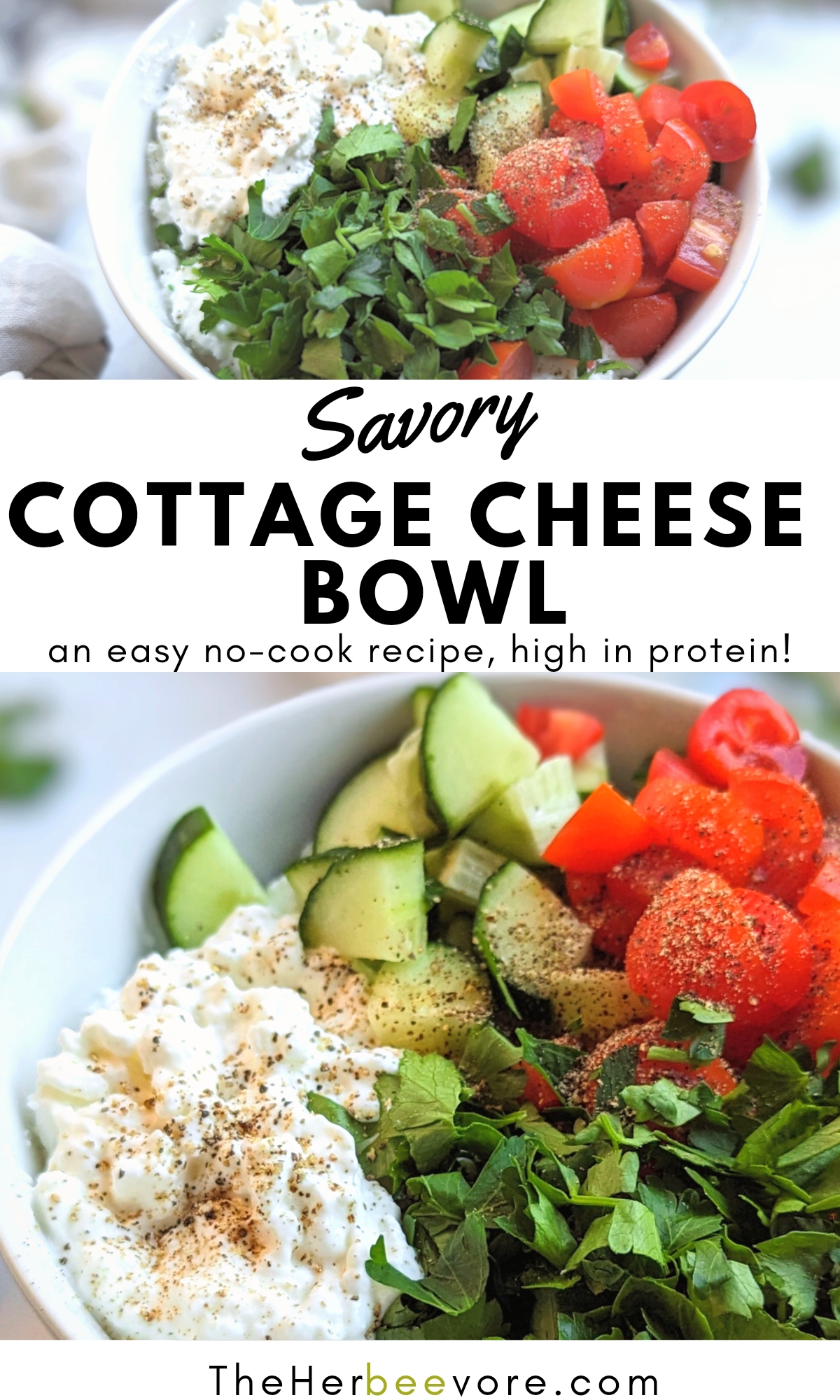 Low Carb Cottage Cheese Salad
This delicious and satisfying cottage cheese salad recipe is great for those who are watching their carb intake. You can still have a yummy and filling breakfast or lunch without the added starches.
By adding a little red wine vinegar and garlic powder, this cottage cheese salad has tons of brightness and flavor, without the sugar of traditional dressings for a salad. You can see all my low carb & keto recipes here!
How Do I Make This Low Carb/Keto Cottage Cheese Salad?
In a large bowl, add the chopped tomatoes, cucumber, and mint leaves.
Add the red wine vinegar, olive oil, sugar, oregano, and garlic salt. Toss well to combine.
Refrigerate salad for at least 1 hour. Toss well again before serving.
Grow Fresh Parsley on Your Counter All Year Long
We got this great 6-Pod Aerogarden which is fantastic for growing herbs in the winter. We actually got it when we lived in a smaller apartment, but even now that we own an acreage we still use it year-round! I love growing herbs on my countertop like fresh basil, dill, mint, sage, thyme, parsley, and lemon balm. It uses LED lights and water, so no messy soil needed – you can have fresh herbs at your fingertips any time.
I love picking a few springs of parsley to chop on pastas, adding basil leaves to soups, and tossing some dill in with my pasta salads. This Aerogarden is a great gift for anyone who would like fresh herbs… no big kitchen or green thumb required!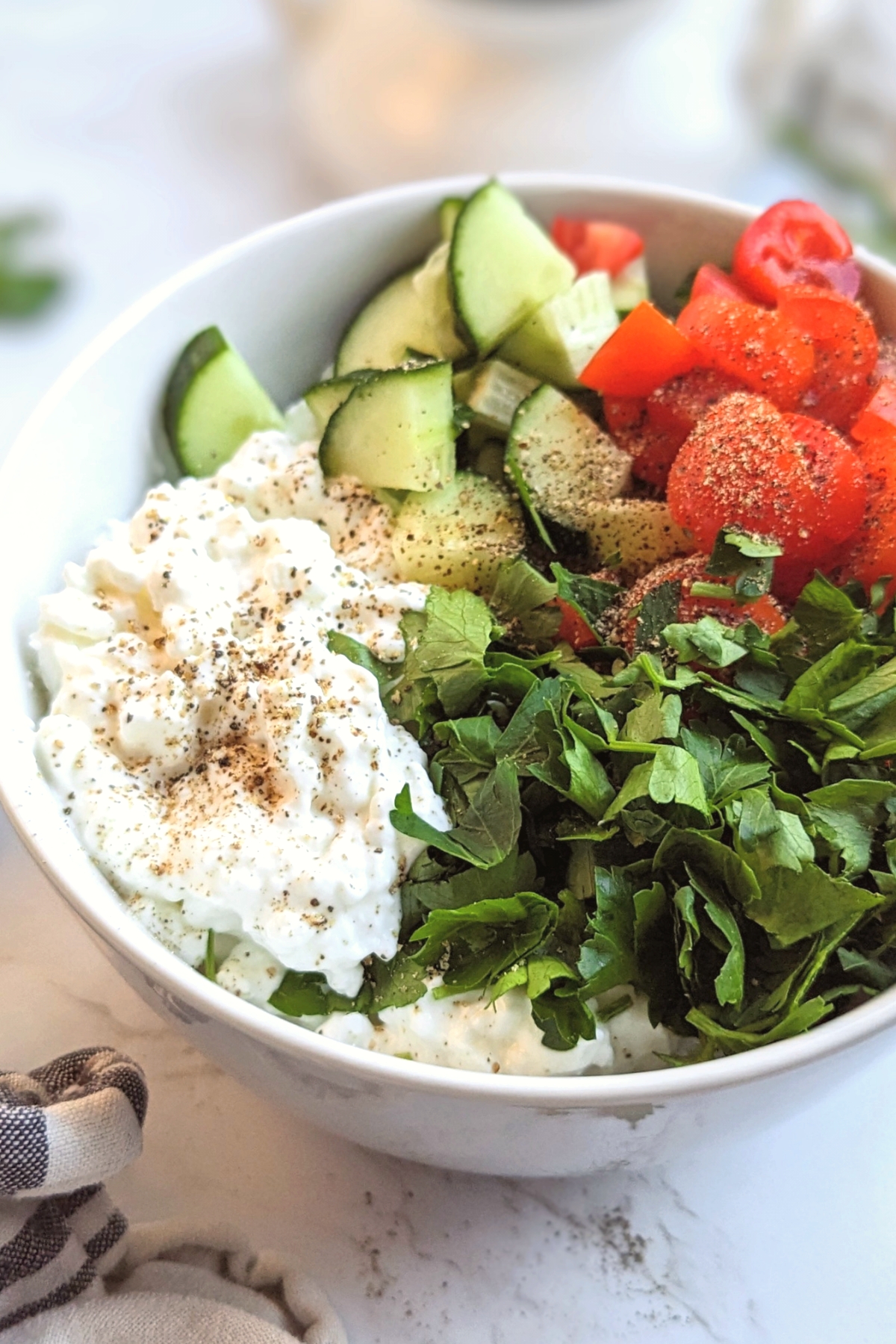 More Vegetarian No Cook Recipes You'll Love!
Spicy Pineapple Salad with Jalapeno and Lime Recipe
Mini Caprese Skewers Recipe (No Cook Vegetarian Appetizer)
Pesto Chickpea Salad Sandwich Recipe (Vegan, Gluten Free)
Mexican Tuna Salad Recipe (High Protein, Low Carb)
Pineapple Pico de Gallo Salsa Recipe
Share This Cucumber Tomato Cottage Cheese Salad Recipe
As always, if you make this vegetarian and gluten free cottage cheese salad recipe be sure to leave me a comment, rate this recipe, and tag me @theherbeevore on Instagram so I can feature you. I love seeing all your photos of my recipe recreations!
Let's keep in touch – make sure to sign up for my newsletter to get fresh recipes weekly. And don't forget to follow over on Pinterest, Instagram , & my YouTube channel – I'd love to connect with you there!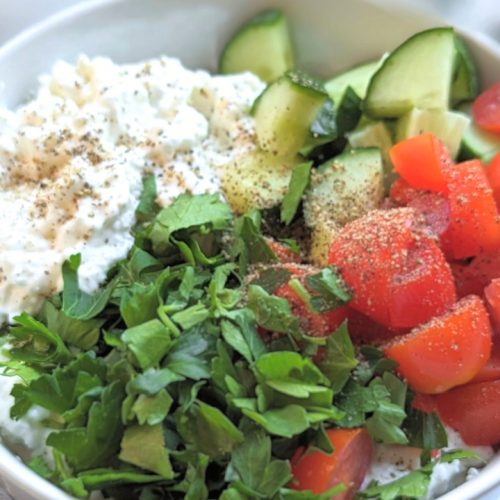 Cottage Cheese Salad with Vegetables
This savory cottage cheese salad with vegetables recipe is a bright & fresh bowl, a with creamy cottage cheese & crunchy vegetables. A savory high-protein breakfast or light lunch, that's satisfying and a great way to dress up plain cottage cheese.
Instructions
In a large bowl, add the cottage cheese, chopped tomatoes, cucumber, and parsley leaves.

Add the red wine vinegar, oregano, and garlic powder. Toss well to combine.

Enjoy immediately, or chill in the refrigerator, and enjoy within 24 hours.
Nutrition
Calories:
158
kcal
Carbohydrates:
7
g
Protein:
17
g
Fat:
7
g
Saturated Fat:
3
g
Polyunsaturated Fat:
0.2
g
Monounsaturated Fat:
1
g
Cholesterol:
26
mg
Sodium:
481
mg
Potassium:
255
mg
Fiber:
1
g
Sugar:
5
g
Vitamin A:
668
IU
Vitamin C:
8
mg
Calcium:
142
mg
Iron:
1
mg
Did You Make This Recipe?
Please leave a rating and comment below!
Or tag me @theherbeevore in your photo on Instagram!
This post may contain affiliate links. As an Amazon Associate I may earn from qualifying purchases, at no additional cost to you. Thank you for supporting the brands that support The Herbeevore and our beehives!