This rigatoni pasta salad recipe is a bright, fresh, and tasty appetizer loaded with chopped veggies, feta cheese, and an easy homemade red wine vinaigrette dressing. A favorite summer pasta salad recipe to bring to a cookout, tailgate, potluck, or BBQ!
This easy pasta salad with thick rigatoni noodles is easy to make ahead of time. This is one crowd pleaser pasta salad that everyone will love. It's a great vegetarian side dish, and can easily be made vegan, dairy or gluten free!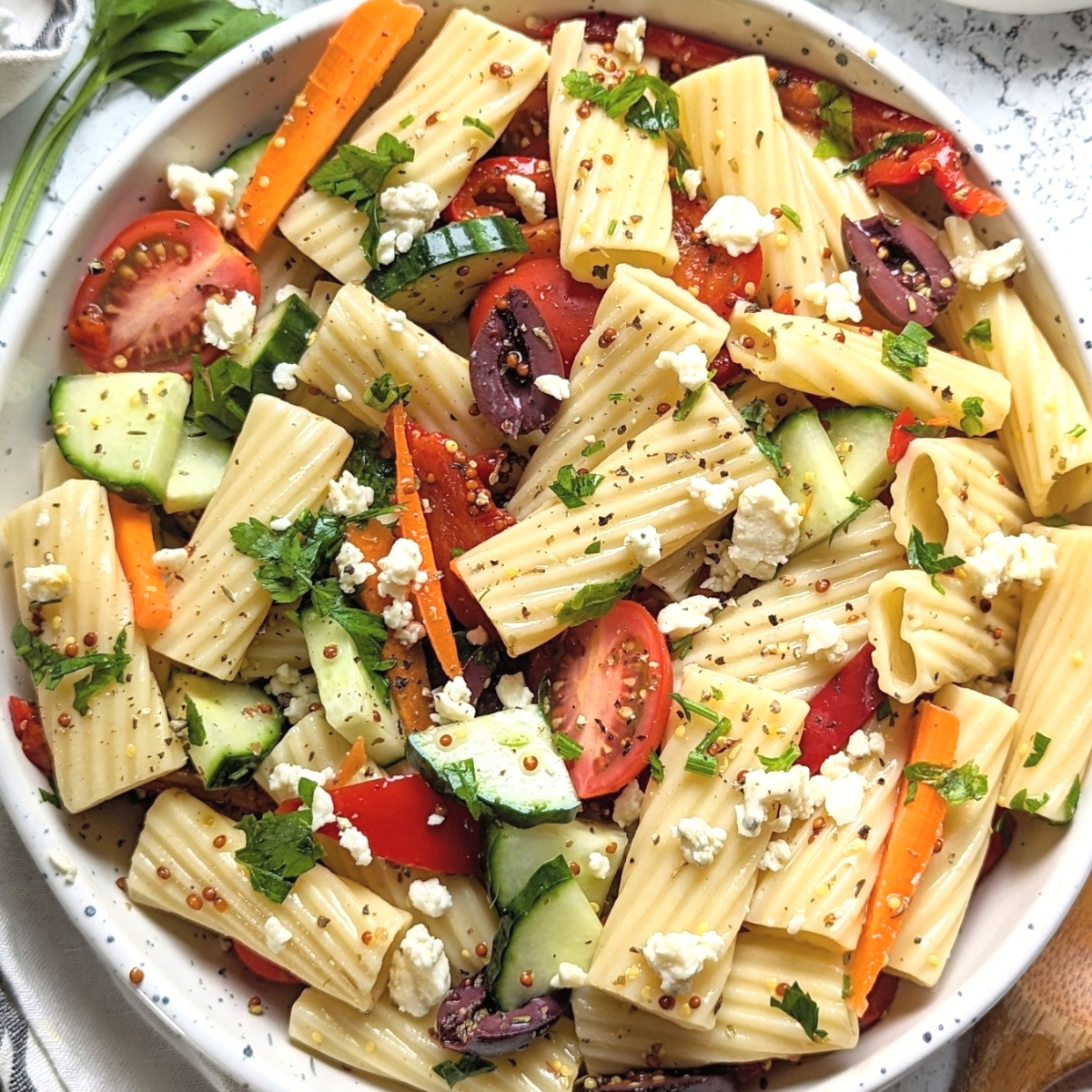 Rigatoni is one of my favorite pasta shapes – it's thick, filling, and so great in pasta salads! This rigatoni pasta salad is a bright, tangy, and a fresh take on classic pasta salads. The fresh vegetables add flavor, and are so good tossed with an easy garlicky homemade pasta salad dressing.
I normally make pasta salads with medium or short pastas, but I couldn't resist switching it up and using a broad thick noodle like rigatoni. It makes the perfect vehicle for the chopped veggies, so you get a delicious crunch in every bite.
This Rigatoni Pasta Salad Recipe Is
Bright
Tangy
Vibrant
Loaded with Flavor
Fresh
Simple to Make
Vegetarian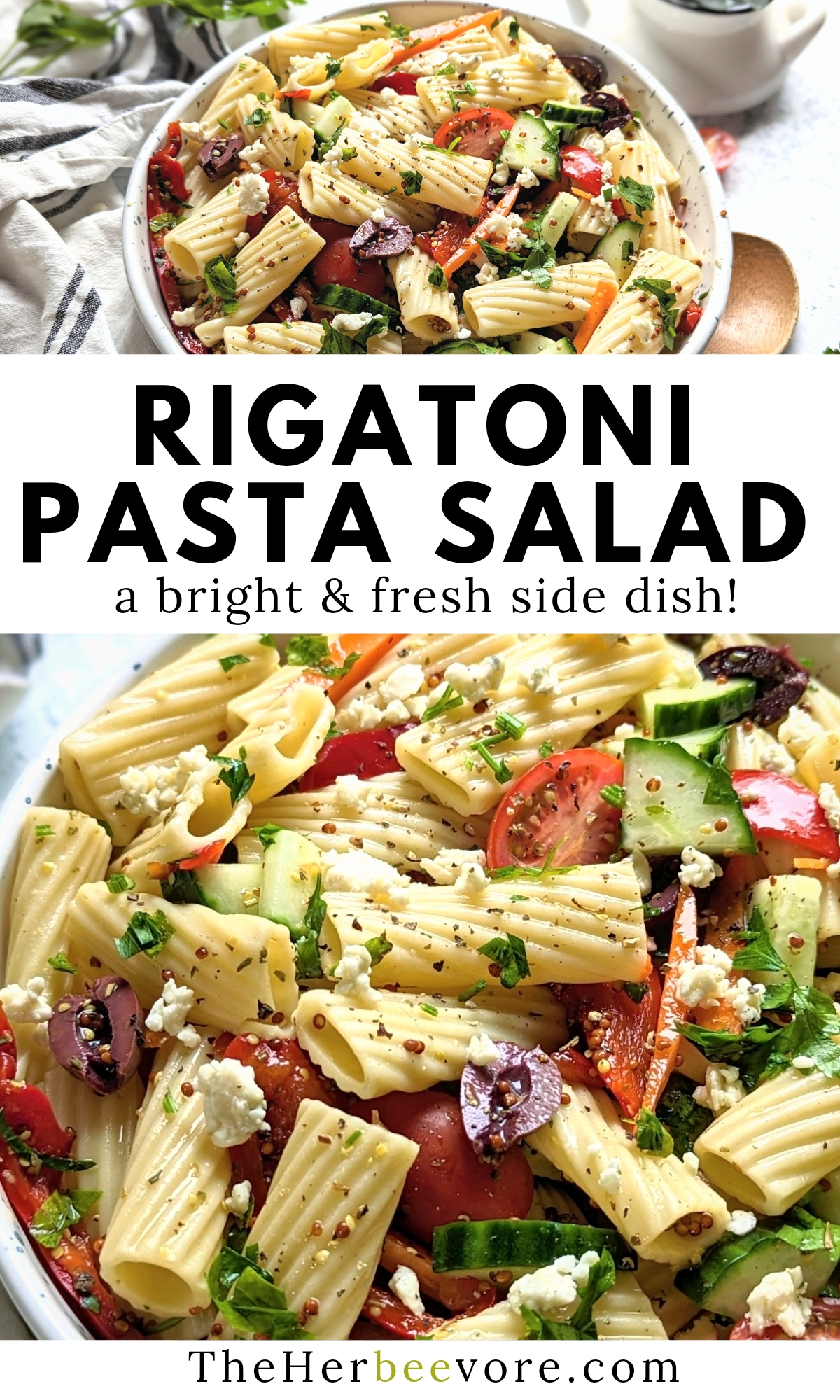 One of the Best Vegetarian Rigatoni Recipes
This vegetarian rigatoni pasta salad is a simple way to get extra veggies in your diet. I'm all about making recipes plant-based when I can. Vegetarian cooking does NOT have to be bland, boring, or flavorless… It's quite the opposite when done right.
By building meals around vegetarian pantry staples and swapping in a few plant-based ingredients you can make easier meals for you and your family. I made a list of my 125 favorite vegan pantry ingredients that we use on a weekly basis.
Browse all our vegetarian recipes here. These easy and tasty recipes are fantastic meatless meals for your table!
What Are Rigatoni Noodles?
Rigatoni pasta is a long broad tube-shaped pasta which has ridges. The word rigatoni in Italian comes from the word "rigato" which means ridged.
Rigatoni is traditionally used with a thick hearty ragu sauce, and can be a great choice for meat-based pasta sauces as well. I love using it in this pasta salad, as it's great to load onto a fork with fresh vegetables and the ridges capture each bite of the tangy vinaigrette.
What's In This Pasta Salad with Rigatoni?
I cook with fresh produce from my garden and from Misfits Market– they sell fantastic fruit, vegetables, & pantry staples at a discounted price. We get Misfit boxes every other week and love picking out seasonal produce for delivery. Get $10 off your first box by clicking here!
Rigatoni Pasta – I used regular durum semolina rigatoni pasta, but you can use a whole wheat or gluten free version if desired. Make sure you use one that fits in with your dietary needs.
Cucumber
Tomatoes
Carrots
Roasted Bell Pepper – I used a roasted red pepper for color, but you can add yellow or green if desired.
Good Extra Virgin Olive Oil:

I like to use

this fruity

olive oil

which has a fantastic flavor.

Kalamata Olives
Red Wine Vinegar:

I used red wine vinegar for the marinade to give this dish a really nice bright Mediterranean flavor – for that,

this red wine vinegar is my go-to

!

Oregano

: a spice I always put in my pasta salads! This

dried oregano

has a bright and earthy flavor, and goes so well with the fresh crunchy vegetables.

Salt & Pepper
Parsley

Feta Cheese

– I used a crumbled feta for this recipe, but you can also use a block of feta cheese, mashed with a fork before adding to the salad.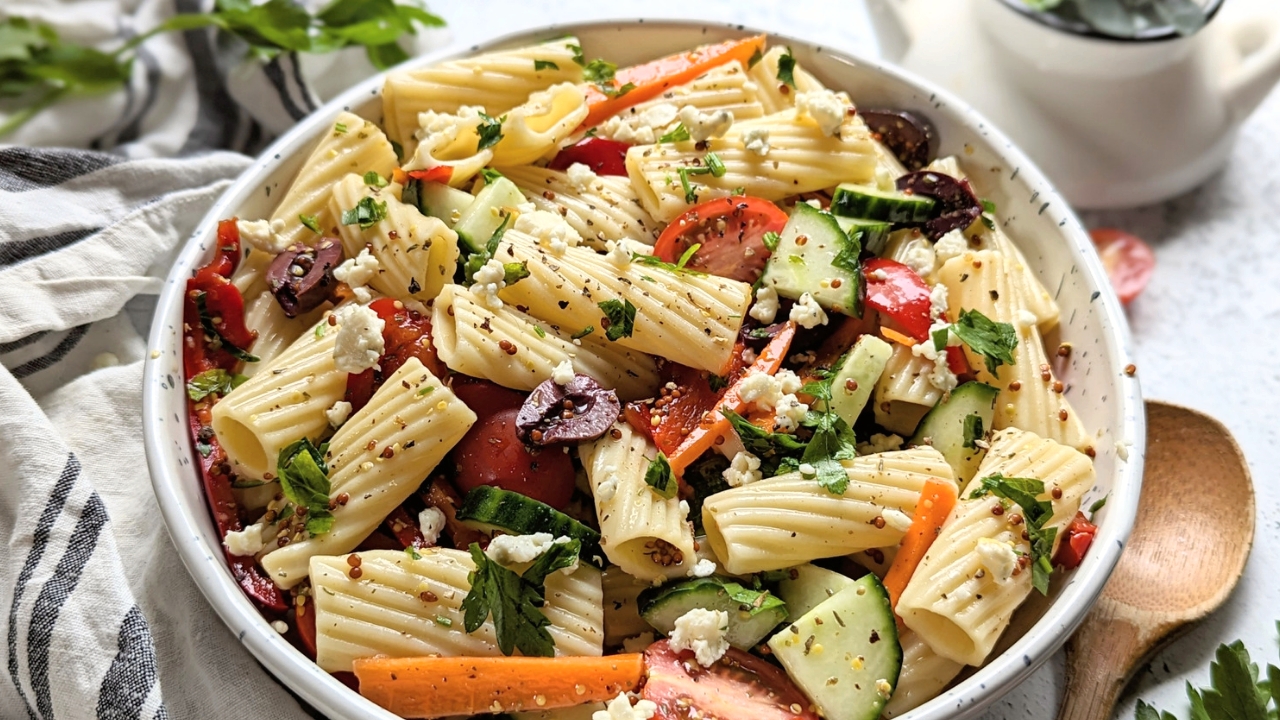 How Do I Make this Rigatoni Salad with Vegetables?
Boil a large pot of salted water, and cook rigatoni according to package. Drain and rinse noodles under cold water to stop them cooking. Set aside.
Dice the cucumber and tomatoes, cut the carrots into matchsticks, slice the roasted peppers into fine bite-sized ribbons, chop the parsley and olives, and add all veggies to a bowl.
In a separate bowl, mix the dressing ingredients together.
Add the pasta, and dressing – toss well to coat all the ingredients together. Garnish with extra parsley and feta cheese if desired.
For leftovers – I like to take a quart sized mason jar, fill half with pasta salad, and half with fresh spinach and enjoy for a quick and easy lunch!
Dietary Modifications
This recipe is vegetarian. To make vegan or dairy free, you can omit the feta cheese or use a plant-based substitute.
To make this gluten free, ensure you use a certified gluten free pasta and dressing ingredients. Always check labels to ensure all ingredients are certified gluten free before using.
Fresh Salads with Rigatoni Pasta You'll Make Again & Again
We absolutely love big bold salads, with fresh flavors and bold dressings. This rigatoni pasta salad is the perfect combination of savory with pops of sweetness from the fresh veggies, herbs, and homemade dressing.
There are NO boring salads here, we bring our best ingredients to each & every salad pairing. Some are light and delicate, some are hearty and satisfying. Browse through all our trending salad recipes to find your next favorite.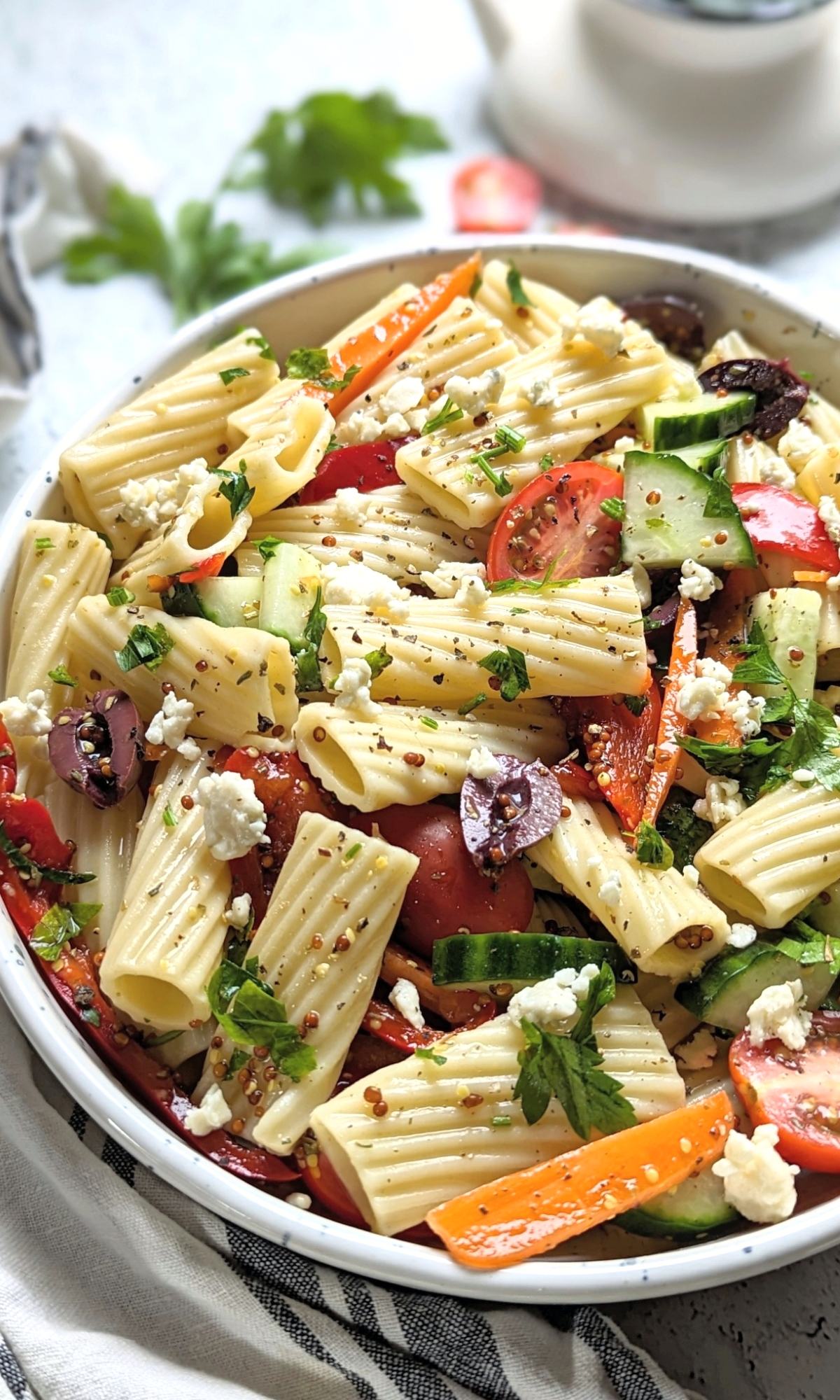 More Easy Vegetarian Pasta Salad Recipes You'll Love
Get the Same Ingredients For Rigatoni Salad with Vegetables
As always, if you make this vegetarian rigatoni pasta salad be sure to leave me a comment, rate this recipe, and tag me @theherbeevore on Instagram so I can feature you. I love seeing all your photos of my recipe recreations!
Let's keep in touch – make sure to sign up for my newsletter to get fresh recipes weekly. Give us a follow over on Pinterest, Instagram , & Twitter– I'd love to connect with you there!
remove
This post may contain affiliate links. As an Amazon Associate I may earn from qualifying purchases, at no additional cost to you. Thank you for supporting the brands that support The Herbeevore and our beehives!