A Hawaiian BBQ Tofu Bowl that will make you say ALOHA!  This vegan sheet pan dinner is bursting with flavor from roasted pineapple, peppers, onion, and zucchini in a sweet pineapple BBQ sauce!
  

Toss with crispy tofu for a protein packed meal with delicious tropical flavor… cooked on one sheet pan in your oven.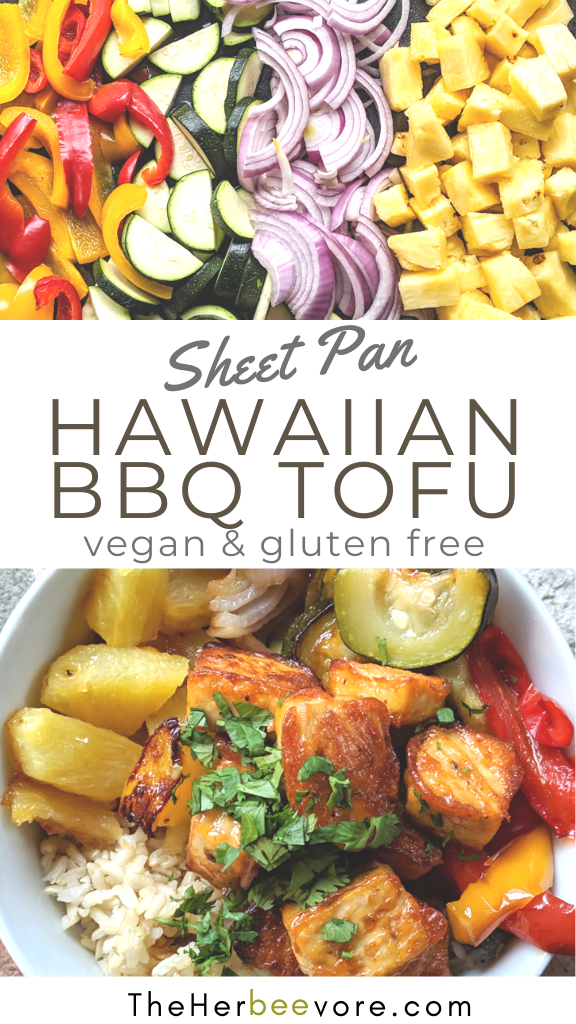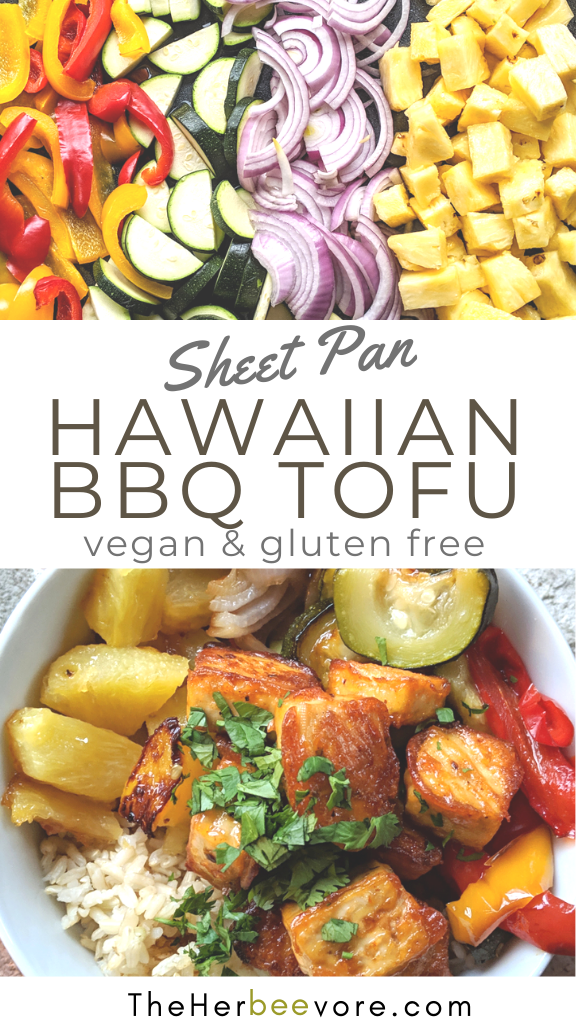 This post may contain affiliate links. As an Amazon Associate I may earn from qualifying purchases, at no additional cost to you. Thank you for supporting the brands that support us!
I created this recipe during our long New England winters when I was dreaming of a warm sandy beach and a tall margarita.  The tropical flavors (and colors!) in this dish can brighten up any dull dreary day.  The great thing about this recipe is that it can be enjoyed all year round, and if you can't find fresh pineapple, canned pineapple works just as well.
This Hawaiian BBQ Tofu Sheet Pan Dinner Recipe Is:
Bright
Fresh
Flavorful
Sweet AND Savory
Earthy
Fun
Vegan, Gluten Free, and SO yummy!

Vegan High Protein Sheet Pan Recipes For the Win!
This Aloha BBQ Tofu Bowl Recipe is the perfect sheet pan dinner!  I love a good sheet pan meal, especially during these fall months when the weather starts to turn cooler. Cooking on a sheetpan is one of my favorite ways to get a meal on the table fast!  All the food gets cooked on a single pan, which makes cleaning up a breeze. And the oven does all the work for you, so you can focus on other kitchen prep while the food cooks. Sheetpan meals are awesome for breakfast, lunch, or dinner – check out my link here to see other healthy sheet pan meals that are ready in no time!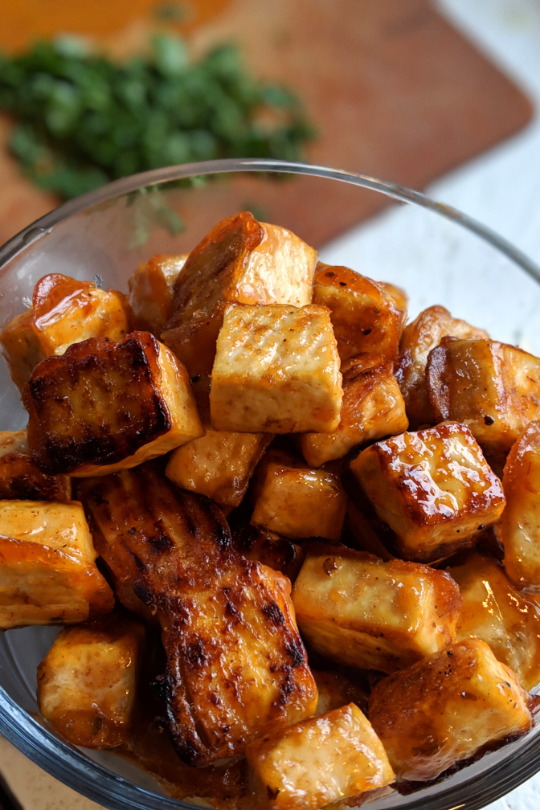 Sheet pan dinners are a truly beautiful and time-saving thing.  I've been getting into making them more and more lately, and I love the convenience and easy clean up afterwards.  We do a lot of baked tofu around our homestead and this recipe takes ordinary tofu up a notch.  The tofu is sweet, a little salty, savory, and makes for a healthy and filling dish!
What's in this Hawaiian BBQ Tofu Bowl?
Tofu – I have been LOVING these shelf-stable tofu packs from Amazon. I literally have 3 cases of them in my pantry as we speak. They are an inexpensive and healthy way to get some plant protein in. The texture of this extra firm tofu is perfect for this turmeric tofu salad, no pressing required!
Pineapple – use fresh if you have it or these great sliced pineapple chunks if you can't find fresh. I like to stock up and keep canned pineapple in my pantry for those days when I want tropical flacors in my life. Canned pineapple is great to roast, add to curries, and even toss in a pina colada!
Bell Pepper:

If you don't have fresh peppers,

these sweet roasted red peppers

are a great substitute! I love adding them to breakfast bakes, sandwiches or wraps, and soups.

Zucchini
Red Onion
Corn Starch: the secret to crispy tofu, it really makes a difference. I like Anthony's brand organic corn starch best.  I use it weekly to make crispy potatoes and tofu in the oven or the air fryer!
Olive Oil:

I like to use

this delicious Zoe olive oil

which has a fantastic flavor and deep color-

it's really inexpensive online here,

so I keep a few liters stocked up in my pantry.  For the

quality of oil you get, it's an excellent value,

I would highly recommend!

BBQ Sauce: Ok so this is a very lazy recipe, so use the best pre-made BBQ sauce that you can find… I like this one you can get online here!
Pink Himalayan Sea Salt: I

like to use

a pink Himalayan Sea Salt

in my kitchen, which has more natural minerals than plain processed table salt.

 It's fairly inexpensive,

so I'd recommend

this salt

if you're looking for an easy way to level up your spice pantry.

Tellicherry Black Pepper:

Like the salt, it's amazing the flavor difference you can get with

really good tellicherry black pepper

.  This pepper is

the same price is buying pre-ground

, and has a million times more flavor!  I use

these really great tellicherry peppercorns

, which I would definitely recommend. 

Cilantro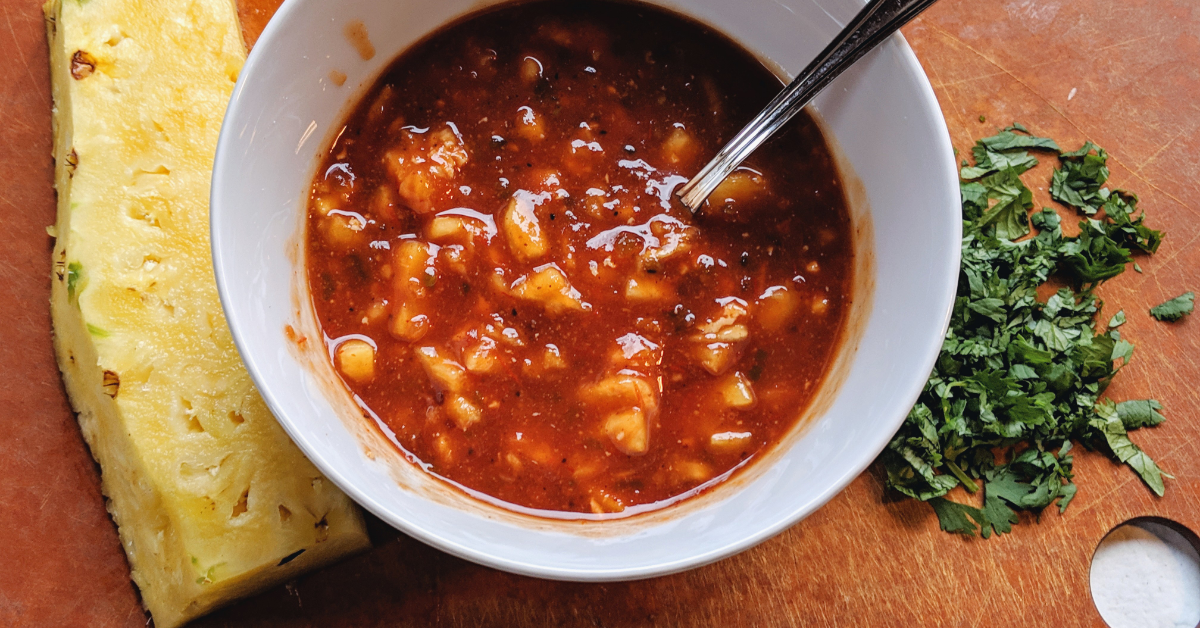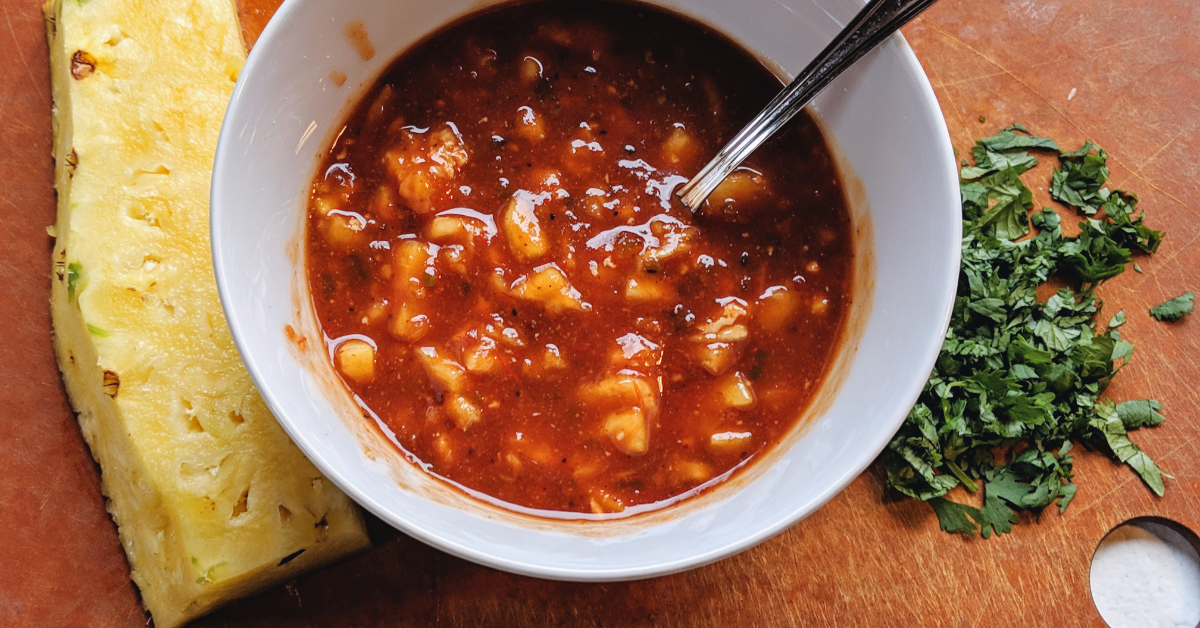 Whipping up a quick pineapple BBQ sauce really makes a difference when you coat the tofu and veggies in it after.  You can use any BBQ sauce you have on hand (we always have a few different kinds kicking about in the cabinet). Adding pineapple to store bought BBQ sauce is a small step that gives a major flavor payoff in the end.
How Do I Make This Hawaii BBQ Sheet Pan Tofu Recipe?
Preheat the oven to 425.  Toss the tofu with corn starch and the BBQ sauce.  Place on a sheet pan covered in parchment paper, and bake tofu for 40 minutes, flipping halfway through cooking.
Slice and toss the vegetables and pineapple with sunflower oil, sea salt and pepper.   Roast for 30 minutes until the veggies become soft and tender.
While the vegetables are roasting, mix the remaining pineapple and BBQ sauce together, toss with tofu to coat.
Layer the tofu and vegetables over brown rice or grain of choice.. Aloha!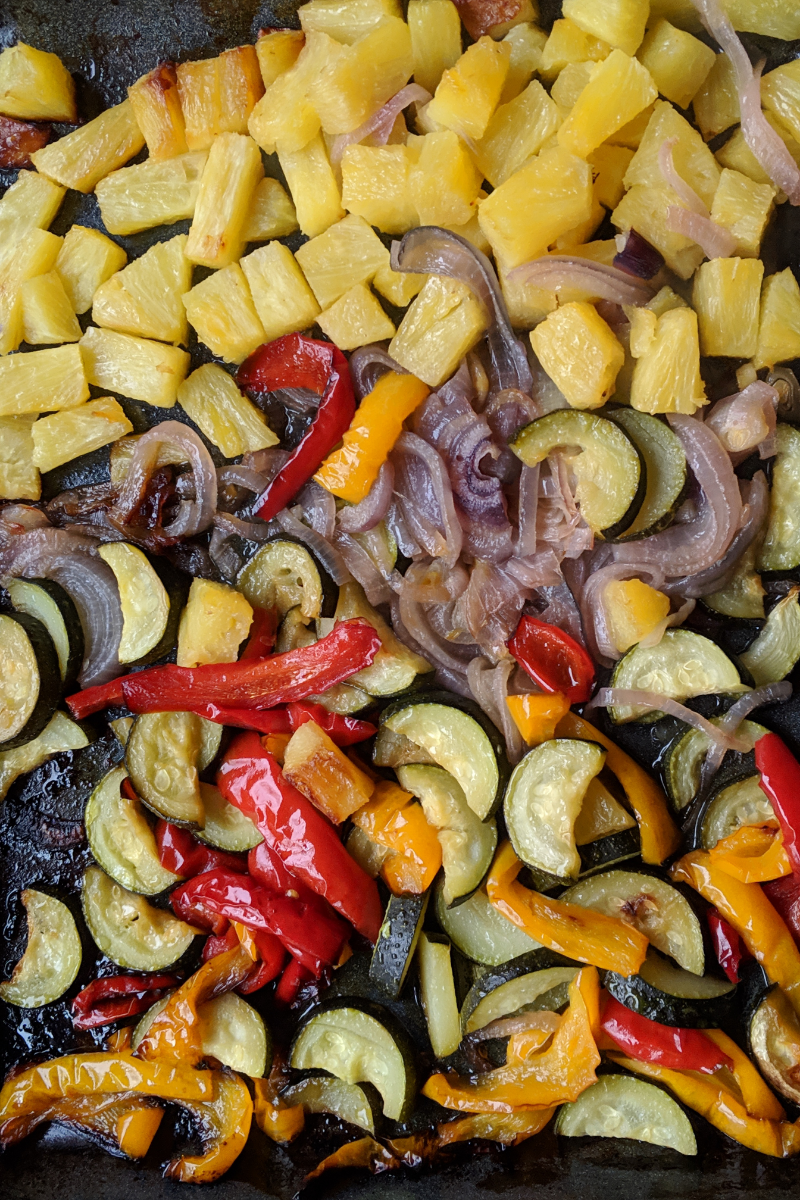 Both my husband and myself gave this recipe a resounding 10/10 – and is quickly becoming one of my favorite things to make!   We served this over brown rice, but it would also be good with quinoa or really just by itself.
Other Healthy Vegan Sheet Pan Dinner Recipes You'll Love!
Sheet Pan Pasta Bake with Mozzarella and Lemon (Vegetarian)
Sheet Pan Fajitas w/ Avocado Lime Crema (Vegan, Paleo, Whole30, GF)
Roasted Peach Salad with Balsamic Vinaigrette (Vegan, Gluten Free)
Sheet Pan Gnocchi Butternut Squash & Kale (Vegan, Dairy Free)
Sheet Pan Chickpea & Root Vegetable Dinner (Vegan, Gluten Free)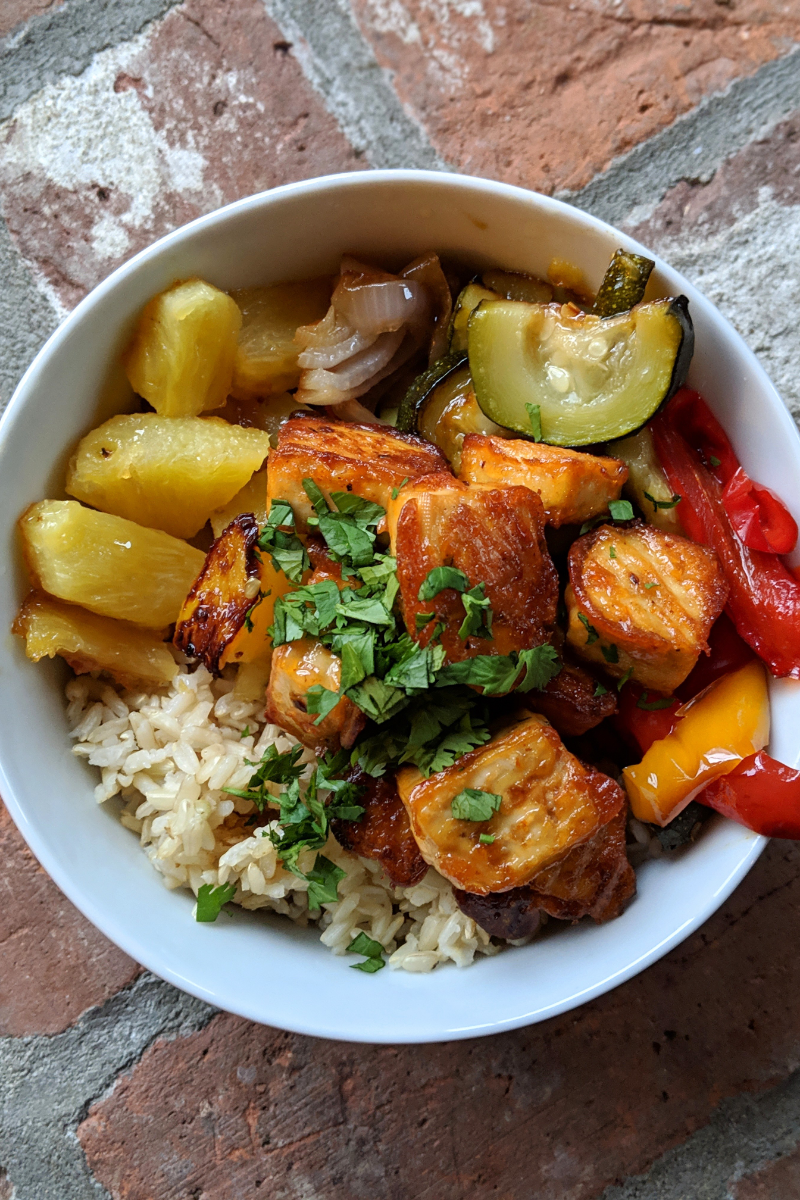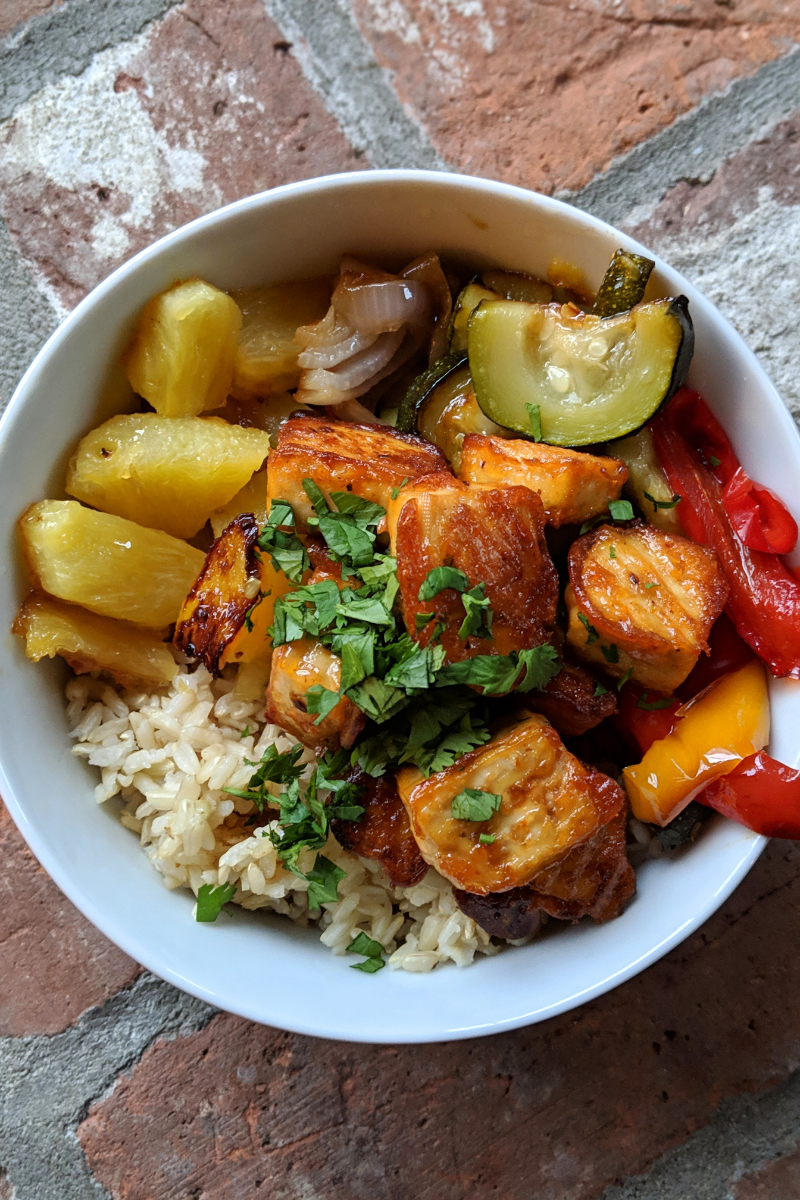 Get the Same Ingredients I Use in MyBBQ Sheet Pan Tofu Bowls Recipe:
As always, if you make this Hawaiian BBQ Tofu Bowl recipe be sure to leave me a comment, rate this recipe, and tag me @theherbeevore on Instagram so I can feature you.  I love seeing all your photos of my recipe recreations!
Let's keep in touch – make sure to sign up for my newsletter to get healthy recipes delivered fresh to your inbox. And don't forget to follow over on Pinterest, Instagram , & Twitter– I'd love to connect with you there!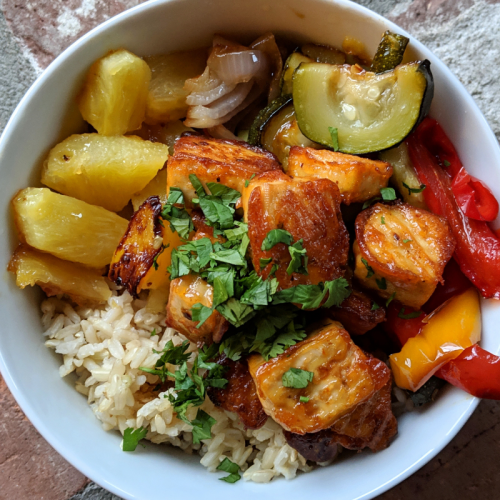 Hawaiian BBQ Tofu Bowls (Vegan, GF)
Say aloha to these Hawaiian BBQ Tofu Bowls! This vegan sheet pan dinner is bursting with flavor from roasted pineapple, peppers, onion, and zucchini in a flavorful pineapple BBQ sauce!  Toss with crispy tofu for a protein packed meal with delicious tropical taste.
Ingredients
1

(16 ounce) block tofu

drained and pressed

1.5

cups

BBQ sauce

divided

2

tablespoons

corn starch

2

tablespoon

sunflower oil

divided (or other high-heat oil)

1

pineapple

about 4 cups, divided

1

red onion

sliced

1

zucchini

sliced into half moons

2

bell pepper

sliced (I used red and yellow)

Dash of salt and pepper

1/2

cup

cilantro

chopped

(Optional) 2 cups cooked brown rice or quinoa

to serve the meal over.
Instructions
Preheat oven to 425 degrees ferenheit.  Cube the tofu into bite-sized pieces and mix it with 1/2 cup BBQ sauce for 10 minutes while the oven is heating up, stirring occasionally to make sure tofu is coated in sauce.  Add the corn starch, and toss to each piece of tofu is coated.  Line a sheet pan with parchment paper and add 1 tablespoon of sunflower oil to the pan.  Add the tofu to the pan and bake for 40 minutes, tossing the tofu half way.

Once the tofu is in the oven, grab another sheet pan and add the remaining 1 tablespoon of sunflower oil.  Take 1/2 cup of pineapple and roughly chop and set aside in a bowl.  Arrange the remaining pineapple chunks, red onion, zucchini, and bell peppers on the sheet pan and toss with the oil, adding a little salt and pepper if desired.  Add to oven along with the tofu, and cook the vegetables for about 20-30 minutes, flipping half way (the tofu and veggies should be ready around the same time).

To the reserved 1/2 cup pineapple, add 1 cup BBQ sauce.  Stir to combine.

Once tofu and veggies are roasted, remove from oven and coat with the Pineapple BBQ sauce.

Top with fresh cilantro and serve over brown rice or quinoa!
Did You Make This Recipe?
Please leave a rating and comment below!
Or tag me @theherbeevore in your photo on Instagram!
This post may contain affiliate links. As an Amazon Associate I may earn from qualifying purchases, at no additional cost to you. Thank you for supporting the brands that support us!