This Italian bowtie pasta salad recipe is a great make ahead side dish, and loaded with tomatoes, bell peppers, greens, and a bright fresh dressing. My family recipe for Italian Dressing is below- but this pasta salad is great with bottled salad dressing too, if you're short on time.
This hearty pasta salad is packed with vegetables and great for an appetizer, a light lunch, or a side dish with anything off the grill. This is one crowd pleaser farfalle pasta salad that everyone will want seconds of!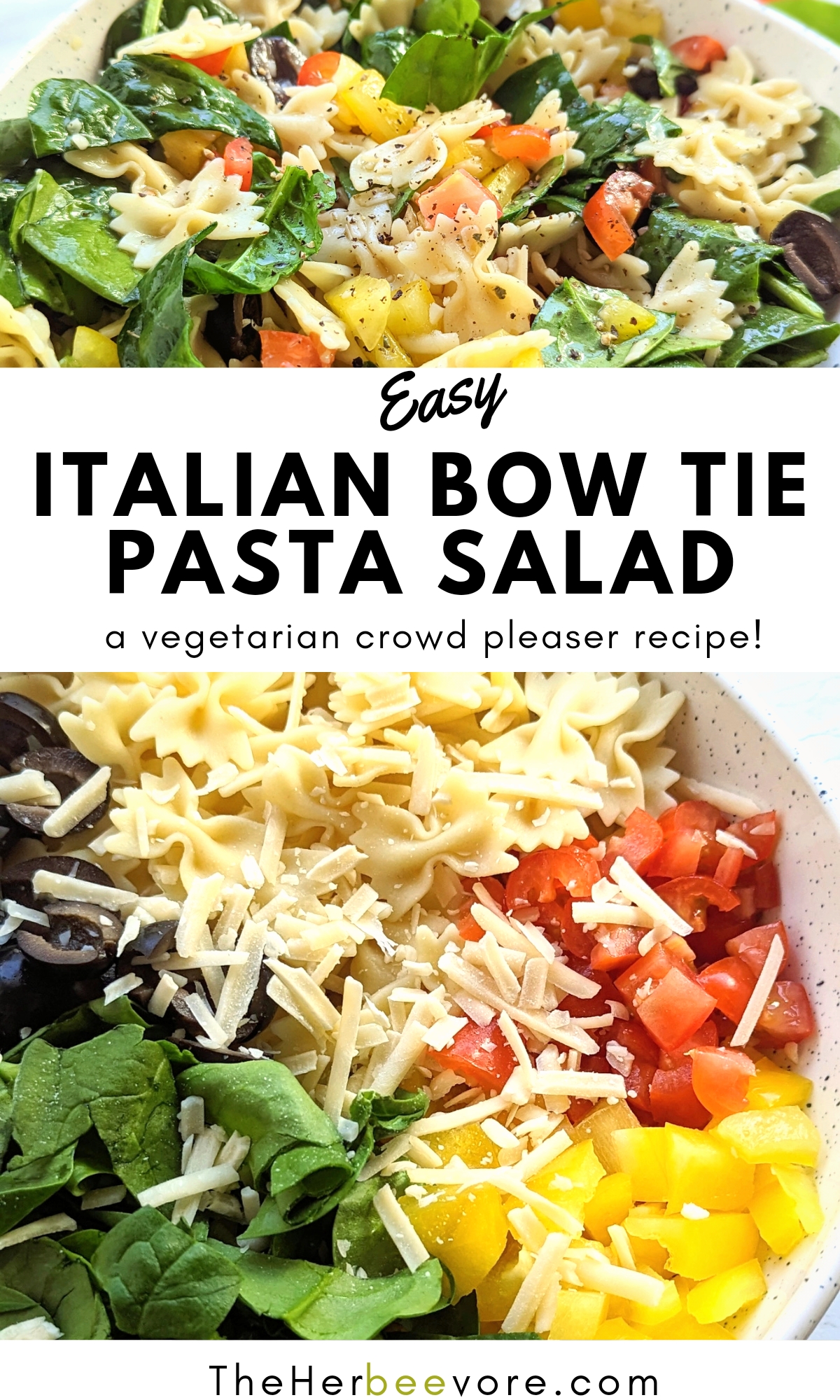 There's nothing better than a big batch of homemade bowtie pasta salad for a cookout and BBQ! Whether I'm hosting or heading over to a friend's place, I always try to make something that I can cook ahead of time. That way I get myself ready day-of, and grab the dish on my way out the door.
This pasta salad takes about 20 minutes to make, and is so much more impressive than a store-bought salad. You can make your own dressing if you're fancy (it just takes 5 minutes), or use a bottled Italian dressing. Either way, this is a simple fresh pasta salad everyone will want to dig into.
This Italian Bowtie Pasta Salad Recipe Is
Bright
Crunchy
Tangy
Vibrant
Loaded with Flavor
Colorful
Vegetarian, and gluten free by using GF pasta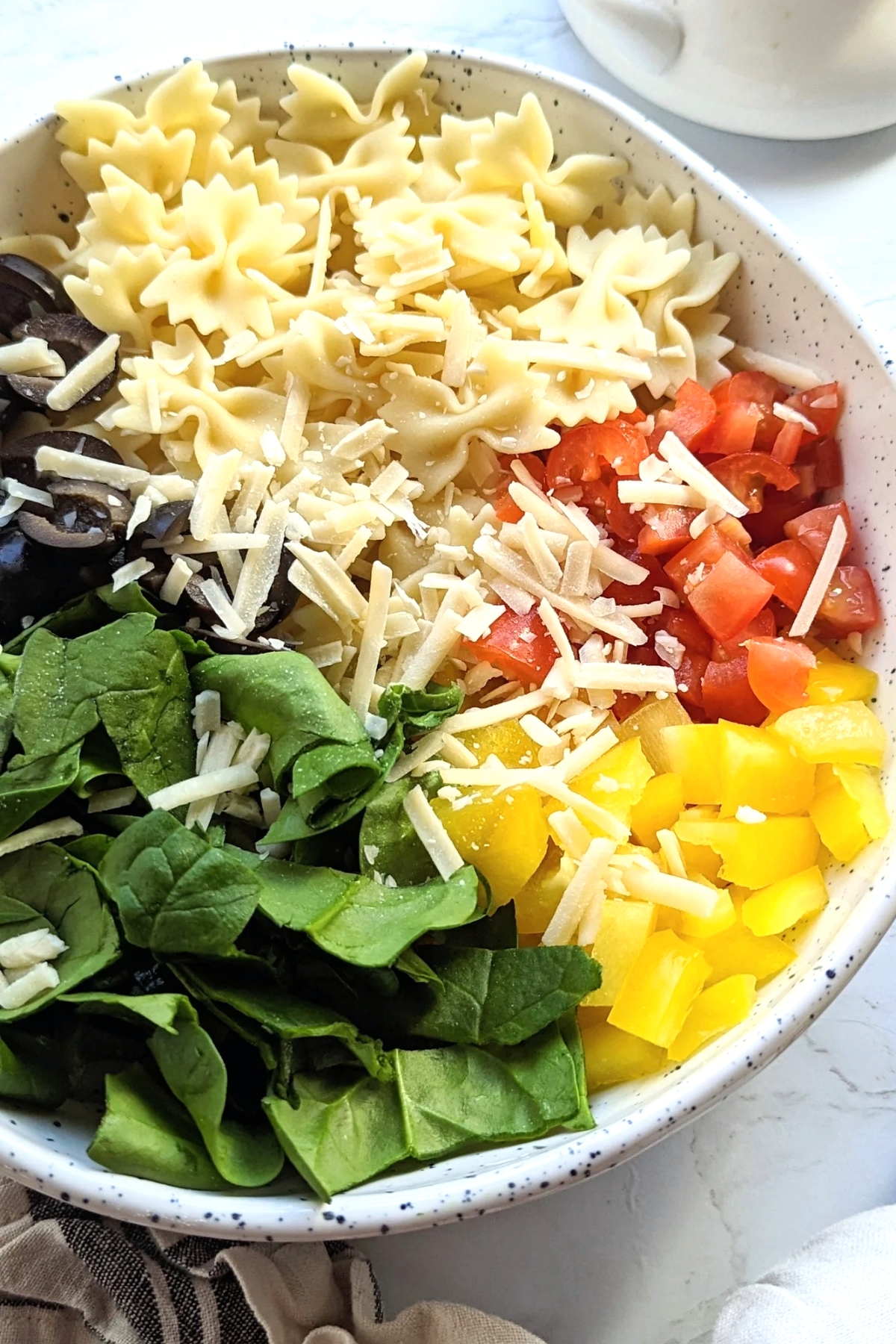 A Great Make-Ahead Italian Bowtie Pasta Salad for Entertaining
This Italian bowtie pasta salad recipe is fantastic to make ahead of time for a party, potluck, or gathering. Making this recipe in advance allows you to skip any cooking or prep on the day-of. This is a great recipe to entertain with, or bring to an event.
If I make this ahead of time, I toss the pasta salad with a little extra dressing before serving for extra flavor. A crowd-pleaser that everyone is sure to love! Check out my other make ahead meals too.
What's In This Italian Farfalle Pasta Salad Recipe?
I stock up on healthy pantry staples with Thrive Market – they have a fantastic selection of organic pantry items, natural home & beauty products, and great foods for a fraction of grocery store prices! You can save 30% off your first order, and get a $60 free gift by signing up.
Tomatoes, Bell Pepper, Olives, Spinach
Bowtie, or Farfalle Pasta – a great pasta salad noodle!
Apple Cider Vinegar,

which gives this dressing

a little extra tang

which is really fantastic! I love using

this organic apple cider vinegar

with the mother which has a great flavor. I think it gives a nice extra sweetness and depth.

Italian Seasoning Blend

:

usually has thyme, basil, rosemary, parsley, etc. I love

this bright and flavorful Italian season mix

which brings this amazing dish to life.

Oregano

: a spice I always put in my pasta salads! This

dried oregano

has a bright and earthy flavor, and goes so well with the fresh crunchy vegetables.

Extra Virgin Olive Oil:

I like to use

this fruity Zoe olive oil

which has a fantastic flavor and deep color-

it's really inexpensive online here,

so I keep a few liters stocked up in my pantry. For the

quality of oil you get, it's an excellent value,

I would highly recommend!

Tellicherry Peppercorns:

Like the salt, it's amazing the flavor difference you can get with really good

tellicherry black pepper

. Amazon has

a generic brand tellicherry peppercorn

which is the same price is buying pre-ground, and has a million times more flavor… so I use these really great

tellicherry

peppercorns, which I would definitely recommend.

Shredded Cheese, I used parmesan, but this is optional. Skip this for a vegan version (and make sure you don't use a dressing with cheese).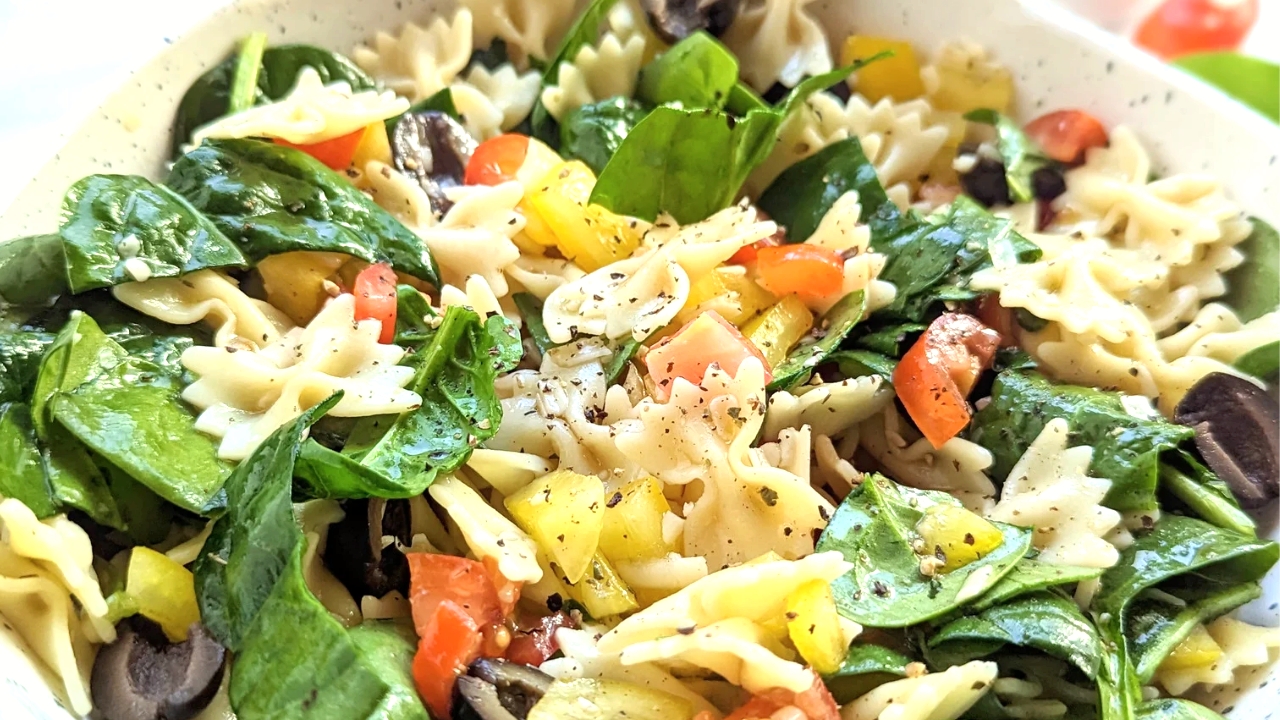 How Do I Make this Farfalle Pasta Salad?
Boil a large pot of water, and cook bowtie pasta according to package instructions. Drain and rinse noodles under cold water to stop them cooking. Place drained cooled noodles into a large mixing bowl.
Dice the bell peppers and tomatoes, put in the spinach, and halve the olives. Add the veggies to the bowl with the pasta.
Add all dressing ingredients to a mason jar, and shake well to combine.
Pour the dressing over the pasta and veggies, and toss well to coat. Taste, and season with Salt and Pepper if needed! Add shredded parmesan cheese on top.
For leftovers – I like to take a quart sized mason jar, fill half with pasta salad, and half with fresh spinach and enjoy for a quick and easy lunch!
Make Bowtie Pasta Salad Vegetarian for a Healthy Version
This vegetarian Italian bowtie pasta salad is a simple way to get extra veggies in your diet. I'm all about making recipes plant-based when I can. Vegetarian cooking does NOT have to be bland, boring, or flavorless… It's quite the opposite when done right.
By building meals around vegetarian pantry staples and swapping in a few plant-based ingredients you can make healthier meals for you and your family. I made a list of my 125 favorite vegan pantry ingredients that we use on a weekly basis, and check out all my vegetarian recipes here that are on The Herbeevore. These easy and healthy recipes are fantastic meatless meals for your table.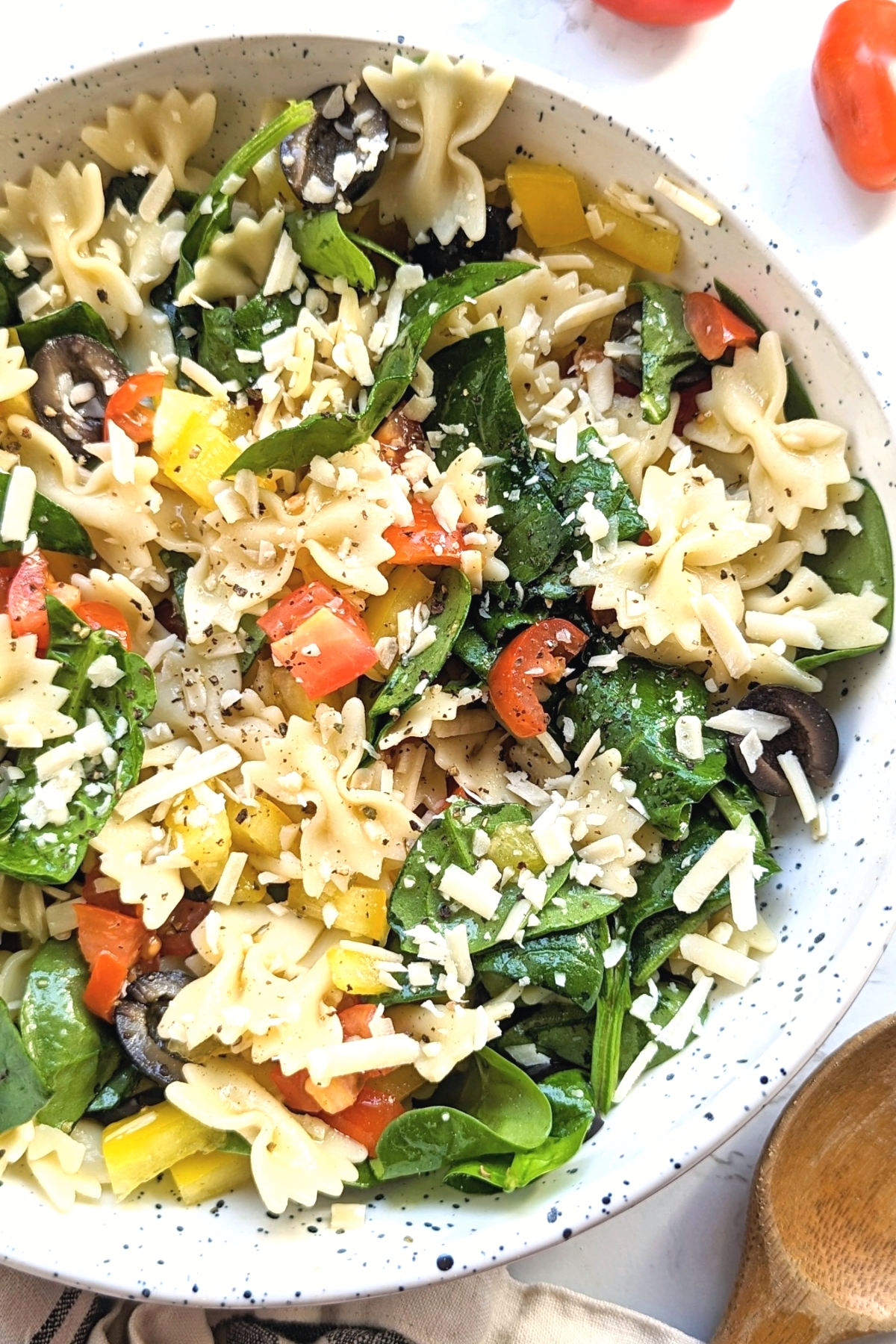 More Easy Side Dishes To Serve with Pasta Salad
Get the Same Ingredients I Use in My No Mayo Italian Pasta Salad!
As always, if you make this vegetarian and Italian bowtie pasta salad recipe be sure to leave me a comment, rate this recipe, and tag me @theherbeevore on Instagram so I can feature you. I love seeing all your photos of my recipe recreations!
Let's keep in touch – make sure to subscribe to my monthly newsletter to get free recipe inspiration.
And don't forget to follow over on Facebook, Instagram, YouTube & TikTok – I'd love to connect with you there!
This post may contain affiliate links. As an Amazon Associate I may earn from qualifying purchases, at no additional cost to you. Thank you for supporting the brands that support The Herbeevore and our beehives!