These host or hostess gifts for BBQ or cookouts are fun and affordable gifts that your host will absolutely love and be able to use again & again! Skip the bottle of wine or store bought flowers, these thoughtful gifts are fantastic ways to thank your host for opening up their home (and yard!) to you. Here are some great BBQ host gift ideas they will love.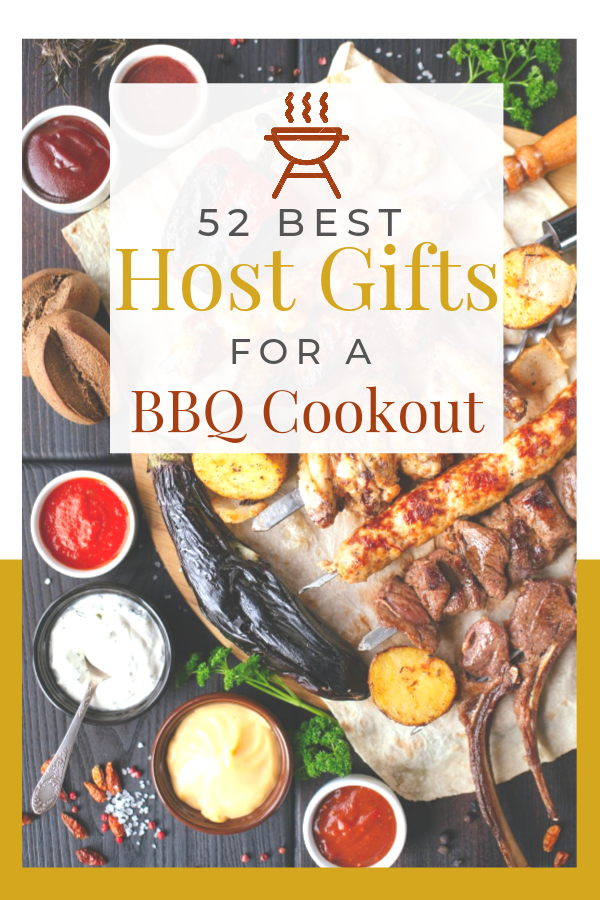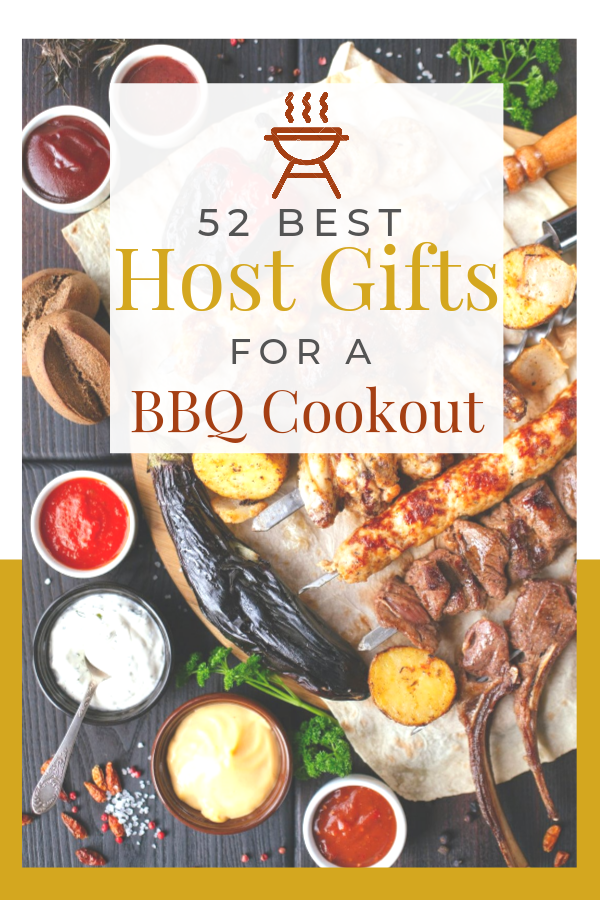 This post may contain affiliate links. As an Amazon Associate I may earn from qualifying purchases, at no additional cost to you. Thank you for supporting the brands that support The Herbeevore and our beehives!
BBQs are the best – aside from all the delicious food & drinks, they are such a great way to spend time outside with friends and family. Bring your BBQ host or hostess a special thank you with some fun gift ideas below.
If you're wondering what to bring to a BBQ (aside from an appetizer and your BYOB cooler) these fantastic host and hostess gifts for BBQ and Cookouts is the place to start. We absolutely love having our friends and family over for BBQs. I never expect to get gifts, but I always remember the little thoughtful surprises my friends will bring as a thank you!
These amazing and inexpensive gift ideas for your next BBQ will surprise and delight your hostess. Whether it's a gift for the grill, a party game for the while family, or just a fun present for the kitchen – these gifts below will officially make you your host's favorite guest.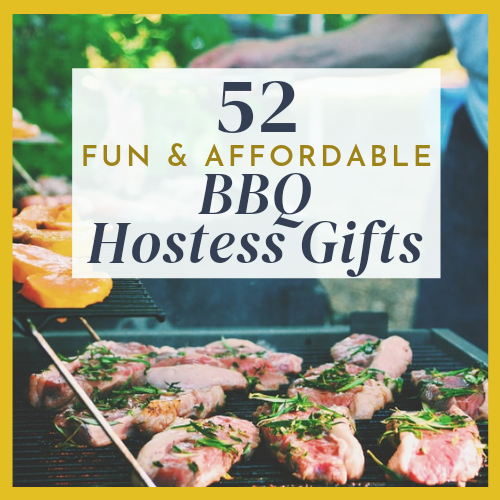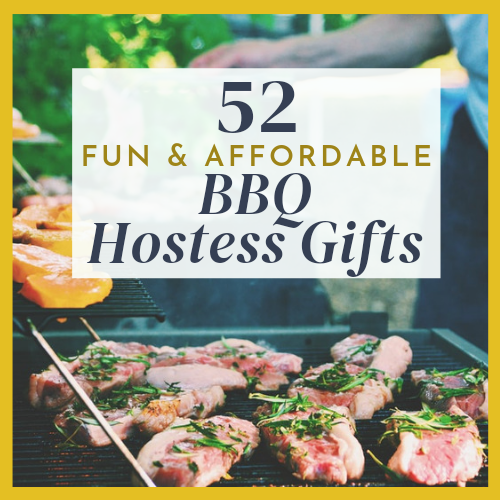 Cheers to your weekend stay with this gorgeous copper Moscow Mule mug gift set! This mugs set contains everything you need for a Moscow Mule party at the lake— 4 mugs plus matching straws, mango wood coasters, and shot glass. These premium hammered copper mugs are made solely of copper — no nickel, tin, or other filler metals to compromise their natural color, beauty, and strength. You host will love these and will be able to entertain with them again & again!
Enjoy delicious s'mores indoors all weekend long, no matter the weather! Skip the campfire (and the bugs) and toast marshmallows with this highly rated electric toaster. Fun for both kids AND adults, trust me, this will be one major hit with your host or hostess!
Surprise your BBQ host with this fantastic salt block for the grill! This versatile salt block can be used for grilling, searing, curing or cooking and will naturally infuse a small amount of mineral rich salt to your food. It can also be chilled and used to prepare and serve your favorite cold foods, appetizers and desserts. Whether you heat it, chill it or simply use at room temperature you will add excitement and fun for both your guests and your meals.
Kick off a fun weekend with friends with this hilarious party game! Compete with your friends and family to create the funniest memes. Do this by using one of your dealt caption cards to caption the photo card in each round. The winner of each round is decided by a rotating judge. Pro tip: pick your caption card to match the judge's sense of humor!
This croquet set is a great entertainment for the whole family – both kids and adults will love to learn this great outdoor lawn game. Live your best lake life with this set which includes a durable carrying bag for easy storage and transport. It is a perfect yard/outdoor games for families, kids and adults.
The perfect gift for the organized BBQ host! The markers are so cute also because they say "Please, put me back! – Marker Pens". This way, hopefully people will remember to put the pens back so that they don't go lost or missing, it also great for a party house dispenser cup holder.
This easy campfire popcorn maker is great for nights at the lake, campouts, or backyard parties! Make 4 quarts of popcorn in just minutes. Takes camping out to a whole new level – no electricity needed!
Entertain. Impress. Keep it chill. Be ultracool by letting guests help themselves to chilled drinks at parties, picnics, and dinners. The stainless spigot ensures no mess is made, and the tin lid protects drinks from flies and debris. A wide mouth allows you to infuse water with berries and fruits and makes handwashing a breeze. Durable and dishwasher safe, you can say hello to convenience and ease. The chic way.
A camp fire essential for the lake – make it easier to keep the fire going with this fantastic canvas log tote. Not only a firewood carrier – to keep wood chips inside and not scattered on floor, for firepits, grilling and pretty much everything about outdoors; But also it can be used for other carrying or storage purposes such as: tools, picnic, camping, packing, kid toys, or beach toys!
Kick off a weekend at the lake with an amazing game of corn hole! This set is constructed of 100% solid wood, which means that the game board is not easily moved by throwing bags. With the support of two solid wood cross braces, and is regulation sized (for serious players)!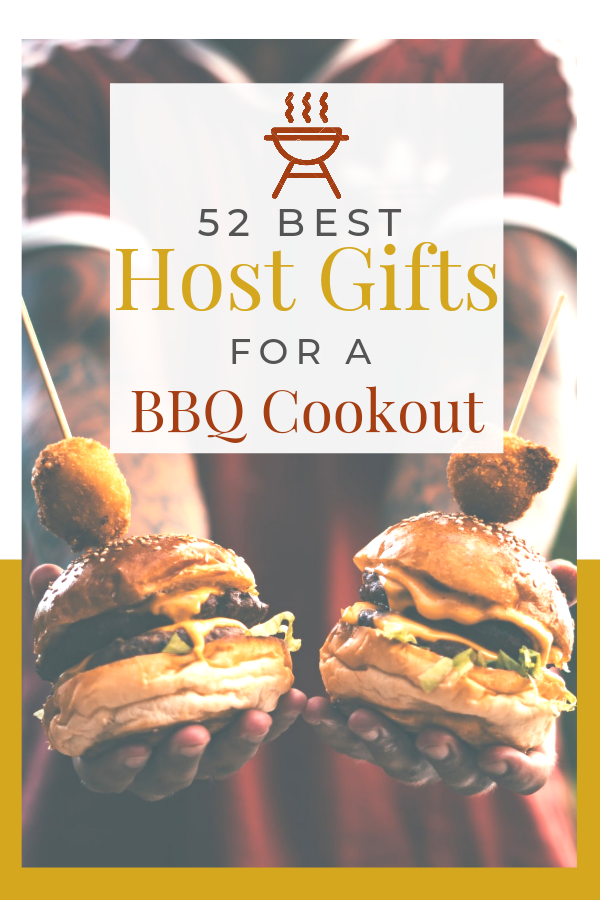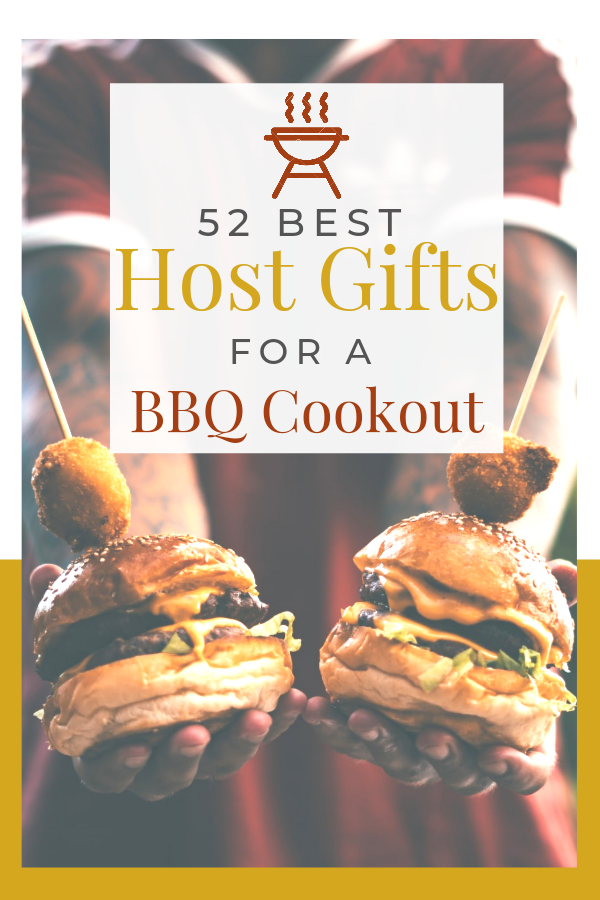 You host or hostess can make 3 easy and fun BBQ recipes: mustard-based sauce, tomato-based sauce, and mop sauce! All-natural ingredients: crushed red pepper, liquid smoke, onion, garlic, Worcestershire sauce, and more! Includes 3 bottles and labels to customize your homemade sauces. A super unique hostess gift for BBQ or cookout, for barbecue lovers and grill masters!
This picnic and beach mat makes a fantastic host gift idea! ???????? ????: There are endless uses for this beach mat, including lounging in any setting that has casual seating, like the beach, park, and outdoor concerts.
This high-quality set includes bamboo cheese board and four stainless steel serving utensils. This brunch cheese board is the ideal gift for any occasion, including a bridal shower, wedding, holiday, birthday, housewarming, and more!
Enjoy a picnic at the lake with this portable on-the-go picnic set! California picnic luxury design you will not find a better picnic backpack. top of the line cutlery and flatware 1 x wooden handle corkscrew opener, 1 x wooden handle cheese knife, 1 x wood cheese board, 1 x waterproof matching pattern picnic blanket.
Have fun in the great outdoors with this amazing bocce ball set! Bocce Ball is a fun and fascination Team Game. It is easily for all ages people to play, such as Kids, Children, Teens, Adults, Parents etc. Just simply set up it anywhere, make it perfect for a larger group of 2-8 players!
An adorable hostess gift idea for your next taco night! A great host gift for anyone who loves guac and also loves puns! This set features a large guacamole or salsa bowl with an engraved spoon. You can bring guac to the party… and have the host keep the set after!
A fun evening trivia game for guests at the lake! It's the Old School vs. New School trivia game! Test your knowledge about your rival generation's pop culture trivia. Play in teams based on generations, or if players are around the same age, then it's every person for themselves! Includes 220 cards with four types of questions, so you can play again and again.
Upgrade your host's meal prep game with this fantastic boning knife. The knife is not only good at take meat off bone, but also deftly cutting large pieces of meat like beef or separating ribs. If you plan to go camping or grilling, put it in the sheath and bring it with you.
This Tipsy Otter fabulous set of 4 margarita style glasses and Acacia wood salt rimmer with storage lid will be perfect for your next fiesta! Great for serving your favorite cocktails or personal creations. Celebrate life's moments with friends and family or add stylish accessory to your home bar decor.
3 Piece White Birch Basket Gift contains: 1 Wild Maine Blueberry Jam (12.5 oz), 1 Maine Maple Syrup (8.5 oz) and 1 Farmhouse Pancake & Waffle Mix (16 oz). Fantastic gift choice for housewarming, hostess, sympathy, or birthday. Includes some of the best combinations of jams, mixes, syrups, and more all in attractive boxes or baskets.
Add to your BBQ's hosts library with this fantastic cookbook written by a true pitmaster. James Beard Award–winning chef Rodney Scott celebrates an incredible culinary legacy through his life story, family traditions, and unmatched dedication to his craft.
Bloody Marys are a diverse drink one can easily spice up and make their own. Delicious with or without alcohol! Add lemon, lime, hot sauce, shrimp, bacon, or any of your other favorites to our mix! The salt is the best part! SALT RIMMER is an aromatic all natural blend of sea salt and fresh herbs and spices. Moisten glass rim and dip into the Rimmer blend.
This BBQ towel is guaranteed to make a special gift and bring joy to the pitmaster who receives it. These make great gift sets and are neatly packaged in a cellophane sleeve for protection. It is called a waffle weave because the towel has raised looped edges on the surface of the towel in the shape like that on a delicious Belgium Waffle. These "pockets" that are created hold water while the surface of the cloth stays dry making it an exceptional drying towel! The raised looped edges on this lint free towel make it great for all around use, while also being great on glass.
This cute, compact tin is filled with 50 hilarious and thought-provoking questions asking players to choose between two equally good, unpleasant, or absurd scenarios. With a wide range of intriguing questions, this family-friendly party game leads to interesting conversations.
Indulge your senses and your sense of humor with this witty and aromatic candle. The signature scent is built around sparkling champagne blended with sugared oranges, lemons, ripened raspberries and a hint of mountain greens. It's refreshing and entertaining – without the hangover. Stay Lit … Party like someone else is cleaning up.
Brunch is about to get rowdy – a fun wedding brunch hostess gift idea! You didn't know it was missing from your life, but now you do and here it is. Chambong is a better and faster way to deliver 6 oz of your favorite bubbly beverage straight to your mouth. With Chambong there's never a reason for a boring present.
Bring a different kind of 6 pack to your next BBQ – this hot sauce gift set is a perfect hostess gift for BBQ or cookouts! The flavors in this set ranges from chipotle, garlic, mango habanero, habanero jalapeno, to cayenne. Just wrap it up, slip it into a bag or add a bow, and this gift set is ready to go!
A fabulous brunch gift idea- there's no better gift than a nice bottle of wine. it brings people together. it's great for sharing, and always leads to a good time! don't let the bottle be your only gift. This wine tote has a great selection of wine bottle carrier bags that can dress up any bottle and really make it something special.
Have fun outdoors with this great horseshoe set the whole family can play with! And the best part? It's approved for official play… for the serious players. The National Horseshoe Pitchers Association of America has approved these horseshoes for official play and are regulation grade. They have more weight forged into the toe calks (tips) to improve balance and control.
This donut wall stand for party and event use holds donuts in the kitchen for breakfast, in the dining room for brunch, or even for birthday or party use with clients, guests, or friends. A donut display holder makes a great gift for anyone who loves hosting friends, parties, or events. Get one for your own kitchen or give one to someone who loves fresh, delicious donut pastries.
This homemade infuser kit is the perfect gift for that DIY person in your life or aspiring moonshiner or bootlegger, this makes the perfect alcohol gift for both men and women. If you like making cocktails or home brewing, you'll like infusing your own alcohol. Everything needed to make your own all-natural handcrafted infused spirits: 110 Page Recipe & Instruction Book, Infusion Jar, Liquor Bottle w/ Wood Cork Top, Funnel & Strainer with Fine Mesh Filter, and Chalkboard Tag to label your handmade creation.
Create a calming environment with this trendy, responsibly sourced Dough Bowl Candle. Our candles are created using only the best ingredients, fragrances and intentions. Each candle container is unique and durable. Our candles, lotions, and soaps are formulated with safe scent science to be phthalate-free, non-carcinogenic, and paraben-free.
Get up your host with this fantastic heavy duty apron to keep them mess-free while they tend to the BBQ! Chef Apron with pockets in the front design. Perfect to put your cell phone, pens, notebook, grill slips, meat thermometer and others you need. Convenient for you to store gadgets. Two loops on chest design. The special loops prevent your headphone line from getting in the way of your work when talking on your mobile. High functionality, durability.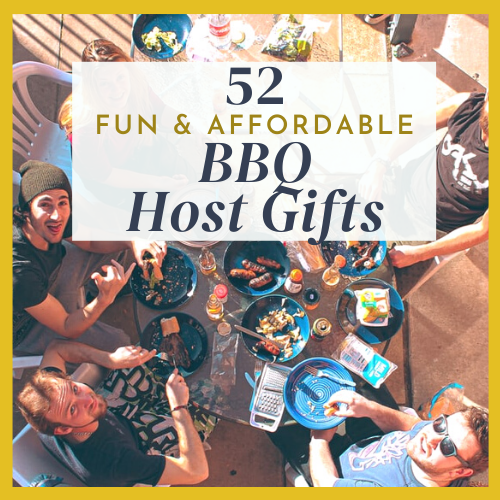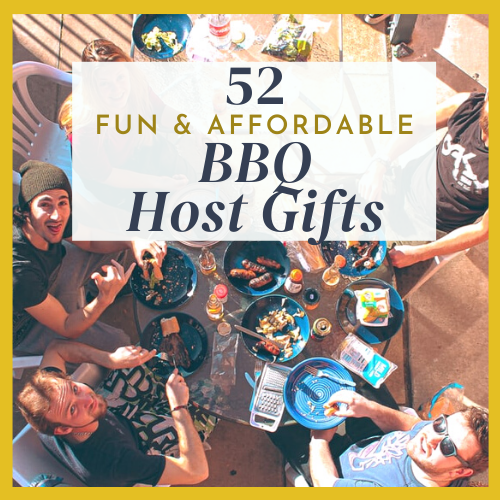 Made Of Solid Marble With A beautiful gold brass Inlay around. Unlike Leather or other material coasters, these vary slightly in design by the very nature of natural marble.Coasters are extra wide and thick with 4 inch in diameter and 10mm thickness.Silicon base provides anti slip quality on multiple surfaces.
A great way to cozy up at a lake house or cottage, especially for cool nights by the campfire! Great for the home, camping, mountain cabin, beach, or in the evenings by the fire – give your hosts major cozy vibes with this beautiful wool blanket.
Marshmallows Symphony smores sticks are EXTENDABLE like a radio antenna up to 34 inches, not like other skewers that are only 22 inches long, keeping your children at a safe distance from any fire pits, camp fire or camping fire pit. When collapsed, STORAGE becomes a lot EASIER with these telescoping campfire sticks! Shrinking up to 10 inches, they are much easier to travel with.
A great trivia game everyone will love, that you can leave up at the lake for rainy days! …I should have known that! is an addictively entertaining trivia game with over 400 questions about things that you should know.
Keep it healthy (and gluten free) with this range of good-for-you BBQ sauces! Something that everyone at your table will love! Simple Girl has mastered low calorie sauces without making any compromises to quality or a healthy diet. Unlike other "diet" BBQ sauces on the market, our BBQ sauces contain no sucralose, aspartame, caramel color, or preservatives.
Treat your host and hostess with this delicious chocolate covered biscotti set! Gourmet Chocolate Coated Biscotti Bars in a Pretty Presentation Gift Box. Each perfectly crunchy Biscotti Biscuits is handdipped in various luscious chocolate coatings and then garnished artistically. Eighteen (18) choco-covered baked bars are nestled in individual compartment for easy shipping.
There's no shame in pigging out with this fun pig shaped serving and cutting board; ideal for both serving and prepping delicious food. Flat-grain bamboo construction is lightweight, durable and knife friendly. Easy care: simply hand wash or wipe with a damp cloth; do not soak in water or wash in the dishwasher – make an adorable serving tray as excellent host or hostess gift for BBQ!
This adorable rope hammock can be hung indoor or outdoor, it's perfect for patio, garden, backyard, poolside or balcony when you reading, relaxing or sleeping. It offers many ways to lay or sit in it, with zero pressure on whole body. You can enjoy it with your family or your friends. It also makes an awesome gift for your BBQ host!
When it comes to awesome gifts, few can ever compare to a nice set of beer glasses. Great as a gift for guys who grill – it doesn't matter if the recipient's a mom, dad, girlfriend, boyfriend or colleague, beer lovers from all walks of life would surely love them. Each 16 ounce virtually unbreakable beer glass in this set is big enough to hold your favorite drinks—whether it's craft or draft beer—but not so big that it's a hassle to hold for extended periods of time. Party without worries! All the BBQ beer glasses in our collection are dishwasher safe, so cleaning up after your wildest parties is a breeze. Just throw them in and you're ready for the next one!
The BEST lawn game for a backyard BBQ – adults and kids will absolutely love this! It's the biggest authentic hardwood Jenga game ever sold! At setup, starts at 26 inches high, and can stack to over 5 feet high in play!
OK This would be especially adorable if you pre-filled it with BBQ favorites: ketchup, cloth napkins, BBQ sauce. Keep your host's tables clean with this easy mess-free sauce & utensil caddy! If you are looking for the ultimate flatware holder addition in your kitchen arsenal, then we got you covered. This modern bamboo utensil holder is especially designed to have not just 4 or 5 but 10 different compartments to accommodate all of your needs and hold your silverware. This would be especially adorable if you pre-filled it with BBQ favorites: ketchup, cloth napkins, BBQ sauce.
I have this exact same hummingbird feeder (2 of them actually!) and my birds go wild over it. I get a ton of compliments, it's a durable and beautiful feeder. Features five flower shaped feeding ports to accommodate multiple hummingbirds. Lavender glass vintage bottle design provides an antique feel with brushed copper finish base. If you live in an area with hummingbirds – this makes a fantastic gift for your host! Comes in amethyst like above, and also red.
A great gift set to get that perfect smoky BBQ finish! Includes 3 varieties of 100% natural wood chips: Hickory Wood, Apple Wood & Cherry Wood. This set comes with Wood Chips, Stainless Steel Smoker Box, BBQ Sauce & Rubs, Thermometer, Tongs & Guide. Grill kit has everything you need including smoker box, pair of tongs & grill guide.
This adults-only game is the perfect BBQ gift for a hostess or host! With more than 2 million copies sold, TableTopics are the #1 best-selling conversation starters These provocative conversation starters will spice up the conversation and get you and your closest friends laughing the night away Questions are a little bit racy and a whole lot of fun. Makes an entertaining hostess gift that everyone can enjoy!
This high-quality set comes with everything needed for a successful cook out. Easily season steaks with the basting brush, flip hot dogs or burgers the spatula or tongs, eat corn with the corn holders or grill kabobs with the skewers. Each barbecue grilling tool is made from quality stainless steel which is rust resistant for long-lasting reliability. Stainless steel tools are also more durable than wood alternatives as they will not crack after extended use. This complete set of barbeque accessories is an ideal gift for any avid griller or cook.
Shine some light on the party with these gorgeous solar lanterns! This lovely solar lantern is designed to embellish your outdoor space. With the night coming, it casts a warm, yellowish light that forms a pretty shadow around it and creates the perfect amount of ambient mood lighting. These are such a wonderful decoration to your garden, trees, courtyard, deck, patio etc.
This delicious Spiceology 6 Pack Rub Gift Set includes 6 mini jars of the most popular blends in a gift box! BLACK & BLEU – an addictive blend of warm Cajun spices and real dehydrated bleu cheese. This blend goes on ALL THINGS including making delicious burgers, popcorn, mac & cheese. CHILE MARGARITA – warm chiles are mixed with citrus and a touch of sugar to give this unique chile lime seasoning a punch of amazing flavor. COWBOY CRUST – This blend has high octane espresso powder, chiles, mustard and a touch of brown sugar. GREEK FREAK – Arguably our most popular blend because you can literally use this herb, garlic and onion blend on EVERYTHING. SMOKY HONEY HABANERO – The honey granules crystalize when you cook with this blend making for a delicious crust on anything you put it on. RASPBERRY CHIPOTLE – real dehydrated raspberry powder with chipotle chile and a touch of brown sugar.
A gorgeous and unique serving board for your BBQ host! Whether you're looking for a right-sized cheese plate, charcuterie board, or serving plate this versatile hand-made piece is spot-on for any hosting requirements. Made of East Asian boneware material providing the highest quality physical strength and chip resistance.
Cheers to your BBQ host! All the bar tools sit neatly in one convenient location right next to your wines and liquors. Play bartender for your guests; host generous and warm parties. The rustic tray with bar essentials will make a beautiful addition to your home bar. If you are looking forward to entertaining guests and showing off your bar, this is what you need!
The Giant Wooden Dice set was designed to bring giant size fun to any existing Dice game. Whether it is a Dice only game or a Dice rolling board game, the giant Dice will add tons of fun and excitement. The Dice are made from hand sanded Pine wood and neatly store in the included canvas carrying case. The Dice can be used by players of all ages and can be rolled one at a time or all at once if you are daring. These are a Great way to capture a Childrens interest in classic Dice or board games and get them unplugged from the TV.
This post may contain affiliate links. As an Amazon Associate I may earn from qualifying purchases, at no additional cost to you. Thank you for supporting the brands that support The Herbeevore and our beehives!