These great dinner party hostess gifts are inexpensive and creative gifts to bring a host – thoughtful and affordable presents for entertaining. From gorgeous gift baskets to cute drink wear to dessert accessories, these fantastic gift ideas are perfect to bring to anyone opening up their doors to you.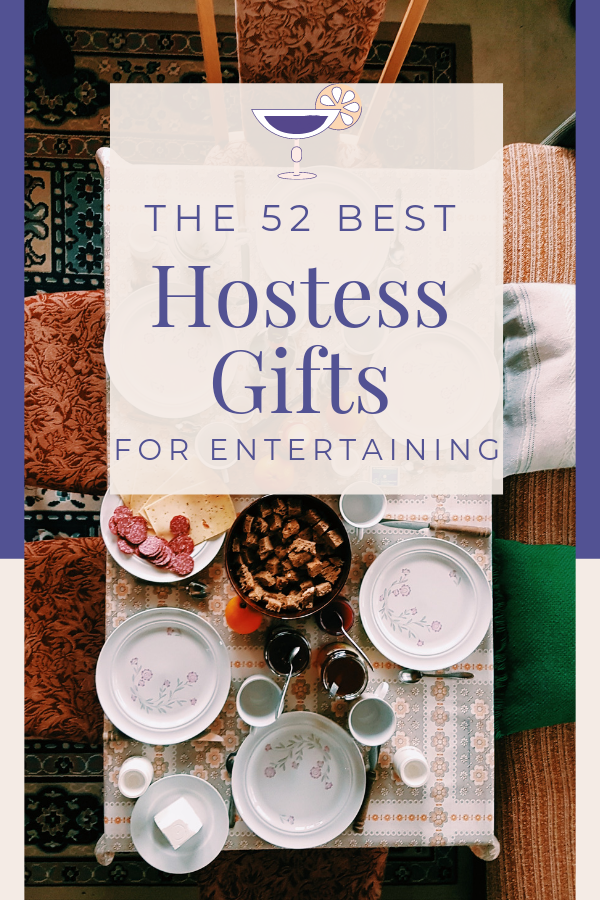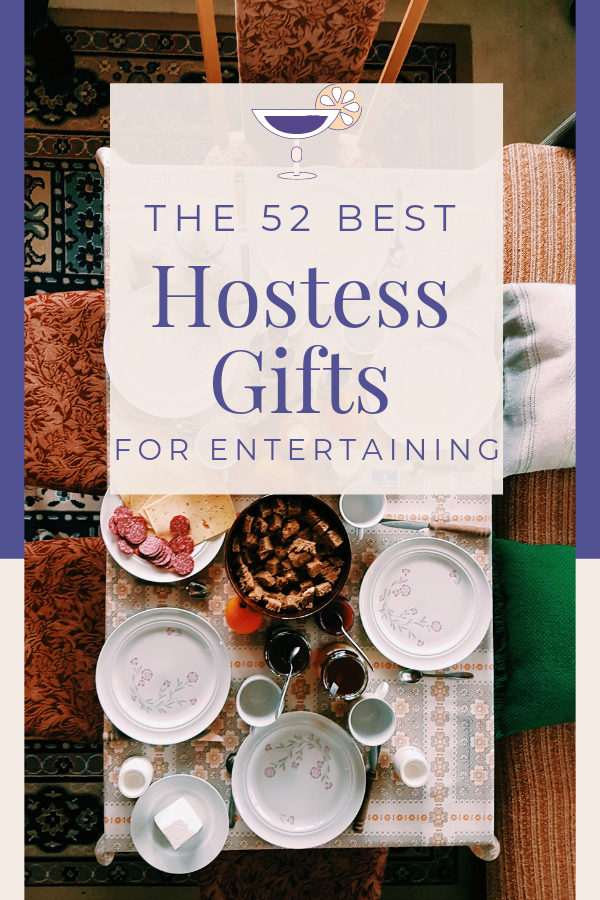 This post may contain affiliate links. As an Amazon Associate I may earn from qualifying purchases, at no additional cost to you. Thank you for supporting the brands that support The Herbeevore and our beehives!
Anyone who knows me, knows I love to entertain! I never expect hostess gifts, but I always remember when someone happens to give me one, as it's such a thoughtful little surprise. Especially when the gifts are on theme! Surprise your host or hostess with these fun ideas for weekend get-togethers they'll love! Whether your hostess is a coffee lover, a champagne drinker, or a mimosa queen: here are 50 fun host gift ideas they will absolutely love. A small gesture that will speak volumes.
And read on to get my signature house cocktail recipe: the gin gimlet! I always have a pitcher of gimlets out for any guest who wants to try one. And believe me, my friends absolutely love them. And speaking of cocktails, I always serve them in my…
Entertain. Impress. Keep it chill. Be ultracool by letting guests help themselves to chilled drinks at parties, picnics, and dinners. The stainless spigot ensures no mess is made, and the tin lid protects drinks from flies and debris. A wide mouth allows you to infuse water with berries and fruits and makes handwashing a breeze. Durable and dishwasher safe, you can say hello to convenience and ease. The chic way.
This picnic and beach mat makes a fantastic host gift idea! ???????? ????: There are endless uses for this beach mat, including lounging in any setting that has casual seating, like the beach, park, and outdoor concerts.
An adorable hostess gift idea for your next taco night! A great host gift for anyone who loves guac and also loves puns! This set features a large guacamole or salsa bowl with an engraved spoon. You can bring guac to the party… and have the host keep the set after!
A perfect gift for the coffee lover or drinker who is constantly on the go! Keep your afternoon tea hot & your morning smoothie cold, all day with our hyper insulated bamboo tumbler. The bottle is double-walled- the interior is lined with stainless steel that acts as a thermos, effectively maintaining temperature on every beverage you fill.
The perfect gift for the farmhouse chic hostess! The set comes with a nice grey wooden tray where all three condiment Jars can sit, really an excellent piece of decor with actual utility. It will complement on any home decor, It's a perfect housewarming gift.
But first – coffee! This easy pour over coffee maker has a fine mesh stainless steel filter that eliminates the need for paper filters. This promotes the pure unfolding of the flavor – no more paper filters that trap the essential oils and flavors. This coffee maker sets new standards in the preparation of delectable coffees: no paper filters – just pure flavor. A great brunch hostess gift idea for a coffee lover.
Pamper someone you love with this giftable hand spa kit including almond milk hand cream, Shea butter hand repair cream and lemon butter cuticle cream, plus 1 pair of cotton gloves.
"Rose All Day" a Rose Gold Vacuum Sealed stainless steel tumbler gift for rose champagne lovers! This 12 Ounce travel wine tumbler or coffee mug is a funny wine tumbler for brunch decor surprise party, Birthday Gift. A perfect Drinking Gift for Women for Christmas, mothers day, engagement, wedding, Retirement or Graduation, Anniversary, or Valentines Day.
These tea towels are made from some of the finest 100% natural, responsibly-farmed, renewable and sustainable cotton available anywhere in the world. They are free of harsh or harmful chemicals, and each one can help save dozens or even hundreds of trees by replacing the need for paper towels and other paper-based products. We invite you to join us in our commitment to respect and preserve our environment!
This Tipsy Otter fabulous set of 4 margarita style glasses and Acacia wood salt rim-er with storage lid will be perfect for your next fiesta! Great for serving your favorite cocktails or personal creations. Celebrate life's moments with friends and family or add stylish accessory to your home bar decor.
Personally speaking, I am an huge fan of Vahdam teas, and their gift sets are so perfect for the tea lover in your life! This cozy small sampler comes in a a beautiful blush gift package, perfect for your host or hostess! A wondrous collection of 3 of in-house, loose-leaf blends. Satiate your senses with the unique flavors of our Sweet Himalayan Detox Green Tea, Saffron Masala Chai, and Earl Grey Masala Chai. Packed in exquisite gift boxes.
3 Piece White Birch Basket Gift contains: 1 Wild Maine Blueberry Jam (12.5 oz), 1 Maine Maple Syrup (8.5 oz) and 1 Farmhouse Pancake & Waffle Mix (16 oz). Fantastic gift choice for housewarming, hostess, sympathy, or birthday. Includes some of the best combinations of jams, mixes, syrups, and more all in attractive boxes or baskets.
Allow your hostess to cozy up by the fire with this gorgeous neutral throw blanket. This throw blanket is made from superior quality, highly durable acrylic, having a soft, cashmere-like touch good for all seasons. The fabric is lightweight and easy to clean, preserving its smooth feeling for years! This decorative blanket is available is multiple color combinations, allowing you to mix and match with any décor, but I usually like to gift a more neutral color like this white/tan blend.
One of the best hostess gifts for making a drink on the go! This Small But Powerful Blender is for making fresh, tasty smoothies, protein shakes, baby food at any time and anywhere.
Bring some family fun as a holiday hostess gift and keep guests occupied with this fun escape room in a box game! To beat this exciting escape room game, you and your friends have 90 minutes to decipher clues, solve puzzles, and crack codes. Flashback challenges teams of 2 to 8 players to work together and solve 19 puzzles, including 4 real combination locks, to escape fate. This thrilling cooperation board game features a fun "flashback" theme and 3 separate game paths! Stick to your path during gameplay and replay next time on a different path with no overlap.
This electric crepe pan includes a dipping plate and batter spreader to help you make the best crepes. The electric crepe maker also comes with a cord wrap for easy storage, and an instruction and recipe booklet. This kitchen appliance makes for a great gift for those who love cooking and baking!
A little cinnamon, a lot of butter, and a heaping cup of brilliance. But no raisins. Never raisins. Features an all-cotton, natural-fitting shape. The inside has extra-quilted insulation, so hands stay cool. Screen-printed in rich colors. Machine wash cold with like colors. No bleach. Tumble dry low or line dry.
Bloody Marys are a diverse drink one can easily spice up and make their own. Delicious with or without alcohol! Add lemon, lime, hot sauce, shrimp, bacon, or any of your other favorites to our mix! The salt is the best part! SALT RIMMER is an aromatic all natural blend of sea salt and fresh herbs and spices. Moisten glass rim and dip into the Rimmer blend.
This cute, compact tin is filled with 50 hilarious and thought-provoking questions asking players to choose between two equally good, unpleasant, or absurd scenarios. With a wide range of intriguing questions, this family-friendly party game leads to interesting conversations.
Cheers to dinner parties with this gorgeous copper Moscow Mule mug gift set! This mugs set contains everything you need for a Moscow Mule party at the lake— 4 mugs plus matching straws, mango wood coasters, and shot glass. These premium hammered copper mugs are made solely of copper — no nickel, tin, or other filler metals to compromise their natural color, beauty, and strength. You host will love these and will be able to entertain with them again & again!
Indulge your senses and your sense of humor with this witty and aromatic candle. The signature scent is built around sparkling champagne blended with sugared oranges, lemons, ripened raspberries and a hint of mountain greens. It's refreshing and entertaining – without the hangover. Stay Lit … Party like someone else is cleaning up.
Enjoy delicious s'mores indoors all holiday long, no matter the weather! Bring the campfire to your kitchen and toast marshmallows with this highly rated electric toaster. Fun for both kids AND adults, trust me, this will be one major hit with your host or hostess!
These funny hand towels could be your new housewarming gift for couples and families who just moved into their new home. Let these funny kitchen towel with sayings bring humor and laughter into your home. Make sure to include these kitchen towel sets alongside your funny kitchen gifts. Watch the face of your loved ones light up with joy now that they have their very own fun tea towels that match their personality.
A delicious breakfast assortment from Maine, the Pine Tree State. Includes 1 Wild Maine Blueberry Jam (12.5 oz.), 1 Maple Syrup (8.5 oz.), 1 Farmhouse Pancake & Waffle Mix (16 oz), and 1 Scattered Pine Tea Towel. Packaged in our exclusive pine breakfast box and ready for giving.
Your dinner party is about to get rowdy – a fun special ocassion hostess gift idea! You didn't know it was missing from your life, but now you do and here it is. Chambong is a better and faster way to deliver 6 oz of your favorite bubbly beverage straight to your mouth. With Chambong there's never a reason for a boring present.
A fabulous brunch gift idea- there's no better gift than a nice bottle of wine. it brings people together. it's great for sharing, and always leads to a good time! don't let the bottle be your only gift. This wine tote has a great selection of wine bottle carrier bags that can dress up any bottle and really make it something special.
This home sweet home cheese and cutting board is adorable and ideal for regular use in the kitchen. Bamboo is far more eco-friendly and durable than regular wood. It is non-porous and easy on your knives. This board is the ultimate housewarming gift. Beautifully engraved on the front, it makes a gorgeous decoration piece in any kitchen.
Perfect for putting mini cupcakes, crackers, strawberries, chocolates, finger sandwiches or other small desserts on the stands when have the birthday or wedding party. A great gift for a ladies brunch!
While this cozy moon light isn't necessarily dinner themed, I absolutely love this unique gift idea. It's great for adding a little extra light to any room of the house, and brings the ambiance. It casts both yellow and white light and is rechargeable. A super creative gift that is also affordable.
.
These gorgeous hand towels make the perfect home holiday gift idea for your host or hostess! Fancy striped style goes with any aesthetic, from modern to classical. It can be hung by a corner loop; It's packed in an eco-friendly bag Washable and Easy To Clean: Just throw your linen blue kitchen towels in the washing machine and dyer. Machine wash cold, with like colors only, with no bleach. Expect natural cotton fibres to shrink. Will hold hundreds of washings.
Keep those cozy winter vibes going all winter long with these Minnetonka warm winter slippers. Alpine Sheepskin suede slippers are handmade with the finest materials that provide comfort, durability, and timeless style with every step. The cozy slippers are made to stretch to the contours of your feet and wear pattern over time, ensuring that each pair of Sheepskin-lined moccasin slippers fit snugly and getting more comfortable as you wear them.
A beautiful brunch hostess gift idea for the gourmand in your life. Grazing is an enchanting way to eat. It means skipping from dish to dish, tasting different things without committing to a single one. It's about creating multiple dishes that work together as a meal, that all share a theme, an aesthetic. When she entertains, or even pulls together a quick dinner for just two, food stylist Suzanne Lenzer enjoys this tapas-style of eating—and with her guidance, you can too.
Dinner Party Gifts For the Hostess AND the Guests! 6 pack insulated wine tumblers set come with gift box for your gift choice. Including 6 stainless steel straws and clear Lids, the insulated wine cup set suits for DIY gifts, bride gifts or family use and birthday party: You can use our wine tumbler set indoor or outdoor – day drinking on the patio, by the pool, on the boat, outdoor BBQ's, family reunions, boating, picnics, RV, camping, glamping, cruising or parties.
Give this delicious popcorn kernel and seasoning set at your next dinner party or holiday gathering – it's the perfect foodie gift for any occasion! Fall and winter is the perfect time for cozying up with a movie night, especially one the whole family can enjoy. Included are popcorns flavoring for every taste! White Cheddar, Sweet & Salty Kettlecorn, Chili Lime, Buttery Caramel and Sizzling Sriracha gourmet popcorn seasoning.
Sometimes your guests need a reminder 🙂 so say it with this hilarious coaster set. We're pretty sure boring will NOT be one word used to describe your house when you gift or entertain with these coasters. It's a hilarious way to remind people to keep their drinks off the table and get a few free laughs too!
This homemade infuser kit is the perfect gift for that DIY person in your life or aspiring moonshiner or bootlegger, this makes the perfect alcohol gift for both men and women. If you like making cocktails or home brewing, you'll like infusing your own alcohol. Everything needed to make your own all-natural handcrafted infused spirits: 110 Page Recipe & Instruction Book, Infusion Jar, Liquor Bottle w/ Wood Cork Top, Funnel & Strainer with Fine Mesh Filter, and Chalkboard Tag to label your handmade creation.
Create a calming environment with this trendy, responsibly sourced Dough Bowl Candle. Our candles are created using only the best ingredients, fragrances and intentions. Each candle container is unique and durable. Our candles, lotions, and soaps are formulated with safe scent science to be phthalate-free, non-carcinogenic, and paraben-free.
Treat your Thanksgiving host with a little something sweet: sea salt caramels! Tara's caramels are kettle cooked in small batches from a century old recipe. A fantastic idea of you are hosting (put them in candy dishes) or for your hostess to stash away for later after the guests are gone.
Bring some after-dinner fun and laughs with That's What She Said! An outrageous party in a box, perfect for your next get-together or game night. This game contains mature content and is designed for ages 17+. Encouraged to be played with 4+ players.
A great way to cozy up at a lake house or cottage, especially for cool nights by the campfire! Great for the home, camping, mountain cabin, beach, or in the evenings by the fire – give your hosts major cozy vibes with this beautiful wool blanket.
The rich and woody scent of Cedarwood can easily evoke a freshly-cut Christmas tree. Adding the notes of balsam fir, pepper, patchouli, the aroma will envelop your space with winter celebration vibes, conjuring unlimited joy that you'd love to smell all year around. Equipped with special wood wick, this candle crackles at the time of burning, and you will naturally immerse into the winter holiday vibes by recalling the warm and comforting fireplace at home. Tip: Fully light the wood wick and keep it burning for 4 hours at first time for an even burn.
Another honey theme gift, because I love all things bee related! This honeycomb's light color, mild taste, incredible clarity, and slow rate of crystallization make it very versatile for cooking and desserts. he most no-frills way to eat honeycomb is to simply carve out a spoonful and eat it. This way, you are sure to taste the honeycomb in all its unfettered glory. Try it on a warm buttermilk biscuit or English muffin. Drop some small chunks into your yogurt or favorite salad. Scoop it up with apple slices, pear slices or literally any cracker.
For the Friend who loves Friends! Gather your friends on your favorite couch and prepare over 50 recipes inspired by the iconic Central Perk café from the beloved hit sitcom Friends. Friends: The Official Central Perk Cookbook offers a variety of recipes for chefs of all levels. From appetizers and small bites to drinks and desserts, each chapter includes iconic treats from the show and café.
Made Of Solid Marble With A beautiful gold brass Inlay around. Unlike Leather or other material coasters, these vary slightly in design by the very nature of natural marble. Coasters are extra wide and thick with 4 inch in diameter and 10mm thickness. Silicon base provides anti slip quality on multiple surfaces.
The perfect gift for the organized BBQ host! The markers are so cute also because they say "Please, put me back! – Marker Pens". This way, hopefully people will remember to put the pens back so that they don't go lost or missing, it also great for a party house dispenser cup holder.
This adults-only game is the perfect BBQ gift for a hostess or host! With more than 2 million copies sold, Table Topics are the #1 best-selling conversation starters These provocative conversation starters will spice up the conversation and get you and your closest friends laughing the night away Questions are a little bit racy and a whole lot of fun. Makes an entertaining hostess gift that everyone can enjoy!
The perfect sweet gift for family and friends. Make any breakfast glorious. Use it on your pancakes and waffles but also as a natural sweetener for your oatmeal, plain yogurt. Pour it over your ice cream. Make a delightful maple dough, drizzle over salmon.
Make a "Splash" with this most Awesome Shower Gift for Baby Showers & Wedding Shower Gifts! Organic bath bombs smell great and replenish your skin, making this gift set ideal for birthdays, holidays and other gift-giving occasions. Women, men, kids and teens of all ages will love these fizzy bath treats!
This high-quality set includes bamboo cheese board and four stainless steel serving utensils. This brunch cheese board is the ideal gift for any occasion, including a bridal shower, wedding, holiday, birthday, housewarming, and more!
Shine some light on the party with these gorgeous solar lanterns! This lovely solar lantern is designed to embellish your outdoor space. With the night coming, it casts a warm, yellowish light that forms a pretty shadow around it and creates the perfect amount of ambient mood lighting. These are such a wonderful decoration to any holiday table.
Cheers to your BBQ host! All the bar tools sit neatly in one convenient location right next to your wines and liquors. Play bartender for your guests; host generous and warm parties. The rustic tray with bar essentials will make a beautiful addition to your home bar. If you are looking forward to entertaining guests and showing off your bar, this is what you need!
This Kitchen Maine Morning Batter Bowl Gift (5 Piece Gift) contains 1 Farmhouse Pancake & Waffle Mix (16 oz), 1 Maine Maple Syrup (8 oz), 1 Wild Maine Blueberry Jam (12.5 oz), 1 balloon whisk and a melamine batter bowl. A delicious variety of breakfast products – Breakfast comes together in a snap!

And if you loved this gift guide, check out my other foodie gift guides here!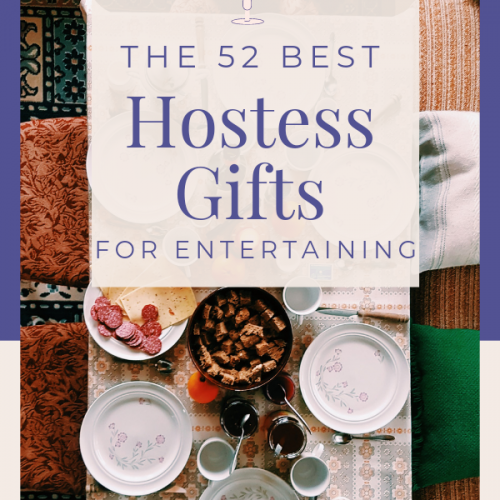 52 Hostess Gift Ideas for Dinner Parties, Showers, or BBQs
These great hostess gift ideas are inexpensive and creative gifts to bring to your next dinner party - here is my signature party cocktail!
Ingredients
1

lb

bag ice

24

ounces

gin

1

32 ounce bottle

Rose's Lime Cordial syrup

4

cans

club soda

or lime flavored seltzer

6

limes

juiced
Instructions
Add all ingredients into a large beverage dispenser right before guests arrive and stir.

Allow guests to serve themselves (if they are over 21) and enjoy!
Did You Make This Recipe?
Please leave a rating and comment below!
Or tag me @theherbeevore in your photo on Instagram!