Thanksgiving hostess gift ideas that are thoughtful and affordable – Treat your host with a fun and memorable present – great for holidays with friends and family, these fantastic fall gifts are perfect for hosts of all ages!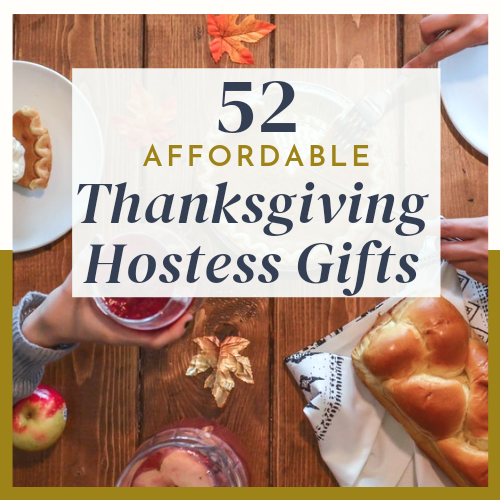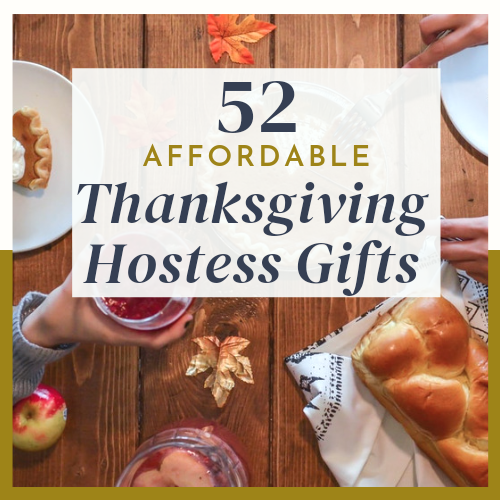 This post may contain affiliate links. As an Amazon Associate I may earn from qualifying purchases, at no additional cost to you. Thank you for supporting the brands that support The Herbeevore and our beehives!
Heading over to a Thanksgiving or holiday dinner with friends or family? Make it memorable with a thoughtful gift your host or hostess and enjoy and use again & again! Whether it's a traditional family Thanksgiving, or a modern Friendsgiving – make your host happy with these fun fall presents!
What better way to say thank you than with a thoughtful and creative gift for the host or hostess. These great Thanksgiving hostess gifts bring some fun to the table and there is truly something for everyone in this gift guide. Affordable and fun!
Surprise your host with this lovely Williams Sonoma Thanksgiving cookbook. Thanksgiving is a cherished time to gather around the table for a feast with family and friends. The traditions surrounding this American holiday are boundless, reflecting personal style and a diverse range of dishes. This cookbook is great whether you prepare and host each year, or are new to the experience.
A gorgeous hand-painted pie dish and casserole set that is perfect for holiday hosting! Beautiful old world European traditional hand painted stoneware – Set includes 10. 5″ Pie dish & 8″ Square bakeware. Decorated with lovely colorful flowers on a cream colored palette with navy and onyx accented themes and borders. AND they are microwave and dishwasher-safe (for easy clean up)!
Cheers to Thanksgiving with this gorgeous copper Moscow Mule mug gift set! This mugs set contains everything you need for a Moscow Mule party at the lake— 4 mugs plus matching straws, mango wood coasters, and shot glass. These premium hammered copper mugs are made solely of copper — no nickel, tin, or other filler metals to compromise their natural color, beauty, and strength. You host will love these and will be able to entertain with them again & again!
Bring the cozy scent of fall to your host with this fantastic 3 wick pumpkin spice candle. Invite the Fall season in with Spiced Pumpkin Latte collection. Like cozying up with your favorite drink, this collection evokes a familiar yet refined scent everyone will love.
Enjoy delicious s'mores indoors all holiday long, no matter the weather! Bring the campfire to your kitchen and toast marshmallows with this highly rated electric toaster. Fun for both kids AND adults, trust me, this will be one major hit with your host or hostess!
Kick off a fun Friendsgiving dinner or family meal with this hilarious party game! Compete with your friends and family to create the funniest memes. Do this by using one of your dealt caption cards to caption the photo card in each round. The winner of each round is decided by a rotating judge. Pro tip: pick your caption card to match the judge's sense of humor!
The Book on Pie starts with the basics, including ways to mix pie dough for extra flaky crusts, storage and freezing, recipe size conversions, and expert tips for decorating and styling, before diving into the recipes for all the different kinds of pies: fruit, custard, cream, chiffon, cold set, savory, and mini. Find everything from classics like Apple Pie and Pumpkin Pie, to more inspired recipes like Birthday-Cake Pie and Caramel Pork Pie with Chile and Scallions.
This easy campfire popcorn maker is great for nights at the lake, campouts, or backyard parties! Make 4 quarts of popcorn in just minutes. Takes camping out to a whole new level – no electricity needed!
Let your hosts rise and shine by starting their day off with fresh Starbucks coffees, teas, and snacks. A tasteful gift basket containing everyone's favorite Starbucks coffees as well as an assortment of teas and treats. They will enjoy Teavana tea, cookies, and caramel wafers. Includes a ceramic Starbucks mug!
Decorative and elegant cotton napkin set to match with all kitchen decor; Perfect for Thanksgiving, holidays, housewarming and hostess gifts. 100% Cotton Fabric, machine washable for easy clean up. The festive design coordinate with most kitchen decor to add holiday joyfulness to your kitchen.
Pamper your host or hostess from head to toe with this giftable set including Lemon Butter Cuticle Cream, Hand Salve, Original Beeswax Lip Balm, Res-Q Ointment, Shea Butter Hand Repair Cream and Coconut Foot Cream. These natural, moisturizing skin care products gifted in a Burt's Bees tin nourish skin throughout the winter months and make the perfect holiday hostess gift.
Entertain. Impress. Keep it chill. Be ultracool by letting guests help themselves to chilled drinks at parties, picnics, and dinners. The stainless spigot ensures no mess is made, and the tin lid protects drinks from flies and debris. A wide mouth allows you to infuse water with berries and fruits and makes handwashing a breeze. Durable and dishwasher safe, you can say hello to convenience and ease. The chic way.
A fall essential for anyone with a fireplace or wood stove – make it easier to keep the fire going with this fantastic canvas log tote. Not only a firewood carrier – to keep wood chips inside and not scattered on floor, for firepits, grilling and pretty much everything about outdoors; But also it can be used for other carrying or storage purposes such as: tools, picnic, camping, packing, kid toys, or beach toys!
Fall candles truly make the best Thanksgiving hostess gift ideas! This beloved fragrance perfectly captures the inviting scent of pumpkins, brings the irresistible scents of fall. Give your host's home a delightful autumn aroma by lighting this pumpkin spice scented candle. At at 50 hours burn time, you hostess can enjoy the long-lasting scent after the guests leave and the pumpkin pie is gone!
As a beekeeper, I had to throw a honey-theme gift in this guide! This small batch bourbon honey has been used in award winning drinks and deserts. Great in coffee, tea, glazed on meats, over deserts, cheese cake and ice cream. The natural wildflower honey is cured in oak barrels (like bourbon!) which makes this a fun and fantastic Thanksgiving gift idea.
This picnic and beach mat makes a fantastic host gift idea! Great for cozying up by the fire after the guests have gone. ???????? ????: There are endless uses for this blanket , including lounging in any setting that has casual seating.
Keep those cozy fall vibes going all winter long with these Minnetonka warm fall slippers. Alpine Sheepskin suede slippers are handmade with the finest materials that provide comfort, durability, and timeless style with every step. The cozy slippers are made to stretch to the contours of your feet and wear pattern over time, ensuring that each pair of Sheepskin-lined moccasin slippers fit snugly and getting more comfortable as you wear them.
Give this delicious popcorn kernel and seasoning set at your next dinner party or holiday gathering – it's the perfect foodie gift for any occasion! Fall and winter is the perfect time for cozying up with a movie night, especially one the whole family can enjoy. Included are popcorns flavoring for every taste! White Cheddar, Sweet & Salty Kettlecorn, Chili Lime, Buttery Caramel and Sizzling Sriracha gourmet popcorn seasoning.
This high-quality set includes bamboo cheese board and four stainless steel serving utensils. This brunch cheese board is the ideal gift for any occasion, including a bridal shower, wedding, holiday, birthday, housewarming, and more!
The only turkey cookbook you'll ever need! Never worry about whether your turkey is dry or underdone again—The Perfect Turkey Cookbook takes all of the mystery and guesswork out of the equation. With helpful cooking charts and easy-to-follow recipes with accompanying illustrations and full-color photographs, this handy little cookbook will be your faithful sidekick whenever turkey is in the menu plan…and no need to stick to the same old standbys of mashed potatoes, squash, and stuffing (although you can if you want to—those are here, too!)! Mix it up a bit with creative new takes on the classics, or totally step outside of your culinary comfort zone with brand new, mouth-watering recipes.
A delicious and comforting Thanksgiving hostess gift idea that they will absolutely love! This Fall Tea Variety Pack has an excellent variety of all kinds of tea. Warm up with this sampler pack of autumn teas; 1 box each of Pumpkin Spice, Maple Apple Cider, Cinnamon Apple Chamomile, Cranberry Pomegranate, Cinnamon Vanilla, and Spice Dragon Red Chai.
A perfect gift for the coffee lover or drinker who is constantly on the go! Keep your afternoon tea hot & your morning smoothie cold, all day with our hyper insulated bamboo tumbler. The bottle is double-walled- the interior is lined with stainless steel that acts as a thermos, effectively maintaining temperature on every beverage you fill.
A fun evening trivia game for guests at the lake! It's the Old School vs. New School trivia game! Test your knowledge about your rival generation's pop culture trivia. Play in teams based on generations, or if players are around the same age, then it's every person for themselves! Includes 220 cards with four types of questions, so you can play again and again.
Treat your Thanksgiving host with a little something sweet: sea salt caramels! Tara's caramels are kettle cooked in small batches from a century old recipe. A fantastic idea of you are hosting (put them in candy dishes) or for your hostess to stash away for later after the guests are gone.
But first – coffee! This easy pour over coffee maker has a fine mesh stainless steel filter that eliminates the need for paper filters. This promotes the pure unfolding of the flavor – no more paper filters that trap the essential oils and flavors. This coffee maker sets new standards in the preparation of delectable coffees: no paper filters – just pure flavor. A great brunch hostess gift idea for a coffee lover.
Make the holidays extra scent-sational with this fantastic fall essential oil diffuser. Fill your home with the warm comfort of our unmistakable holiday scents. Creamy pumpkin, nutmeg, Vermont maple, french vanilla and a hint of butter. Each reed diffuser usually lasts for 3-4 months for a long lasting gift your Thanksgiving host can enjoy again and again.
If you're bringing a bottle of wine to your Thanksgiving host, make sure to wrap it in these great cotton wine bags. 100% Heavy Duty Cotton Canvas Fabric that makes a thoughtful gift idea. Cotton is reusable and makes a more eco-friendly wrapping alternative to paper or plastic bags.
3 Piece White Birch Basket Gift contains: 1 Wild Maine Blueberry Jam (12.5 oz), 1 Maine Maple Syrup (8.5 oz) and 1 Farmhouse Pancake & Waffle Mix (16 oz). Fantastic gift choice for housewarming, hostess, sympathy, or birthday. Includes some of the best combinations of jams, mixes, syrups, and more all in attractive boxes or baskets.
Bloody Marys are a diverse drink one can easily spice up and make their own. Delicious with or without alcohol! Add lemon, lime, hot sauce, shrimp, bacon, or any of your other favorites to our mix! The salt is the best part! SALT RIMMER is an aromatic all natural blend of sea salt and fresh herbs and spices. Moisten glass rim and dip into the Rimmer blend.
This cute, compact tin is filled with 50 hilarious and thought-provoking questions asking players to choose between two equally good, unpleasant, or absurd scenarios. With a wide range of intriguing questions, this family-friendly party game leads to interesting conversations.
A fabulous Thanksgiving gift idea- there's no better gift than a nice bottle of wine. it brings people together. it's great for sharing, and always leads to a good time! don't let the bottle be your only gift. This wine tote has a great selection of wine bottle carrier bags that can dress up any bottle and really make it something special.
This homemade infuser kit is the perfect gift for that DIY person in your life or aspiring moonshiner or bootlegger, this makes the perfect alcohol gift for both men and women. If you like making cocktails or home brewing, you'll like infusing your own alcohol. Everything needed to make your own all-natural handcrafted infused spirits: 110 Page Recipe & Instruction Book, Infusion Jar, Liquor Bottle w/ Wood Cork Top, Funnel & Strainer with Fine Mesh Filter, and Chalkboard Tag to label your handmade creation.
A fantastic holiday cookbook your host can go back to again & again! A cookbook and roadmap to help home cooks round out and enhance any meal, for any occasion with 1001 recipes for every type of side dish imaginable. This destined-to-be-dog-ear'd compendium of side dishes changes all that; more thorough than any other cookbook, a complete compilation of side dishes offers 1,001 perfect recipes for tonight and every night, whether you only have a few minutes or need your next dinner-party go-to.
Create a calming environment with this trendy, responsibly sourced Dough Bowl Candle. Our candles are created using only the best ingredients, fragrances and intentions. Each candle container is unique and durable. Our candles, lotions, and soaps are formulated with safe scent science to be phthalate-free, non-carcinogenic, and paraben-free.
Urban CoCo Women's Color Block Shawl Wrap Open Front Poncho Cape
Made Of Solid Marble With A beautiful gold brass Inlay around. Unlike Leather or other material coasters, these vary slightly in design by the very nature of natural marble.Coasters are extra wide and thick with 4 inch in diameter and 10mm thickness.Silicon base provides anti slip quality on multiple surfaces.
A great way to cozy up at a lake house or cottage, especially for cool nights by the campfire! Great for the home, camping, mountain cabin, beach, or in the evenings by the fire – give your hosts major cozy vibes with this beautiful wool blanket.
A delicious fall themed fruit basket that makes a fantastic Thanksgiving hostess gift idea! Snacks come presented on pretty wooden tray that folds from a countertop trivet into a standing fruit basket. Makes a fun display for holiday dinners, family parties, and any Thanksgiving table.
The perfect sweet gift for family and friends. Make any breakfast glorious. Use it on your pancakes and waffles but also as a natural sweetener for your oatmeal, plain yogurt. Pour it over your ice cream. Make a delightful maple dough, drizzle over salmon.
Marshmallows Symphony smores sticks are EXTENDABLE like a radio antenna up to 34 inches, not like other skewers that are only 22 inches long, keeping your children at a safe distance from any fire pits, camp fire or camping fire pit. When collapsed, STORAGE becomes a lot EASIER with these telescoping campfire sticks! Shrinking up to 10 inches, they are much easier to travel with.
Another honey theme gift, because I love all things bee related! This honeycomb's light color, mild taste, incredible clarity, and slow rate of crystallization make it very versatile for cooking and desserts. he most no-frills way to eat honeycomb is to simply carve out a spoonful and eat it. This way, you are sure to taste the honeycomb in all its unfettered glory. Try it on a warm buttermilk biscuit or English muffin. Drop some small chunks into your yogurt or favorite salad. Scoop it up with apple slices, pear slices or literally any cracker.
A great trivia game everyone will love, that you can leave up at the lake for rainy days! …I should have known that! is an addictively entertaining trivia game with over 400 questions about things that you should know.
Celebrate the season with this treasure trove of cozy cooking and baking recipes, from soul-warming soups and simple dinners to showstoppers and weekend projects. As the air grows chillier and nights longer, these dishes draw us to the table and the warmth of an active kitchen: Slow-simmered dishes like Cider-Braised Pork Roast, cheesy weeknight pasta like Unstuffed Shells with Butternut Squash, or a crusty bread like Fig and Fennel Bread. When the flavors of summer fade, autumn and winter fruits and vegetables can be just as bold and bountiful. Find recipe inspiration from the season's first ripe figs and plump brussels sprouts to roasty sides featuring celery root, kohlrabi, and kabocha squash, or a cranberry curd tart to brighten a winter's night.
The perfect gift for the organized BBQ host! The markers are so cute also because they say "Please, put me back! – Marker Pens". This way, hopefully people will remember to put the pens back so that they don't go lost or missing, it also great for a party house dispenser cup holder.
If anyone is a fan of Friends, you know they go all-out for their Thanksgiving episodes! Delight fans of Friends the Television Series with a pair of bath fizzers that reference the episode where Joey recalls him and Monica having turkeys on their heads. This pair of Turkey shaped bath fizzers will add some fun along with a fresh tropical fragrance to bathtime. To use, place fizzer in your bathtub and let the turkey fizz and release a tropical scent.
Upgrade your host's meal prep game with this fantastic boning knife. The knife is not only good at take meat off bone, but also deftly cutting large pieces of meat like beef or separating ribs. If you plan to go camping or grilling, put it in the sheath and bring it with you.
This adults-only game is the perfect BBQ gift for a hostess or host! With more than 2 million copies sold, TableTopics are the #1 best-selling conversation starters These provocative conversation starters will spice up the conversation and get you and your closest friends laughing the night away Questions are a little bit racy and a whole lot of fun. Makes an entertaining hostess gift that everyone can enjoy!
A perfect Thanksgiving hostess gift for the chai tea lover in your life! all Gift Baskets are Packed in a Corrugated Box With Decorative Filler Paper and Includes: Orange Bistro Style Tea Mug, Biscotti, Biscoff Cookie, Honey Sticks, Walkers Shortbread Cookie, Annie B's Caramels, Tea Snail Holder (perfect for attaching to the side of tea mug and allowing tea bag to steep), Pumpkin Spice Chai Tea, Pumpkin Chai Tea, Chai Spiced Apple Tea, French Vanilla Chai Tea, Chai Tea.
Shine some light on the party with these gorgeous solar lanterns! This lovely solar lantern is designed to embellish your outdoor space. With the night coming, it casts a warm, yellowish light that forms a pretty shadow around it and creates the perfect amount of ambient mood lighting. These are such a wonderful decoration to any holiday table.
A gorgeous and unique serving board for your BBQ host! Whether you're looking for a right-sized cheese plate, charcuterie board, or serving plate this versatile hand-made piece is spot-on for any hosting requirements. Made of East Asian boneware material providing the highest quality physical strength and chip resistance.
Cheers to your BBQ host! All the bar tools sit neatly in one convenient location right next to your wines and liquors. Play bartender for your guests; host generous and warm parties. The rustic tray with bar essentials will make a beautiful addition to your home bar. If you are looking forward to entertaining guests and showing off your bar, this is what you need!
Welcome the season with the spicy warmth of autumn leaves and cinnamon apples. This long lasting candle has 110-150 hours of burn time, making it a Thanksgiving hostess gift they can enjoy for many hours. Wicks made with 100% natural fiber with this classic Yankee Candle scent.
Portable, fun to make, easy to gift, and open to countless flavor variations, cookies are everyone's favorite sweet treat. In The Perfect Cookie, the test kitchen has collected all of that knowledge in one place for the definitive guide to cookie baking. This comprehensive anthology includes kitchen-tested, never-fail recipes for cookie jar classics, in addition to recipes for rich and chewy brownies, fruit-and-crumble-topped bars, quick no-bake confections, holiday favorites, and even candies like fudge and truffles; they're all included in this gorgeous package, with a full-page photo showing off every recipe.
If you enjoyed this gift guide, check out my other fantastic gift guides for every occasion!