Fun experience gifts for adults are great activities and hobbies that everyone can try & have fun learning and making! Great for people who want to pick up a new hobby or try their hand at a new skill.
These activity gift ideas range from making candles to kayaking to infusing booze. There's something for every maker in this gift guide, thoughtful and affordable!
Great Activity & Experience Gifts for Adults
I absolutely love giving people hands-on gifts that they can have a great experience creating and putting together. The below adult experience sets are fantastic gift ideas that can help build new skills and share memories with.
Whether your shopping for a crafter, a DIY-er, or just something new and fun for the wife or hubby, these gift sets are fun active presents where they can try their hand at something new.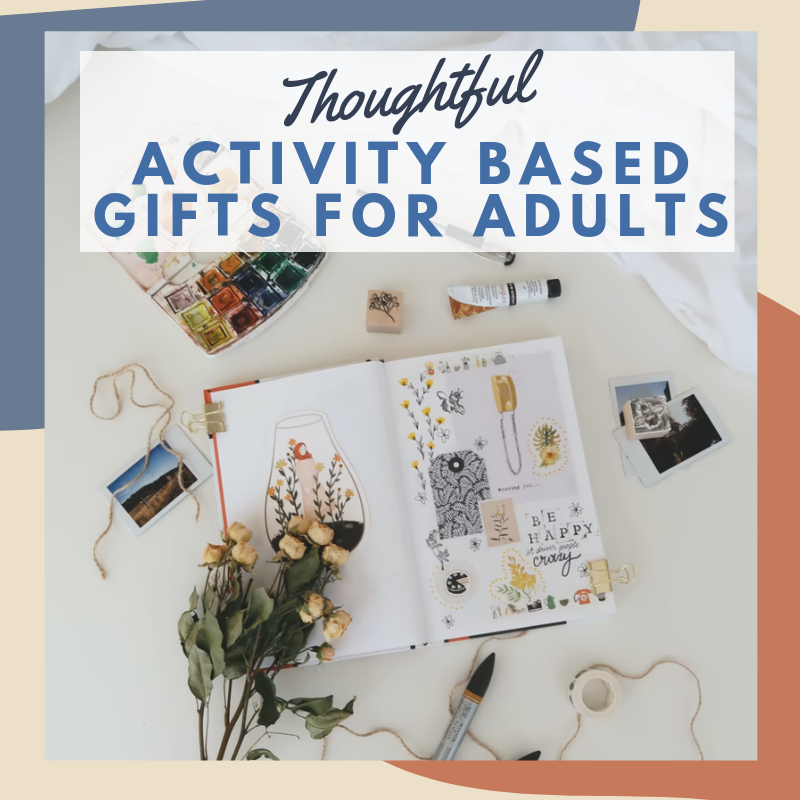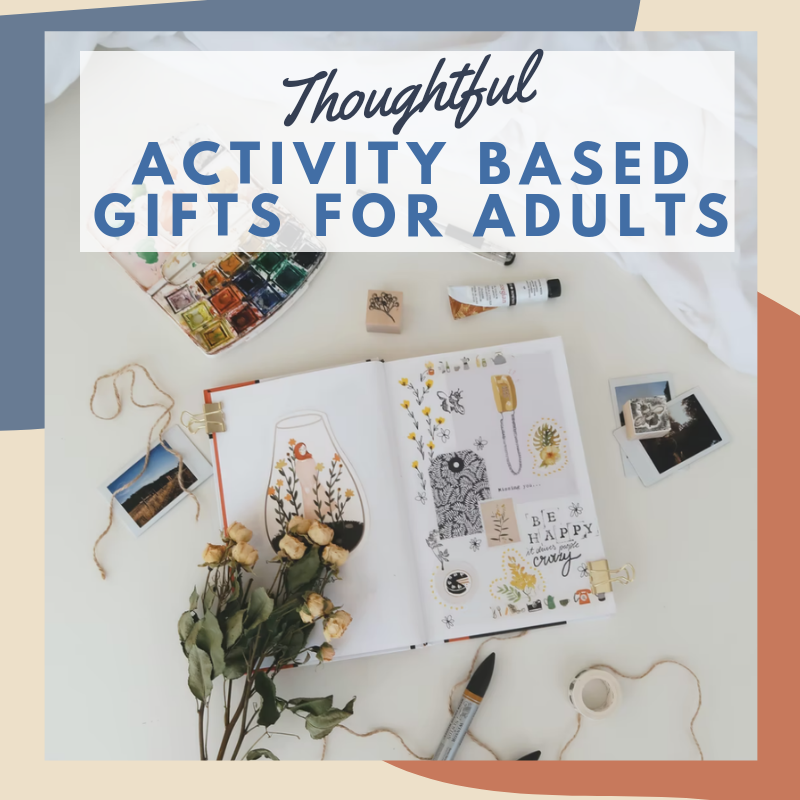 This post may contain affiliate links. As an Amazon Associate I may earn from qualifying purchases, at no additional cost to you.
Build New Skills with DIY Sets for Adults & More!
More and more I love the idea of gifting experiences, rather than things. These maker sets are great for anyone wanting to try a new hobby, or just do something out of the ordinary.
These are great gifts for Christmas, birthdays, holidays, stocking stuffers, or just presents to keep around when you're restless on a rainy day.
Gift DIY Craft Sets
I love helping people learn and build new skills… especially if it's something they've been talking about doing for a while.
With the below kits, they can learn to make, build, brew, or craft. The journey is just as much fun as the result. Let's Jump in!
A cheese-making kit is a fantastic way to have them experiment in the kitchen with something she may not have tried before!
Once the cheese is made, enjoy it on pizzas, with pasta, or just topped on a salad. A fun DIY kit that any home cook would love to try – from amateur to expert chef!
A fun gift idea for someone who wants to experiment with wine-making! Home brewing allows you to create a customized wine. DIY Kits include just the basic ingredients for a spectacular wine.
Save the extra money on our wine kit and choose your own flavor add-ins. You can even find oak or berry flavor packs of your choice to experiment with additional flavor, color and texture profiles.
I absolutely love this plant your own bonsai kit — choose from seeds for Brazilian Rosewood, Colorado Blue Spruce, Flame Tree, or Black Spruce.
Experience the joy of watching your tree grow, from the seedlings in your bonsai tree kit to a fully-formed bonsai tree. Directions and instructions are easy to read, so you can be ready to grow!
This inflatable kayak is a great entry level gift for anyone who loves the water! This kit comes with a pump and aluminum oars for those who want to take in the peace and calm of kayaking on a lake or river.
Kayaking is a great way to get active for beginners! And don't forget the lifejacket.
For anyone looking to try something new in the kitchen, here are a few essentials to make your own pasta: cutting, shaping and ravioli tools for making the perfect pastas, a gnocchi and spaghetti board, a pasta rack to dry the noodles on, and a cookbook for fun homemade recipes.
This is a gift-trifecta… get one of these or all, and put them in a nice gift basket.
Bring your inner chill and creativity out with this fantastic Bob Ross painting set! The Joy of Painting comes home with this deluxe artist set designed to give any artist the supplies they need to create quality oil paintings in your home, studio, or even outside!
This master paint set includes 8 tubes of oil colors, liquid white, several brushes, and a 1-hour DVD with complete full-color instructions to complete the Mountain Summit painting.
This easy-to-learn ukulele set is perfect for any adult who wants a little more music in their life!
Features an Arched Back to give longer sustain & fuller sound! Mahogany/ Sapele body brings you richer and brighter sound; Rosewood fingerboard and bridge provide a comfortable playing feel.
This homemade infuser kit is the perfect gift for that DIY person in your life or aspiring moonshiner or bootlegger, this makes the perfect alcohol gift for both men and women. If you like making cocktails or home brewing, you'll like infusing your own alcohol.
Everything needed to make your own all-natural handcrafted infused spirits: 110 Page Recipe & Instruction Book, Infusion Jar, Liquor Bottle w/ Wood Cork Top, Funnel & Strainer with Fine Mesh Filter, and Chalkboard Tag to label your handmade creation.
This fantastic sushi making kit has everything needed for a fantastic sushi night in! Whether you are gifting to a beginner, a world class professional sushi chef or a culinary student, this kit has everything they need to make an original snack in just a couple of minutes.
With this kit, rolling sushi is easier than you might think. Become a sushi chef and enjoying this truly unique sushi party.
This kit includes all the essentials to help you create your own terrarium. Just add your own plants and container!
Includes a helpful step by step guide and a natural hair brush finishing tool to help you build the perfect terrarium or planter with all your favorite things to grow. I love that this set comes with moss and mini plastic dinosaurs.
This best-selling 11 piece yoga set for women and men is great to build stretching, strength and relaxation.
The kit has everything to make sure you have what you need to build a solid foundation or take your yoga to the next level. The yoga set can also be used in the gym or home for general stretching and workouts!
This wood burning tool set is a great activity or craft for anyone who is into woodworking – customize any wooden craft with neat hand-made lettering and design.
Premium quality wood burning kit has 21 multiple interchangeable tips and accessories. It can be used easily for all skill levels, ideal for most universal craft, hobby, or home DIY project.
Some like it hot! This is a great gift for the hot-sauce loving honey in your life! If they likes it spicy, this gift let's them make their own salsa and hot sauces exactly the way they wants.
For anyone interested in pottery or making their own dinnerware – this great at-home electric pottery wheel is the perfect gift.
Great for an amateur potter, or someone who has taken a few classes and wants to start practicing at home.
This is truly one of the best kits for homemade hard seltzer out there! Make a gallon of fizzy alcoholic seltzer plain or use the included natural grapefruit flavor. In 4 simple steps and 4 short weeks you can enjoy a gallon of your favorite fizzy beverage.
Making hard seltzer is simple when you have the right ingredients and durable equipment. Step by step instructions walk you through the process, so you don't need to be an expert to make your own refreshing spiked seltzer.
We have one of these indoor Aerogarden systems, and it is AMAZING for growing and harvesting fresh herbs, tomatoes, peppers, or flowers year-round. No green thumb needed, just add water and nutrients each week and this little garden will take off!
I love that it requires no dirt, no mess, and very little counter space. This is one great gift they can use again & again with seed refills. We seriously love ours, and have given it as gifts to family.
This kit is loaded with great spices and accessories to make 8 different types of meats: Juniper & Fennel Bacon, Chili & Garlic Bacon, Pancetta, Biltong, BBQ Jerky, Doner Kebab, Shish Kebab and Kofte Kebab.
This great kit is perfect for the carnivore in your life
Gift a fantastic embroidery kit they can stitch on to any fabric. This set comes with thread and 3 great patterns, plus stenciled on designs so the lines are easy to follow.
A great gift for someone looking to keep their hands busy while watching TV or movies. Make sure to get extra thread too, so they can practice outside the lines!
Pickleball is all the rage, and courts are popping up everywhere! This great beginner set has everything they need to get started on the court. Pickleball can be played indoors or outdoors, and there is even an app for people to meet and pick up matches locally.
A great sport to learn to play and meet new friends. This set comes with a mesh carrying bag to bring to the court, and also a nice gift box so it can be given as a gift.
Get that aspiring photographer a fantastic DSLR kit to take photos on the go! They can learn manual and automatic camera setting to take fantastic photos of the great outdoors.
This kit has everything for an amateur photographer, so it's a great place to start!
A great beginner kit for those looking to level up their photography skills! This great photo studio set comes with different backdrops, light diffusers, and a tripod to take the best photos imaginable.
Whether their shooting every day objects, food, or a craft they've completed – this kit is great to spark creativity for your photographer.
Great for anyone wanting to sew, quilt, or DIY more in their lives! This heavy duty sewing machine comes with accessories to create the projects of your dreams.
This machine also has 3 built-in stitches including basic, stretch, decorative, and buttonhole stitches allow you to sew a variety of projects, such as fashions, home décor, quilts, crafts, and more.
This great fortune cooking making kit is fun for anyone looking to create their own fortunes, and learn how these little restaurant cookies are made! This fortune cookies kit includes the unique shelf stable ingredients to make your own lucky fortune cookies.
Plus there's even a reusable baking mat, 60 pre-written fortunes (+ "blanks" to get extra personal) and an edible ink pen. Just add: eggs, vanilla or almond extract and salt.
This highly-rated tie dye kit is great for anyone looking to refresh or upcycle old or used clothing!
This kit has over 22k 5-star reviews, and is great for one person or a party. I love the variety of colors you can mix and match to make the perfect tie dye creation.
This great root-beer-making kit offers a fun way to brew 2 gallons of creamy old-fashioned root beer at home, for anyone who loves root beer and has always wondered how to make their own.
Instruction sheet and fun guide offer easy tutorials; additional root-beer refill packs included!
Great for the stationery loving person in your life! The wax seal stamp kit is used for making wedding and party invitations, Christmas letters, retro letters, envelopes, cards, crafts, gifts sealing, wine sealing, tea or cosmetics packaging and other craft projects.
Also, you can try to use for other ways. In all, you will have fun in making craft with this wax seal kit.
Take your love of mochi to a whole new level by learning to make your own homemade mochi ice cream. We include detailed instructions, making it the perfect mochi ice cream kit for beginners!
Give your ice cream a Japanese twist that is perfect for a fun family activity or date night in. This mochi making kit makes a unique experiential gift for your favorite mochi lovers too!
Trendy set makes 8 fashionable bracelets in gorgeous blush-tones, great for anyone interested in DIY jewelry making! From beading to wrapping, exercise your talents while making something that really sparkles.
Wear just one, pair with a few or wear all 8 for the ultimate statement. These cute bracelets are also great to give as gifts to friends.
Where my fellow gin lovers at (raises a glass over here and waves)! The only thing more fun than drinking an expensive, fancy, iced cold, hand shaken martini is the fun & satisfaction knowing that you were the one that made it.
This diy home brewing set comes with everything you need to create fun and delicious, exotic cocktails, traditional gin and tonic, and a variety of other great choices, making it the most fun and unique project kit.
This telescoping fishing pole set is great for on-the-go fishing! Just take your kit with you and head on down to the water.
This set comes with fishing line and lures for all sizes of fish.
The DIY Dream Catcher Kit is a fun, thoughtful stocking stuffer, birthday gift, or special treat for free spirits, artists, bohemians, hippies, and creative dreamers of both kids and adults. Gorgeous, all-natural materials make for an eco-chic decor item that's sure to start conversations.
Each kit includes an ample amount of beautiful cotton lace, crochet ribbon, yarns, feathers, beads, and a wooden hoop, so you can create dreamy, eclectic bohemian wall art.
Turn Homemade Italian Flatbread Into An Edible Masterpiece – Express your creative side and bake delicious bread the whole family will love with this Focaccia bread making kit. The Focaccia becomes an edible canvas you can decorate using fresh ingredients.
This bread making kit comes with an assortment of bread making tools and supplies. It includes: bread flour, yeast, Italian seasoning, flakey sea salt, food tweezers, step-by-step instructions, plus an art gallery for inspo.
This all-inclusive birdhouse kit includes everything needed to create 1 bird house and 1 bird feeder. Premium heavy-duty pine wood pieces have pre-drilled holes for safe easy assembly with wooden dowels and an included hammer. With step-by-step instructions to guide the way.
Our birdhouse kits for adults to build with children unite families for a common cause. Support your feathered friends, especially when winter comes, as you provide food and shelter for small birds.
Got seasonal fruit? Well not you can make a great wine with it! This kit has everything you need to make remarkable wine from scratch in under an hour from your own fresh fruit.
And there are enough supplies to make 15 1-gallon batches… now that's a wine making kit!
A great intro keyboard set for anyone who wants to learn how to play! This great set comes with an instruction book (for all ages) and a pedal, bench, stand, and a great CD set to teach you how to play.
This book is great for the DIY gatherer and nature enthusiast – make their own fragrances with found and foraged items. Colored candles, scented oils, natural incenses, and more.
It includes over 100 new formulas, proportions for each element of the recipes (the most requested feature from his previous book), how to substitute ingredients, and much more. Besides the formulas, it also includes the exact methods of making all of these scented tools, including how to extract the essences from the herbs.
This great mini donut making kit is great to bust out on a rainy day… because who doesn't love fresh donuts? You can now enjoy these sweet treats at home with this DIY kit.
All the included high quality, fresh ingredients are the same as used in donut shops, so you are guaranteed a fantastic taste sensation!
This kit is for the Star Wars lover in your life… what could be better than transforming a piece of paper into Boba Fett, Princess Leia, Yoda, or R2-D2? And not just any paper, but custom-designed paper illustrated with art from the movies. Star Wars Origami marries the fun of paper folding with the obsession of Star Wars.
This DIY dog treat set is a great gift for man AND man's best friend (or woman's best friend)! Create bakery style treats for your furry friend. The Make Your Own Dog Treats kit contains gourmet recipes that provide the basis for creating your own healthy, homemade pet snacks.
The kit features themed baking equipment like a pet-shaped spatula, biscuit cutter and biscuit stamper; six treat bags with ribbon and gift-tags; a full-color recipe booklet; 24 cupcake liners and 6 decorating bags for applying delicious-to-doggies icing.
This deluxe beeswax lip balm kit has everything you need to make 25 luxe lip balms in 4 delightful scents!
Get a huge supply of personalized lip balms with this DIY lip balm kit! This kit offers pure ingredients for a rich formula to keep lips moisturized through the day.
Chocolate lovers rejoice – this super simple chocolate making kit can easily be made with cacao in the microwave.
This kit has everything you need to make your very own chocolate… a fun rainy day activity gifts for adults with a sweet tooth.
This all-inclusive beeswax candle making kit includes 7 pure beeswax sheets and craft supplies! Environmentally safe and natural art with beeswax for making candles as a great alternative to petroleum (paraffin) wax candles.
Beeswax candles burn cleaner and longer. Be creative – Handmade craft kit helps to develop aesthetic taste, creativity, and motor skills.
Cheers to this unbelievable easy and fast brewing kit! This kit is designed for the first-time brewer in mind with step-by-step instructions, simple ingredients and easy to use brewing equipment.
Comes with everything you need to brew your first batch of beer. No need for additional large pots, strainers or brewing equipment. All you need is a Mr. Beer Kit, water and common kitchen items to get started.
This great on-the-go art kit allows you to take your creativity when you travel. Whether you use it indoors out outdoors, this 148 piece set is a great way to bring out your inner artist.
I love that the mahogany box is also beautiful on it's own, giving this art set a luxurious vibe.
Want to paint but don't want to come up with something original? Bring the retro concept of paint-by-numbers into your home with this great modern painting set! You can follow the numbers and apply paint to complete the oil painting.
Or you can mix colors to paint your own style DIY paint by numbers, and you will complete a unique painting by yourself. There are a few great paint by number kits to choose from!
A great adult activity kit for the DIY-er in your life! The knife making kit box comes with everything you need to make your own knife. A 440c stainless steel drop-point blade, wood handle scales, mosaic pins, brass bolsters & pins.
Necessary knife making supplies, tools and accessories: bench vise, rasp & file tool, 4 sandpapers, 2-ton epoxy, wood wax and leather sheath. Simplified and safe knife making project for beginners.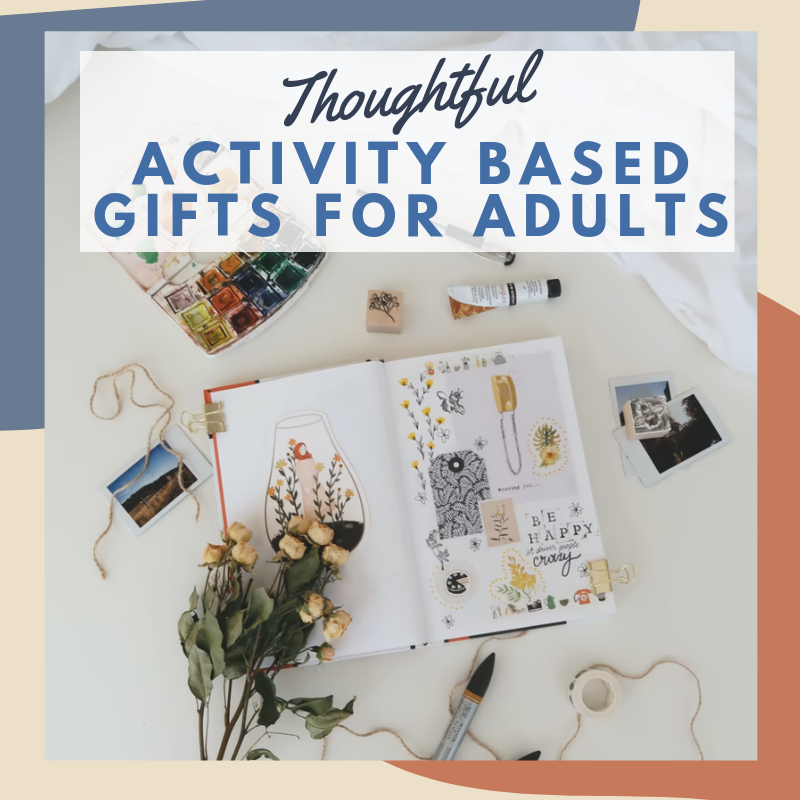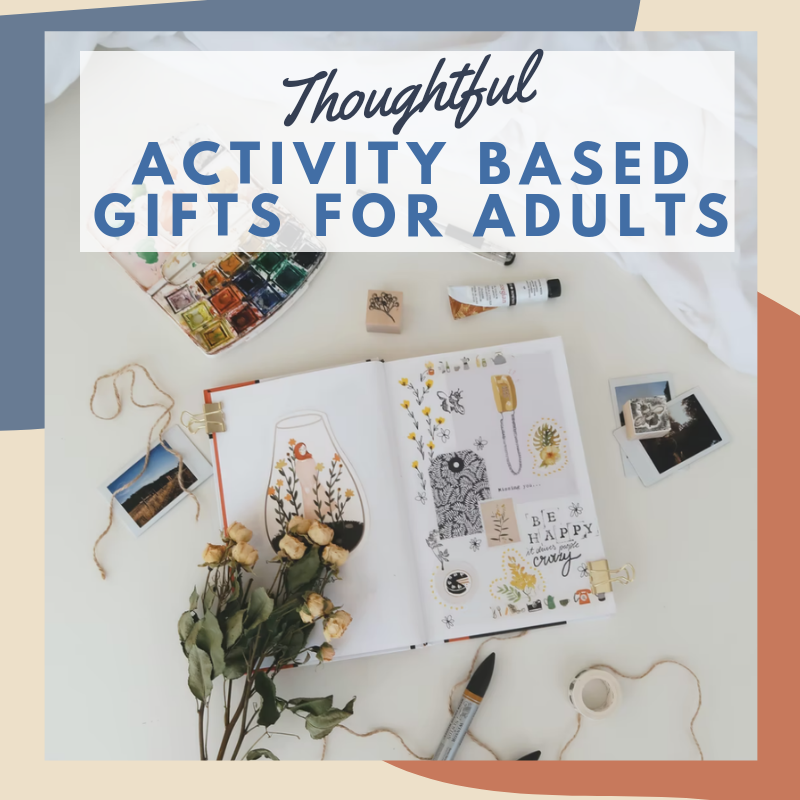 This post may contain affiliate links. As an Amazon Associate I may earn from qualifying purchases, at no additional cost to you. Thank you for supporting the brands that support The Herbeevore and our beehives!
If you like this gift guide, check out my others on The Herbeevore here!