Fun and affordable host & hostess gifts for a super bowl party or game day gathering – whether your hosting or having people over for food, snacks, and drinks. These great host and hostess gifts are more thoughtful than a 6-pack, and guaranteed to make them smile. These gifts are great for game-day fun, but also useful gifts your hosts can use again & again.
Host & Hostess Gifts for Super Bowl Party or Game Day Gathering
I always love hosting, and while I never expect my guests to bring me anything, it's always so memorable when they do! Here are 52 great gift ideas if you are going to someone's home for a Super Bowl party. Whether you're there to watch the game or eat the food (I'm in the latter group!) these gifts make fantastic host presents they can enjoy on Game Day and beyond.
These thoughtful and affordable gift ideas are way better than a bottle of wine or a 6-pack, and will make hosting a little easier. From games to dessert trays, dishware to drinks… these great gifts for super bowl party are sure to score you some extra points.
This post may contain affiliate links. As an Amazon Associate I may earn from qualifying purchases, at no additional cost to you. Thank you for supporting the brands that support The Herbeevore and our beehives!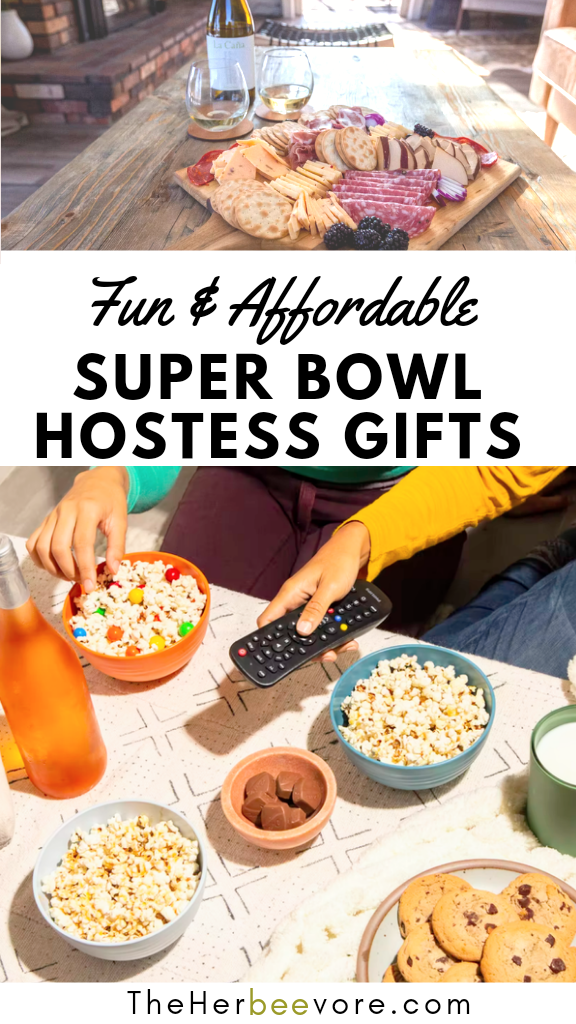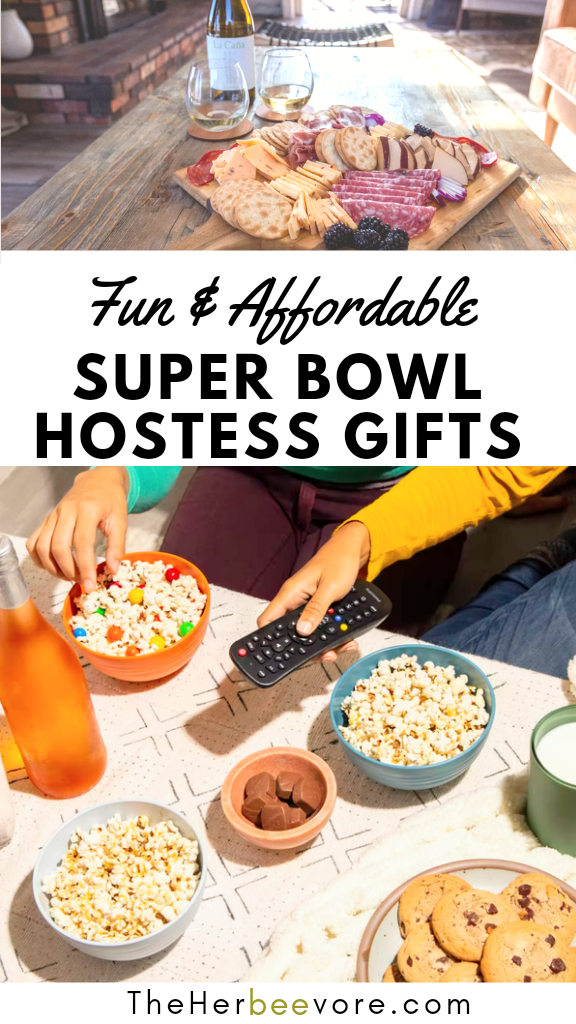 A fantastic hostess gift idea for your next game day gathering! A great host gift for anyone who loves guac and also loves puns. This set features a large guacamole or salsa bowl with an engraved spoon. You can bring guac to the party… and have the host keep the set after!
Cheers to this unbelievable easy and fast brewing kit! This kit is designed for the first-time brewer in mind with step-by-step instructions, simple ingredients and easy to use brewing equipment. Comes with everything you need to brew your first batch of beer. No need for additional large pots, strainers or brewing equipment. All you need is this kit, water and common kitchen items to get started.
Indulge your senses and your sense of humor with this witty and aromatic candle. The signature scent is built around sparkling champagne blended with sugared oranges, lemons, ripened raspberries and a hint of mountain greens. It's refreshing and entertaining – without the hangover. Stay Lit … Party like someone else is cleaning up.
Bring the super bowl party together with this great football toss game – perfect for kids or adults! With the lightweight and durable design of the tubing you can play in just minutes. Great way to practice your toss skills on your own or compete with friends. Keep track of scores with the slidable scorer.
This high-quality set includes bamboo cheese board and four stainless steel serving utensils. This brunch cheese board is the ideal gift for any occasion, including a bridal shower, wedding, holiday, birthday, housewarming, and more!
Bring the dip in the best chip & dip tray for the party! This hand-painted ceramic football stadium dip bowl and tray is great for Super Bowl Party Food, or any football game day recipes. Great for salsa, beer cheese dip, guacamole, or queso!.
The super bowl party is about to get rowdy – with this fun hostess gift idea! You didn't know it was missing from your life, but now you do and here it is. Chambong is a better and faster way to deliver 6 oz of your favorite bubbly beverage straight to your mouth. With Chambong there's never a reason for a boring present… so toast to the New Years with this set!
What's the best
food for curing a hangover
? You want salty, savory, substantial food – plates packed with deliciously fatty proteins and alcohol-absorbing carbs that will fill you up and soothe your stomach.
Hangover Helper
offers just the kind of help you need. This is THE Hostess Gifts for the super bowl for anyone who loves to cook (raises hand over here)!
Choose from cheesy pastas, meaty sandwiches, hearty hashes and more recipes like Bacon & Tomato Melts, Corned Beef Hash and Potato Cheddar Soup.
These messy, warm and comforting dishes will help you on the road to recovery.
A cheese-making kit is a fantastic way to have them experiment in the kitchen with something they may not have tried before! Once the cheese is made, enjoy it on pizzas, with pasta, or just topped on a salad. A fun DIY kit that any home cook would love to try – from amateur to expert chef!
Cheers the next touchdown with this gorgeous copper Moscow Mule mug gift set! This mugs set contains everything you need for a Moscow Mule party (minus the booze)— 4 mugs plus matching straws, mango wood coasters, and shot glass. These premium hammered copper mugs are made solely of copper — no nickel, tin, or other filler metals to compromise their natural color, beauty, and strength. You host will love these and will be able to entertain with them again & again!
Enjoy delicious s'mores indoors all holiday long, no matter the weather! Bring the campfire to your kitchen and toast marshmallows with this highly rated electric toaster. Fun for both kids AND adults, trust me, this will be one major hit with your host or hostess!
Kick off a fun game day dinner or family meal with this hilarious party game! Compete with your friends and family to create the funniest memes. Do this by using one of your dealt caption cards to caption the photo card in each round. The winner of each round is decided by a rotating judge. Pro tip: pick your caption card to match the judge's sense of humor!
This awesome Magnetic Beer Bottle Opener can catch the cap as soon as you flip the top off. No more worrying about mess bottle caps on floor. The bottle opener is super strong that can hold up to 40 caps. It can be mounted on your fridge or any metal surface.
If anyone has a bonfire tradition, this is an awesome gift! This easy campfire popcorn maker is great for nights at the lake, campouts, or backyard parties! Make 4 quarts of popcorn in just minutes. Takes camping out to a whole new level – no electricity needed… OH and don't forget the popcorn & movie theater butter too!
A classier gift for the host or hostess! Pamper your super bowl party host or hostess from head to toe with this giftable set including Lemon Butter Cuticle Cream, Hand Salve, Original Beeswax Lip Balm, Res-Q Ointment, Shea Butter Hand Repair Cream and Coconut Foot Cream. These natural, moisturizing skin care products gifted in a Burt's Bees tin nourish skin throughout the winter months and make the perfect holiday hostess gift.
Taco 'bout a super bowl party! This Salsa Dip Cup Set is a favorite super bowl host or hostess gift they can use again & again. The Ceramic dip cup features ruffled "tortilla shell" shape, and comes with a "mex-excellent" Stamped silver plate Ladle.
Sometimes your guests need a reminder 🙂 so say it with this hilarious coaster set. We're pretty sure boring will NOT be one word used to describe your house when you gift or entertain with these coasters. It's a hilarious way to remind people to keep their drinks off the table and get a few free laughs too!
Give this delicious popcorn kernel and seasoning set at your next dinner party or super bowl gathering – it's the perfect foodie gift for any occasion! Fall and winter is the perfect time for cozying up with a movie night, especially one the whole family can enjoy. Included are popcorns flavoring for every taste! White Cheddar, Sweet & Salty Kettlecorn, Chili Lime, Buttery Caramel and Sizzling Sriracha gourmet popcorn seasoning.
These great football-themed kitchen dishtowels are more than just a pretty accent; these practical and versatile pieces can pull their weight around the kitchen. It's game time with these fun football print towels. Featuring 2 in 1 functionality of classic flat tea towel surface which is ideal for drying glassware and reverses to absorbent terry cloth for everyday kitchen tasks. A touchdown for your home and kitchen game day decor.
This cute, compact tin is filled with 50 hilarious and thought-provoking questions asking players to choose between two equally good, unpleasant, or absurd scenarios. With a wide range of intriguing questions, this family-friendly party game leads to interesting conversations.
Keep the wine chilled in a gift that you can bring wine to the party in… and your host can keep the bag. it brings people together. it's great for sharing, and always leads to a good time! don't let the bottle be your only gift. This wine tote has a great selection of wine bottle carrier bags that can dress up any bottle and really make it something special.
This homemade infuser kit is the perfect gift for that DIY person in your life or aspiring moonshiner or bootlegger, this makes the perfect alcohol gift for both men and women. If you like making cocktails or home brewing, you'll like infusing your own alcohol. Everything needed to make your own all-natural handcrafted infused spirits: 110 Page Recipe & Instruction Book, Infusion Jar, Liquor Bottle w/ Wood Cork Top, Funnel & Strainer with Fine Mesh Filter, and Chalkboard Tag to label your handmade creation.
A great way to cozy up during the game, especially for cold January/February nights! Great for the watching the game on the couch, or just to enjoy on evenings by the fire – give your hosts major cozy vibes with this beautiful wool blanket.
Marshmallows Symphony smores sticks are EXTENDABLE like a radio antenna up to 34 inches, not like other skewers that are only 22 inches long, keeping your children at a safe distance from any fire pits, camp fire or camping fire pit. When collapsed, STORAGE becomes a lot EASIER with these telescoping campfire sticks! Shrinking up to 10 inches, they are much easier to travel with, one of the best gifts for super bowl party or gatherings.
A great gift set to get that perfect smoky BBQ finish! Includes 3 varieties of 100% natural wood chips: Hickory Wood, Apple Wood & Cherry Wood. This set comes with Wood Chips, Stainless Steel Smoker Box, BBQ Sauce & Rubs, Thermometer, Tongs & Guide. Grill kit has everything you need including smoker box, pair of tongs & grill guide.
The perfect gift for the organized super bowl host! The markers are so cute also because they say "Please, put me back! – Marker Pens". This way, hopefully people will remember to put the pens back so that they don't go lost or missing, it also great for a party house dispenser cup holder.
Bring some after-game fun and laughs with That's What She Said! An outrageous party in a box, perfect for your next get-together or game night. This game contains mature content and is designed for ages 17+. Encouraged to be played with 4+ players.
This great poster-sized Big Game Pool Board is the sure way to run your friends football pool for this year's big game! Easy to follow, easy to track and stunning graphics make it this year's sure bet. Keep your guest engaged in the big game with this Super addition Bowl Game Party Pool Poster.
A winter essential for anyone with a fireplace or wood stove – make it easier to keep the fire going with this fantastic canvas log tote. Not only a firewood carrier – to keep wood chips inside and not scattered on floor, for firepits, grilling and pretty much everything about outdoors; But also it can be used for other carrying or storage purposes such as: tools, picnic, camping, packing, kid toys, or beach toys!
Entertain. Impress. Keep it chill. Be ultracool by letting guests help themselves to chilled drinks at parties, picnics, and dinners. The stainless spigot ensures no mess is made, and the tin lid protects drinks from flies and debris. A wide mouth allows you to infuse water with berries and fruits and makes handwashing a breeze. Durable and dishwasher safe, you can say hello to convenience and ease. The chic way and one of the best gifts for super bowl party and game day fun.
A great eco-friendly alternative to paper plates that your guests can customize – these mini slates are great for appetizers and cheese boards! Charcuterie bites, tapas, and cheese are sure to stand out on these slate plates; display baked brie, gruyere, manchego, parmesan cheese wedges, olives, dried fruit, and bits of chocolate
This picnic and beach mat makes a fantastic host gift idea for a super bowl party or game day fete! ???????? ????: There are endless uses for this beach mat, including lounging in any setting that has casual seating, like the beach, park, and outdoor concerts. Whether your watching the game in the stands, or in front of the TV, this is a great super bowl party hostess gift idea.
This high-quality set comes with everything needed for a successful cook out. Easily season steaks with the basting brush, flip hot dogs or burgers the spatula or tongs, eat corn with the corn holders or grill kabobs with the skewers. Each barbecue grilling tool is made from quality stainless steel which is rust resistant for long-lasting reliability. Stainless steel tools are also more durable than wood alternatives as they will not crack after extended use. This complete set of barbeque accessories is an ideal gift for any avid griller or cook.
The perfect sweet gift for family and friends. Make any breakfast glorious. Use it on your pancakes and waffles but also as a natural sweetener for your oatmeal, plain yogurt. Pour it over your ice cream. Make a delightful maple dough, drizzle over salmon.
Score a major touchdown with this football themed hostess gift! Use this stylish party dish as candy containers, salsa bowls, dip bowls, ice cream bowls or dessert cups. Invite your friends or teammates over to a table and enjoy your food with this party dish.
This Tipsy Otter fabulous set of 4 margarita style glasses and Acacia wood salt rimmer with storage lid will be perfect for your next fiesta! Great for serving your favorite cocktails or personal creations. Celebrate life's moments with friends and family or add stylish accessory to your home bar decor.
I absolutely love this pizza stone, it bakes pizzas and breads with perfect crust! I love sprinkling a little corn meal down on the pizza stone first, then adding my dough on top for the perfect texture and crust! If your baker doesn't have a pizza stone, they can level up their bread and dough game by stone baking! Even if you use it for reheating frozen pizzas, you'll feel fancy AF.
Kick off a game day with an great game of corn hole! This set is constructed of 100% solid wood, which means that the game board is not easily moved by throwing bags. With the support of two solid wood cross braces, and is regulation sized (for serious players)! One of the best gifts for super bowl party or any backyard or sports gathering.
A fun evening trivia game for guests at the lake! It's the Old School vs. New School trivia game! Test your knowledge about your rival generation's pop culture trivia. Play in teams based on generations, or if players are around the same age, then it's every person for themselves! Includes 220 cards with four types of questions, so you can play again and again.
Surprise your BBQ host with this fantastic salt block for the grill! This versatile salt block can be used for grilling, searing, curing or cooking and will naturally infuse a small amount of mineral rich salt to your food. It can also be chilled and used to prepare and serve your favorite cold foods, appetizers and desserts. Whether you heat it, chill it or simply use at room temperature you will add excitement and fun for both your guests and your meals.
Cheers to your BBQ host! All the bar tools sit neatly in one convenient location right next to your wines and liquors. Play bartender for your guests; host generous and warm parties. The rustic tray with bar essentials will make a beautiful addition to your home bar. If you are looking forward to entertaining guests and showing off your bar, this is what you need!
I absolutely love this plant your own bonsai kit — choose from seeds for Brazilian Rosewood, Colorado Blue Spruce, Flame Tree, or Black Spruce. Experience the joy of watching your tree grow, from the seedlings in your bonsai tree kit to a fully-formed bonsai tree. Directions and instructions are easy to read, so you can be ready to grow!
Bring a different kind of 6 pack to your next BBQ – this hot sauce gift set is a perfect hostess gift for BBQ or cookouts! The flavors in this set ranges from chipotle, garlic, mango habanero, habanero jalapeno, to cayenne. Just wrap it up, slip it into a bag or add a bow, and this gift set is ready to go!
This adorable squirrel-shaped nut dish has been exclusively made to drive you nuts… or at least hold them for you. Subtly glazed to a high finish. The classic white bowl is ideal for both everyday use and for game day parties or special occasions.
This fantastic sushi making kit has everything needed for a fantastic sushi night in! Whether you are gifting to a beginner, a world class professional sushi chef or a culinary student, this kit has everything they need to make an original snack in just a couple of minutes. With this kit, rolling sushi is easier than you might think. Become a sushi chef and enjoying this truly unique sushi party.
As anyone who has hosted a super bowl party knows, cocktail hour is the most fun part of the evening for guests—but the most stressful for whomever is in charge of keeping the drinks flowing. The solution, though, is simple: batch it! This fun collection has 65 delicious and creative cocktails that you don't have to stir or shake to order; rather, they are designed to stay fresh when made ahead and served out of a pitcher.
There's no shame in pigging out with this fun pig shaped serving and cutting board; ideal for both serving and prepping delicious food. Flat-grain bamboo construction is lightweight, durable and knife friendly. Easy care: simply hand wash or wipe with a damp cloth; do not soak in water or wash in the dishwasher – make an adorable serving tray as excellent host or hostess gift for BBQ!
For anyone who needs a mid-game snooze. This adorable rope hammock can be hung indoor or outdoor, it's perfect for patio, garden, backyard, poolside or balcony when you reading, relaxing or sleeping. It offers many ways to lay or sit in it, with zero pressure on whole body. You can enjoy it with your family or your friends. It also makes an awesome gift for your super bowl host!
When it comes to awesome gifts, few can ever compare to a nice set of beer glasses. Great as a gift for guys who grill – it doesn't matter if the recipient's a mom, dad, girlfriend, boyfriend or colleague, beer lovers from all walks of life would surely love them. Each 16 ounce virtually unbreakable beer glass in this set is big enough to hold your favorite drinks—whether it's craft or draft beer—but not so big that it's a hassle to hold for extended periods of time. Party without worries! All the BBQ beer glasses in our collection are dishwasher safe, so cleaning up after your wildest parties is a breeze. Just throw them in and you're ready for the next one!
The BEST lawn game for a backyard BBQ – adults and kids will absolutely love this! It's the biggest authentic hardwood Jenga game ever sold! At setup, starts at 26 inches high, and can stack to over 5 feet high in play!
Some like it hot! This is a great gift for the hot-sauce loving honey in your life! If they likes it spicy, this gift let's them make their own salsa and hot sauces exactly the way they wants.
This kit is loaded with great spices and accessories to make 8 different types of meats: Juniper & Fennel Bacon, Chilli & Garlic Bacon, Pancetta, Biltong, BBQ Jerky, Doner Kebab, Shish Kebab and Kofte Kebab. This great kit is perfect for the carnivore in your life
And if you loved this gift guide, check out my other foodie & hostess gift guides here! Did I miss something essential? Let me know below!