Thank your host or hostess with these beautiful and unique gifts for the lake house or cottage, thoughtful and inexpensive gift ideas! Surprise them with cozy cottage decor, fun outdoor activities to keep the kids busy, or a nice thoughtful coffee or tea sets.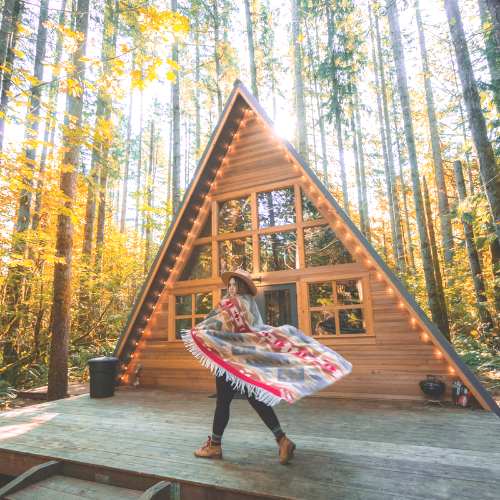 Heading out for a weekend of fresh air at the lake? There's nothing better than an invite to spend the weekend with friends or family at a cottage or late house!
And what better way to say thank you than with a thoughtful and creative gift for the host or hostess?! These fun and inexpensive host gifts for lake house or cottages are unique to life at the lake.
This croquet set is a great entertainment for the whole family – both kids and adults will love to learn this great outdoor lawn game. Live your best lake life with this set which includes a durable carrying bag for easy storage and transport. It is a perfect yard/outdoor games for families, kids and adults.
This easy campfire popcorn maker is great for nights at the lake, campouts, or backyard parties! Make 4 quarts of popcorn in just minutes. Takes camping out to a whole new level – no electricity needed!
Let your hosts rise and shine by starting their day off with their choice of 4 fresh roasted coffee varieties. The coffees curated by Bean Box are from exclusive small-batch microlots and selected by a world-class coffee expert to help you discover your next favorite cup.
Cozy up with this soft and sweet royal plush lake blanket! Perfect for those who wish to show their love of the lake or enjoy a little extra warmth while sitting outside in the cool evenings. "Life Is Better At The Lake" text is embroidered onto the blanket.
A camp fire essential for the lake – make it easier to keep the fire going with this fantastic canvas log tote. Not only a firewood carrier – to keep wood chips inside and not scattered on floor, for firepits, grilling and pretty much everything about outdoors; But also it can be used for other carrying or storage purposes such as: tools, picnic, camping, packing, kid toys, or beach toys!
Kick off a weekend at the lake with an amazing game of corn hole! This set is constructed of 100% solid wood, which means that the game board is not easily moved by throwing bags. With the support of two solid wood cross braces, and is regulation sized (for serious players)!
This picnic and beach mat makes a fantastic host gift idea! ???????? ????: There are endless uses for this beach mat, including lounging in any setting that has casual seating, like the beach, park, and outdoor concerts.
This high-quality set includes bamboo cheese board and four stainless steel serving utensils. This brunch cheese board is the ideal gift for any occasion, including a bridal shower, wedding, holiday, birthday, housewarming, and more!
Enjoy a picnic at the lake with this portable on-the-go picnic set! California picnic luxury design you will not find a better picnic backpack. top of the line cutlery and flatware 1 x wooden handle corkscrew opener, 1 x wooden handle cheese knife, 1 x wood cheese board, 1 x waterproof matching pattern picnic blanket.
Have fun in the great outdoors with this amazing bocce ball set! Bocce Ball is a fun and fascination Team Game. It is easily for all ages people to play, such as Kids, Children, Teens, Adults, Parents etc. Just simply set up it anywhere, make it perfect for a larger group of 2-8 players!
An adorable hostess gift idea for your next taco night! A great host gift for anyone who loves guac and also loves puns! This set features a large guacamole or salsa bowl with an engraved spoon. You can bring guac to the party… and have the host keep the set after!
A perfect gift for the coffee lover or drinker who is constantly on the go! Keep your afternoon tea hot & your morning smoothie cold, all day with our hyper insulated bamboo tumbler. The bottle is double-walled- the interior is lined with stainless steel that acts as a thermos, effectively maintaining temperature on every beverage you fill.
Tastefully designed, this cozy wood box sign with a quote has a rustic appearance to give it a vintage feel. Ideal accessory for farmhouse decor, it will complement your home with a country theme. 'Memories at the Lake Last a Lifetime' box sign for home decor. A wonderful piece that makes a decorative wall art plaque to add character to any living or cottage space.
A fun evening trivia game for guests at the lake! It's the Old School vs. New School trivia game! Test your knowledge about your rival generation's pop culture trivia. Play in teams based on generations, or if players are around the same age, then it's every person for themselves! Includes 220 cards with four types of questions, so you can play again and again.
These gorgeous robes are the perfect host or hostess gift for a weekend away! These 100% premium Turkish Cotton robes are produced with 400 GSM density ensuring them to be thick and absorbent. Perfect for after the shower, at the pool, or at the Spa, this towel is versatile and would make a perfect gift for anyone looking to lounge around in comfort.
But first – coffee! This easy pour over coffee maker has a fine mesh stainless steel filter that eliminates the need for paper filters. This promotes the pure unfolding of the flavor – no more paper filters that trap the essential oils and flavors. This coffee maker sets new standards in the preparation of delectable coffees: no paper filters – just pure flavor. A great brunch hostess gift idea for a coffee lover.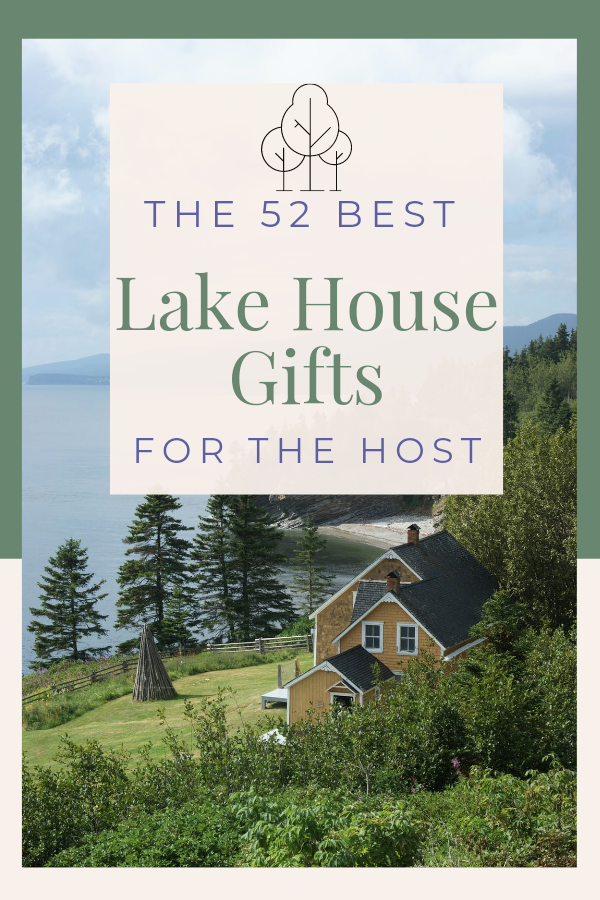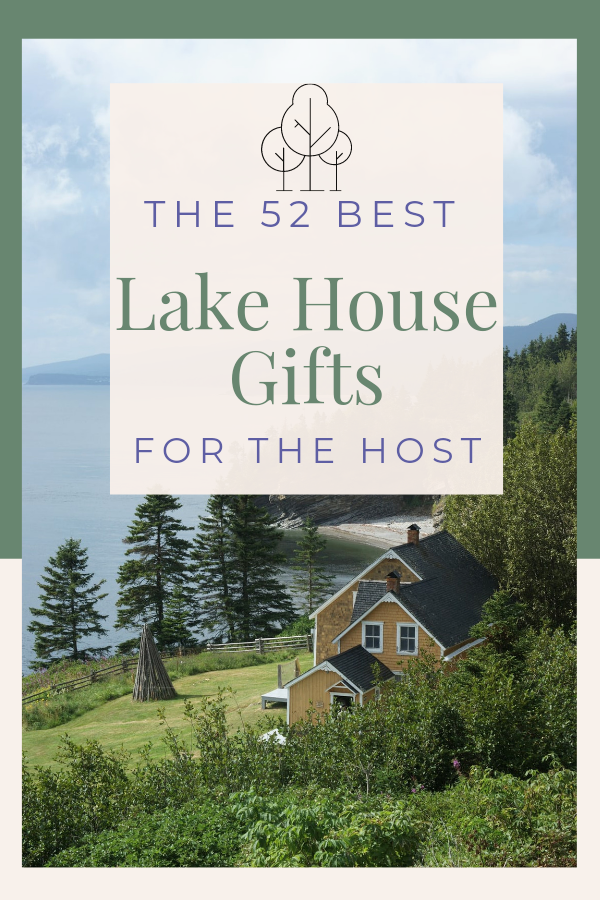 These tea towels are made from some of the finest 100% natural, responsibly-farmed, renewable and sustainable cotton available anywhere in the world. They are free of harsh or harmful chemicals, and each one can help save dozens or even hundreds of trees by replacing the need for paper towels and other paper-based products. We invite you to join us in our commitment to respect and preserve our environment!
This Tipsy Otter fabulous set of 4 margarita style glasses and Acacia wood salt rimmer with storage lid will be perfect for your next fiesta! Great for serving your favorite cocktails or personal creations. Celebrate life's moments with friends and family or add stylish accessory to your home bar decor.
When the first decision of your day is what to have for breakfast, the easy recipes and inspired ideas provided in The Breakfast Bible will make your choice an effortless one. With more than 100 recipes covering every part of the morning meal—from eggs and bacon to fruits and grains, breads and pastries, healthful bowls, griddle cakes, morning beverages, and more—there are plenty of options to wake up your day.
3 Piece White Birch Basket Gift contains: 1 Wild Maine Blueberry Jam (12.5 oz), 1 Maine Maple Syrup (8.5 oz) and 1 Farmhouse Pancake & Waffle Mix (16 oz). Fantastic gift choice for housewarming, hostess, sympathy, or birthday. Includes some of the best combinations of jams, mixes, syrups, and more all in attractive boxes or baskets.
The perfect customizable brunch hostess gifts. Whether you're looking for low carb or protein packed, our complimentary breakfast maker recipe book puts plenty of fun and delicious meals right at your fingertips. Eliminate the bread and these are great for Keto and Paleo diets too.
Bloody Marys are a diverse drink one can easily spice up and make their own. Delicious with or without alcohol! Add lemon, lime, hot sauce, shrimp, bacon, or any of your other favorites to our mix! The salt is the best part! SALT RIMMER is an aromatic all natural blend of sea salt and fresh herbs and spices. Moisten glass rim and dip into the Rimmer blend.
This cute, compact tin is filled with 50 hilarious and thought-provoking questions asking players to choose between two equally good, unpleasant, or absurd scenarios. With a wide range of intriguing questions, this family-friendly party game leads to interesting conversations.
Upgrade your host's coffee set up at the lake with an amazing Nespresso machine! Brew the perfect single serve coffee or espresso drink time after time. Simply insert the capsule where it will blend into freshly brewed Coffee or authentic Epsresso.
Indulge your senses and your sense of humor with this witty and aromatic candle. The signature scent is built around sparkling champagne blended with sugared oranges, lemons, ripened raspberries and a hint of mountain greens. It's refreshing and entertaining – without the hangover. Stay Lit … Party like someone else is cleaning up.
A delicious breakfast assortment from Maine, the Pine Tree State. Includes 1 Wild Maine Blueberry Jam (12.5 oz.), 1 Maple Syrup (8.5 oz.), 1 Farmhouse Pancake & Waffle Mix (16 oz), and 1 Scattered Pine Tea Towel. Packaged in our exclusive pine breakfast box and ready for giving.
The weekend is about to get rowdy – a fun lake house or cottage hostess gift idea! You didn't know it was missing from your life, but now you do and here it is. Chambong is a better and faster way to deliver 6 oz of your favorite bubbly beverage straight to your mouth. With Chambong there's never a reason for a boring present.
A fabulous brunch gift idea- there's no better gift than a nice bottle of wine. it brings people together. it's great for sharing, and always leads to a good time! don't let the bottle be your only gift. This wine tote has a great selection of wine bottle carrier bags that can dress up any bottle and really make it something special
A beautiful brunch hostess gift idea for the gourmand in your life. Grazing is an enchanting way to eat. It means skipping from dish to dish, tasting different things without committing to a single one. It's about creating multiple dishes that work together as a meal, that all share a theme, an aesthetic. When she entertains, or even pulls together a quick dinner for just two, food stylist Suzanne Lenzer enjoys this tapas-style of eating—and with her guidance, you can too.
Brunch Gifts For the Hostess AND the Guests! 6 pack insulated wine tumblers set come with gift box for your gift choice. Including 6 stainless steel starws and clear Lids, the insulated wine cup set suits for DIY gifts, bride gifts or family use and birthday party: You can use our wine tumbler set indoor or outdoor – day drinking on the patio, by the pool, on the boat, outdoor BBQ's, family reunions, boating, picnics, RV, camping, glamping, cruising or parties.
Have fun outdoors with this great horseshoe set the whole family can play with! And the best part? It's approved for official play… for the serious players. The National Horseshoe Pitchers Association of America has approved these horseshoes for official play and are regulation grade. They have more weight forged into the toe calks (tips) to improve balance and control.
This donut wall stand for party and event use holds donuts in the kitchen for breakfast, in the dining room for brunch, or even for birthday or party use with clients, guests, or friends. A donut display holder makes a great gift for anyone who loves hosting friends, parties, or events. Get one for your own kitchen or give one to someone who loves fresh, delicious donut pastries.
This homemade infuser kit is the perfect gift for that DIY person in your life or aspiring moonshiner or bootlegger, this makes the perfect alcohol gift for both men and women. If you like making cocktails or home brewing, you'll like infusing your own alcohol. Everything needed to make your own all-natural handcrafted infused spirits: 110 Page Recipe & Instruction Book, Infusion Jar, Liquor Bottle w/ Wood Cork Top, Funnel & Strainer with Fine Mesh Filter, and Chalkboard Tag to label your handmade creation.
Create a calming environment with this trendy, responsibly sourced Dough Bowl Candle. Our candles are created using only the best ingredients, fragrances and intentions. Each candle container is unique and durable. Our candles, lotions, and soaps are formulated with safe scent science to be phthalate-free, non-carcinogenic, and paraben-free.
The Brunch Book covers it all. From lighter fare that features the best of summer produce to stick-to-your ribs comfort food that hits the spot on a winter morning, you'll never be at a loss for what to make for brunch. Host brunch with ease by following set menus that pair multiple recipes that create a sumptuous spread, or mix and match to really personalize the meal.
Beautiful design, practical function. This pretty clear pitcher is a perfect gift for iced tea lovers making all kinds of tea and drinks like herbal tea, black tea, flower tea, fruit tea, lemonade, coffee, etc. With a beautiful arc design and an Flip-top Lid , this handleless glass kettle is very suitable for the dining table, it will make your dining table more rich.
Made Of Solid Marble With A beautiful gold brass Inlay around. Unlike Leather or other material coasters, these vary slightly in design by the very nature of natural marble.
Coasters are extra wide and thick with 4 inch in diameter and 10mm thickness. Silicon base provides anti slip quality on multiple surfaces.
A great way to cozy up at a lake house or cottage, especially for cool nights by the campfire! Great for the home, camping, mountain cabin, beach, or in the evenings by the fire – give your hosts major cozy vibes with this beautiful wool blanket.
The perfect sweet gift for family and friends. Make any breakfast glorious. Use it on your pancakes and waffles but also as a natural sweetener for your oatmeal, plain yogurt. Pour it over your ice cream. Make a delightful maple dough, drizzle over salmon.
These gorgeous Adirondack chairs are a cozy and great gift, especially as a housewarming gift for a lake house or cottage! This Adirondack Chair set is made out of weather-resistant Fir wood with a natural finish, provide a traditional charm that withstands the test of time to any porch or deck,you can also paint or stain the chair to better suit your style or setting.
Marshmallows Symphony smores sticks are EXTENDABLE like a radio antenna up to 34 inches, not like other skewers that are only 22 inches long, keeping your children at a safe distance from any fire pits, camp fire or camping fire pit. When collapsed, STORAGE becomes a lot EASIER with these telescoping campfire sticks! Shrinking up to 10 inches, they are much easier to travel with.
Give your host's home a cozy cottagecore vibe with these Super Absorbent Waffle Weave Towels for Kitchen and Bathrooms. Set of 2 Embroidered Towels – "Welcome to Our Lake House" and "Life is Better with Lake"
Make your host's next travel trip easier with this gorgeous travel bag! The oversized weekend bag is ideal for short trip, outdoor sports, business trip, daily travel, overnight camping, gym, or working. The soft material makes easy to be used as a carry-on flight bag, suitable for most aircraft cabins. The design & colors are suitable for any man or woman while the multi-functionality makes it an essential accessory for an avid traveler. Perfect gift for your loved ones or a treat for yourself.
This Kitchen Maine Morning Batter Bowl Gift (5 Piece Gift) contains 1 Farmhouse Pancake & Waffle Mix (16 oz), 1 Maine Maple Syrup (8 oz), 1 Wild Maine Blueberry Jam (12.5 oz), 1 balloon whisk and a melamine batter bowl. A delicious variety of breakfast products – Breakfast comes together in a snap!
An adorable Boat-shaped serving dish, packaged securely in a plain box, is made from stoneware and includes a bamboo oar and a metal anchor charm. "Life Is Great At The Lake" text is printed onto one side of the dish. Perfect for those who wish to show their love of the lake.
Entertain. Impress. Keep it chill. Be ultracool by letting guests help themselves to chilled drinks at parties, picnics, and dinners. The stainless spigot ensures no mess is made, and the tin lid protects drinks from flies and debris. A wide mouth allows you to infuse water with berries and fruits and makes handwashing a breeze. Durable and dishwasher safe, you can say hello to convenience and ease. The chic way.
Attract wild songbirds with this fantastic outdoor cedar birdhouse. Crafted from Insect and Rot Resistant Premium Cedar with a Water-Based Protective Stain. Air Vents Allow for Maximum Air Ventilation Through Wall and Floor Openings. Clean-Out Doors Provide Easy Access for Cleaning. Pole Mount or Flush Mount Installation Options – All Included Hardware is Rust-Free.
Ideal for cottage or lakehouse storage, giving the home a cozy and vintage vibe. Natural & Recyclable – Carefully crafted from recyclable cotton rope to offer a safe, soft and skin-friendly storage solution as we care about our planet and sustainability like you do. Durable & Portable – Highly elastic cotton rope makes them durable, portable, lightweight and easy to lift and move.
These baskets also make great gift baskets for anything else on this list too!
Lake themed 20 oz navy powder coated vacuum insulated stainless steel travel mug with slide-closed lid and lake quote, "On Lake Time" engraved on the front. USE FOR ANY DRINK – Has a clear plastic push-on lid that slides close and an opening that can be used WITH or WITHOUT a straw.
A great retro vase set for wildflowers or plants you pick at the lake. Great for floral arrangement, home decoration as well as various gift ideas. Nice present to your nature-loving, gardeners. Sweet wedding party decoration gifts.
A great trivia game everyone will love, that you can leave up at the lake for rainy days! …I should have known that! is an addictively entertaining trivia game with over 400 questions about things that you should know.
Treat your host and hostess with this delicious chocolate covered biscotti set! Gourmet Chocolate Coated Biscotti Bars in a Pretty Presentation Gift Box. Each perfectly crunchy Biscotti Biscuits is handdipped in various luscious chocolate coatings and then garnished artistically. Eighteen (18) choco-covered baked bars are nestled in individual compartment for easy shipping.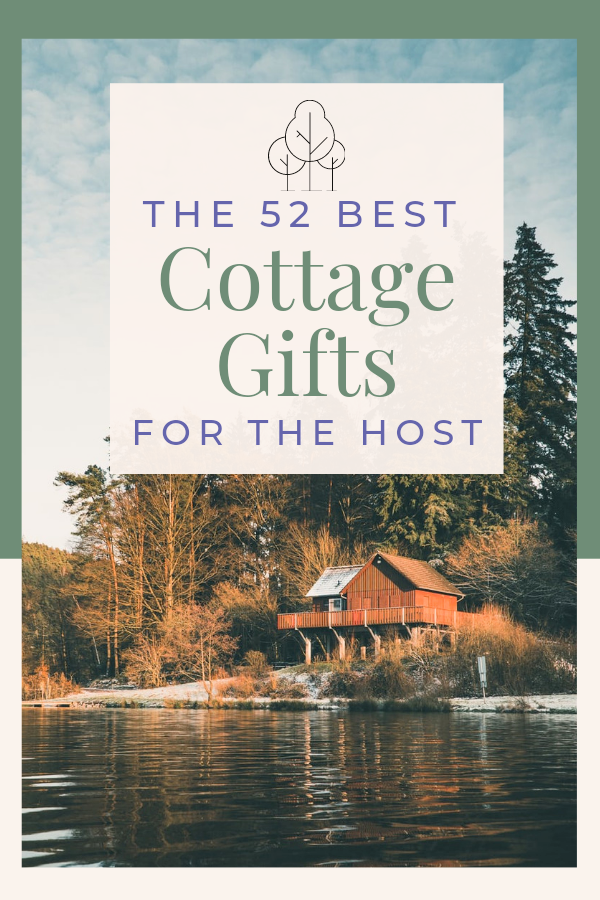 And if you loved this gift guide, check out my other foodie & hostess gift guides here! Did I miss something essential? Let me know below!