Bee themed gifts for bee lovers that they'll buzz about! As a beekeeper myself, here are my favorite gifts for fellow bee lovers, apiarists, and pollinator enthusiasts. These gifts are fun, affordable, and useful – great for the hive and home.
The Best Gifts for Bee Lovers!
As a beekeeper myself, I love getting bee themed gifts of all kinds! If you're looking for a gift for that bee-loving person in your life, these below items are adorable useful gifts for everyday, decorative for in the home, and fun presents for anywhere in between. You'll find some great must-have presents for bee lovers, gifts for beeswax and candle making, and adorable bee themed gifts.
These are great holiday gifts, stocking stuffers, gifts for the bee lover in your life: great bee themed gifts for friends, family, co-workers, or neighbors with a hive or two! They're fun, affordable, and super thoughtful. Let them show their bee pride off with these fantastic gifts with bees.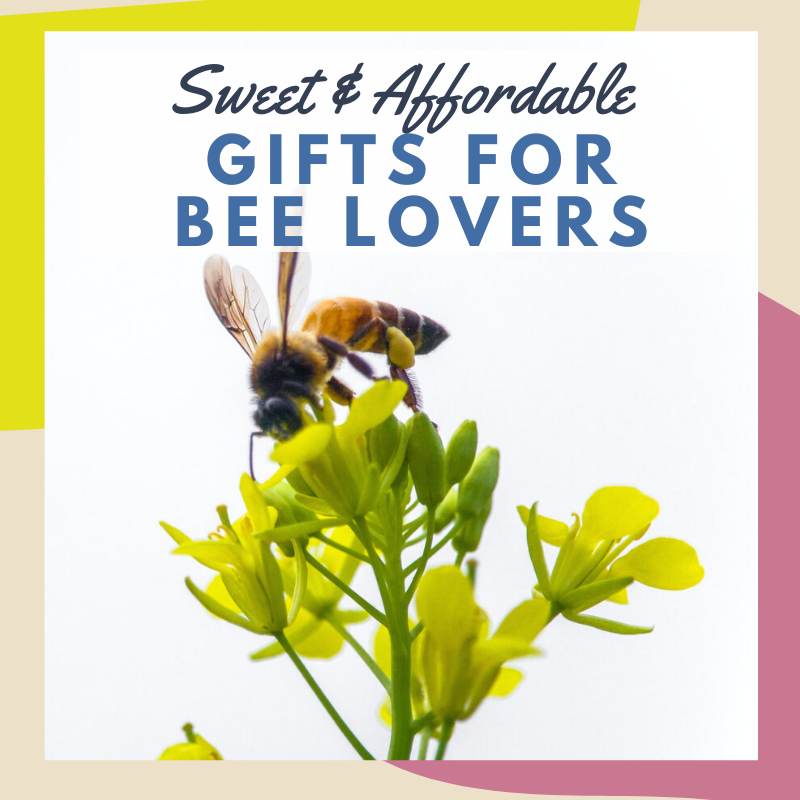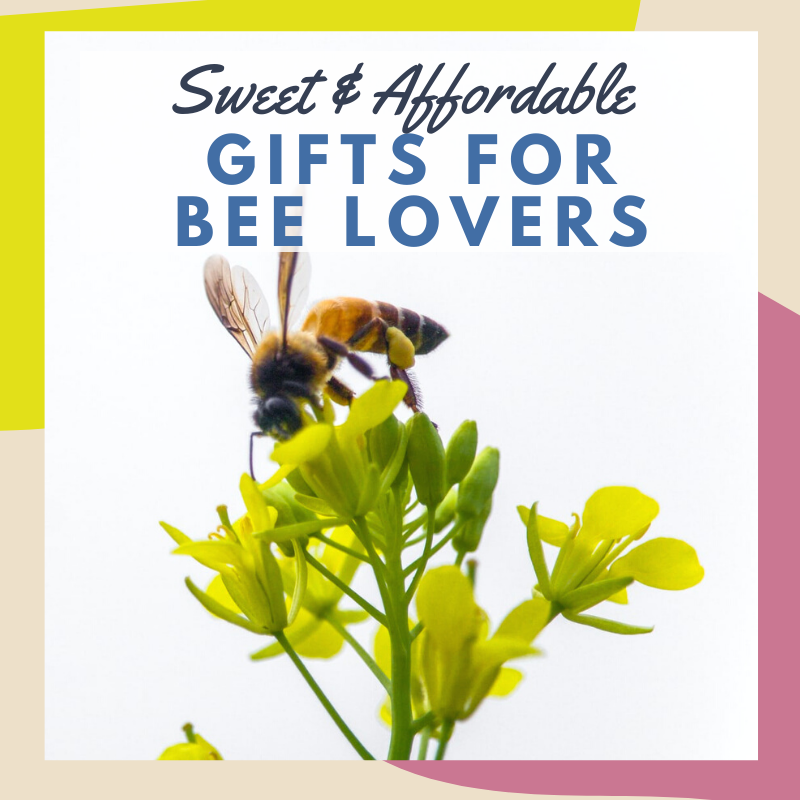 This post may contain affiliate links. As an Amazon Associate I may earn from qualifying purchases, at no additional cost to you. Thank you for supporting the brands that support The Herbeevore and our beehives!
This fancy handcrafted crystal honey jar will have them saying "show me the honey" (I'm sorry, get ready for all the bad bee puns in this post)! This jar is fantastic for anyone who always keep a stash of honey in the kitchen or office. Great for storing and displaying raw honey straight from the hive!
This fantastic mason bee house will attract peaceful pollinators to your garden! They burrow in the small wooden holes, allowing pollinators to stay nearby and forage in your garden. We have tons of mason and carpenter bees by us, and these little hives are perfect! I also love the honey comb shape in this hive, too cute.
Add farmhouse class to your kitchen with this Bee-Themed Farmhouse Living tea-towel set. This set of 3 kitchen towels adds rustic charm to your farm-inspired kitchen. These kitchen towels are the perfect addition to your home decor. The simple black, white, and yellow color scheme and bee graphics make this a stylish hand-towel set.
OK, as a baker, I had to add this one on the list – this fantastic honeycomb embossed rolling pin is the perfect gift to buzz over! This is a sweet kitchen tool for the gardener, beekeeper, bee lover, or anyone who loves baking or cooking with honey. It imprints a honeycomb pattern on anything you roll out – this is one bee-autiful gift.
This fun beehive candle features a unique copper-tone stand with sleek and elegant wick holder paired with the spiral wax & wick design that will be topic of conversation in any room of the home. Beeswax candles have been known for providing an environment of relaxation and tranquility, reducing stress and helping with sleep.
These bee-autiful heavy glass tumblers are fantastic cocktail or water glasses. This set of 6, 9-ounce tumblers with the iconic Napoleon l'abeille (Bee) embossed on the modern silhouette adds style and elegance to any casual or formal table or event. These glass tumblers with a solid base are comfortable to hold and the perfect size for a beverage at the dinner table, a scotch before or after dinner or elegant entertaining with your favorite drinks.
These adorable silver bee stud earrings are a fantastic way to add a little buzz in your style. They're made of 100% Genuine 925 Sterling Silver which has been stamped. They are hypoallergenic and nickle-free. These make a great gift for the bee loving lady (or dude with a pierced ear!) in your life.
Make your garden pollinator-friendly with this fantastic honey bee habitat planter set! A colorful combination of annual & Perennial wildflowers that provide nectar and pollen throughout the growing season. Includes a Bee gardening Booklet & enough seeds to share with a friend. Egg carton garden Includes: open pollinated wildflower seeds, starter soil, growing instructions, bee gardening Booklet & 100% recycled fiber egg carton planter!
Golden yellow bee mug has embossed honeycomb pattern and bumble bee, features distressed finish look – perfect for the farmhouse chic kitchen! Makes a lovely gift for birthdays and Mother's Day, or add to your own mug collection. Honeycomb themed mug is microwave and dishwasher safe.
This all-inclusive beeswax candle making kit includes 7 pure beeswax sheets and craft supplies! Environmentally safe and natural art with beeswax for making candles as a great alternative to petroleum (paraffin) wax candles. Beeswax candles burn cleaner and longer, and purify the air .Bee creative – Handmade craft kit helps to develop aesthetic taste, creativity, and motor skills.
This bee themed throw blanket is printed with an adorable minimal bee design and colorful images. Easily coordinates bedding or home decoration. This all-season flannel blanket is super soft. Warm especially when you snuggling or watching TV on bed couch, or draping it over your shoulders as a cape blanket.
This fancy honey dispenser comes with its very own bottom stopper, keeping your honey server airtight, acting as a beautiful bee decor. Use this to put honey in tea, syrup dispenser on pancakes, and even in coffee, without your honey getting clumpy. Simply press the release on the handle and it instantly flows out the bottom. Let go of the release and it immediately stops with no drips or messy trails.
This stained glass bee sun catcher is a charming little accent for a nature-themed kitchen window or simple reminder to yourself to get outdoors. Create a stunning window display by grouping several together. Each bee sun catcher comes with a nylon string to suspend it from the suction cup that has been included. This handcrafted stained glass sun catcher has been made with lead free solder to protect you and the environment.
I adore these beautifully simple honey bee soaps. Enjoy the simple pleasures of clean, smooth skin with these four beautifully scented soaps. Made with natural ingredients and delightful fragrances that will indulge your senses. One each Honey, Honey & Aloe, Honey Almond, and Honey Oatmeal, each 4 ounces. A great variety for guests!
Shake your honey maker with these adorable kitchen spoons… love these! Enjoy these pretty honeycomb bee theme wooden spoons set while cooking and baking! Give as a fun unique gift to a great gift ideas for backyard beekeepers & anyone who loves bees or honey! Cute bee pattern design: Welcome to our hive, Always bee kind, Shake your hone maker. This adorable bee theme wooden spoons set is sure to make you smile daily, what a perfect a practical and classic kitchen utensil set. This adorable set of bee themed wooden spoons will add a touch of summertime year round to your kitchen.
I love this simple Orange Blossom Honey Serious Hand Repair Cream– Shea butter and safflower seed oil promote healthy skin. Rich in anti-oxidants and made with honey to soften and heal severely dry or cracked skin. Made with honey, beeswax, and neem oil to penetrate and soften calloused feet. Just roll on to dry, cracked feet and watch the magic happen! Paraben free.
These gorgeous beehive ornaments make a fantastic holiday gift for your Christmas tree or as a gift for Hannukah! These delicate glass blown bee hive ornaments are handblown and decorated and painted with gold. Add a little buzz to your tree with these beautiful bee ornaments.
The hand-painted bee and floral pattern mugs with textured surface makes these mugs unique to share with someone you love (who also loves bees). This two-pack also comes with it's own accessories: The anti-scald wooden lid also serves as an anti-scratch coaster. Boom!
This Honey Bee necklace is a wonderful reminder that hard work, good intentions, and trusting your instincts can have its sweet rewards! Perfect for everyday wear or as a gift for the bee lover in your life. Handcrafted in 14k gold fill with a satin finished 24k gold vermeil* charm, and comes with an 18 inch chain.
I love this beautiful white and gold bee organizer with a honeycomb textured base. Put it in the bathroom, bedroom, a perfect place to hold your necklaces, earrings, hand chain ,bracelets. Leave it by the sink to collect your rings as you wash your hands or put it on the nightstand to place your rings as you get ready for bed.
Beeswax Lip Balm Making Kit (87- Piece Set) | All Natural Formula
This deluxe beeswax lip balm kit has everything you need to make 25 luxe lip balms in 4 delightful scents! Get a huge supply of personalized lip balms with this DIY lip balm kit! This kit offers pure ingredients for a rich formula to keep lips moisturized through the day.
These cute and funny bee socks are perfect for you! Bees perhaps are the most hard-working creatures on the planet, who produce sweet honey for human. What's more, honey bees are vital pollinators for flowers, helping other plants grow. This is why our colorful and fun socks with these great and cute bees would be the best choice for every industrious and aspiring person.
This "bee kind" make up bag features an adorable printed bee design on beige canvas, featuring a sleek black zipper with a silver pull. The inside is heavy canvas so makeup won't stain the inside if it opens up.
I absolutely love this metal wall chart on bees – it has all kinds of fun facts! Perfect for a mancave/queen bee hive. This sign features all kinds of fun facts on bees that your bee-loving friend already knows… but it may teach them something new.
Now here are some bees you will want hanging around! This bee windchime would be perfect on a patio, hung in a close tree, or in the garden. A delicate windchime featuring a fun honeycomb pattern and 6 aluminum bees hanging from it.
Make your mark with fun bee and honeycomb cookie stampers! This set of cookie stamps is made from Cast Aluminum with Wooden Handles. Great for anyone who regularly bakes with honey, or just for the hobby baker who loves bees.
These fantastic reusable nylon bee bags can be folded into a tiny inner pocket (about the size of a phone) that can conveniently fit in your purse. Great for taking with you anywhere you want. Reduces trash from unwanted plastic bags, helps protect the environment and wildlife. Plastic bags can only be used once, while these reusable bags can be used again and again.
This gorgeous notebook is made with a gold foil bee on vegan leather, banded closure, pen loop, ribbon bookmark, storage pocket at back. Archival quality acid-free smooth cream paper ensures protection from light damage – so this notebook will last! Great for a student or for the office – or for taking hive notes in the field.
This metal bee garden art is made of high quality metal and painted a bright yellow color. It is a perfect choice for a contemporary garden setting… and will give it a little bit of fun. It also can be kept in a bee yard or pollinator garden to show other's what it's all about.
Who wouldn't bee happy with this cute tumbler full of wine or their favorite morning brew? I know I sure would bee. These stainless steel tumblers are made of food-grade materials, 100% BPA-free. Great Gift idea for that "hard to buy for" girl in your life. With a ready-to-use gift box and a greeting card, it makes a great gift for anyone obsessed with the bee element. It a gift from the heart!
Villa Kitchen Towels, Honey Bee Print Multi Color, Set of 6
Feel the buzz in your kitchen with these fantastic honey bee hand towels. This set of 6 Kitchen Towels Made from 100% Cotton. These premium quality dish towels are highly absorbent and dry quickly. These hardworking easy-care towels make a great hostess gift, housewarming gift, or welcome to the neighborhood gift – or give a set to your favorite bee lover.
Light the way with these beehive candles, made with 100% of beeswax. Each candle has 6-7 hours burn time, so they are great for votives when company is over. These candles make fantastic little gifts for anyone who is pollinator friendly.
Is you bee lover ready to take the step to keeper? Then this hive + accessory pack is the perfect start. As a beekeeper myself, this is actually a pretty good value for all the parts, it'll hold a new nuc or package of bees. Aside from the hive kit, it Includes Leather Gloves, Jacket, Reinforced Up Right Veil, The Original Smoker, J Curve Hive Tool.
This bee themed adult coloring book was created for those who love to relax and color, while also appreciating everything there is to love in life! This coloring book is unlike any other on the market, as it's all about coloring in fun designs and caricatures while also having a wonderful mandala pattern design behind each of them.
This premium candle making kit includes beeswax flakes, 3 metal centering devices, 100 cotton wicks and 100 glue dots – classic kit you can make beeswax candles at home, which means you can make 100 different beeswax candles without wasting your money. These professional-grade candle making supplies for adults are both for beginners and professionals. Even if this is your first attempt to make DIY candles at home, this quality beeswax kit you'll be able to do it safely and effortlessly.
Indulge your sweet tooth all year long with honey's many seasonal flavors. Use avocado honey to add depth to April's baby carrots; spice up your July peaches with sourwood honey; and add some cranberry honey to November's Thanksgiving spread. This delightful book is filled with bits of honey lore and beekeeping history to sweeten your exploration of the varied and delicious ways you can use honey every day.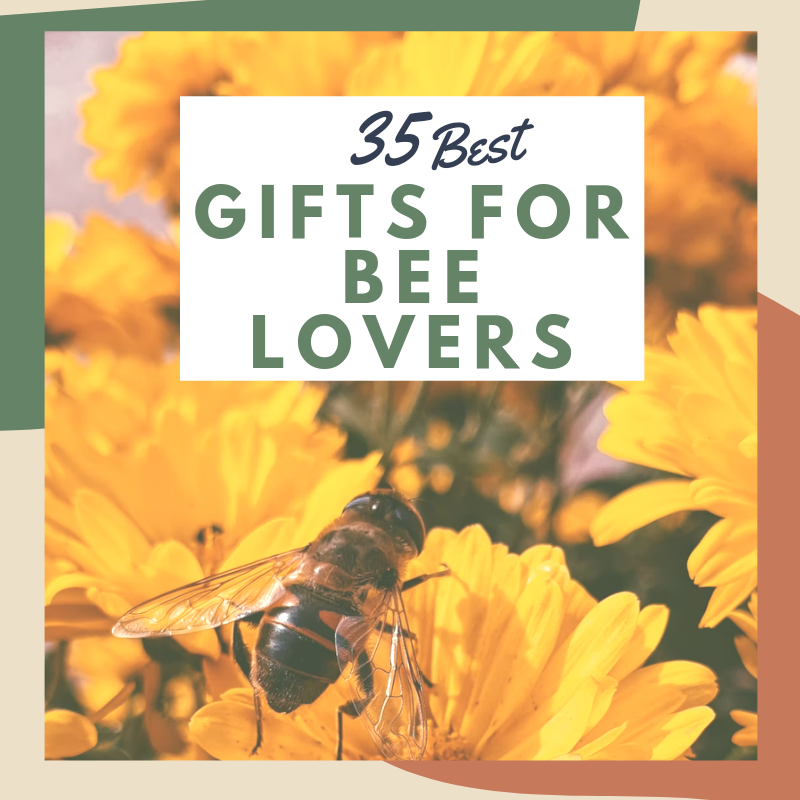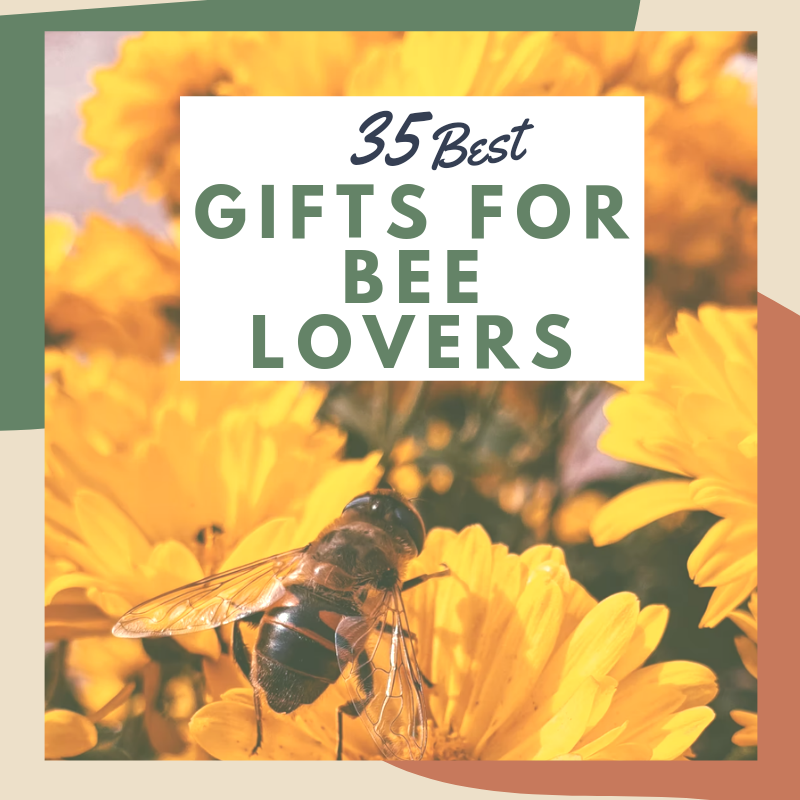 This post may contain affiliate links. As an Amazon Associate I may earn from qualifying purchases, at no additional cost to you. Thank you for supporting the brands that support The Herbeevore and our beehives!