These great brunch hostess gift ideas are inexpensive easy gifts to bring to your next brunch – fancy and classy presents for entertaining. From adorable waffle makers to cute drink wear to donut accessories, these fantastic gift ideas are perfect to bring to anyone hosting brunch.
This post may contain affiliate links. As an Amazon Associate I may earn from qualifying purchases, at no additional cost to you. Thank you for supporting the brands that support The Herbeevore and our beehives!
Anyone who knows me, knows I love to entertain! I never expect hostess gifts, but I always remember when someone happens to give me one, as it's such a thoughtful little surprise. Especially when the gifts are on theme! Surprise your brunch hostess with these fun ideas for weekend get-togethers they'll love! Whether your hostess is a coffee lover, a champagne drinker, or a mimosa queen: here are 50 fun brunch gift ideas she will absolutely love!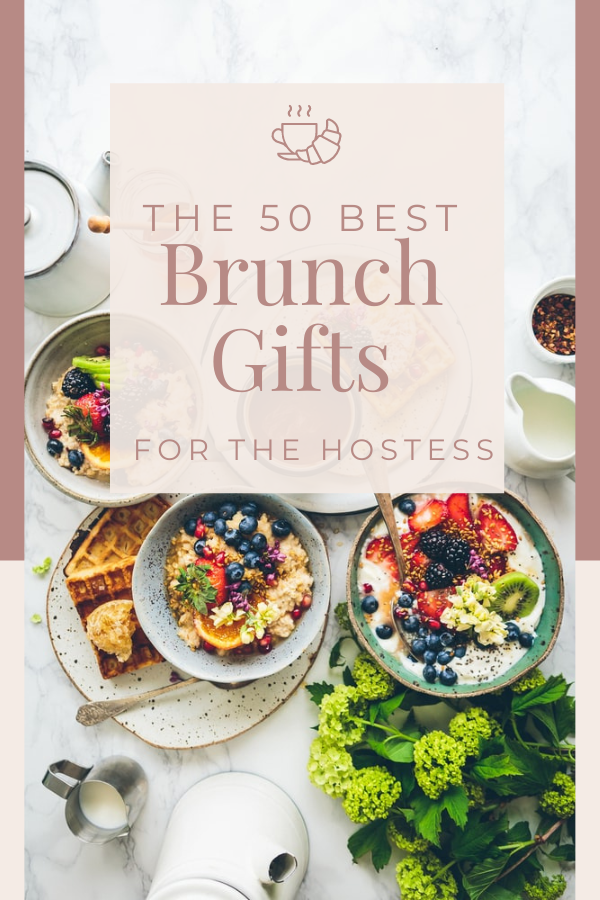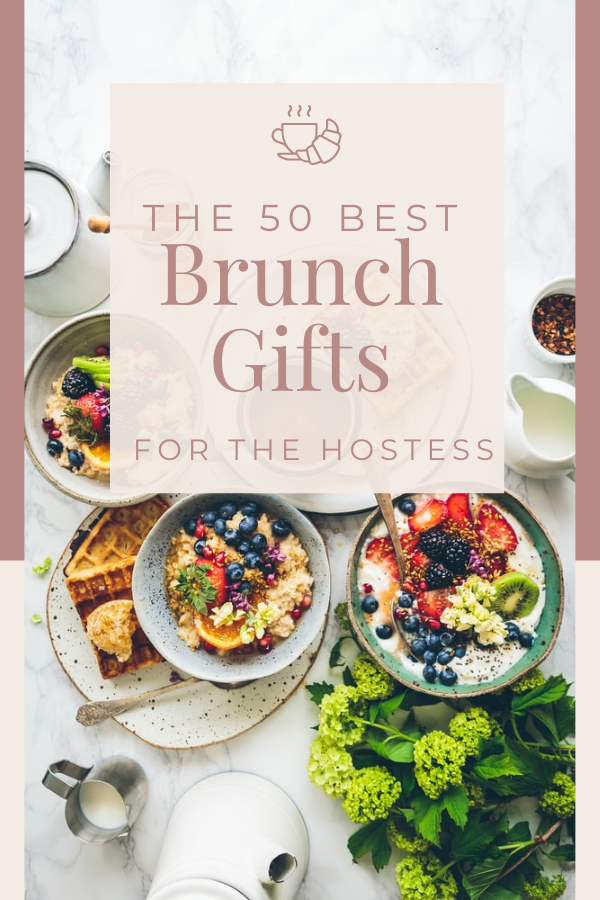 Entertain. Impress. Keep it chill. Be ultracool by letting guests help themselves to chilled drinks at parties, picnics, and dinners. The stainless spigot ensures no mess is made, and the tin lid protects drinks from flies and debris. A wide mouth allows you to infuse water with berries and fruits and makes handwashing a breeze. Durable and dishwasher safe, you can say hello to convenience and ease. The chic way.
Make five heart shaped, thin, classic waffles on the non-stick grids. Cook your waffles your way using the six-level adjustable browning control. A great gift for mothers, father, families, at-home cooks, and more! The timeless style meets modern convenience with this handy breakfast appliance.
The perfect selfie backdrop – these adorable brunch balloons are a great addition to jazz up the entertaining space and have some fun! A fantastic brunch hostess gift idea that all the guests will have fun with.
The perfect gift for the farmhouse chic hostess! The set comes with a nice grey wooden tray where all three condiment Jars can sit, really an excellent piece of decor with actual utility. It will complement on any home decor, It's a perfect housewarming gift.
A great gift for the brunch hostess who can do it all! The multifunctional toaster can bake, bake, cook, boil and heat food. It has a 5-liter oven, a glass door and a 60-minute timer, a 1-liter boiling stove, and a 15 cm diameter frying pan.
But first – coffee! This easy pour over coffee maker has a fine mesh stainless steel filter that eliminates the need for paper filters. This promotes the pure unfolding of the flavor – no more paper filters that trap the essential oils and flavors. This coffee maker sets new standards in the preparation of delectable coffees: no paper filters – just pure flavor. A great brunch hostess gift idea for a coffee lover.
"Rose All Day" a Rose Gold Vacuum Sealed stainless steel tumbler gift for rose champagne lovers! This 12 Ounce travel wine tumbler or coffee mug is a funny wine tumbler for brunch decor surprise party, Birthday Gift. A perfect Drinking Gift for Women for Christmas, mothers day, engagement, wedding, Retirement or Graduation, Anniversary, or Valentines Day.
When the first decision of your day is what to have for breakfast, the easy recipes and inspired ideas provided in The Breakfast Bible will make your choice an effortless one. With more than 100 recipes covering every part of the morning meal—from eggs and bacon to fruits and grains, breads and pastries, healthful bowls, griddle cakes, morning beverages, and more—there are plenty of options to wake up your day.
3 Piece White Birch Basket Gift contains: 1 Wild Maine Blueberry Jam (12.5 oz), 1 Maine Maple Syrup (8.5 oz) and 1 Farmhouse Pancake & Waffle Mix (16 oz). Fantastic gift choice for housewarming, hostess, sympathy, or birthday. Includes some of the best combinations of jams, mixes, syrups, and more all in attractive boxes or baskets.
The perfect customizable brunch hostess gifts. Whether you're looking for low carb or protein packed, our complimentary breakfast maker recipe book puts plenty of fun and delicious meals right at your fingertips. Eliminate the bread and these are great for Keto and Paleo diets too.
One of the best brunch hostess gifts for making a drink on the go! This Small But Powerful Blender is for making fresh, tasty smoothies, protein shakes, baby food at any time and anywhere.
For your brunch spreads, cheeses, and dips! These adorable vintage-style stamped silverplate spreaders feature "BRUNCH" sentiments and are great for any occasion.
This electric crepe pan includes a dipping plate and batter spreader to help you make the best crepes. The electric crepe maker also comes with a cord wrap for easy storage, and an instruction and recipe booklet. This kitchen appliance makes for a great gift for those who love cooking and baking!
A little cinnamon, a lot of butter, and a heaping cup of brilliance. But no raisins. Never raisins. Features an all-cotton, natural-fitting shape. The inside has extra-quilted insulation, so hands stay cool. Screen-printed in rich colors. Machine wash cold with like colors. No bleach. Tumble dry low or line dry.
Bloody Marys are a diverse drink one can easily spice up and make their own. Delicious with or without alcohol! Add lemon, lime, hot sauce, shrimp, bacon, or any of your other favorites to our mix! The salt is the best part! SALT RIMMER is an aromatic all natural blend of sea salt and fresh herbs and spices. Moisten glass rim and dip into the Rimmer blend.
Mimosa-ing design makes a great gift for woman who likes to brunch with her friends, squad or crew. Perfect matching brunch design for breakfast squad.
A great breakfast hostess gift for ALL THE SWEETS! 3 sets of detachable plates all included in one baker, save your money and countertop space instead of buying 2 more machines.
Breakfast egg bacon pancake bread pattern for girls -Pop, tilt, wrap, prop, collapse, grip, Repeat-Offers a secure grip so you can text with one hand, snap better photos, and watch videos hands-free Gift For Men, Brothers, Birthday, Colleagues, Work, or BRUNCH!
All Natural Premium Grade Fragrance Oils with no added synthetic ingredients are formulated to be suitable for creating your own candles, soaps, air freshener spray, skin and hair care formulations, cleaning products, for use in home aroma diffusers, scented dryer sheets, freshen a drawer, potpourri, freshen carpets, massage/body oil, sugar scrubs, and many more. Personalize any of your unscented products. Use your imagination to create a scent that is simply yours.
Brighten up your home with this cute and funny flour-sack dish towel! Laughing burns calories, so use these punny towels for giggle filled dish drying, as a charming hand towel for your bathroom, or as a cute gift to a friend!
A delicious breakfast assortment from Maine, the Pine Tree State. Includes 1 Wild Maine Blueberry Jam (12.5 oz.), 1 Maple Syrup (8.5 oz.), 1 Farmhouse Pancake & Waffle Mix (16 oz), and 1 Scattered Pine Tea Towel. Packaged in our exclusive pine breakfast box and ready for giving.
Brunch is about to get rowdy – a fun wedding brunch hostess gift idea! You didn't know it was missing from your life, but now you do and here it is. Chambong is a better and faster way to deliver 6 oz of your favorite bubbly beverage straight to your mouth. With Chambong there's never a reason for a boring present.
A fabulous brunch gift idea- there's no better gift than a nice bottle of wine. it brings people together. it's great for sharing, and always leads to a good time! don't let the bottle be your only gift. This wine tote has a great selection of wine bottle carrier bags that can dress up any bottle and really make it something special.
The hanging banner perfect for bachelorette dirty thirty party decor brunch decorations. Easy assembly, string through the pre-cut holes and hang them up. Hang It Anywhere You Want! Use It As a Backdrop for Your Group Pictures!
Perfect for putting mini cupcakes, crackers, strawberries, chocolates, finger sandwiches or other small desserts on the stands when have the birthday or wedding party. A great gift for a ladies brunch!
A brunch host gift idea that includes some options! This gift set includes 5 non-alcoholic flavored mixes to top off your champagne. The delicious mimosa flavors are Blood Orange Mimosa, Mango Mimosa, and Mandarin Mimosa. Bring your cocktail to the next level with a flavorful Raspberry or Grapefruit Bellini. Take the flavor of choice and use it to top off your favorite champagne. Shake well before use. Just wrap it up, slip it into a bag or add a bow and it's ready to go!
Say it with sass with this cheeky dish towel with a screen printed sentiment, made from strong, high quality cotton for softness and durability. SENTIMENT READS: Brunch – (N.) The Socially Acceptable Excuse For Day Drinking.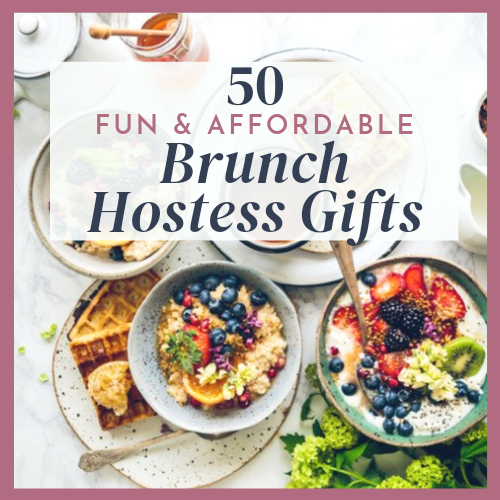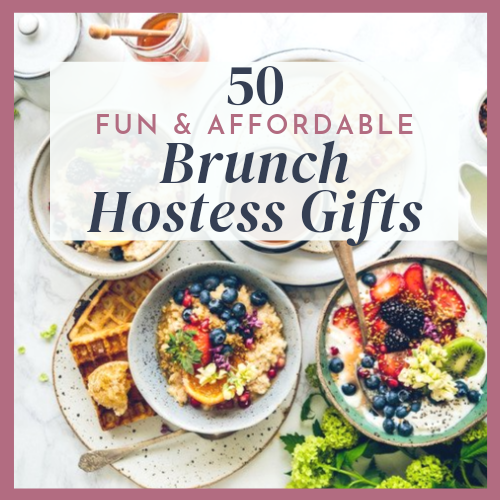 A beautiful brunch hostess gift idea for the gourmand in your life. Grazing is an enchanting way to eat. It means skipping from dish to dish, tasting different things without committing to a single one. It's about creating multiple dishes that work together as a meal, that all share a theme, an aesthetic. When she entertains, or even pulls together a quick dinner for just two, food stylist Suzanne Lenzer enjoys this tapas-style of eating—and with her guidance, you can too.
Brunch Gifts For the Hostess AND the Guests! 6 pack insulated wine tumblers set come with gift box for your gift choice. Including 6 stainless steel starws and clear Lids, the insulated wine cup set suits for DIY gifts, bride gifts or family use and birthday party: You can use our wine tumbler set indoor or outdoor – day drinking on the patio, by the pool, on the boat, outdoor BBQ's, family reunions, boating, picnics, RV, camping, glamping, cruising or parties.
This donut wall stand for party and event use holds donuts in the kitchen for breakfast, in the dining room for brunch, or even for birthday or party use with clients, guests, or friends. A donut display holder makes a great gift for anyone who loves hosting friends, parties, or events. Get one for your own kitchen or give one to someone who loves fresh, delicious donut pastries.
It can be used as wall paper, curtain, tablecloth, decoration and so on. Backgrounds for wedding, children, birthday party, baby shower, senior or photo booths etc. Profession photography cloth(Thin vinyl) with no pocket, high quality, vibrant color and very clear.
A perfect brunch hostess gift idea! Travel tumbler features a slim design that is easy to carry and fits in most standard cupholders. The lock-tight lid easily screws on/off and allows for a mess-free commute. Plastic cup includes a non-breakable, reusable straw that is durable for all your days on the go.
Boutique Cocktail NAPKINS feature a funny slogan to spruce up your table, as well as give your guests a chuckle. HIGH QUALITY BUBBLES Napkins are made of soft paper; there are 30 napkins per pack. The BUBBLES Napkin really adds dimension to your parties and your guests will love the cute and funny saying.
The greatest benefit of brunch is that there is something for everyone, from kids to vegans, those with a sweet tooth and those who prefer something savory – The Brunch Book covers it all. From lighter fare that features the best of summer produce to stick-to-your ribs comfort food that hits the spot on a winter morning, you'll never be at a loss for what to make for brunch. Host brunch with ease by following set menus that pair multiple recipes that create a sumptuous spread, or mix and match to really personalize the meal.
This tiered serving stand is for modern homes and kitchens that love to share and display snacks, appetizers, cakes, treats and more. Each serving platter features around, an intricately-detailed platter that perfectly highlights your chosen food, décor, or delicious sweets.
Beautiful design, practical function. This pretty clear pitcher is a perfect gift for iced tea lovers making all kinds of tea and drinks like herbal tea, black tea, flower tea, fruit tea, lemonade, coffee, etc. With a beautiful arc design and an Flip-top Lid , this handleless glass kettle is very suitable for the dining table, it will make your dining table more rich.
The beautiful, safe and non-toxic,high quality Party Decorations set,Made from high quality material. All balloons from this set are non-toxic, strong and long lasting. Designed for your Engagement Bachelorette Bridal Shower Wedding Party Decorations Supplies.
A Fun Brunch Gift: when you put donuts on these dessert acrylic stands, your guests will more enjoy country wedding, birthday, graduation party, baby or bridal shower event; These holders can use for many different gatherings
For the Friend who loves Friends! Gather your friends on your favorite couch and prepare over 50 recipes inspired by the iconic Central Perk café from the beloved hit sitcom Friends. Friends: The Official Central Perk Cookbook offers a variety of recipes for chefs of all levels. From appetizers and small bites to drinks and desserts, each chapter includes iconic treats from the show and café.
Made Of Solid Marble With A beautiful gold brass Inlay around. Unlike Leather or other material coasters, these vary slightly in design by the very nature of natural marble.Coasters are extra wide and thick with 4 inch in diameter and 10mm thickness.Silicon base provides anti slip quality on multiple surfaces.
Blank recipe notebook with amazing illustrations and fun quotes where you can write all your delicious breakfast and brunch ideas! This is a great gift idea for cooks, foodies and everyone obsessed with breakfast and brunch!
This flavorful mix of seeds and spices can spice up more than just bagels. Try it on avocado toast, eggs, veggies, salmon, hummus, grits, and kale chips.
The perfect sweet gift for family and friends. Make any breakfast glorious. Use it on your pancakes and waffles but also as a natural sweetener for your oatmeal, plain yogurt. Pour it over your ice cream. Make a delightful maple dough, drizzle over salmon.
Make a "Splash" with this most Awesome Shower Gift for Baby Showers & Wedding Shower Gifts! Organic bath bombs smell great and replenish your skin, making this gift set ideal for birthdays, holidays and other gift-giving occasions. Women, men, kids and teens of all ages will love these fizzy bath treats!
This high-quality set includes bamboo cheese board and four stainless steel serving utensils. This brunch cheese board is the ideal gift for any occasion, including a bridal shower, wedding, holiday, birthday, housewarming, and more!
Creative brunch ideas, here we come! This fantastic brunch coloring book is great for the artist and hostess in your life: A collection of awesome adult coloring patterns, Perfect for relaxation and stress relief after a long day of hosting!
This Kitchen Maine Morning Batter Bowl Gift (5 Piece Gift) contains 1 Farmhouse Pancake & Waffle Mix (16 oz), 1 Maine Maple Syrup (8 oz), 1 Wild Maine Blueberry Jam (12.5 oz), 1 balloon whisk and a melamine batter bowl. A delicious variety of breakfast products – Breakfast comes together in a snap!

And if you loved this gift guide, check out my other foodie gift guides here!