These great gifts for a baker are perfect for the dough-rolling, cookie-baking, bread-proofing person in your life! These fun and affordable baking gifts are perfect for a beginning baker who is learning how to recreate recipes, to the expert who would like to level-up their equipment.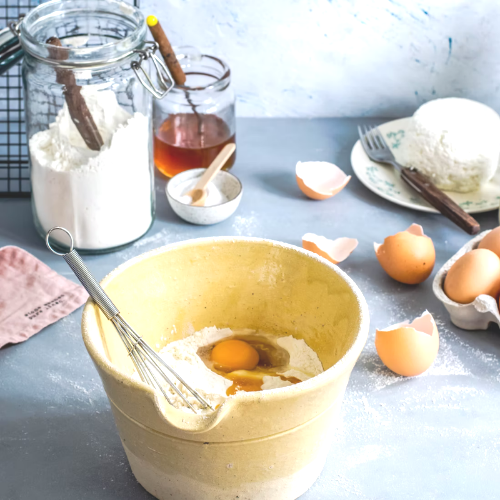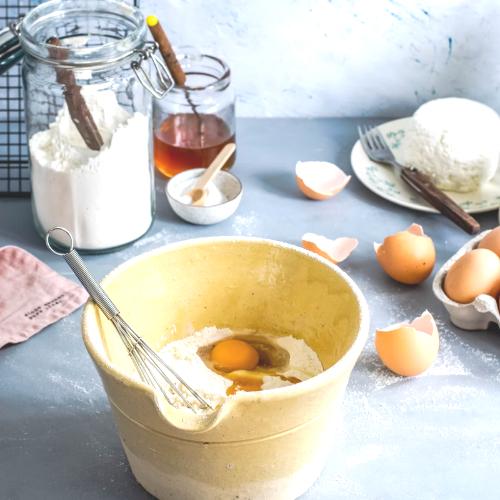 Great Gifts for a Baker
These fantastic baking gifts are a ton of fun to have in your kitchen… and are great for all kinds of bakers! Whether your getting a gift for a savory baker (breads, scones, and pizzas) or a sweet baker (cakes, cupcakes, and pies) – here are some thoughtful and affordable gifts for any skill level.
Whether you're shopping for a gift for the holidays, birthdays, or just because, these fantastic baking gifts are super fun and super affordable.
Because the edges are the BEST part! All brownie edges, all the time with this awesome edges-only brownie pan. Adds two chewy edges to every brownie. Fits standard box mixes with no adjustments necessary. One continuous chamber, so batter can be easily spread. Durable nonstick coating and heavy gauge cast aluminum construction. Made in the USA, nylon spatula and brownie recipes included.
Enamel Cast Iron skills are nice… like really nice. Name brands will cost you about $250 but this awesome Amazon Basics Dutch oven is the same darn thing for a fraction of the price. I just bought this for my brother this year to learn how to bake bread, and he loves it! Highly recommend this Dutch Oven for baking and cooking, it's great for almost any recipe!
I absolutely love this pizza stone, it bakes pizzas and breads with perfect crust! I love sprinkling a little corn meal down on the pizza stone first, then adding my dough on top for the perfect texture and crust! If your baker doesn't have a pizza stone, they can level up their bread and dough game by stone baking! Even if you use it for reheating frozen pizzas, you'll feel fancy AF.
Wear your love for baking everywhere with this adorable baking pendant set! A cute measuring spoons and container charms gift for bakers that comes with a card. The pendant is made of high-quality jewelry pewter. The chain is made of stainless steel, known for it's durability and non-tarnishing characteristic. The jewelry is nickel and lead free – great for her (or him!)
A perfect cookbook stand that will complement any kitchen decor! This stand is shaped like a cutting board, making it the perfect addition to your kitchen. Prop up and cookbook or even an ipad, and read the recipe while you cook. I have one of these stands, and they are so convenient!
As a sourdough baker, I couldn't do it without my banneton basket and bread making tools! This set includes a classic banneton basket for making gorgeous loaves of bread, as well as some great dough scraping and scoring tools. The perfect gift for anyone looking to learn how to bake bread… and pass it on to their families as well.
These fantastic baking dishes are the perfect way to brighten your baker's kitchen! Upgrade their cookware with these ceramic dishes which are oven-safe and great for brownies, cookie bars, roasting dinners, or baking focaccias.
OK, as a beekeeper, I had to add this one on the list – this fantastic honeycomb embossed rolling pin is the perfect gift to buzz over! This is a sweet kitchen tool for the gardener, beekeeper, bee lover, or anyone who loves baking or cooking with honey. It imprints a honeycomb pattern on anything you roll out – this is one bee-autiful gift.
Non-stick for the WIN! This fantastic non-stick baking set is super inexpensive and has a pan for all your baking needs. This is a great set for the beginning baker, to get them started in a new kitchen. A great baking set for a college student or for someone moving into their first apartment. Or level up your own baking set with this matching Amazon set.
A personal favorite bread book right here! Whether you're a total beginner or a serious baker, Flour Water Salt Yeast has a recipe that suits your skill level and time constraints: Start with a straight dough and have fresh bread ready by supper time.. If you're ready to take your baking to the next level, follow Forkish's step-by-step guide to making a levain starter with only flour and water, and be amazed by the delicious complexity of your naturally leavened bread. Pizza lovers can experiment with a variety of doughs and sauces to create the perfect pie using either a pizza stone or a cast-iron skillet.
This adorable apron set is perfect for some mother/daughter or father/son baking! Great for the parent or grandparent to wear while teaching their little ones to cook or bake around their way in the kitchen. And how adorable are those little animal designs? This is a great apron set for (or from!) your little one.
This great conversion refrigerator magnet will eliminate searching or flipping pages looking for ingredient inforamtion. A hands-free daily reference guide that is handy to have on the refrigerator and save time from checking your phone, computer or cookbooks. No more mess to clean or bacteria to touch on your smartphone. A must-have cooking aid tool next to kitchen food scale for quick reference on many types of metric and US measurement conversions. It is splash proof and can be wiped clean easily.
We love our terracotta Romertopf clay roaster, it makes baking so simple! Toss all ingredients into the pot, place the lid on the pot, and roast away. Great for busy weeknight meals. Our favorite recipes are Clay Pot Bread and Clay Pot Chicken & Vegetables… all done in this fantastic German roaster.
Pretty in pink. this ultra-modern kitchen set is fancy enough to match the most modern kitchen. Complement pink kitchen decor or pink kitchen accessories with this luxurious, glimmering gold utensils set with pink silicone accents.
For the baker woman in your life – if mom rolls out dough, makes pies, bakes cookies – this is the mat for her! I just got this exact same mat a few months ago for bread-making… and what a difference it makes! It's very large (2 x 3 feet) so no flour or dough will spill over the counter.
These gorgeous 6 ounce ramekins are made from beautiful earthware. I love the rustic look of these, and the beautiful blue color will complement any modern kitchen. These are oven and microwave safe… so they are perfect for deserts, soufflés, or just a bowl for a small snack.
Make your next brunch #extra with this fancy french tart baking set. Gift it to family, friends, or get one for yourself and bake some amazing French pasties for everyone to enjoy.
Give you host a lil something sweet with this great cookie + cast iron pan gift set. A great after-dinner activity that is also a nice treat. This great individual cookie kit is nice way to thank your host or hostess… and let them enjoy something sweet!
If your family loves to make Irish Soda Bread, this great baking dish adds a bit of authenticity to the experience! This great stoneware baking dish is microwave and oven-safe, and has an enamel finish. Great for baking perfect loaves for St. Patrick's Day & beyond.
No secret ingredient needed when you got skills! I love this hilarious oven mitt... let's you tell it like it is! Actually the secret ingredient is almost always butter (I've found in my baking….) but breathing life into the same baking recipes over and over makes them turn out amazing too! And also butter.
The perfect baking gift for cat owners or animal lovers! Shaped like smiling kitty cats & decorated with gray & pink details, these cat measuring spoons immediately brighten up your day when cooking, baking or preparing tea, coffee & cocoa. Each cat spoon set includes a tablespoon, a teaspoon, a ½ teaspoon & a ¼ teaspoon, allowing you to accurately measure baking flour, granulated sugar, spices, loose leaf tea & so on.
This tiered cooling rack is a great gift a baker who batch bakes treats, without a ton of counter space! If your countertops aren't the only limited space you're working around we've solved that, too, with a collapsible design that takes about as much space as a cookie sheet that minimizes your storage needs.
Whether they're a seasoned pro baker or new to the art, this 365 piece cake decorating set is a great way to let their creativity shine. As a new baker myself (and someone who loves watching baking shows!) I love the variety here! This cake set will inspire anyone to make their own works of art… or at least try.
A great gift for the eco-friendly baker! Replace your parchment paper and get these silicon baking sheets for oven nonstick. Each silicone baking sheet will see up to 3,000 uses in the oven before the silicone sheet starts to show signs of age. Eco-friendly baking supplies that you can use, wash, & reuse
A great gift for the whole family – bake with kids in this great cake pop set for little bakers! All-In-One Baking Kits are a wonderful way to have a blast in the kitchen without all the fuss. Create memorable family moments and delicious fun with everybody's favorite bite-size cake pop dessert.
These fantastic stainless steel mixing bowls nest in your cupboards to save space! With A range of 6 Sizes—¾, 1.5, 3, 4, 5, and 8 quart—metal mixing bowls add versatility and functionality to your kitchen. For all-purpose kitchen workhorses from prepping, mixing, stirring, to kneading dough like a pro
In Weeknight Baking, Lopez shares recipes for drool-worthy confections, along with charming stories and time-saving tips and tricks. From everyday favorites like "Almost No Mess Shortbread" and "Better-Than-Supernatural Fudge Brownies" to showstoppers like "a Modern Red Velvet Cake" and "Peanut Butter Pretzel Pie" (it's vegan!), she reveals the secrets to baking on a schedule.
Make cookies in different shapes and sizes with this great cookie cutter set! This set has 24 Pieces in flowers and geometric patterns. Easy to Use and Clean. And made of stainless steel which is durable enough to use again & again!
This adjustable rolling pin is great for ultimate baking precision! Measure out the perfect width and thickness of your dough with this great adjustable pin… we have one and it's perfect for rolling out cinnamon roll dough or pizza crust. 1/16, 1/6, 1/4, and 3/8-inch removable discs make it simple to roll to a desired thickness.
Are you tired of wasting time cutting a perfectly sized liner for your round cake pans? Well, your struggles are finally over. Baker's Signature precut, and unbleached baking sheets are just right for your 9-inch pans. Our parchment paper rounds are extra durable and come with convenient lift tabs making removing finished goods an effortless breeze. Our sheets do not curl, stick or burn leaving you with just one thing to do – let your delicious recipes come to life!
Kids will love baking and decorating with these unicorn themed cookie cutters, which include a unicorn, rainbow, cloud, ice cream cone, and magic wand. This Bake Set comes with 5 unicorn themed cookie cutters, 1 unicorn children's apron, 1 Roller, 1 recipe book, 2 stainless steel frosting tips, 2 plastic frosting couplers, and 2 reusable frosting bags. Perfect for baking fun for the whole fam!
This 31-Piece Kids Baking Set provides the ultimate baking experience for kids. It includes real accessories such as a whisk, offset and silicone spatulas, cookie scoop, rolling pin, mixing spoon, pastry brush, knife, baking mat, measuring cups, and measuring spoons. With this Kids Baking Kit, you are able to give your little ones a fun activity to do at home while teaching them basic life skills. It lets them build their confidence, spark creativity, learn how to follow instructions, and practice kitchen safety and organization.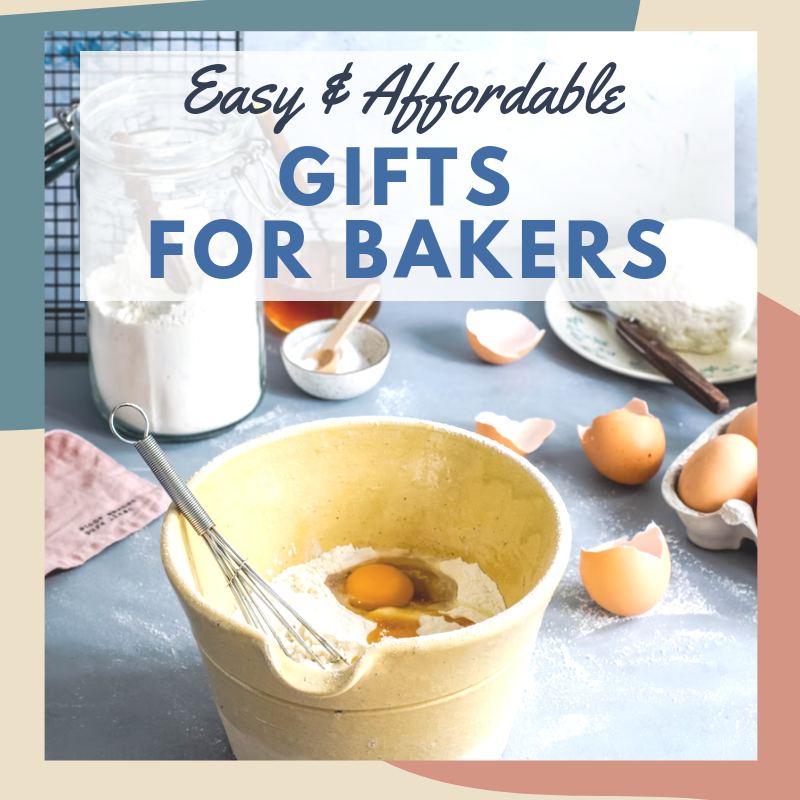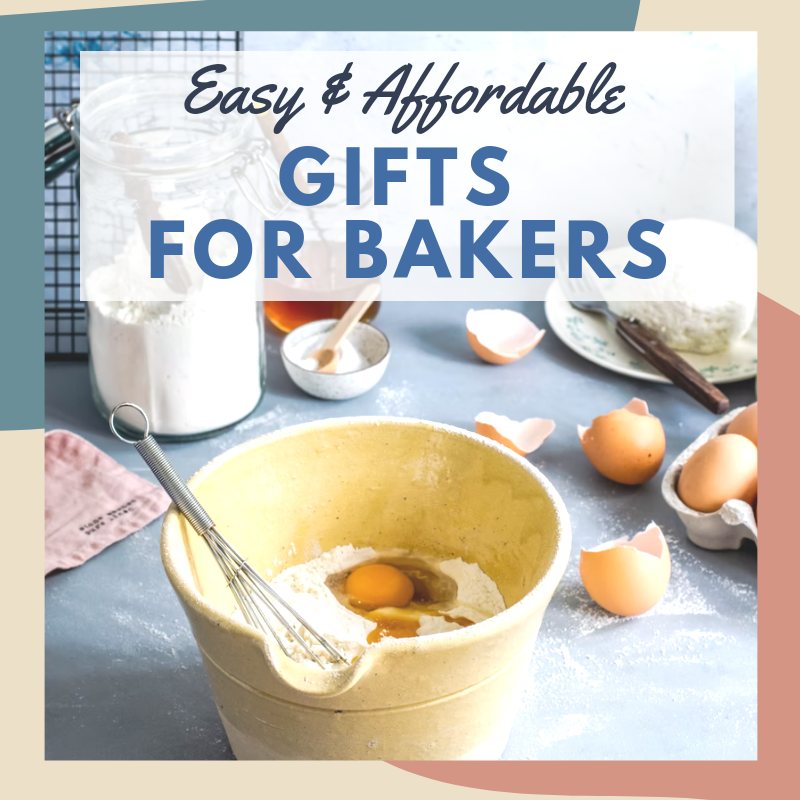 This post may contain affiliate links. As an Amazon Associate I may earn from qualifying purchases, at no additional cost to you. Thank you for supporting the brands that support The Herbeevore and our beehives!
And if you loved this gift guide, check out my other foodie & hostess gift guides here! Did I miss something essential? Let me know below!