This Chicken Sandwich Sauce recipe that'll make your next sandwich next level good! Creamy, tangy, spicy, and sweet honey mustard sauce. Great for loading on a chicken sandwich or burger piled high with your favorite toppings.
This simple sauce is made with pantry staple ingredients like honey, mustard, and mayonnaise to give your sandwich the perfect flavor. Dress your chicken right with the recipe below!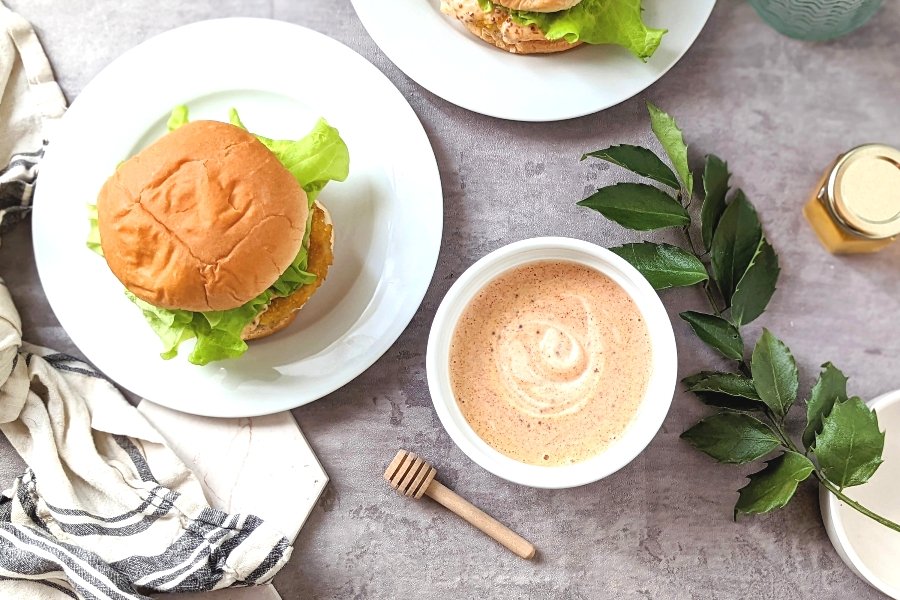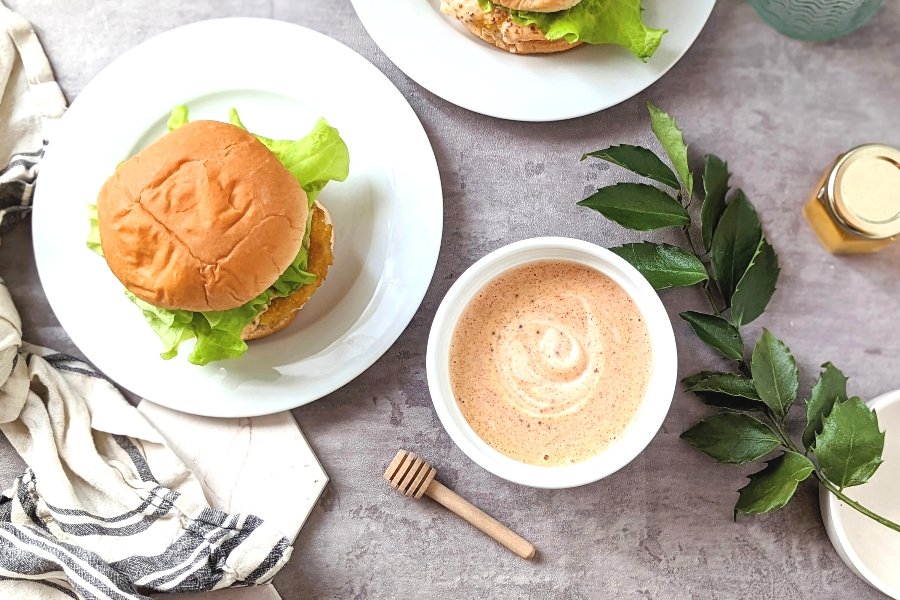 I have to say – nothing is better than a crispy chicken sandwich loaded with a perfectly sweet and spicy sauce. I love a good homemade sandwich for lunch or dinner, and this chicken sandwich sauce is the perfect topping.
Skip the drive through, and enjoy restaurant-quality sauce at home. This sauce is loaded with Dijon mustard, raw honey, and spices for the right amount of spice.
This Chicken Sandwich Sauce Recipe Is:
Creamy
Sweet
Tangy
Satisfying
A great fast food Copycat recipe!
A Better Version of the Classic Sauce
Ready in 5 minutes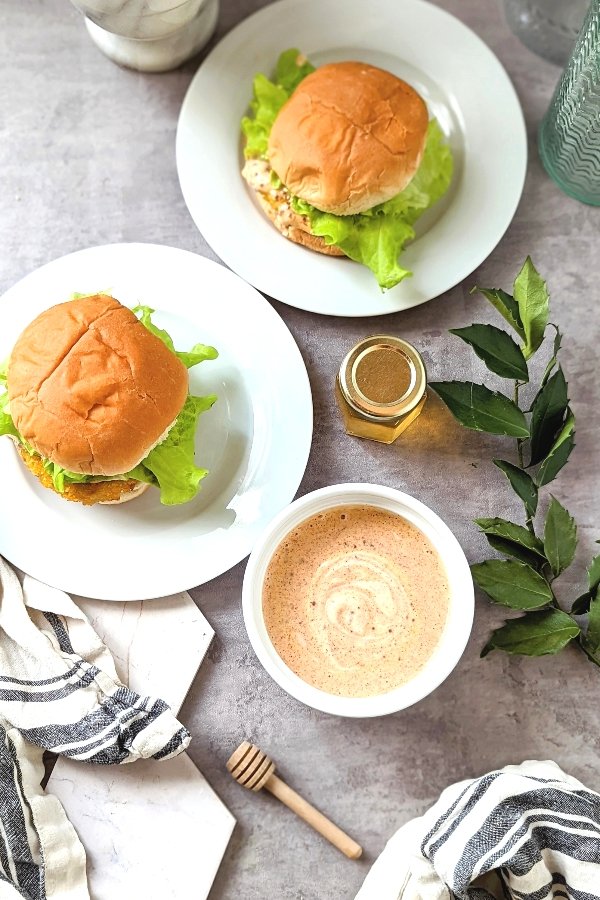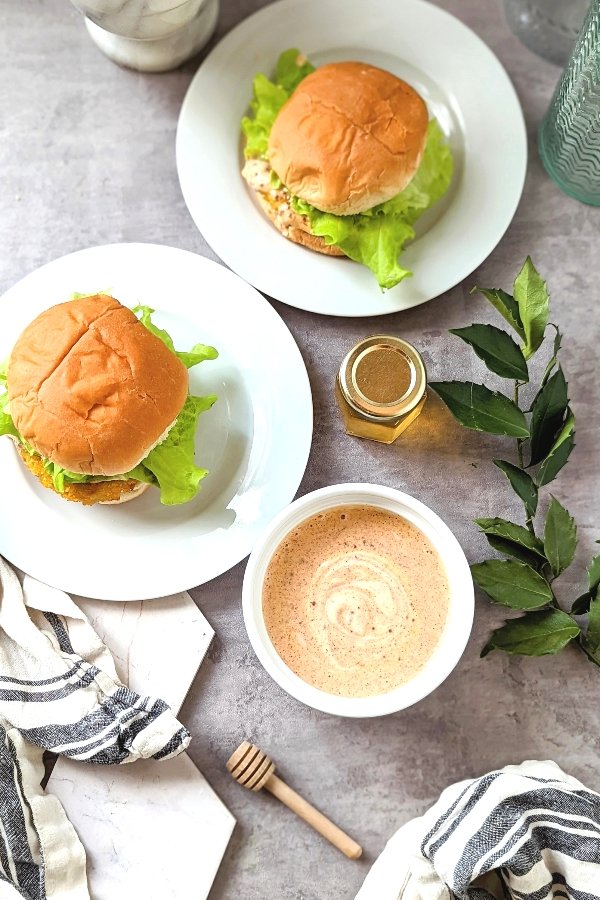 One of the BEST Pantry Staple Sauce Recipes
This spicy chicken sandwich sauce recipe is a fantastic pantry-staple addition to your table! It uses almost all ingredients you would have in your dry pantry or cupboards – most of which you probably have on hand. Keeping a well-stocked pantry makes it easy to come up with delicious and tasty meals using a few staples you can rotate.
I made a list of my Top 125 Plant-Based Pantry Staples that always keep stocked. And you can check out all my favorite pantry staple ingredients in my Amazon shop here. A versatile creamy sauce recipe you can make in minutes, and a perfect way to top your crispy chicken sandwiches.
5 Minute Sauces To Enjoy on Anything
This spicy mayo sauce is what I call an Easy Weeknight Recipe – which is on your table in under 30 minutes. These quick and simple recipes are perfect for those nights when you want am easy homecooked meal but don't want to spend hours in the kitchen.
I have a whole section of The Herbeevore dedicated to Easy Weeknight Meals, that are great for the whole family. From soups and stews, to pastas and proteins (and sauces!) – a quick meal can be on your table in no time.
This easy recipe isn't just for chicken sandwiches. It's great as a dip for French fries, drizzled over grilled chicken breast, or great to dip chicken nuggets into! It's great with juicy chicken thighs or drumsticks too. It's tastes a bit like chipotle mayo and buffalo sauce combined into one, a perfect balance of sweet and savory which is a favorite in our house!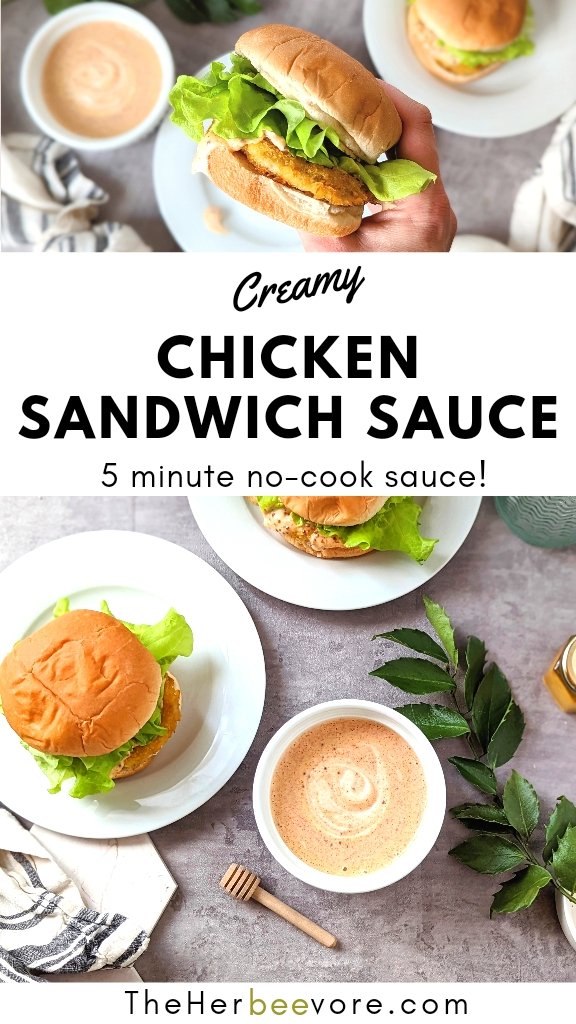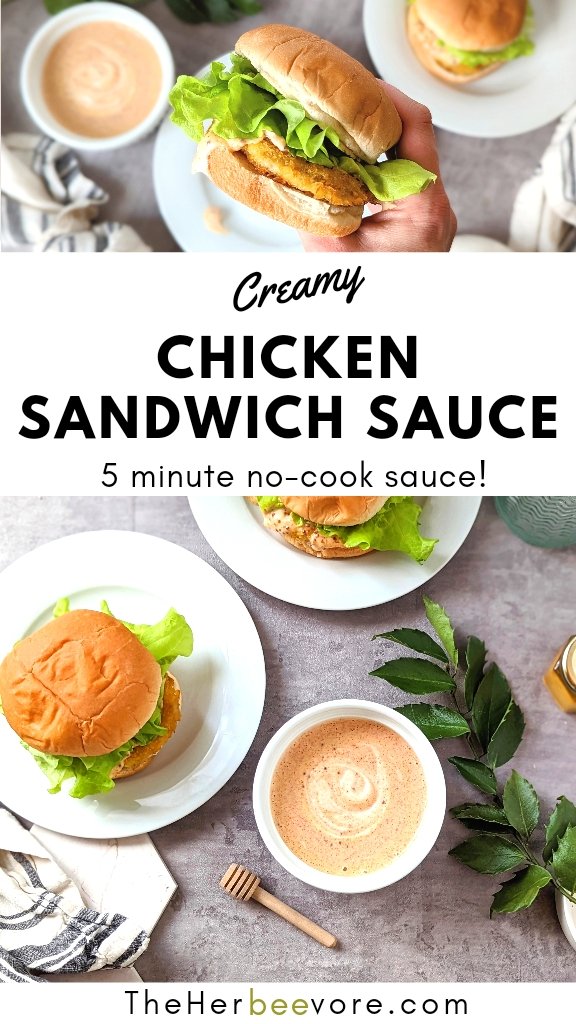 What's In This Homemade Chicken Sandwich Sauce Recipe?
I cook with fresh produce from my garden and from Misfits Market– they sell fantastic fruit, vegetables, & pantry staples at a discounted price. We get Misfit boxes every other week and love picking out favorite produce for delivery. Get $10 off your first box here!
Classic Mayonnaise: I like to use this classic mayo to keep this recipe plant-based, but you can use whatever mayo that you would normally use in recipes. You can also substitute sour cream, Greek yogurt, or if you don't like mayonnaise.
Honey: For a great touch of sweetness. I recommend trying a local farmers market to find the best honey in your area. Or else, this organic honey is the next best thing.
Dijon Mustard – for a really nice flavor and texture, this Dijon is a favorite in our pantry… I'd stay clear from yellow prepared mustard for this recipe.
Smoked Paprika: give an additional depth of flavor to this dish.
Red Chili Pepper Flakes: for a little heat! I like to add a few shakes to this recipe to give this dish a nice complex depth of flavor – or use cayenne pepper! This sauce has medium heat, not too spicy, but definitely has a kick.
Tellicherry Peppercorns: Like the salt, it's amazing the flavor difference you can get with really good tellicherry black pepper. Amazon has a generic brand tellicherry peppercorn which is the same price is buying pre-ground, and has a million times more flavor… so I use these really great tellicherry peppercorns, which I would definitely recommend.
​More Optional Add-Ins
While the recipe below is truly the perfect dipping sauce, you can add in or swap a few ingredients for match your taste!
​Hot Sauce – for a spicy kick!
Pickle Juice – for a savory, briny flavor.
Garlic Powder – which gives the sauce a great flavor.
Lemon Juice or Lime juice – for extra tang! You could also use white vinegar or apple cider vinegar too.
BBQ Sauce – for a sweet and smoky flavor, barbecue sauce is a great add in.
Worcestershire sauce – for a salty, rich umami taste.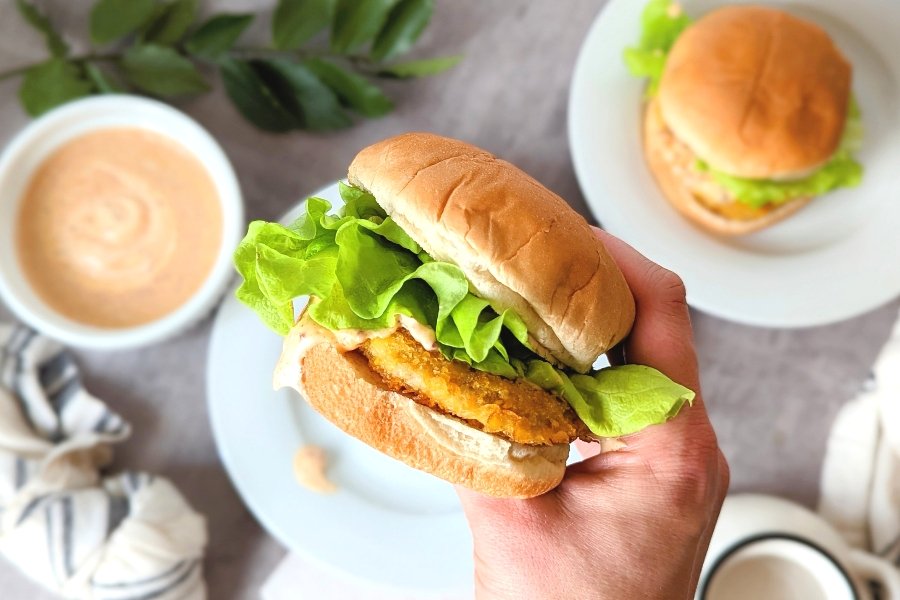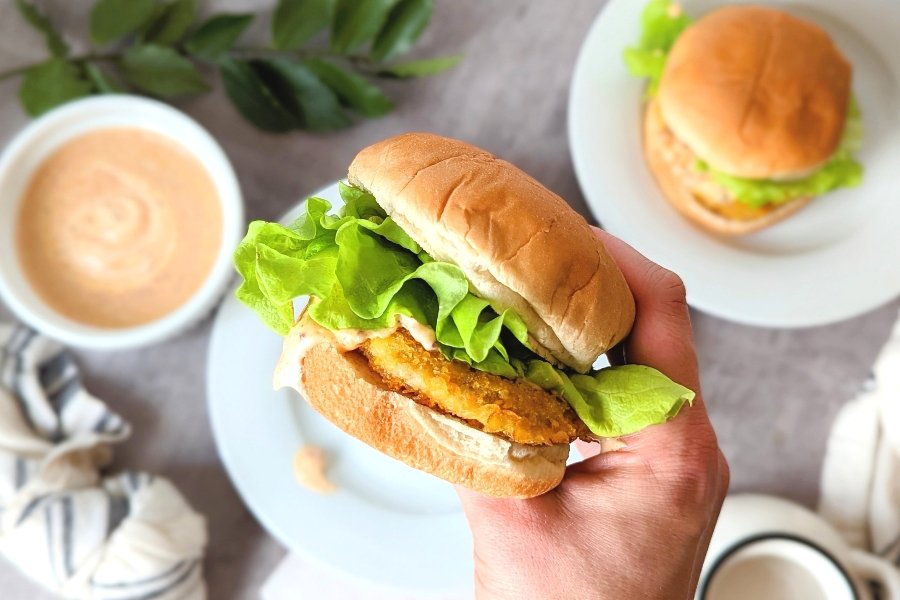 How Do I Make This Easy Sauce for Chicken Sandwiches?
Add all ingredients to a large mixing bowl. Stir until well combined, and the sauce is thick and creamy.
Alternatively, you could use a blender: blend on low and gradually work up to high speed until the sauce is creamy and well combined.
Add this sauce to you chicken sandwiches (I like adding it to both the top bun and the bottom bun!), burgers with grilled onions, loaded fries, or in between a grilled cheese sandwich. Enjoy!
More Easy Sauce Recipes You'll Love!
Honey Garlic Sauce Without Soy Sauce Recipe (Low Sodium)
Mozzarella Alfredo Sauce Recipe (Vegetarian, Gluten Free)
Tahini Hollandaise Sauce Recipe (Vegan, Dairy Free)
Mint Chimichurri Recipe (No Parsley)
Cranberry Mayo Spread Recipe (Vegan, Gluten Free)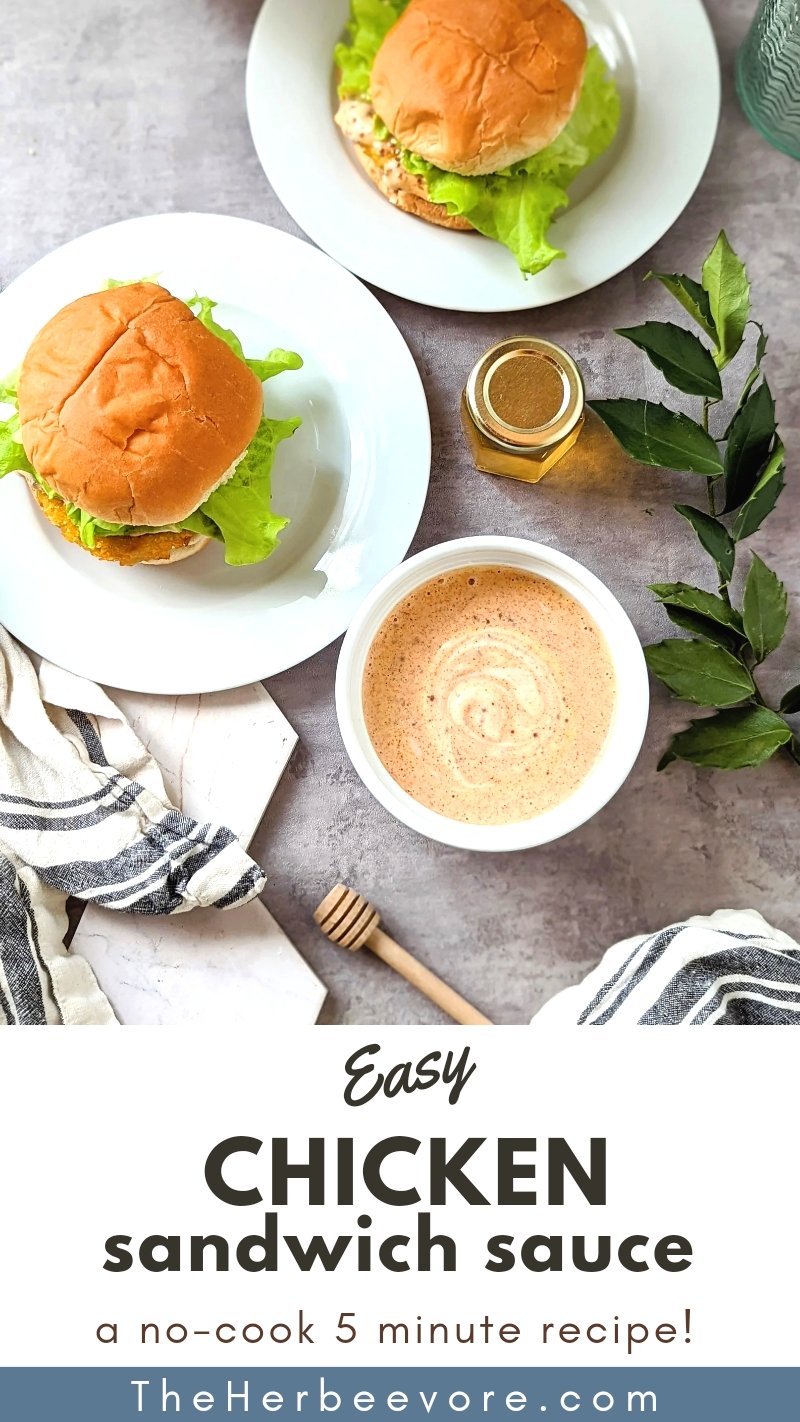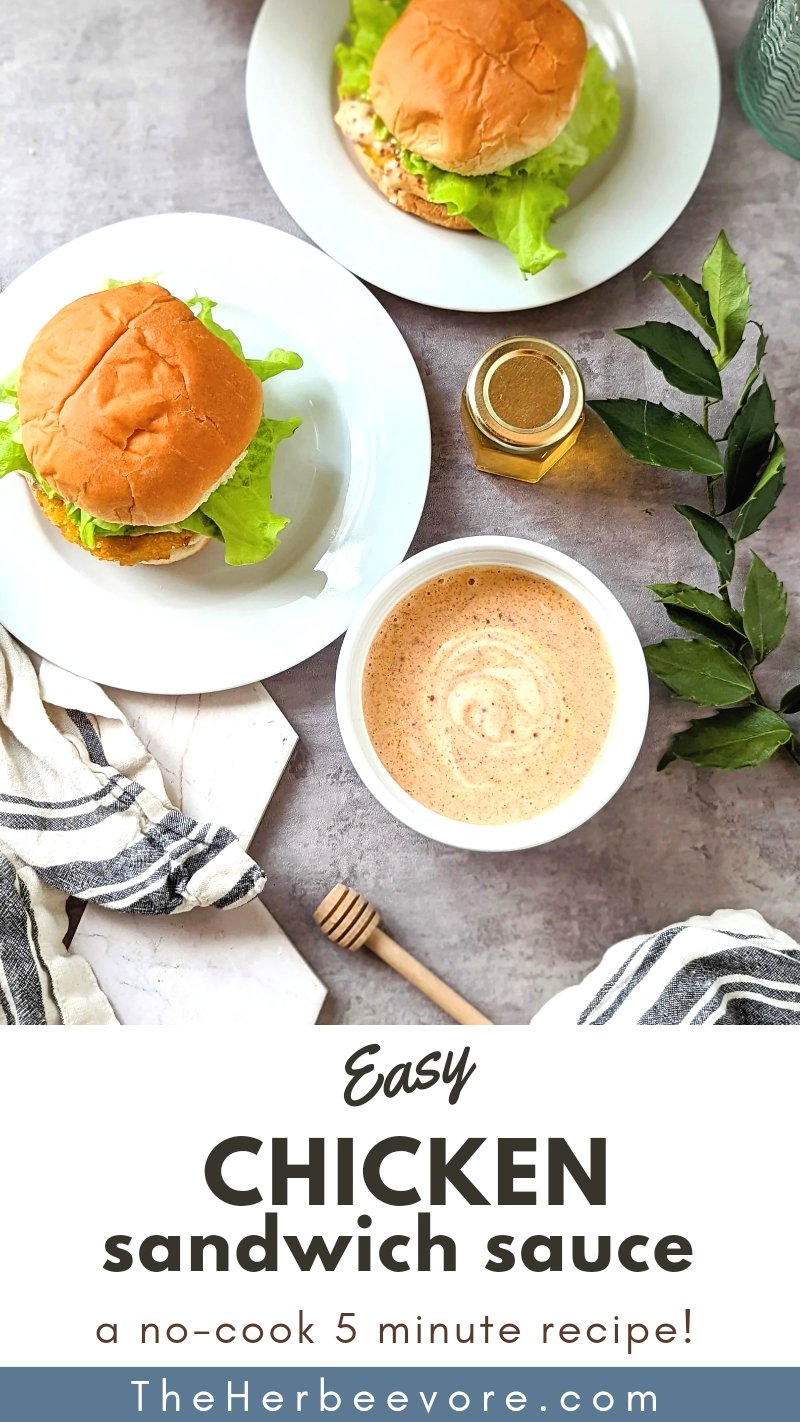 Get the Same Ingredients For this Easy Chicken Sandwich Sauce Recipe
As always, if you make this easy sandwich sauce recipe be sure to leave me a comment, rate this recipe, and tag me @theherbeevore on Instagram so I can feature you. I love seeing all your photos of my recipe recreations!
Let's keep in touch – make sure to subscribe to my monthly newsletter to get free recipe inspiration.
And don't forget to follow over on Facebook, Instagram, YouTube & TikTok – I'd love to connect with you there!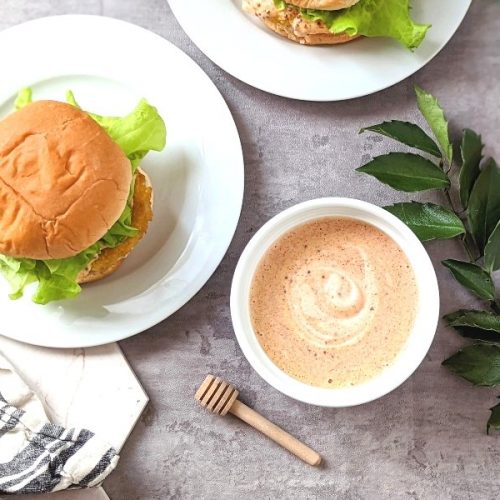 Chicken Sandwich Sauce
This Chicken Sandwich Sauce recipe that'll make your next sandwich next level good!  Creamy, tangy, spicy, and sweet honey mustard sauce. Great for loading on a chicken sandwich or burger piled high with your favorite toppings.
Ingredients
1/2

cup

mayo

1/4

cup

honey

1/4

cup

Dijon mustard

1/2

teaspoon

paprika

1/8

teaspoon

chili flakes

for spice

1/4

teaspoon

fresh cracked pepper
Instructions
Make the Sauce: in a medium bowl, add the mayo, Dijon mustard, honey, paprika, and chili flakes (for a spicier sandwich, omit for a milder version), and stir well to combine.

Stir until you have a smooth sauce (no lumps).

Add a thick spread of the sauce of your favorite chicken sandwich, and enjoy!
Notes
Save on Fresh Groceries & Pantry Staples
I love shopping for fresh produce through Misfits Market
. They sell fresh produce, pantry staples, and fantastic groceries (even wine!) at a discounted price. Choose your favorite seasonal produce, enjoy delivery right to your door, & $10 off your first box by clicking here.
Getting groceries online has turned out to be a huge time and money saver for us. If you haven't tried a produce box
yet, I highly recommend trying one out!
Nutrition
Calories:
133
kcal
Carbohydrates:
9
g
Protein:
1
g
Fat:
11
g
Saturated Fat:
2
g
Polyunsaturated Fat:
6
g
Monounsaturated Fat:
3
g
Trans Fat:
1
g
Cholesterol:
6
mg
Sodium:
178
mg
Potassium:
20
mg
Fiber:
1
g
Sugar:
9
g
Vitamin A:
34
IU
Vitamin C:
1
mg
Calcium:
6
mg
Iron:
1
mg
Did You Make This Recipe?
Please leave a rating and comment below!
Or tag me @theherbeevore in your photo on Instagram!
This post may contain affiliate links. As an Amazon Associate I may earn from qualifying purchases, at no additional cost to you. Thank you for supporting the brands that support The Herbeevore and our beehives!