This mint chimichurri recipe is a bright and fresh sauce made with fresh mint, garlic, olive oil, vinegar, herbs, and no parsley!
Great on grilled entrees like vegetables and meats. This sauce brightens up any dish with a sweet and herby finish.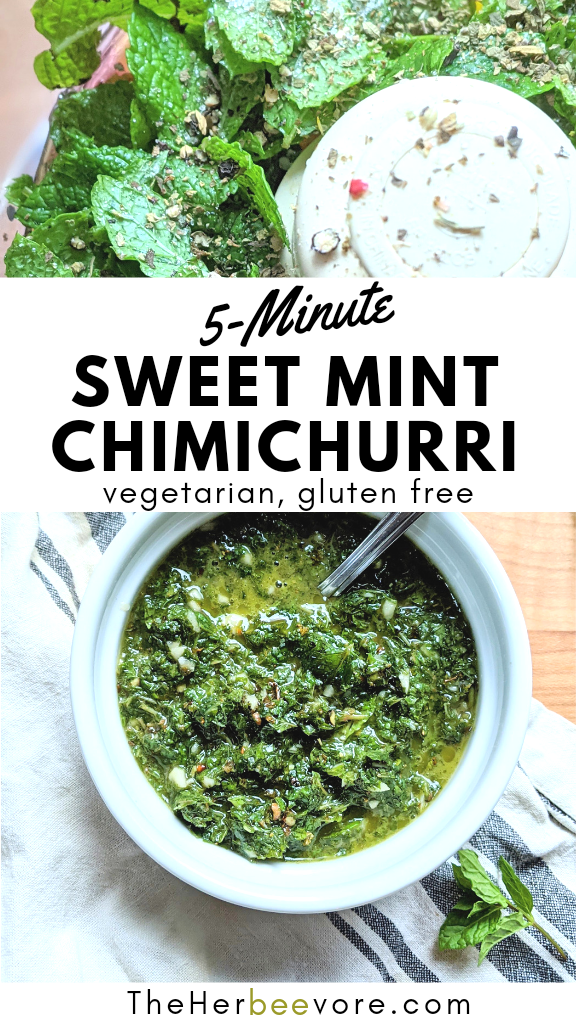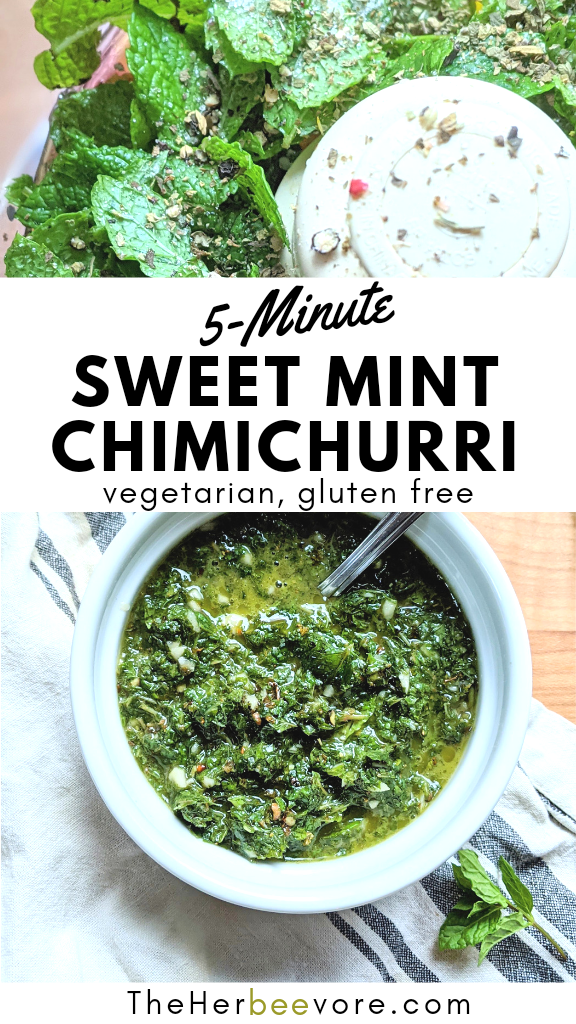 If you need a great mint chimichurri recipe without cilantro or parsley, this recipe is it! I was looking to make a fresh mint sauce this week for some lamb chops we were grilling, but all the recipes I found online were just mint, water, and sugar (boring). I wanted a little boldness, tanginess, spice, and flavor! And the natural solution to bring all of those together: mint chimichurri. This mint sauce for lamb is a leveled up version of that boring mint jelly – it will WOW your palate.
I made my normal 5-minute parsley and cilantro chimichurri sauce all the time, and it's one of my favorite condiments! It's great for adding on top of roasted or grilled anything: vegetables, kebobs, meats, or even rice. I altered the recipe a bit and added some sweetness and loads of fresh mint for a delightful flavor.
This Mint Chimichurri Recipe Is:
Fresh
Bright
Sweet
Herby
Loaded with Flavor
Ready in 5 Minutes
Great for anything off the grill!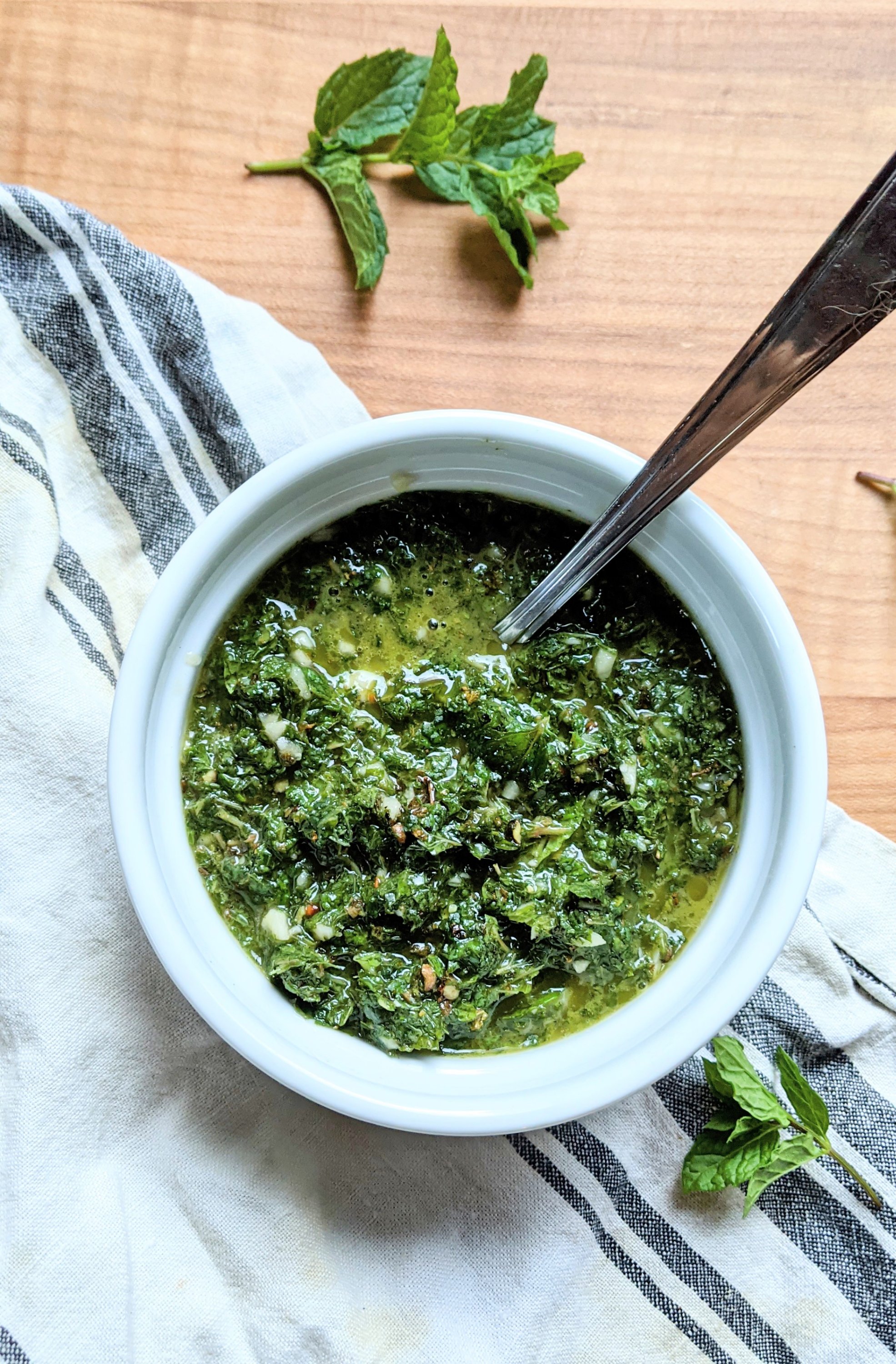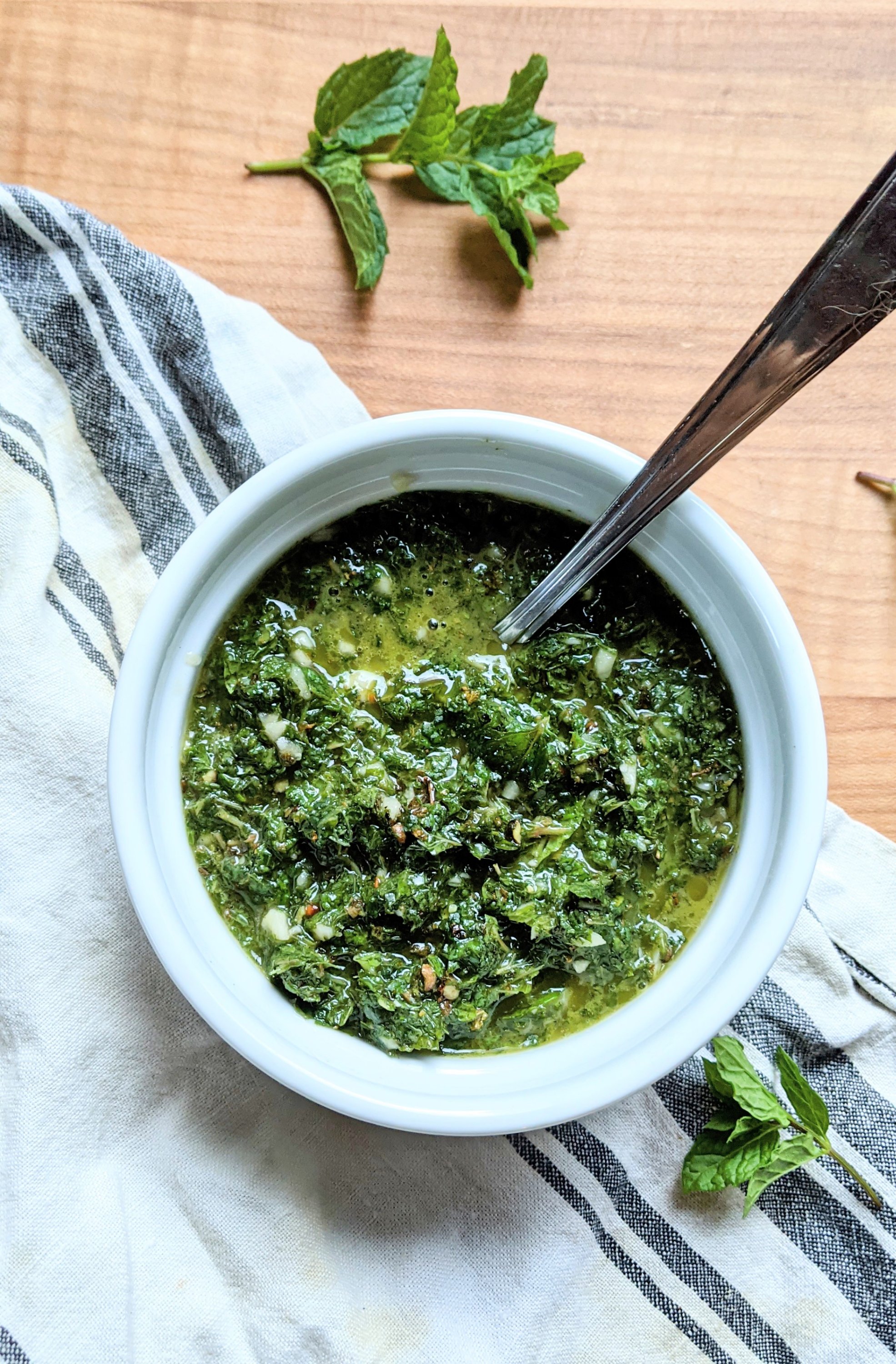 A No-Cook Mint Chimichurri Recipe That's Perfect for Grilling
This no-cook chimichurri is a quick and simple recipe. I love a good no-cook recipe for those days when I'm not feeling like standing around the stove, or for summer nights when it's too hot to cook. I have a whole collection of recipes that require zero cooking at all, check them out here!
This sauce comes together in about 5 minutes, and doesn't require the stove or microwave to make. Just use a few pantry staple ingredients and you have a healthy meal ready in no time. And very little to clean up afterwards… an added bonus!
What's In This Mint Chimichurri without Cilantro?
Fresh Mint – we have tons of wild mint growing along the stream in our backyard, I grabbed a few handfuls and used them for this delicious sauce!
Olive Oil:

I like to use

this fruity Zoe olive oil

which has a fantastic flavor and deep color-

it's really inexpensive online here,

so I keep a few liters stocked up in my pantry. For the

quality of oil you get, it's an excellent value,

I would highly recommend!

Red Wine Vinegar:

I used

red wine vinegar

for the marinade to give this dish a really nice bright Mediterranean flavor – for that,

this red wine vinegar is my go-to

!

Garlic

: I use fresh garlic when I have it, and

this great jarred organic garlic

when I don't have fresh. It's actually super convenient to have

pre-chopped garlic on hand

for quick and easy meal prep.

Granulated Sugar:

I like this

organic sugar

f

or my recipes, it has a really nice flavor, I'd recommend

Anthony's organic sugar f

or cooking or baking.

Red Chili Pepper Flakes

:

for a little heat! I like to add a few shakes to this recipe to give this dish a nice complex depth of flavor.

Oregano

: a spice I always put in my chimichurri sauces, it's a staple ingredient! This

dried oregano

has a bright and earthy flavor, and goes so well with the bright and fresh sauce.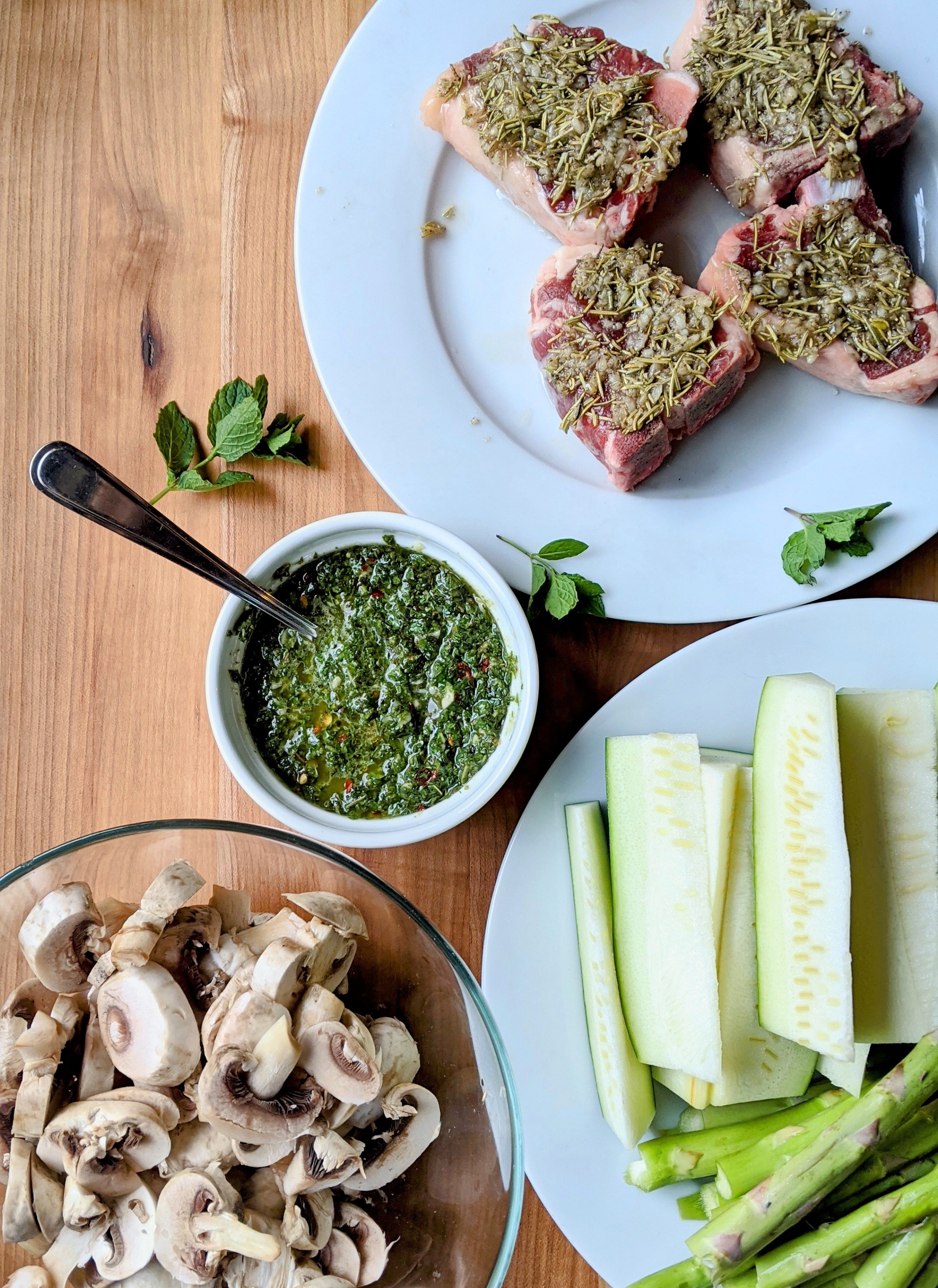 Make Mint Chimichurri Gluten Free for a Healthy Version
This gluten free mint chimichurri (no parsley) recipe is a simple meal to make without the wheat. I'm all about making recipes gluten free when I can. Gluten free cooking does NOT have to be bland, boring, or flavorless… It's quite the opposite when done right. By building meals around gluten free pantry staples and swapping in a few wheat-less ingredients you can make healthier meals for you and your family.
I made a list of my 125 favorite gluten free pantry ingredients that we use on a weekly basis, and check out all my gluten free recipes here that are on The Herbeevore. These easy and healthy recipes are fantastic meals for everyone at your table.
How Do I Make This Mint Chimichurri Recipe?
Add all ingredients to a food processor. Pulse on low speed, increasing to a higher speed until the mint leaves are finely shredded into a pulp and the garlic has been broken down.
Taste, and adjust seasoning as necessary, adding salt and pepper to taste.
Enjoy this mint chimichurri sauce with grilled proteins, roasted vegetables, or tossed with cucumber pasta salad.
Sauce should last up to 3 days in the refrigerator, sealed in an air tight container.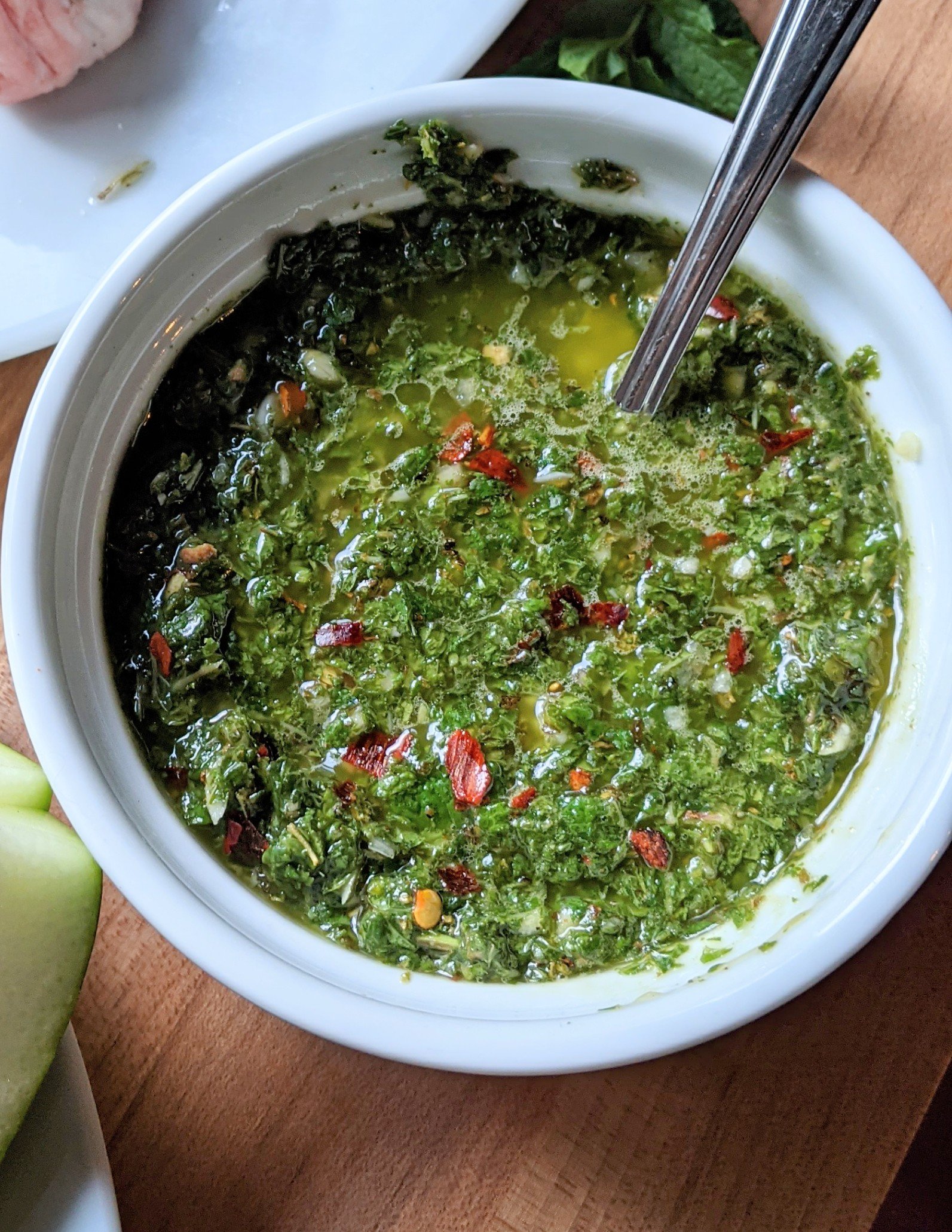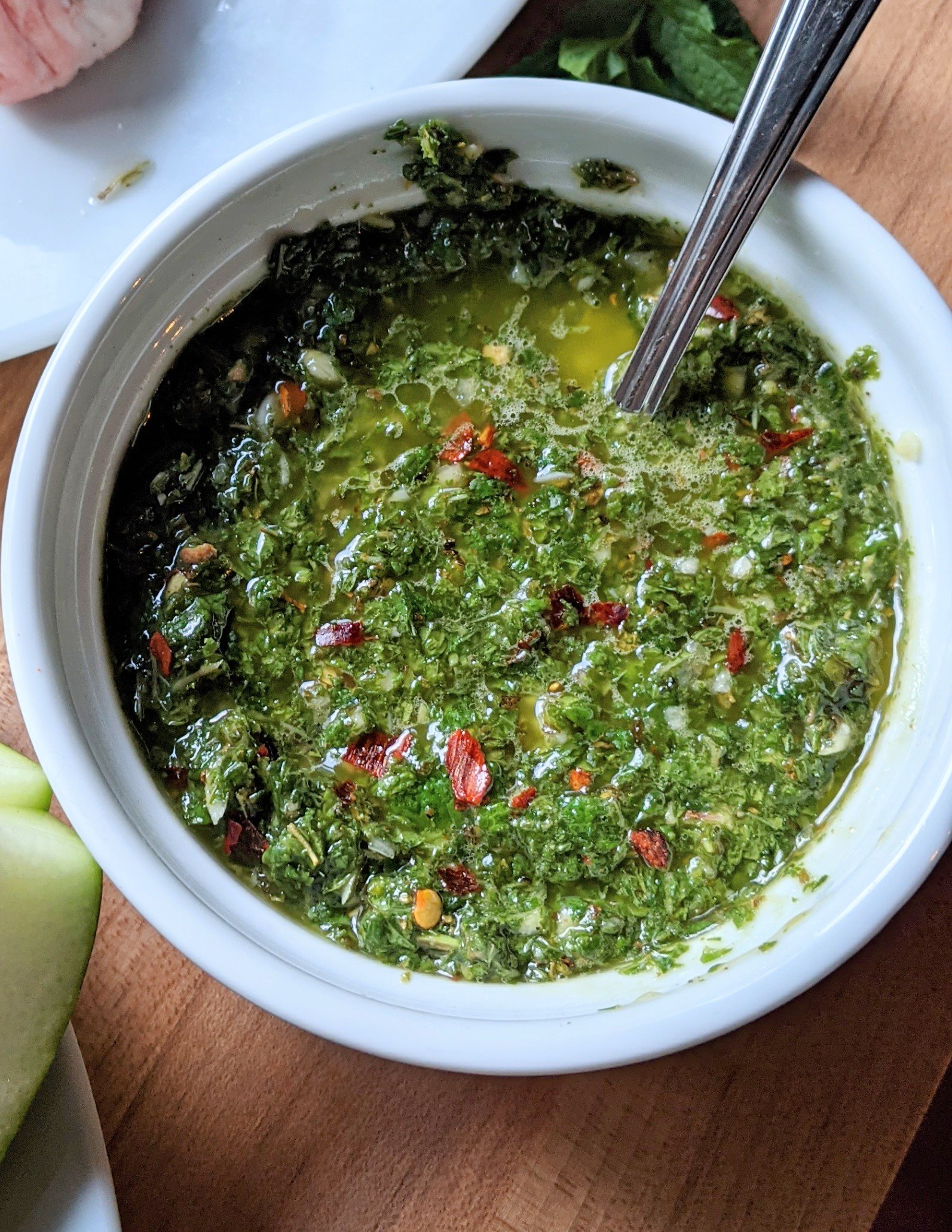 What's the Best Food Processor for the Job?
We have this fantastic CuisinArt Food Processor that has lasted us years and years, so I have to say I've been very happy with it! It gets weekly use, and is great for chopping ingredients for sauces, making hummus, and pureeing vegetables. It's really basic and inexpensive and gets the job done! I'd love to upgrade to this Ninja system eventually, which does practically everything! But I'm pretty happy with our CuisinArt for now 🙂
Other Flavorful Sauces with Herbs You'll Love!
Get the Same Ingredients I Use for this Sweet Mint Chimichurri Sauce:
I got the fresh produce for this recipe from my garden and from my Misfits Market box – they sell all organic produce at a super discounted price, and it's purchased direct from the farmers. We get Misfit Market boxes every month and love picking out our favorite seasonal produce for delivery. You can get $10 off your first box by clicking here!
As always, if you make this vegan and gluten free mint chimichurri recipe be sure to leave me a comment, rate this recipe, and tag me @theherbeevore on Instagram so I can feature you. I love seeing all your photos of my recipe recreations!
Let's keep in touch – make sure to sign up for my newsletter to get fresh recipes weekly. And don't forget to follow over on Pinterest, Instagram , & Twitter– I'd love to connect with you there!
This post may contain affiliate links. As an Amazon Associate I may earn from qualifying purchases, at no additional cost to you. Thank you for supporting the brands that support The Herbeevore and our beehives!