These  Textured Vegetable Protein TVP meatballs are ready for spaghetti, a meatball sandwich, or served as a party appetizer!
 

Made with TVP, flavorful seasonings, and great spices these meatballs are perfect for meal prep, batch cooking, or to make ahead.
These Vegan TVP Meatballs Are:
Hearty
Protein-Packed
Flavorful
Herby
Vegan
Gluten-Free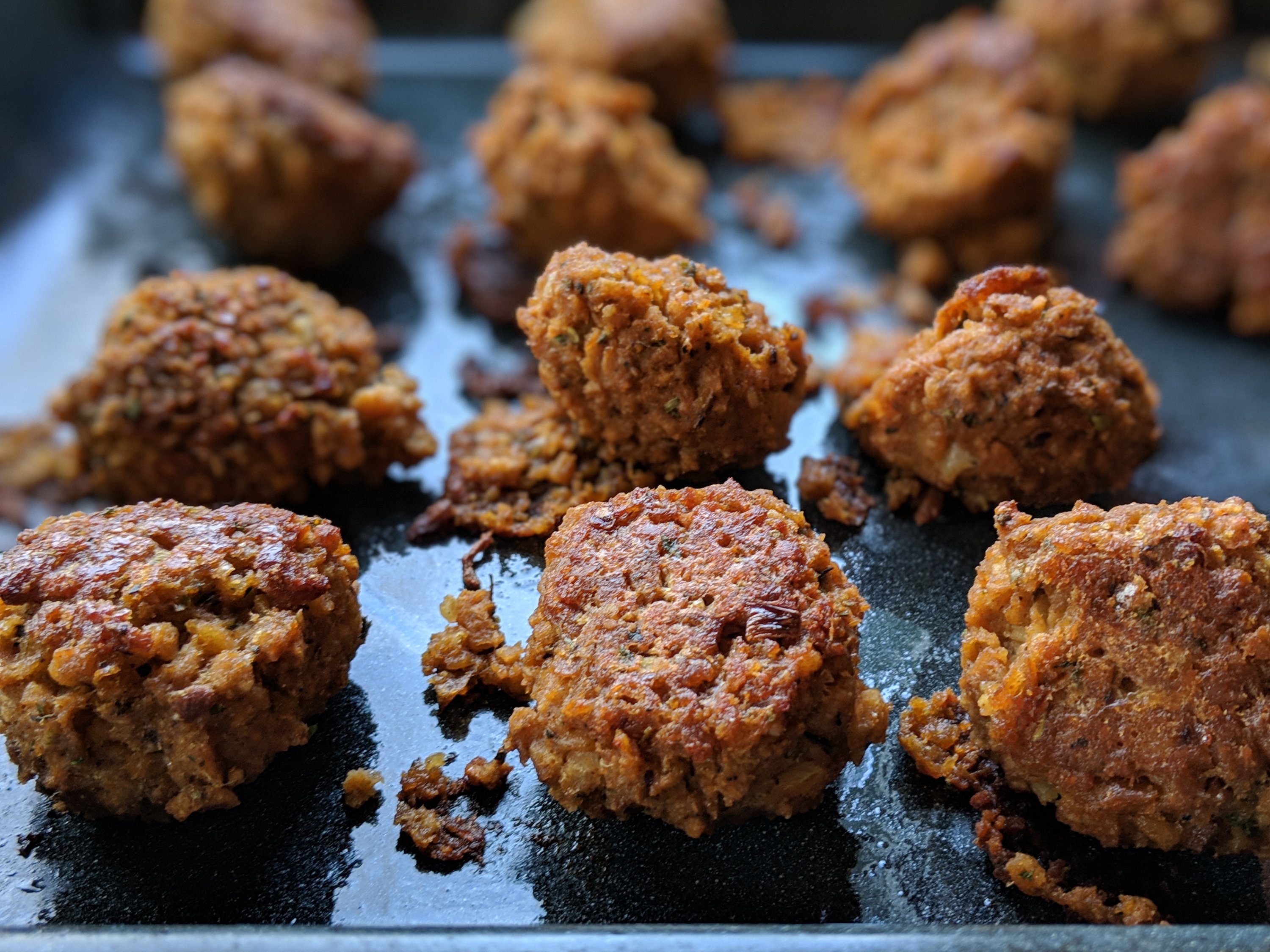 I have had a lifelong love of spaghetti and meatballs!  I have my Italian mother to thank for that one 🙂 To this day there is nothing I love more than a huge messy bowl of pasta swimming in my 5 Ingredient Homemade Tomato Sauce… topped with giant and flavorful TVP meatballs!
One of the BEST Pantry Staple Vegan High Protein Recipes
These TVP textured vegetable protein meatballs recipe is a fantastic pantry-staple meal!  It uses almost all ingredients you would have in your dry pantry or cupboards.  You probably already have a lot of these ingredients on hand!  Keeping a well-stocked pantry makes it easy to come up with delicious and healthy meals using a few staples you can rotate.  I made a list of my Top 125 Plant-Based Pantry Staples that always keep on hand. And you can check out all my favorite pantry staple recipes on TheHerbeevore.com here.  By stocking up on healthy whole ingredients you can cook delicious recipes without a trip to the store!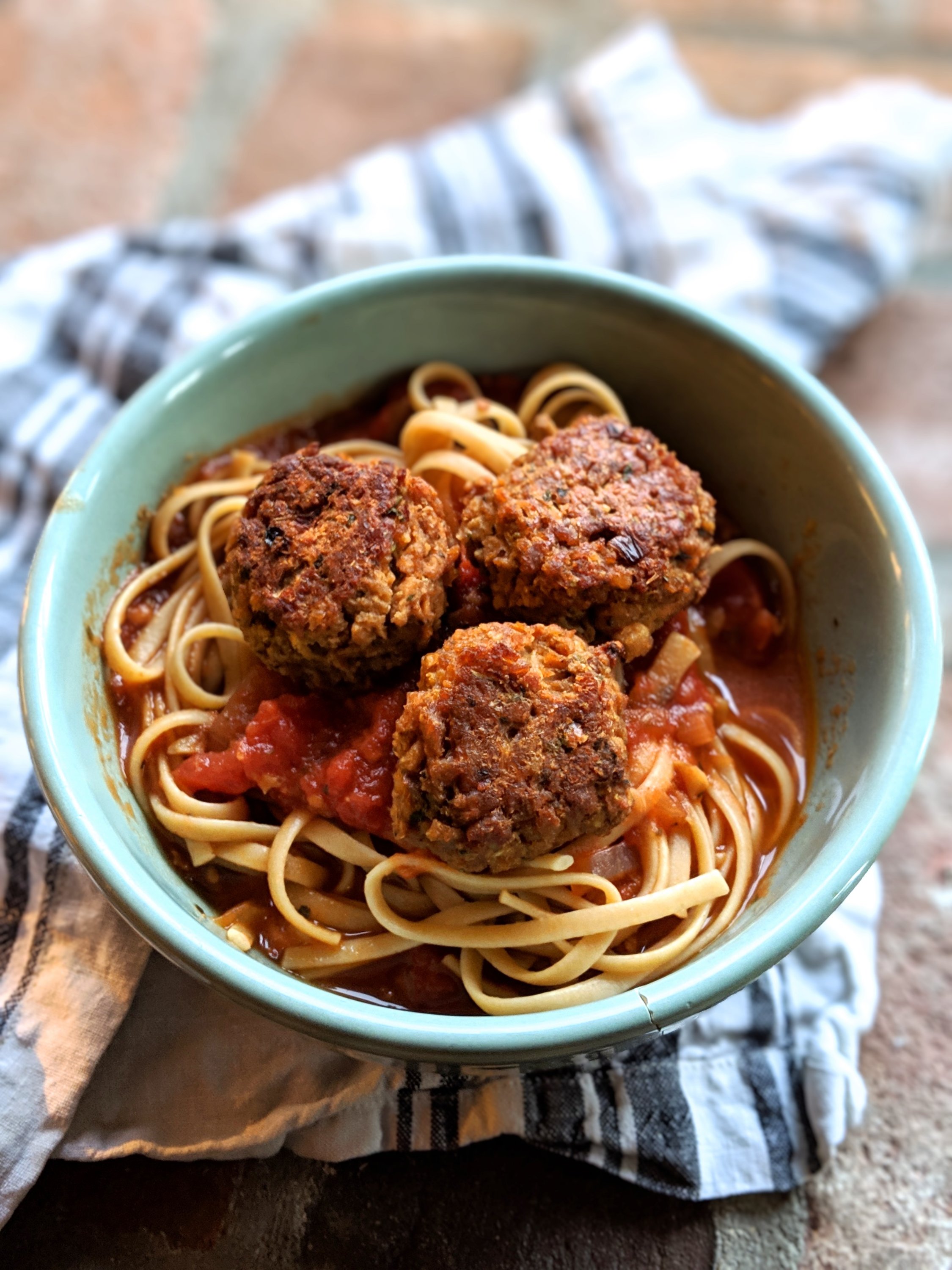 This recipe is perfect for meal prepping- When I make these I try to make a lot of extras so I can enjoy them throughout the week!  For lunch or dinner (or both some days, don't judge) spaghetti and meatballs are definitely on the menu with this super easy recipe.
What's In Textured Vegetable Protein Meatballs?
TVP (Textured Vegetable Protein): I love stocking my pantry with TVP!  TVP is made from soy protein and has the exact same texture as ground beef… making it really versatile to use in place of real meat. We use TVP in soups and stews, for taco filling, and in lasagnas.   TVP is a great pantry-staple protein, and it lasts a long time. We always keep a few bags of this stuff on hand.
Reduced Sodium Vegetable Stock or Bouillon:

I love this

Better than Bouillon Vegetable Base

for my recipes because it has a great flavor and is

lower in sodium

. I only develop my recipes with

low sodium ingredient

s so the ingredients shine.  You can always add salt to a recipe if it needs it, but it's almost impossible to take it out!  Start with

a low sodium broth or bouillon

, and add more salt later if needed.

Italian Seasonings: one of my favorite spice blends, I add a pre-mixed italian seasoning to my soups, stews, and pasta sauces. You can make your own italian seasoning blend with oregano, parsley, thyme, basil, rosemary, and garlic… but I like to use this organic Italian seasoning blend which has the right amounts of everything.
Nutritional Yeast: not to be confused with bread baking yeast, nutritional yeast has a cheesy nutty umami flavor which is great in all kinds of dishes – I even sprinkle it on fresh popped pop corn and WOW!  Also great in soups and sauces of all kinds.
Bread Crumbs – Normally I just use some crusty bread for the breadscrumbs, but if you are looking for a nice gluten free variety, these GF Italian Breadcrumbs would be your best bet!
Salt and pepper to taste – Some pasta sauces can be quite salty so I wanted to keep these meatballs fairly low sodium.  Add the amount of salt and pepper that you'd like – but if you are planning to use a salty sauce, then I would recommend only adding a little to taste.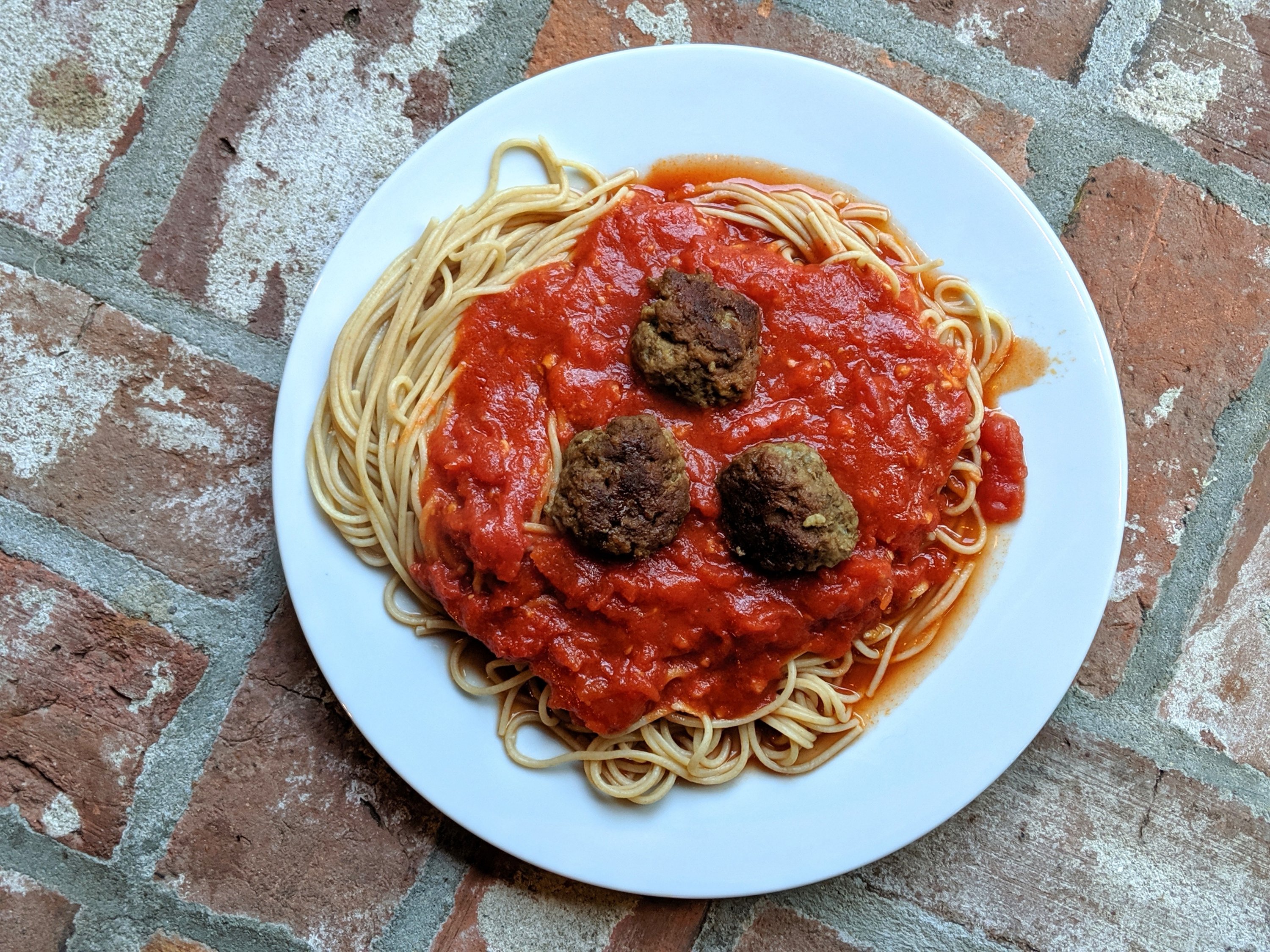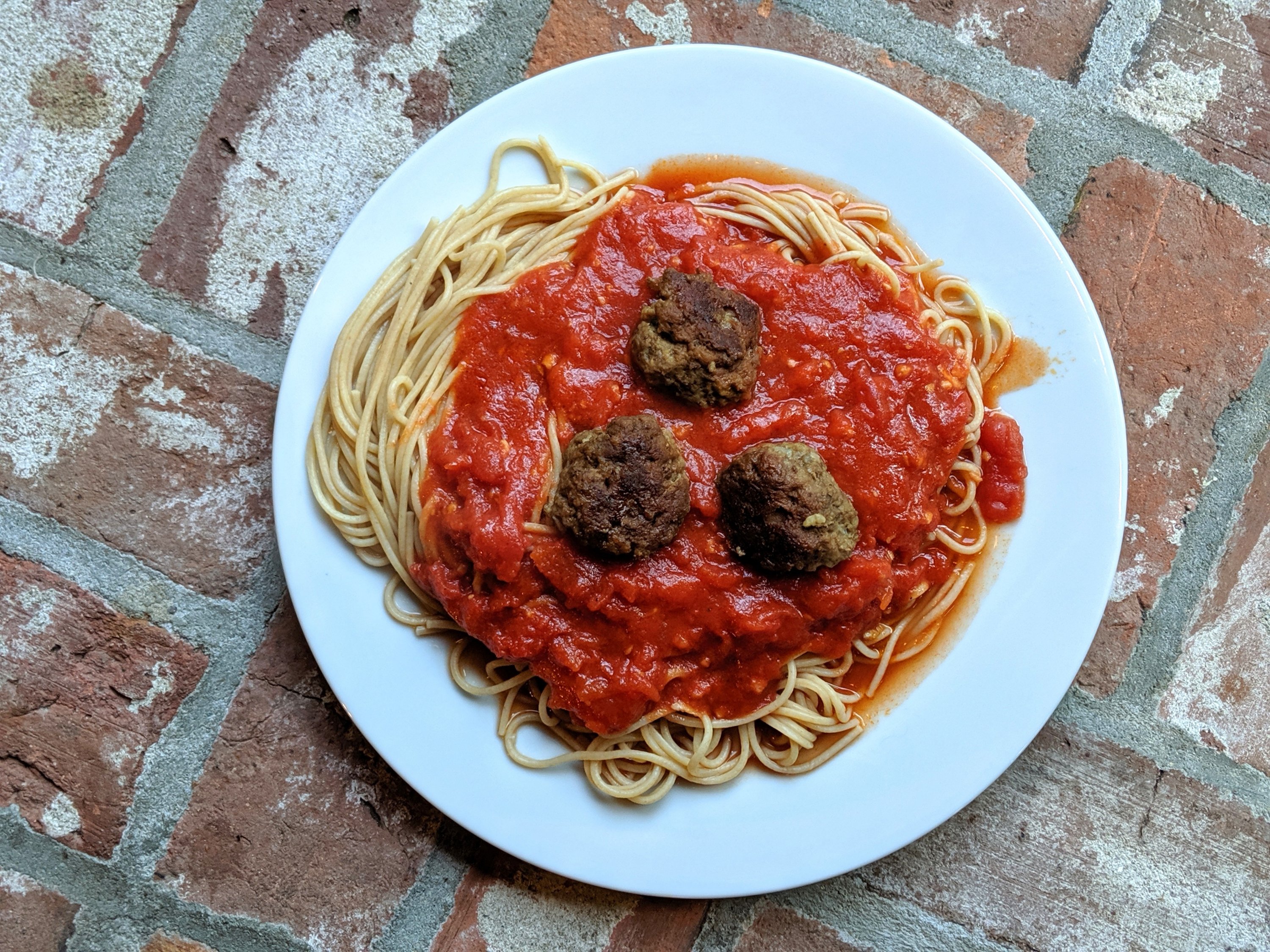 A Sheet Pan TVP Meatball Recipe For the Win!
These vegan and gluten free TVP meatnalls make the perfect sheet pan dinner!  I love a good sheet pan meal, especially during these fall months when the weather starts to turn cooler. Cooking on a sheetpan is one of my favorite ways to get a meal on the table fast!  All the food gets cooked on a single pan, which makes cleaning up a breeze. And the oven does all the work for you, so you can focus on other kitchen prep while the food cooks. Sheetpan meals are awesome for breakfast, lunch, or dinner – check out my link here to see other healthy sheet pan meals that are ready in no time!
What Do I Serve with These Italian Meatballs?
Get the Same Ingredients I Use For My Gluten Free TVP Meatballs Recipe:
As always, if you make these TVP meatballs be sure to leave me a comment, rate this recipe, and tag me @theherbeevore on Instagram so I can feature you.  I love seeing all your photos of my recipe recreations!
Let's keep in touch – make sure to sign up for my newsletter to get healthy recipes delivered fresh to your inbox. And don't forget to follow over on Pinterest, Instagram , & Twitter– I'd love to connect with you there! 
The BEST Vegan Italian Meatballs (Gluten Free, Dairy Free, Vegan)
Instructions
In a medium saucepan, bring the vegetable stock to a boil.  Add the TVP into the pot, stir, and let sit for 10 minutes while the TVP absorbs the broth.

In a large bowl, add the TVP and the rest of the ingredients.  Knead until they form a dough.

Form the mixture into small 2 inch meatballs.

Preheat the oven to 400 degrees Fahrenheit, and cook the meatballs for 20 minutes.

Add a few tablespoons of olive oil to a skillet fry the meatballs for 7-8 minutes until they brown and begin to crisp.

Serve over spaghetti with homemade marinara, on a sub sandwich, or use as a cocktail party appetizer!
Did You Make This Recipe?
Tag me @theherbeevore in your photo on Instagram and I'll feature you in my stories!