This irresistible cheesy eggplant bake is one of my favorite keto and low carb vegetarian recipes. Packed  healthy vegetables: eggplant, spinach, and tomatoes, its great to make ahead or meal prep!  Great as a side dish or a vegetarian keto dinner.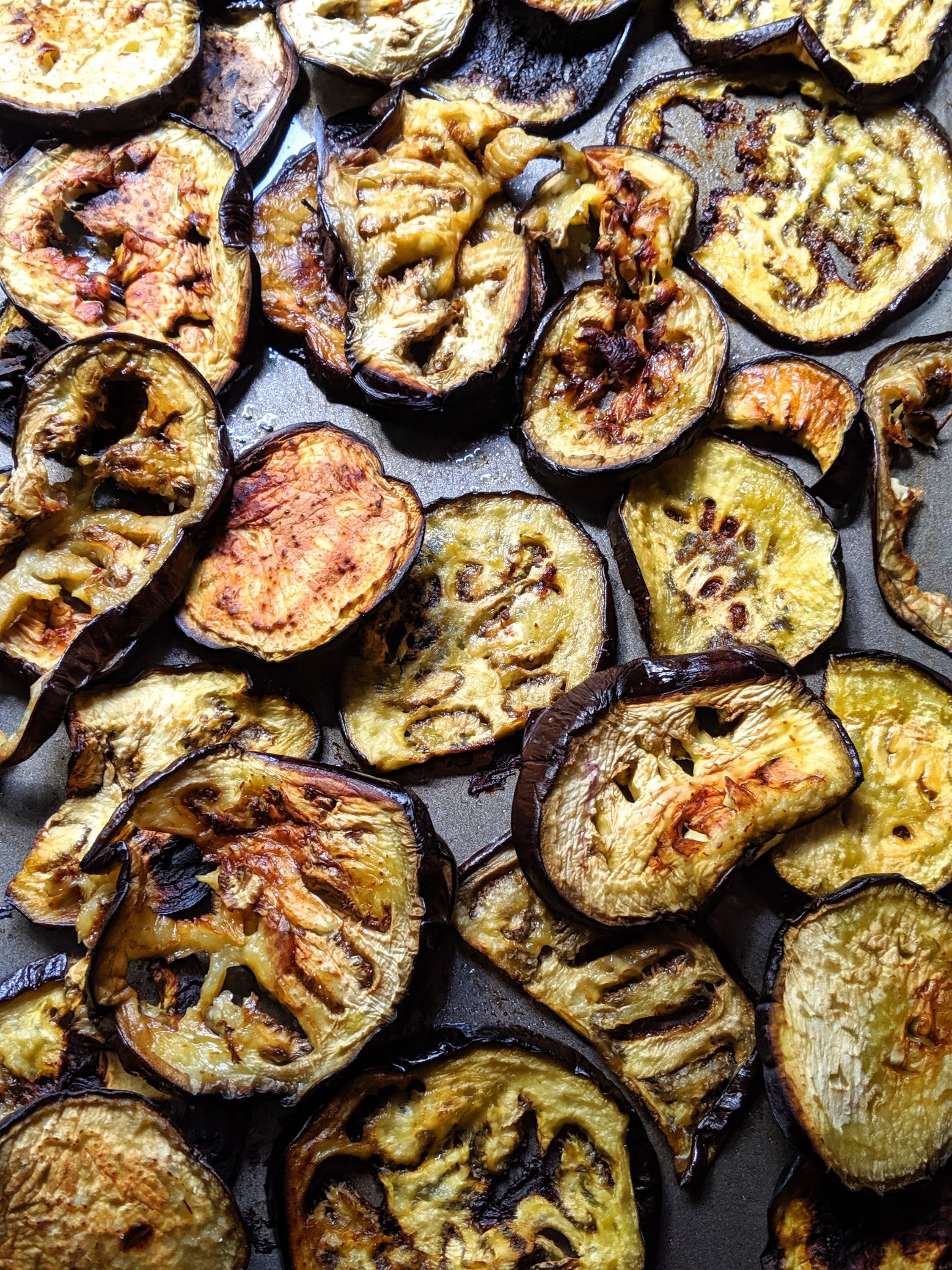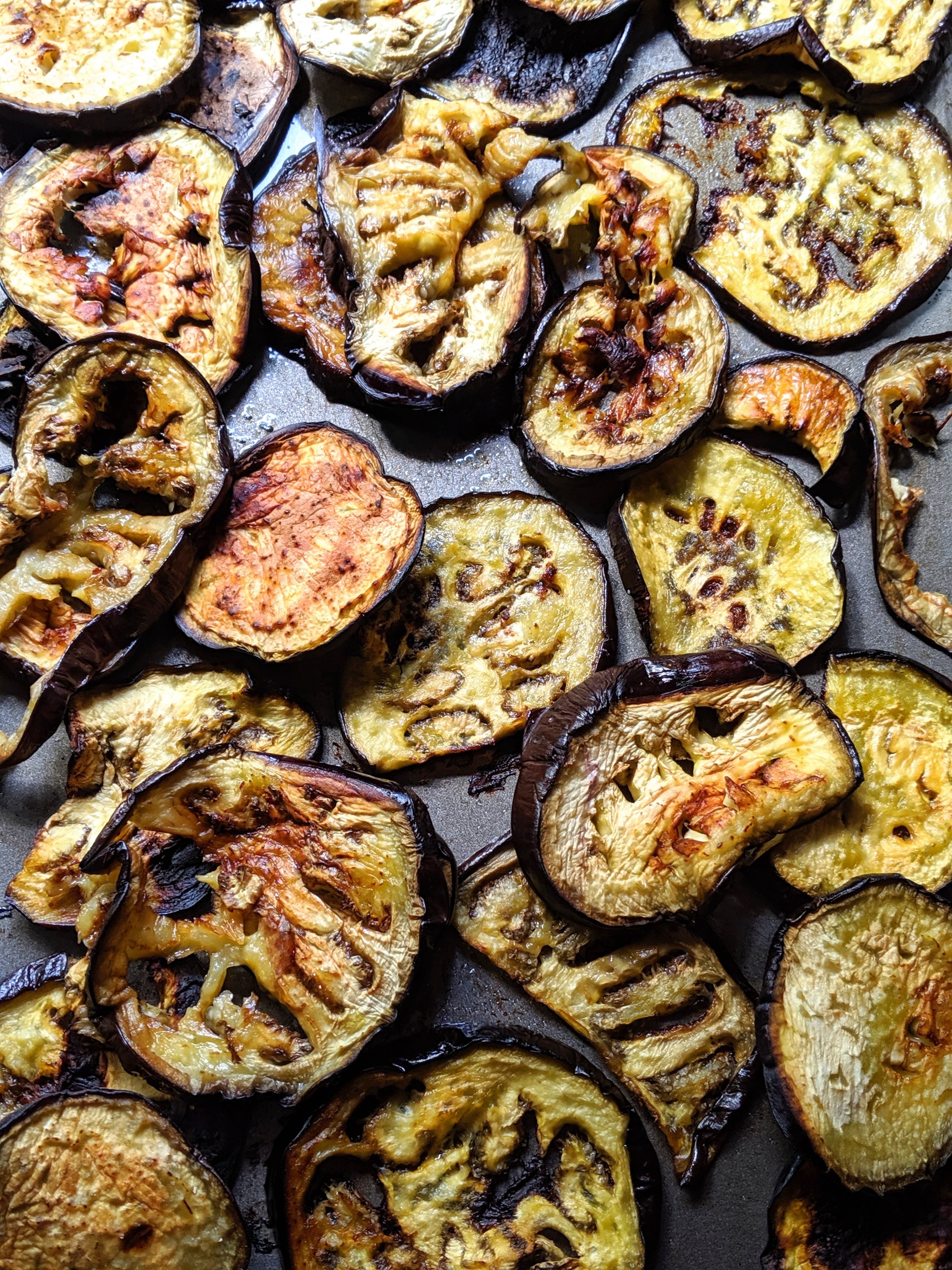 This recipe is EVERYTHING. I made it for eggplant and non-eggplant lovers alike, and it won a resounding two thumbs up from everyone!  This low carb vegetarian dinner casserole is a fantastic savory dish that is sure to please even the pickiest eaters around.
This Low Carb Vegetable Cheese Bake Recipe Is:
Decadant
Tangy
Savory
Herby
Packed with Veggies
Gluten Free
Low Carb, one of my favorite keto vegetarian recipes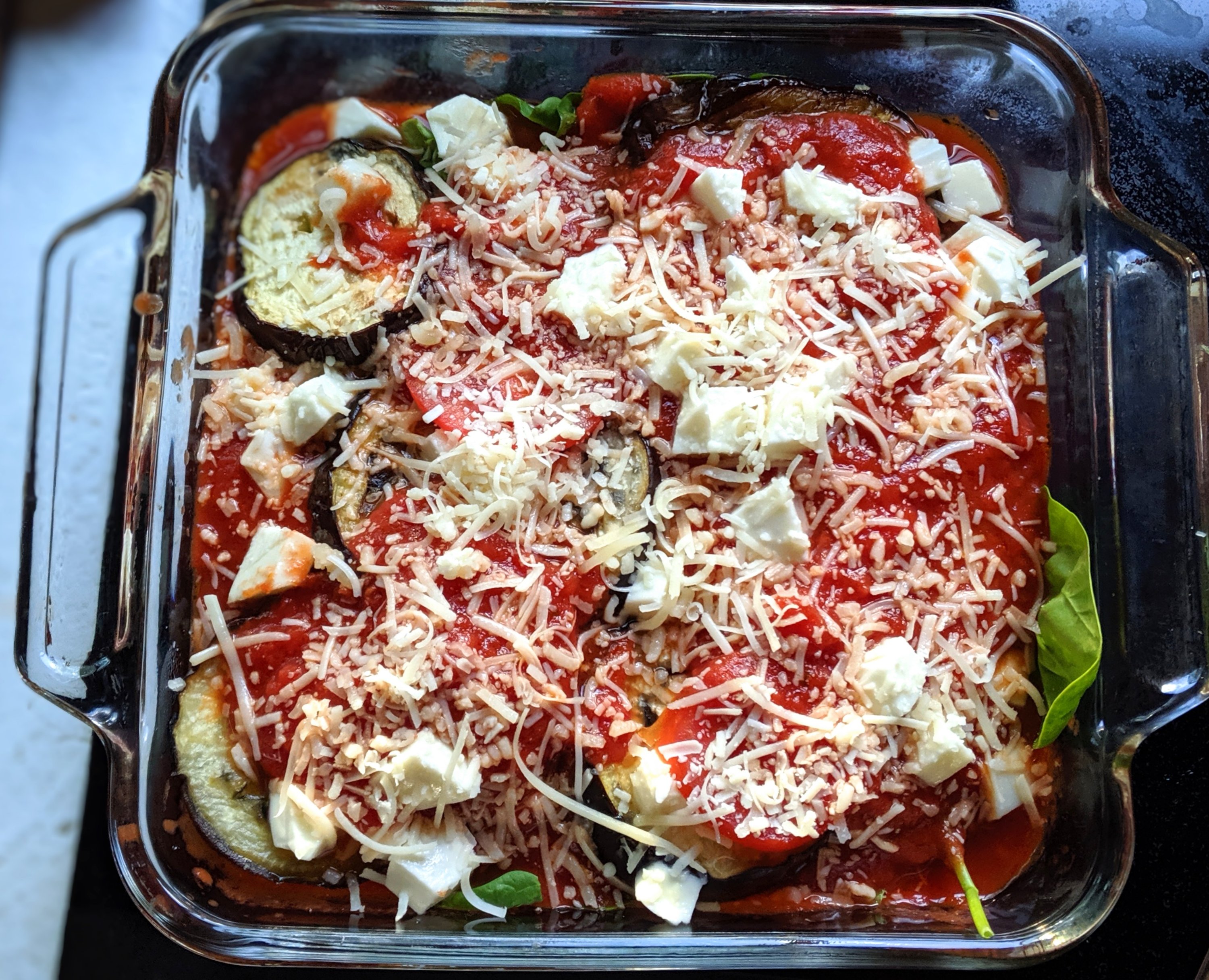 Its basically like a hot, cheesy, eggplant lasagna – the layers of soft baked eggplant melt into the bubbly cheese. You can make your own marinara or tomato sauce for this (I always always do!) or use this fantastic low carb tomato sauce if you dont have homemade.
I love a good high protein lasagna with regular noodles, but when I'm watching my carbs this is one of my go-to recipes to make for dinner.  It's one of those fantastic low carb vegetarian recipes I keep coming back to.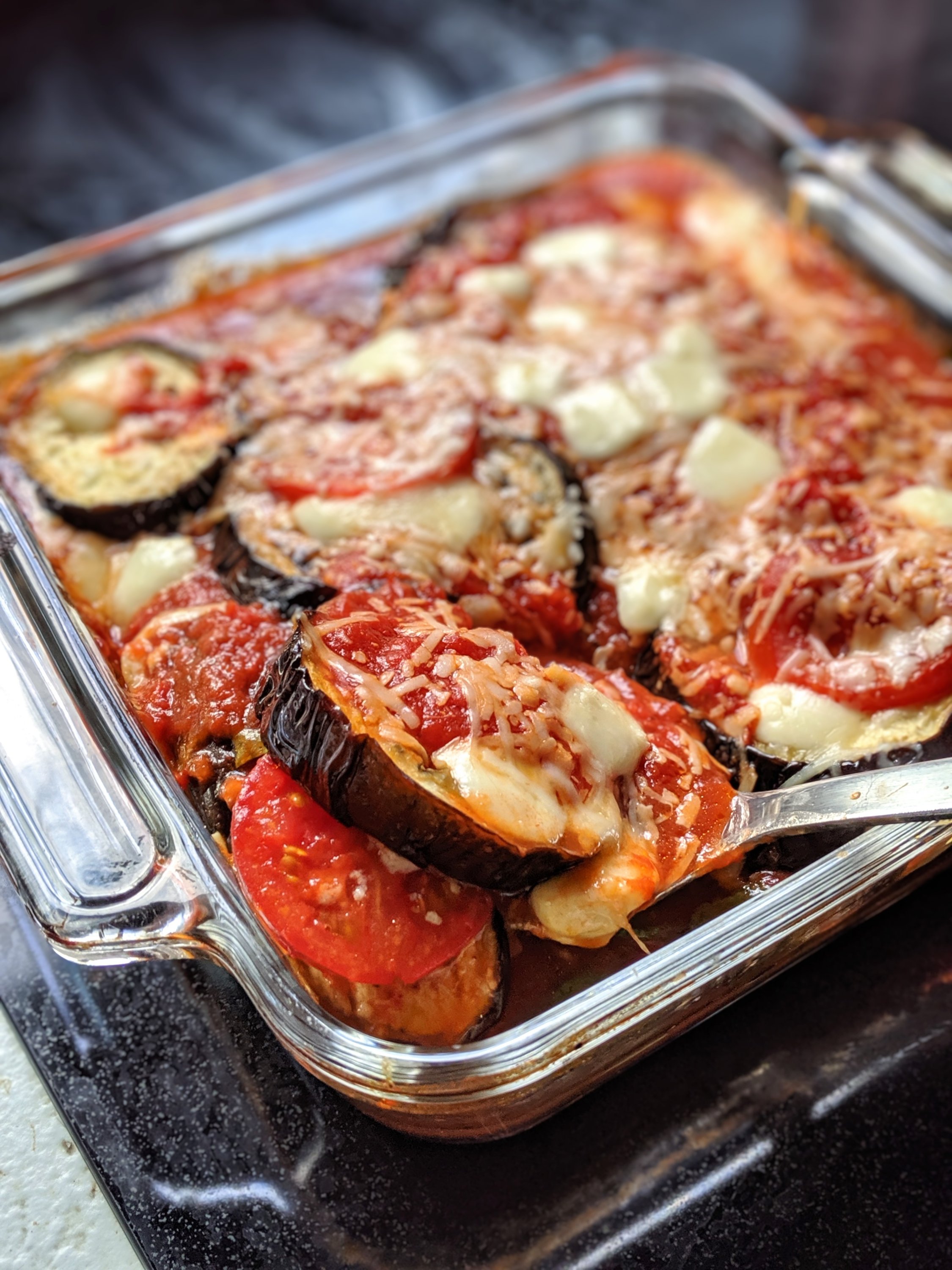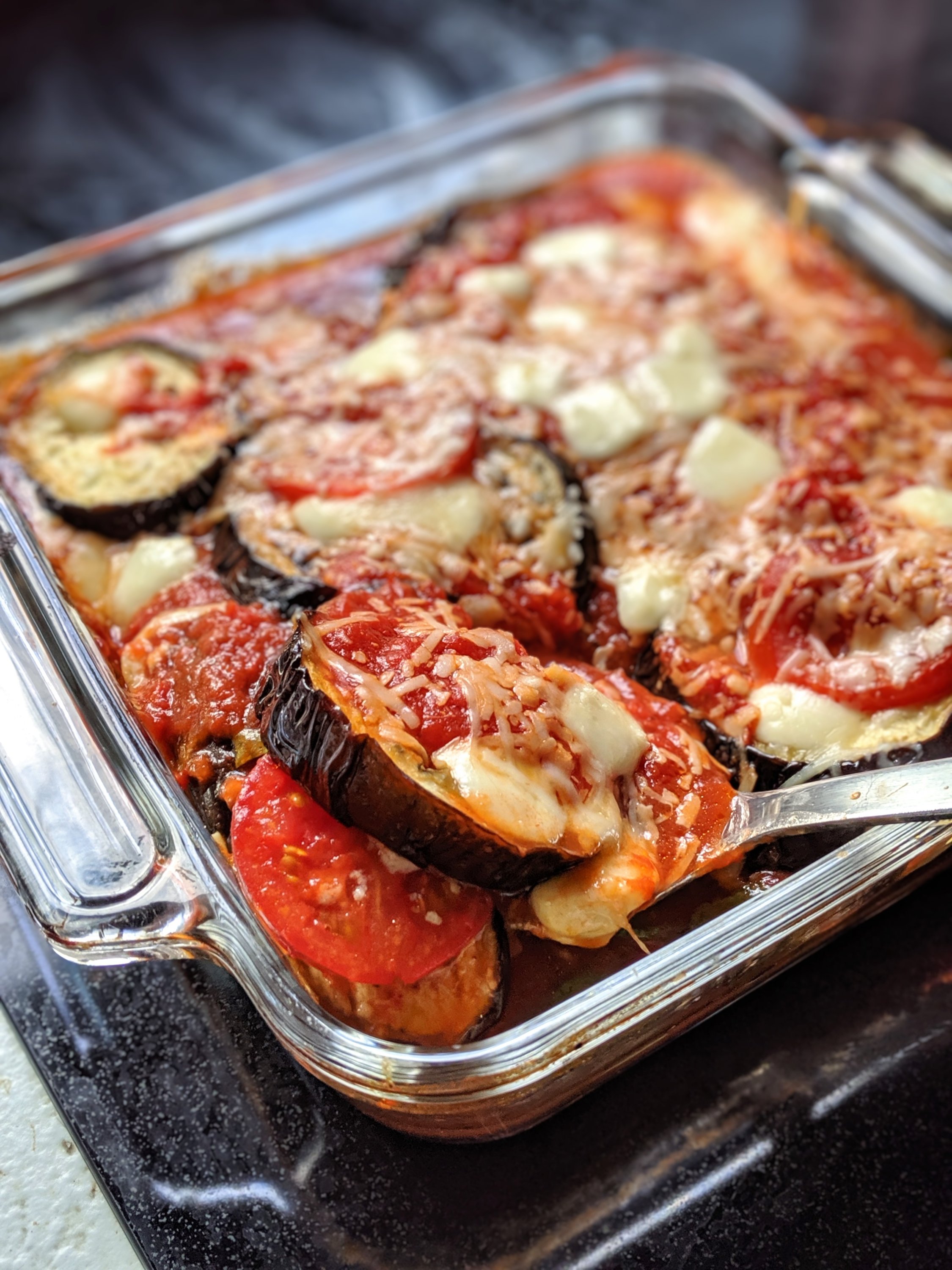 This is a favorite recipe around our homestead – great for dinners, entertaining, holidays, or just a Monday night (perfect for Meatless Mondays)!  Its one of my fave low carb and keto vegetarian recipes to make.
Keto Meal Prep Vegetarian Recipes
You can easily meal prep this keto and low carb vegetable casserole recipe by following the below recipe and dividing it into a few equal portions to enjoy throughout the week. I love having a healthy homemade meal ready in my fridge during the busy weekdays. By meal prepping this recipe, you can cook once and have perfectly portioned meals ready to go. I rely heavily on meal prepping and created a whole section of the site to recipes you can meal prep, batch cook, or make ahead.  Heat + eat, you're all set!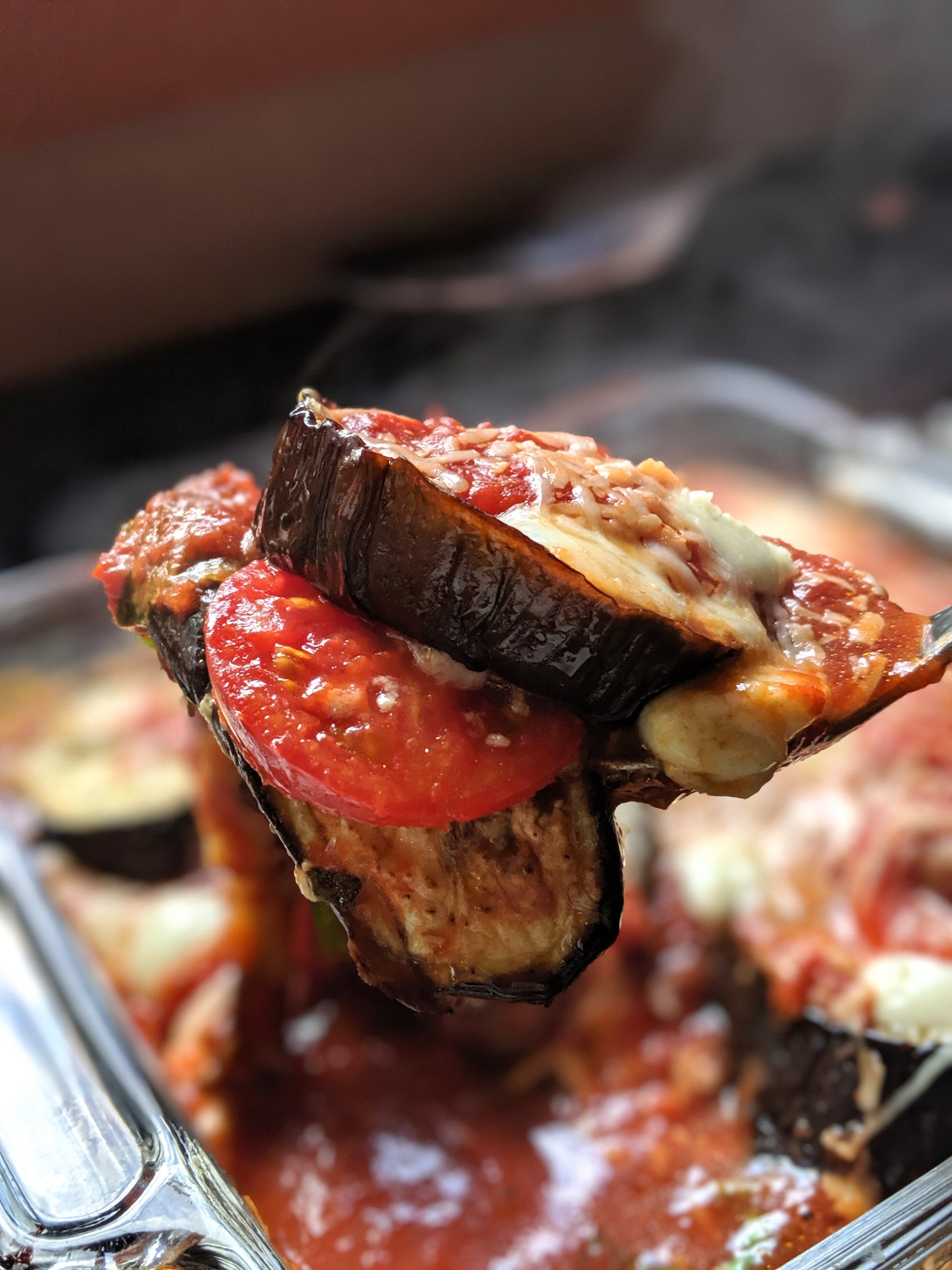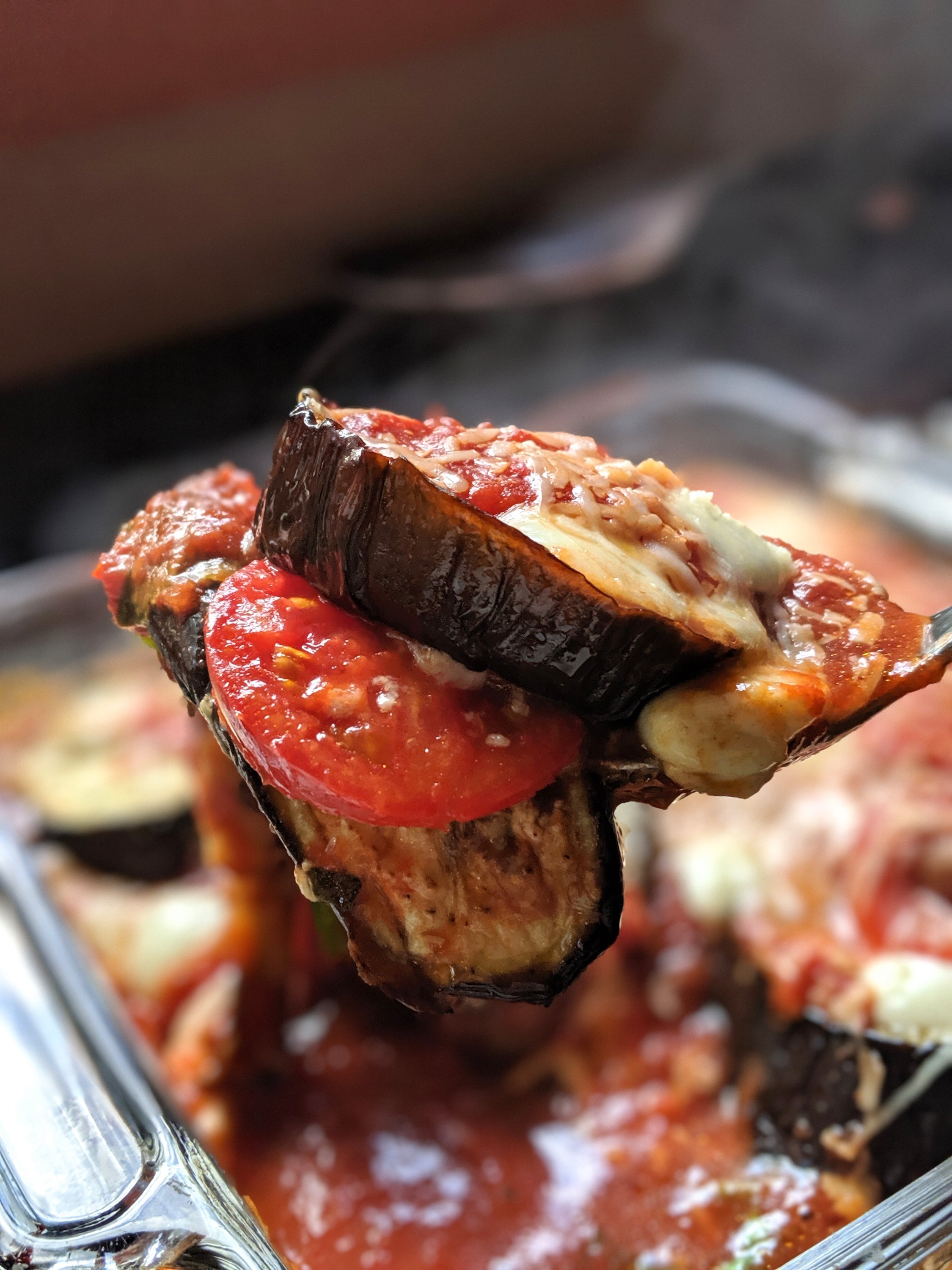 And it comes together in under an hour, so its great for a quick weeknight meal.  I made this for my dad when he came to visit, and as a 100% meat-and-potatoes kinda guy, he LOVED it.  He raved about it so much we ended up making it twice that visit 🙂
What's In This Vegetarian Low Carb Casserole Recipe?
Low Carb Tomato Sauce: I like to make my own tomato sauce most of the time, but this fantastic low carb tomato sauce has a fraction of the sugar that normal jarred sauces do!
Eggplant: thinly sliced
Olive Oil:

I like to use

this delicious Zoe olive oil

which has a fantastic flavor and deep color-

it's really inexpensive online here,

so I keep a few liters stocked up in my pantry.  For the

quality of oil you get, it's an excellent value,

I would highly recommend!

Garlic

: I use fresh garlic when I have it, and

this great jarred organic garlic

when I don't have fresh. It's actually super convenient to have

pre-chopped garlic on hand

for quick and easy meal prep.

Mozzarella Cheese
Spinach
Parmesan Cheese
Pink Himalayan Sea Salt: I

like to use

a pink Himalayan Sea Salt

in my kitchen, which has more natural minerals than plain processed table salt.

 It's fairly inexpensive,

so I'd recommend

this salt

if you're looking for an easy way to level up your spice pantry.

Tellicherry Black Pepper:

Like the salt, it's amazing the flavor difference you can get with

really good tellicherry black pepper

.  This pepper is

the same price is buying pre-ground

, and has a million times more flavor!  I use

these really great tellicherry peppercorns

, which I would definitely recommend.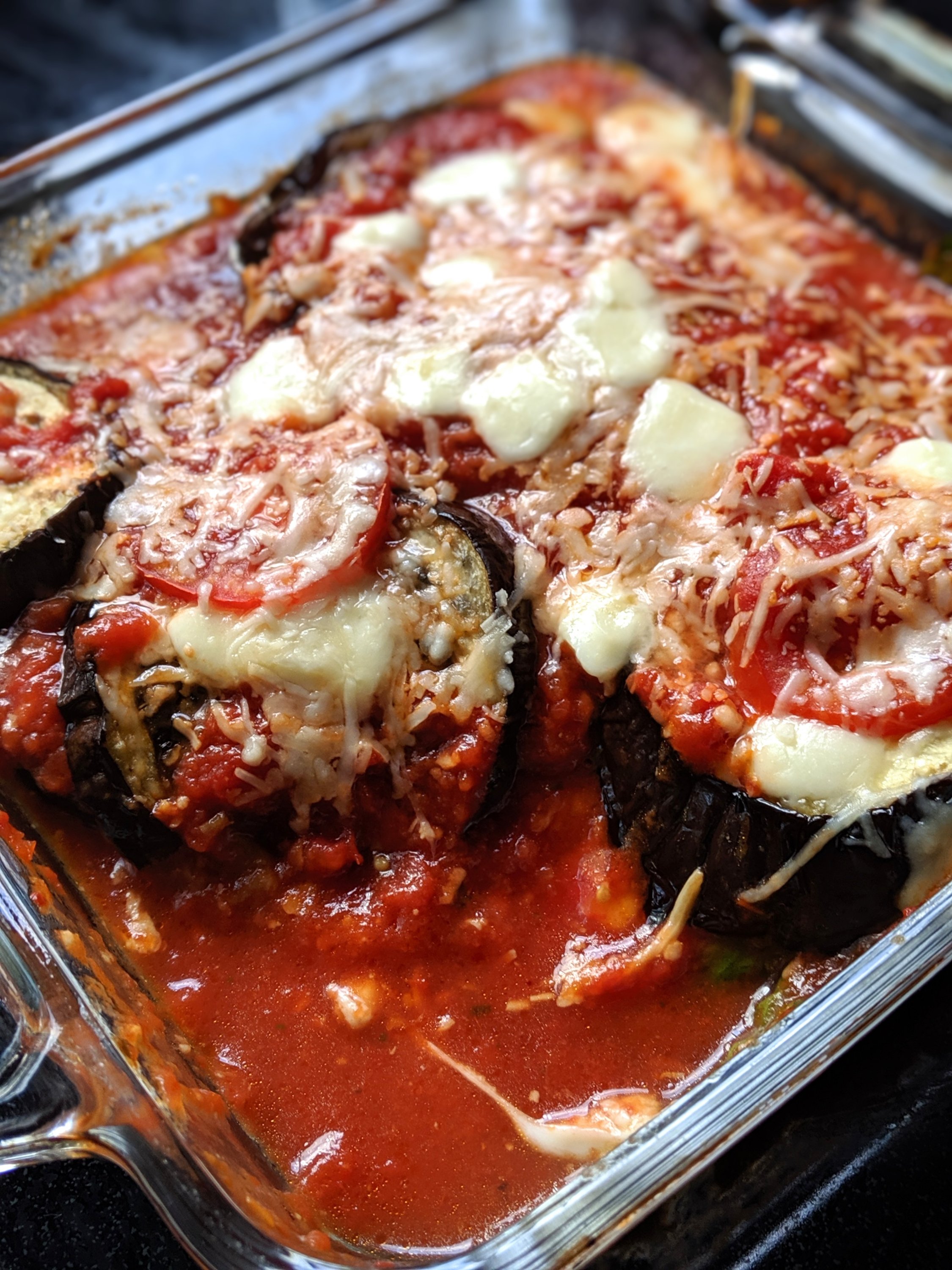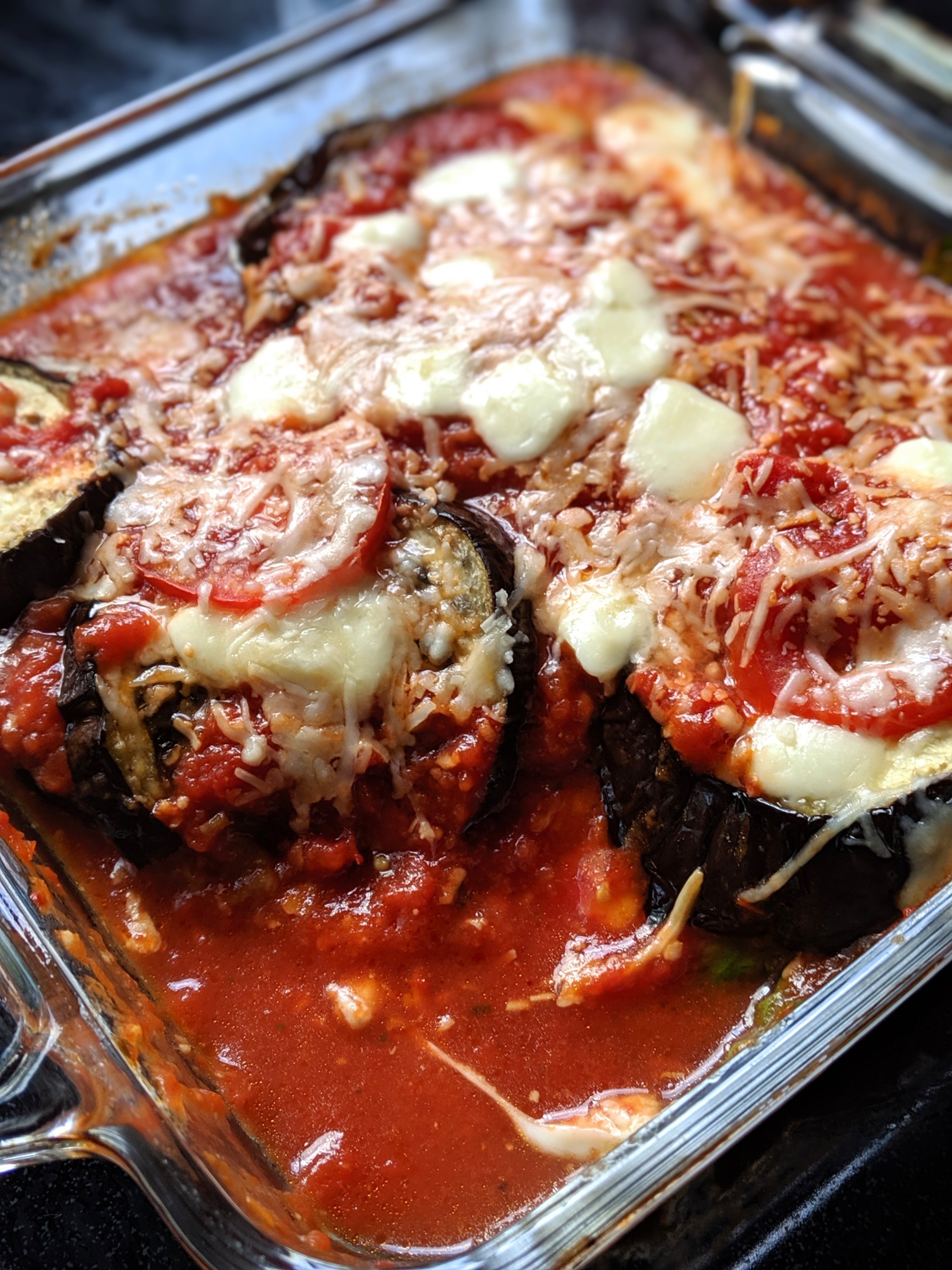 Other Healthy Low Carb Vegetarian Recipes You'll Love!
Make Ahead Freezer Quiche (Vegetarian, Gluten Free, Keto, Paleo options)
Scallion Scrambled Eggs (Keto, Paleo, Whole30, Vegetarian)
Garlic Mashed Turnips (Vegetarian, Keto, Low Carb, Vegan Option)
Deviled Egg Salad (Keto, Vegetarian, Low Carb, Gluten Free)
4 Ingredient Trader Joe's Meal Prep Salad (Keto, Low Carb, Vegan Option)
Get the Same Ingredients I Use in My Low Carb Vegetarian Eggplant Bake Recipe:
As always, if you make this keto eggplant casserole be sure to leave me a comment, rate this recipe, and tag me @theherbeevore on Instagram so I can feature you.  I love seeing all your photos of my recipe recreations!
Let's keep in touch – make sure to sign up for my newsletter to get healthy recipes delivered fresh to your inbox. And don't forget to follow over on Pinterest, Instagram , & Twitter– I'd love to connect with you there!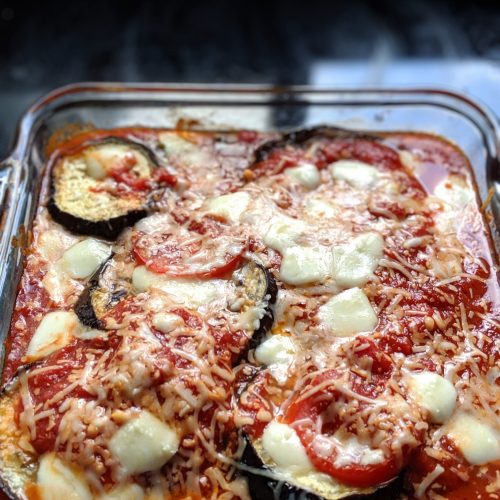 Keto Eggplant Bake (Low Carb, Gluten-Free, Vegetarian)
A delicious and cheesy low carb casserole with fresh vegetables: eggplant, spinach, and tomato sauce. Great or a main dish, vegetarian dinner, or keto side dish!
Instructions
Preheat the oven to 400 degrees Fahrenheit

Slice eggplant into 1/2 inch slices, and place on baking sheet. Pour the 2 tablespoons olive oil and salt and pepper over the eggplant, and toss to coat. Bake for 20 minutes until eggplant is soft, flipping halfway through.

In a 9x9 glass baking dish, layer the tomato sauce, eggplant, fresh mozzarella cheese, and spinach into 2 or 3 layers. Top with shredded parmesan cheese.

Bake for 15-20 minutes, until cheese becomes bubbly.
Did You Make This Recipe?
Tag me @theherbeevore in your photo on Instagram and I'll feature you in my stories!