This red potato fries recipe is a super easy way to transform red potatoes into a crispy delicious side-dish! Just 5 ingredients and 30 minutes in your oven, naturally vegan and gluten free!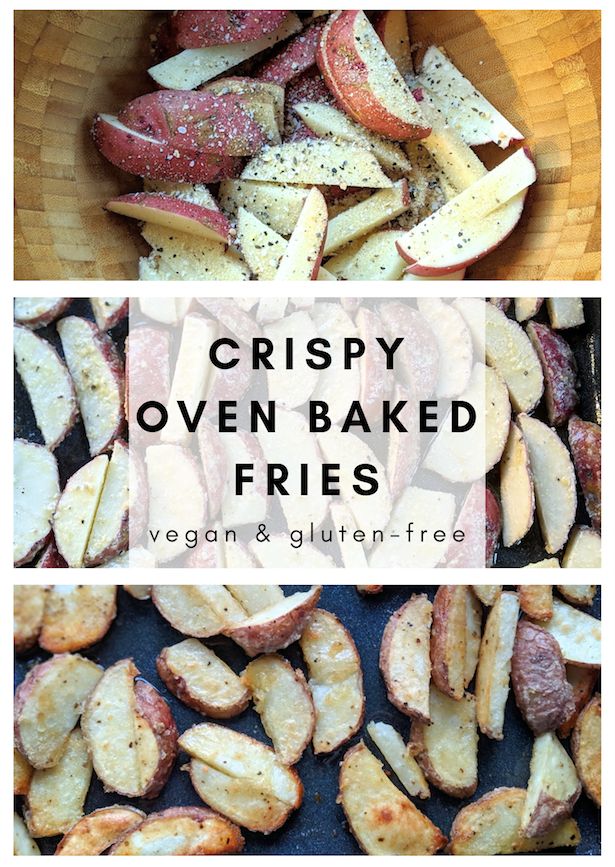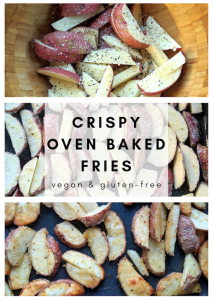 Making fries with red potatoes is one of our favorite side dishes for dinner! I coat the potatoes with spices, a little oil, and corn starch, and they came out perfect. I always use a little bit of Montreal steak spice on the top and the fries taste amazing!
The trick to getting the fries crispy is corn starch. I gave the potatoes a light coating before tossing in the oven and they came out perfect! You can also substitute arrowroot powder for a similar texture if you don't want to use corn starch. We had these along side Tofu Shawarma Pitas – and the combo was so good. The fries get perfectly seasoned from the Montreal Steak Spice (which is a simple mix of garlic, salt, pepper, dill) and the garlic powder takes it to the top. I even dipped them in ketchup and they were tastier than any restaurant fries.
These Red Potato Fries Are:
Crispy
Crunchy
Perfectly Tender in the Middle
Seasoned
Oven Baked
Vegetarian, Vegan, and Gluten Free!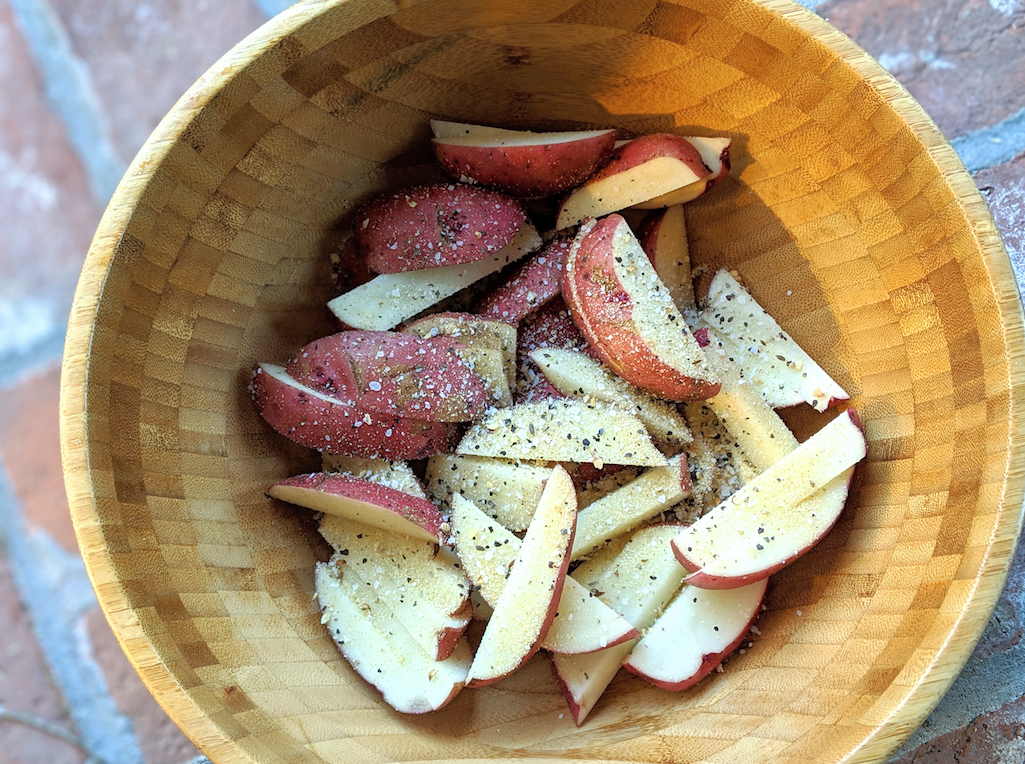 A Dinner Party Fries Everyone Will Love
This fries with red potatoes recipe is what I call an Easy Entertaining Recipe – which is a crowd-pleaser recipe that will be a major hit. These delicious recipes are perfect to treat your guests or when you have a special occasion for dinner. I have a whole section of The Herbeevore dedicated to Entertaining Recipes, that we regularly serve to our friends and family. If you're heading to a party, potluck, or BBQ, check out my list of top host gifts for dinner parties for that next-level gift they will love!
How Do I Season Fries & Make Them Crispy?
You'll need a few simple ingredients that'll make these oven baked fries perfect! I get all the fresh produce for my recipes from my garden and from Misfits Market – they sell all organic produce at a super discounted price, and it's purchased direct from the farmers. We get Misfit Market boxes every month and love picking out our favorite seasonal produce for delivery. You can get $10 off your first $30 box by clicking here!
If you think organic produce is too expensive… think again, and give Misfits Market a look!
Inexpensive and Affordable Potato Recipes For Everyone
I love how inexpensive these red potato fries are to make! This recipe uses a lot of ingredients you would have in your dry pantry or cupboards – most of which you probably have on hand. Keeping a well-stocked pantry makes it easy to come up with delicious and healthy meals using a few staples you can rotate. I made a list of my
Top 125 Plant-Based Pantry Staples
that always keep stocked. And you can check out all my
favorite pantry staple ingredients in my Amazon shop here
. By stocking up on healthy whole ingredients you can cook delicious recipes without a trip to the store!
More Easy Potato Recipes You'll Love!
Get the Same Ingredients for These Red Potato Fries
As always, if you make this vegan and gluten free red potato oven fries recipe be sure to leave me a comment, rate this recipe, and tag me @theherbeevore on Instagram so I can feature you. I love seeing all your photos of my recipe recreations!
Let's keep in touch – make sure to sign up for my newsletter to get fresh recipes weekly. And don't forget to follow over on Pinterest, Instagram , & Twitter– I'd love to connect with you there!