These veggie kabobs in the oven are a simple and delicious side dish recipe that go great with just about anything! These vegetables are placed on skewers and tossed with olive oil and spices, and baked to perfection.
These oven baked veggie skewers are simple to make, and are a great dish to serve at your next gathering, party, or cookout. They bake in less than 30 minutes, and will go fast once you put them out. A little something for everyone!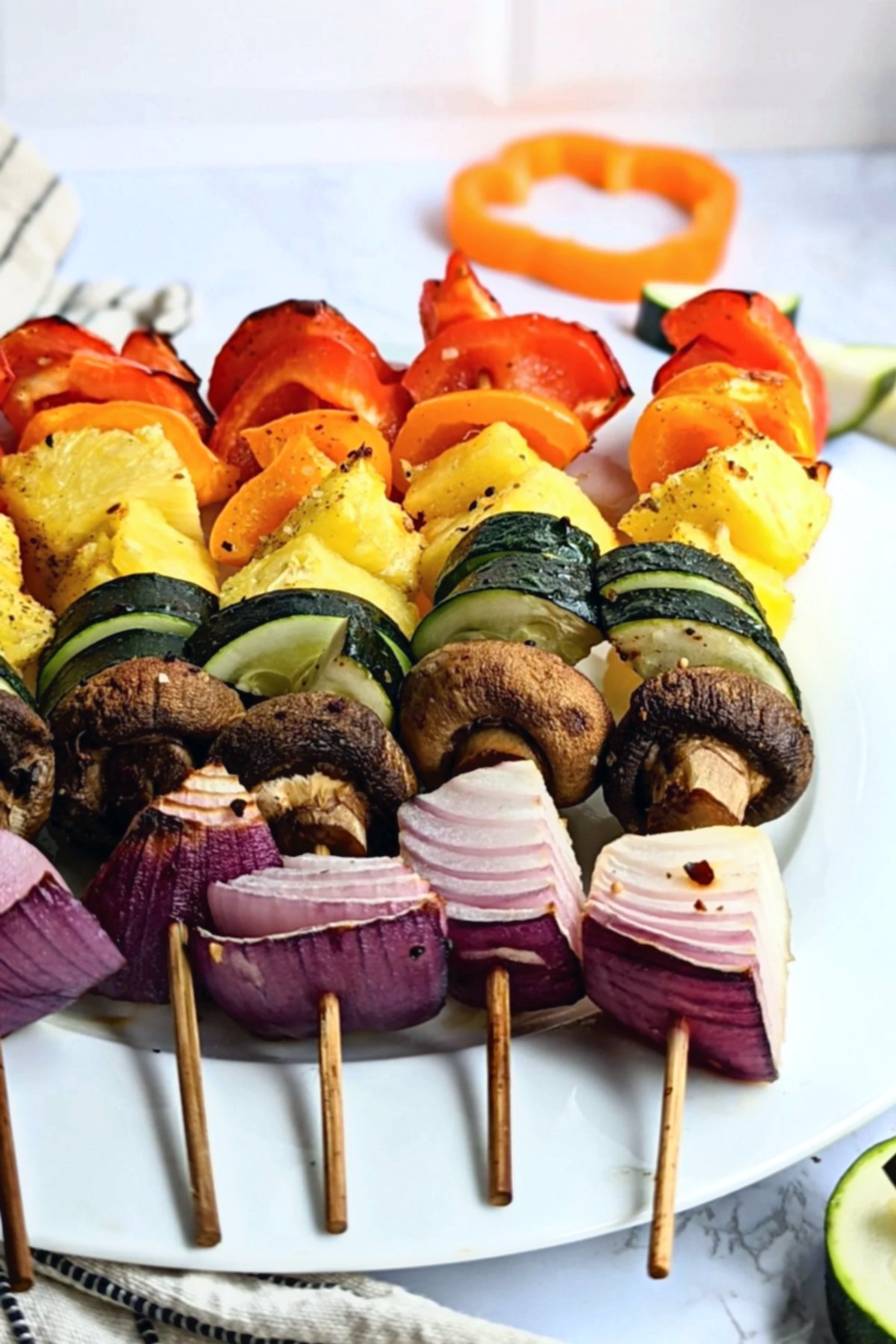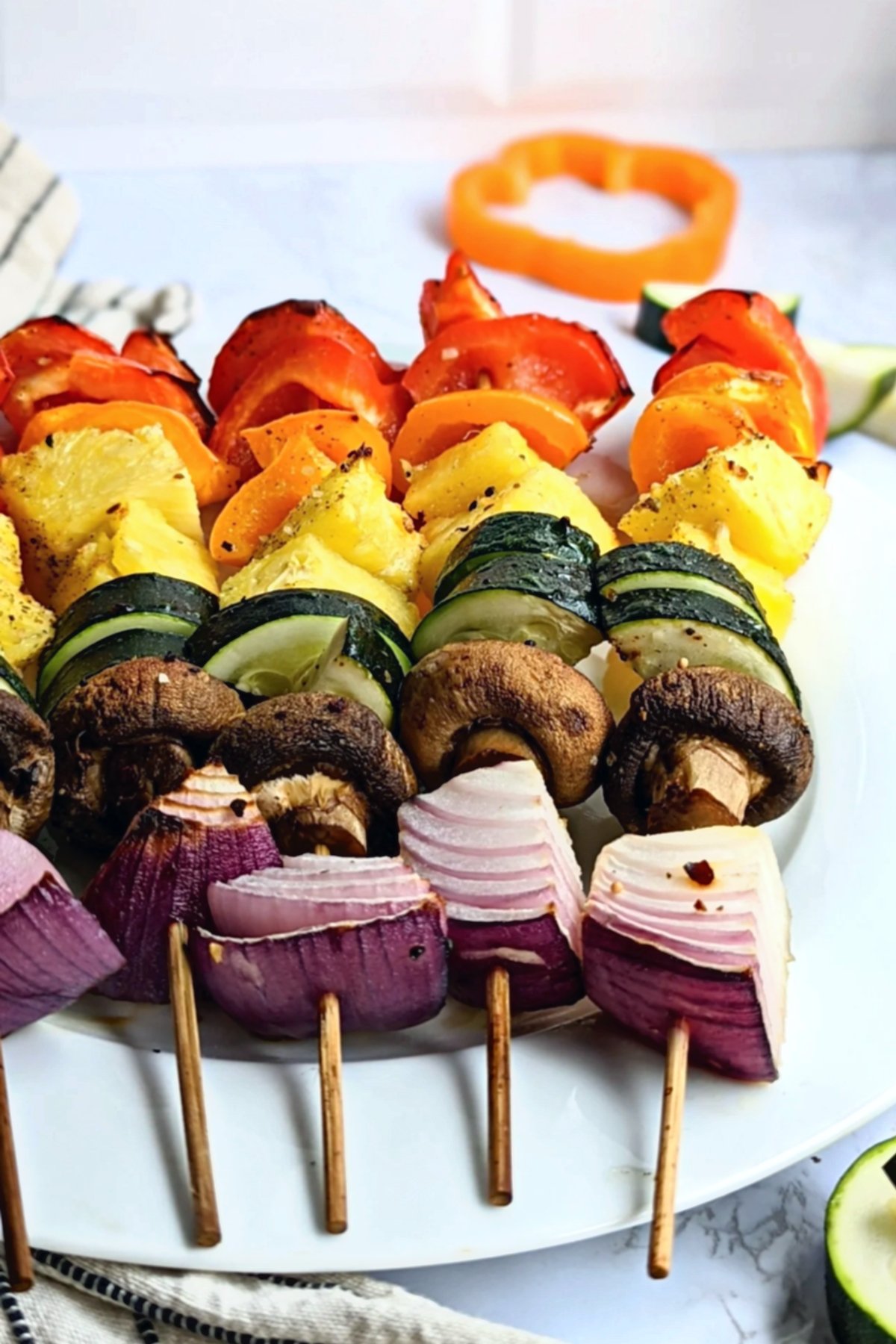 These oven baked veggie kabobs are a delicious and fun way to eat your veggies! I added all of my favorites to these skewers: bell peppers, zucchini, onions, pineapple (not a veggie, but taste amazing when baked!), and mushrooms for a fantastic flavor.
These are great to throw into the oven to enjoy with roasted chicken, beef, or crispy baked tofu, and go with just about any main dish you serve. They're also a fun and colorful way to get kids to enjoy veggies too – just have them make their own with their favorite vegetables for a customizable side dish. I've bought these to parties, potlucks, and they are always a huge hit.
These Oven Baked Veggie Kabobs Are:
Bright
Fresh
Delicious
Simple
Versatile
Loaded with Flavor

What's In These Oven Baked Vegetable Kabobs Recipe?
I cook with fresh produce from my garden and from Misfits Market– they sell fantastic fruit, vegetables, & pantry staples at a discounted price. We get Misfit boxes every other week and love picking out favorite produce for delivery. Get $10 off your first box here!
Veggies (and Fruits) of your choice! I used mushrooms, onions, zucchini, bell pepper, and of course a little pineapple for sweetness.
Olive Oil:

I like to use

this delicious Zoe olive oil

which has a fantastic flavor and deep color-

it's really inexpensive online here,

so I keep a few liters stocked up in my pantry. For the

quality of oil you get, it's an excellent value,

I would highly recommend!

Garlic

: I use fresh garlic when I have it, and

this great jarred organic garlic

when I don't have fresh. It's actually super convenient to have

pre-chopped garlic on hand

for quick and easy meal prep.

Montreal Steak Spice:

Our favorite spice blend, probably t

he one we use most

in our home!

Montreal Steak Spice is a blend

of garlic, pepper, salt, oregano, crushed pepper flakes, and a little dill for an amazing flavor.

Tellicherry Black Pepper:

Like the salt, it's amazing the flavor difference you can get with

really good tellicherry black pepper

. This pepper is

the same price is buying pre-ground

, and has a million times more flavor! I use

these really great tellicherry peppercorns

, which I would definitely recommend.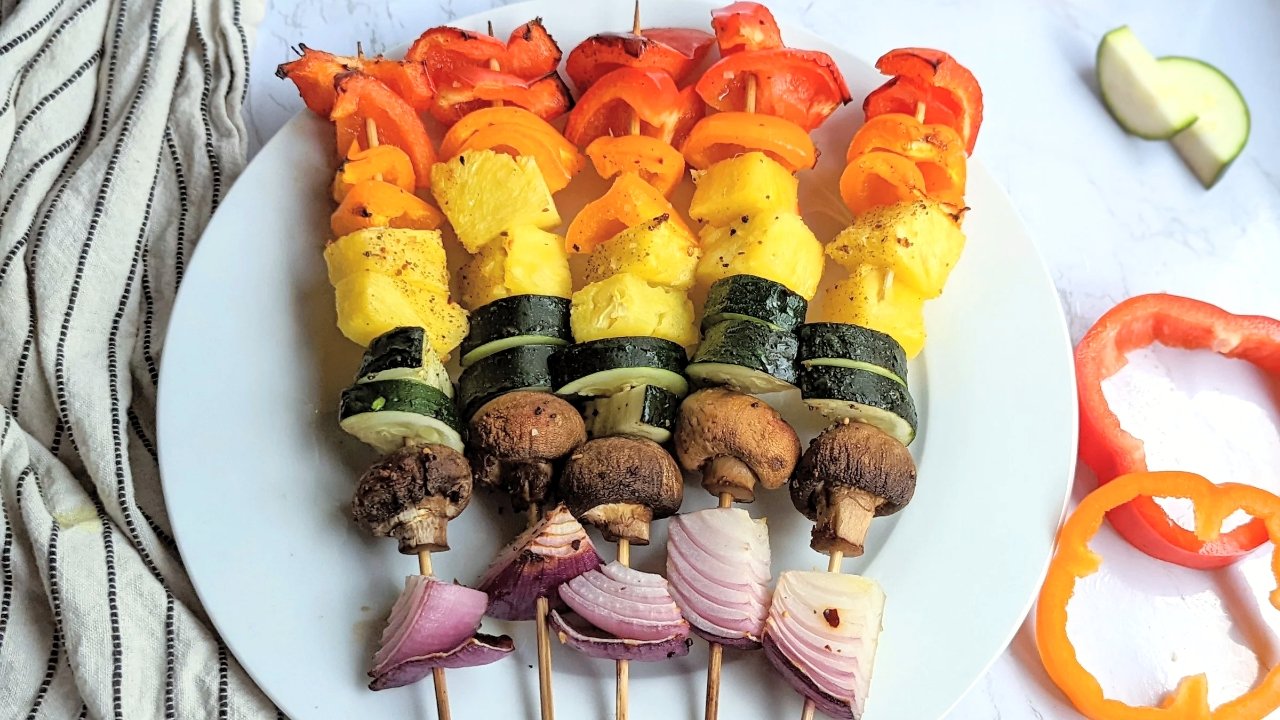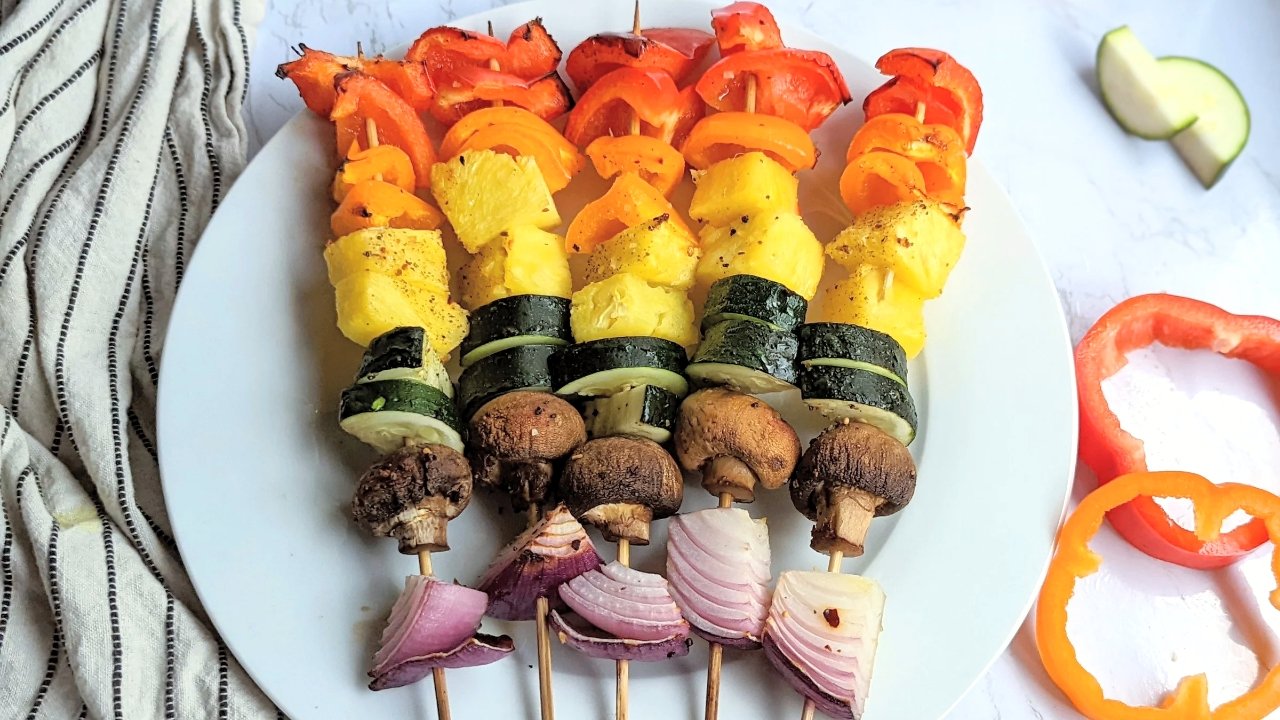 Make Veggie Kabobs in the Oven!
No grill? No problem!  These simple vegetable kabobs cook up quick and can be baked in your oven. I really love bringing something simple to Super Bowl or holiday parties (I am always that person with the veggie tray or a fruit salad).  Y
ou can really use any types of veggies and spice for this one- but the below recipe was the one that I had success with!
Oven Baked Vegetable Skewers for a Simple Side Dish
This vegetable kebobs are a simple way to get extra veggies in your diet. I'm all about making recipes plant-based when I can. Vegan cooking does NOT have to be bland, boring, or flavorless… It's quite the opposite when done right. By building meals around vegan pantry staples and swapping in a few plant-based ingredients you can make better meals for you and your family.
I made a list of my 125 favorite vegan pantry ingredients that we use on a weekly basis, and check out all my vegan recipes here that are on The Herbeevore. These easy and tasty recipes are fantastic meatless and dairy free meals for your table.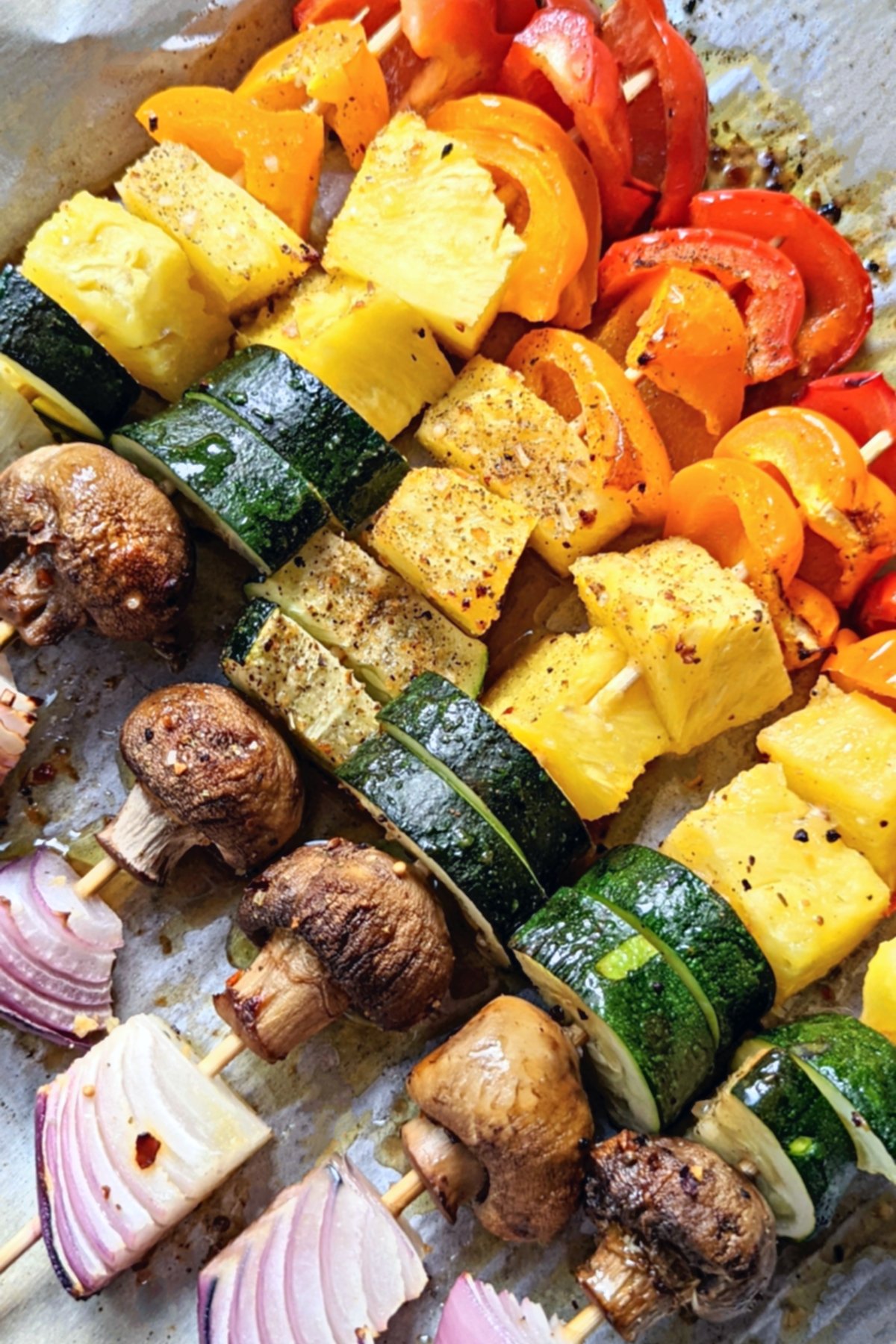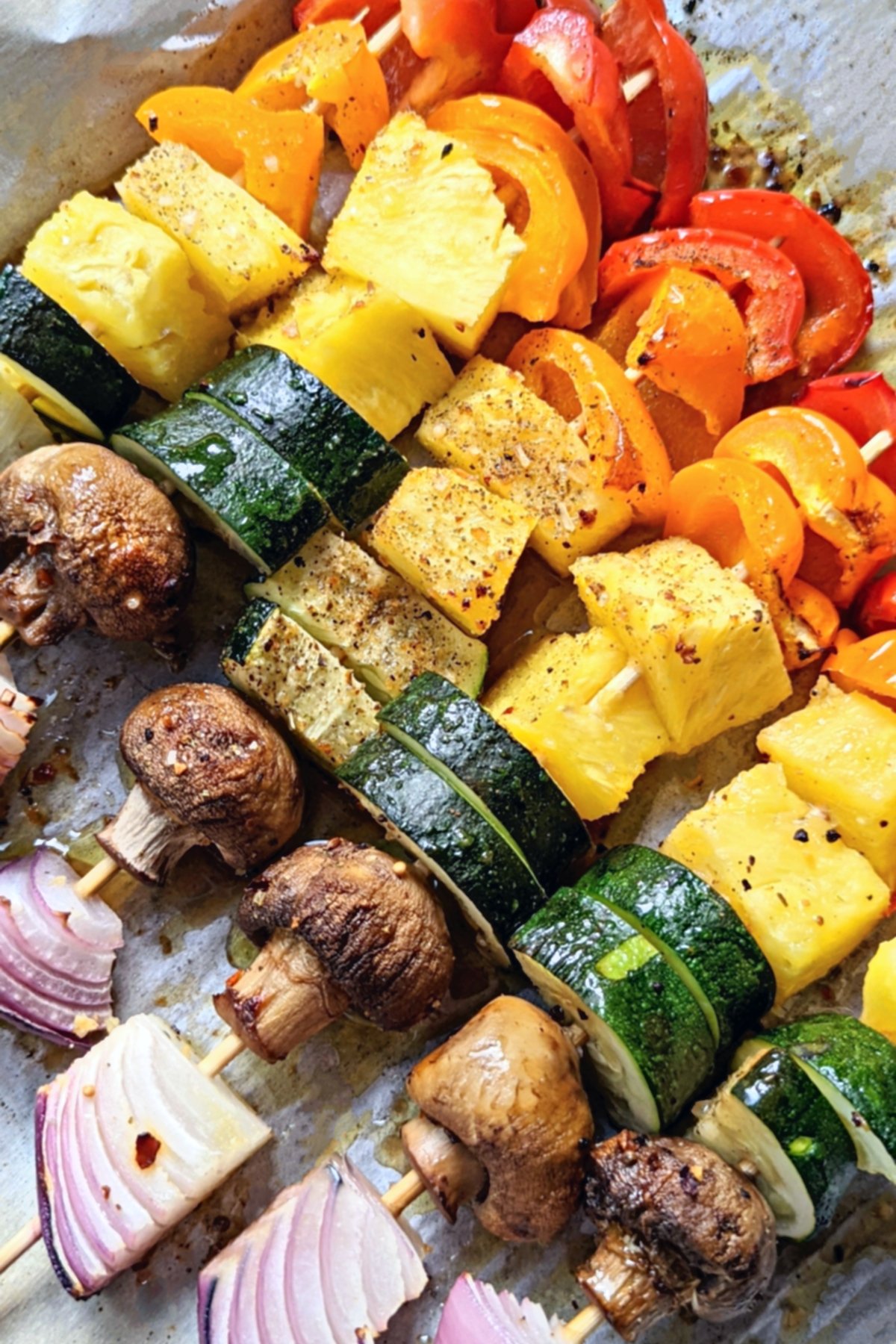 How To Cook Veggie Kabobs in the Oven
Preheat Oven to 400 degrees Fahrenheit.

If using bamboo/wooden skewers, soak them in water for 20-30 minutes while you prep the kabobs.

Skewer the veggies in any order you want – I like to alternate colors of the vegetables for maximum variety.

Place skewers on a oven rack covered with foil, bake for 15-20 minutes.
These kabobs were also super easy to make since I could prep them ahead of time. I chopped all the veggies the day before and put the kabobs together before the party. It was much easier than scrambling at the last minute for an easy side dish to bring.
More Vegetable BBQ Side Dish Recipes You'll Love!
Triple Olive Hummus Recipe (Vegan, Gluten Free, High Protein)
Black Bean Queso Dip Recipe (Vegetarian, Gluten Free)
Honey Mustard Coleslaw (Gluten Free, Vegetarian)
Simple Lemon Quinoa Salad (Vegan, Gluten Free)
Vegan Apple Walnut Salad with Sweet Dijon Vinaigrette (Gluten Free)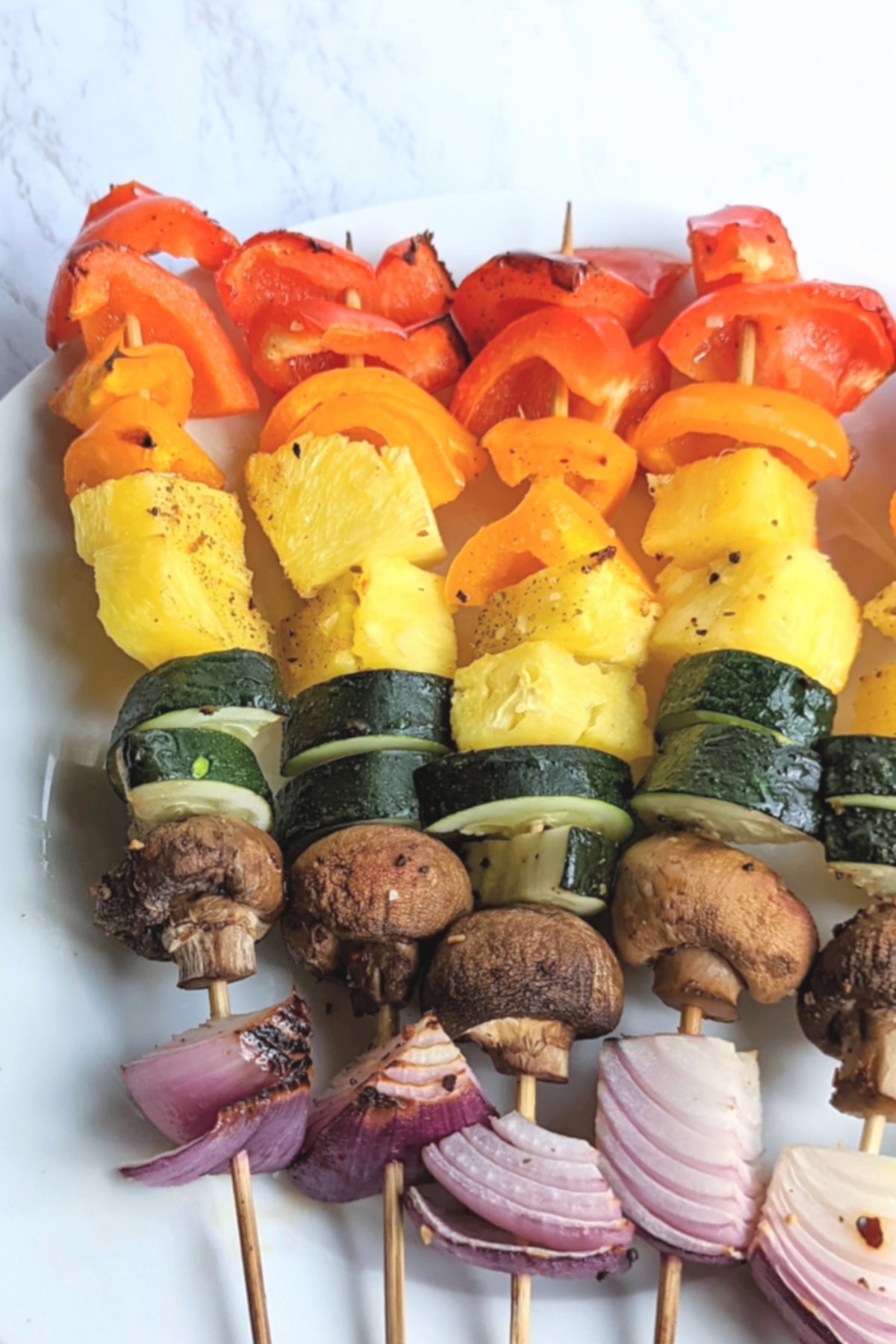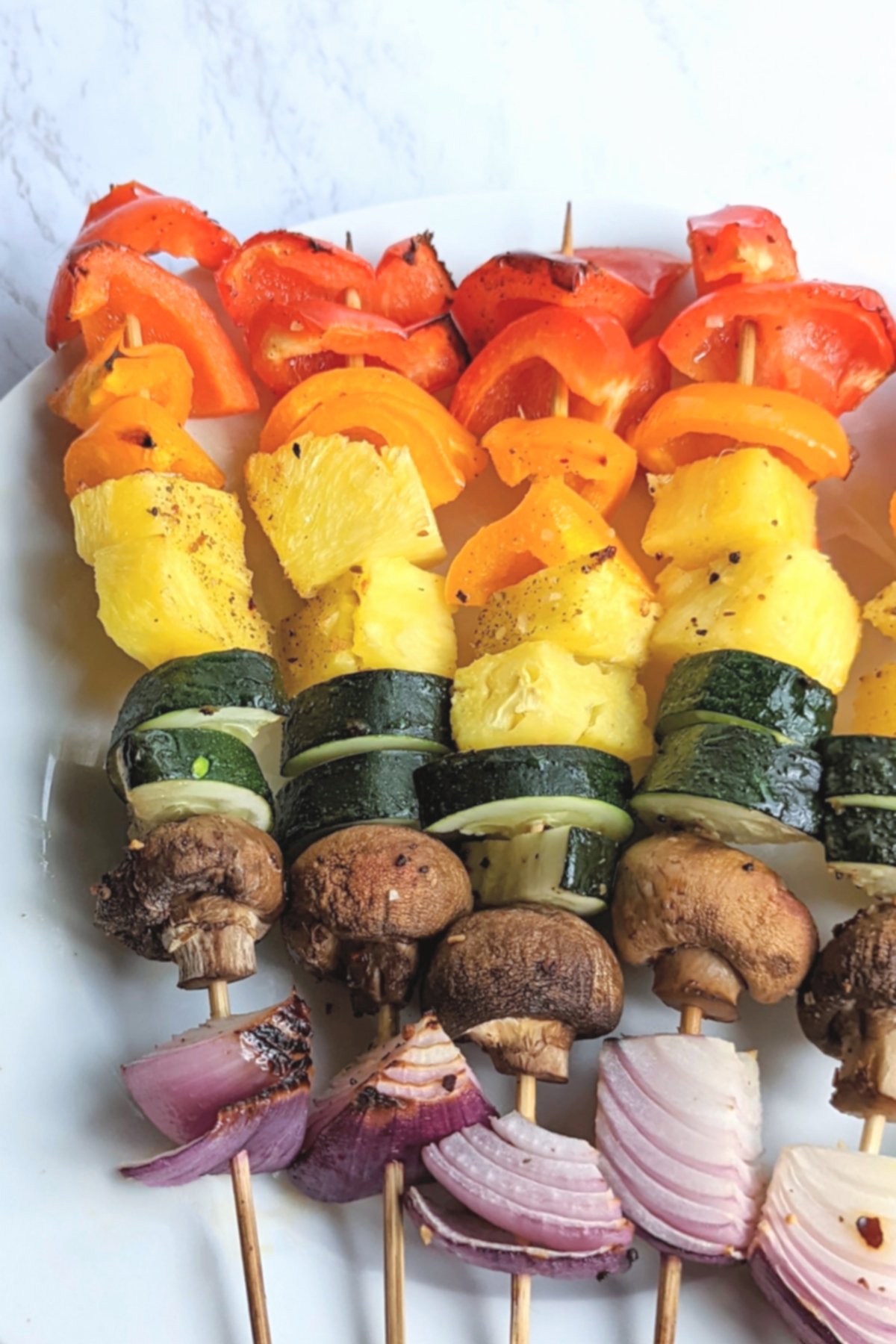 Share This Vegetable Kabobs in the Oven Recipe
As always, if you make this vegetable kabob recipe in the oven be sure to leave me a comment, rate this recipe, and tag me @theherbeevore on Instagram so I can feature you. I love seeing all your photos of my recipe recreations!
Let's keep in touch – make sure to sign up for my newsletter to get free recipes delivered fresh to your inbox. And don't forget to follow over on Pinterest, Instagram , & my YouTube channel – I'd love to connect with you there!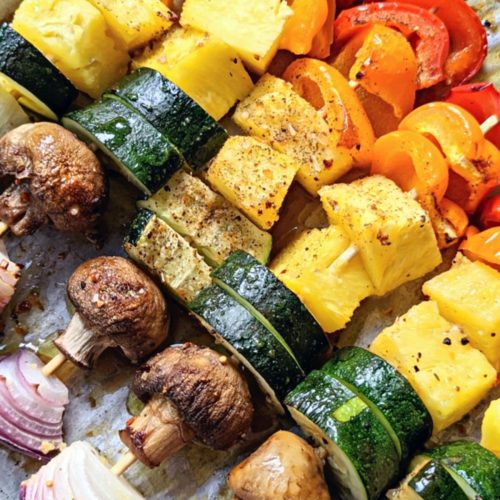 Veggie Kabobs in the Oven
These vegetable kabobs in the oven are super yummy Make-Ahead Vegan Party skewers that will satisfy even the pickiest meat-eaters!  Marinating the veggies overnight gives this dish amazing flavor – perfect for any party, gathering, or BBQ.
Instructions
Preheat Oven to 400 degrees Fahrenheit.

If using bamboo/wooden skewers, soak them in water for 20-30 minutes while you prep the kabobs. If using metal skewers, skip this step.

Skewer the chopped veggies in any order you want – I like to alternate colors of the vegetables for maximum variety. I did: red onion, mushroom, zucchini, pineapple, orange bell pepper, and red bell pepper.

Place skewers on a oven rack covered with parchment paper. Drizzle olive oil, Montreal Steak Spice, garlic powder, and black pepper over the skewers, Turn skewers in the pan to coat.

Bake for 20 minutes until vegetables are tender. I broiled mine for an additional 3 minutes after to get char on the peppers (optional).
Notes
Save on Fresh Groceries & Pantry Staples
I love shopping for fresh produce through Misfits Market
. They sell fresh produce, pantry staples, and fantastic groceries (even wine!) at a discounted price. Choose your favorite seasonal produce, enjoy delivery right to your door, & $10 off your first box by clicking here.
Getting groceries online has turned out to be a huge time and money saver for us. If you haven't tried a produce box
yet, I highly recommend trying one out!
Nutrition
Calories:
267
kcal
Carbohydrates:
33
g
Protein:
5
g
Fat:
15
g
Saturated Fat:
2
g
Sodium:
20
mg
Potassium:
850
mg
Fiber:
6
g
Sugar:
22
g
Vitamin A:
1832
IU
Vitamin C:
170
mg
Calcium:
72
mg
Iron:
2
mg
Did You Make This Recipe?
Please leave a rating and comment below!
Or tag me @theherbeevore in your photo on Instagram!
This post may contain affiliate links. As an Amazon Associate I may earn from qualifying purchases, at no additional cost to you. Thank you for supporting the brands that support us!