This Ayurvedic kitchari recipe with coconut milk is a cozy and delicious vegan dinner recipe! I've tried making a few different recipes for kitchari – and this one is by far my favorite.
It's loaded with soft simmered vegetables, yellow lentils, and creamy coconut milk. I love how rich and yummy this classic stew turns out and how comforting it is to eat.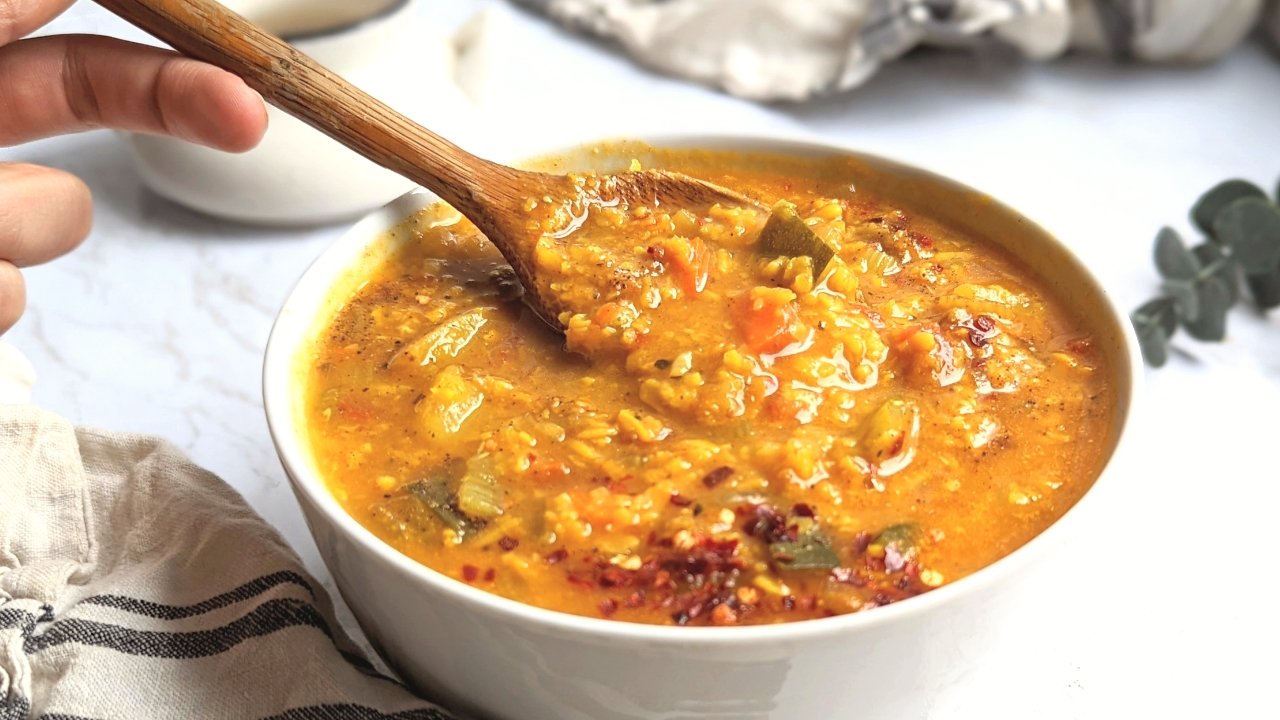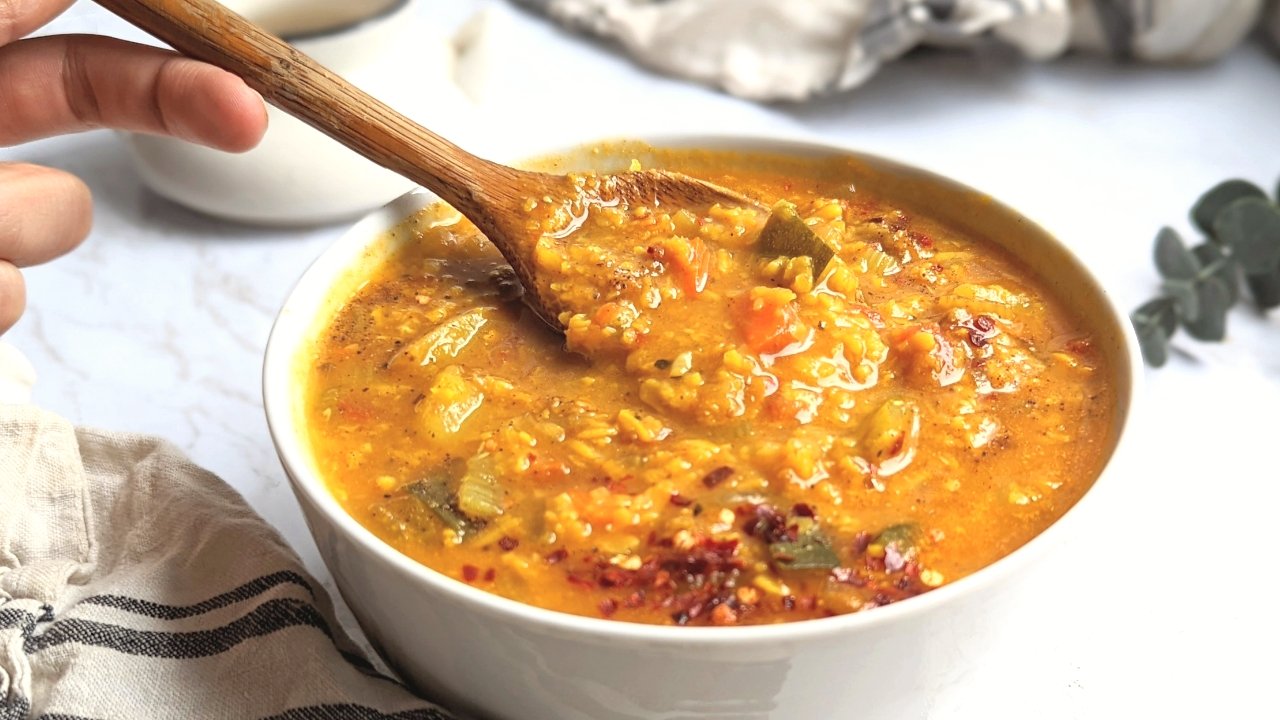 This ayurvedic kitchari recipe is the perfect meal for lunch or dinner, its filling enough without being too much. I also love how the spices transform when they are gently sautéed in the pan.
I know a lot of recipes always say to toast seeds/nuts before using, but I'm always amazed at how the flavors really pop in the dish. This is a fantastic and simple versatile recipe you can enjoy for lunch or dinner. Add lentils, your favorite vegetables, and spices for an easy meal.
This Coconut Milk Kitchari is:
Warming
Spicy
Earthy
Nourishing
Vegan
Gluten-Free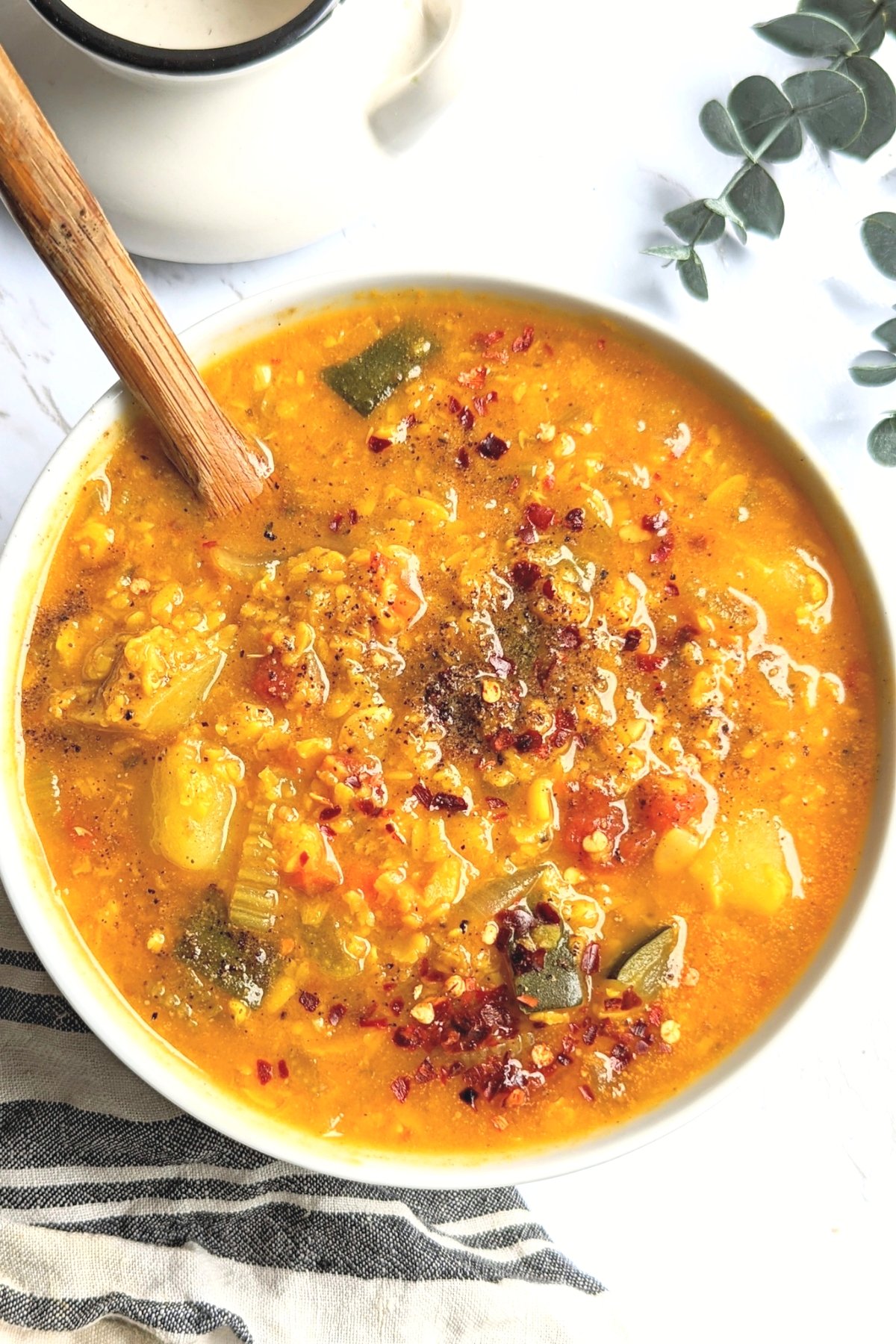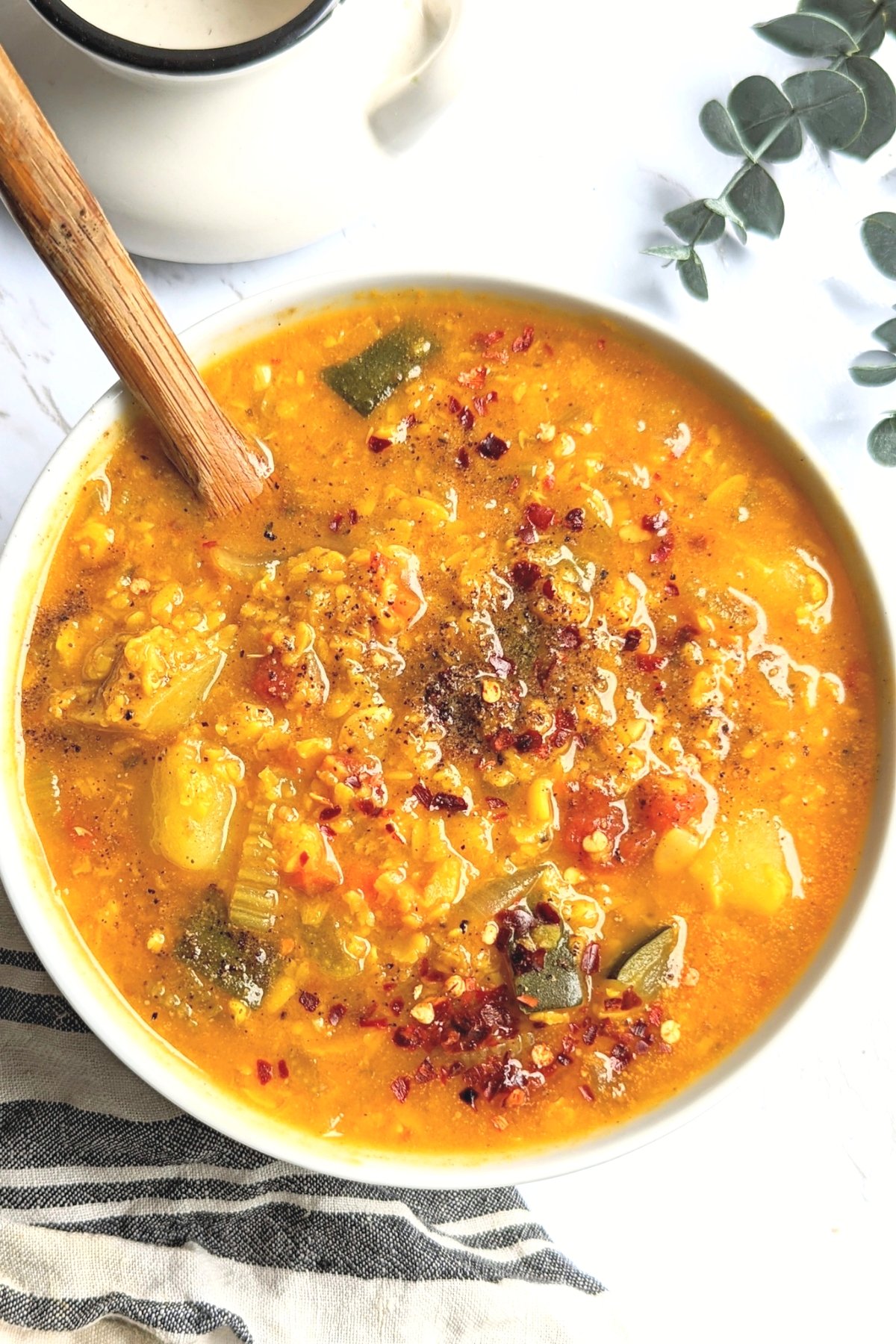 I've been reading so much about Ayurveda and how small and simple food and lifestyle changes can make a big impact. I now do tongue scraping and coconut oil pulling (abhyanga) in the morning, and the later is especially helpful for dry skin in the winter!
Adding this kitchari to my recipe roundup is great for those weeks when I want something light and comforting for lunch or dinner.
What's In This Ayurveda Kitchari Recipe?
I cook with fresh produce from my garden and from Misfits Market– they sell fantastic fruit, vegetables, & pantry staples at a discounted price. We get Misfit boxes every other week and love picking out favorite produce for delivery. Get $10 off your first box here!
Split Mung Dahl: I used this organic mung dahl here.
Coconut Oil: I like this organic coconut oil, which is great for cooking, baking, or moisturizing my skin!
Coriander Seeds: I get whole seeds and then ground them with a mortar and pestle – much fresher than pre-ground.
Black Mustard Seeds: Also I get these whole seeds, which I can ground myself.
Cumin Seeds
Fresh Ginger Root
Coconut Milk: you can use traditional unsweetened coconut milk, or a coconut milk powder! I just bought a bag of this Anthony's organic coconut milk powder and it's awesome in soups, smoothies, or curries!
Tomatoes: I always use a no salt added variety. Muir Glen Organic are my go-to tomatoes.
Basmati Rice: our favorite rice! I have a few bags of Royal brand in my pantry at all times, we go through a lot of basmati.
Vegetable Stock: homemade if I have some, or a bouillon vegetable base, which is yummy and low in sodium.
Vegetables of your choice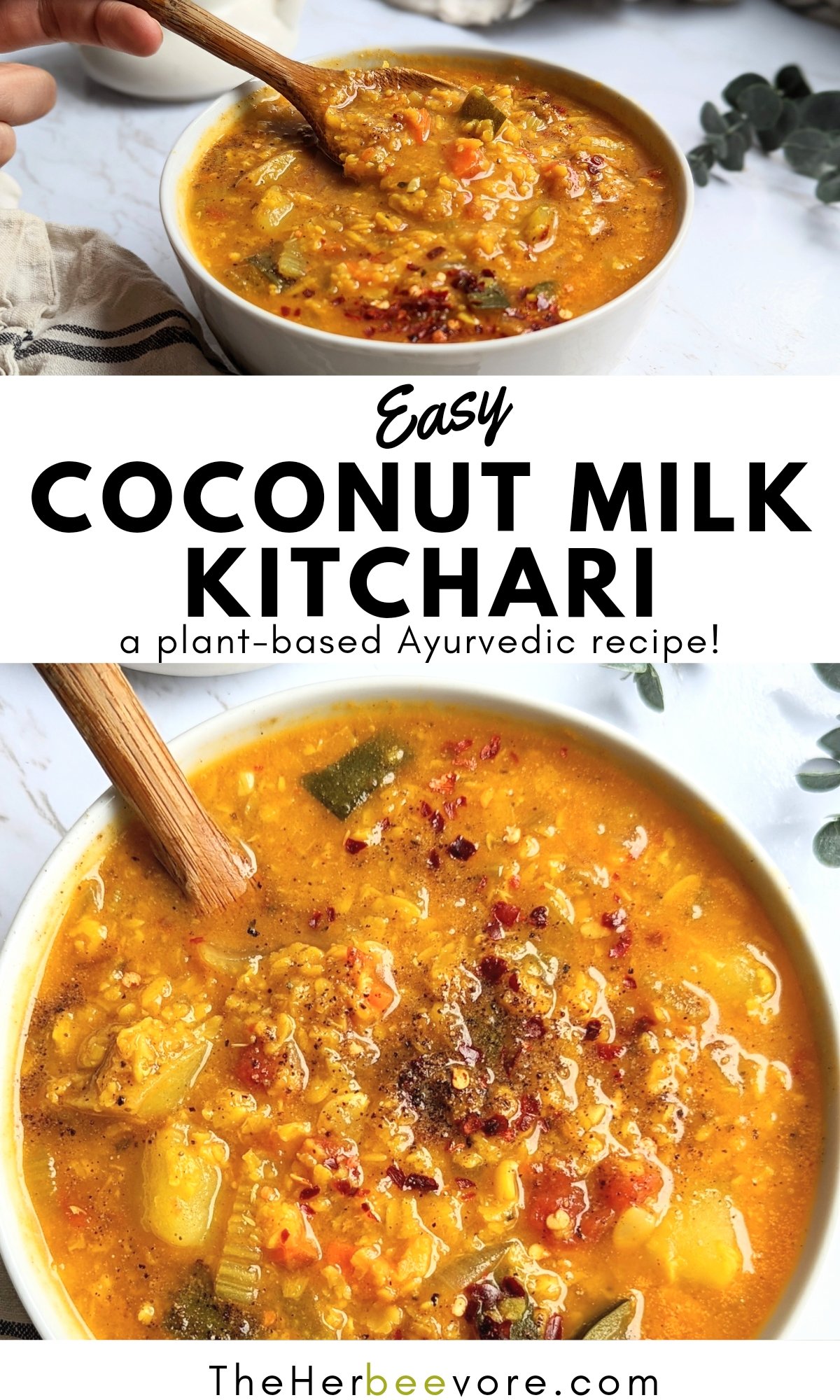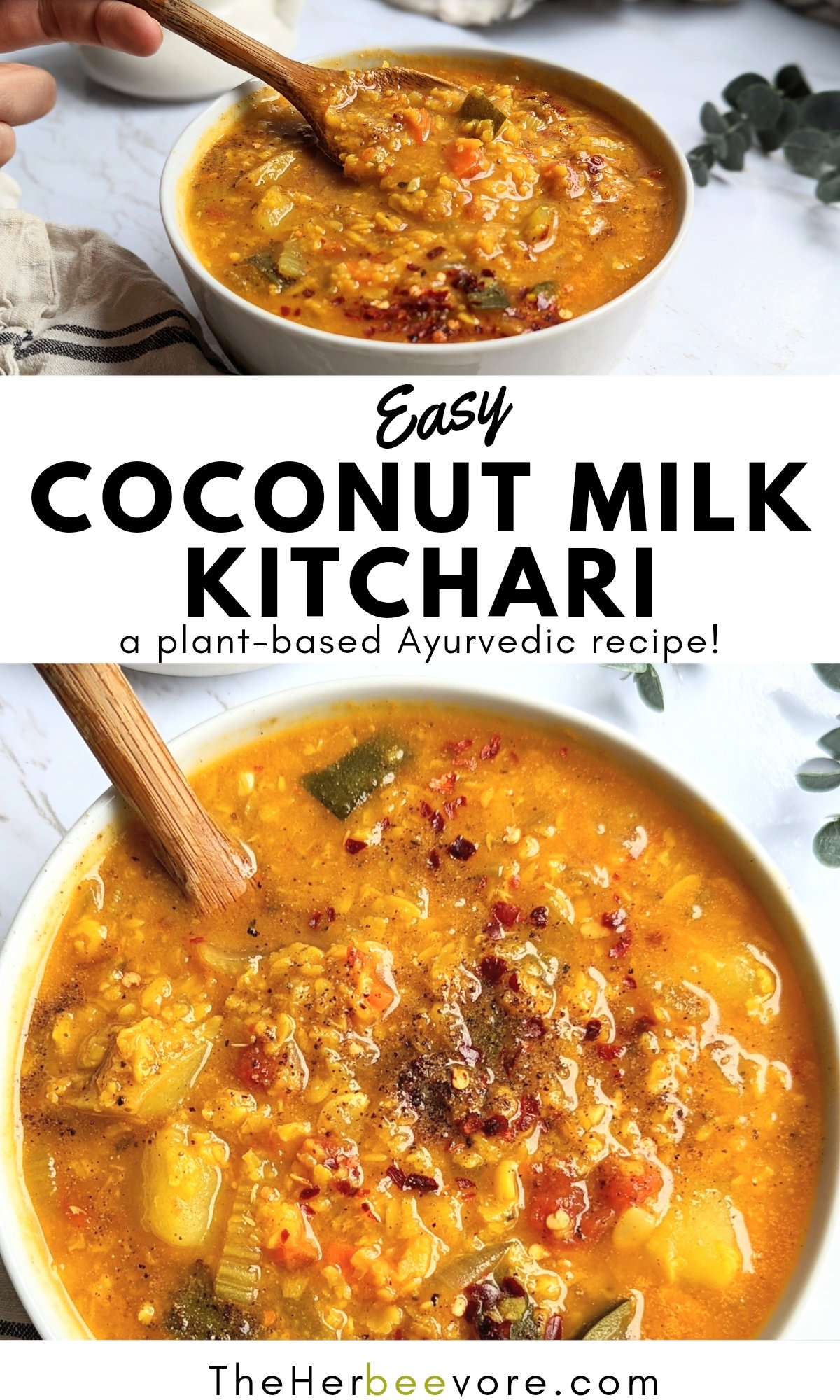 Easy Ayurvedic Recipes
This simple and vibrant kitchari recipe is great with garlic naan, and I love that you can change up the vegetables seasonally if needed. I used butternut squash, tomatoes, and peas since that is what I had in the fridge, but use anything that you body loves!
You can also change the oil used in cooking – I like coconut oil and coconut milk in my kitchari (as it pacifies the vata dosha) but you can use a few drops of sesame oil or water for the stock instead.
One of the BEST Pantry Staple Dinner Recipes
This Ayurvedic kitchari recipe is a fantastic pantry-staple meal! It uses almost all ingredients you would have in your dry pantry or cupboards. You probably already have a lot of these ingredients on hand! Keeping a well-stocked pantry makes it easy to come up with delicious and tasty meals using a few staples you can rotate.
I made a list of my Top 125 Plant-Based Pantry Staples that always keep on hand. And you can check out all my favorite pantry staple recipes on TheHerbeevore.com here. By stocking up on whole ingredients you can cook delicious recipes without a trip to the store!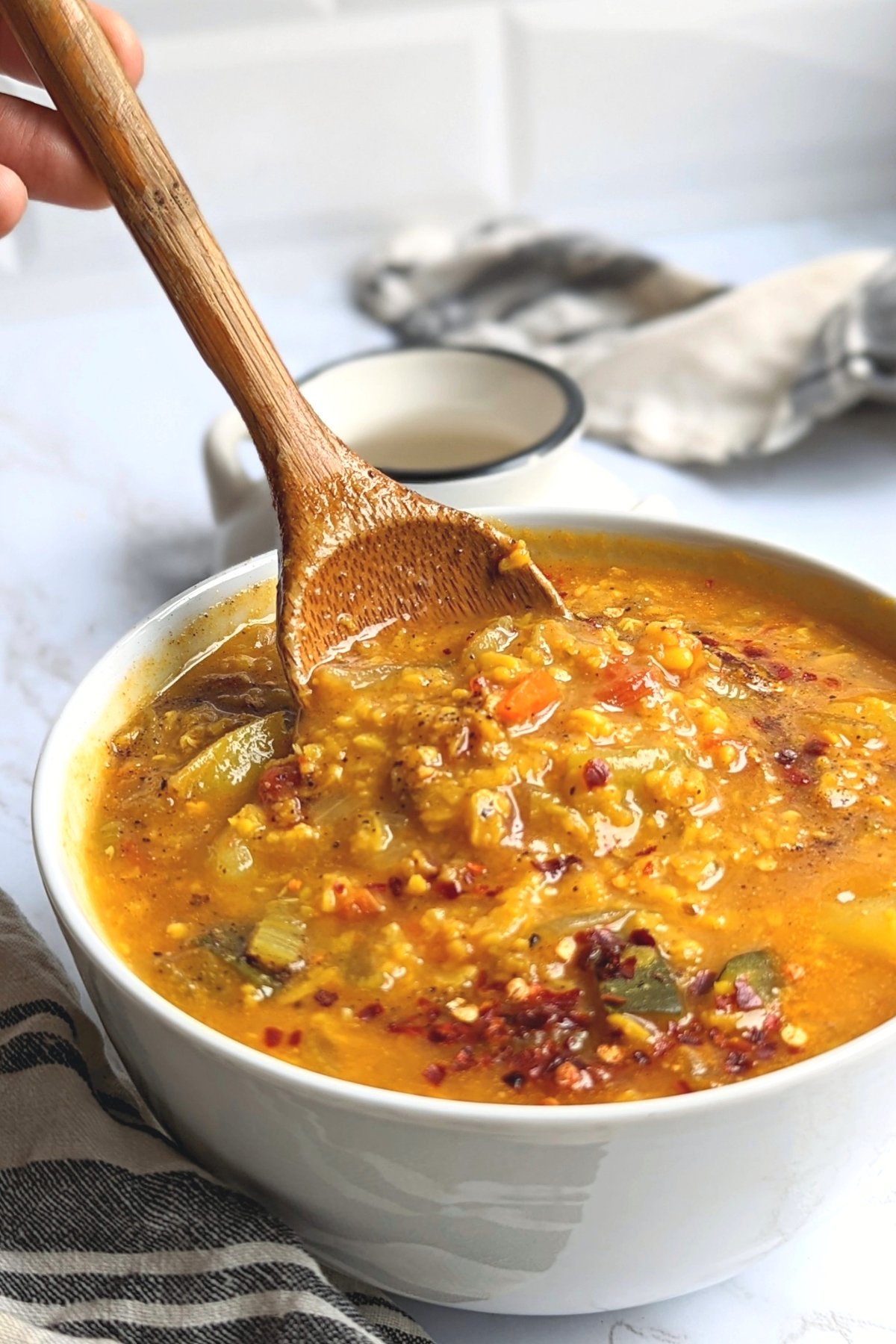 What Do I Serve with Kitchari?
It depends on your preferences, but I love to pair my warming kitchari with:
Share This Coconut Kitchari
As always, if you make this coconut Ayurveda kitchari be sure to leave me a comment, rate this recipe, and tag me on Instagram so I can feature you. I love seeing all your photos of my recipe recreations!
And let's stay in touch – make sure to sign up for my newsletter to get free recipes delivered fresh to your inbox. And don't forget to follow over on Pinterest, Instagram , & Twitter– I'd love to connect with you there!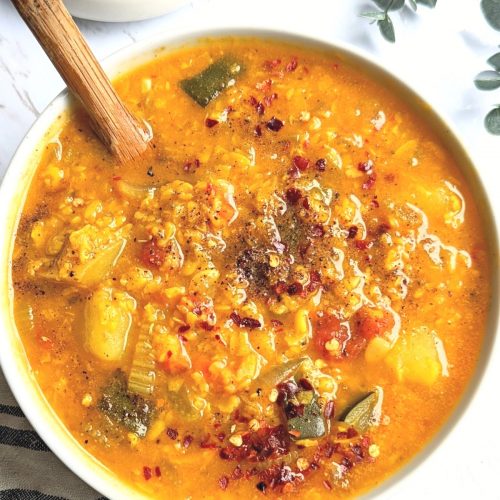 Ayurvedic Kitchari with Coconut Milk
Adding this Ayurveda kitchari to my recipe roundup is great for those weeks when I want something light, flavorful, and comforting for lunch or dinner.
Ingredients
2

tablespoons

coconut oil

1

tablespoon

coriander seeds

1

teaspoon

black mustard seeds

2

teaspoons

cumin seeds

1

tablespoons

freshly grated ginger root

1

teaspoon

turmeric

1

cup

split mung dal

soaked and rinsed

1

cup

basmati rice

1/2

cup

coconut milk

full fat

4

cups

vegetables of your choice

I used butternut squash, tomatoes, and peas

Fresh chopped cilantro for garnish

optional
Instructions
In a large pot, turn heat to low and melt coconut oil.  Add the coriander seeds, black mustard seeds, and cumin seeds and gently sauté until the seeds begin to pop and release their flavors – about 5 minutes.

Add the fresh ginger root and turmeric and stir, cook for 1 additional minute.

Add the rest of the ingredients to the pot and stir to combine.  Cover and simmer on low for 45 minutes, taking care to stir occasionally so the rice doesn't stick to the bottom and the kitchari becomes thick.

Serve warm and garnish with fresh cilantro, if using.
Notes
Save Money on Organic Produce!
I get all the fresh produce for my recipes from my garden and from
Misfits Market
– they sell all organic produce at a super discounted price, and it's purchased direct from the farmers. We get Misfit Market boxes every other week and love picking out our favorite seasonal produce for delivery.  You can get
$10 off your first box by clicking here!
If you think organic produce is too expensive… think again, and give
Misfits Market
a look!
Nutrition
Calories:
297
kcal
Carbohydrates:
47
g
Protein:
12
g
Fat:
8
g
Saturated Fat:
6
g
Sodium:
63
mg
Potassium:
277
mg
Fiber:
7
g
Sugar:
1
g
Vitamin A:
4677
IU
Vitamin C:
10
mg
Calcium:
58
mg
Iron:
3
mg
Did You Make This Recipe?
Please leave a rating and comment below!
Or tag me @theherbeevore in your photo on Instagram!
This post may contain affiliate links. As an Amazon Associate I may earn from qualifying purchases, at no additional cost to you. Thank you for supporting the brands that support The Herbeevore and our beehives!