These vegan bircher muesli recipe with overnight oats is a traditional and healthy Swiss breakfast! Made with dairy-free yogurt and almond milk, fresh fruit, and healthy whole grains- easy to make ahead, meal prep, or batch cook ahead of time.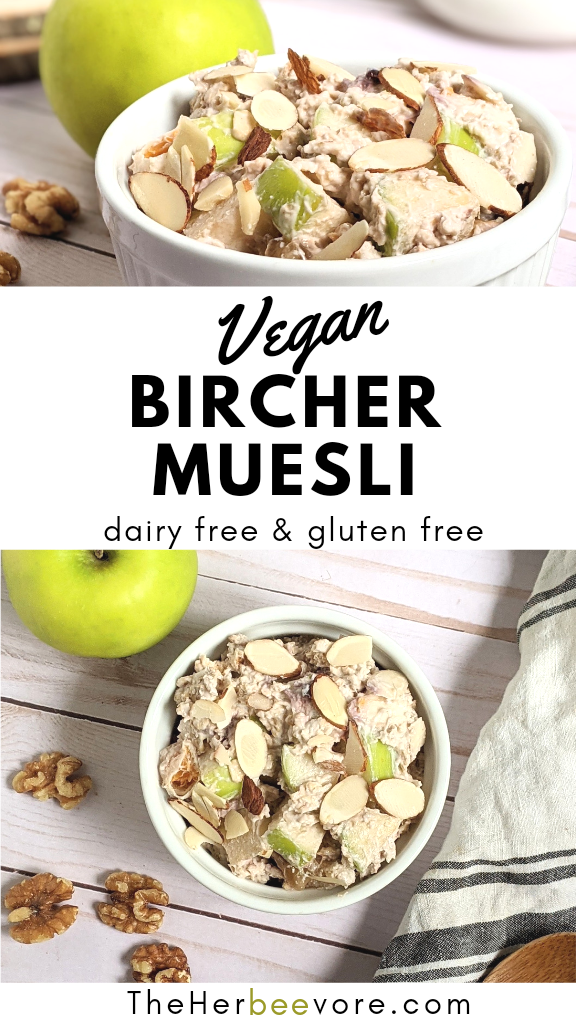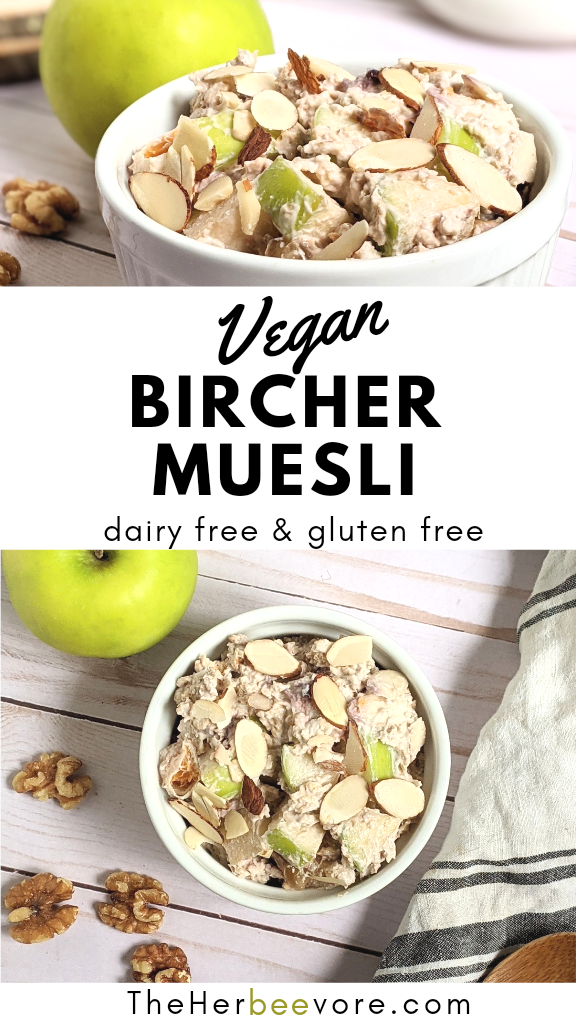 This post may contain affiliate links. As an Amazon Associate I may earn from qualifying purchases, at no additional cost to you. Thank you for supporting the brands that support us!
When my husband and I were visiting Switzerland, this was one of the best things we ate there (aside from the fondue, and Swiss chocolate, and raclette, of course). We wanted to bring that traditional Bircher muesli recipe back to the States with us.  When we stayed in Basil with our family friend Chris, he kindly introduced us to this fantastic fruity and hearty breakfast. We were hooked! I recreated this traditional bircher muesli with vegan and dairy free ingredients for a healthy plant-based breakfast you can make the night before!
This Dairy Free Bircher Muesli Recipe is:
Creamy
Tart
Sweet
Filling
Dairy Free
Vegan and Gluten Free
Easy to Make the Night before, and enjoy overnight oats in the morning!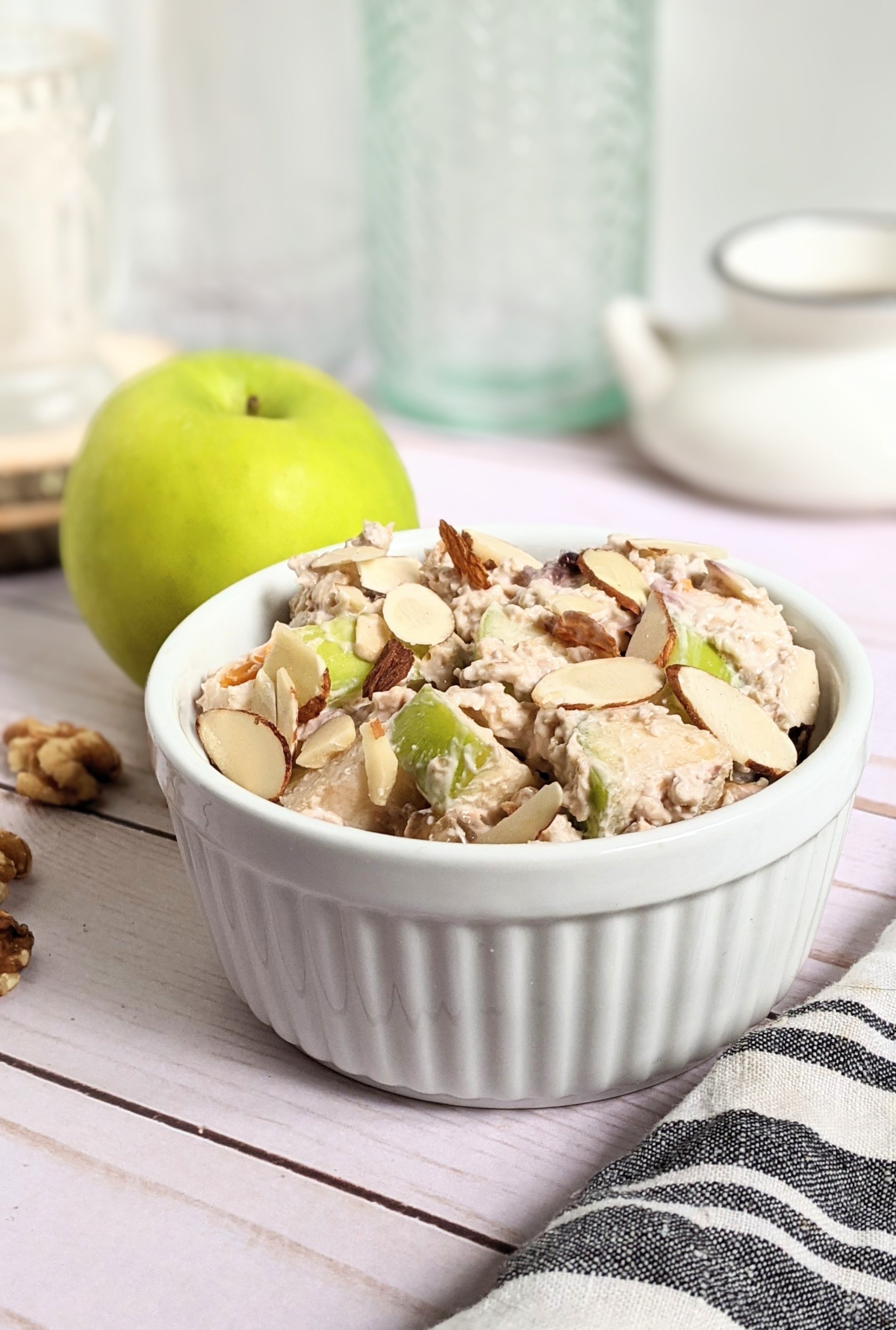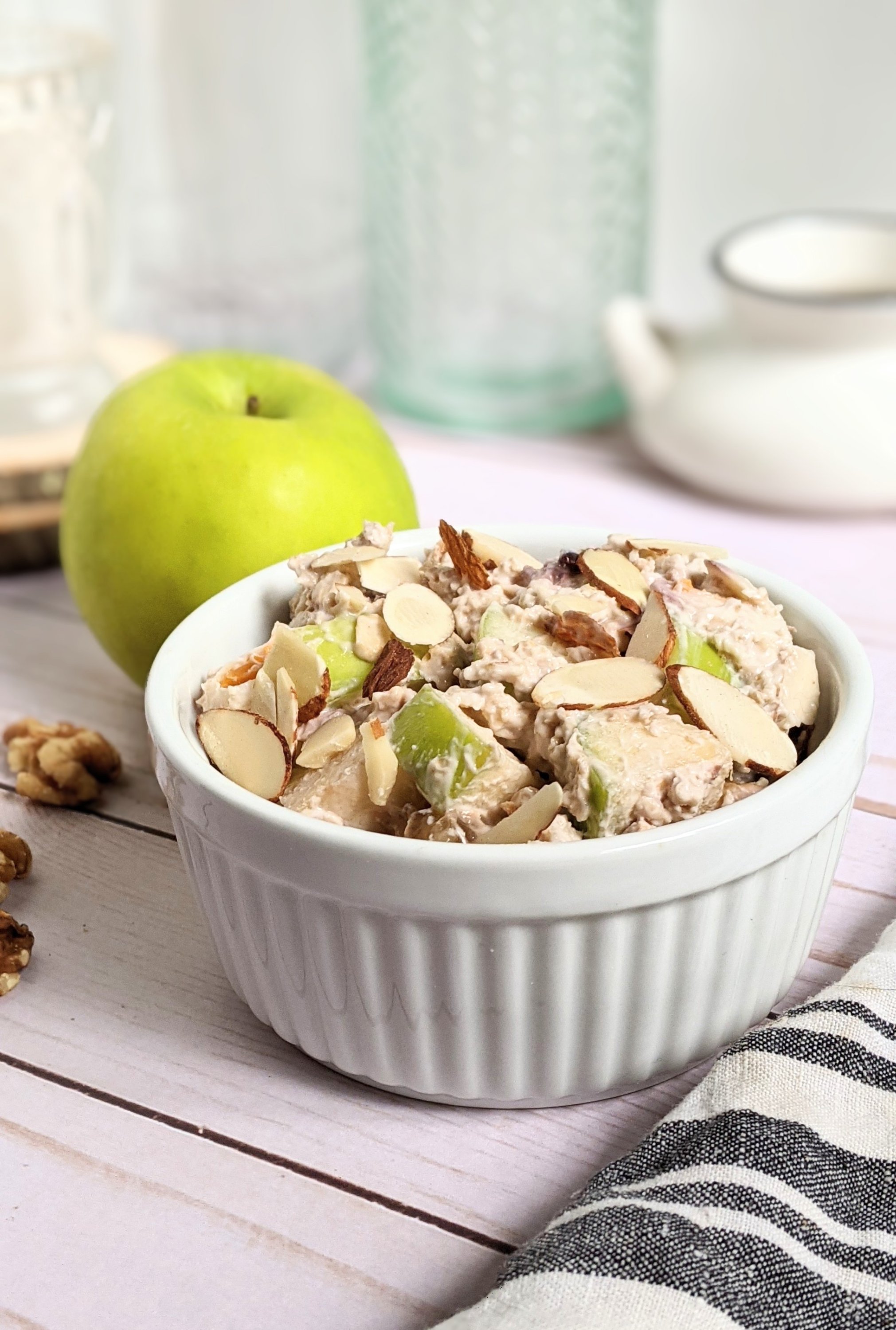 I make this now as a version of overnight oats. Its great to make a big batch of at the beginning of the week, and enjoy a quick breakfast to-go!  Making the bircher muesli ahead of time is a great way to save time in the mornings. Overnight bircher muesli is ready to grab and go!
Meal Prep this Gluten Free Bircher Muesli Recipe
You can easily meal prep this vegan & gluten free bircher muesli recipe by following the below recipe and dividing it into a few equal portions to enjoy throughout the week. I love having a healthy homemade meal ready in my fridge during the busy weekdays. By meal prepping this recipe, you can cook once and have perfectly portioned meals ready to go. I rely heavily on meal prepping and created a whole section of the site to recipes you can meal prep, batch cook, or make ahead.  Heat + eat, you're all set!
What's In Vegan Bircher Muesli?
Vegan No Cook Breakfast Recipes Perfect for Summer
This no-cook overnight muesli recipe is a quick and simple breakfast.  I love a good no-cook recipe for those days when I'm not feeling like standing around the stove, or for summer mornings when it's too hot to cook. I have a whole collection of recipes that require zero cooking at all, check them out here!  This vegan muesli comes together overnight, and doesn't require the stove or microwave to make. Just use a few pantry staple ingredients and you have a healthy meal ready in no time.  And very little to clean up afterwards… an added bonus!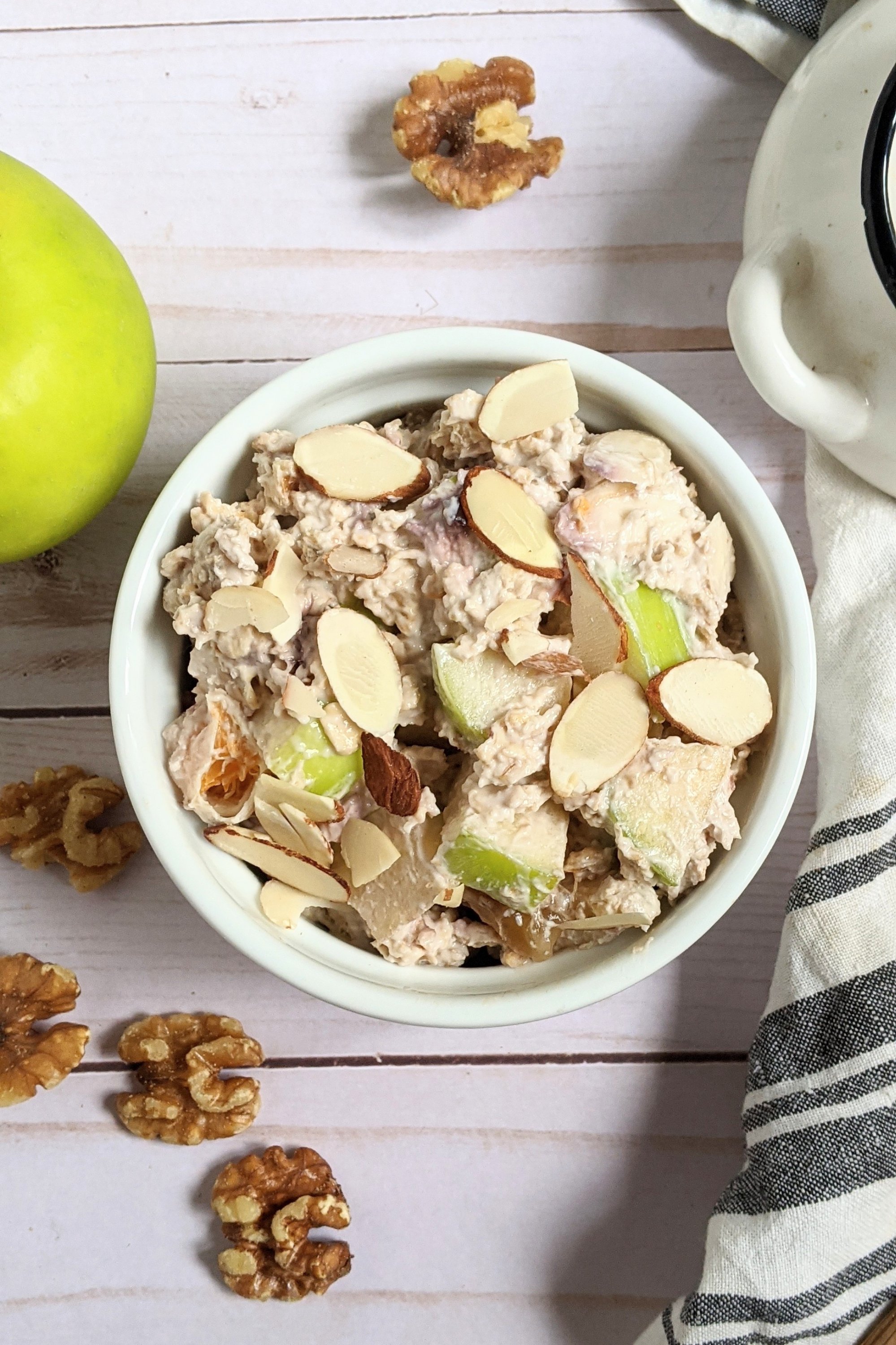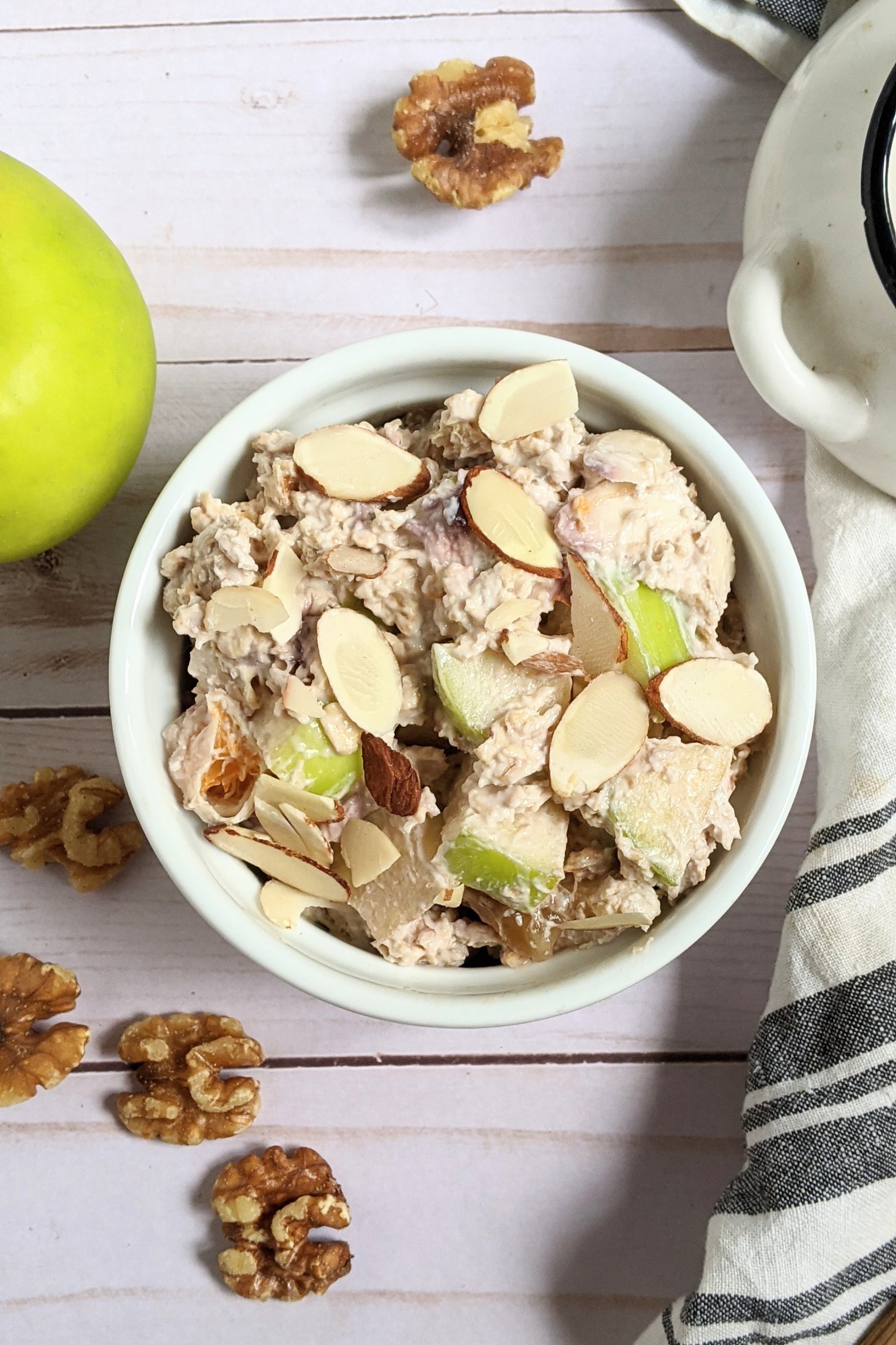 Make Bircher Muesli Gluten Free for a Healthy Version
This gluten free bircher muesli recipe is a simple meal to make without the wheat. I'm all about making recipes gluten free when I can. Gluten free cooking does NOT have to be bland, boring, or flavorless… It's quite the opposite when done right. By building meals around gluten free pantry staples and swapping in a few wheat-less ingredients you can make healthier meals for you and your family. I made a list of my 125 favorite gluten free pantry ingredients that we use on a weekly basis, and check out all my gluten free recipes here that are on The Herbeevore. These easy and healthy recipes are fantastic meals for everyone at your table.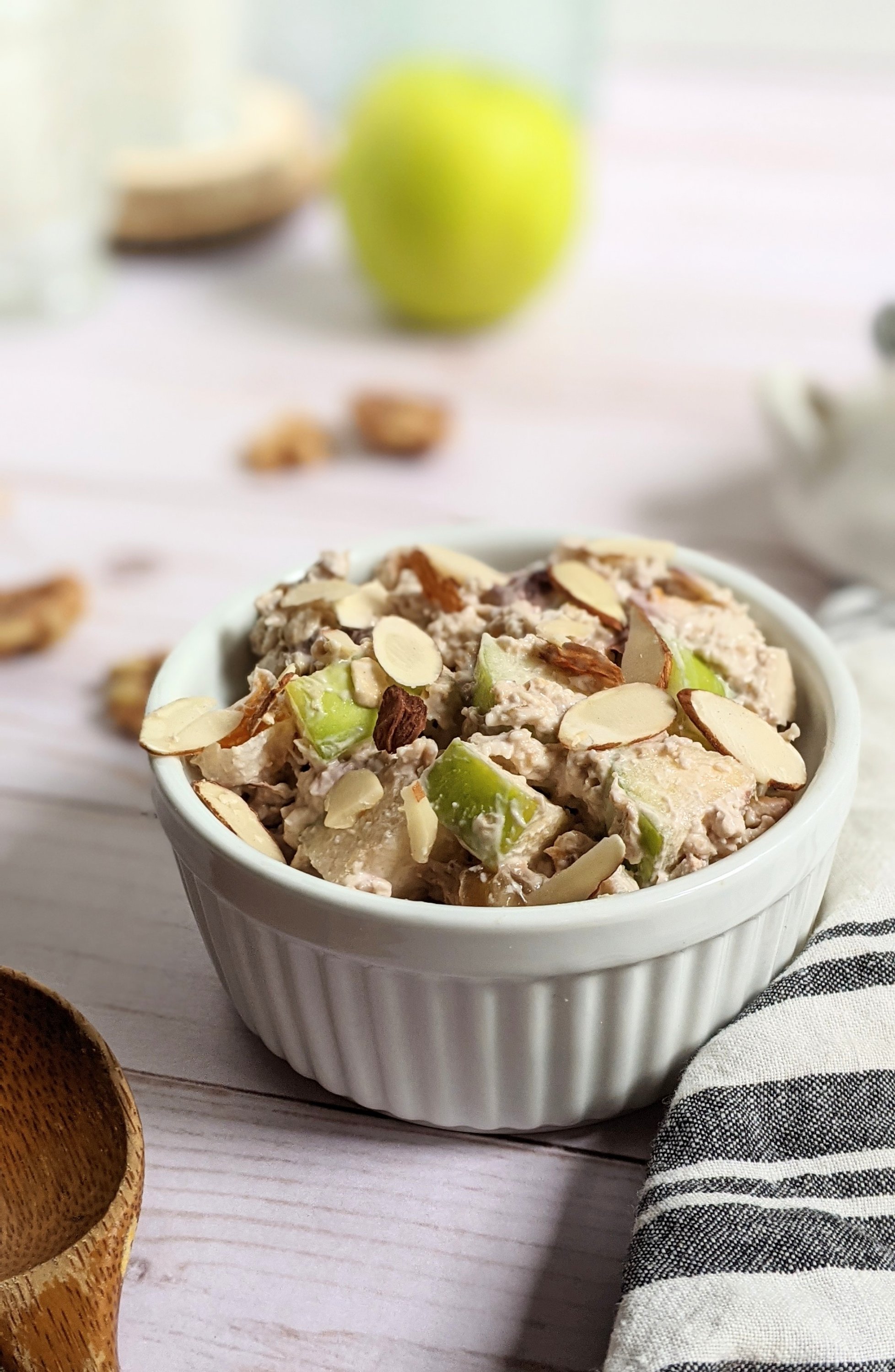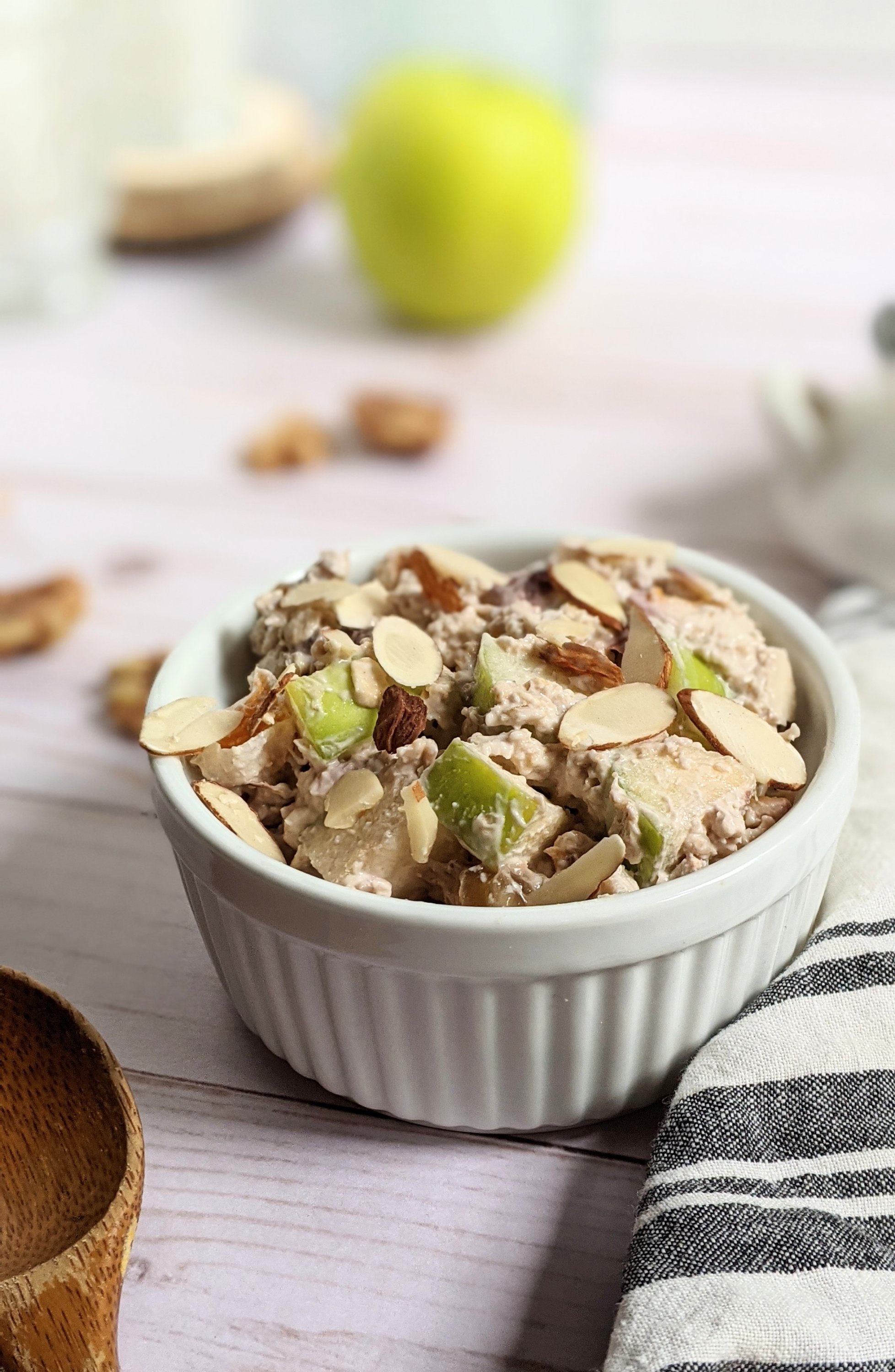 Other Simple Vegan Breakfast Recipes You'll Love!
Jammy Blackberry Oat Bars (Vegan, Gluten Free)
Peach Cobbler Overnight Oats (Vegan, Gluten Free, Meal Prep Recipe)
5 Ingredient No-Knead Olive Oil Skillet Bread (Vegan)
Avocado & Grapefruit Bowl  (Raw Vegan, Paleo, Whole30, Gluten Free)
Homemade Chocolate Oat Milk (Vegan, Gluten Free, Nut Free)
Get the Same Ingredients For Your Dairy Free Bircher Muesli Recipe!
As always, if you make this dairy free and vegan bircher muesli be sure to leave me a comment, rate this recipe, and tag me @theherbeevore on Instagram so I can feature you.  I love seeing all your photos of my recipe recreations!
Let's keep in touch – make sure to sign up for my newsletter to get fresh recipes weekly. And don't forget to follow over on Pinterest, Instagram , & Twitter– I'd love to connect with you there!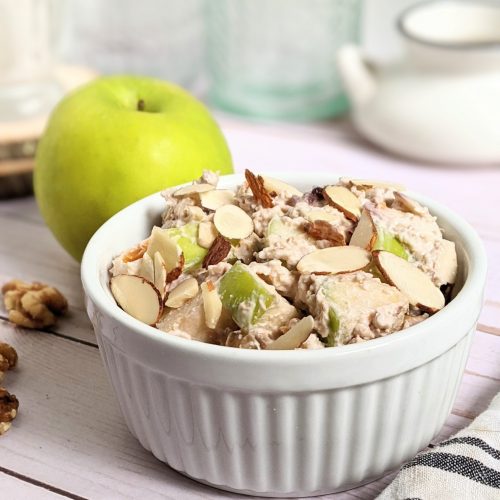 Vegan Bircher Muesli
Vegan and Dairy Free Bircher Muesli! A healthy and delicious Swiss breakfast of overnight oats, nuts, and fresh fruit. Easy to make ahead, meal prep, or batch cook ahead of time for a morning meal on the go.
Instructions
Place all ingredients in a large bowl, and mix to combine.

Serve and store into individual serving containers (I like mason jars, but you can use any airtight container.)

Store overnight and eat the next morning for a healthy breakfast on the go!
Nutrition
Calories:
310
kcal
Carbohydrates:
54
g
Protein:
9
g
Fat:
7
g
Saturated Fat:
1
g
Sodium:
93
mg
Potassium:
339
mg
Fiber:
8
g
Sugar:
17
g
Vitamin A:
321
IU
Vitamin C:
14
mg
Calcium:
192
mg
Iron:
2
mg
Did You Make This Recipe?
Tag me @theherbeevore in your photo on Instagram and I'll feature you in my stories!
This post may contain affiliate links. As an Amazon Associate I may earn from qualifying purchases, at no additional cost to you. Thank you for supporting the brands that support us!