This vegan pantry staples list is full of ingredients that are always on the menu! Having a well-stocked and organized pantry is the foundation to building simple, healthy, and nourishing plant-based meals. Now more than ever, I have been relying on vegan pantry staple ingredients of all kinds: rices, vegetables, pastas, flours, fruits, and some surprising items you would never guess were shelf-stable (check the protein section below)!
Knowing what you have on hand and being able to see what you have at a glance will help with meal planning, meal prep, and shopping. When you can: buy in bulk, and buy on sale. I get a lot of questions about what ingredients I personally use in my recipes on TheHerbeevore.com, so I've included links to the exact items that I keep in my cupboards.
Keeping vegan pantry staple ingredients on hand is great for any family meal: breakfast, lunch, dinner, or dessert. I usually start my meal planning by picking a pantry staple (oats in the morning, beans for lunch, spaghetti dinner, etc.) and building the rest of my menu around that.
And if your new to a plant-based lifestyle, my friend Cassandra has some great advise on How to Make the Switch to a Vegan and Cruelty-Free Home for all areas of your living space!
Breakfast & Baking Pantry Staples
I'm adding these in a section together as I tend to bake quite a bit for breakfast: pancakes and muffins are often in our weekly recipe rotation. In our house, breakfast and baking go hand-in-hand. You can build simple and health breakfasts using vegan pantry staple ingredients as well as any fresh produce you have. Oatmeal, pancakes, muffins, breakfast bowls, and even breakfast burritos are fantastic ways to start the day!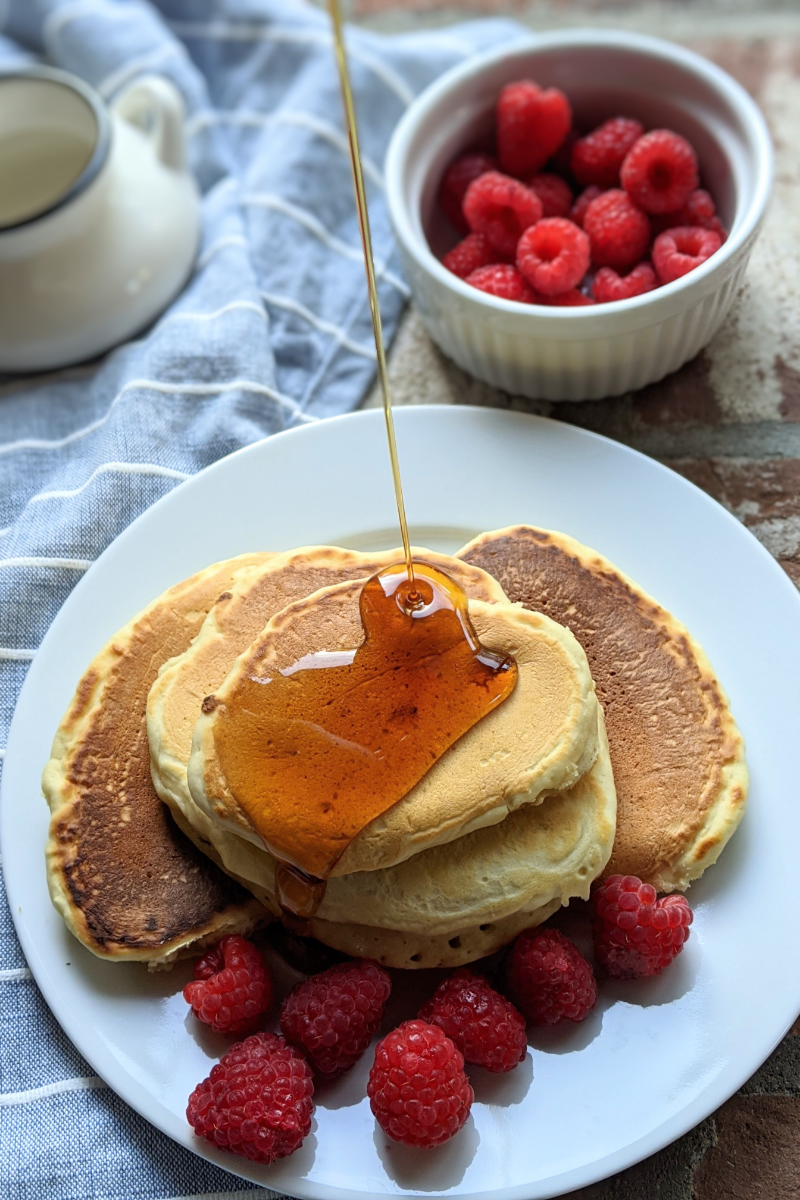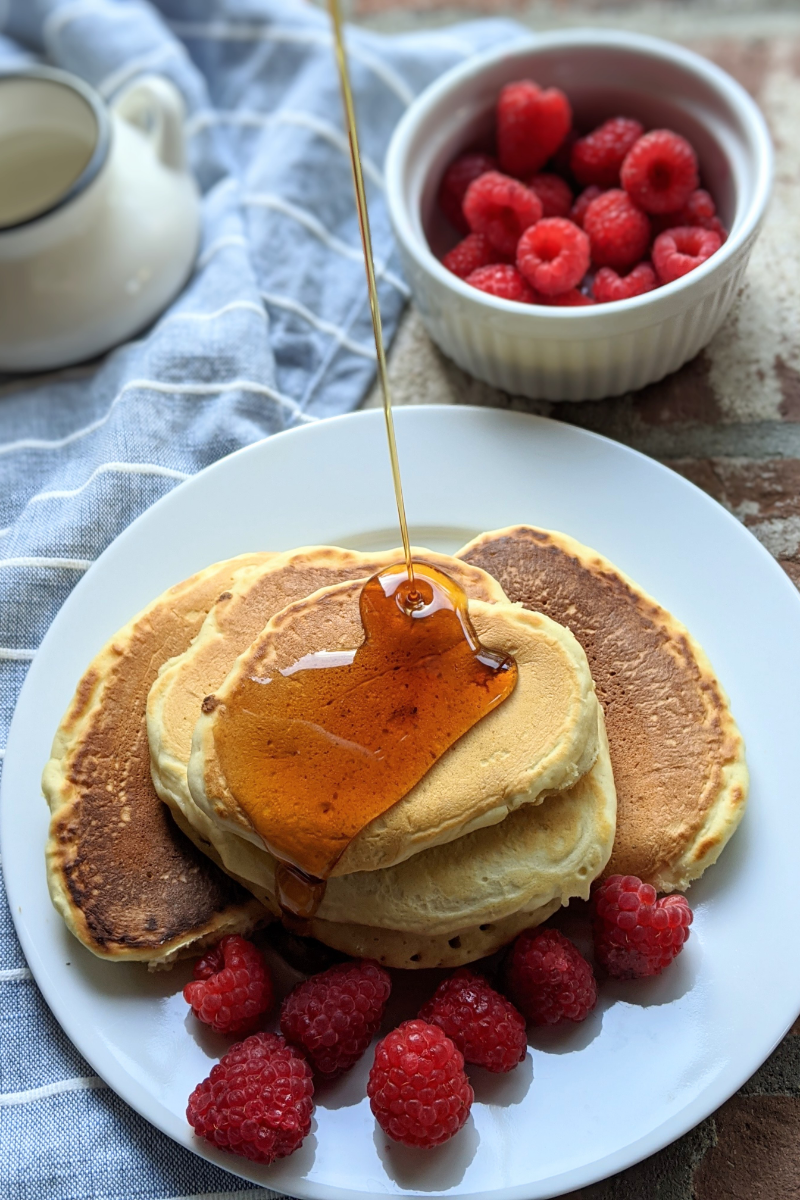 Vegan Oat Milk Pancakes utilize vegan pantry staple ingredients for an amazingly delicious breakfast that the whole family will love!
Pantry Staple Breakfast Ingredients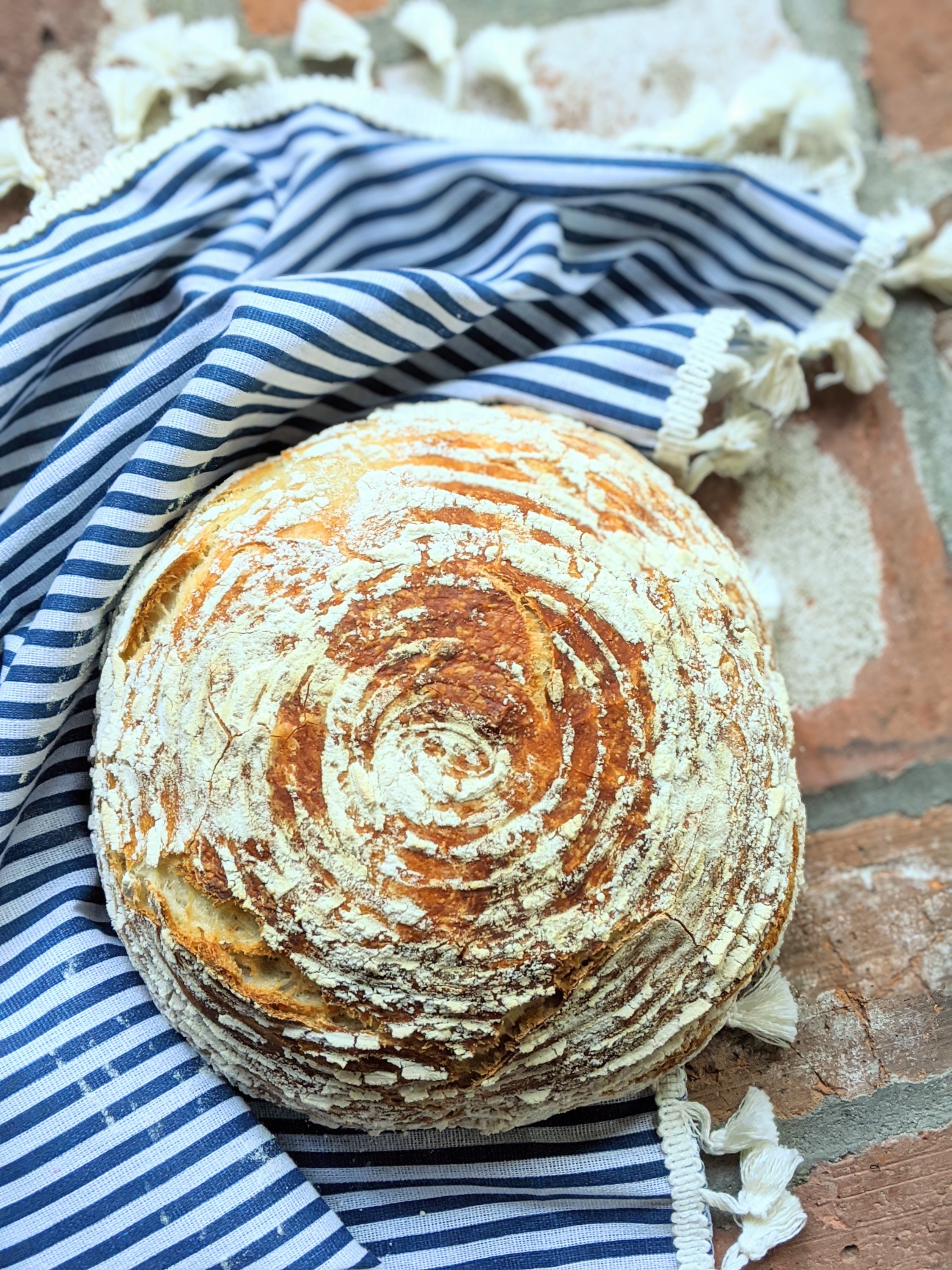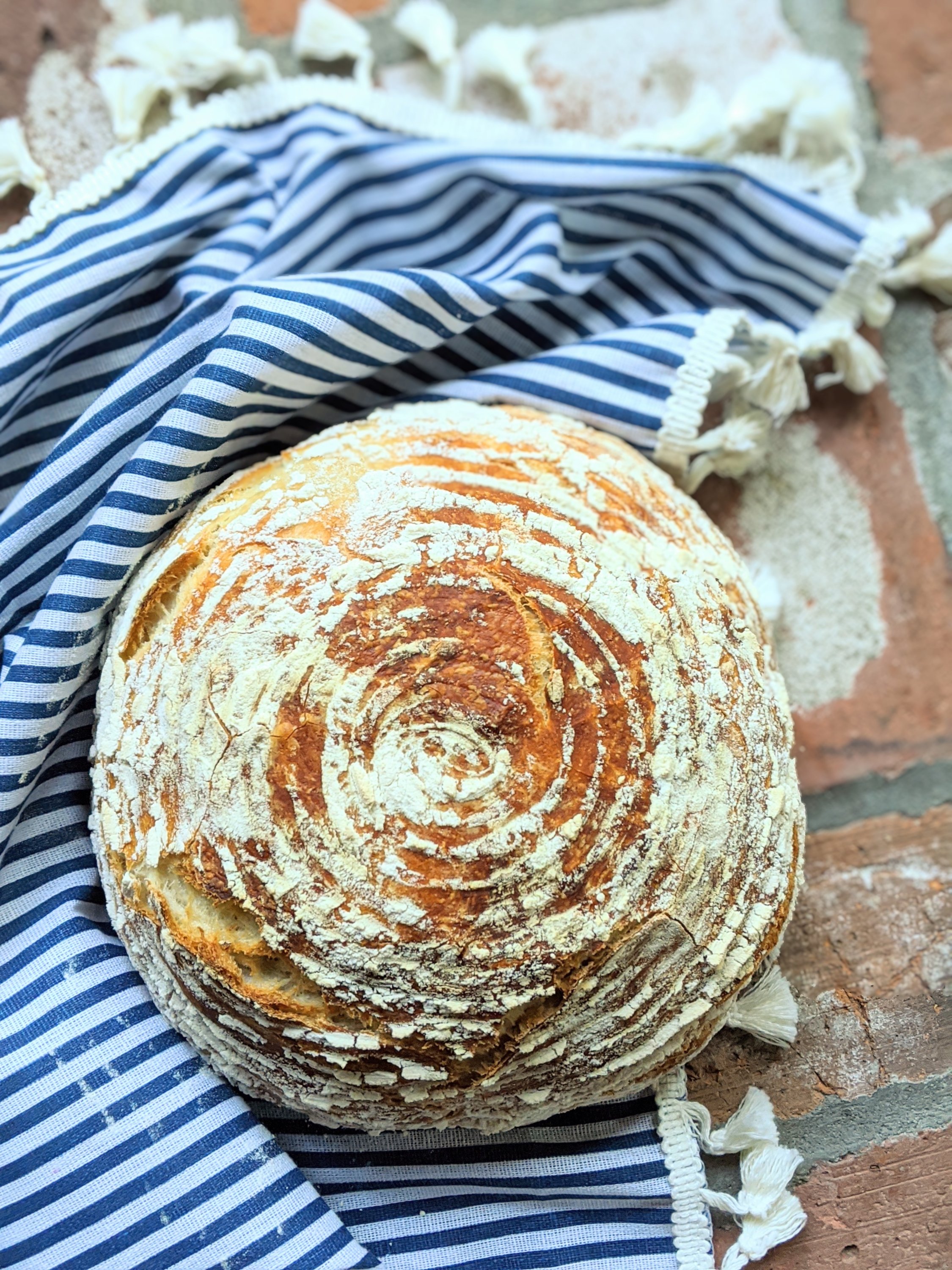 My simple 4 Ingredient No Knead Bread recipe uses only flour, salt, yeast, and water! That is it. This is THE one recipe my friends always ask me to bring to brunch… its so easy, anyone can make it!
Pantry Staple Baking Ingredients
Pantry Staple Fruits
Jarred, canned, and dried fruits are a fantastic addition to your well-stocked pantry. While I normally prefer fresh fruit, there are some great vegan pantry staple ingredients for getting the nutrients from fruit that you need. I make smoothies with banana and papaya powders, and add canned and dried fruits in desserts and baking recipes.
A quick note on canned fruit: if you do buy canned fruit, aim for a no sugar added variety, or one that is packed in juice. Avoid canned fruit that is packed in heavy syrup… that way you can control the amount of added sugar you are bringing to the table.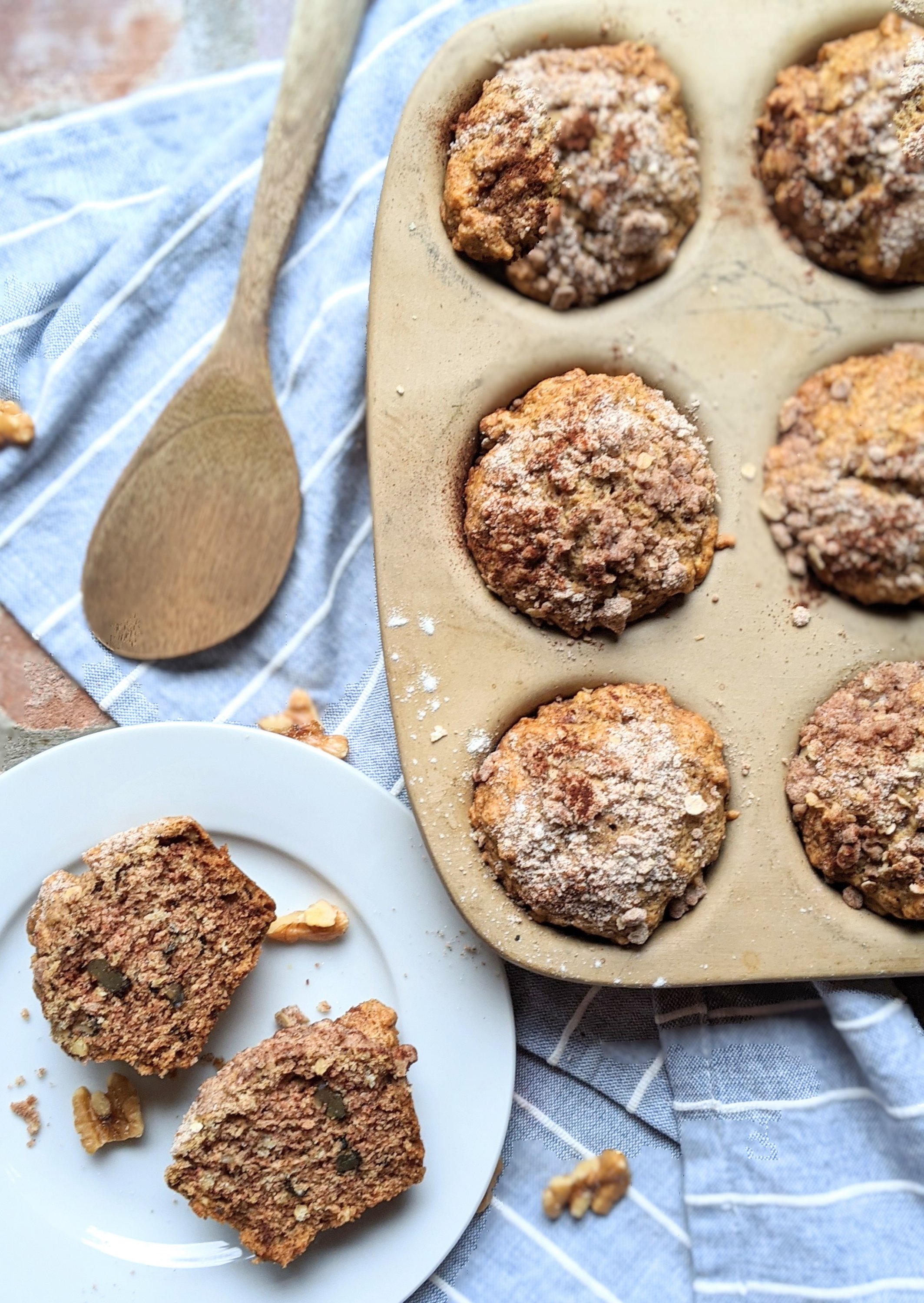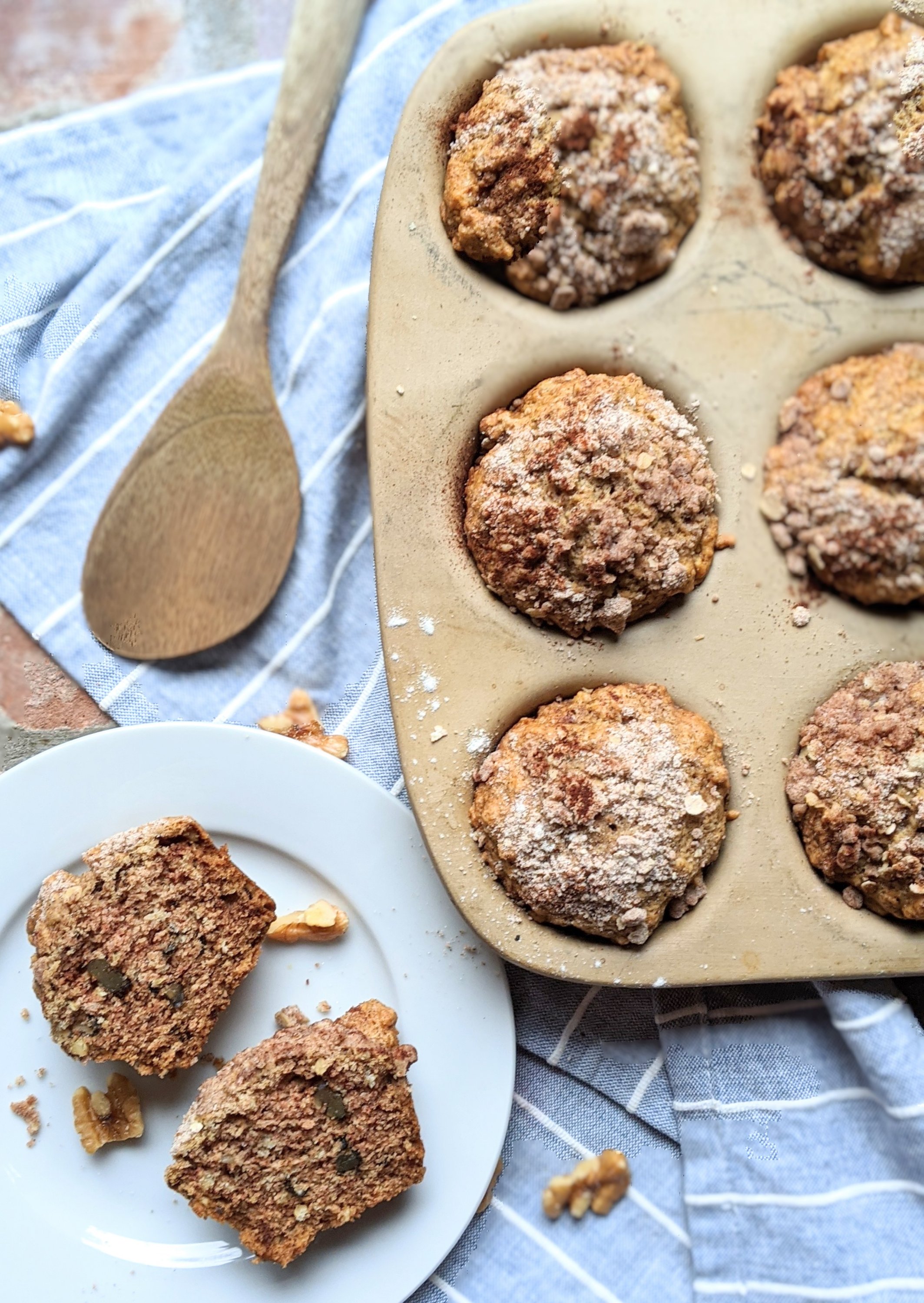 My Apple Cinnamon Walnut Muffins use pantry staple ingredients like apple sauce and cinnamon to bring amazing fall flavors to the breakfast table!
Vegan Pantry Staple Proteins
This is one category I get super excited about. You can build a healthy protein-rich diet with a few classic pantry staples. There are more than just beans here! I love adding shelf-stable tofu to soups and stir fries. And TVP is the foundation for our weekly taco nights. You can even get some extra protein in with your breakfast, here are some great vegan pantry staple ingredients below.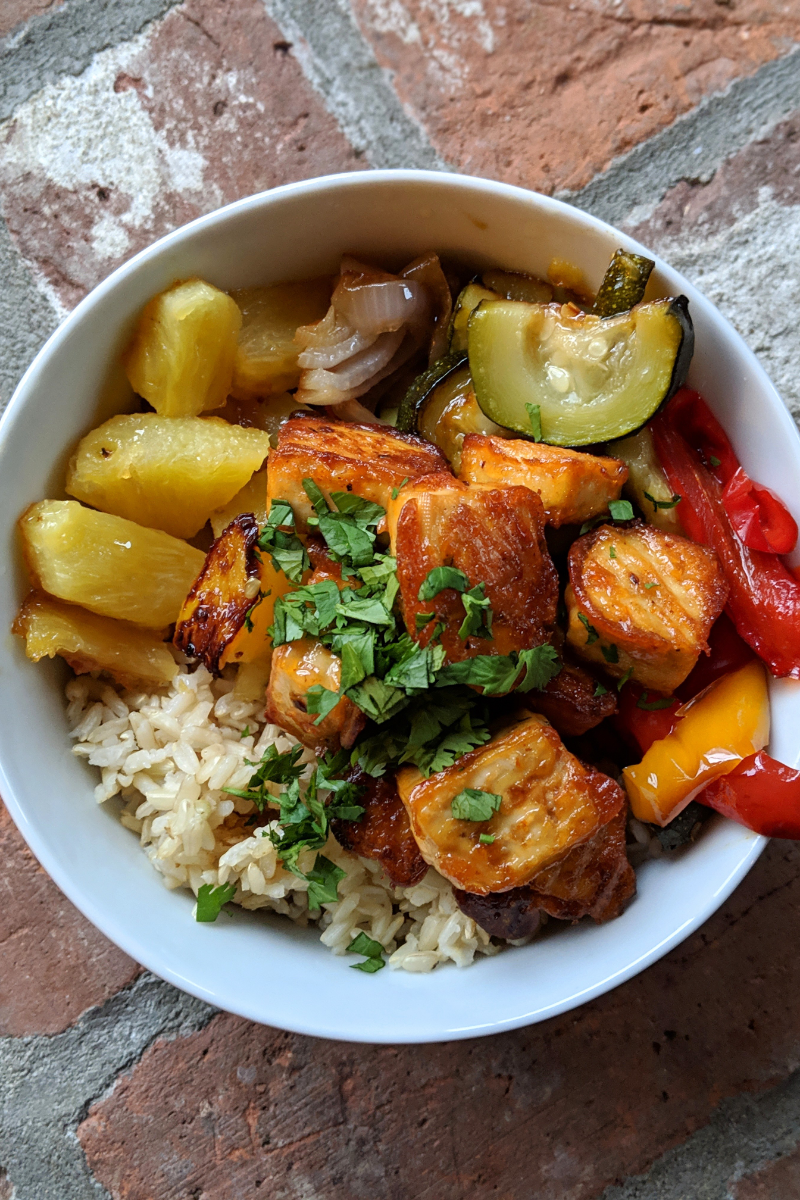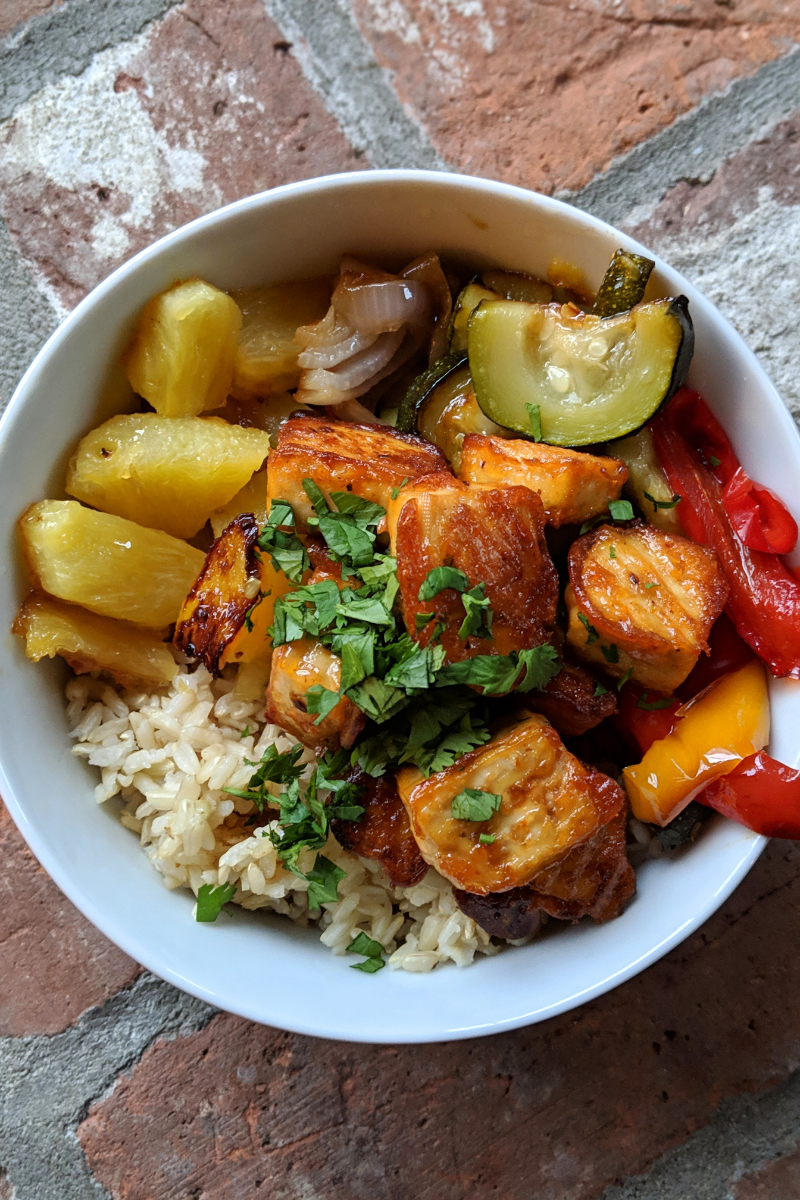 These Aloha BBQ Tofu Bowls utilize one of my favorite pantry staple ingredients protein: tofu! Add some canned pineapple, jarred red peppers, BBQ sauce brown rice, and you have yourself a bright and healthy meal in no time… using mostly ingredients from the cupboards.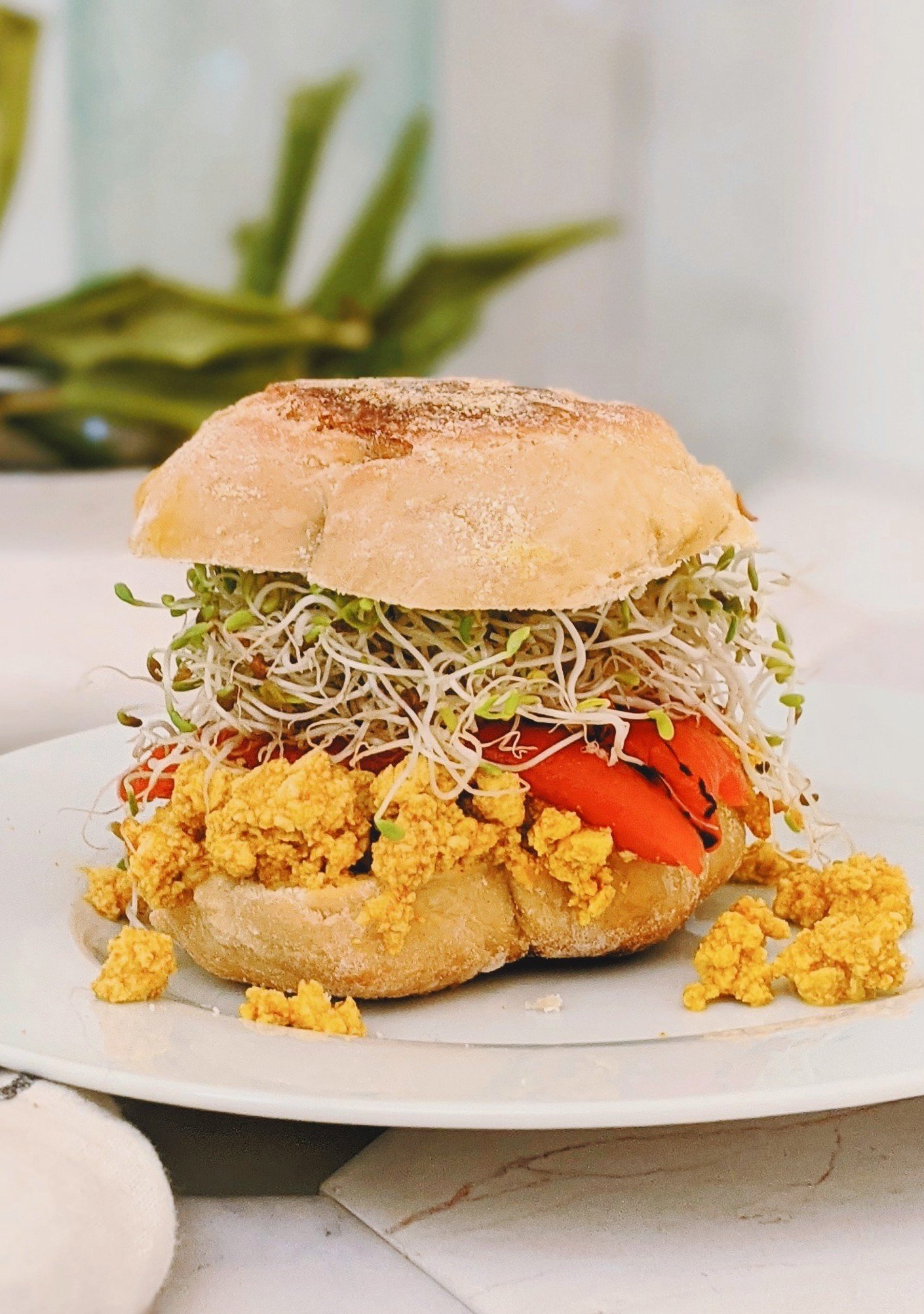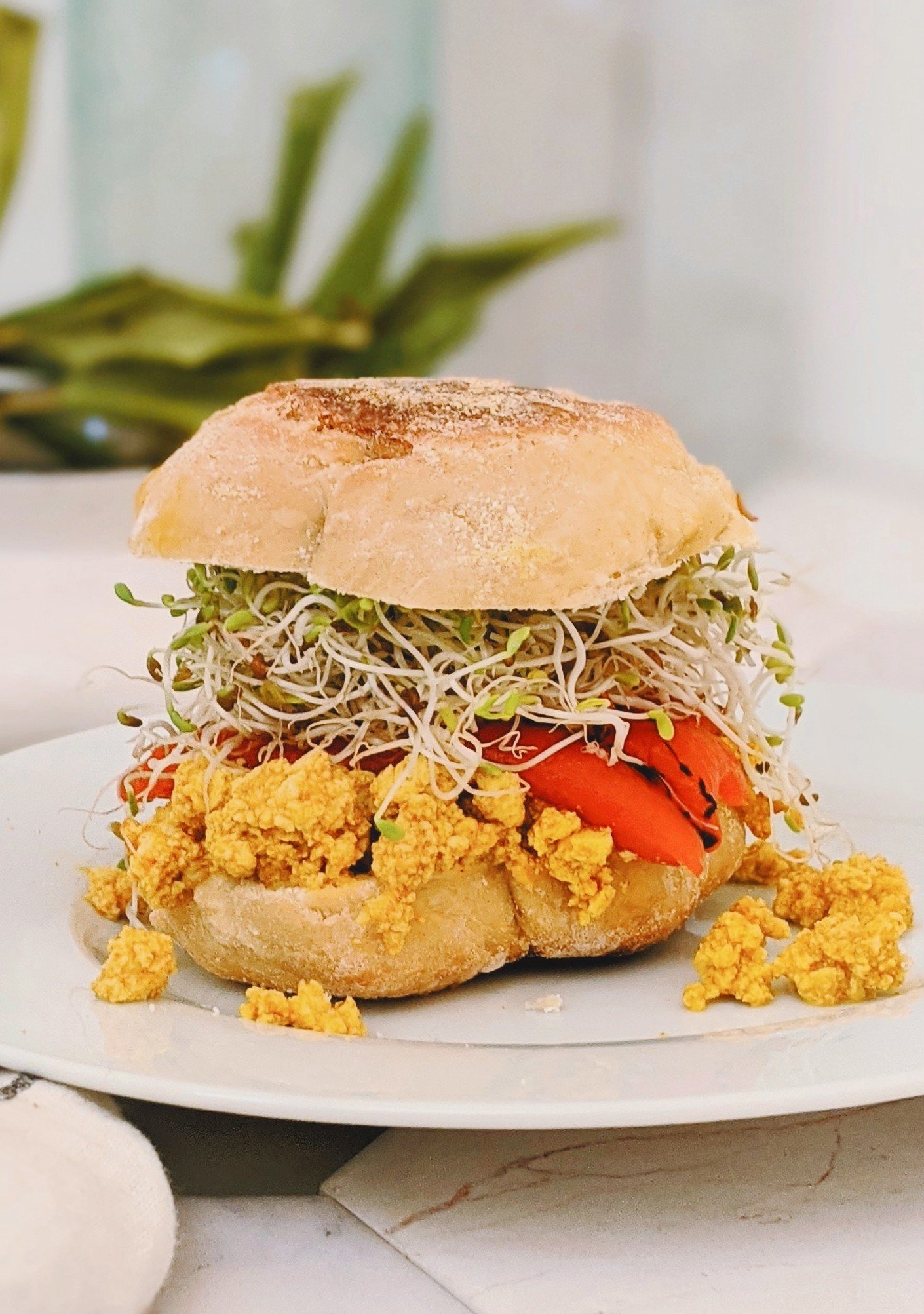 My Turmeric Tofu Breakfast Sandwich recipe is a great way to get some pantry staple protein in first thing in the morning! I made my own english muffins with pantry staple baking supplies, use heart healthy tofu, added a slice of jarred roasted red pepper, and topped with countertop sprouts that I grew myself. A healthy and easy breakfast in no time!
Beans
I am breaking out beans into their own protein category because there are so many amazing options! Beans are the building blocks of soups, stews, and taco nights for us. Super versatile, beans can be eaten for any meal of the day: in a breakfast burrito, in a wrap at lunch, or in a thick and hearty soup for dinner.
You can stock either canned or dried beans. I tend to focus on dried as I cook a weekly batch of beans up on my Instant Pot in under an hour. If you do get canned beans, make sure to get a low sodium variety.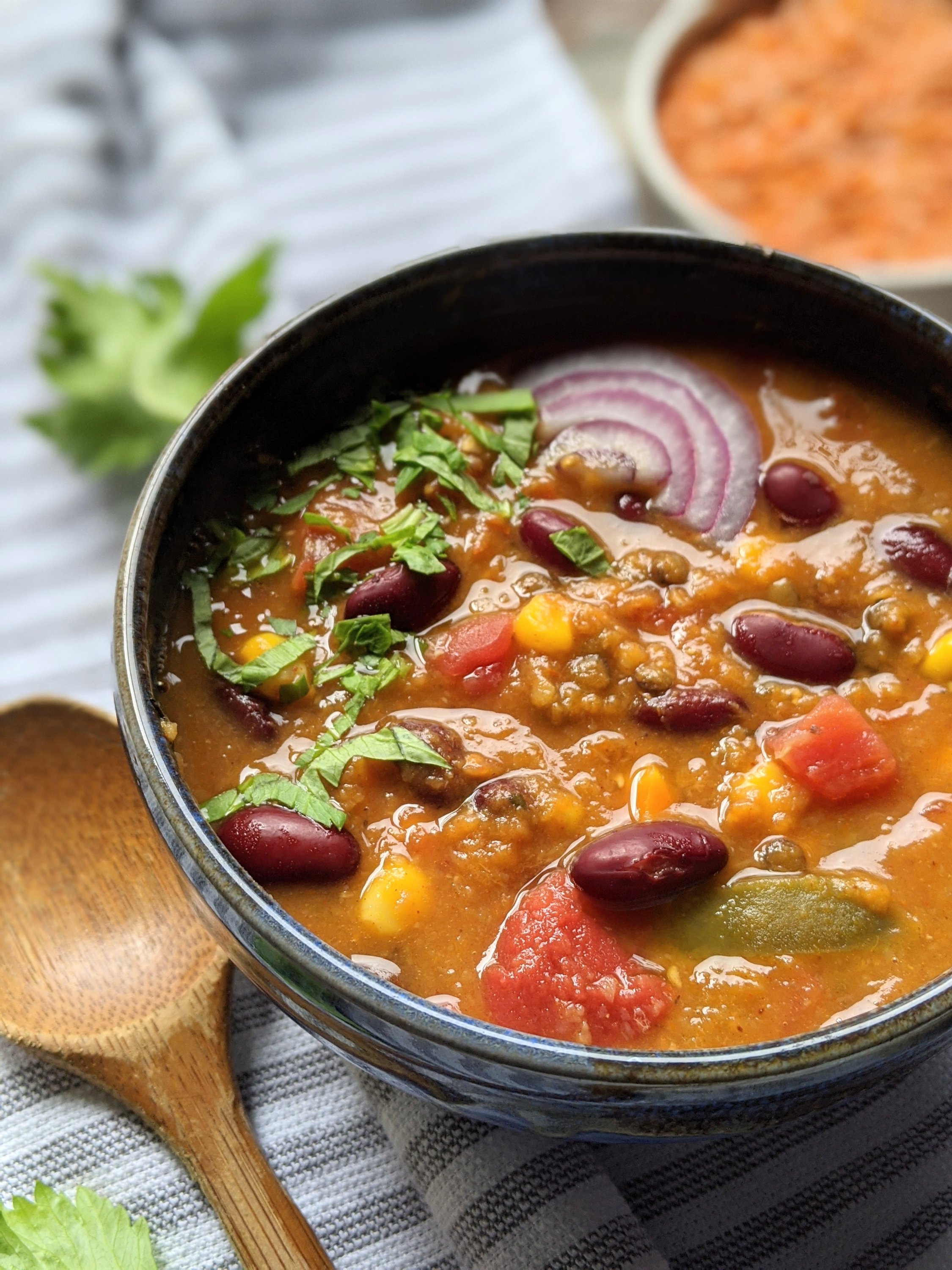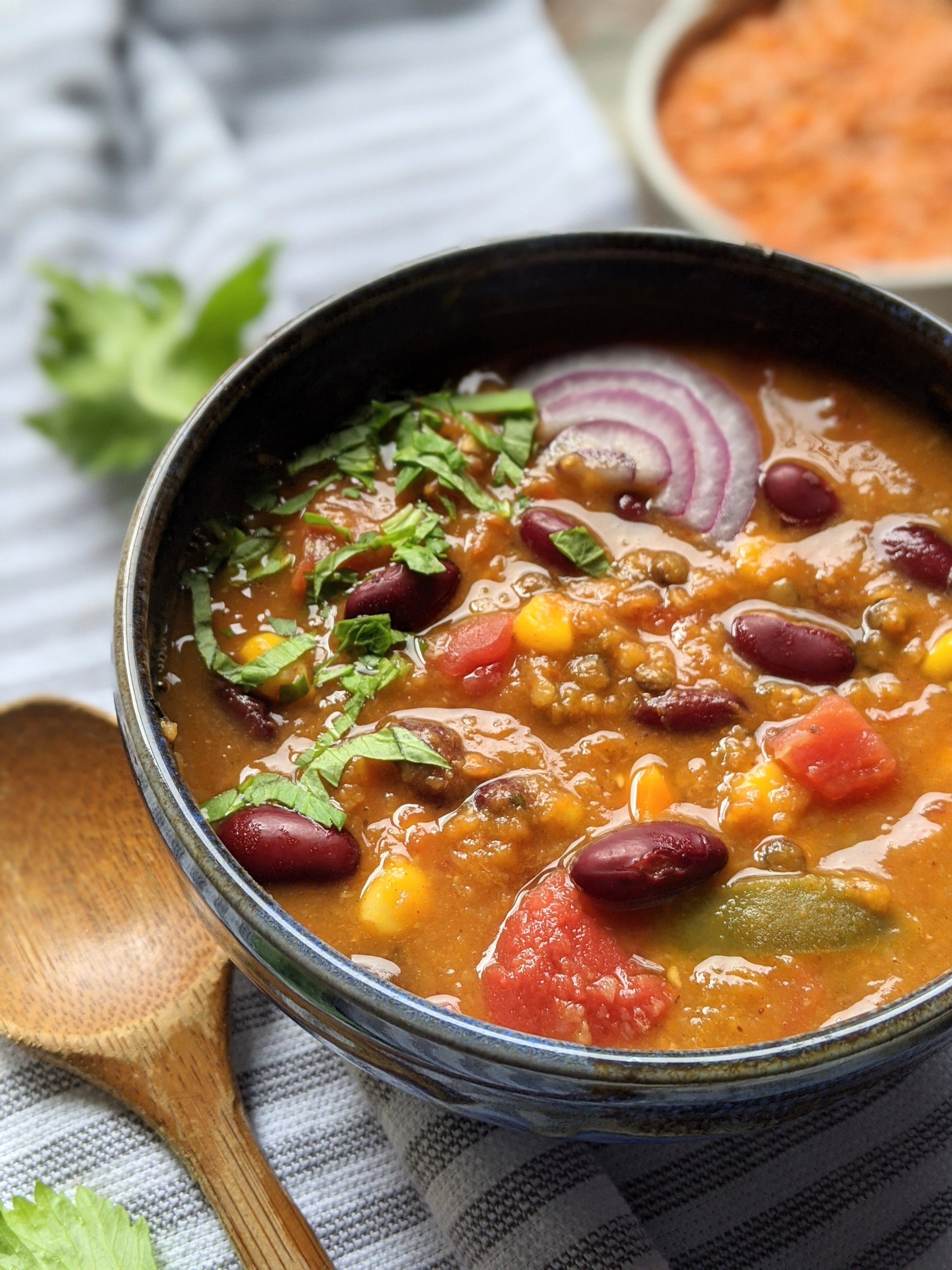 This Vegan Pumpkin Lentil Chili recipe uses 2 kinds of beans (lentils + kidney beans) plus a variety of other amazing vegan pantry staple ingredients: canned tomatoes, pumpkin, and vegetable stock.
Here are some legume varieties I always keep on hand: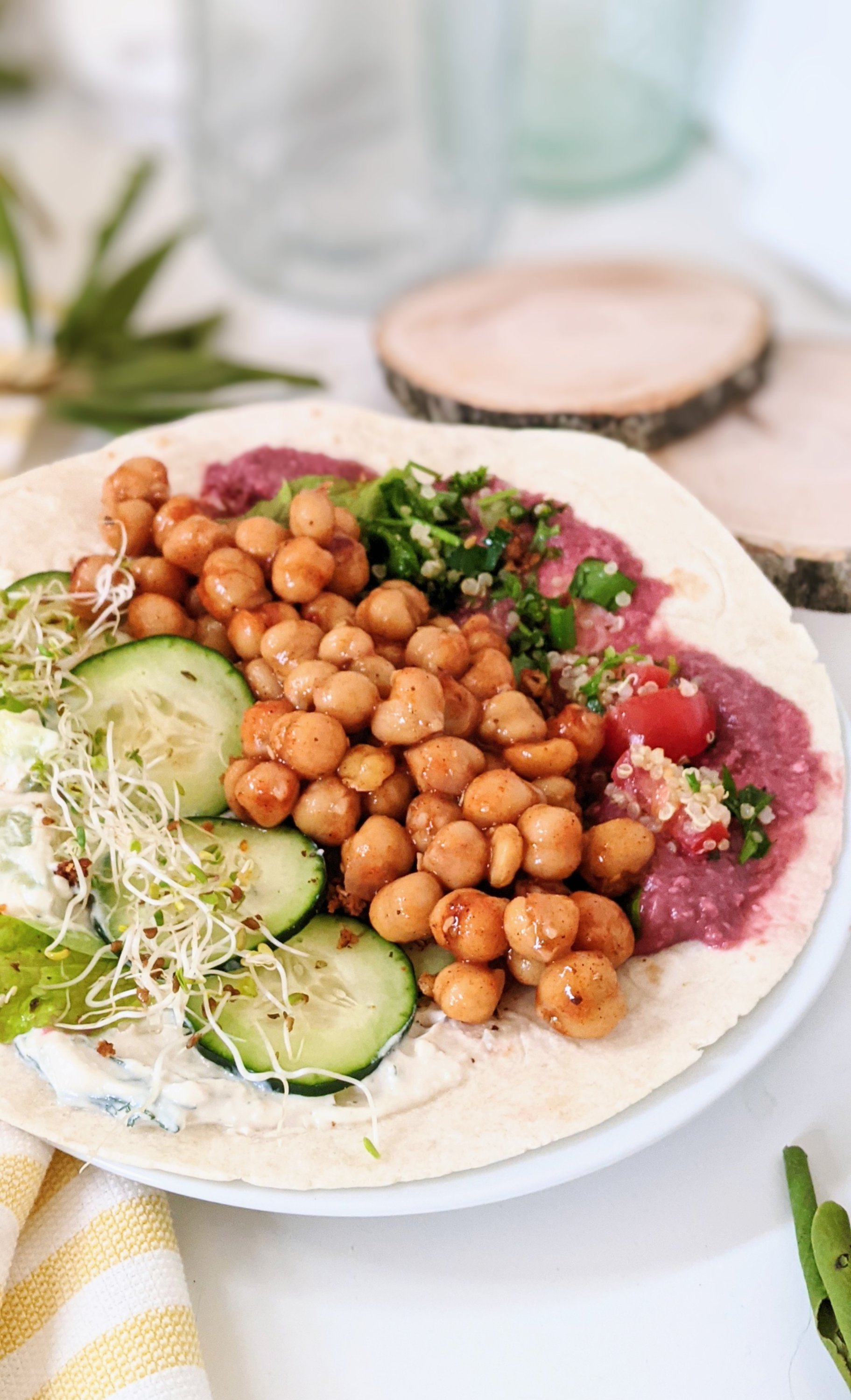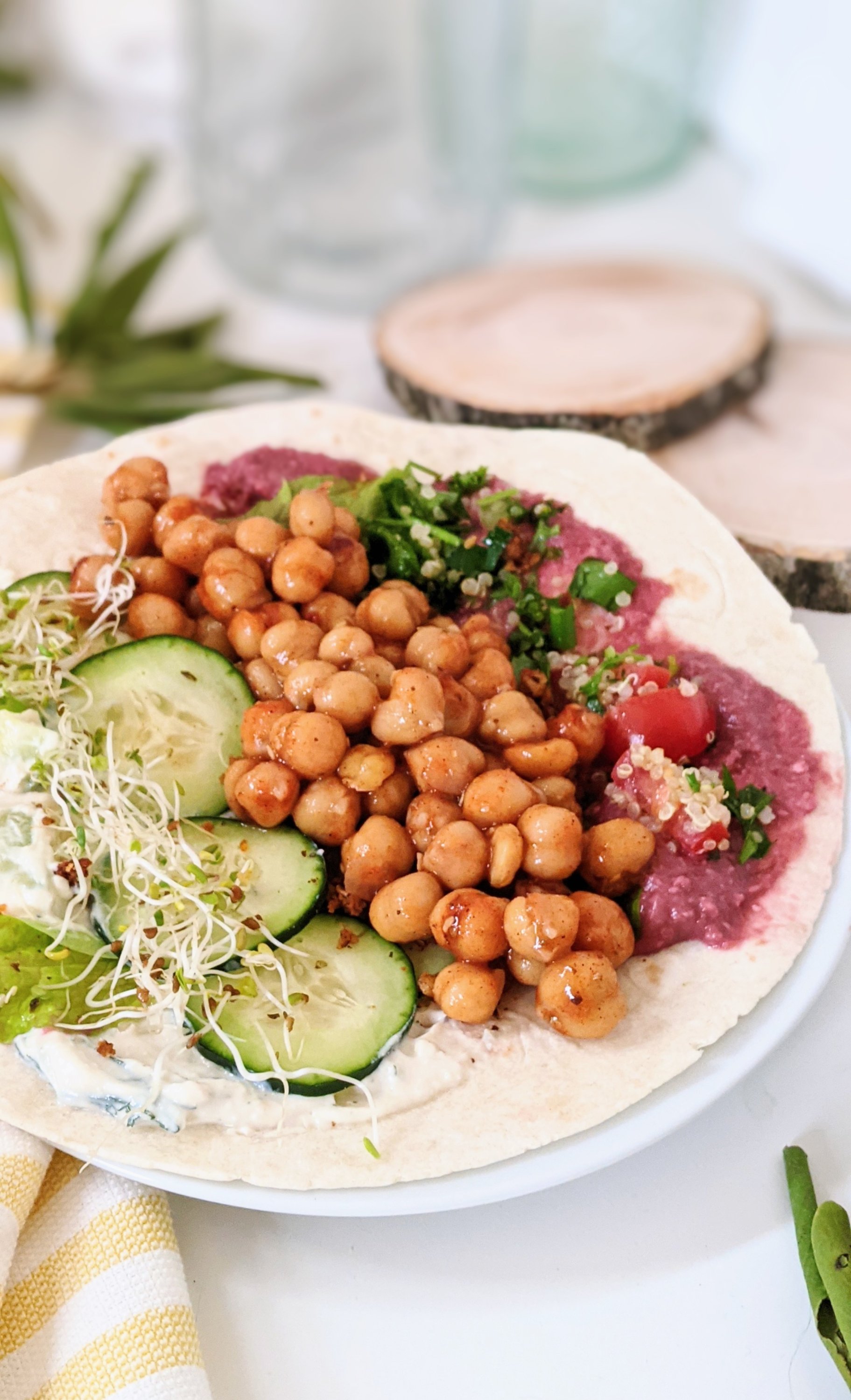 My Chickpea Shawarma Recipe uses dried or canned chickpeas and loads of fun and healthy spices! This bright and vibrant spiced recipe is a great way to use up those canned chickpeas! A 30 minute dinner that the whole family will love: and you can customize your pitas anyway you'd like by adding your favorite veggies.
Canned and Jarred Vegetables
Canned vegetables tend to get a bad wrap… but as you will see below, there are some fantastic options for shelf-stable vegetables. These yummy and nutritious additions to your pantry will brighten up your plate. While I tend to cook with a lot of fresh and frozen vegetables when they are available, my pantry is always stocked with the below vegan pantry staple ingredients!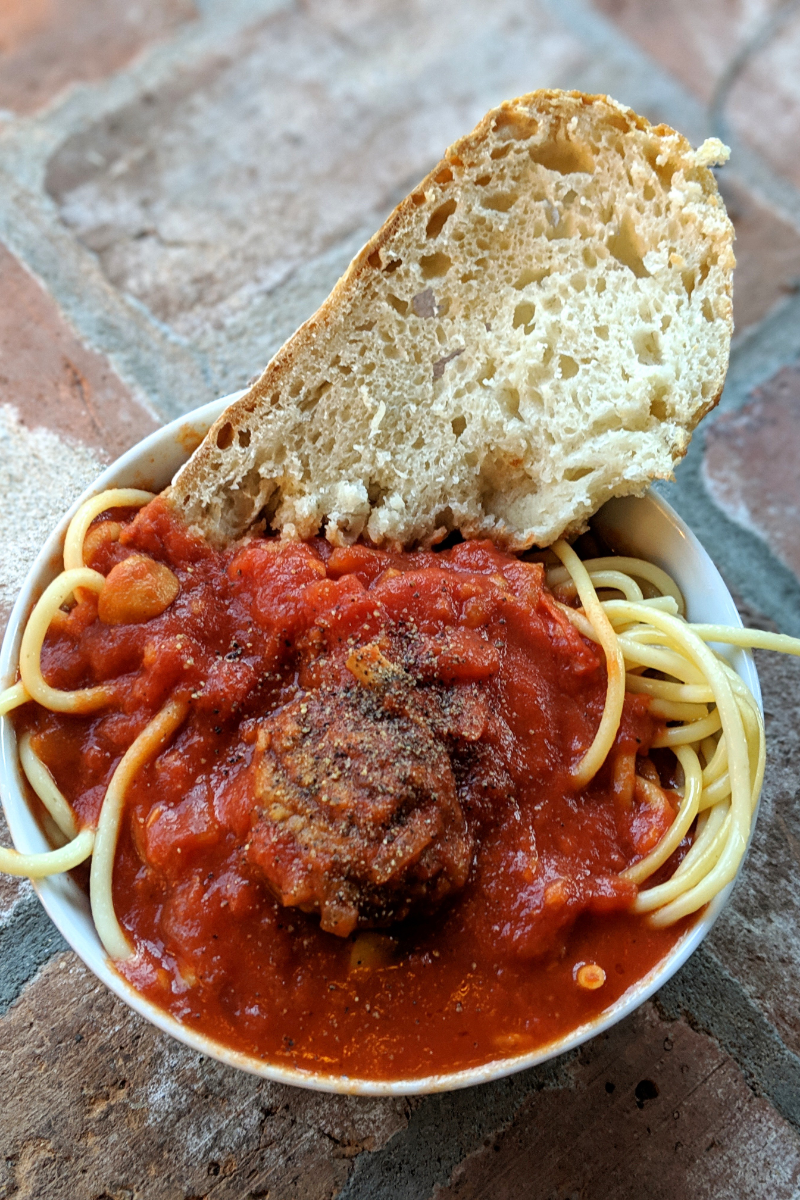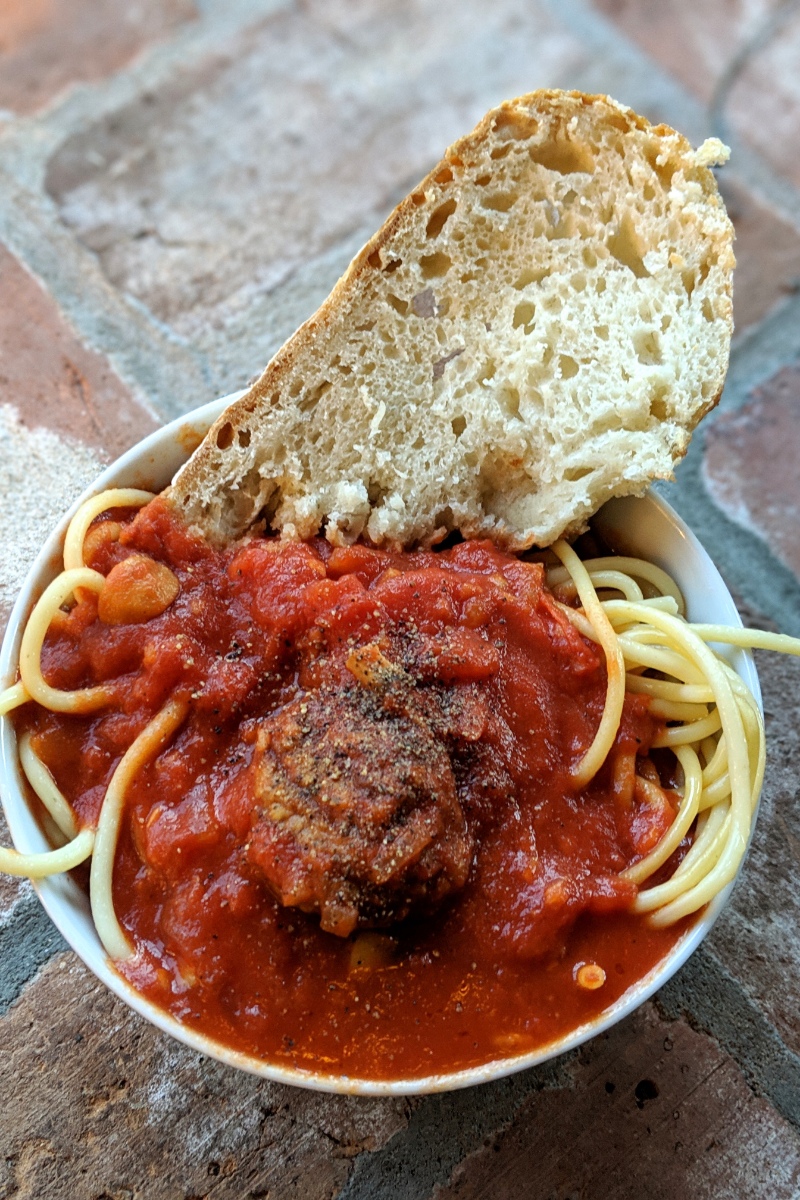 My BEST 5 Ingredient Marinara Sauce is made with vegan pantry staple ingredients, and uses San Marzano tomatoes for an amazing flavor and taste!
Fullgreen Riced Veggies: OK, Fullgreen gets top spot on my list because are an awesome invention: shelf stable riced vegetables for those days when you need some extra green in your life! They have a fantastic texture and are great to use in place of rice. And are keto, low carb, and shelf-stable veggies you'll actually want to eat.
San Marzano Tomatoes (whole in basil): these are my "special occasion" tomatoes, for when I want a flavorful and sweet tomato for sauces and soups. I only use San Marzanos when I make my signature 5 Ingredient Marinara sauce... so yummy!
Diced Tomatoes: I like these boxed tomatoes best, because they don't have any BPA and last as long as canned varieties!
Crushed Tomatoes: same as above, boxed crushed tomatoes are my go-to tomato
Tomato Paste: a no salt added variety like this is always best
Pumpkin Puree: no joke, I am so obsessed with pumpkin I eat it year round. I found that buying these bulk cans are awesome for when I want to cook a few pies for the freezer.
Jars of roasted red peppers, packed in water
Jars of marinated artichoke hearts, packed in oil
Pickles: Kosher dill is where it's at!
Olives: I love adding kalamata olives to pastas, hummus, and salads. And when I'm buying black olives for a recipe, I always buy this tasty low sodium variety.
Canned Beets: Because this is one vegetable that I like to eat canned rather than fresh! And Aunt Nellie's Pickled Beets have been a life-long favorite of mine 🙂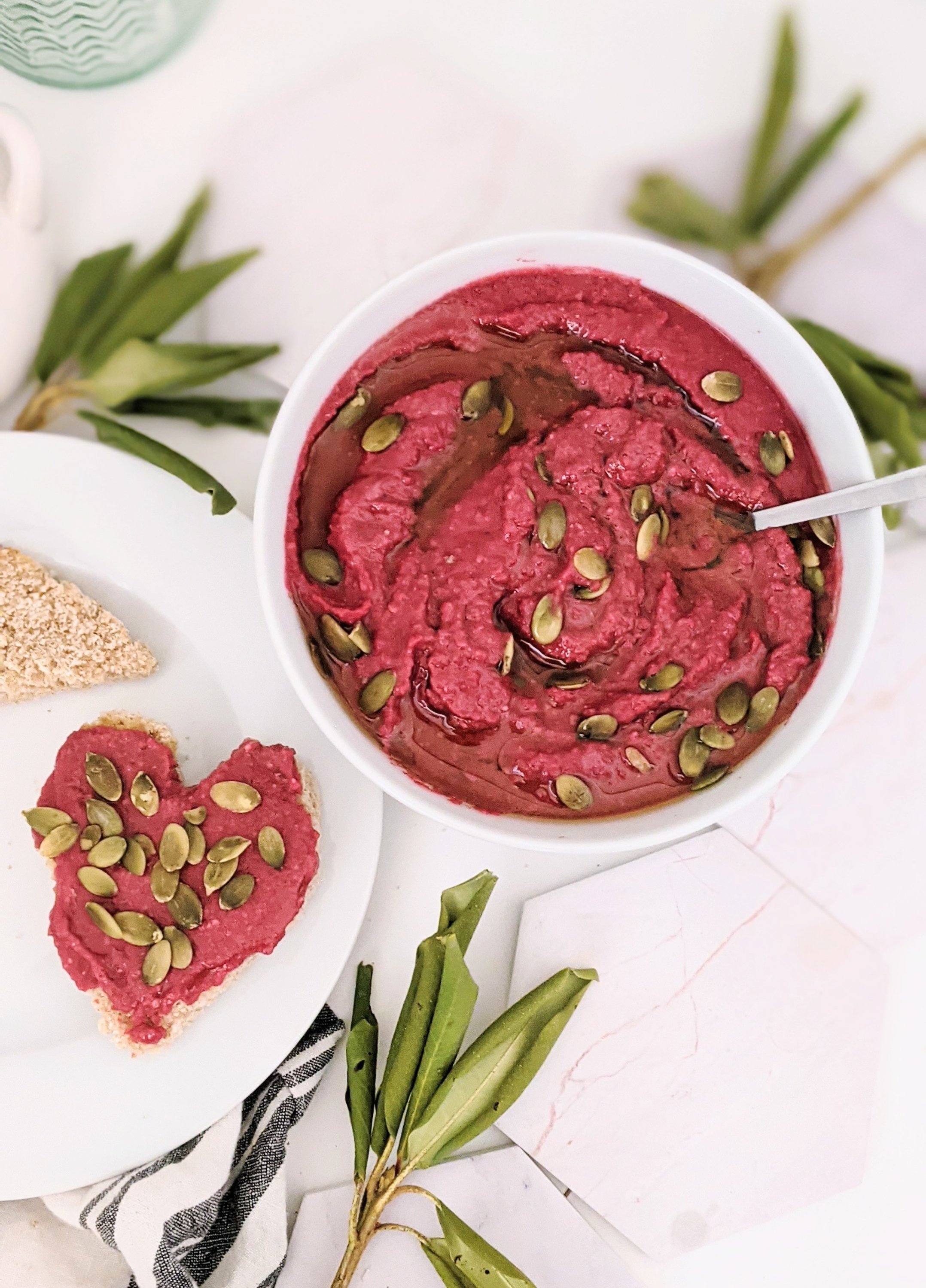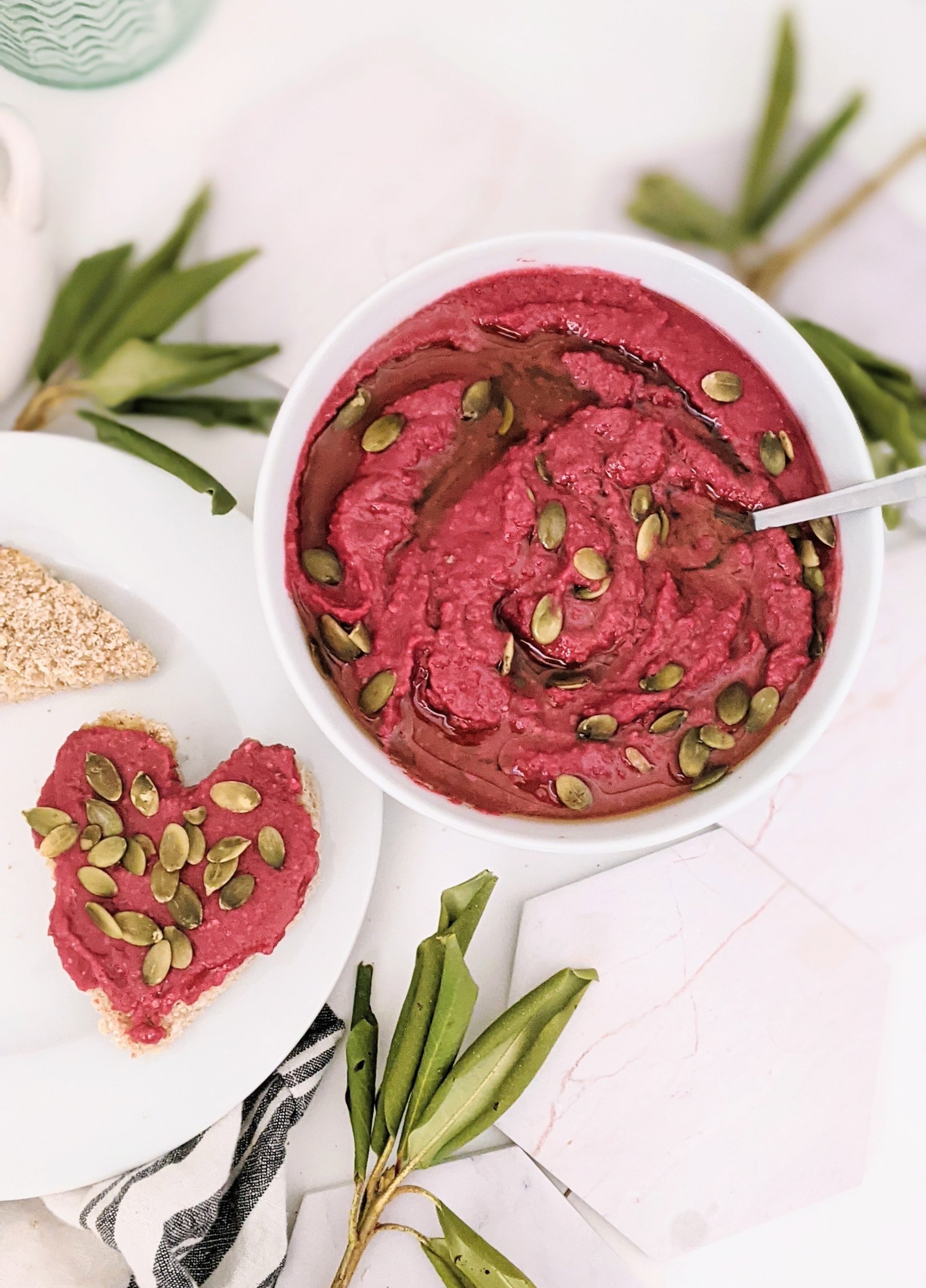 My Beet Powder Hummus Recipe uses all pantry staple ingredients: beet powder, chickpeas, garlic (jarred garlic works perfectly!). Add spices and some nuts for a bright and flavorful dip or spread you can enjoy anytime!
Pantry Staple Spices We Buy In Bulk!
OK my list of spices could probably be about 100 items long, so I'll narrow it down to my top 10 most-used spices. We regularly use the basics: garlic powder, onion powder, chili powder, cayenne, red pepper flakes, everything bagel seasoning, flavored salts, basil, thyme, oregano… the list goes on! Since we tend to cook low sodium dishes, spices are a fantastic way to make any recipe shine. Here are a few of our favorite spice blends below: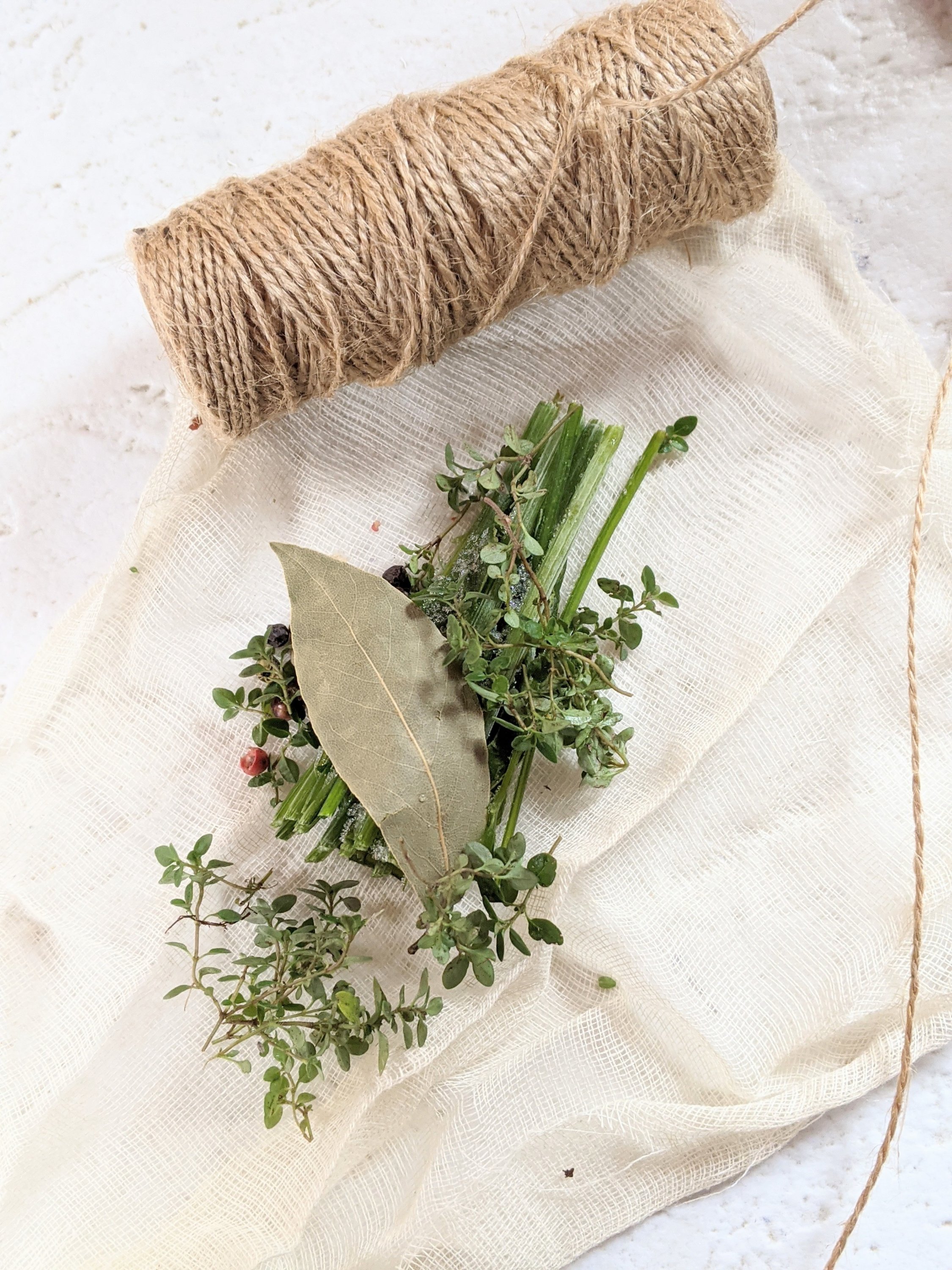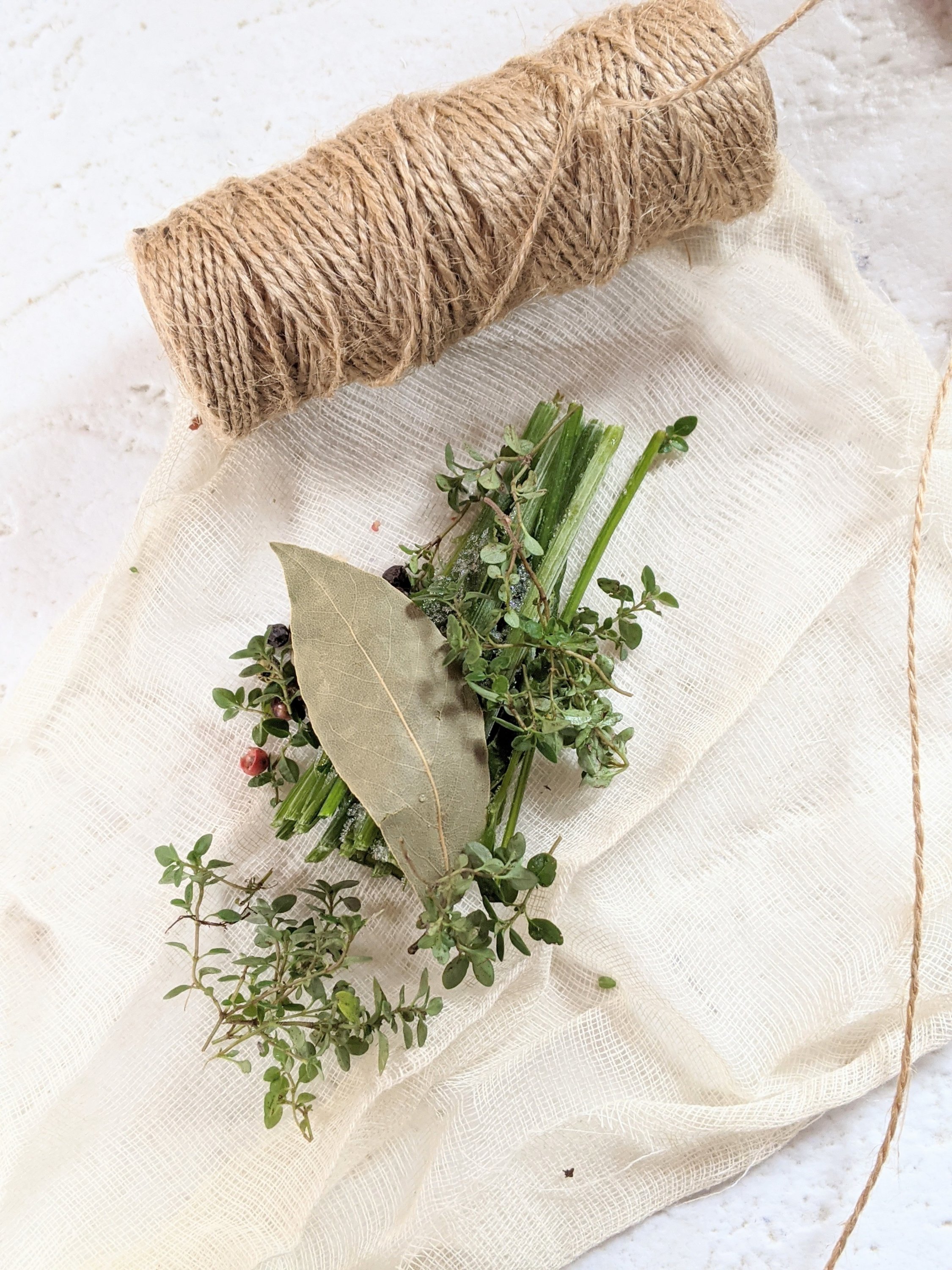 Pantry spices are great for adding to recipes like my Vegetable Demi-Glace, which uses bay leaves, garlic, thyme, and tellicherry peppercorns! Demi-glace is like a falvor bomb for your soups, and is the perfect addition to stews, sauces, and savory recipes.
Pantry Staple Grains and Rice
Rice and grains are the one area of the pantry where you can really buy in bulk! We normally buy rice in 20 lbs bags, and keep the rice in airtight containers for quick usage. Rice are great as a standalone meal (hello fried rice!), make a healthy and spicy side for Taco Tuesday, and go great with stews and curries. We use grains in the same way, I love adding quinoa or barley to a soup to thicken. Rice and grains can be nutrient-rich and healthy additions to any diet… plus are inexpensive vegan pantry staple ingredients that you can stock up on and buy in bulk.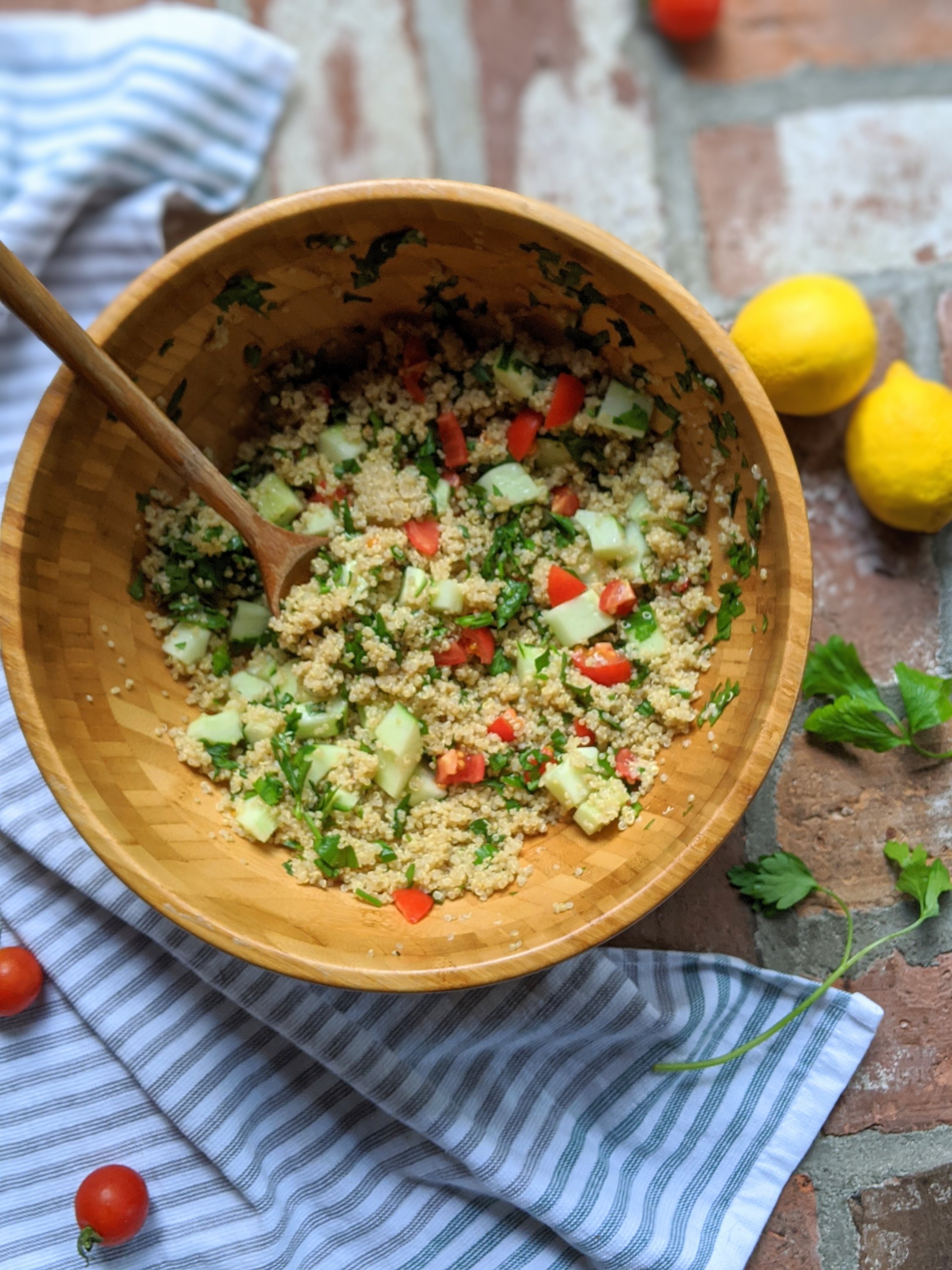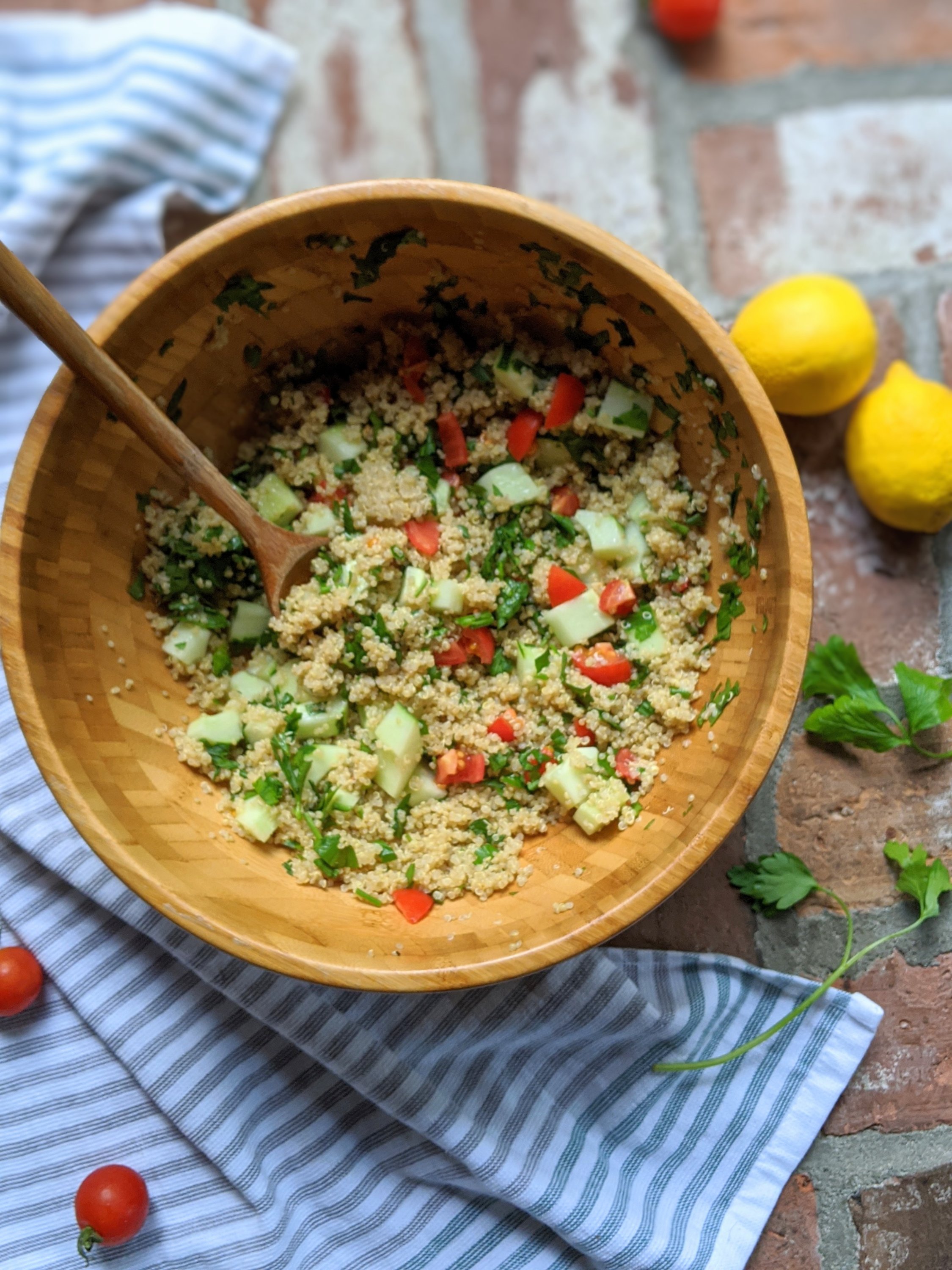 My Simple Lemon Quinoa salad is the prefect way to highlight your pantry staple grains! Mixed with some fresh herbs, veggies, and a bright vinaigrette, this summer salad is great for a crowd.
Pantry Staple Grains

One Pot Lemon Chickpea and Rice Soup is a great way to get those grains (and beans!) together in one healthy dish. A fantastic light lunch or dinner option, made from vegan pantry staple ingredients and a few fresh veggies!
Pantry Staple Rice
Pantry Staple Pastas
I love mixing and matching my pastas with different sauces and soups that I make. I always make sure to have an assortment of fun pastas on hand to match any sauce I feel like having. White wheat, whole wheat, veggie pasta, rice pastas, and bean pastas all have their own place in my kitchen. Here is a good guide for what to have on hand- if possible, try to have one from each category.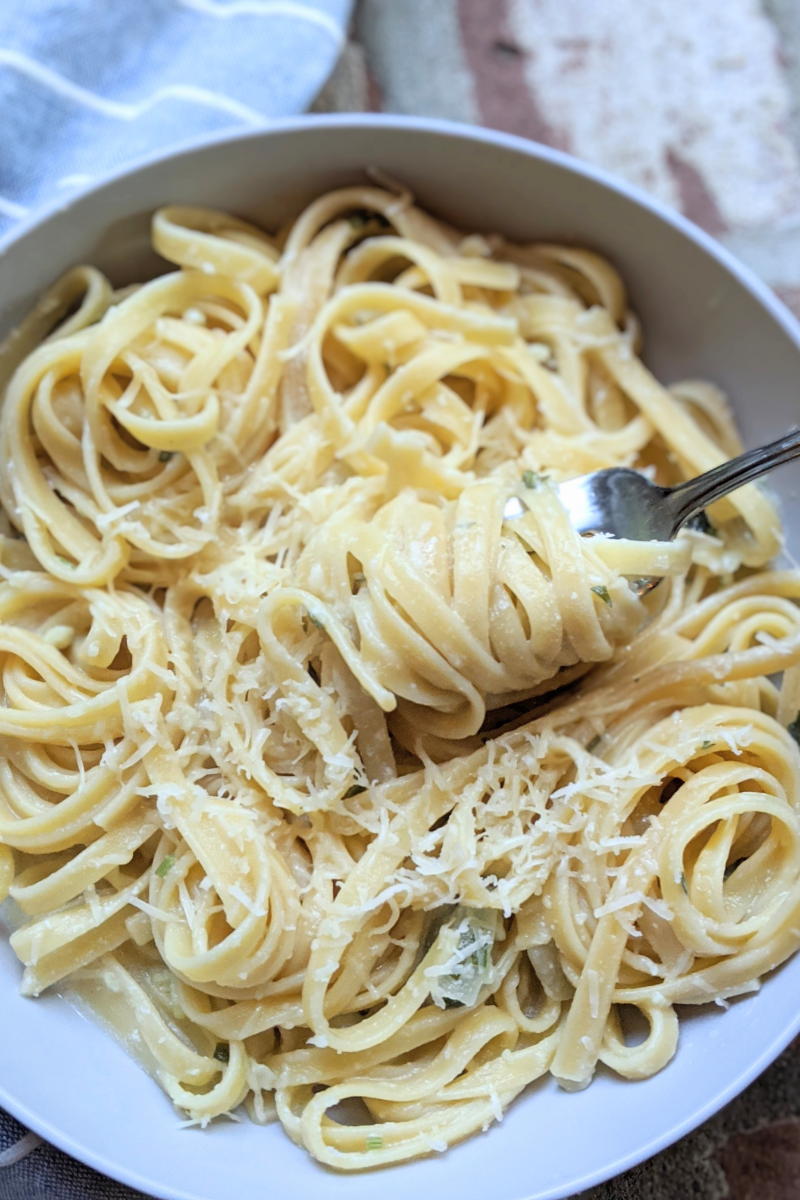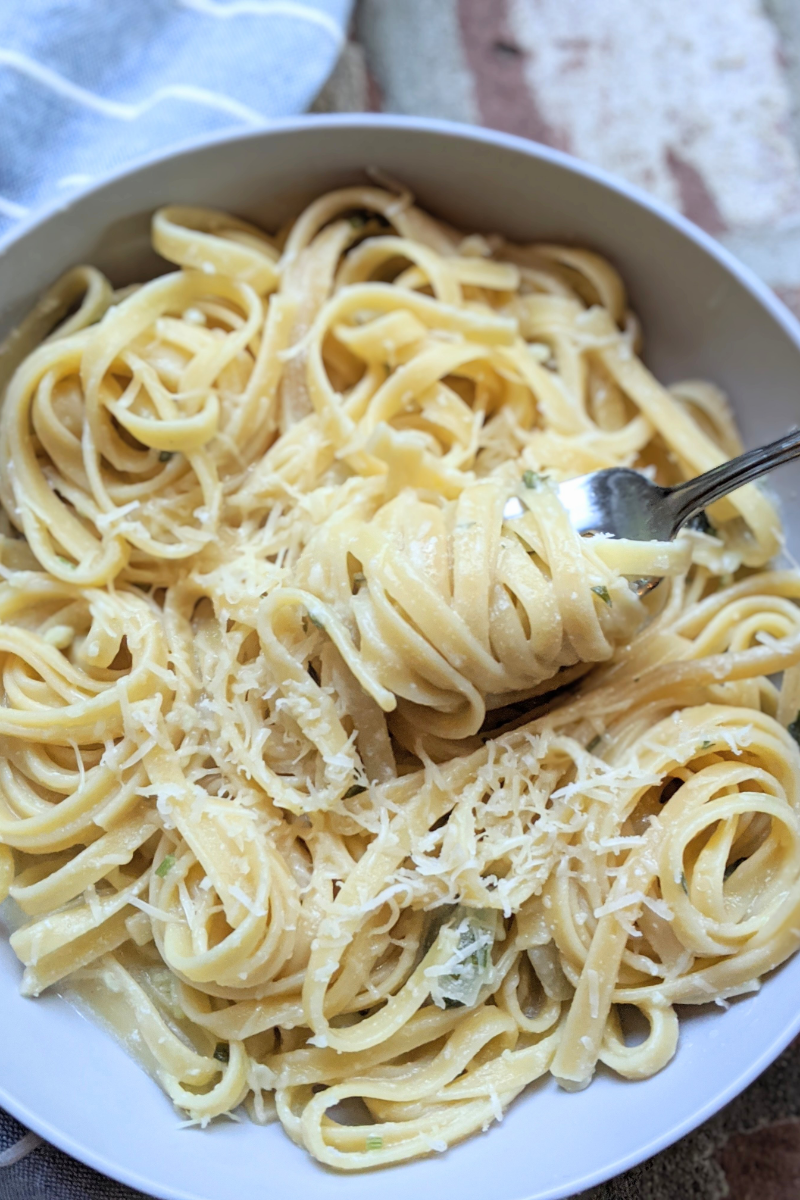 My White Wine Pasta with Garlic & Herbs is a 20 minute pantry staple weeknight savior! A great meal when you want to get a little #fancy without spending all day in the kitchen.
Short pastas: Macaroni, Ditalini, Orzo
Medium pastas: Penne, Rotini (especially tricolored for pasta salads), Medium shells
Long pastas: Bucatini, Fettuccini, Linguini, Spaghetti, Lasagna noodles
Fun and unusual pasta shapes: Radiatori, Gnocchi, Rigatoni Cavatappi for a good time
Thin Rice noodles for pho or my Mason Jar Ramen noodle soup recipe.
Udon noodles: a thick starchy noodle that is great for Asian inspired soups and stir fry's.
Soba noodles: a thin buckwheat noodle, my go-to noodle for Asian noodle salads.
Ramen: I cannot forget the classic pantry staple ramen noodle soup! A lot of ramen soups are vegan (like this Maruchan soy sauce flavor, YUM) or plant-based so these definitely should have a place in your pantry. I like to throw a little fresh chopped green onion or parsley in mine for extra flavor.
Mac and Cheese: along with ramen, a classic pantry staple (and absolutely delicious treat)! There are some great vegan and plant-based macs out there on the market.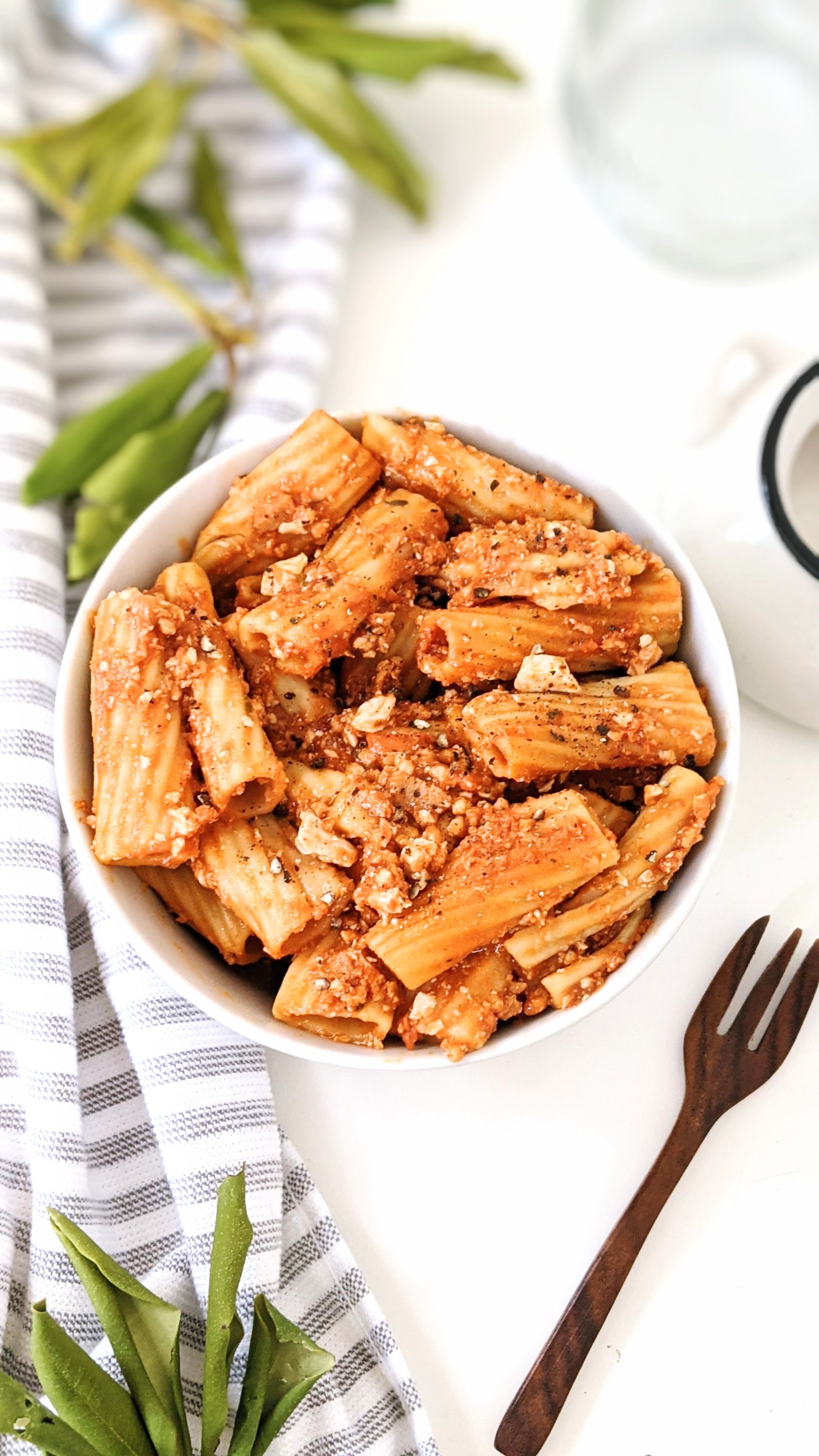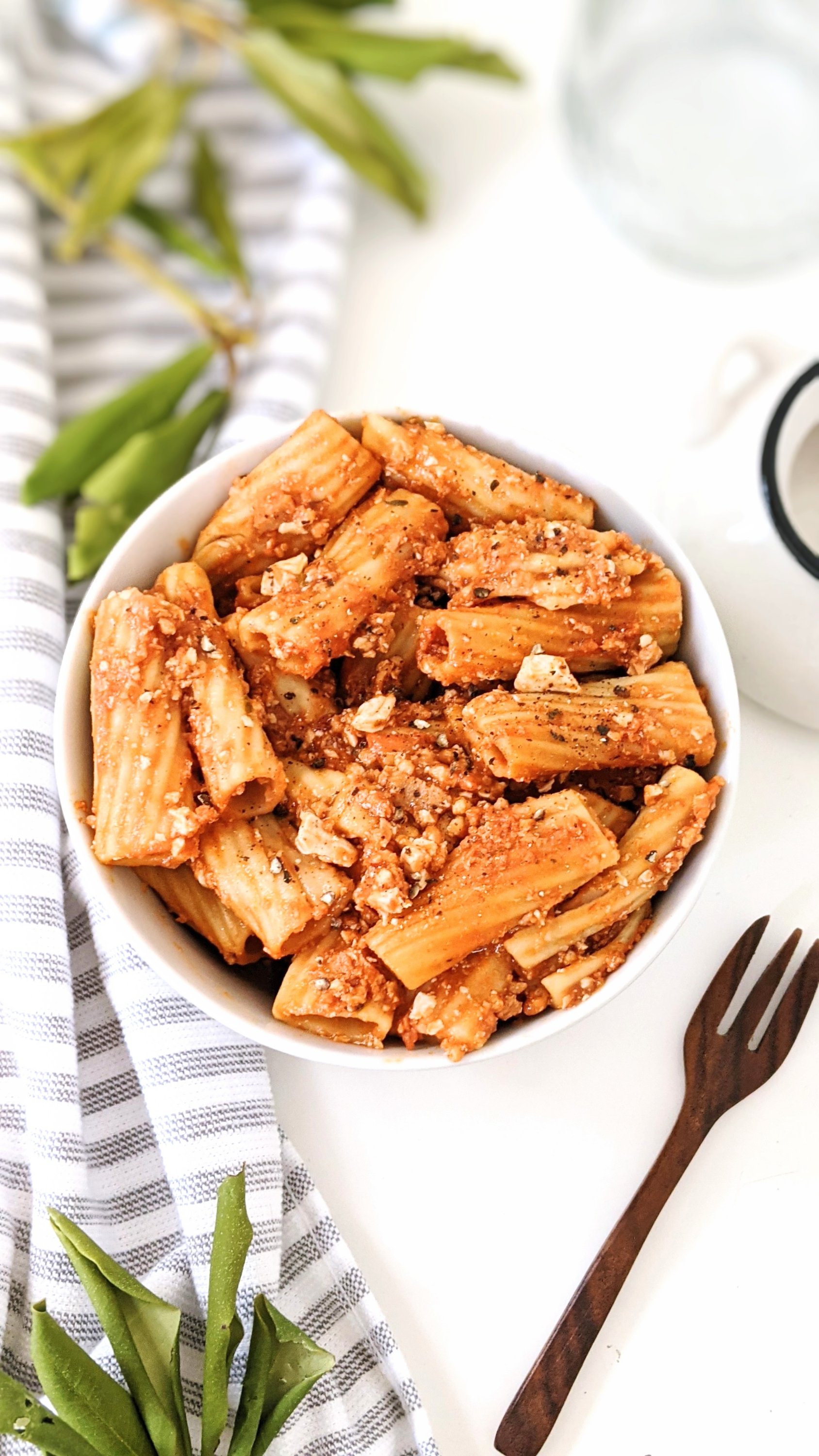 My super delicious Vegan Pantry Bolognese recipe combines delicious pasta, diced tomatoes, high protein tofu, and Italian spices. It's a great 15 minute meal that is on the table in no time!
What About Canned Soups?
I left out canned soups on this list for a few reasons. First off, I don't buy them. They are loaded with sodium and are generally not something I want to eat on a regular basis (ramen is the exception!). And second, when I want to make a big hearty pot of soup, I can do it with using plenty of pantry staples on this list. By adding beans, rice, pastas, vegetables, vegetable stock and spices, you can easily make your own soup instead of buying canned. I have some great soup recipes you can browse through on The Herbeevore, so I'd recommend trying a few out instead of reaching for that canned soup.
Condiments and Sauces
Jazz up any recipe with the addition of a flavorful sauce or condiment. I'd say that just about every meal we eat comes with an accompanying condiment or sauce. They are great for any meal of the day, and add a bright and rich flavor to an otherwise plain dish. Kick up your pantry recipes with some of these sauces and spices.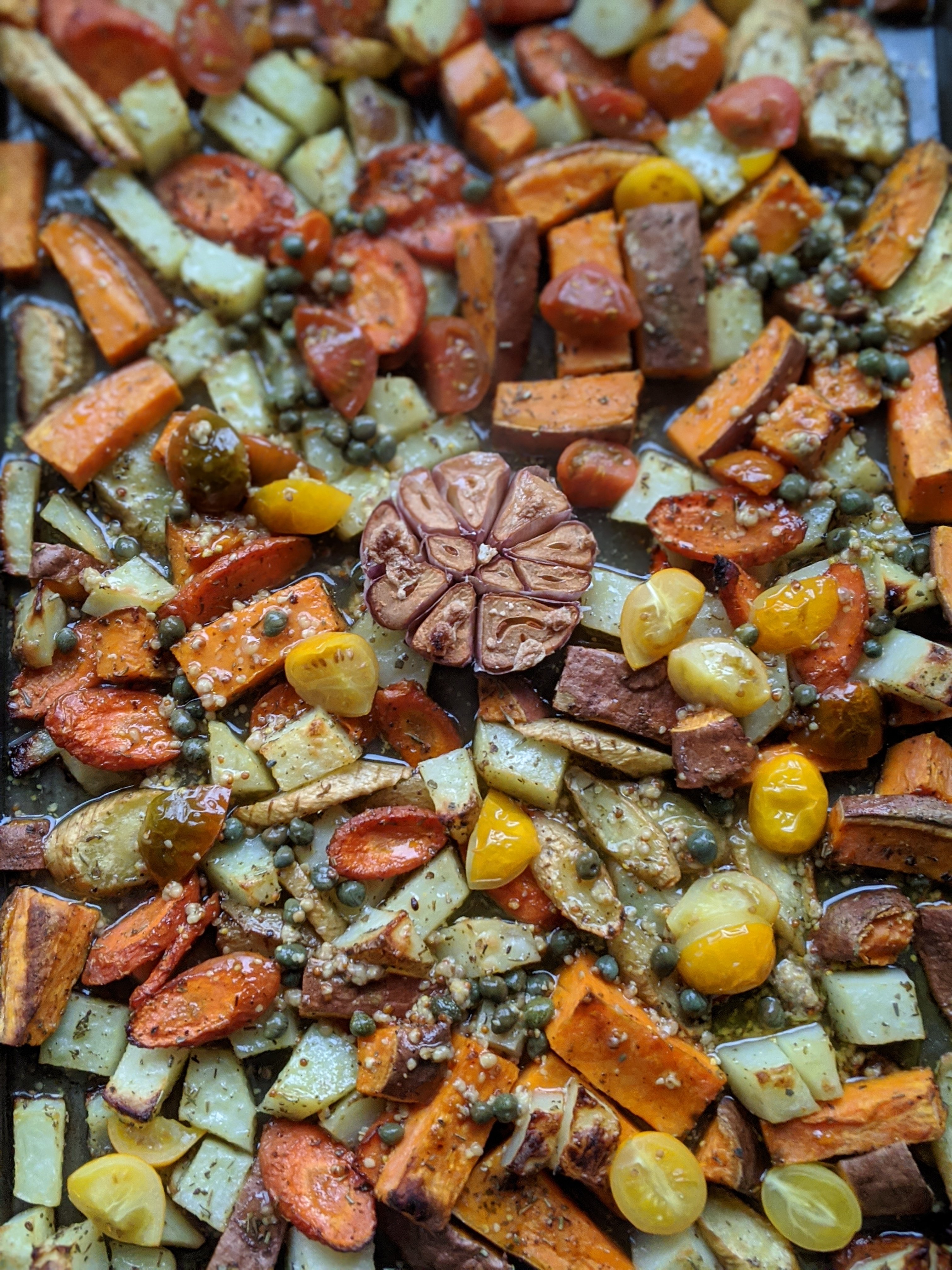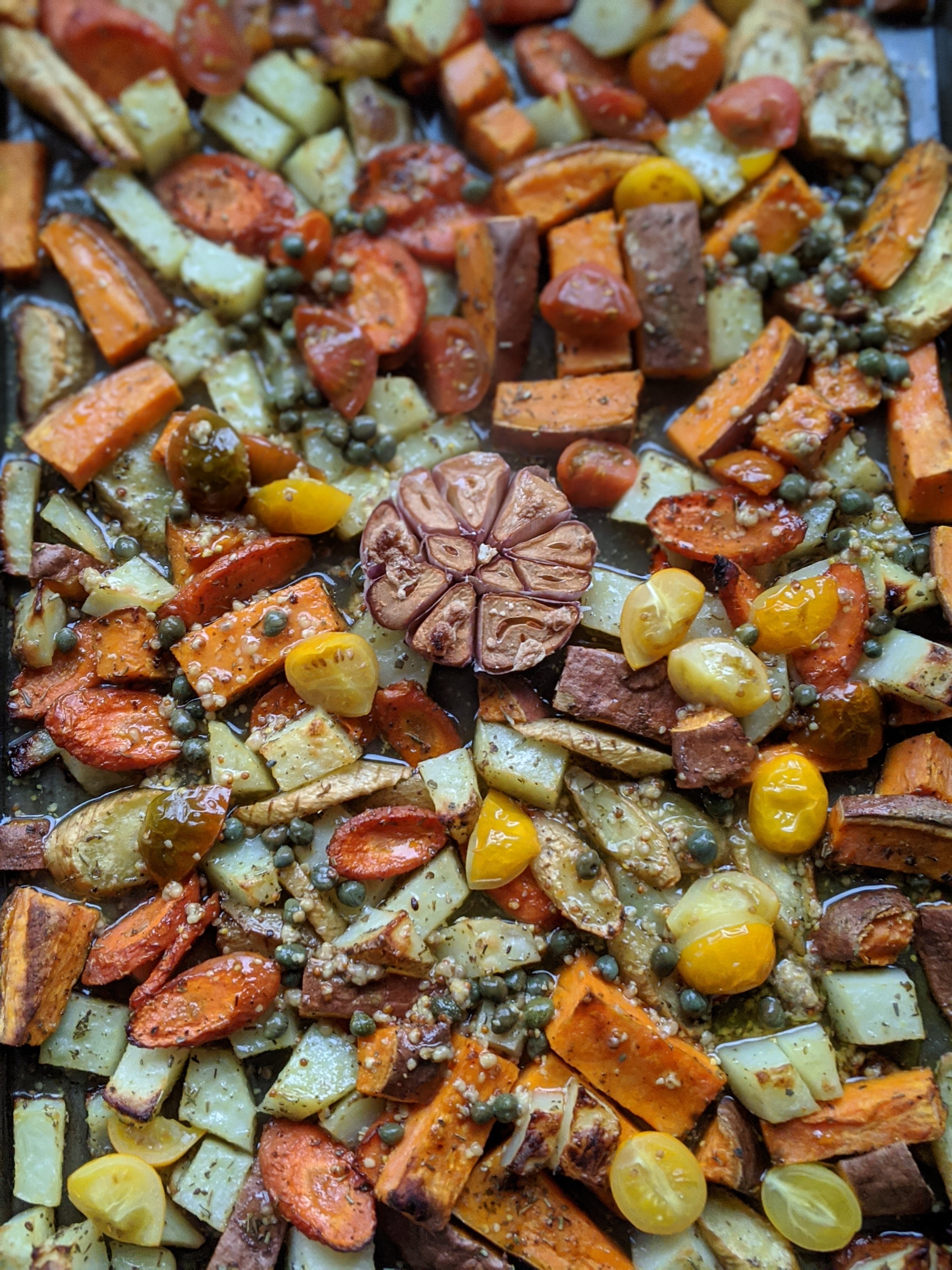 My recipe for Roasted Root Vegetables has a bright and fresh dressing which uses both whole grain mustard and capers (plus other pantry staples like maple syrup and olive oil!)
Condiments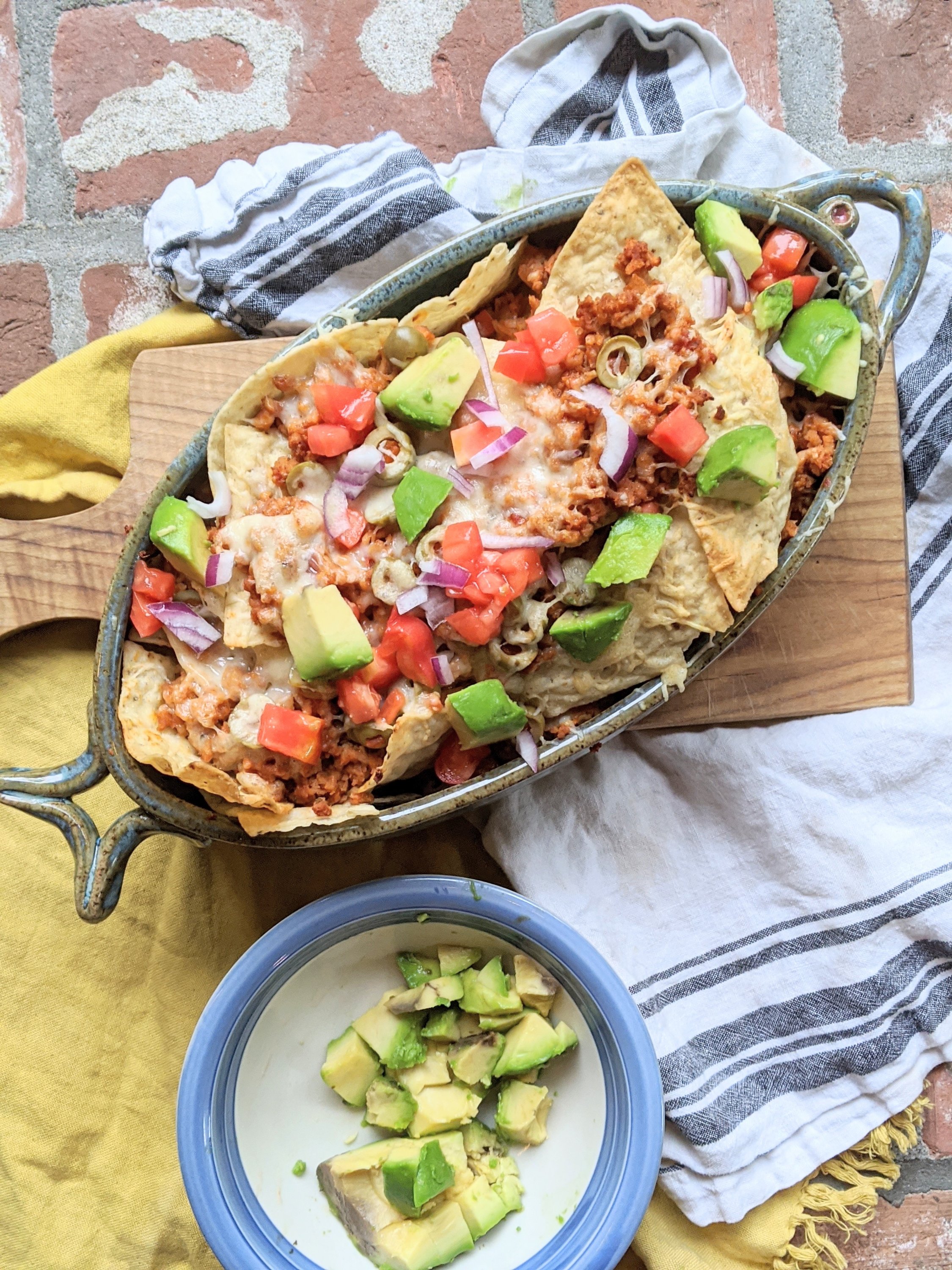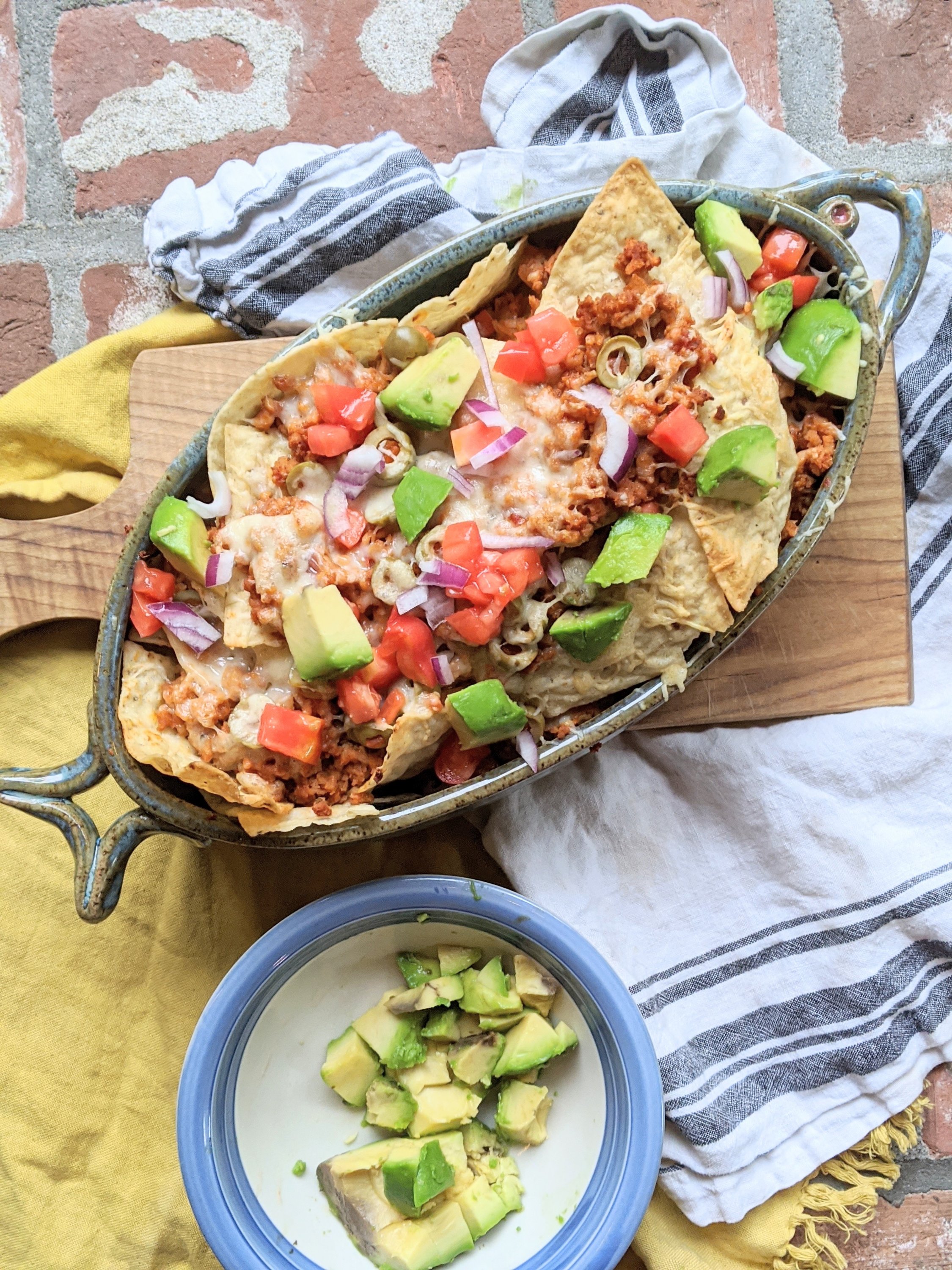 These Loaded Vegan Nachos are a great way to use that last little bit of salsa in the jar!
Sauces
Vinegar and Oils
A little goes a long way with vinegars and oils! I love adding a splash of balsamic to my Instant Pot Penne recipe or drizzling some olive oil over a hot bowl of soup. Vinegars and oils are a great addition to any recipe – giving your meal a little extra flavor. Here are a few acids and fats on the list that are always in my pantry!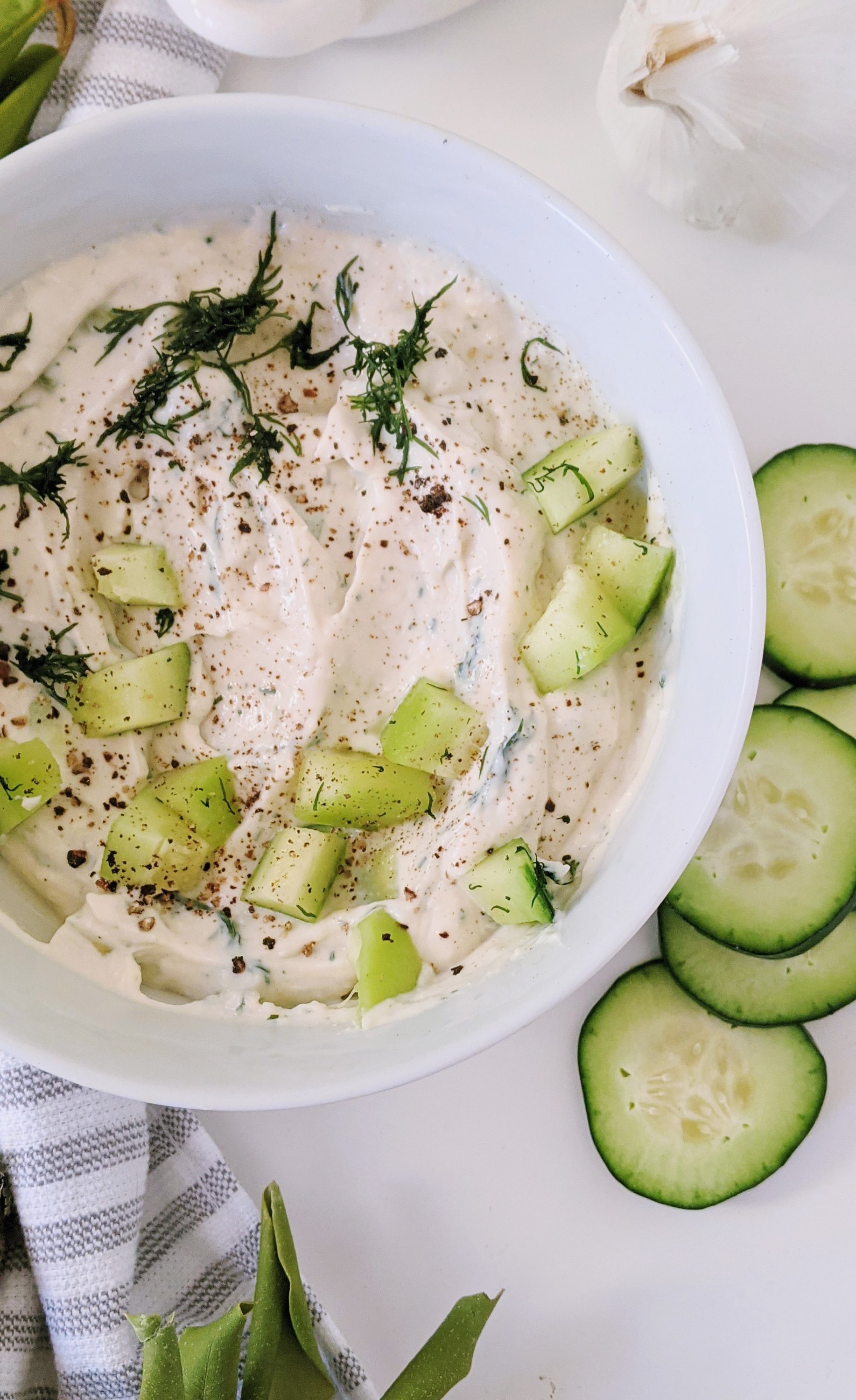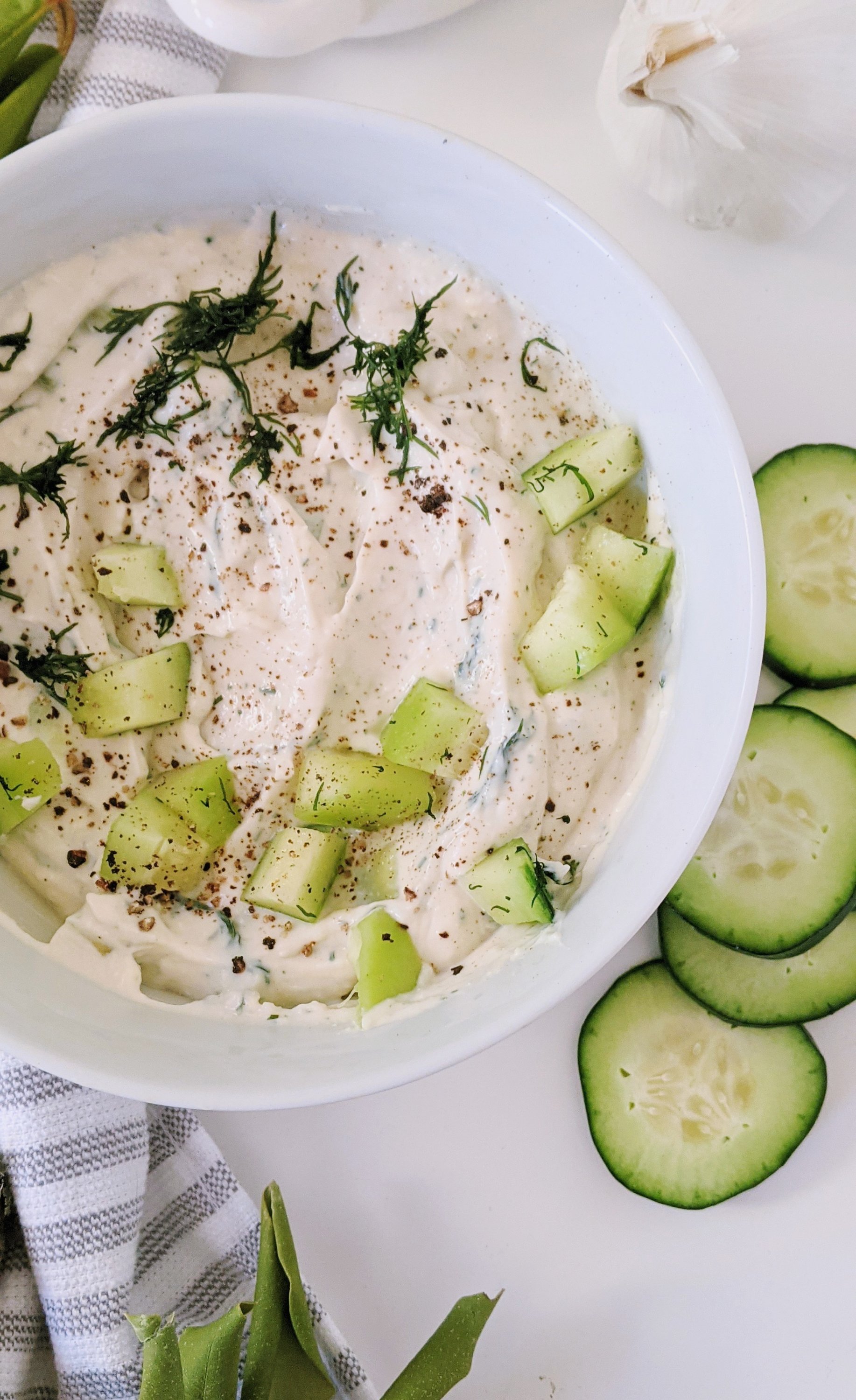 This bight and fresh Tofu Tzatziki Sauce recipe uses pantry staples for some major flavor: pantry stable tofu, apple cider vinegar, olive oil, jarred garlic, and spices! Great to serve as a dip, as a spread on a sandwich or pita, or a topper for roasted root vegetables. The possibilities are endless with this amazing pantry staple dairy free tzatziki.
Vinegars

This Rosemary Olive Oil Focaccia Bread recipe uses olive oil as one of the simple ingredients in this bread! I always keep olive oil and a few others in the cabinet for a quick dressing!
Oils
Pantry Staple Nuts and Seeds
One of our favorite snacks! I love a handful of nuts in the afternoon when I am feeling a little hungry. Nuts are great to add to baked goods (brownies + walnuts are the best combo!), to savory meals (topping a homemade Pad Thai with some peanuts adds crunch), or great to turn into nut milks. The only caveat is that nuts have a slightly shorter shelf life than other ingredients on this list because of their high oil content. So make sure to store these in a cool dry place, or in the refrigerator.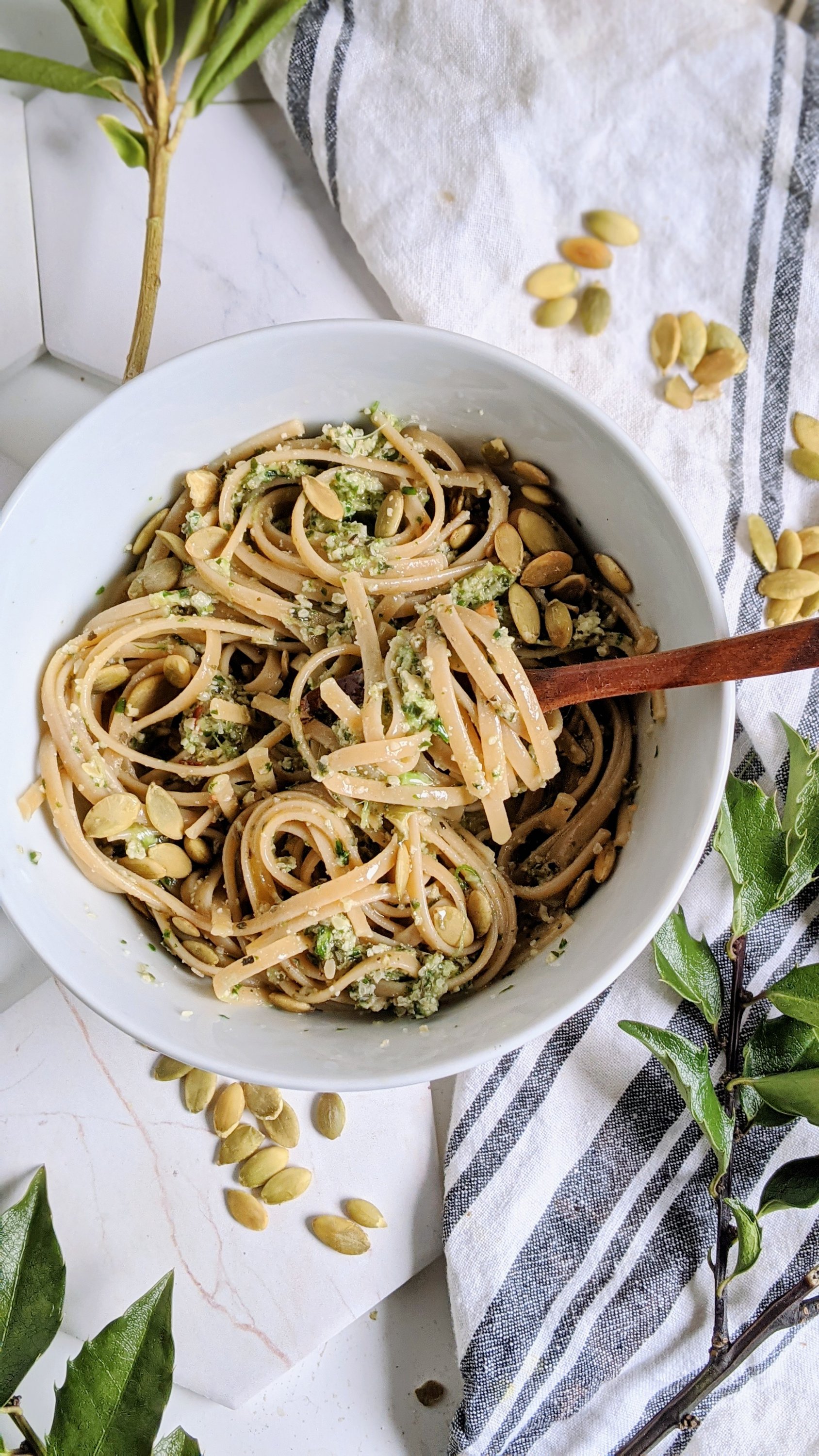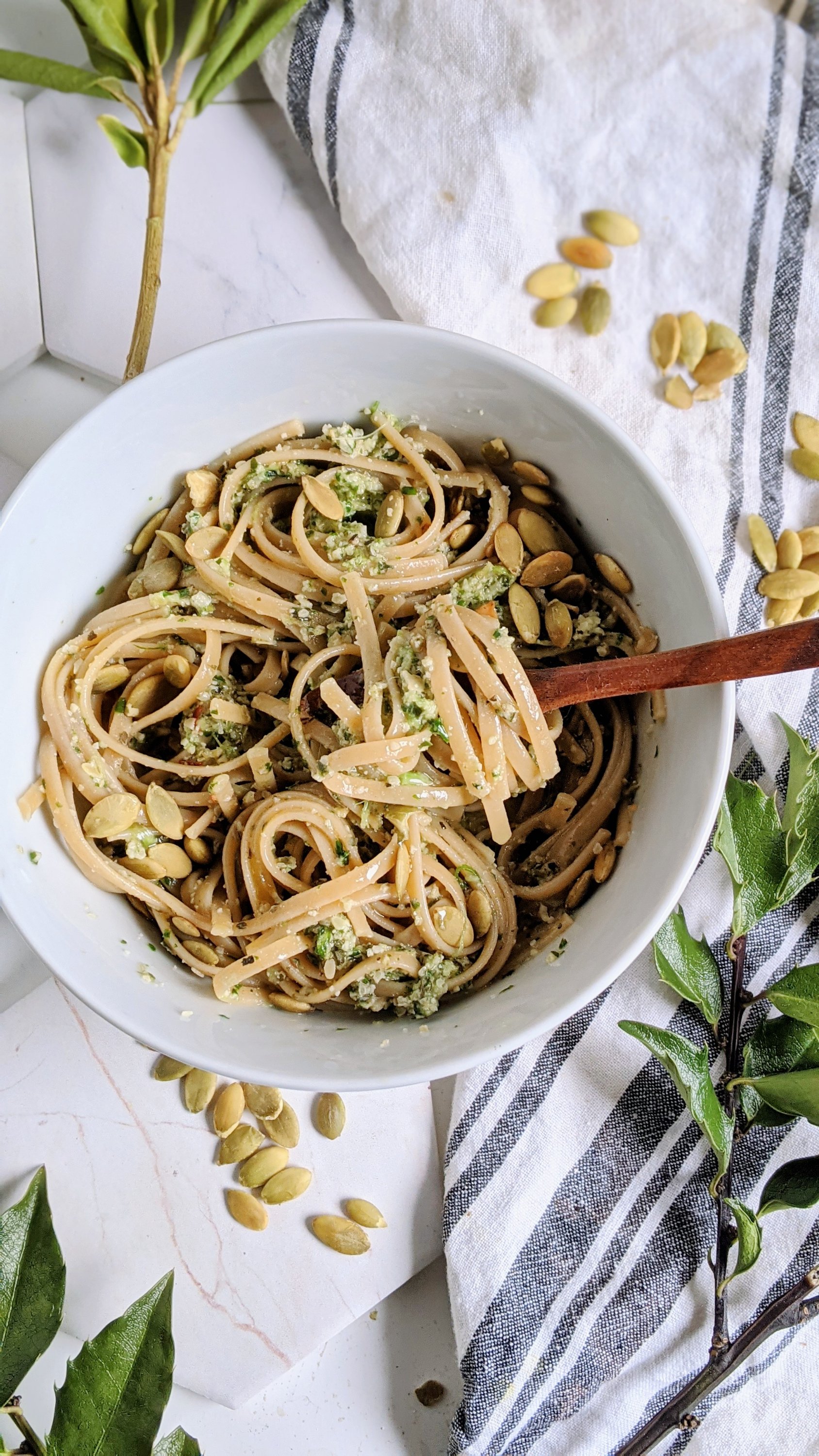 My Pumpkin Seed Pesto recipe uses pumpkin seeds aka pepitas for a healthy high-protein pasta sauce that you can make in your blender in 5 minutes! A great pesto for fresh (or frozen) herbs or greens and some garlic.
Pantry Staple Drinks & Beverages
There are a lot of great beverages and drink options to keep in a dry pantry! Coffee, teas, juices, and almond milk all have delicious shelf-stable options. And I'm adding wine to this list too because I love cooking with wine (and I even use some in my recipes too, ha). Below are some great options that we always have on hand in our pantries and cupboards.
Pink Coconut Water: I am absolutely hooked on this stuff – Real Coco's nam hom pink coconut water is that #extra hydration boost your body needs. A great way to get water + antioxidants in, and makes a great post-workout hydrator. I could drink these all day, they are so seriously good.
Oat Milk Lattes: Rise Brewing Co. has a fantastic Oat Milk London Fog Latte, which is great iced first thing in the morning… super refreshing, vegan, and gluten free!
Shelf Stable Almond Milk: such an awesome product! You can get 6 quarts of shelf stable almond milk that will last you for over a year. We have this almond milk in our fridge now 🙂
Coconut Milk Powder: OK, I already covered canned coconut milk in my baking section, but you can also get powdered coconut milk (mind blown)! which is so great for soups, smoothies, or curries! A great value and alternative to canned.
Teas: I like a lot of different teas, but a few favorites are Teapigs Chamomile, Blueberry Green Tea, and especially Vahdam's Turmeric Ginger tea
Coffee: Foursigmatic's coffee blends have been a personal favorite lately. We also roast our own beans, so we do buy a lot of green coffee too! But this great Foursigmatic mushroom coffee has an extra health boost from adaptogens, so I really enjoy drinking this one.
Hot Cocoa: nothing better for a cold evening.
Wine: White, Red, Sparkling… some for cooking, but mostly drinking!
Juices: lemon juice, lime juice, and apple cider
Gatorade Powder: this is such a fantastic electrolyte replacer for long work days on the homestead. Personally I am team Lemon Lime and Glacer Freeze. One can of the powder can last us for months, and tastes just as good (if not better) than the bottled stuff. Powder is the best value for Gatorade!
(Bonus Life hack: Lemon Lime Gatorade secretly makes the best margaritas! Which leads me to….)
Jimmy Buffett's Margaritavilla Singles: not even going to lie, these are great for a quick drink! I bought this variety pack here, and these make a great mixer anytime. It's 5 o clock somewhere 🙂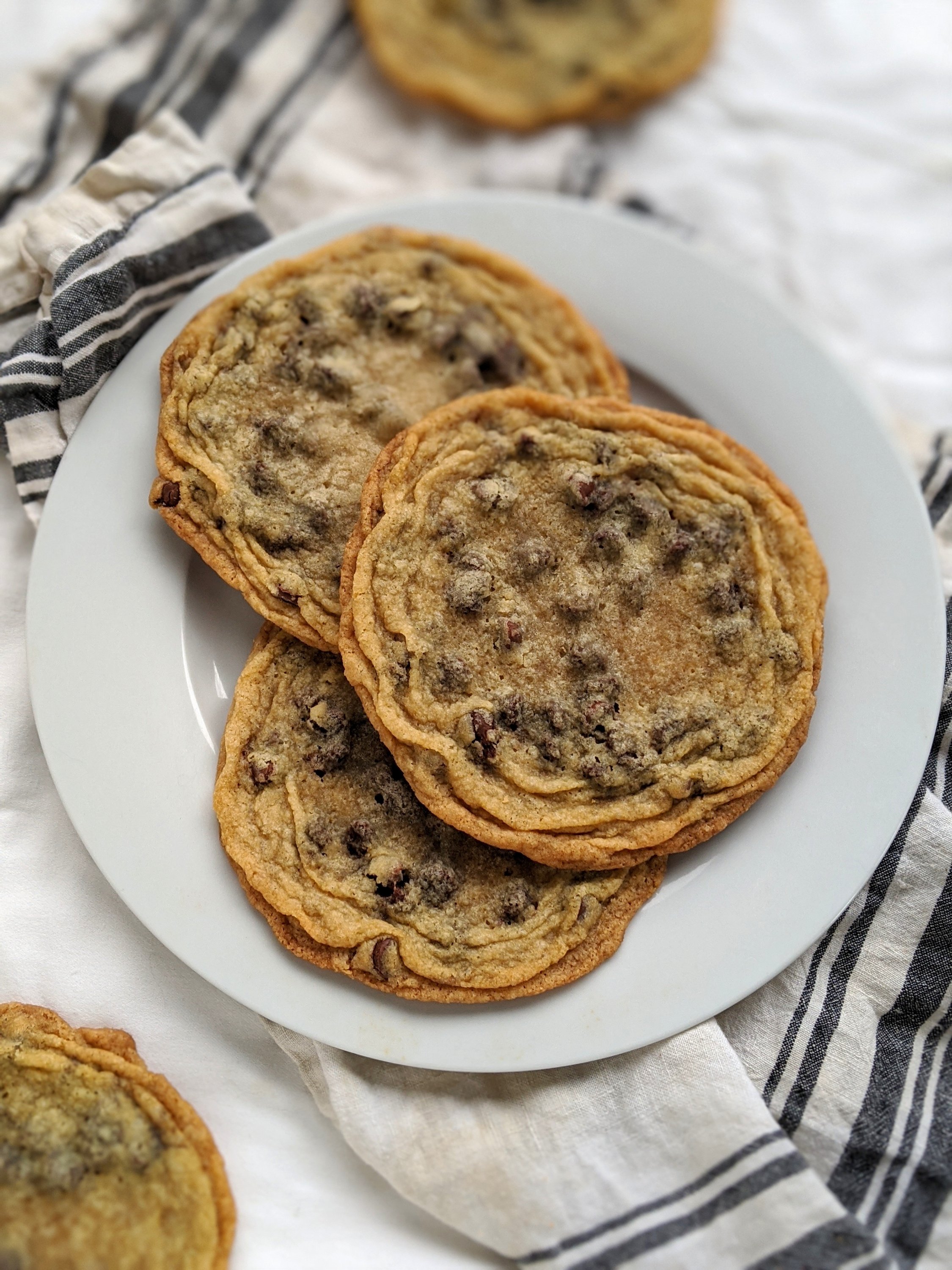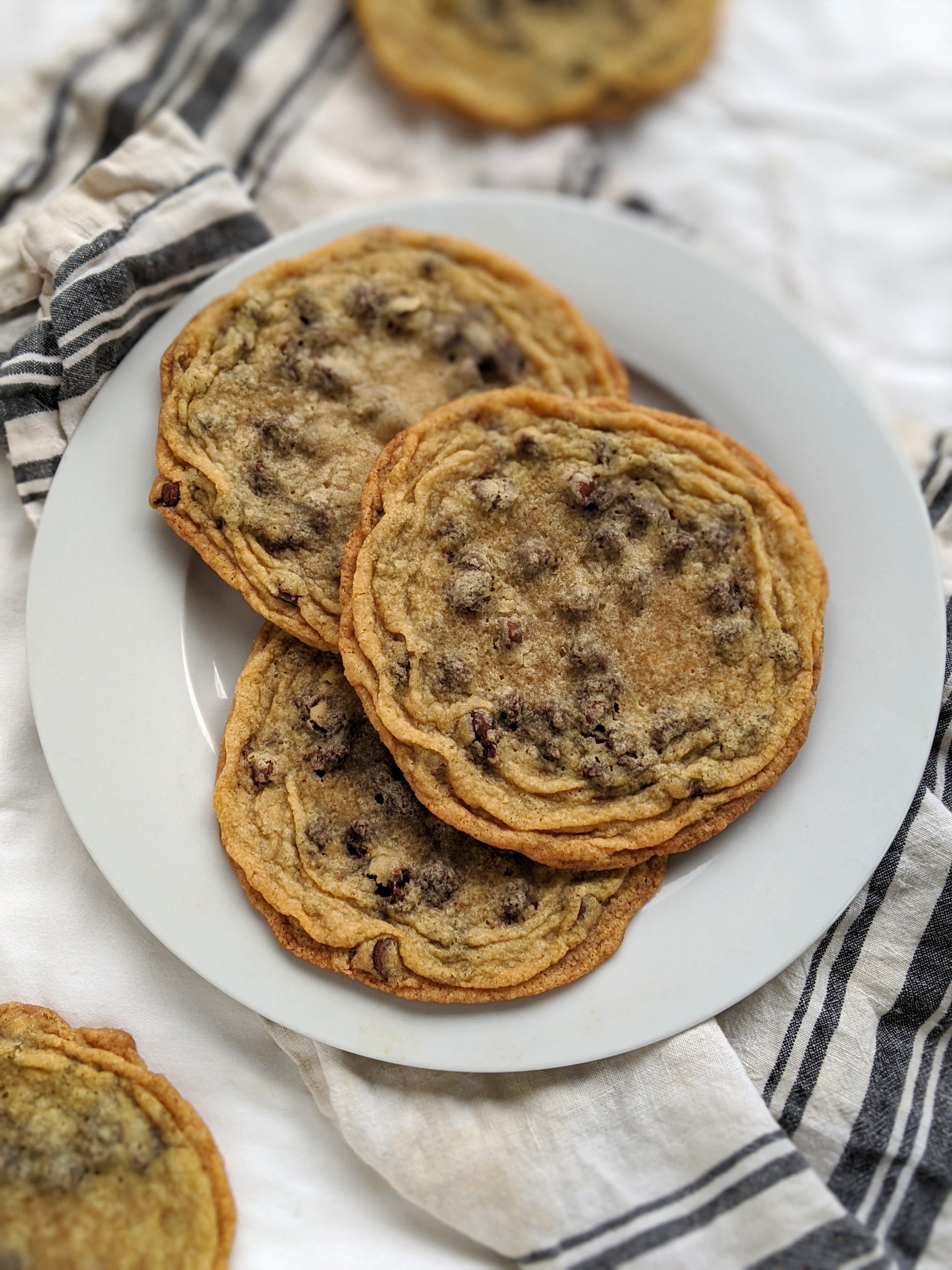 Don't forget dessert! These giant crinkle chocolate chip cookies are a great way to use up that extra flour or sugar in your pantry! These cookies are our all time favorite, and can be made vegan and/or gluten free!
Organize Your Vegan Pantry!
I use a lot of mason jars and bulk containers to keep some of our beans and grains fresh. Airtight containers are great for bulk bags of rice, flour, or sugar that you buy!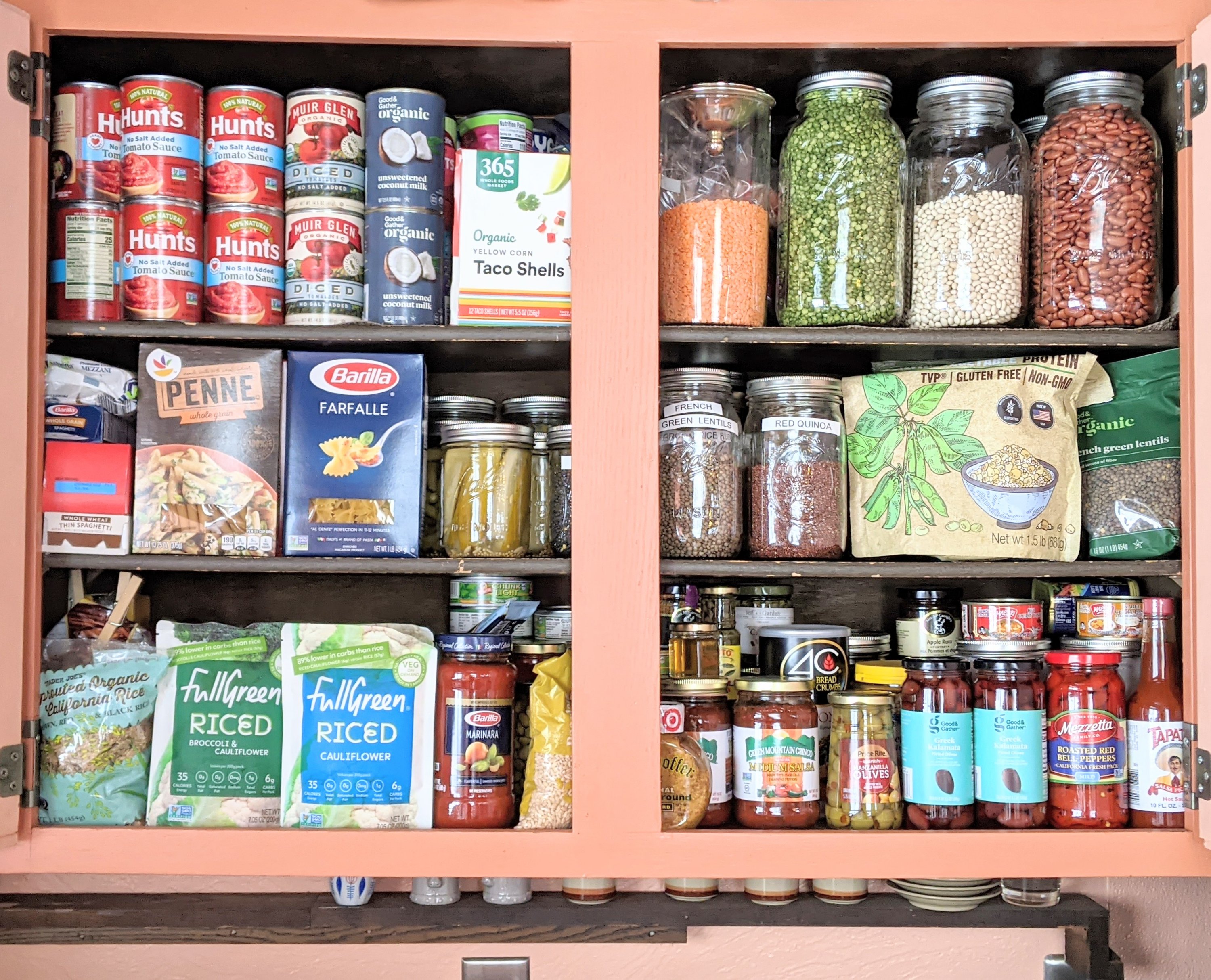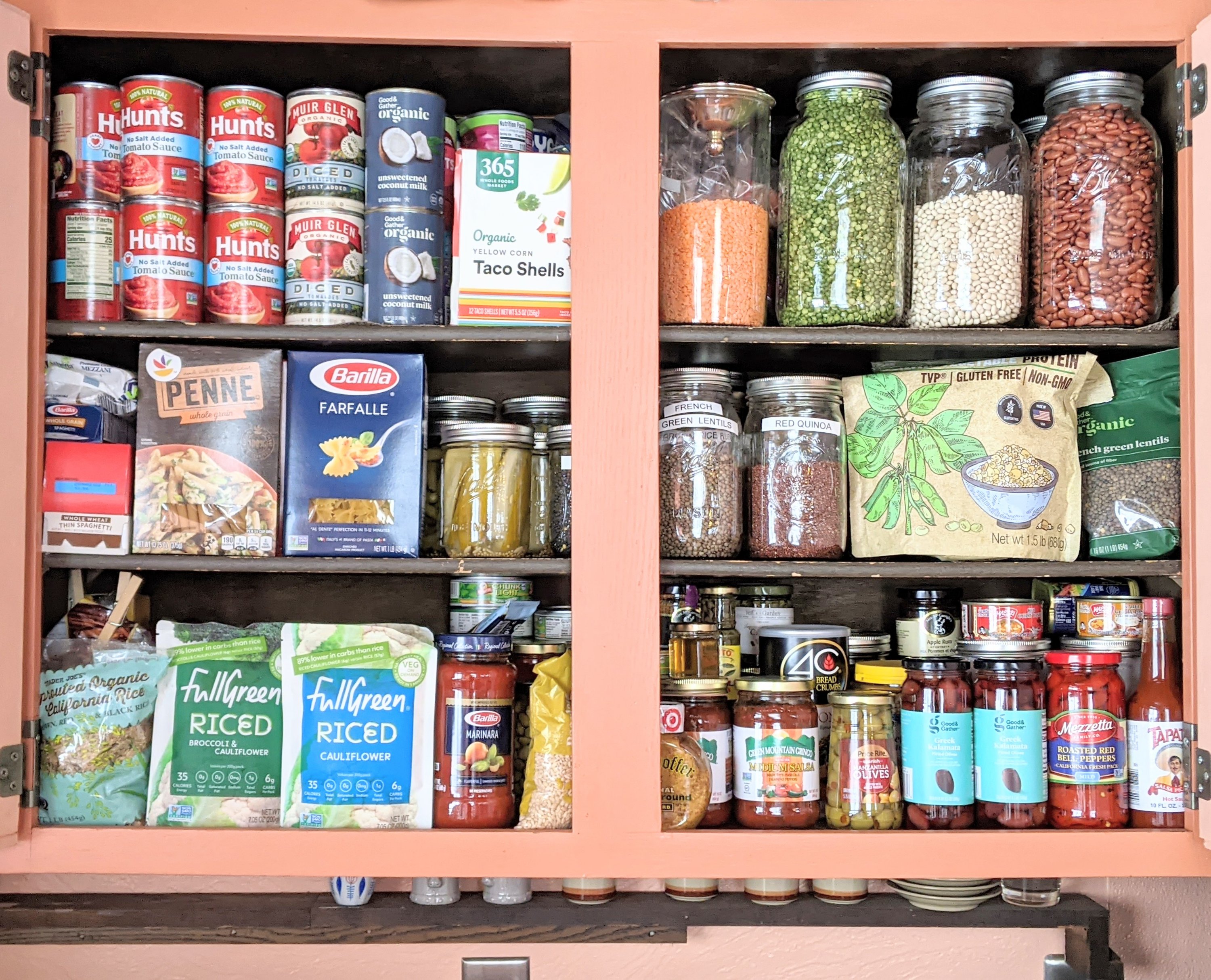 A sneak peak into our pantry! Full of tons of amazing vegan pantry staple ingredients.
I made a list of all my favorite meal prep products here on Amazon, and a few are listed below!
Anything I missed? What are your favorite vegan pantry staple ingredients? Let me know in the comments below.
Get Some of these Vegan Pantry Staple Recipes!
Pumpkin Lentil Chili
This pumpkin lentil chili is a healthy fall comfort food loaded with plant protein and fresh vegetables! Great as a meal prep or game day dinner.  Serve with a slice of thick crusty bread or cornbread, and top with your favorite toppings: cilantro, crackers, sour cream or coconut cream, and melty cheese.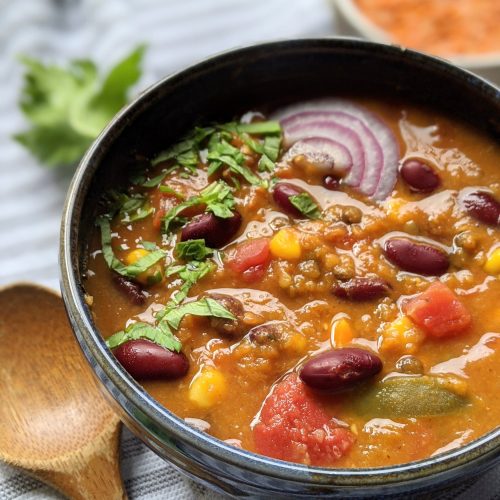 Chocolate Oat Milk
This plant-based chocolate oat milk recipe is a perfect and easy treat! Only a few simple whole ingredients.  Great in overnight oats, lattes, in cereal, or by just itself in a glass.
Check out this recipe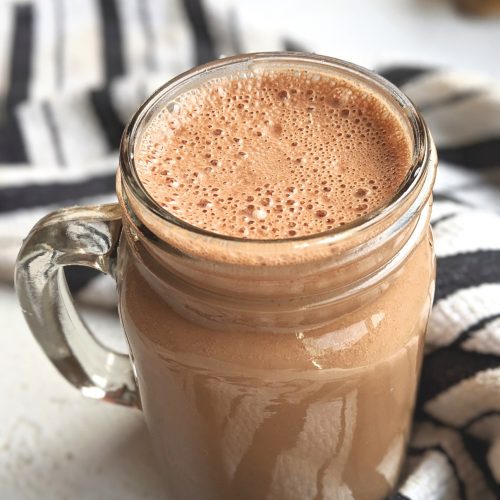 White Wine Pasta Sauce with Garlic & Herbs
This garlic & white wine pasta sauce is bright, flavorful, and absolutely divine! Made with pantry staple ingredients for a simple pasta anytime. Can easily be made gluten free and vegan too - so its perfect for anyone at your table.
Check out this recipe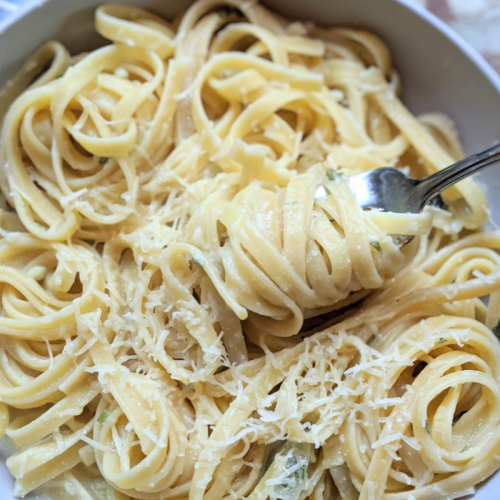 This post may contain affiliate links. As an Amazon Associate I may earn from qualifying purchases, at no additional cost to you. Thank you for supporting the brands that support us!
Let's keep in touch – make sure to sign up for my newsletter to get healthy recipes delivered fresh to your inbox. And don't forget to follow over on Pinterest, Instagram , & Twitter– I'd love to connect with you there!