This white bean and veggie salad recipe is a protein packed recipe for fresh garden tomatoes and cucumbers! Easy no cook summer lunch.
Great for an easy no-cook lunch or dinner. Serve with a thick slice of homemade sourdough and you've got a satisfying meal ready in about 5 minutes. High fiber, gluten free, vegan.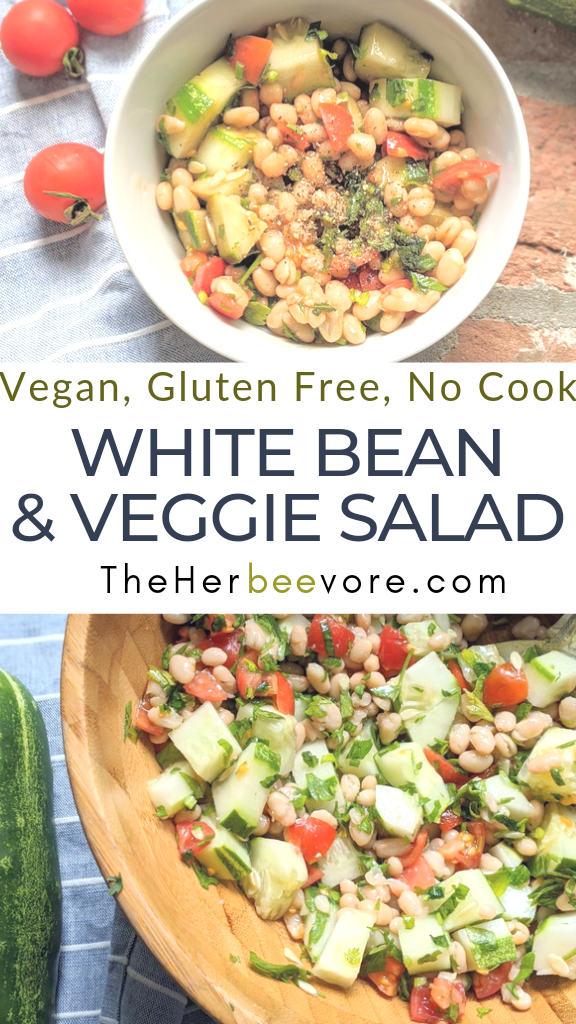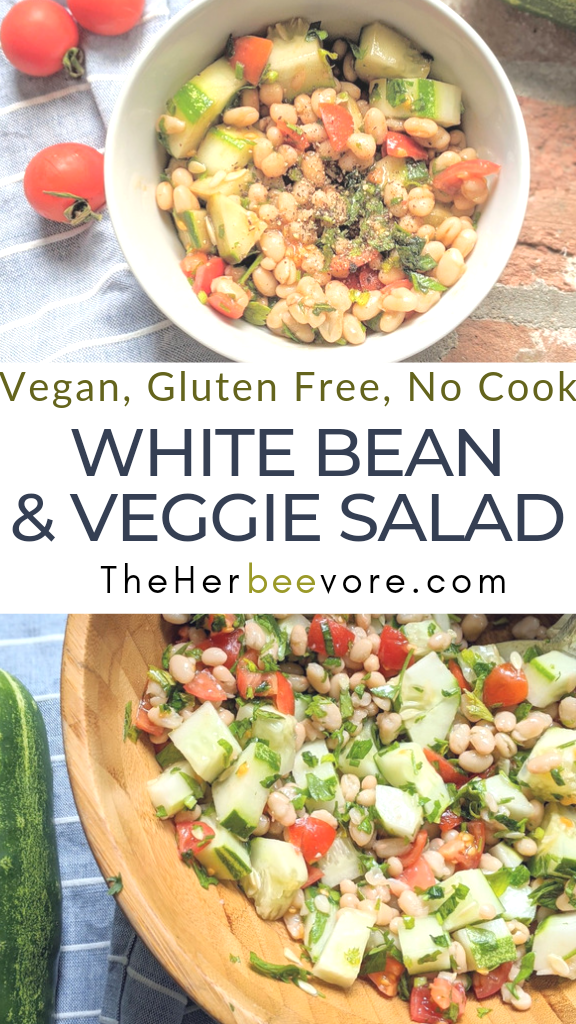 At this point in the summer, almost all my meals look something like this. We are overrun with garden tomatoes and cucumbers, and are bringing in more than we can eat! This white bean summer salad is the perfect healthy summer lunch recipe that will make your garden produce shine.
I love the light balsamic dressing with this salad. It's fresh, crisp, a little sweet, and a perfect light lunch.
This White Bean and Veggie Salad Recipe Is
Fresh
Bright
Herby
Simple
Versatile
Earthy
Vegan & Vegetarian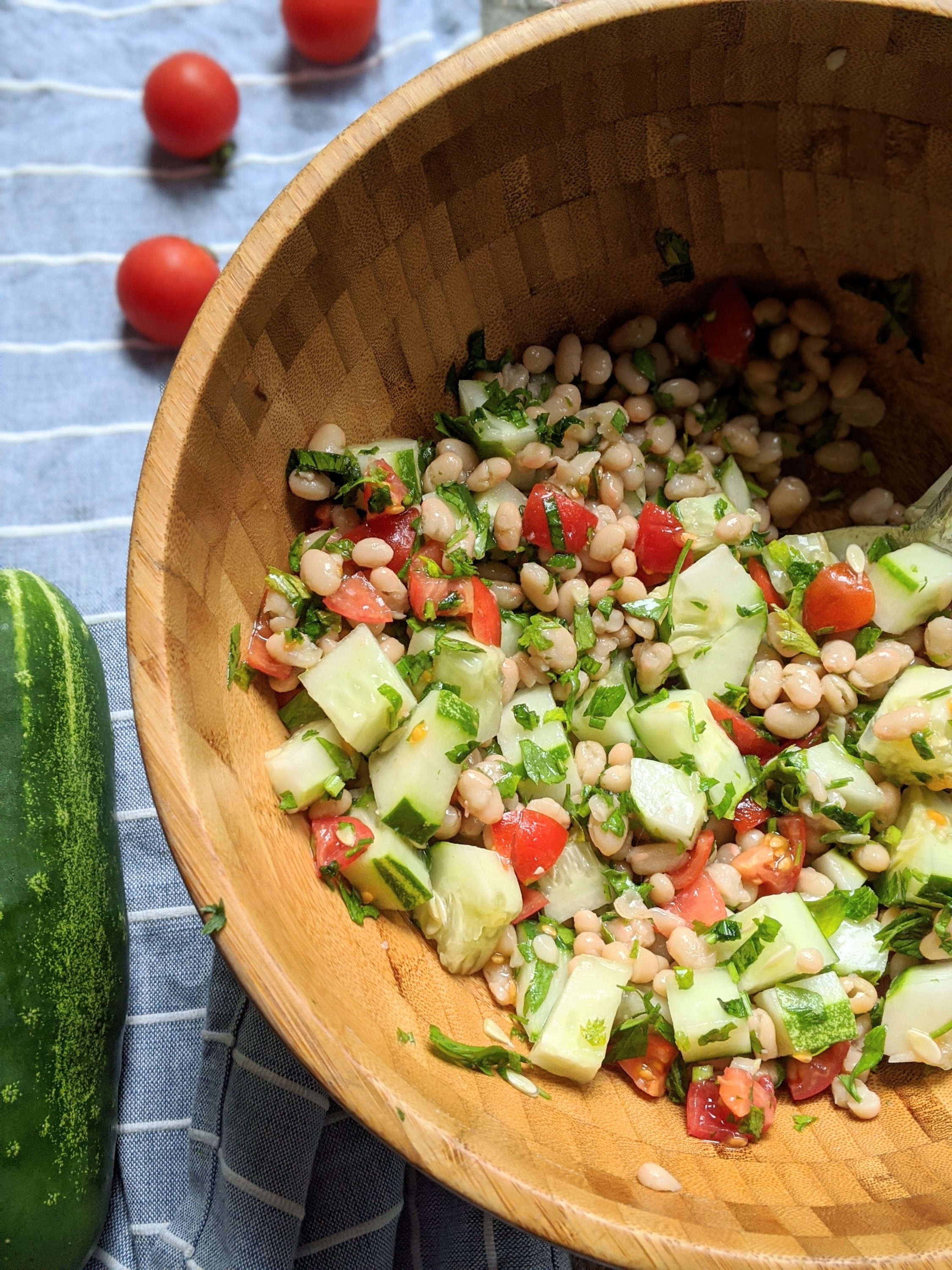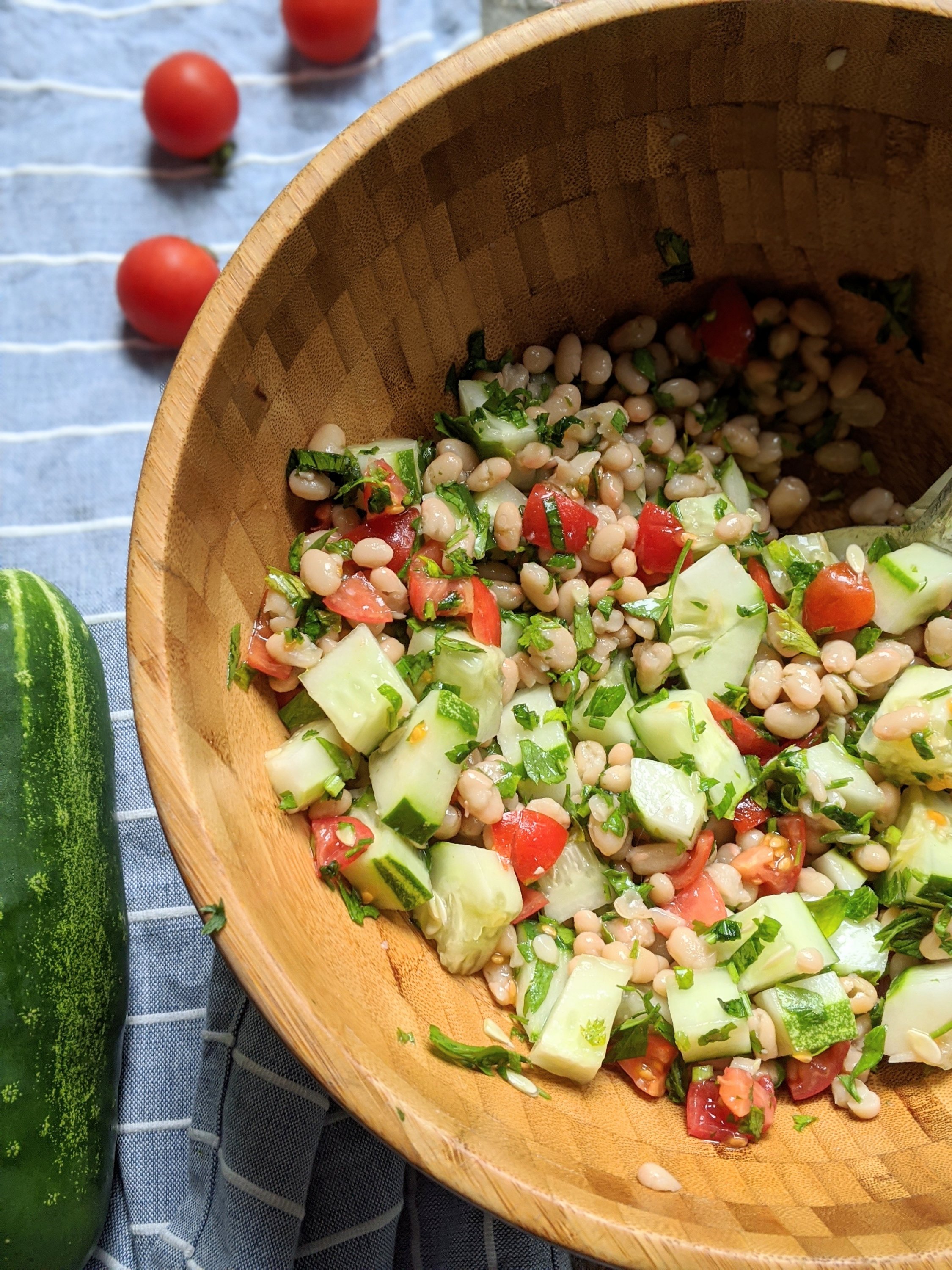 Make White Bean Salad Vegan for a Healthy Version
This vegan white bean salad is a simple way to get extra veggies in your diet. I'm all about making recipes plant-based when I can. Vegan cooking does NOT have to be bland, boring, or flavorless… It's quite the opposite when done right. By building meals around vegan pantry staples and swapping in a few plant-based ingredients you can make healthier meals for you and your family. I made a list of my 125 favorite vegan pantry ingredients that we use on a weekly basis, and check out all my vegan recipes here that are on The Herbeevore. These easy and healthy recipes are fantastic meatless and dairy free meals for your table.
This white bean summer salad is a riff of a classic blueprint that I love to enjoy for lunch. Add beans (or grain) of choice, some fresh vegetables, fresh herbs, and a simple olive oil and vinegar dressing. That is all. The fresh, homegrown ingredients absolutely shine. Its protein packed, healthy, and will leave you satisfied until dinner time.

A No-Cook Bean Salad Recipe That's Perfect for Summer
This no-cook white bean salad recipe is a quick and simple recipe. I love a good no-cook recipe for those days when I'm not feeling like standing around the stove, or for summer nights when it's too hot to cook. I have a whole collection of recipes that require zero cooking at all, check them out here!
This salad comes together in about 10 minutes, and doesn't require the stove or microwave to make. Just use a few pantry staple ingredients and you have a healthy meal ready in no time. And very little to clean up afterwards… an added bonus!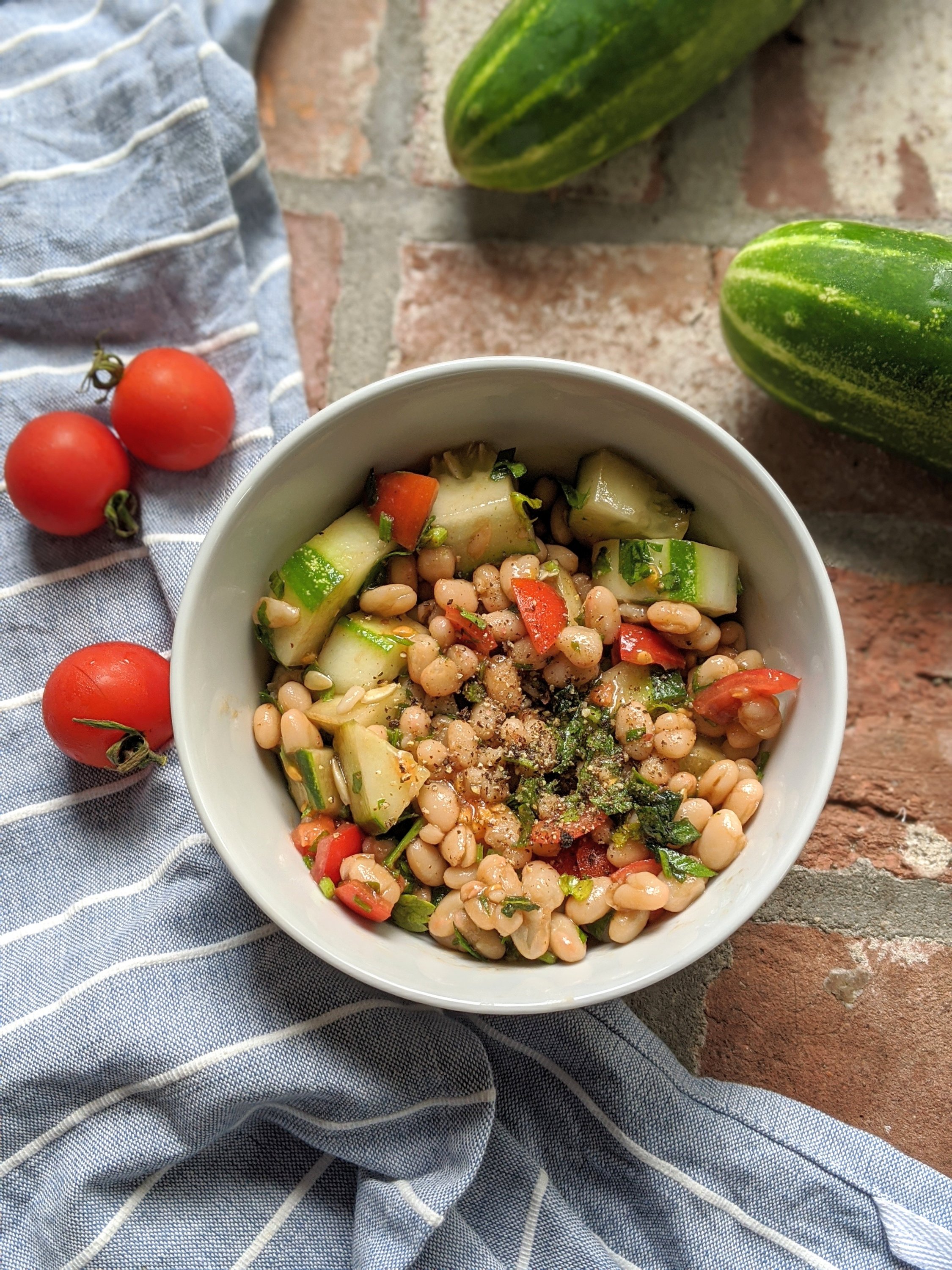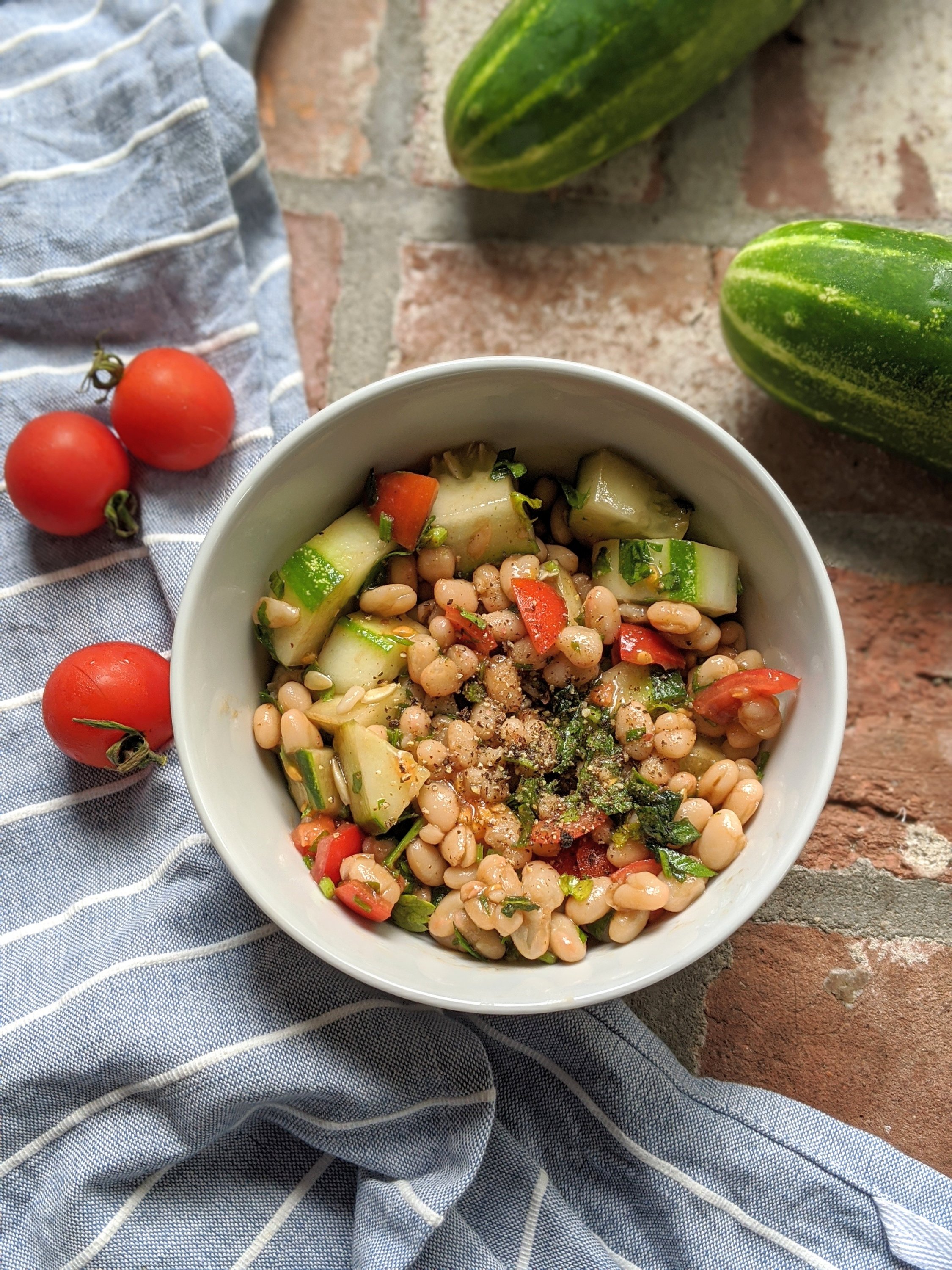 What's In This Summery White Bean & Veggie Salad Recipe?
I love shopping for fresh produce through Misfits Market – they sell groceries, healthy pantry staples, and fantastic food finds (even wine!) at a discounted price. Choose your favorite seasonal produce, save up to 40% off grocery store prices & save time by getting free delivery right to your door!
Cucumber, Tomatoes, Parsley
Low Sodium White Beans: you can use these low sodium canned beans or make them yourself from dried beans. I usually always cook my beans from scratch as they have lower sodium and is really easy to do in the Instant Pot. If you do use canned beans, I would highly recommend using low or no sodium canned beans like these, which won't alter the taste of this recipe.
Cucumber: picked that day off the vine
Tomatoes: same as above! There's nothing better than fresh grown tomatoes.
Parsley: My favorite herb, gives this salad a a bright fresh flavor!
Olive Oil:

I like to use

this delicious Zoe olive oil

which has a fantastic flavor and deep color-

it's really inexpensive online here,

so I keep a few liters stocked up in my pantry. For the

quality of oil you get, it's an excellent value,

I would highly recommend!

Garlic

: I use fresh garlic when I have it, and

this great jarred organic garlic

when I don't have fresh. It's actually super convenient to have

pre-chopped garlic on hand

for quick and easy meal prep.

Apple Cider Vinegar,

which may surprise you but it gives the salad

a little extra tang

which is really fantastic! I love using

this organic apple cider vinegar

with the mother which has a great flavor.

Pink Himalayan Sea Salt: I

like to use

a pink Himalayan Sea Salt

in my kitchen, which has more natural minerals than plain processed table salt.

It's fairly inexpensive,

so I'd recommend

this salt

if you're looking for an easy way to level up your spice pantry.

Tellicherry Black Pepper:

Like the salt, it's amazing the flavor difference you can get with

really good tellicherry black pepper

. This pepper is

the same price is buying pre-ground

, and has a million times more flavor! I use

these really great tellicherry peppercorns

, which I would definitely recommend.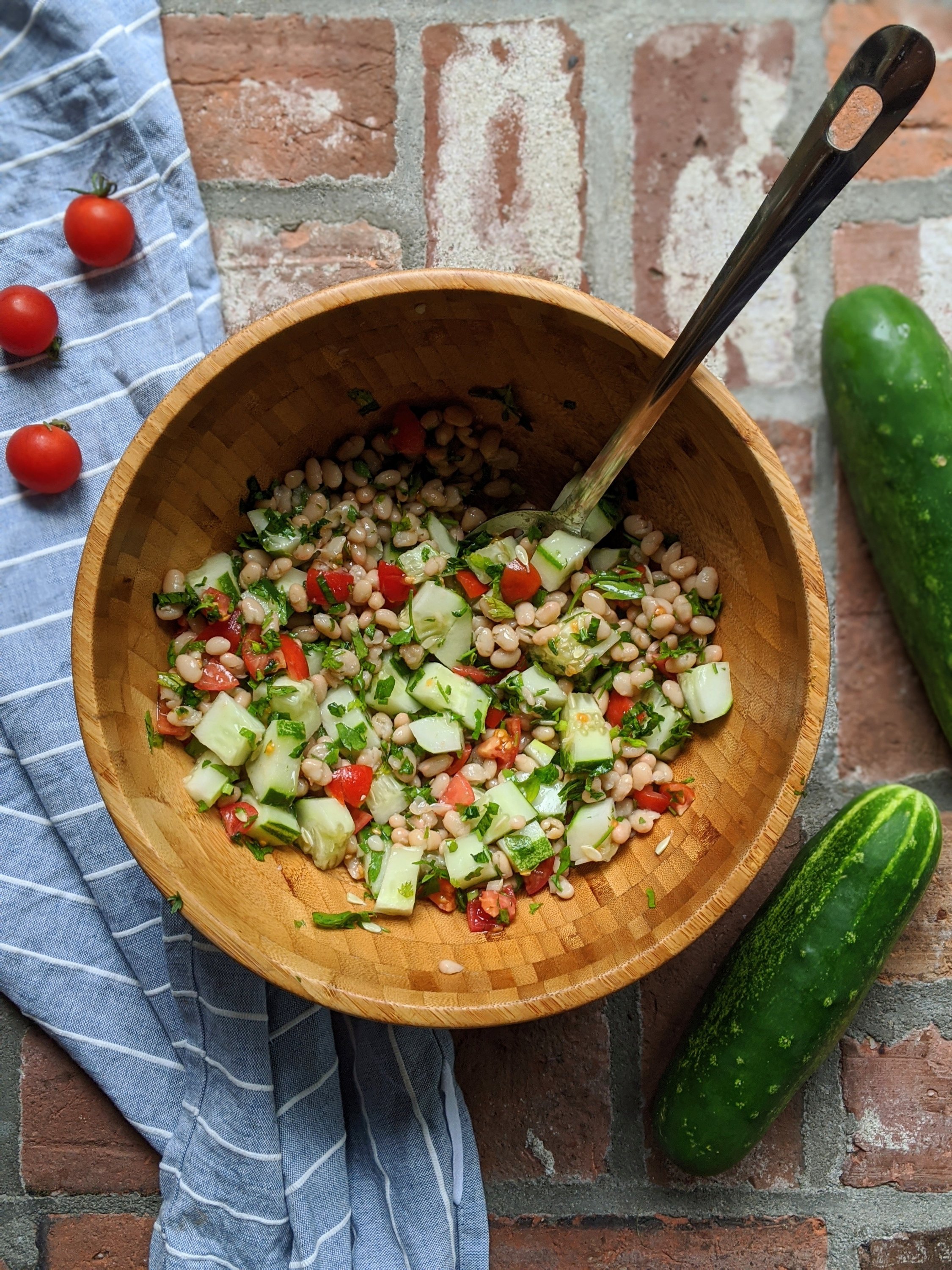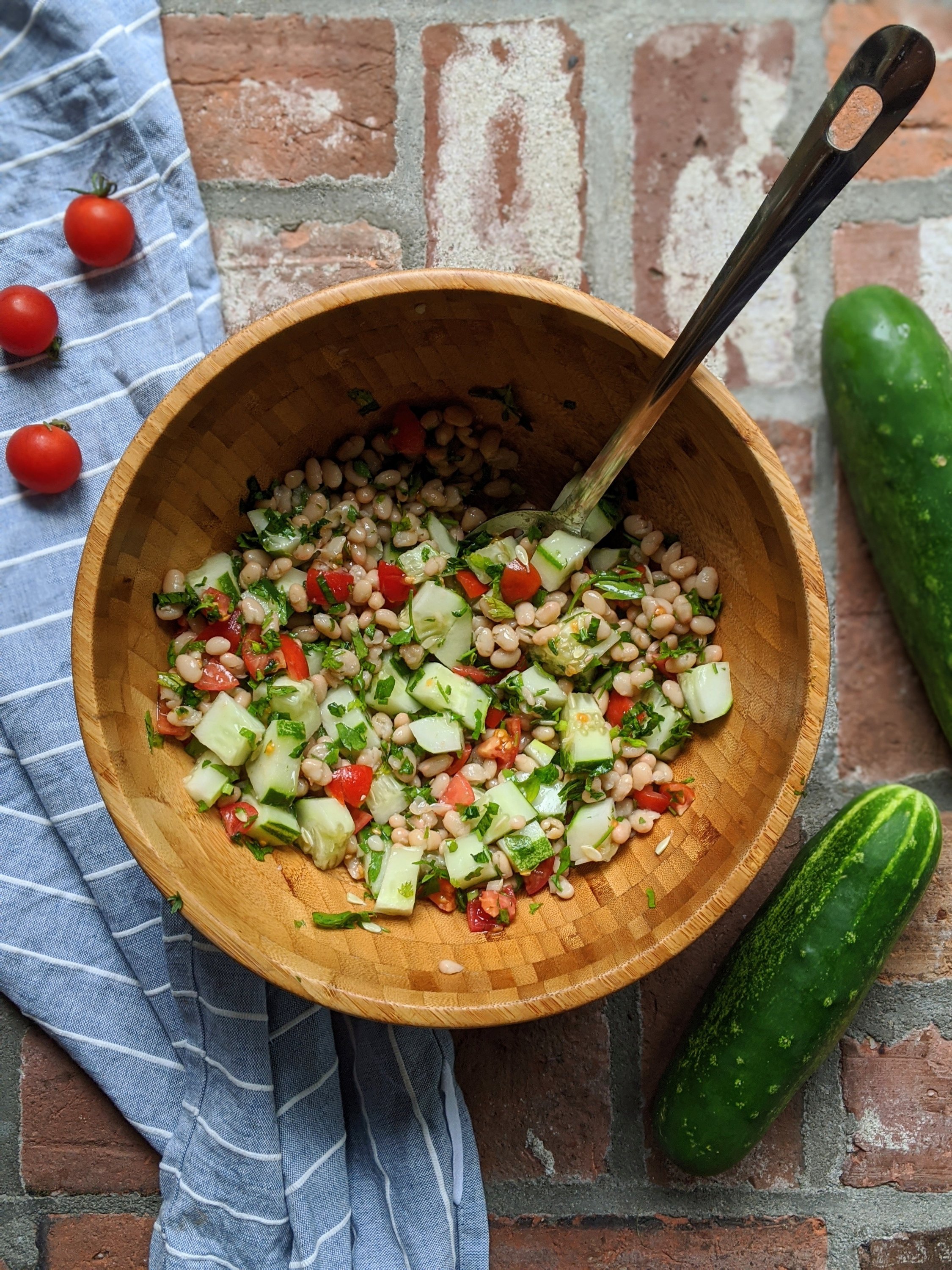 Inexpensive and Affordable Salad Recipes For Everyone
I love how inexpensive this bean salad is to make! This recipe uses a lot of ingredients you would have in your dry pantry or cupboards – most of which you probably have on hand. Keeping a well-stocked pantry makes it easy to come up with delicious and healthy meals using a few staples you can rotate.
I made a list of my Top 125 Plant-Based Pantry Staples that always keep stocked. And you can check out all my favorite pantry staple ingredients in my Amazon shop here. By stocking up on healthy whole ingredients you can cook delicious recipes without a trip to the store!
How Do I Make This No Cook Summer Salad with White Beans?
In a large bowl, add the white beans, cucumber, tomatoes, parsley, olive oil, apple cider vinegar, and a touch of Salt and pepper.
Stir well and toss to combine all ingredients so they are coated in the vinegar and oil.
Taste and add additional salt or pepper if needed.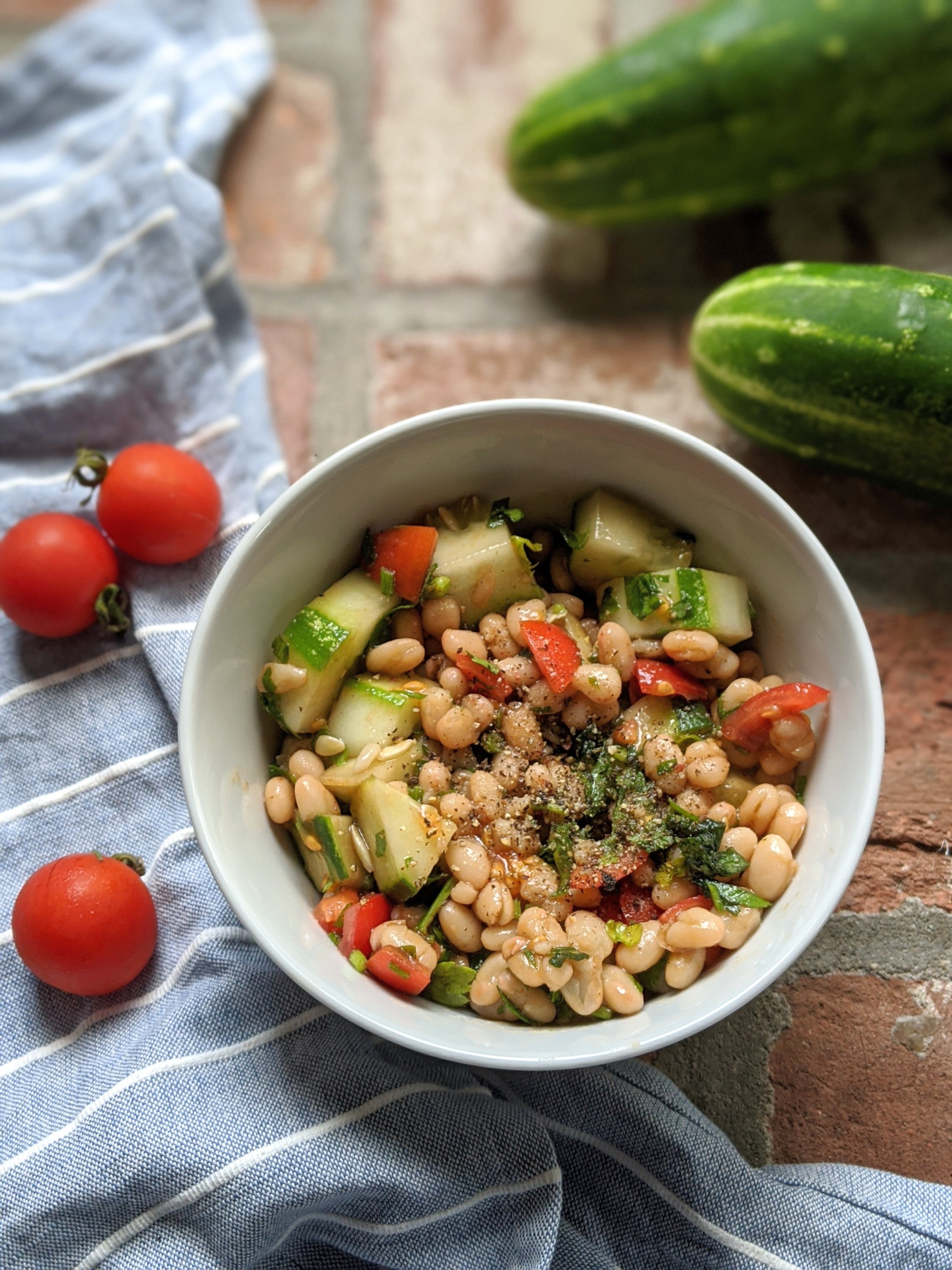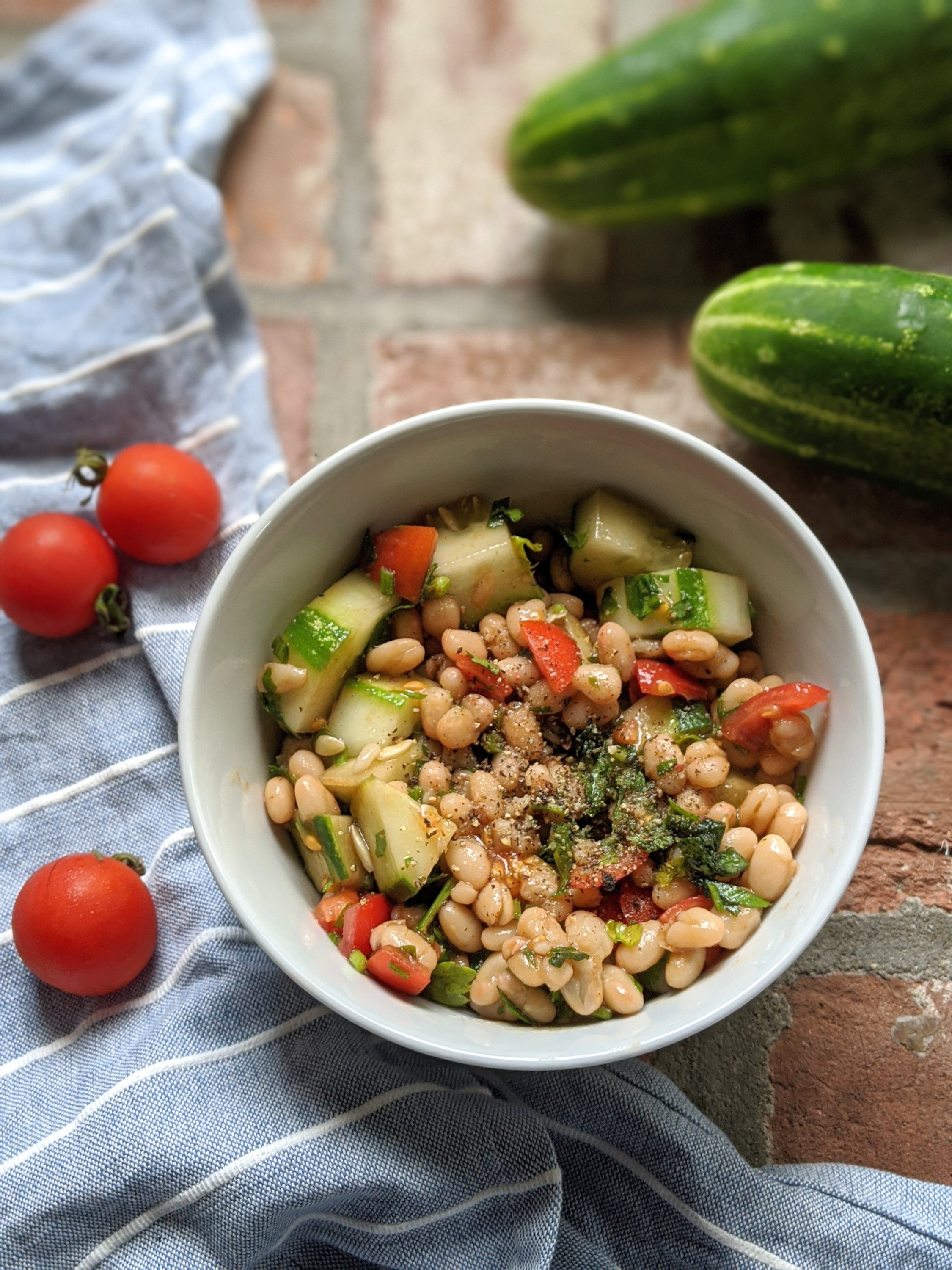 More Light Vegetarian Salad Recipes You'll Love!
Creamy Avocado Veggie Pasta Salad (Vegan)
Vegan Ramen Noodle Salad Recipe
Vegan Apple Walnut Salad with Sweet Dijon Vinaigrette
French Lentil Salad with Cider Vinaigrette (Vegan)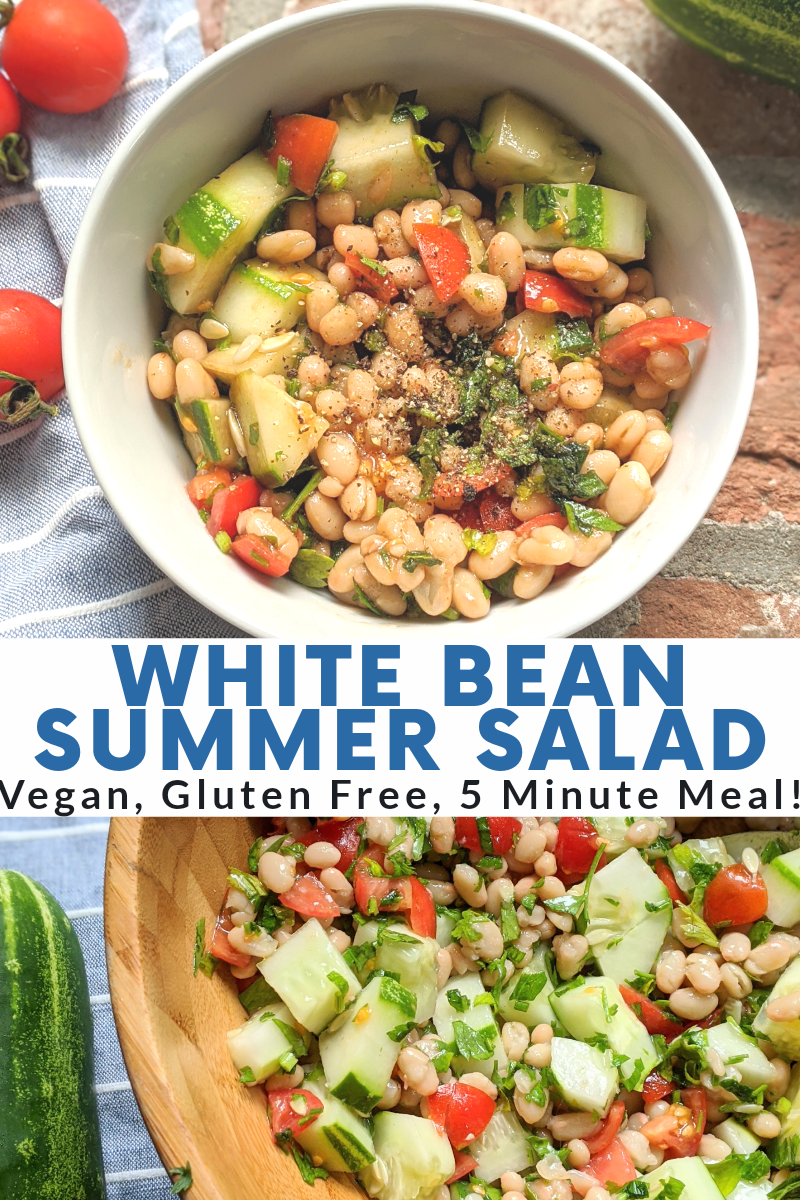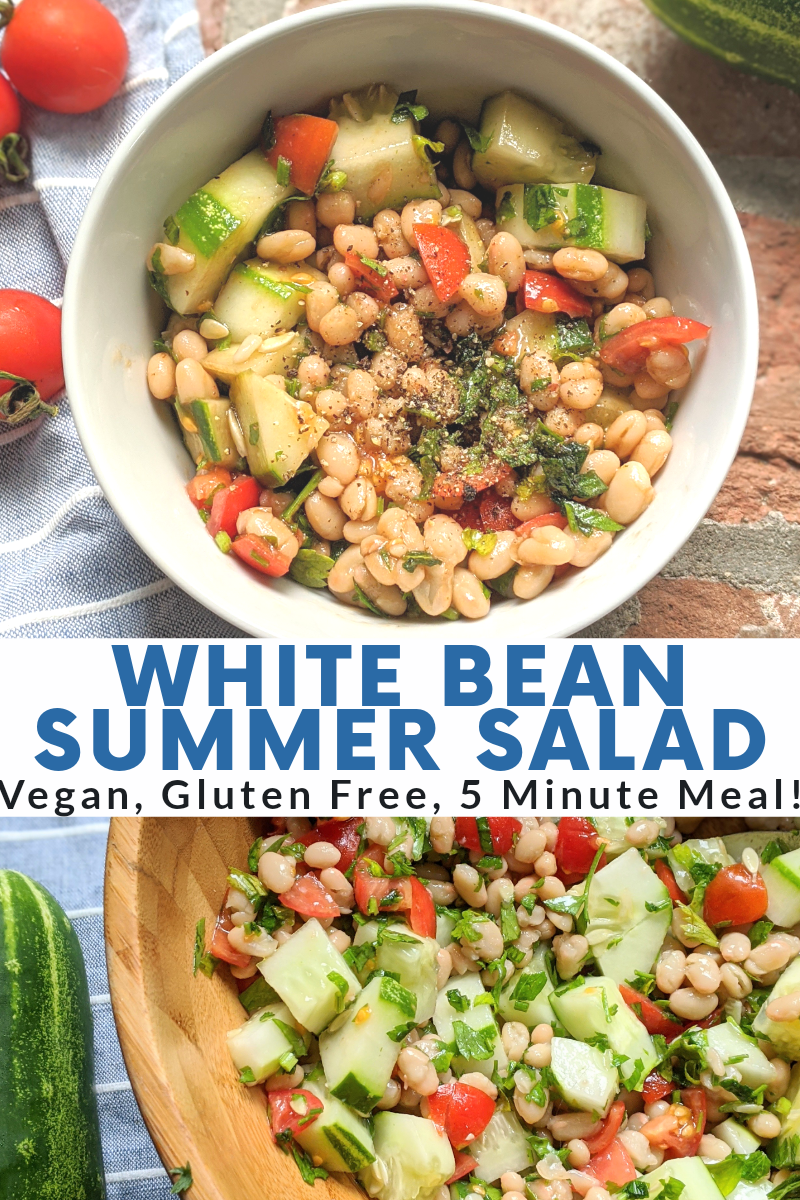 Get the Same Ingredients I Use For This Light and Healthy Mediterranean White Bean & Veggie Salad Recipe
As always, if you make this summer white bean & vegetable salad recipe sure to leave me a comment, rate this recipe, and tag me @theherbeevore on Instagram so I can feature you. I love seeing all your photos of my recipe recreations!
Let's keep in touch – make sure to sign up for my newsletter to get fresh recipes weekly. And don't forget to follow over on Pinterest, Instagram , & Twitter– I'd love to connect with you there!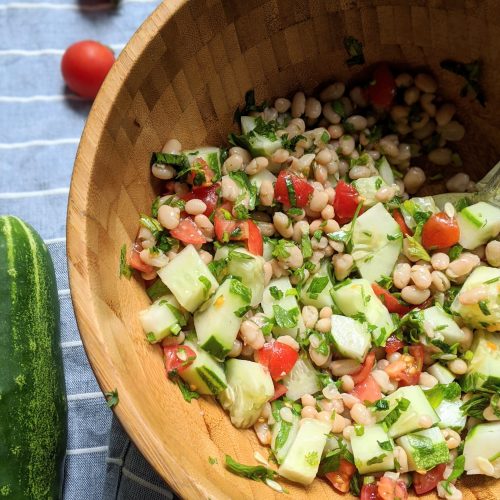 White Bean and Veggie Salad
This summer white bean salad is a protein packed recipe for fresh garden tomatoes and cucumbers! Easy no cook summer lunch.  Great for an easy no-cook lunch or dinner. Vegan, gluten free summer side salad dishes, high fiber recipes with beans.
Instructions
In a large bowl, add the white beans, cucumber, tomatoes, parsley, garlic, olive oil, agave, and the apple cider vinegar.

Stir well and toss to combine all ingredients so they are coated in the vinegar and oil.

Taste and add salt or pepper if needed.
Notes
Save Money on Fresh Produce!
I get all the fresh produce for my recipes from my garden and from
Misfits Market
- they sell all organic produce at a super discounted price, and it's purchased direct from the farmers. We get Misfit Market boxes every week or so and love picking out our favorite seasonal produce for delivery.  You can get
$10 off your first box by clicking here!
If you think organic produce is too expensive... think again, and give

Misfits Market

a look!

shed avocado worked wonders!
Nutrition
Calories:
285
kcal
Carbohydrates:
38
g
Protein:
14
g
Fat:
10
g
Saturated Fat:
1
g
Polyunsaturated Fat:
1
g
Monounsaturated Fat:
7
g
Sodium:
16
mg
Potassium:
932
mg
Fiber:
9
g
Sugar:
3
g
Vitamin A:
1085
IU
Vitamin C:
19
mg
Calcium:
145
mg
Iron:
6
mg
Did You Make This Recipe?
Please leave a rating and comment below!
Or tag me @theherbeevore in your photo on Instagram!
This post may contain affiliate links. As an Amazon Associate I may earn from qualifying purchases, at no additional cost to you. Thank you for supporting the brands that support us!