This dairy free frittata recipe is a great breakfast made with onions, peppers, greens, and spices – with no added milk or butter! A great satisfying brunch recipe that's ready in just 30 minutes… great to make the day before if you have company.
Enjoy a simple and hearty morning meal with this delicious veggie frittata. Serve with easy homemade sourdough toast and fresh fruit salad for a tasty way to rise & shine!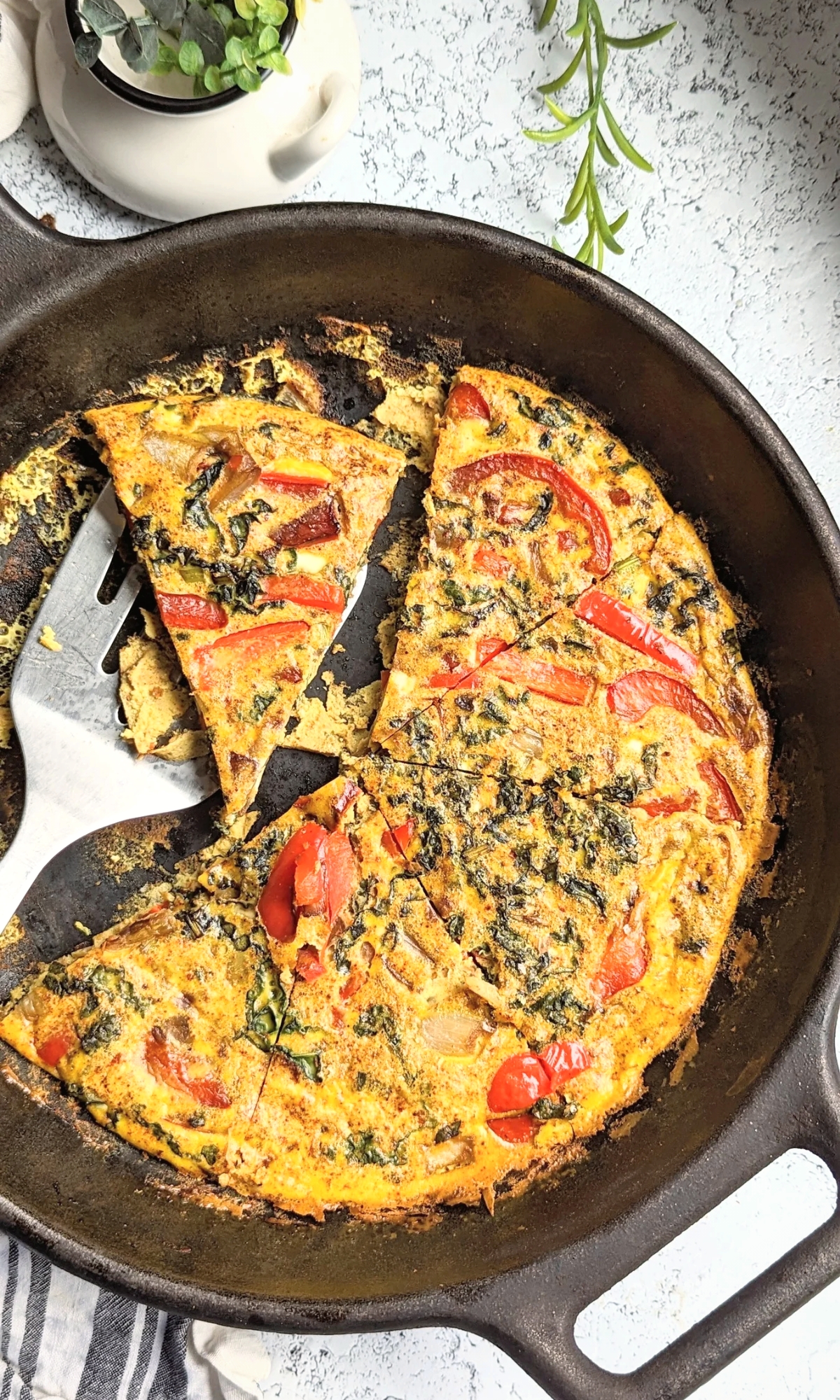 This bright and fresh dairy free frittata is bringing all the cozy vibes to our table this weekend. This frittata is the perfect brunch recipe and is vegetarian for a tasty meal ready in no time. This frittata cooks in a cast iron skillet for an easy one-pan breakfast recipe that makes clean-up a breeze.
This recipe uses bright and fresh vegetables (like peppers, onions, and greens) to add flavor without butter or dairy. I added oregano and red chili flakes for a bit of heat too – but the chili flakes are optional if you don't like spice.
This was such a delicious brunch, and made enough servings so we were able to enjoy it twice. An easy frittata breakfast everyone at the table will love!
This Dairy Free Frittata Recipe Is
Bright
Herby
Flavorful
Earthy
Made in One Pan
Ready in 30 Minutes
Made Without Butter or Milk
Vegetarian
Great to Meal Prep or Make Ahead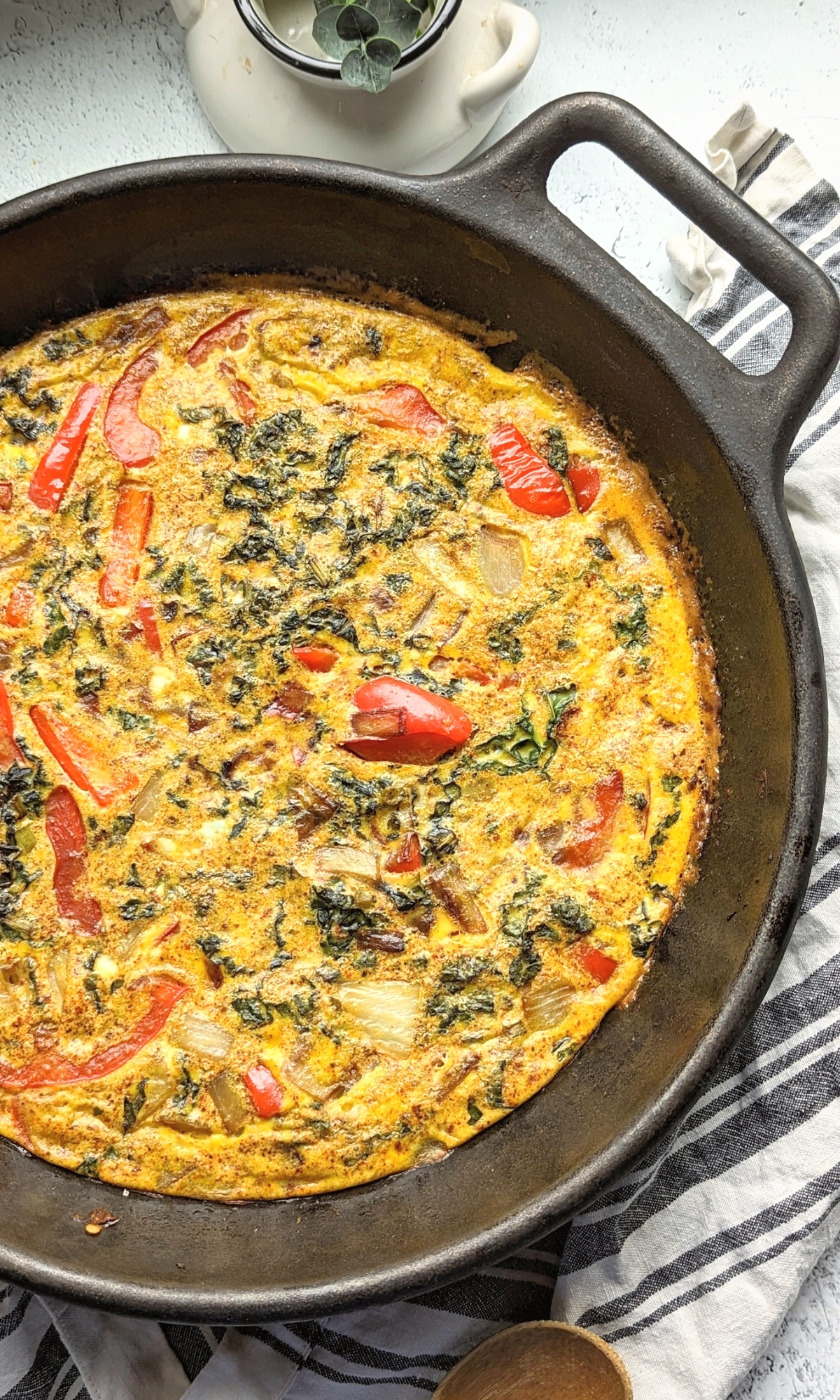 Make This Frittata Dairy Free for a Better Version
This dairy free frittata is a fantastic take on a classic breakfast recipe without all the dairy. I'm all about making recipes dairy free when I can. Dairy-free cooking does NOT have to be bland, boring, or flavorless… It's quite the opposite when done right. You can achieve total richness and creaminess with some simple swaps.
By building meals around vegan pantry staples and swapping in a few plant-based ingredients you can make better meals for you and your family. I made a list of my 125 favorite vegan pantry ingredients that we use on a weekly basis, and check out all my plant based recipes here that are on The Herbeevore. These easy and tasty recipes are fantastic meatless and dairy free meals for your table.
What's In This Vegetarian Low Sodium Frittata Recipe?
I cook with fresh produce from my garden and from Misfits Market– they sell fantastic fruit, vegetables, & pantry staples at a discounted price. We get Misfit boxes every other week and love picking out favorite produce for delivery. Get $10 off your first box here!
Eggs
– Eggs naturally contain about 60-70mg of sodium per large egg. We try to get
cage free / free range eggs
when we can. There isn't any nutritional difference, but I always try to support animal welfare when I can!
Onions
Olive Oil:
I like to use
this fruit olive oil
which has a fantastic flavor and deep color-
it's inexpensive
so I keep a few liters stocked up in my pantry. For the
quality of oil you get,
it's an excellent value,
I highly recommend!
Red Bell Pepper
Greens – You can use spinach, kale, or any other green you have on hand (chopped collard greens or arugula would be delicious).
Worcestershire Sauce
: for that unbelievably rich umami flavor, but make sure you use
a vegan variety
if you don't eat meat (some can contain anchovies).
Annie's makes a great vegan Worcestershire sauce you can buy here
!
Garlic Powder:
Also a major pantry staple ingredient that gets used in our house daily!
I love this garlic powder
and add it to a lot of recipes that I would use fresh garlic in too.
Almond Milk
– plain and unsweetened! The higher the fat content, the creamier the milk will be. Make sure to check the sodium content of the milk before adding. I used unsweetened
Almond Milk
for my version of this recipe, which has 0% sodium.. I prefer
almond milk
, which
has a shelf-stable version that lasts up to a year
in the pantry!
Smoked Paprika
: give an additional depth of flavor to this dish.