This Spicy Honey Mustard Sauce or Dressing is a sweet and tangy dressing for salads, grain bowls, or roasted vegetables. A sweet reward of beekeeping… As a beekeeper, I make this all the time.
What better way to enjoy honey than with a delicious, healthy, and simple raw honey mustard dressing?! This dressing is dynamite on salads or grain bowls, and can turn raw vegetables into pure magic.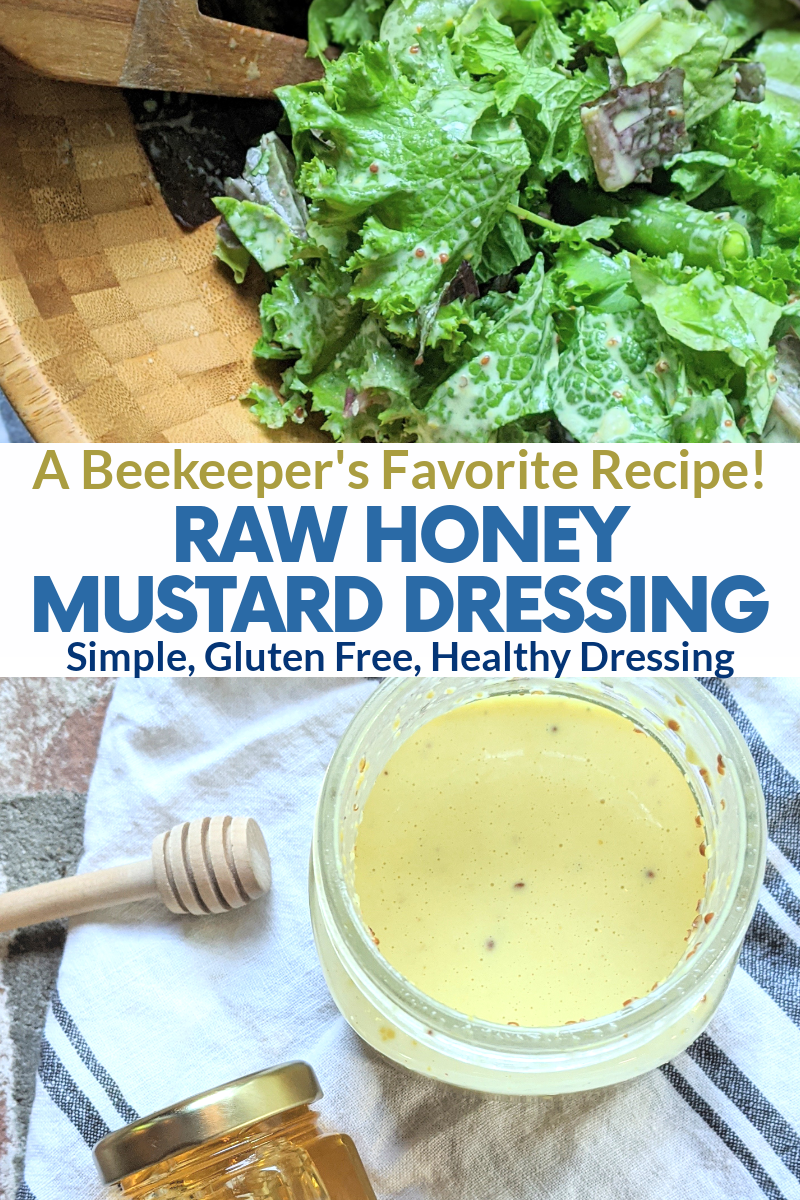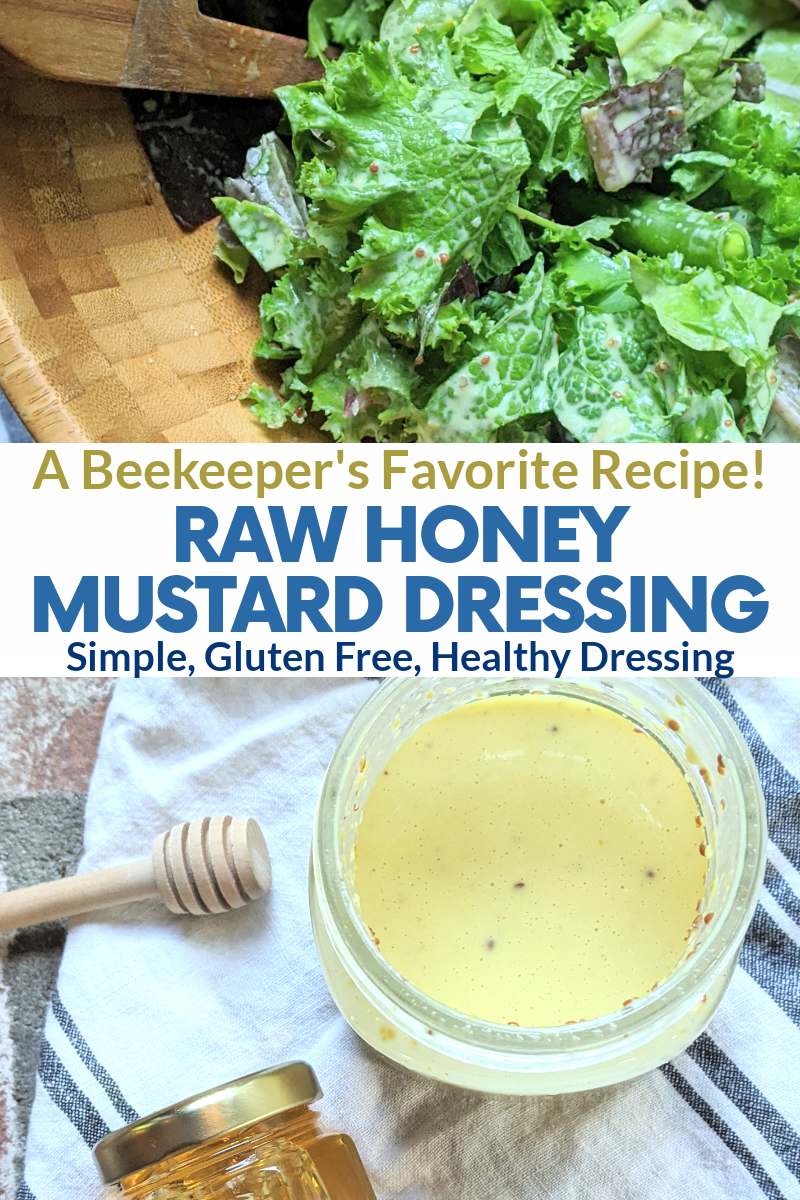 What I love about this spicy honey mustard sauce or dressing is the amazing sweetness from the fresh honey. It's so much better than using a sugar, as honey is a natural and much healthier sweetener.
I like to keep the honey raw (not pasteurized) so it preserves the flavors and keeps the honey pure, straight out of the hive. Having fresh, raw honey is one of the sweetest parts of beekeeping.
This Spicy Honey Mustard Dressing Is
Garlicky
Sweet
Tangy
Bright
Earthy
Vegetarian, Gluten Free, Refined Sugar Free
Simple to make ahead, and enjoy throughout the week on salads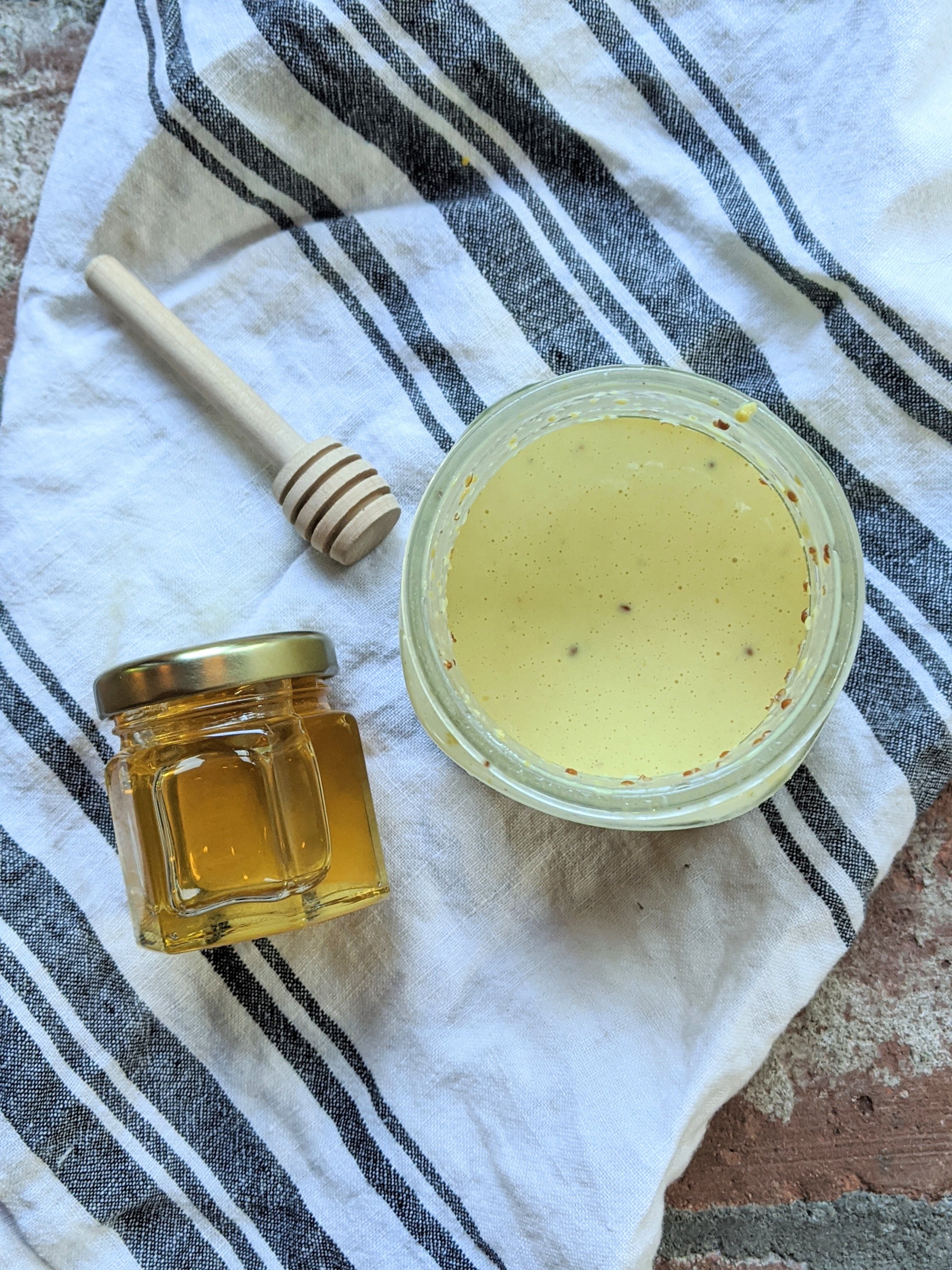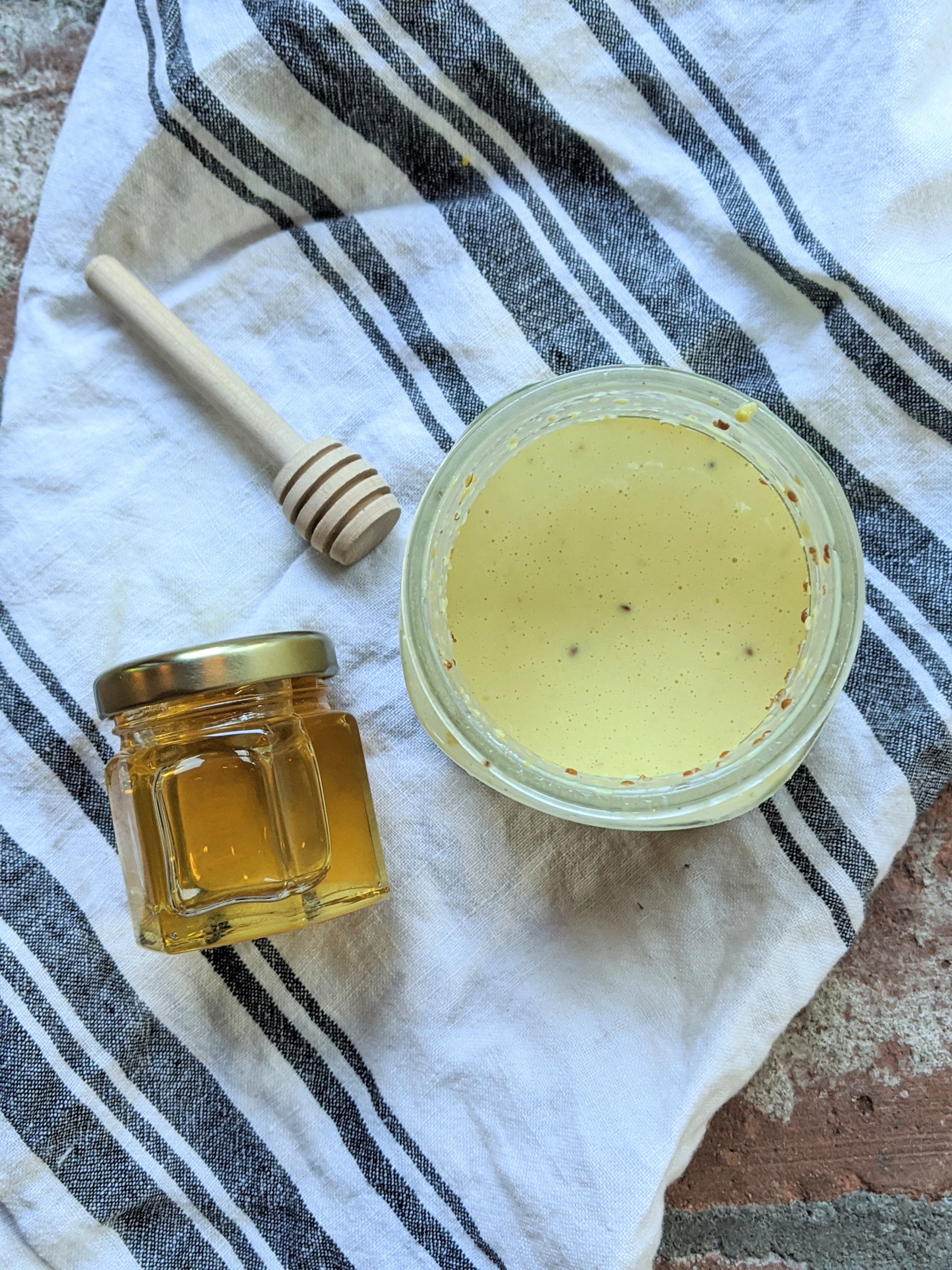 The Best Honey for Dressings
This is our third year beekeeping, and we have a few hives going strong this summer. Last year, we maintained 5 hives throughout the summer and we harvested honey 2-3 times from the stronger hives. We had delicious light golden honey in June when the nectar flow was just getting going – it was floral and super sweet.
And as the year progressed we got a rich dark honey in October when the bees were foraging from sap. This late honey has a herby, medicinal, almost spicy taste to it. It's so amazing that different tasting honey can come from the same hives, and any honey you have on hand would be great in this dressing!
A No-Cook Sauce or Dressing Recipe That's Perfect for Summer
This no-cook spicy honey mustard is a quick and simple recipe. I love a good no-cook recipe for those days when I'm not feeling like standing around the stove, or for summer nights when it's too hot to cook. I have a whole collection of recipes that require zero cooking at all, check them out here!
This sauce comes together in about 5 minutes, and doesn't require the stove or microwave to make. Just use a few pantry staple ingredients and you have a healthy meal ready in no time. And very little to clean up afterwards… an added bonus!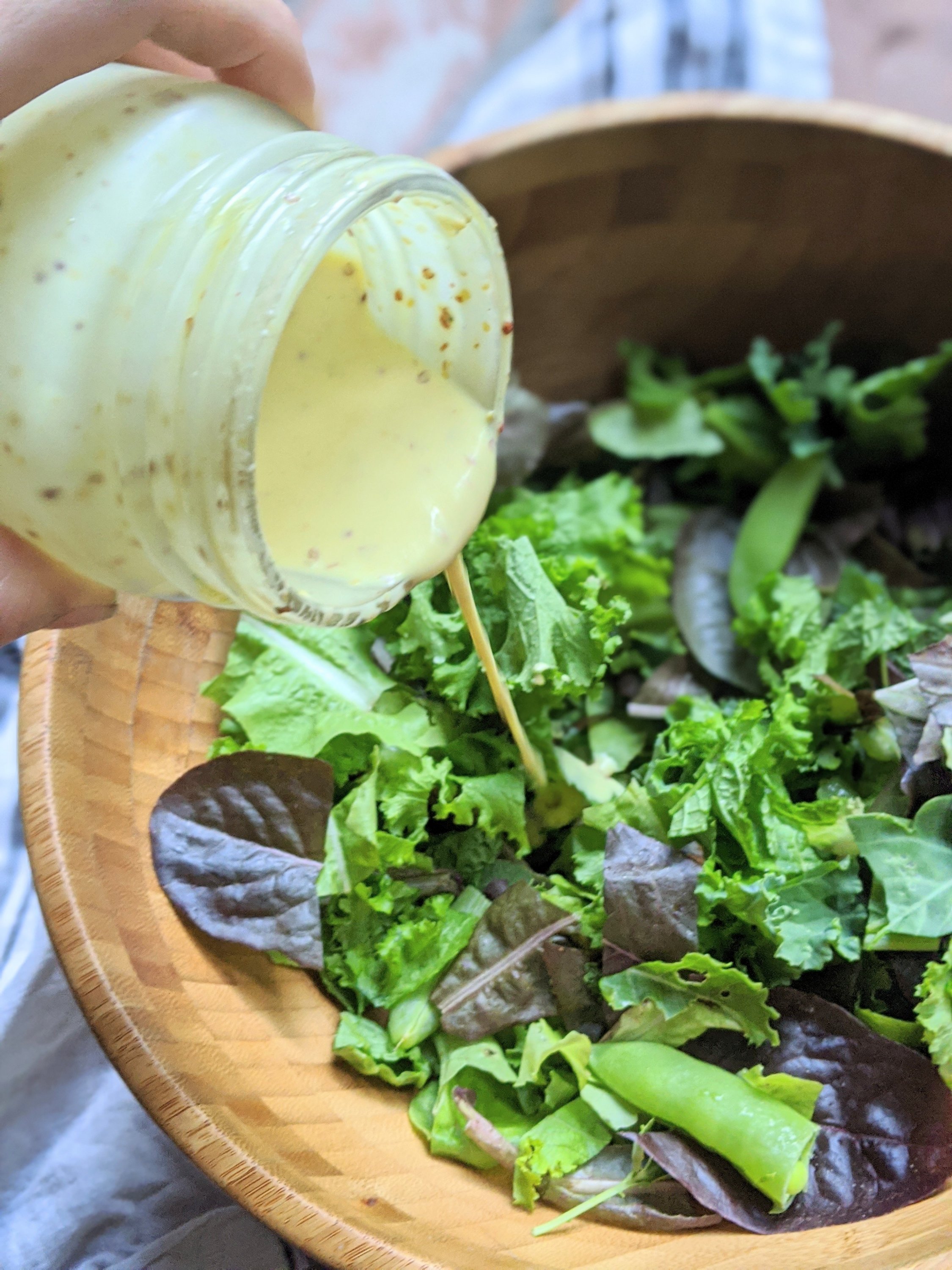 What's In This Spicy Honey Mustard Dressing?
I stock up on organic produce with Misfits Market – they have a fantastic selection of in-season fruits & veggies, healthy pantry items, and great food finds for a fraction of grocery store prices! You can save extra by signing up here!
Raw Honey

:

We use our own honey, straight out of the beehives for us! As beekeepers, we have plenty of raw honey so I try to use it in all my recipes instead of sugar. I'd recommend trying a local farmers market to find the best raw honey in your area. Or else,

this raw organic honey online here

is the next best thing.

Garlic: I use fresh garlic when I have it, and this great jarred organic garlic when I don't have fresh. It's actually super convenient to have pre-chopped garlic on hand for quick and easy meal prep.
Mayo or Greek Yogurt: Makes the honey mustard creamy and tangy. You can use any kind of Greek yogurt (fat free, full fat, etc.) just make sure the Greek yogurt is plain and unsweetened. You can also substitute mayonnaise instead, which would be delicious.
Whole Grain or Dijon Mustard

– for a really nice flavor and texture, you can use either whole grain mustard, stone ground, or dijon.

Apple Cider Vinegar,

which gives this dressing

a little extra tang

which is really fantastic! I love using

this organic apple cider vinegar

with the mother which has a great flavor.

I think it gives a nice extra sweetness and depth.
Pink Himalayan Sea Salt: I

like to use

a pink Himalayan Sea Salt

in my kitchen, which has more natural minerals than plain processed table salt.

It's fairly inexpensive,

so I'd recommend

this salt

if you're looking for an easy way to level up your spice pantry.

Tellicherry Black Pepper:

Like the salt, it's amazing the flavor difference you can get with

really good tellicherry black pepper

. This pepper is

the same price is buying pre-ground

, and has a million times more flavor! I use

these really great tellicherry peppercorns

, which I would definitely recommend.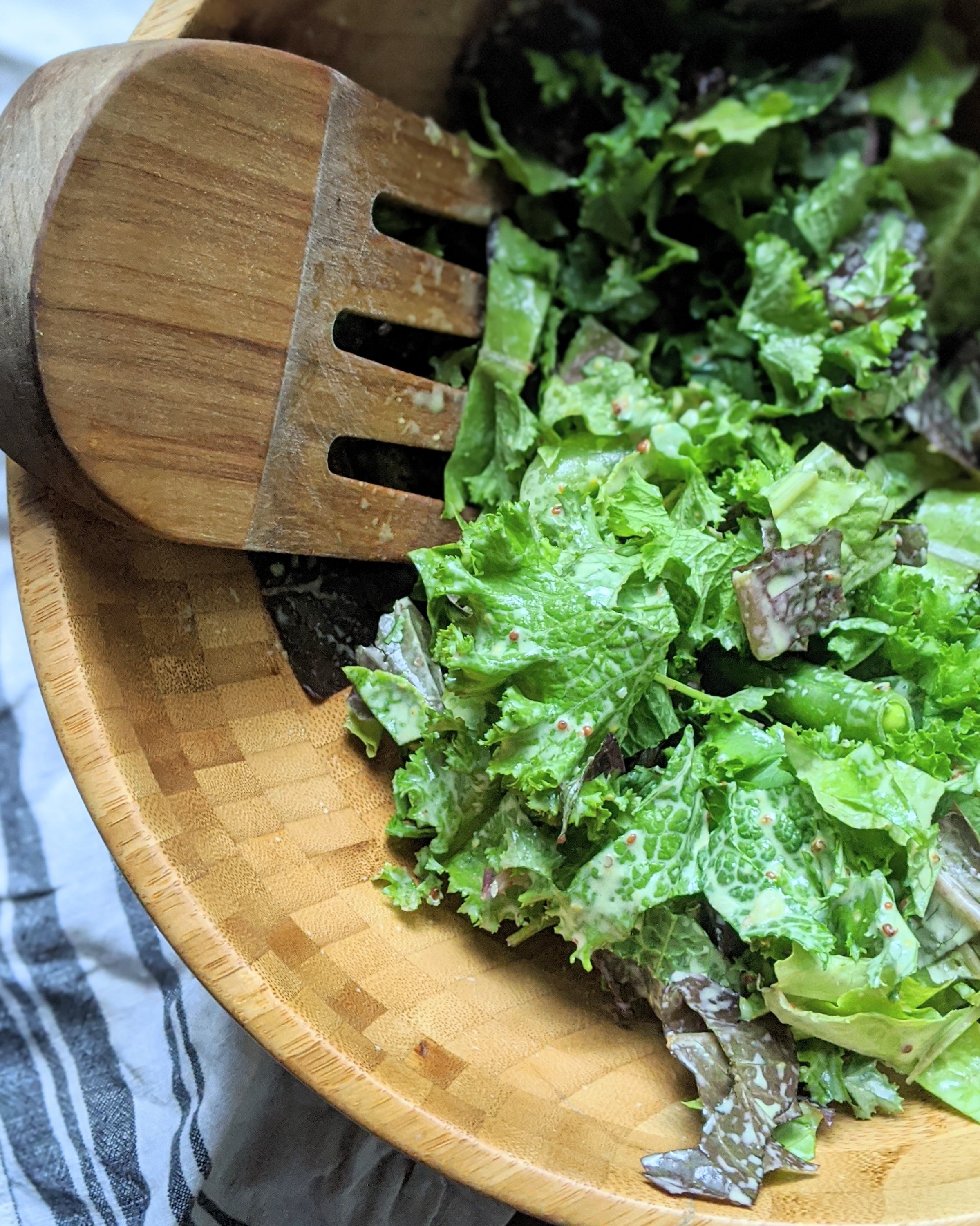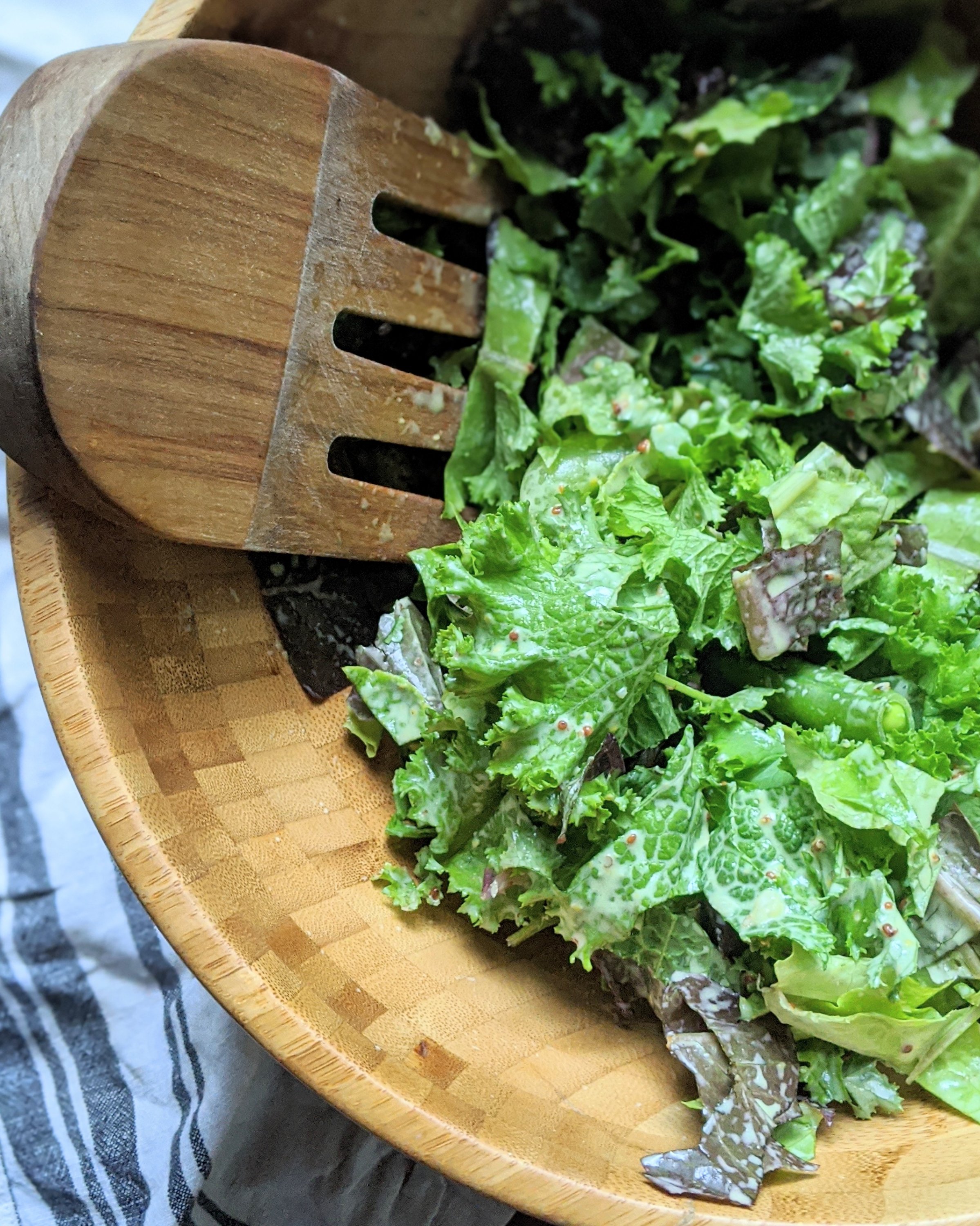 How To Make Spicy Honey Mustard
I love the double mustard in this raw honey mustard dressing. The normal yellow mustard gives the dressing a familiar kick, and the whole grain mustard provides a nice texture and and depth. You can use one or the other for this dressing, but I'd definitely recommend adding both for the ultimate mustardy experience. And you can even eat this dressing over fresh mustard greens if you are a mustard lover.
I was able to make this salad with fresh greens from the garden. Our garden is producing like crazy this year, and we have fresh sweet lettuces to pick almost daily. This dressing works on any kind of green: sweet or bitter. The honey and apple cider really brighten up any greens, so use your favorite. This would be great on arugula, kale, spinach, Boston lettuce (gotta represent my state!), or even iceberg. The lettuce is just the vehicle to get this awesome sauce into your mouth!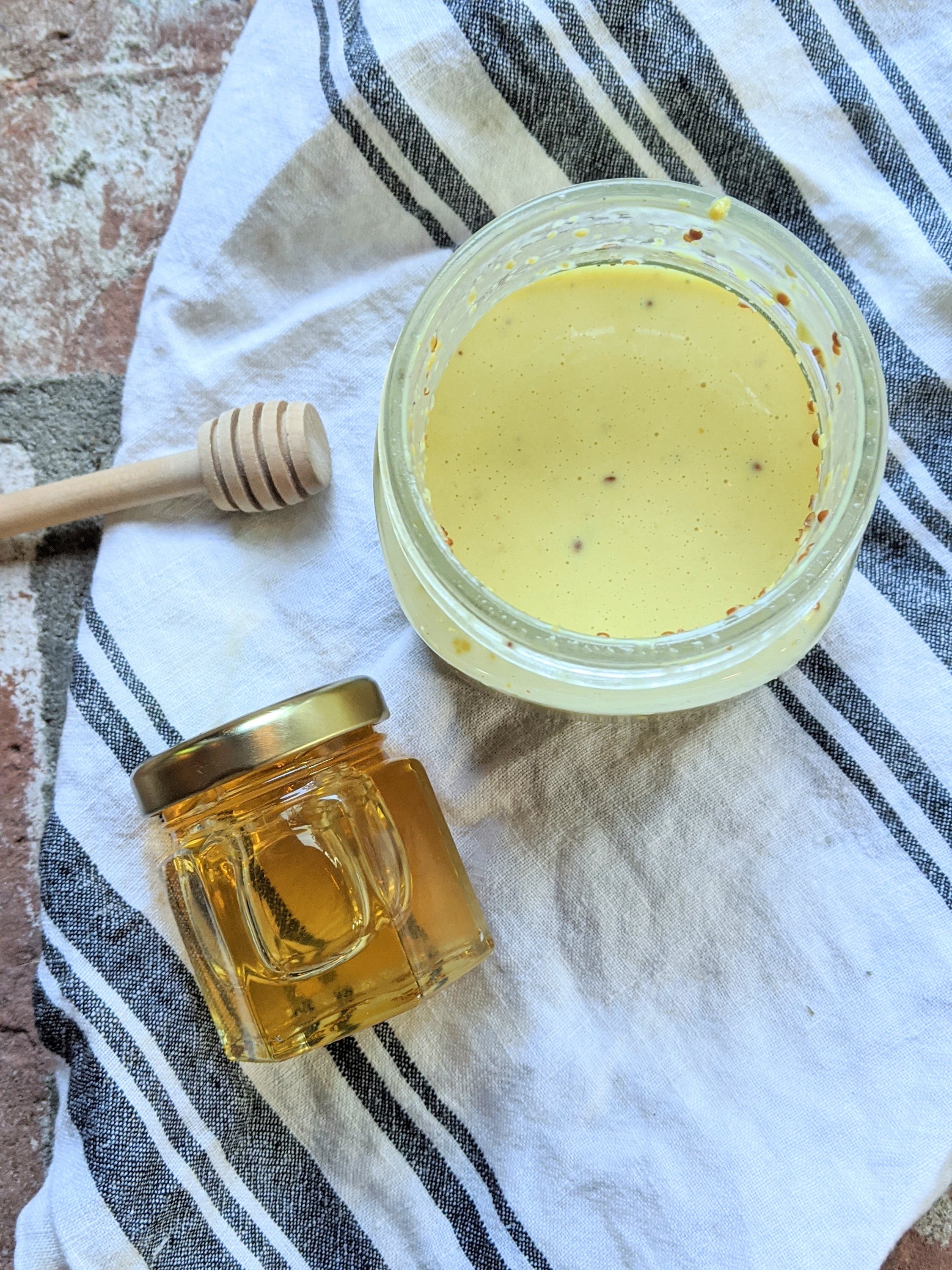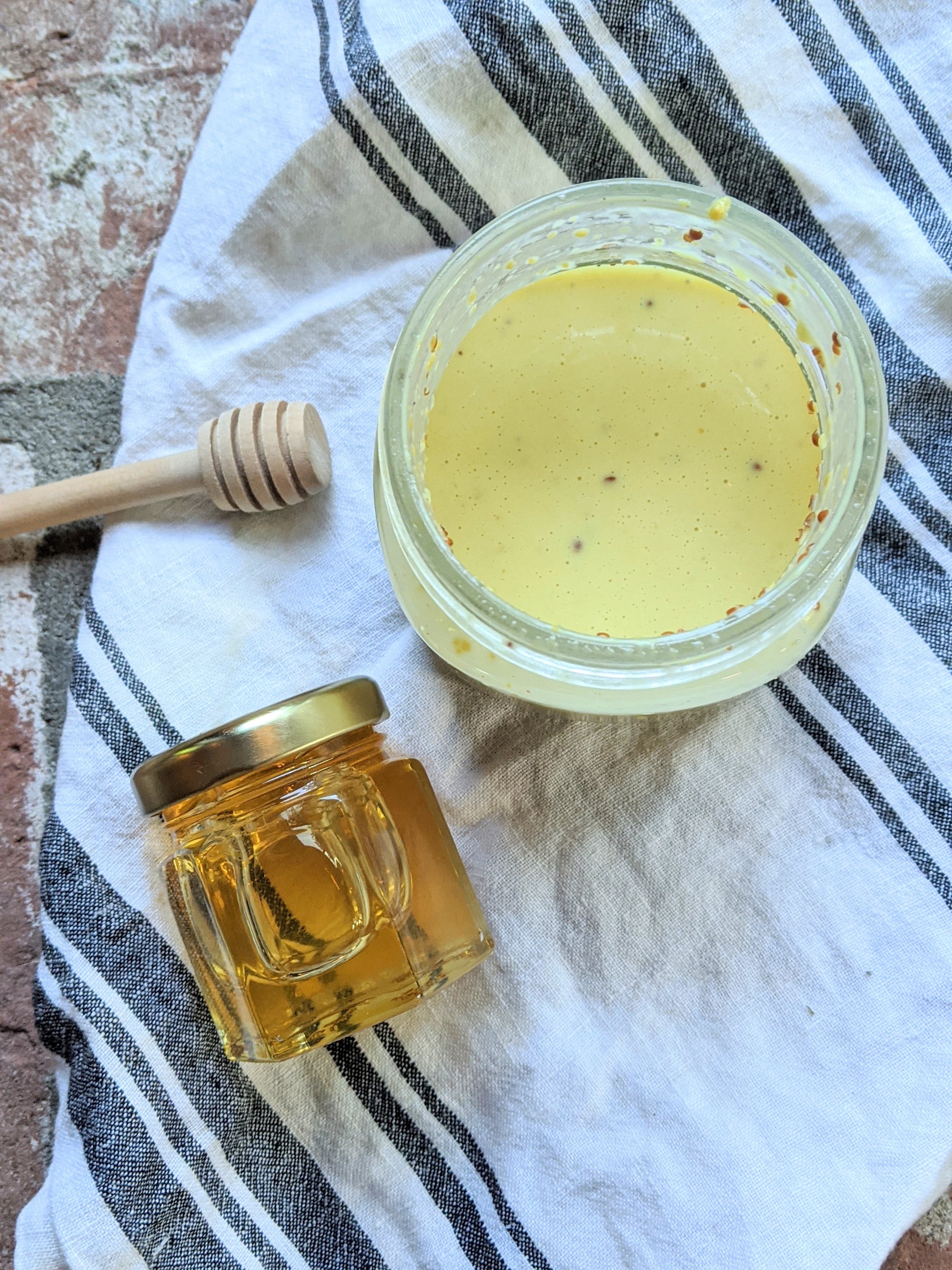 How Do I Make This Raw Honey Dressing?
All it takes is a mason jar and a few minutes. This sauce couldn't be easier to put together!
In a mason jar, add all ingredients together and stir well (or shake) to combine.
Seal with an airtight lid, refrigerate, and use within 1 week.
A Few Notes About Raw Honey
Raw honey is just honey that has not been pasteurized! We take our honey straight from the hive, and don't process or subject it to high heat. Pasteurizing can kill bad (and beneficial) macrobiotics in the honey. You can use normal store-bought honey for this recipe… it doesn't have to be raw. That is just the way we like to keep our honey. Babies under the age of 1 should not be given honey, and pregnant women should avoid unpasteurized foods. Eat responsibly!
The best place to find raw honey is straight from your local beekeeper! Check out a farmer's market or farm stand near you – or reach out to your county or state beekeeping association to connect with beekeeper's near by. Support local bees, local keepers, and enjoy the sweet benefits.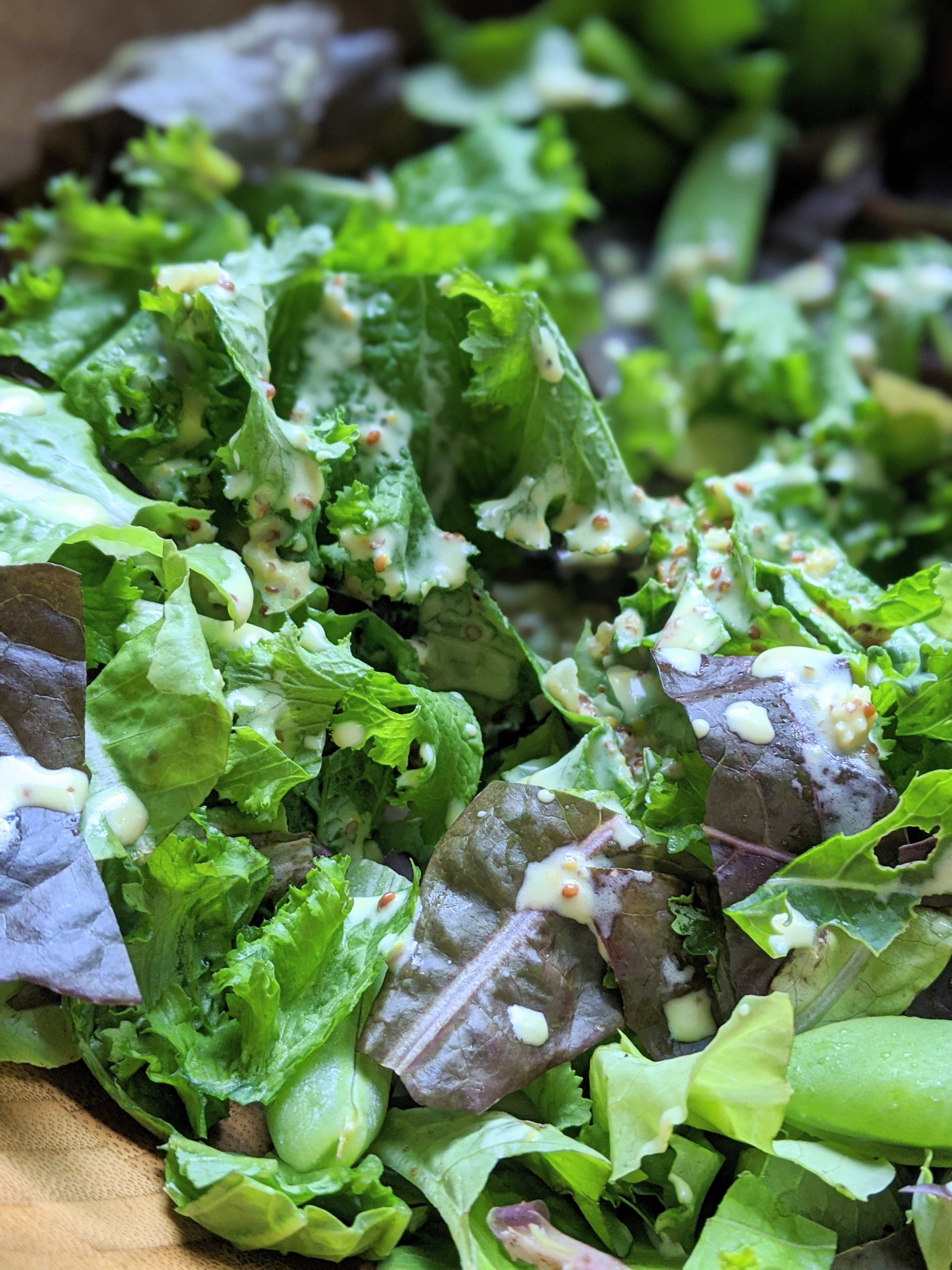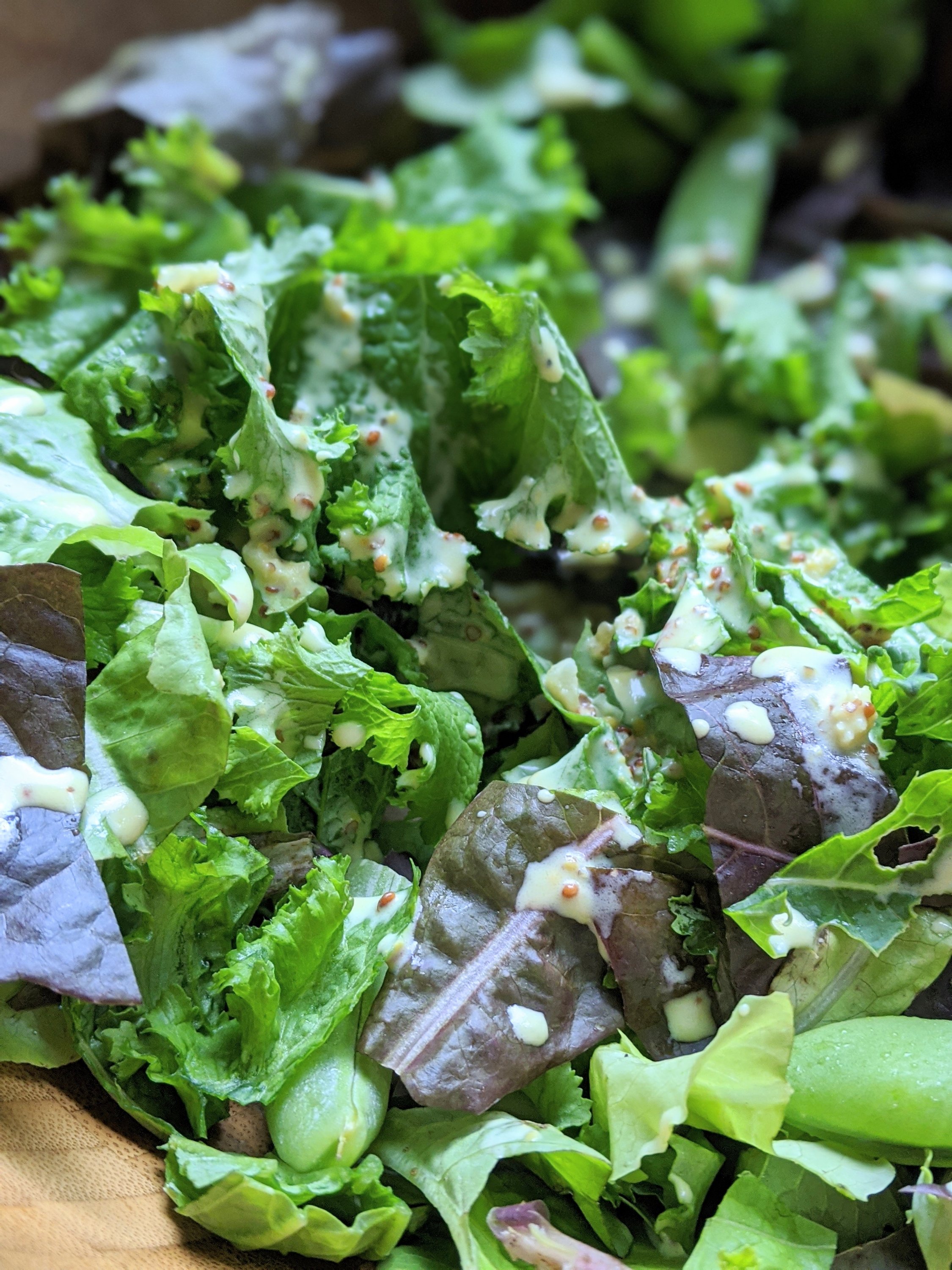 Dietary Modifications
This recipe is naturally gluten free! Just make sure the mustards or yogurt you are using in the dressing are also gluten free.
Same goes for sugar. This recipe is naturally refined sugar free, but just check the labels of the yogurt.
While honey technically isn't vegan since it's an animal product… you can make this dairy free by using a soy or coconut yogurt for the dressing. Its 100% vegetarian.
Salads with Honey Mustard
Pot Luck Greek Salad with Homemade Vinaigrette (Vegan, Gluten Free, Party Recipe)
Rainbow Quinoa Salad (Vegan, Gluten Free)
Roasted Peach Salad with Balsamic Vinaigrette (Vegan, Gluten Free)
The Absolute BEST Greek Pasta Salad (Vegan, Gluten Free Options)
Red Quinoa & Vegetable Salad with Lemon Vinaigrette (Vegan, Gluten Free)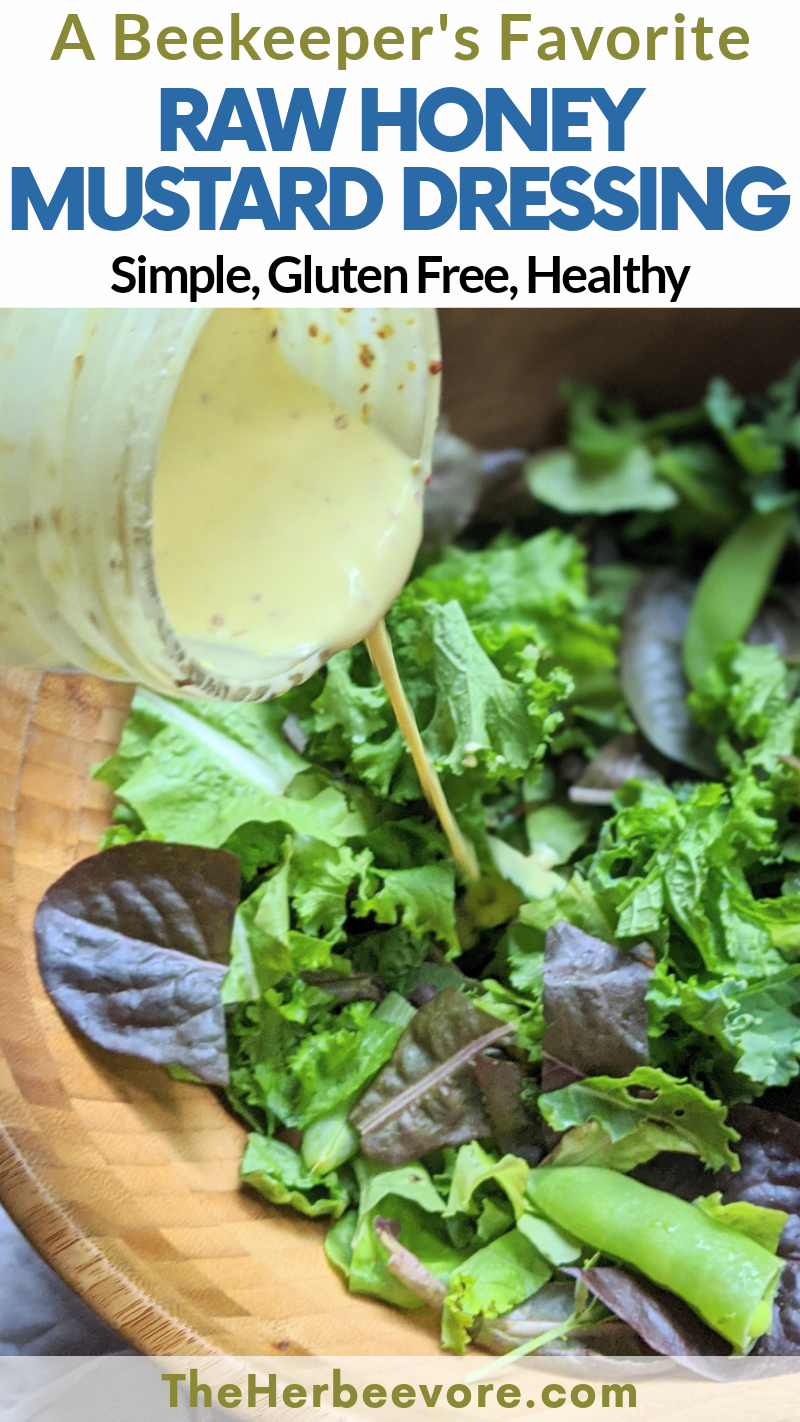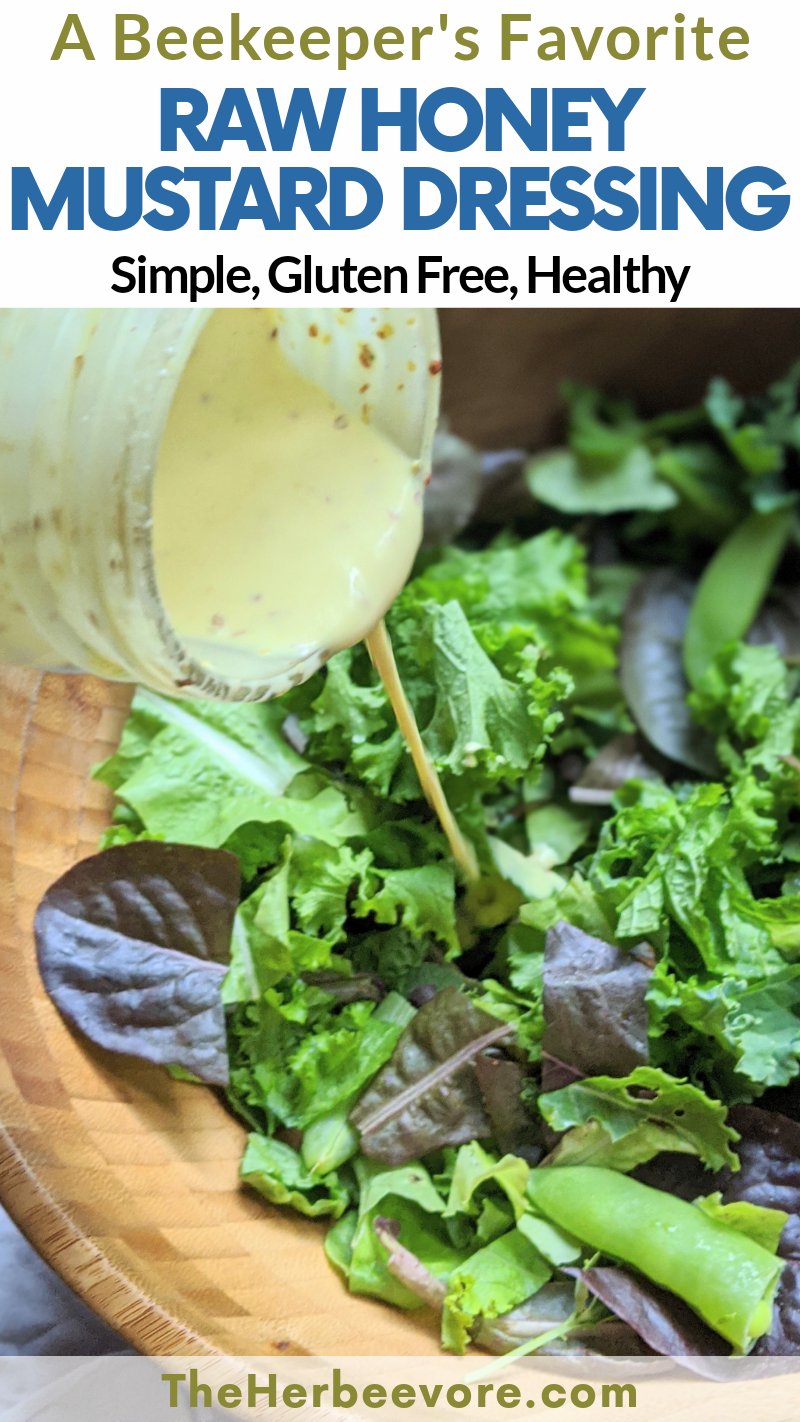 Get the Same Ingredients I Use For My SpicyHoney Mustard Dressing Recipe:
As always, if you make this vegetarian and gluten free spicy honey mustard recipe be sure to leave me a comment, rate this recipe, and tag me @theherbeevore on Instagram so I can feature you. I love seeing all your photos of my recipes!
Let's keep in touch – make sure to subscribe to my monthly newsletter to get free recipe inspiration.
And don't forget to follow over on Facebook, Instagram, YouTube & TikTok – I'd love to connect with you there!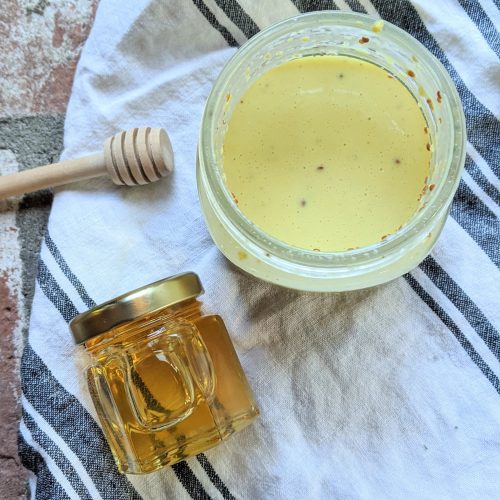 Spicy Honey Mustard Sauce/Dressing
This Spicy Honey Mustard Sauce or Dressing is a sweet and tangy dressing for salads, grain bowls, or roasted vegetables. A sweet reward of beekeeping... As a beekeeper, I make this all the time.
Instructions
In a mason jar, add all ingredients together and stir well to combine.  Seal with an airtight lid, refrigerate, and use within 1 week.
Notes
Save Money on Organic Produce!
I get all the fresh produce for my recipes from my garden and from
Misfits Market
- they sell all organic produce at a super discounted price, and it's purchased direct from the farmers. We get Misfit Market boxes every other week and love picking out our favorite seasonal produce for delivery.  You can get
$10 off your first box by clicking here!
If you think organic produce is too expensive... think again, and give
Misfits Market
a look!
Nutrition
Calories:
148
kcal
Carbohydrates:
13
g
Protein:
1
g
Fat:
11
g
Saturated Fat:
2
g
Polyunsaturated Fat:
6
g
Monounsaturated Fat:
3
g
Trans Fat:
0.03
g
Cholesterol:
6
mg
Sodium:
214
mg
Potassium:
37
mg
Fiber:
1
g
Sugar:
12
g
Vitamin A:
17
IU
Vitamin C:
0.5
mg
Calcium:
12
mg
Iron:
0.3
mg
Did You Make This Recipe?
Please leave a rating and comment below!
Or tag me @theherbeevore in your photo on Instagram!
This post may contain affiliate links. As an Amazon Associate I may earn from qualifying purchases, at no additional cost to you. Thank you for supporting the brands that support The Herbeevore and our beehives!