This olive hummus recipe is bright and savory, creamy and salty. Great as a dip for pita or veggies, or as a flavorful spread for a sandwich, wrap, or toast.
A great vegetarian party appetizer recipe that everyone will love… especially olive lovers! No tahini needed to make this simple olive hummus.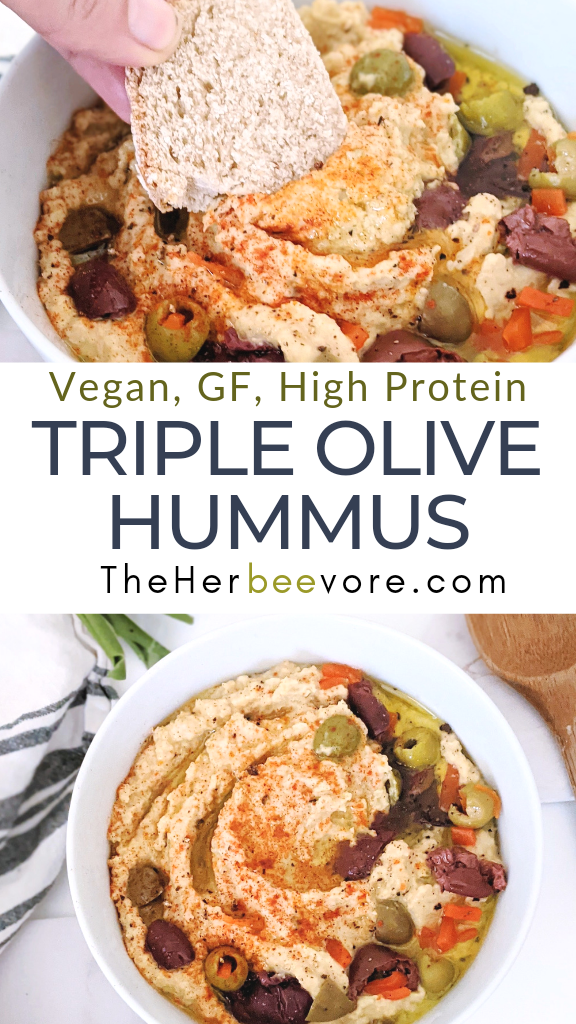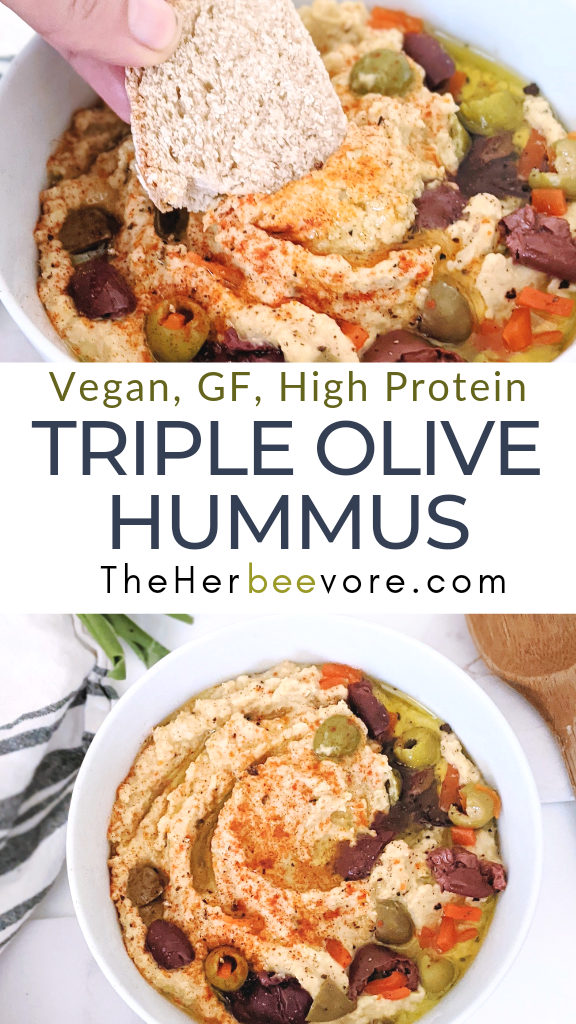 We are all about the homemade hummus this year! Making your own hummus from scratch is unbelievably simple and so much better than store bought.
This triple olive hummus without tahini recipe has 3 different types of olives for a major flavor kick: green olives, kalamata olives, and olive oil! Its bright and smoky flavor make this hummus extra delish to enjoy as a vegetable dip.
This Olive Hummus Recipe Without Tahini Is
Bright
Loaded with Flavor
Earthy
Briny
Garlicky
Ready in 5 Minutes
Vegan, Gluten Free, and SO Yummy
Use Canned Chickpeas OR Cook From Scratch
This olive hummus without tahini is great because you can use either canned chickpeas, or cook them from scratch. I usually use my Instant Pot to make perfectly cooked chickpeas (no soaking required!) which are ready in 35 minutes. If you are using canned, make sure to get a "no salt added" variety to cut down on the sodium!
What's In This Olive Hummus Recipe?
Kalamata Olives: make sure they are pitted! I love the rich briny flavor of these herby kalamata olives, which have a purple hue and a really nice flavor. These Greek olives are fantastic for adding to salads, to dips, or just as a quick snack. I like to use these olive packs, which are great for when you need a handful of olives like in this dish.
Green Olives with Pimento: classic green olives have a great color and delicious earthy flavor – I like using these green olive with pimento packs, which are great for recipes that need just a few olives.
Olive Oil:

I like to use

this delicious Zoe olive oil

which has a fantastic flavor and deep color-

it's really inexpensive online here,

so I keep a few liters stocked up in my pantry. For the

quality of oil you get, it's an excellent value,

I would highly recommend!

No Salt Added Chickpeas

: the staple of all hummuses! You can use

canned chickpeas (I'd highly recommend a low sodium or no salt version),

or you can make your own chickpeas from scratch in the Instant Pot.

Garlic

: I use fresh garlic when I have it, and

this great jarred organic garlic

when I don't have fresh. It's actually super convenient to have

pre-chopped garlic on hand

for quick and easy meal prep.

Smoked Paprika: give an additional depth of flavor to the hummus.
Red Chili Pepper Flakes:

for a little heat! if you don't like spice, you can absolutely skip them in this recipe.

Lemon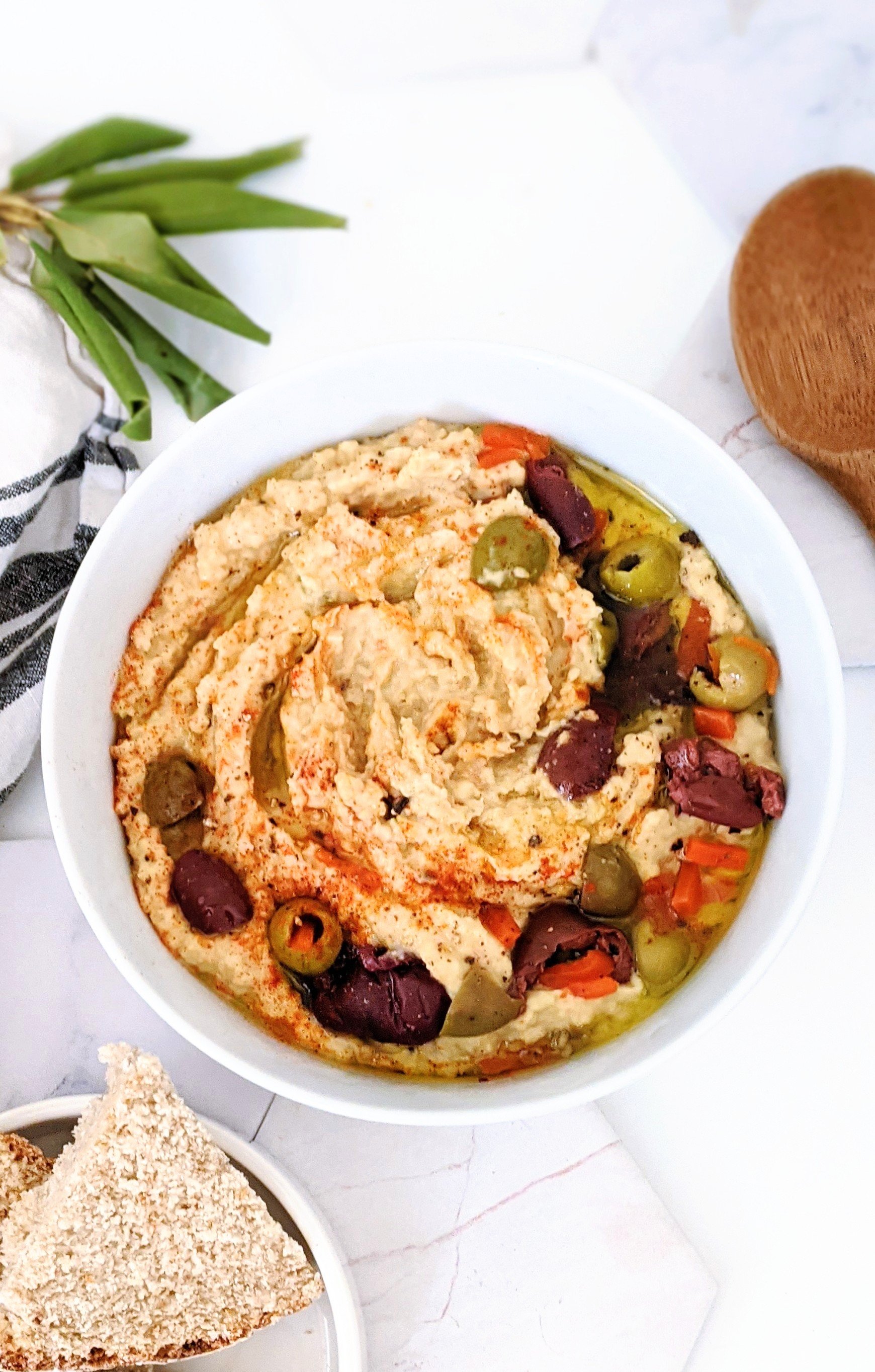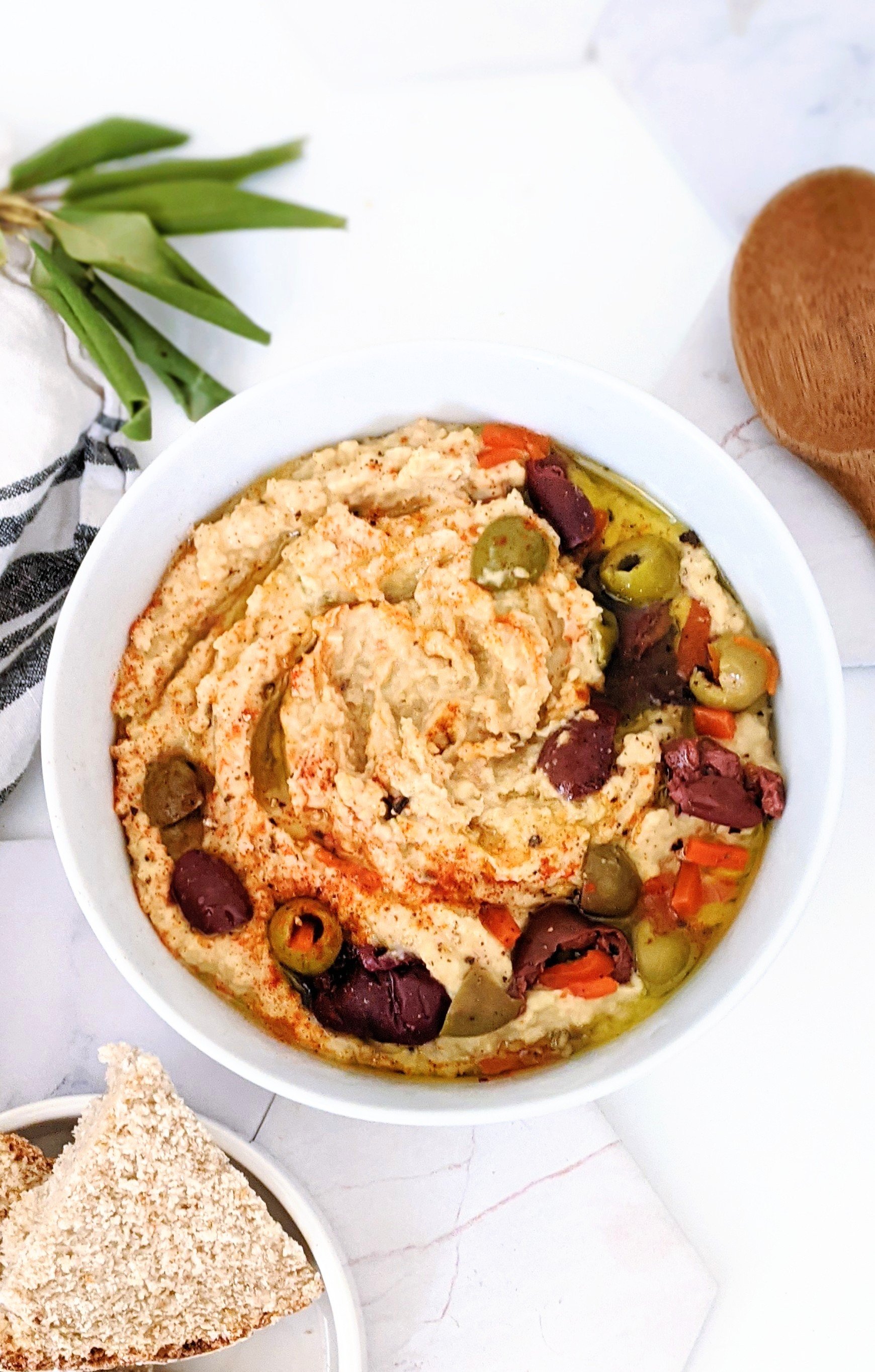 One of the BEST Pantry Staple Appetizers: Olive Hummus without Tahini
This creamy olive hummus without tahini is a fantastic pantry-staple appetizer! It uses almost all ingredients you would have in your dry pantry or cupboards. You probably already have a lot of these ingredients on hand already. Keeping a well-stocked pantry makes it easy to come up with delicious and healthy meals using a few staples you can rotate.
I made a list of my Top 125 Plant-Based Pantry Staples that always keep on hand. And you can check out all my favorite pantry staple recipes on TheHerbeevore.com here. By stocking up on healthy whole ingredients you can cook delicious recipes without a trip to the store!
Easy Chickpea Dip Anytime
This recipe calls for chickpeas aka garbanzo beans. This are one of my favorite beans – packed with plant-based protein, and are high in fiber and nutrients!'d recommend using a no-salt-added variety to keep the overall sodium content down, so you can control how much sodium is in the dish. Canned chickpeas taste great, so if you are using canned chickpeas, just watch the sodium or added salt content.
I make dried beans in my Instant Pot every week, it's a great way to save on cost. If you're a bean fan, then I'd recommend an Instant Pot or electric pressure cooker as a way to take your recipes to the next level!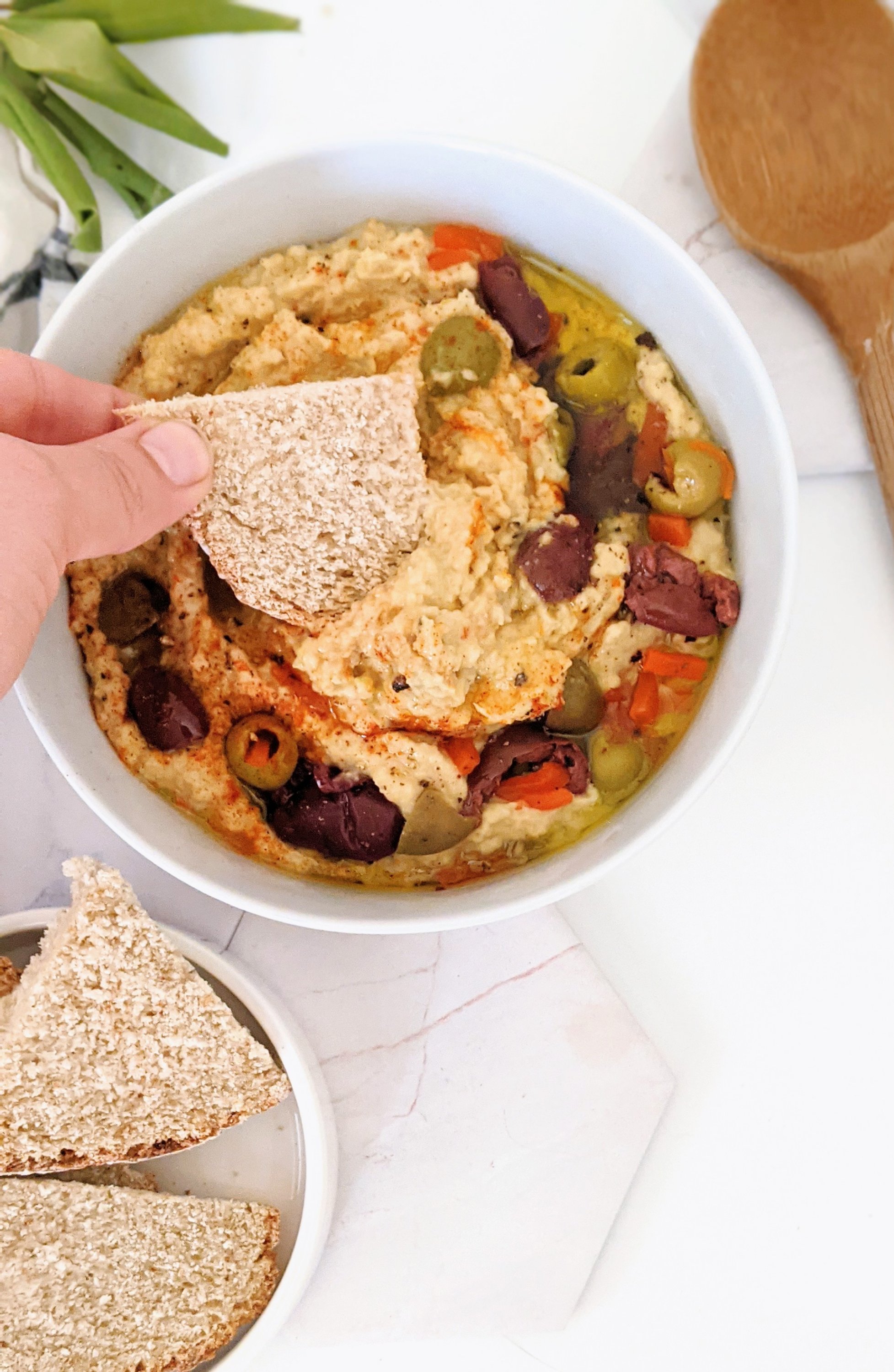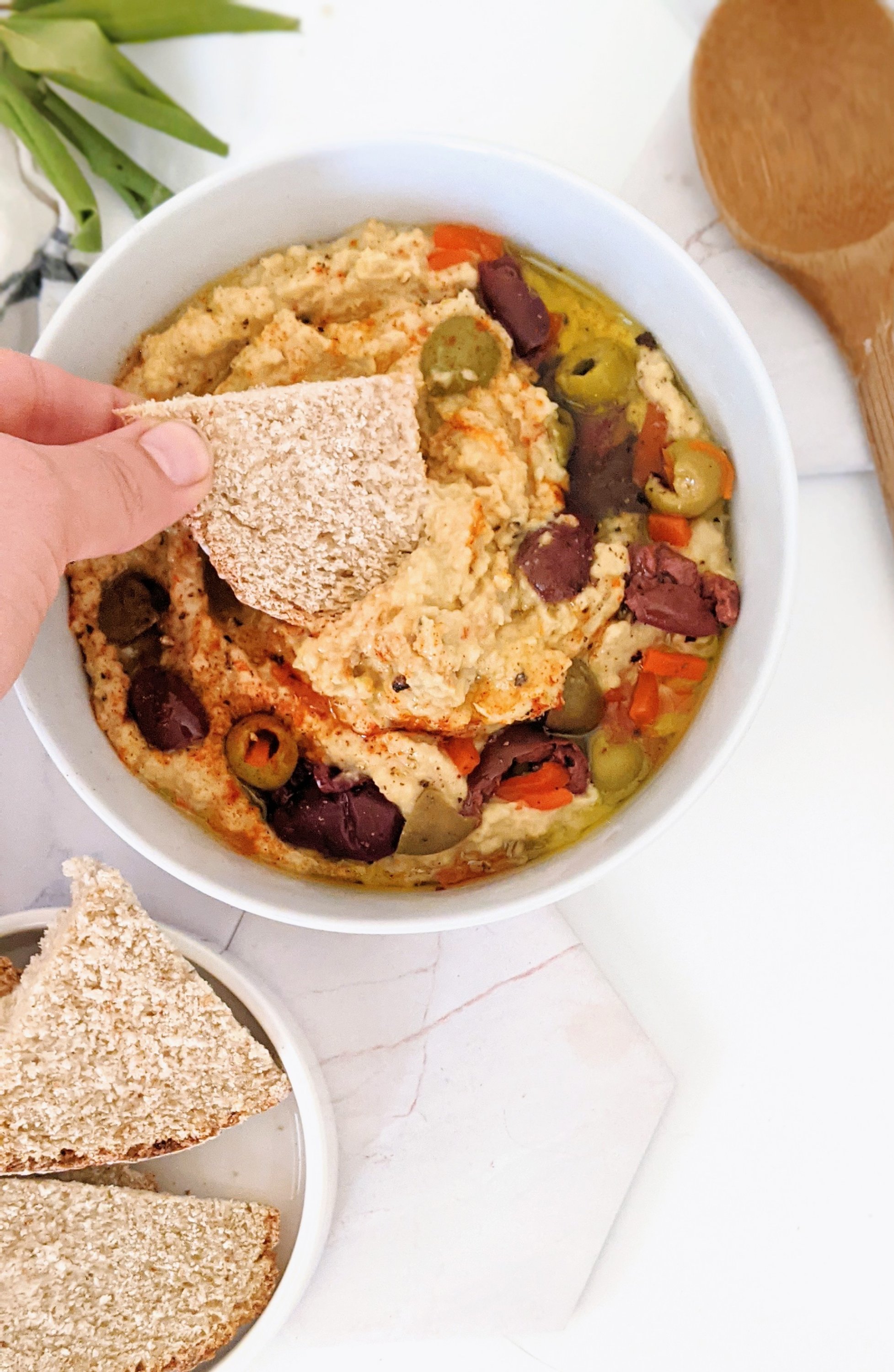 How Do I Make 3 Olive Dip Hummus with Chopped Olives?
Add all ingredients to a food processor.
Pulse on low and increase speed. Blend until hummus is a smooth consistency.
Top hummus with an extra drizzle of olive oil, chopped olives, and a sprinkle of smoked paprika.
Serve with crudité, pita chips, or as a spread on a sandwich or wrap.
30 Minute Dips for Entertaining
This olive hummus recipe is what I call an Easy Entertaining Dish- which is on your table in under 30 minutes. These quick and simple recipes are perfect for those last-minute potluck invites, or when you just want a healthy home cooked dip but don't want to spend hours in the kitchen. I have a whole section of The Herbeevore dedicated to Easy Weeknight Meals, that are great for the whole family. From soups and stews, to pastas and proteins – a healthy meal can be on your table in no time.
Just as fast as grabbing a quick prepared side dish from the store (and way more impressive too)! If you're heading to a party, potluck, or BBQ, check out my list of top host gifts for summer entertaining for that next-level gift your host will love!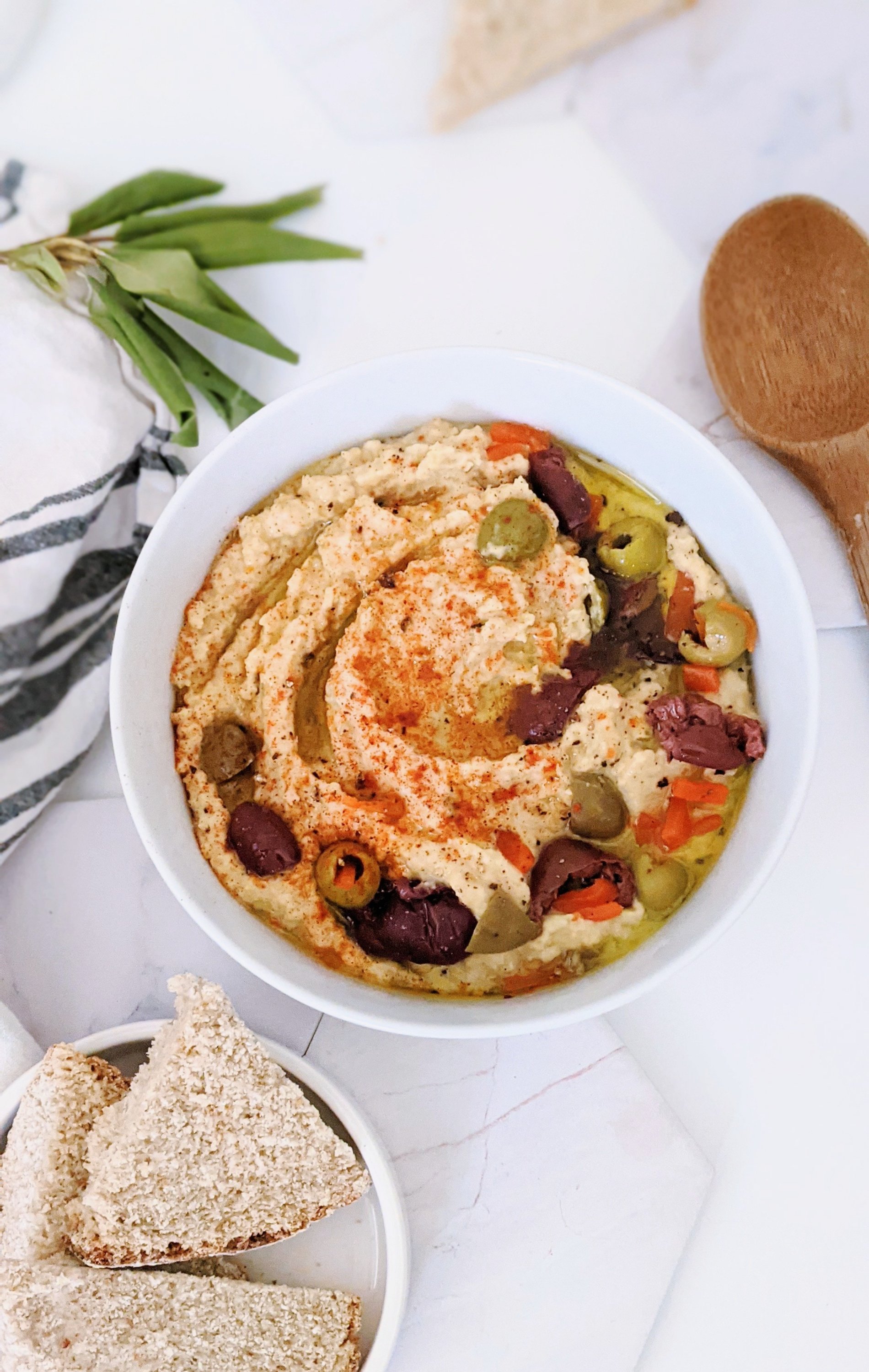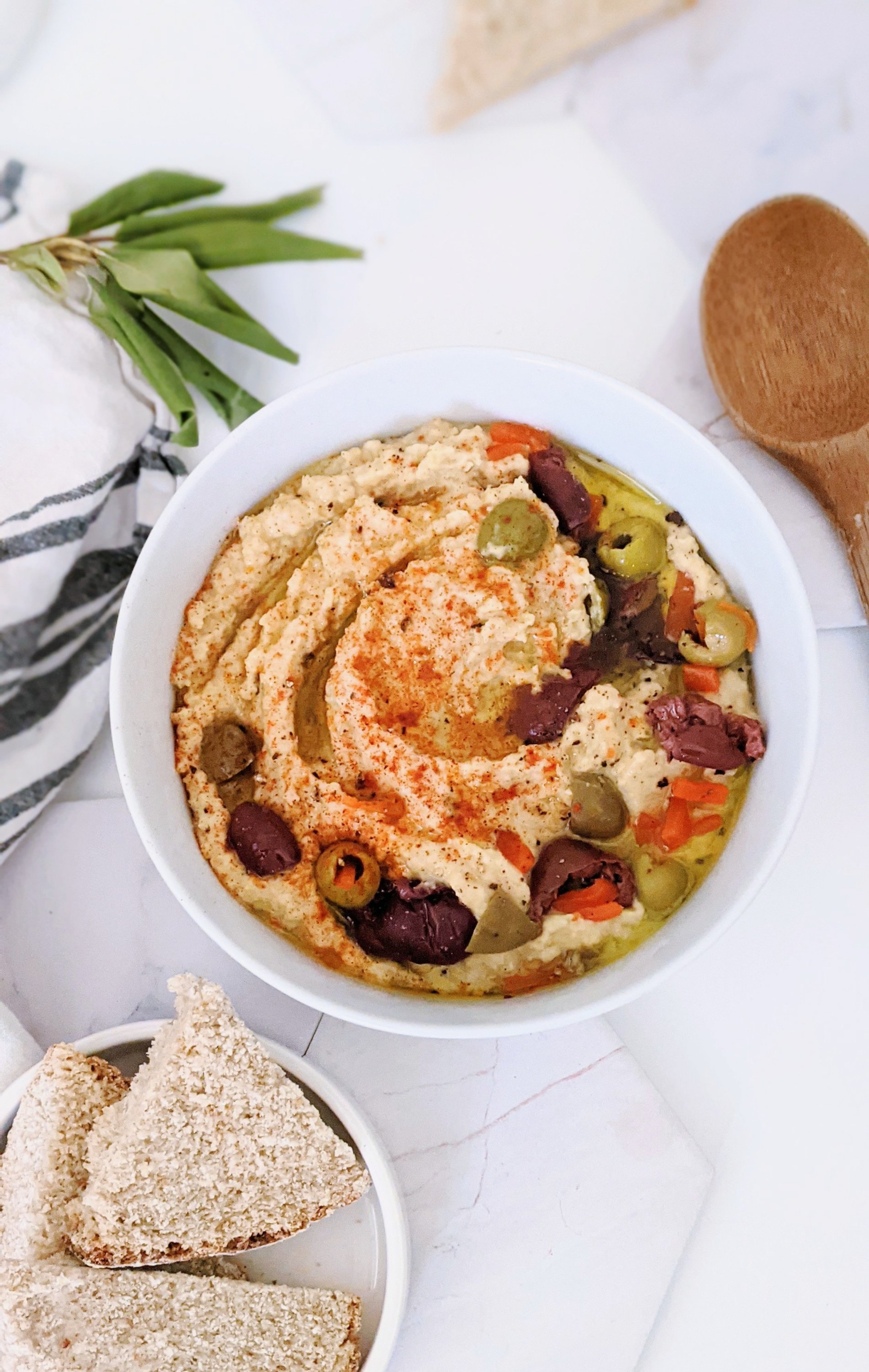 More Heathy Chickpea Recipes We Love!
Get the Same Ingredients I Used For My Easy Olive Hummus Recipe
As always, if you make this vegan olive hummus without tahini be sure to leave me a comment, rate this recipe, and tag me @theherbeevore on Instagram so I can feature you. I love seeing all your photos of my recipe recreations!
Let's keep in touch – make sure to sign up for my newsletter to get healthy recipes delivered fresh to your inbox. And don't forget to follow over on Pinterest, Instagram , & Twitter– I'd love to connect with you there!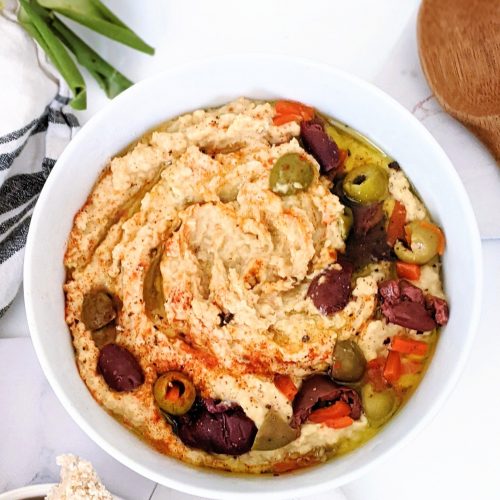 Olive Hummus Recipe Without Tahini
This olive hummus recipe is smoky and briney, creamy and light. Great as a dip for pita or veggies, or as a flavorful spread for a sandwich, wrap, or toast - made without tahini.  It's vegan, gluten free, and SO yummy!
Instructions
Add all of the ingredients to a food processor or high speed blender. Add 1 tablespoon of the chickpea canning liquid, save the rest.

Pulse on low and increase speed.  Blend until hummus is a smooth consistency. If your hummus is too thick, add another tablespoon of the chickpea canning liquid at a time until it's smooth and creamy.

Top hummus with an extra drizzle of olive oil and chopped olives. Serve with crudite, pita chips, or as a spread on a sandwich or wrap.
Notes
Save Money on Fresh Produce!
I get all the fresh produce for my recipes from my garden and from
Misfits Market
- they sell all organic produce at a super discounted price, and it's purchased direct from the farmers. We get Misfit Market boxes every week or so and love picking out our favorite seasonal produce for delivery.  You can get
$10 off your first box by clicking here!
If you think organic produce is too expensive... think again, and give

Misfits Market

a look!

shed avocado worked wonders!
Nutrition
Calories:
82
kcal
Carbohydrates:
3
g
Protein:
1
g
Fat:
8
g
Saturated Fat:
1
g
Polyunsaturated Fat:
1
g
Monounsaturated Fat:
6
g
Sodium:
353
mg
Potassium:
46
mg
Fiber:
1
g
Sugar:
1
g
Vitamin A:
199
IU
Vitamin C:
10
mg
Calcium:
20
mg
Iron:
1
mg
Did You Make This Recipe?
Please leave a rating and comment below!
Or tag me @theherbeevore in your photo on Instagram!
This post may contain affiliate links. As an Amazon Associate I may earn from qualifying purchases, at no additional cost to you. Thank you for supporting the brands that support us!