This pasta bean salad recipe is loaded with fresh vegetables, healthy beans, and dressed in a sweet and tangy dressing! It's a great vegetarian and high protein side dish for your next summer BBQ, party, or potluck.
This recipe is the perfect combination of creamy macaroni salad and three bean salad for a bright and tangy side dish you'll love. Serve alongside my creamy Greek Yogurt coleslaw, baked beans, and corn on the cob!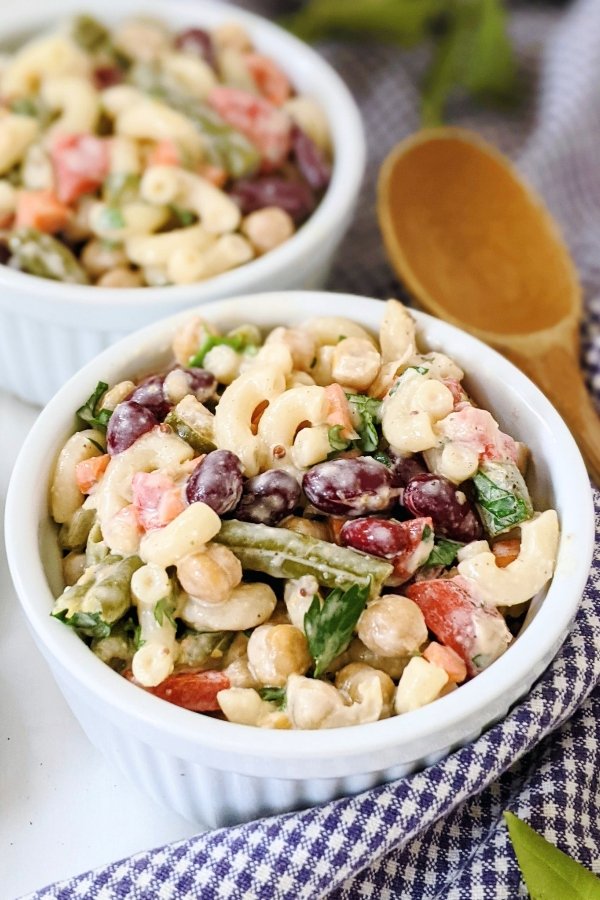 I'm always looking for new ways to enjoy fun summer side dishes with healthy plant based ingredients. This three bean pasta salad is a combination of two of my favorite summer salads: creamy macaroni salad and tangy three bean salad. Put them together… and you have a fun and fresh side dish recipe that's both healthy and satisfying.
The creamy dressing gets a kick from apple cider vinegar, and the salad is loaded with crisp and crunchy veggies. This 3 bean macaroni salad is a fun twist on two classic dishes.
This Pasta Bean Salad Recipe Is:
Bright
Fresh
Satisfying
Crunchy
A Crowd Pleaser
Vegan, Vegetarian and High Protein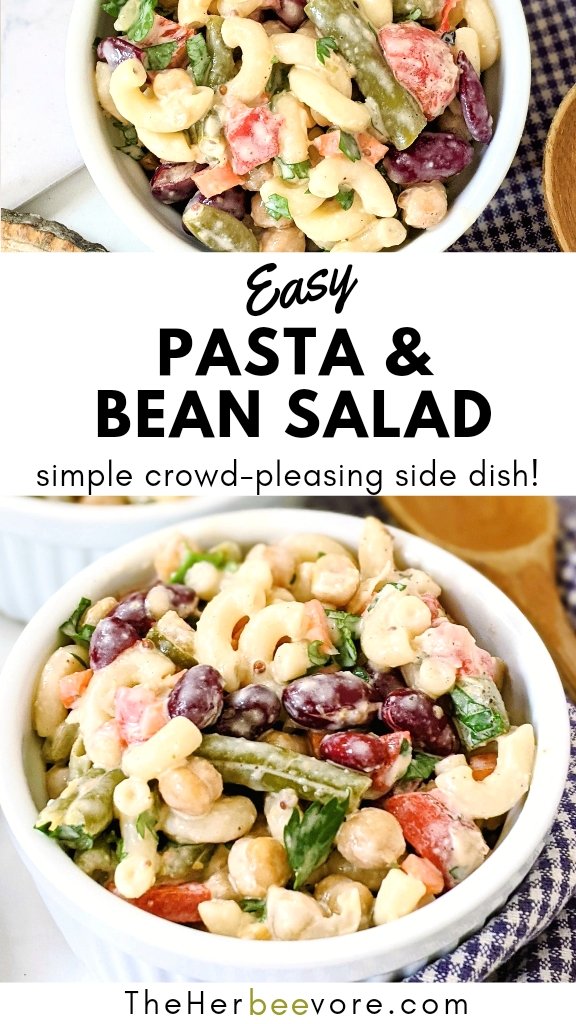 Simple Bean and Pasta Recipes
This bean pasta salad is the tastiest, freshest side dish recipe. It's perfect for a hearty side for the family, and also great to make for company if you are having guests for dinner.
It makes a great BBQ pasta side dish as well – a simple vegetarian recipe to serve with a salad. Pasta is a fast and inexpensive meal. It takes only 20 minutes to cook, so you can enjoy extra time to prep sides or a salad.
Browse all our pasta recipes here!
What's In This Plant Based Macaroni Bean Salad Recipe?
I cook with fresh produce from my garden and from Misfits Market– they sell fantastic fruit, vegetables, & pantry staples at a discounted price. We get Misfit boxes every other week and love picking out seasonal produce for delivery. Get $10 off your first box by clicking here!
Green Beans, Onion, Parsley, Celery
Macaroni Noodles:

to make this gluten free,

these GF macaroni pasta noodles

work perfect in this recipe. If you aren't gluten free, then you can use normal macaroni, whole wheat, or a veggie pasta.

No Salt Added Chickpeas

: You can use

canned chickpeas (I'd highly recommend a low sodium or no salt version),

or you can make your own chickpeas from scratch in the Instant Pot.

No Salt Added Kidney Beans:

These

boxed kidney beans

are a really fantastic alternative to canned beans. I only use

no salt or low sodium beans

which gives this dish a really great flavor without the salt.

Mayonnaise: you can use regular mayo, or substitute a vegan version like this one here. I found both options taste pretty good, so if I am making this recipe for a crowd I use a vegan mayo so everyone can enjoy!
Sweet Relish: which gives this dish a little extra flavor boost and a nice added sweetness.
Apple Cider Vinegar,

which gives this dressing

a little extra tang

which is really fantastic! I love using

this organic apple cider vinegar

with the mother which has a great flavor. I think it gives a nice extra sweetness and depth.

Onion Powder:

adds a delicious and savory flavor to this dish as well, and

the onion powder

pairs nicely with the flavors in the salad.

White Pepper: I'd recommend white pepper over normal ground pepper – it gives the dish a much lighter flavor and a nice kick. I bought Amazon's brand of white pepper for a few bucks and have been loving it!
Canned Beans Versus Homemade
While I love the convenience of canned beans, I usually cook dry beans from scratch in my pressure cooker – the texture is better and it's more affordable. I use a larger 7.5-Quart Instant Pot which is larger than the standard model so I can batch cook more at a time.
If you don't already have one, the Instant Pot works wonders for cooking dried beans fast, no soaking required! While canned beans are super convenient, they are often loaded with sodium. If you buy canned beans, I always recommend using a no salt added variety so you can control the amount of salt in your dish.
Next time you reach for the canned beans, think about investing in a pressure cooker instead! Homemade beans are incredibly cost efficient, and you can add seasonings and spices to the beans while they cook for extra flavor.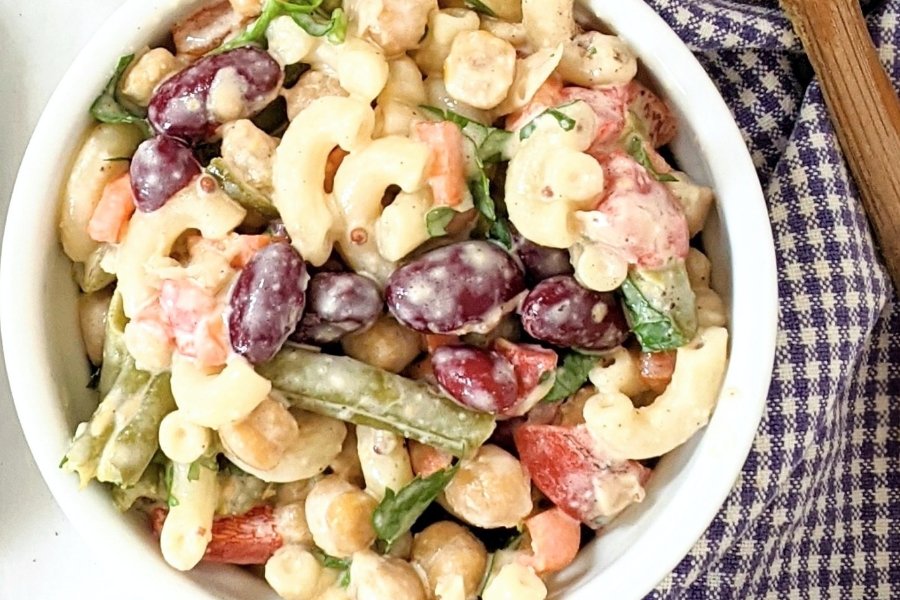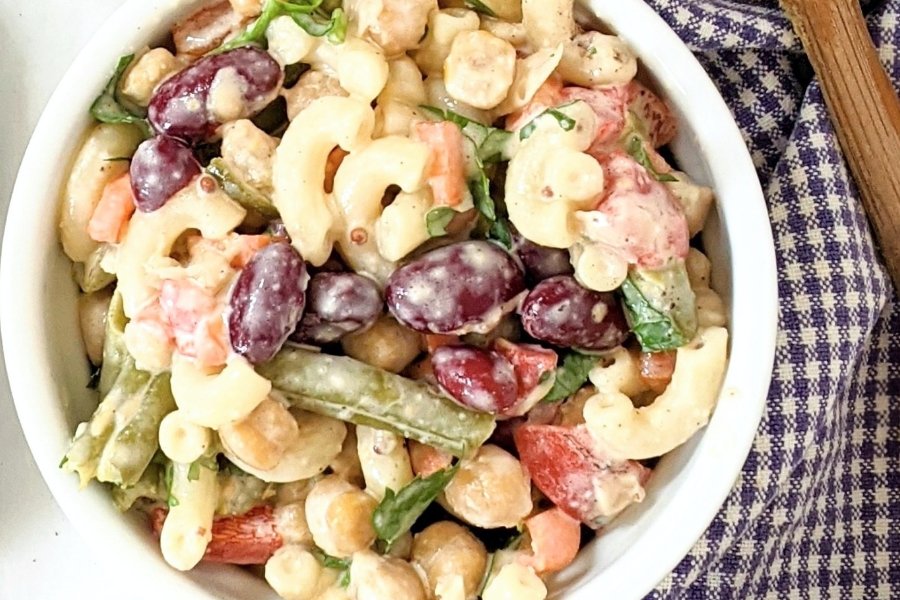 30 Minute Pasta Salads for Entertaining
This bean salad with macaroni is what I call an Easy Entertaining Recipe – which is on your table in about 30 minutes. These quick and simple recipes are perfect for those last-minute potluck invites, or when you just want a healthy home-cooked side but don't want to spend hours in the kitchen.
I have a whole section of The Herbeevore dedicated to Easy Weeknight Meals, that are great for the whole family. From soups and stews, to pastas and proteins – a healthy meal can be on your table in no time. Just as fast as grabbing a quick prepared side dish from the store (and way more impressive too)!
If you're heading to a party, potluck, or BBQ, check out my list of top host gifts for summer entertaining for that next-level gift your host will love!
Other Easy Pasta Salad Recipes You'll Love!
Hawaiian Macaroni Salad (Vegan, Gluten Free)
Macaroni and Pea Salad Recipe (Vegan, Gluten Free)
Sweet Deli Macaroni Salad Recipe (Vegetarian, GF, Vegan Option)
Gluten Free Amish Macaroni Salad Recipe (Vegetarian, No Mayo)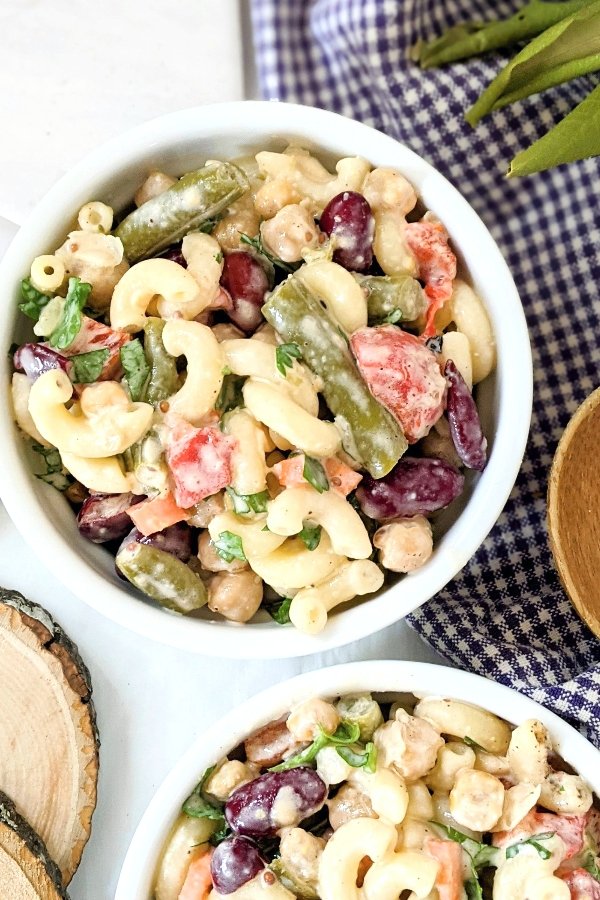 Get Ingredients For This Vegan Macaroni Bean Salad Recipe
As always, if you make this creamy pasta bean salad be sure to leave me a comment, rate this recipe, and tag me @theherbeevore on Instagram so I can feature you. I love seeing all your photos of my recipe recreations!
Let's keep in touch – make sure to sign up for my newsletter to get fresh recipes weekly. And don't forget to follow over on Pinterest, Instagram , & Twitter– I'd love to connect with you there!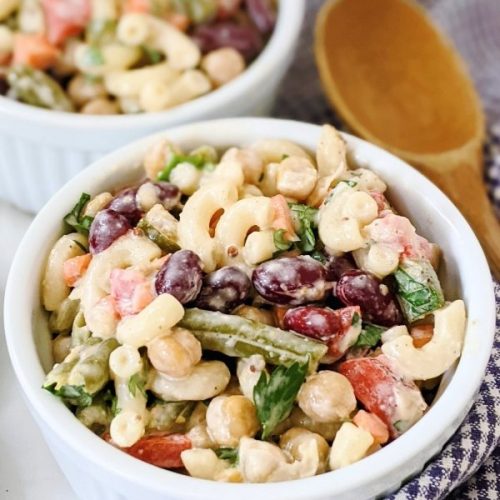 Pasta Bean Salad
This pasta bean salad recipe is creamy and tangy, with plant based proteins and a bright and fresh dressing. This healthy summer side salad features 2 classic salads: creamy macaroni salad and traditional three bean salad. A side dish with a modern twist.
Instructions
Cook macaroni according to package instructions. Drain, rinse under cold water, and put them in a very large mixing bowl.

Drain and rinse kidney beans, chickpeas, and green beans. Add them to the macaroni

Add the onion, celery, bell pepper and stir to combine. Add the mayonnaise, relish, apple cider vinegar, onion powder, seasoning salt, white pepper, and Red Pepper Flakes. Stir all ingredients together, and taste. Adjust seasoning if needed.

Cover bowl, and refrigerate 4 hours before serving, or preferably overnight.

Store in an airtight container. Leftovers will keep for 3-4 days.
Notes
Save Money on Grocery Delivery!
I get all the fresh produce for my recipes from my garden and from
Misfits Market
- they sell
all organic produce
at a super discounted price, and it's purchased direct from the farmers. We get Misfit Market boxes every month and love picking out our favorite seasonal produce for delivery.  You can get
$10 off your first $30 box by clicking here!
If you think organic produce is too expensive... think again, and give
Misfits Market
a look!
Nutrition
Calories:
320
kcal
Carbohydrates:
48
g
Protein:
8
g
Fat:
10
g
Saturated Fat:
1
g
Sodium:
295
mg
Potassium:
174
mg
Fiber:
2
g
Sugar:
4
g
Vitamin A:
341
IU
Vitamin C:
10
mg
Calcium:
19
mg
Iron:
1
mg
Did You Make This Recipe?
Please leave a rating and comment below!
Or tag me @theherbeevore in your photo on Instagram!
This post may contain affiliate links. As an Amazon Associate I may earn from qualifying purchases, at no additional cost to you. Thank you for supporting the brands that support The Herbeevore and our beehives!