This chocolate oat milk recipe is a great dairy-free milk to make when you want a little treat! It's quick, easy, and extremely cost-effective too. A great pantry staple oat milk recipe for you to make with ingredients you already have in your cupboard!
This chocolate oat milk is great on it's own, or add it to cereals, smoothies, breakfast bowls, or baked goods. Rich in antioxidants, and refined sugar free, this oat milk is inexpensive and so simple to make.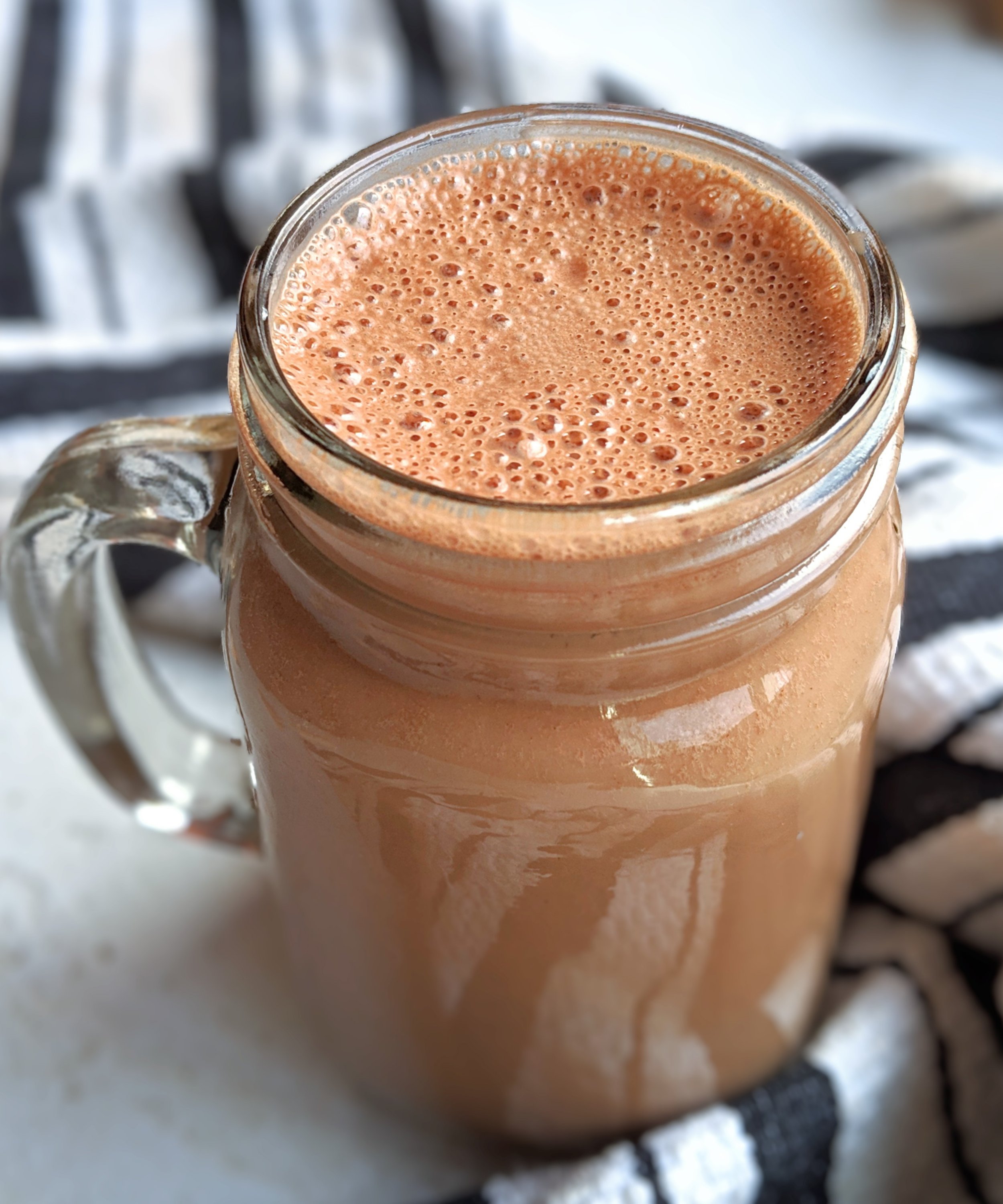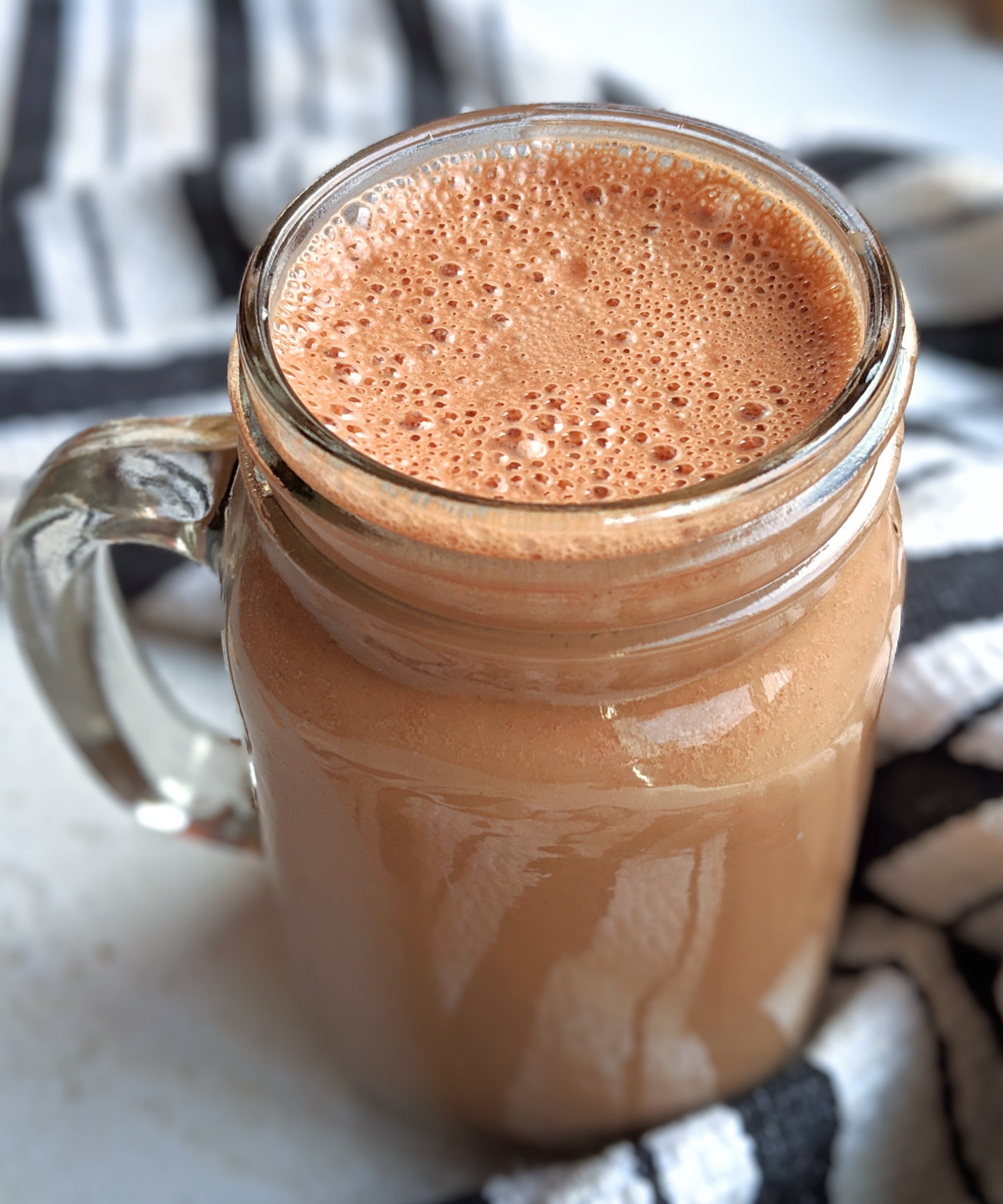 I am all about simple homemade recipes, especially when it's for things that are fairly expensive at the store. A carton of chocolate oat milk can cost you upwards of $5 for a quart… that's bananas.
You can make your own chocolate oat milk at home for pennies! It only takes a few simple ingredients, a blender, a nut milk bag or fine mesh strainer, and you got yourself thick and creamy cacao oat milk ready in 5 minutes.
This Chocolate Oat Milk Is:
Rich
Creamy
Pantry Staple friendly
Sweet (but not TOO sweet!)
Vegan
Dairy Free
Nut Free
Inexpensive and Affordable!
This oat milk is thicker than almond milk, and had a similar consistency to a cashew milk. The recipe below is for chocolate oat milk, but this can easily be changed for vanilla or a strawberry variety if you're in the mood.
One of the things we struggle with around the homestead is finding a really good dairy-free alternative to milk for lattes. We were never able to find a good substitute for whole milk in lattes… until now! This thick oat milk foams nicely and tastes great with a shot of espresso.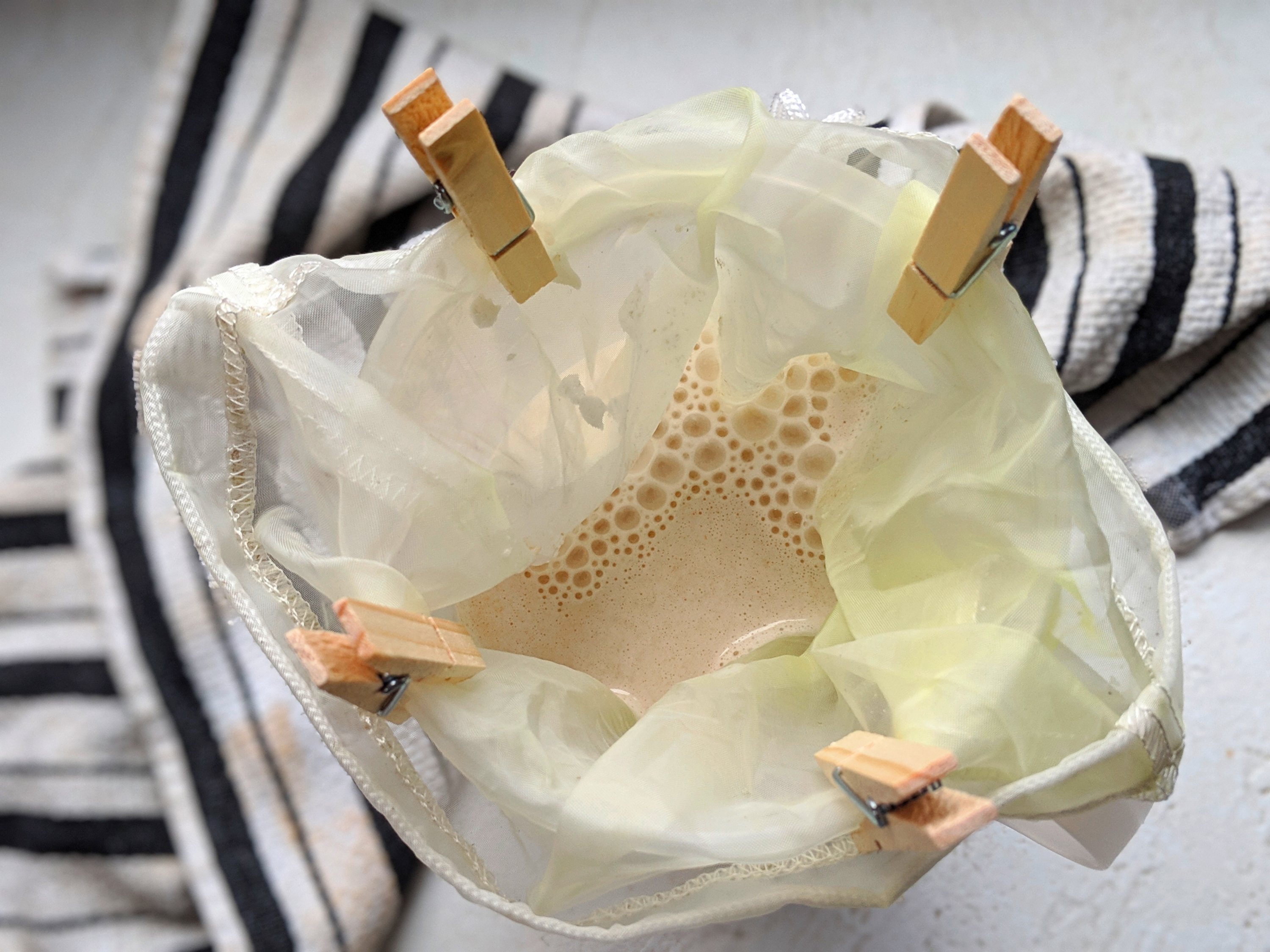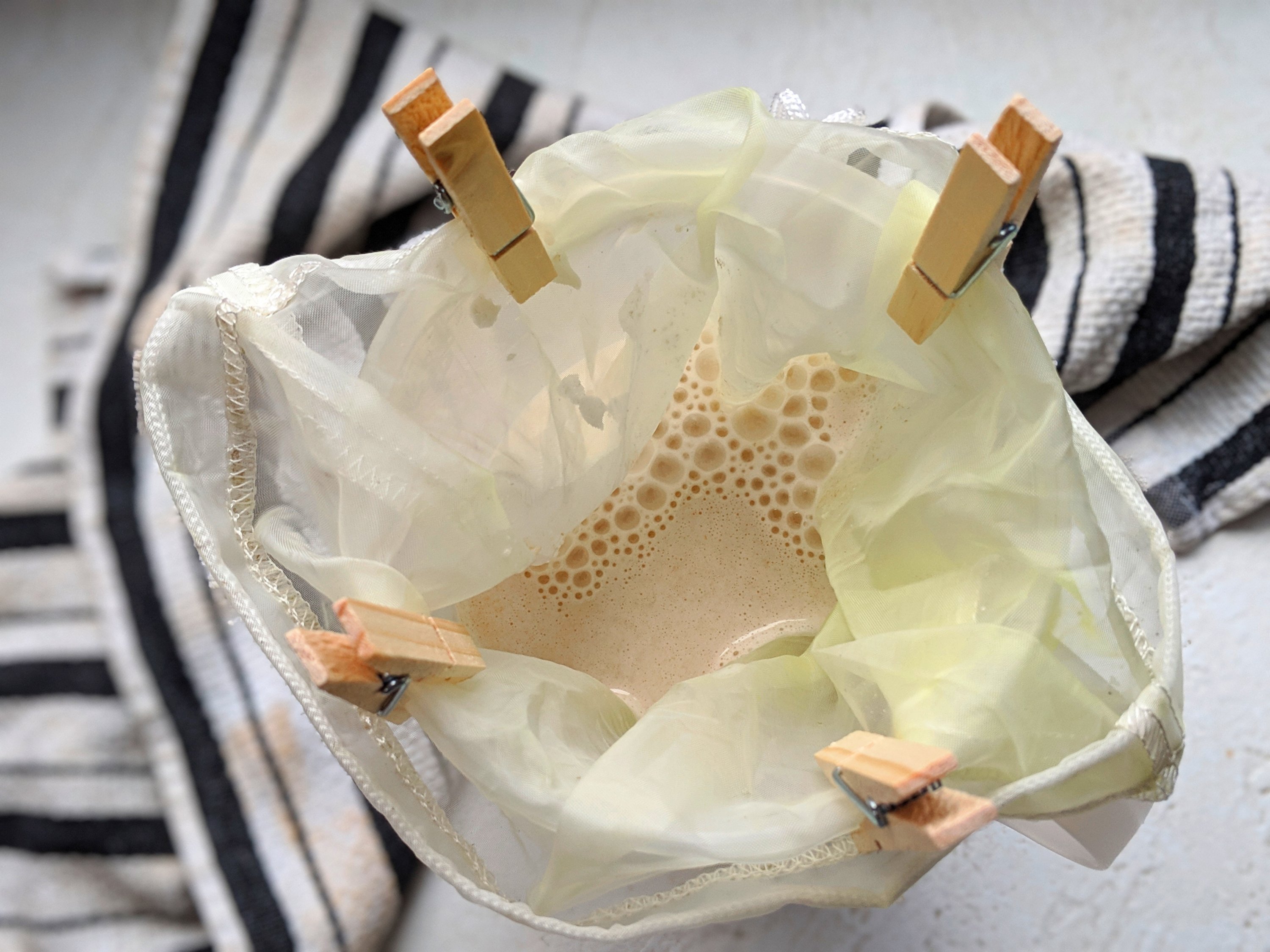 What's In Chocolate Oat Milk?
I cook with fresh produce from my garden and from Misfits Market– they sell fantastic fruit, vegetables, & pantry staples at a discounted price. We get Misfit boxes every other week and love picking out favorite produce for delivery. Get $10 off your first box here!
What Do I Need to Make Oat Milk?
For this recipe you will need a nut milk bag – this is the one I bought on Amazon. I like using the nut milk bag better than cheese cloth because it holds up for multiple uses! I actually have been using the same bag for a few years – no tears or rips. And it's pretty easy to clean, and can be thrown in the dishwasher! We use this nut milk bag every fall to filter our honey from our beehives too – it's a super versatile strainer for liquids of all kinds!
You can also experiment with flavors and make a thicker creamer oat milk too (just use less water, more cinnamon for example). I will definitely be testing out different types of oat milks in the near future, but wanted to share this yummy Chocolate version first!! Great for breakfast, for smoothies, or for a late night chocolate fix.
The Best Blender for the Job
I've owned a lot of blenders, but my Vitamix is definitely the best one I've owned. This high-speed blender will blend even the toughest of ingredients into pulp. 
I prefer using my blender to my food processor for sauces like this or homemade hummus, as it's much easier to clean the Vitamix. This is definitely one kitchen appliance we use on a daily basis!
Dietary Modifications
Make sure the oats you are using are certified gluten free. While oats are naturally gluten free, there can be cross-contamination during processing, so always make sure your oats have the Certified GF stamp on the packaging if you must avoid wheat.
This chocolate oat milk is also totally nut free so it's perfect for those with nut allergies!
More Oat Milk Recipes You'll Love!
Oat Milk Matcha Latte Recipe (Dairy Free, Vegan)
Salted Oat Milk Hot Chocolate Recipe
Oat Milk Mac and Cheese Recipe
Oat Milk Pancakes Recipe (Vegan, Dairy Free, Egg Free)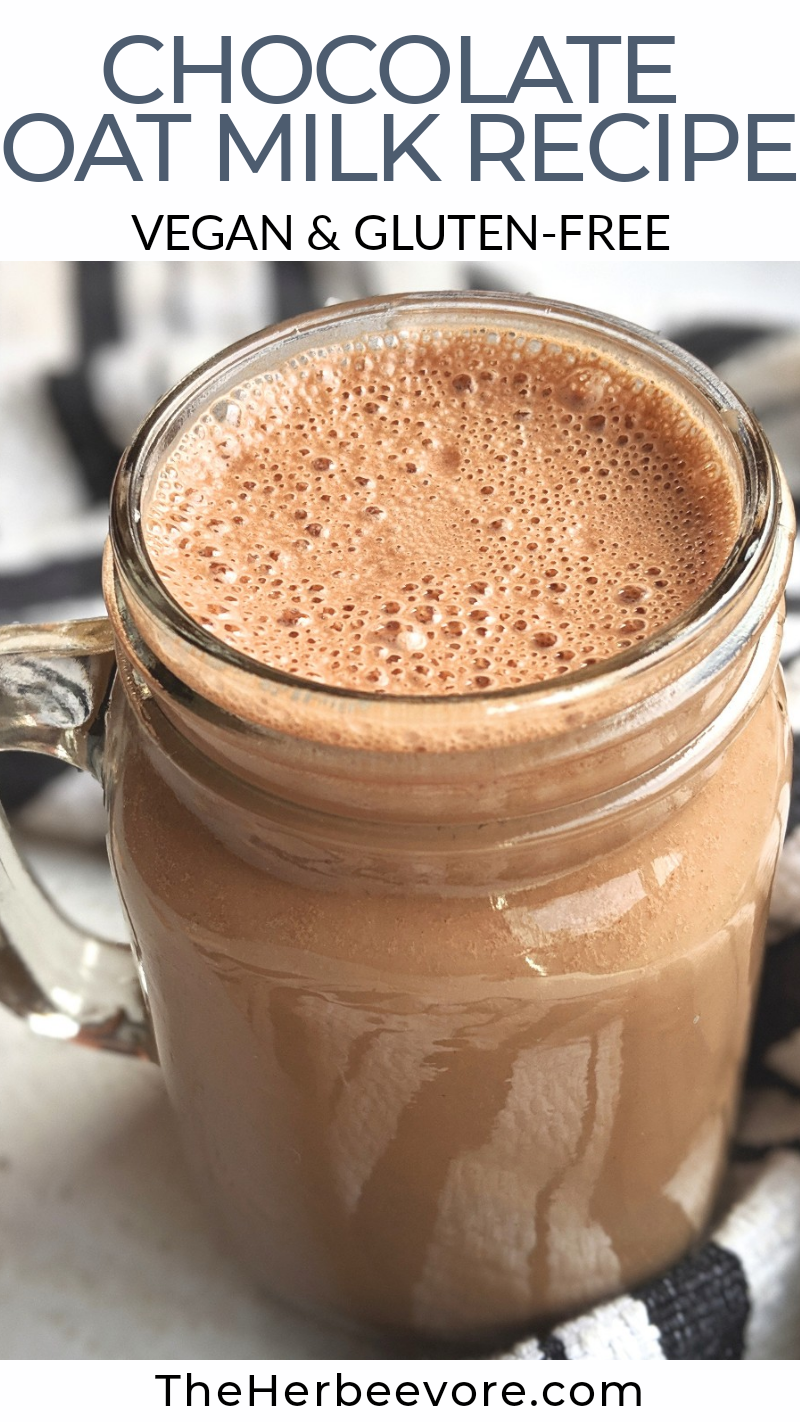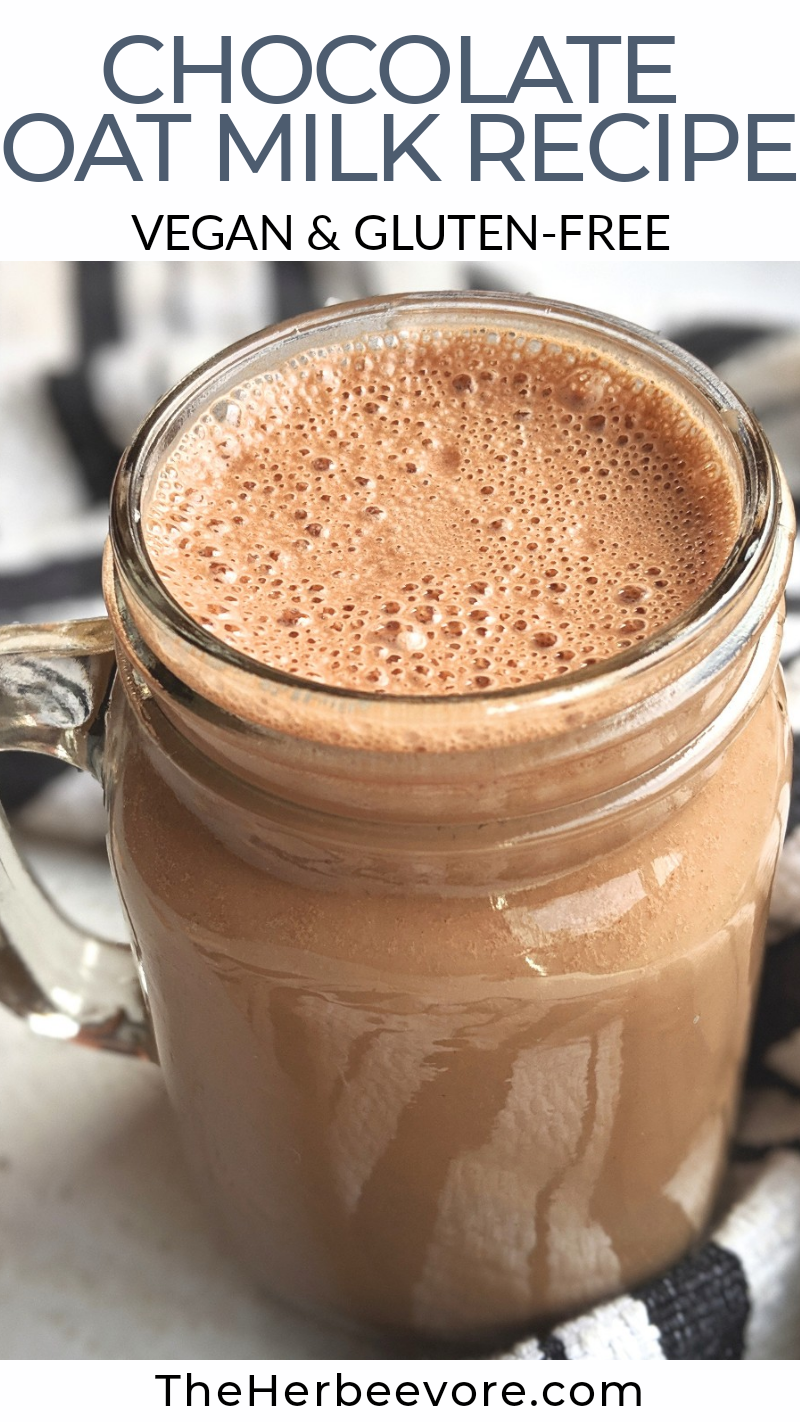 Share this Homemade Chocolate Oat Milk Recipe
As always, if you make this homemade chocolate oat milk recipe be sure to leave me a comment, rate this recipe, and tag me @theherbeevore on Instagram so I can feature you. I love seeing all your photos of my recipe recreations!
Let's keep in touch – make sure to sign up for my newsletter to get fresh recipes weekly. And don't forget to follow over on Pinterest, Instagram , & Twitter– I'd love to connect with you there!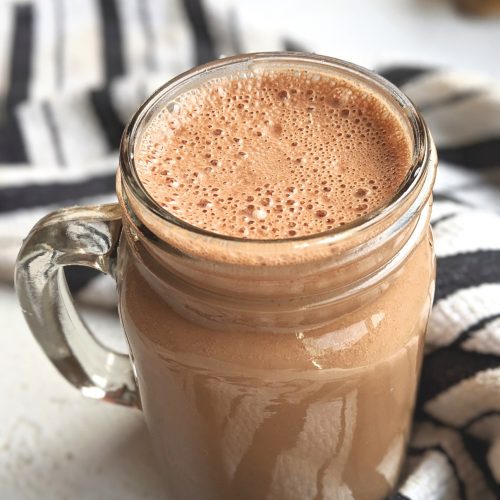 Chocolate Oat Milk
This plant-based chocolate oat milk recipe is a perfect and easy treat! Only a few simple whole ingredients.  Great in overnight oats, lattes, in cereal, or by just itself in a glass.
Instructions
Add water and oats to a blender, soak for 10 minutes.

Blend oats and water on high for a few minutes until the consistency is smooth and creamy.

Place a nut milk bag or cheesecloth over a pitcher, and pour the oat mixture into the bag.  Strain for a few minutes and allow the oat milk to naturally drain through the bag. Do not squeeze or force oat milk through.

Add the oat milk back to the blender with the agave nectar, cacao powder, cinnamon, and salt.  Blend on high for1 minute until the oat milk is thick and creamy.

Store in an airtight container and chill overnight
Notes
Save Money on Organic Groceries!
I get all the fresh produce for my recipes from my garden and from
Misfits Market
– they sell
all organic produce
at a super discounted price, and it's purchased direct from the farmers. We get Misfit Market boxes every month and love picking out our favorite seasonal produce for delivery.  You can get
$10 off your first $30 box by clicking here!
If you think organic produce is too expensive… think again, and give
Misfits Market
a look
Nutrition
Calories:
115
kcal
Carbohydrates:
23
g
Protein:
3
g
Fat:
2
g
Saturated Fat:
1
g
Sodium:
17
mg
Potassium:
112
mg
Fiber:
3
g
Sugar:
7
g
Calcium:
23
mg
Iron:
1
mg
Did You Make This Recipe?
Please leave a rating and comment below!
Or tag me @theherbeevore in your photo on Instagram!
This post may contain affiliate links. As an Amazon Associate I may earn from qualifying purchases, at no additional cost to you. Thank you for supporting the brands that support The Herbeevore and our beehives!