This Hawaiian Mac Salad with pineapple is a sweet, savory, and tangy side dish – perfect for a summer cookout or BBQ! This crowd-pleaser appetizer is great to make ahead, and can be made vegan or gluten free for guests.
Loaded with pineapple, carrots, onions in a creamy dressing, this is one mac salad that we love serving when we have friends over. It goes great with any grilled protein, and is a simple and impressive summer appetizer or side dish to bring to a BBQ!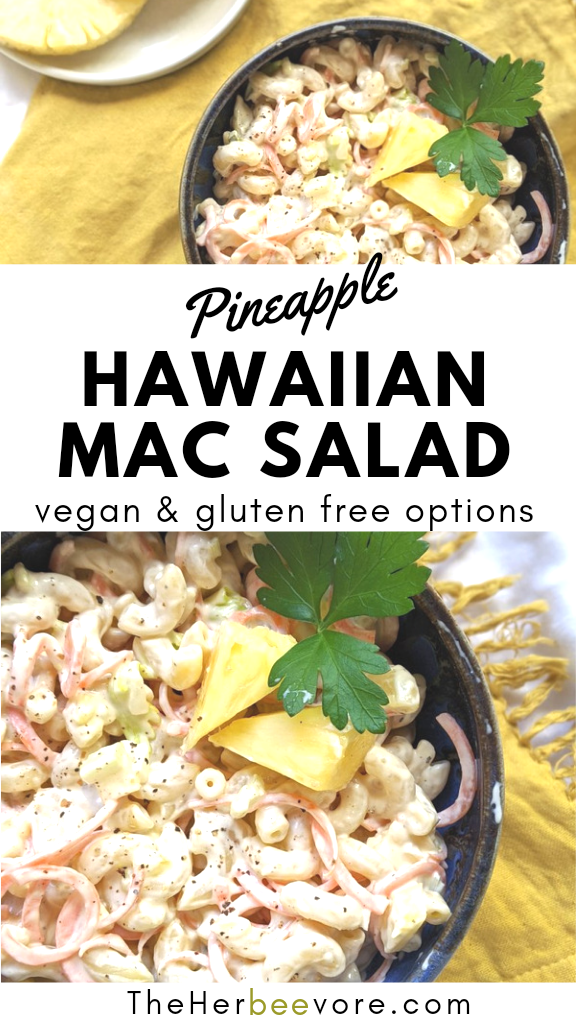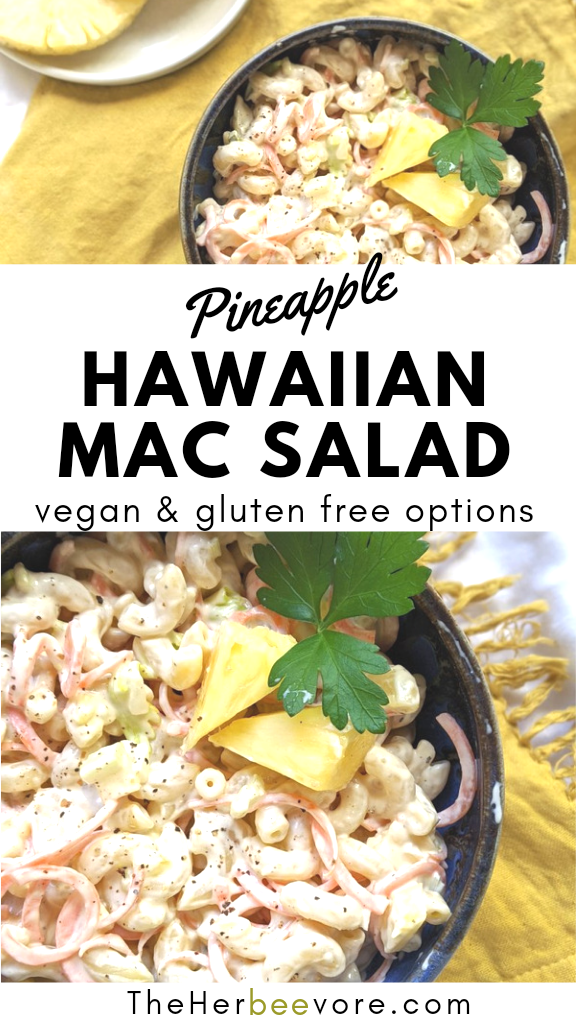 This creamy and tangy Hawaiian mac salad recipe is most excellent to serve for a BBQ or cookout – get major summer vibes all year long. Everyone in the family will absolutely love it. What's better than a sweet and tangy salad that goes great with anything off the BBQ? This Hawaiian Macaroni Salad is a super fun take on the classic summer side dish. And it can easily be made vegan and gluten-free so everyone at your table can enjoy it!
This Hawaiian Mac Salad Recipe Is:
Creamy
Sweet
Tangy
Delicious
Crunchy
Easily vegan and gluten free!
A fun summer side dish, the perfect crowd pleasing dish for your summer BBQ, potluck, or cookout
I can't deny it, I'm a macaroni salad lover. I love all creamy salads, and macaroni salad is one of my favorites that are my go-to recipes in the summer. For me, no BBQ is complete without pasta salad, macaroni salad, or coleslaw. The combination of crunchy veggies and a creamy tangy dressing make a BBQ complete. Adding pineapple for a little sweetness gives this delicious Hawaiian Macaroni Salad the perfect touch. I had originally cut this recipe out of a magazine years ago, and have been making it ever since with a few of my own touches.
This Hawaiian Macaroni salad is a super sweet and fresh take on the classic macaroni salad. The pineapple replaces the need for any sugar in the dressing. The fruit pairs so well with the crunchy veggies in the salad: fresh chopped celery, bright onions, and vibrant carrots.
What's In Hawaiian Mac Salad?
I love shopping for fresh produce through Misfits Market – they sell groceries, healthy pantry staples, and fantastic food finds (even wine!) at a discounted price. Choose your favorite seasonal produce, save up to 40% off grocery store prices & save time by getting free delivery right to your door!
Elbow Macaroni Noodles: I use classic semolina elbow macaroni noodles, but you can also use this gluten free version if you avoid wheat, or use normal macaroni noodles if you can eat wheat. If I'm cooking for a crowd or bringing this dish to a BBQ, I always use gluten free noodles in case anyone there is gluten sensitive… then everyone can enjoy this Hawaiian mac salad!
Celery
Carrots
Bell Pepper:

If you don't have fresh peppers,

these sweet roasted red peppers

are a great substitute! I love adding them to breakfast bakes, sandwiches or wraps, and soups.

Pineapple – use fresh if you have it or these great sliced pineapple chunks if you can't find fresh. I like to stock up and keep canned pineapple in my pantry for those days when I want tropical flavors in my life. Canned pineapple is great to roast, add to curries, and even toss in a pina colada!
Onion
Sweet Relish

– to give this dish a little extra sweetness. I love

this classic sweet relish

which has a nice crunch and a sweet and tangy flavor. It's great in this salad (like a secret ingredient!) and also

great to have on the table

for burgers or hot dogs.

Classic Mayonnaise:

I like to use

this classic mayo

to keep this recipe plant-based, but you can use whatever mayo that you would normally use in recipes. If you don't normally like mayo or are vegan,

try my homemade vegan dairy-free m

ayo

… it's creamy but still plant based.

Salt & Pepper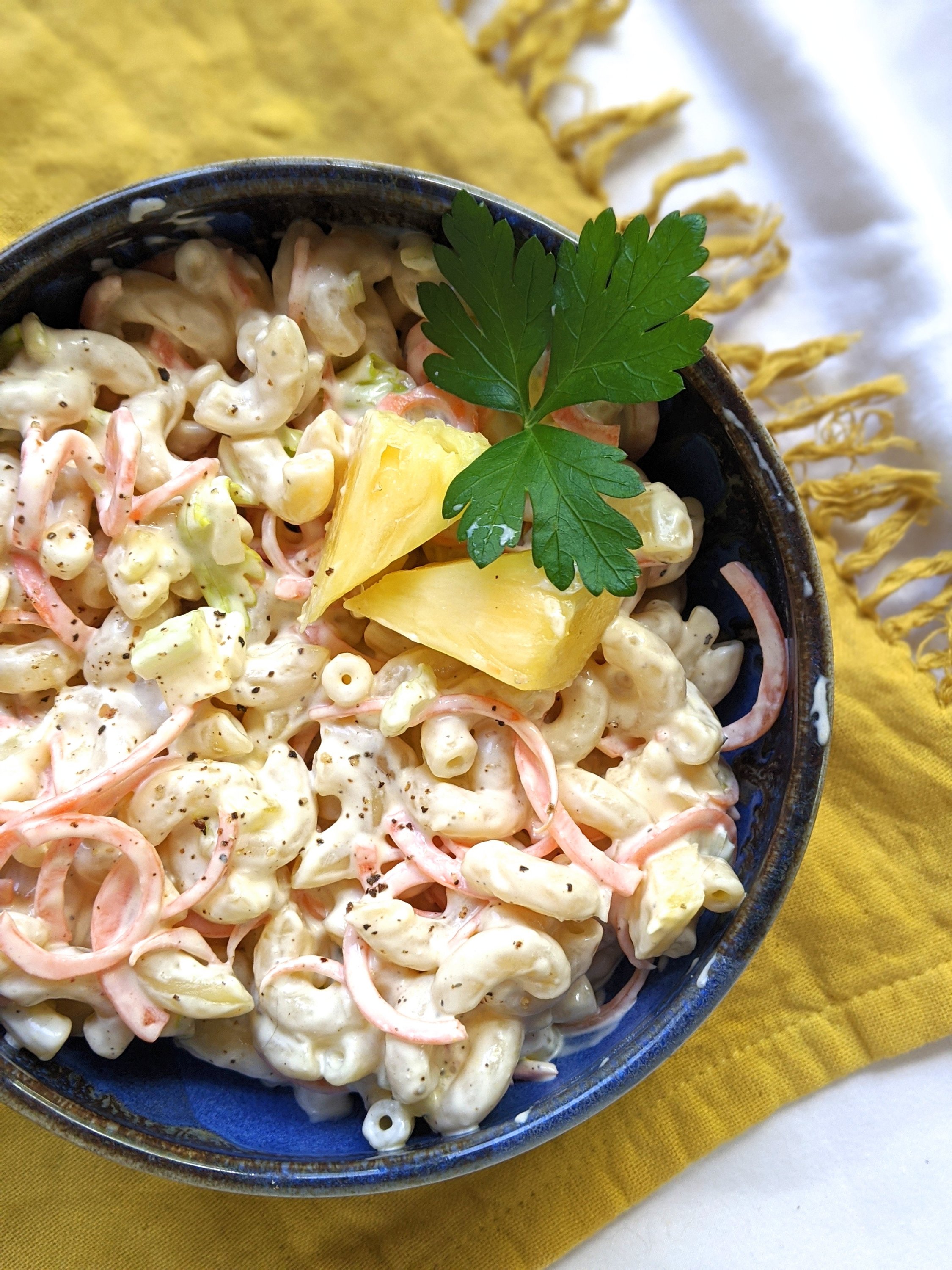 Make Ahead Macaroni Salads for the WIN!
This creamy Hawaiian mac salad recipe is great for entertaining as it is an easy make-ahead side dish! It actually takes better the longer it sits. This is great to make a day ahead of your cookout and just grab and go to bring it along. The flavors marry together better when left sitting a while, and the veggies don't lose any of their crunch! I love Make Ahead Meals (I have a whole recipe collection of them here) and am all in favor of prepping anything ahead of time!
How Do I Make This Hawaiian Macaroni Salad?
Bring a large pot of salted water to a boil. Add the macaroni and cook to package directions. Rinse with cold water, drain, and set aside until cooled.

In a large bowl add the cooled macaroni and the rest of the ingredients to the bowl. Stir well to combine. Taste for flavor and add any additional spices, salt, or pepper as needed.

Refrigerate overnight in an airtight container. Remove from fridge right before serving.
This is a fun dish that the whole family will love. The macaroni salad provides a little nostalgia for the creamy pasta salads of yesteryear. The sweetness and crunch will attract the kids. And since its vegan, gluten free, and dairy free, its friendly to most people with special diets.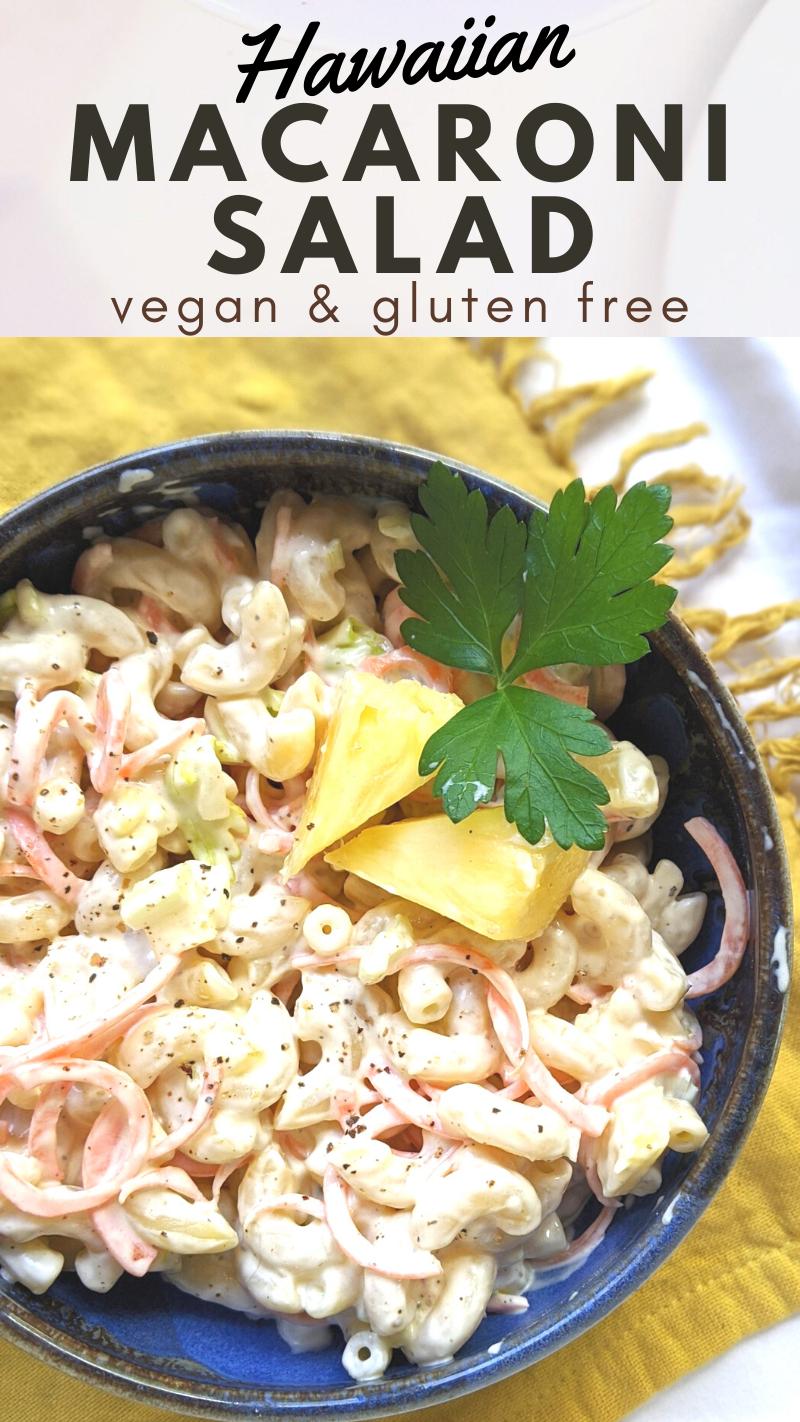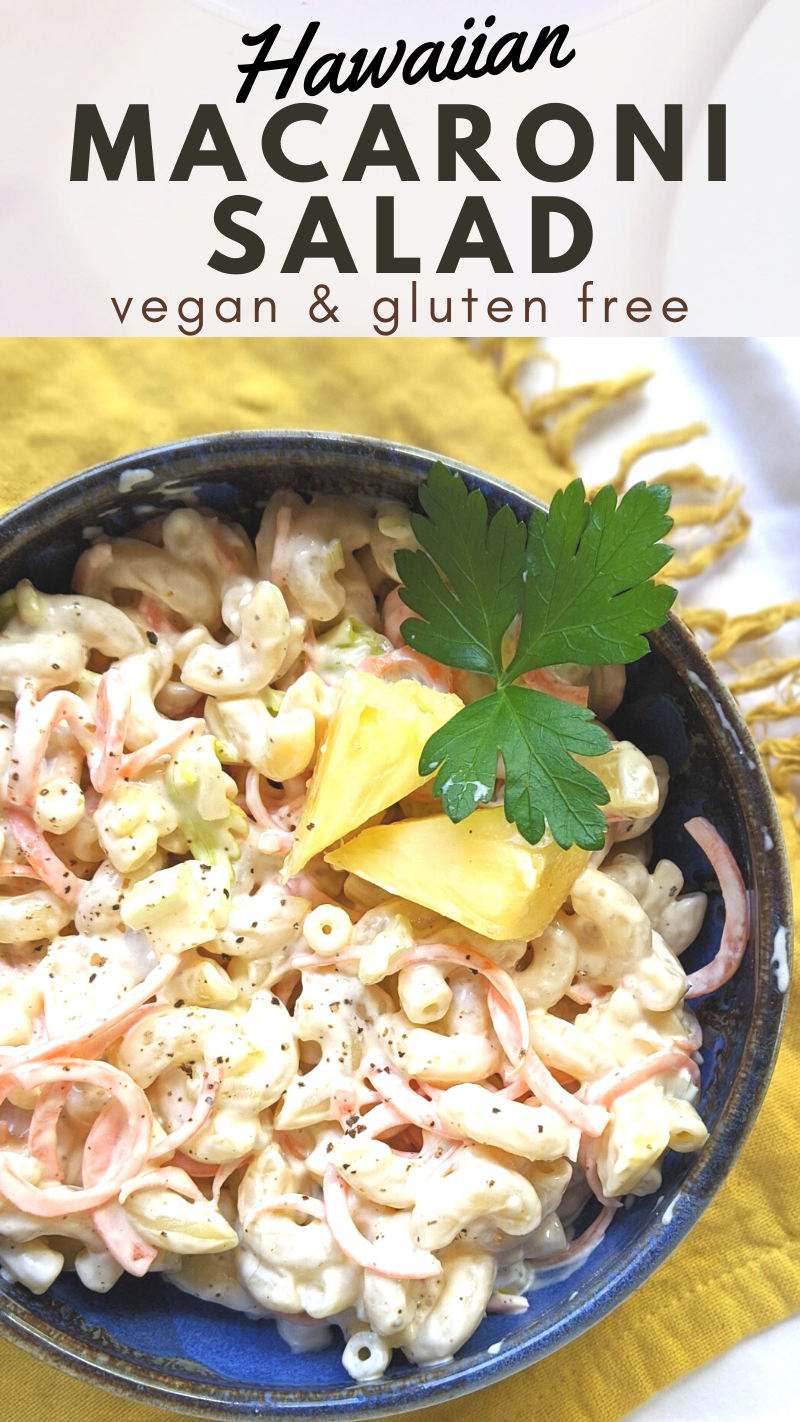 Dietary Modifications
This recipe is vegetarian as written. For a vegan version use vegan mayo or dairy free yogurt, but you can absolutely make this with real dairy products if you aren't vegan or eating dairy free.
To make it gluten free use a certified gluten free pasta. Also, you can use any shape you'd like, I prefer the classic macaroni noodle, but a small shell pasta or ditalini will work just fine.
We normally do a ton of hosting in the summer on our homestead. I love having big BBQs where we have the smoker going, the charcoals warming, and the beer chilling in the refrigerator. And everyone moves on over to the firepit at night for roasting s'mores. Since 2020 is the year of social distancing, we haven't had any one over yet but I can't wait to be able to put a big bowl of his Hawaiian macaroni salad out on the table for our friends.
More Favorite BBQ Side Dishes You'll Love
Vegan Tzatziki Pasta Salad (Gluten Free, Summer Side Dish)
Pot Luck Greek Salad with Homemade Vinaigrette (Vegan, Gluten Free, Party Recipe)
Avocado Grapefruit Salad (Raw Vegan, Paleo, Whole30, Gluten Free)
Coleslaw Pasta Salad (Vegan, Gluten Free, Dairy Free)
Kidney Bean Salad: Copy Cat Recipe (Vegetarian, Vegan Option)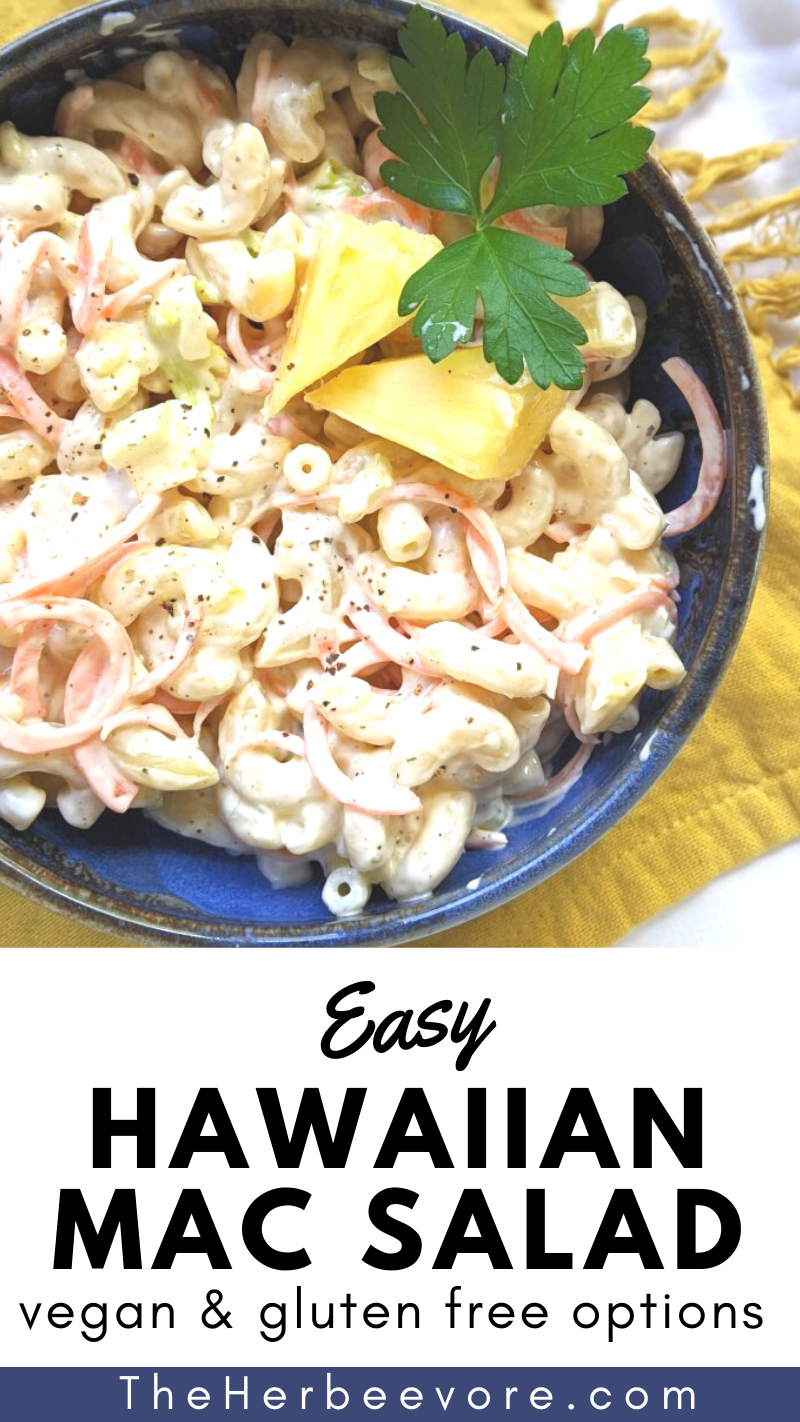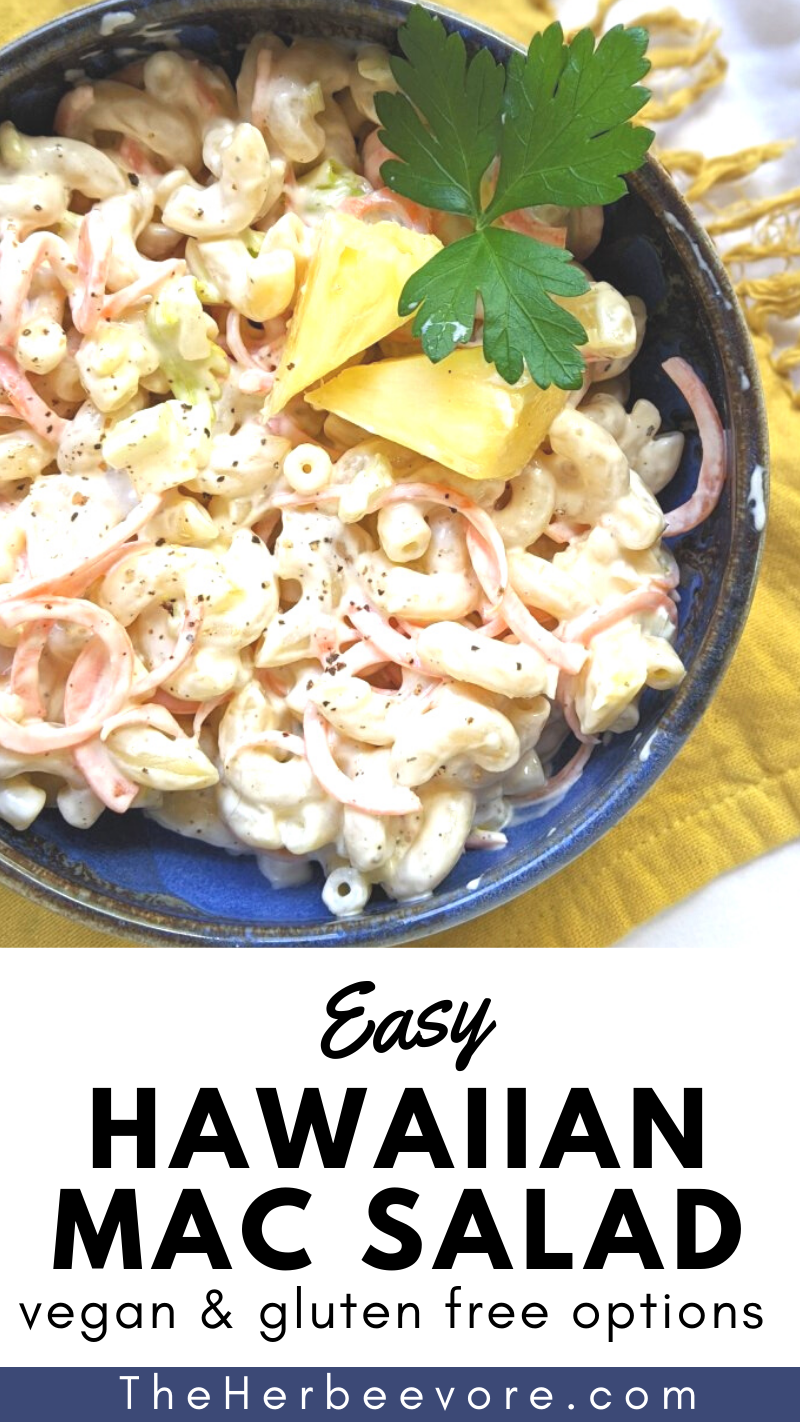 Get the Same Ingredients I Used For My Macaroni Salad with Pineapple Recipe!
As always, if you make this easy Hawaiian macaroni salad recipe be sure to leave me a comment, rate this recipe, and tag me @theherbeevore on Instagram so I can feature you. I love seeing all your photos of my recipes!
Let's keep in touch – make sure to subscribe to my monthly newsletter to get free recipe inspiration.
And don't forget to follow over on Facebook, Instagram, YouTube & TikTok – I'd love to connect with you there!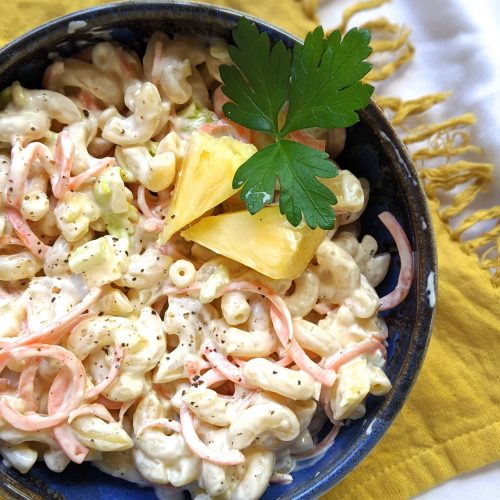 Hawaiian Mac Salad
This hawaiian mac salad recipe is loaded with fresh pineapple & veggies make this creamy Hawaiian Mac Salad a total hit for a summer backyard BBQ side dish! Can easily be made vegan and gluten free!
Instructions
Cook macaroni noodles according to package instructions.  Drain and set aside to cool.

In a large bowl, combine the onion, carrots, celery, bell pepper, pineapple, mayo, relish, mustard, salt and pepper.  Add the cool macaroni noodles and stir well to combine.  Cover and refrigerate for at least an hour before serving... But overnight is best!
Notes
Dietary Modifications
This recipe is vegetarian as written.  For a vegan version use vegan mayo or dairy free yogurt, but you can absolutely make this with real dairy products if you aren't vegan or eating dairy free.
To make it gluten free use a certified gluten free pasta and other dressing ingredients (like mayonnaise).  Also make sure any added ingredients like mayo or relish are certified gluten free.
Save Money on Fresh Groceries & Pantry Staples!
I get all the fresh produce for my recipes from my garden and from
Misfits Market
– they sell organic produce at a discounted price, and it's purchased direct from farmers to reduce food waste. We get Misfit boxes every other week and love picking out our favorite seasonal produce. 
Save up to 40% off grocery store prices
.
If you think produce delivery is too expensive… think again, and give
Misfits Market
a try!
Nutrition
Calories:
225
kcal
Carbohydrates:
9
g
Protein:
1
g
Fat:
21
g
Saturated Fat:
3
g
Trans Fat:
1
g
Cholesterol:
12
mg
Sodium:
398
mg
Potassium:
117
mg
Fiber:
1
g
Sugar:
6
g
Vitamin A:
2909
IU
Vitamin C:
21
mg
Calcium:
14
mg
Iron:
1
mg
Did You Make This Recipe?
Please leave a rating and comment below!
Or tag me @theherbeevore in your photo on Instagram!
This post may contain affiliate links. As an Amazon Associate I may earn from qualifying purchases, at no additional cost to you. Thank you for supporting the brands that support The Herbeevore and our beehives!