This mason jar ramen recipe is an easy and satisfying lunch!  More flavorful than Instant Ramen, this soup will fill you up with healthy vegetables without the salt.  Just add hot water, and you have a delish and filling lunch at home, at school, or at the office!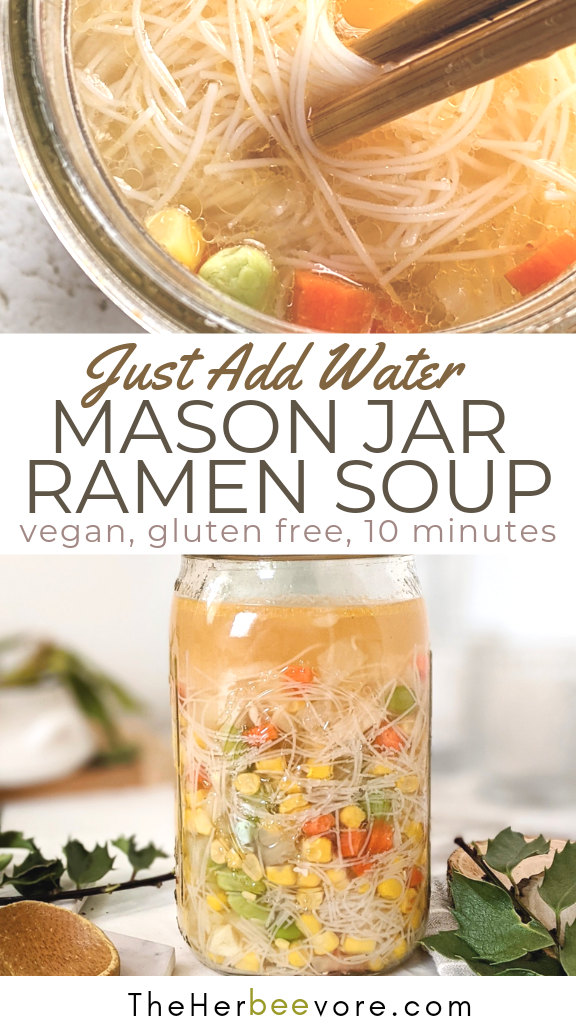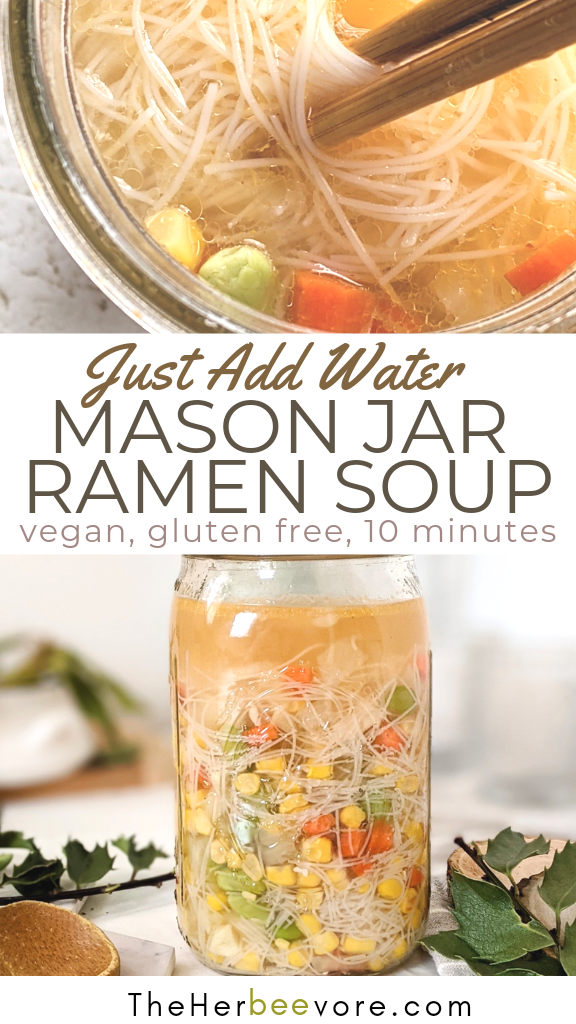 This mason jar ramen recipe is one of my husband's favorite lunches – and something I feel good making him.  We used to eat packaged Instant Ramen on days when we were sick or feeling too lazy to cook dinner.  But I would't go back to the dry packaged stuff after making this healthy and flavorful Low Sodium Ramen Recipe – This soup is awesome!
This Low Sodium Ramen Recipe Is:
Light
Filling
Low Sodium (yikes, have you ever checked out the sodium content of the packaged stuff?!)
Noodley
Vegan
Gluten Free (if using rice noodles)
Versatile – swap out any veggies you have on hand
EASY to Meal Prep
EASY to cook… just add hot water and allow to sit for 5 minutes before eating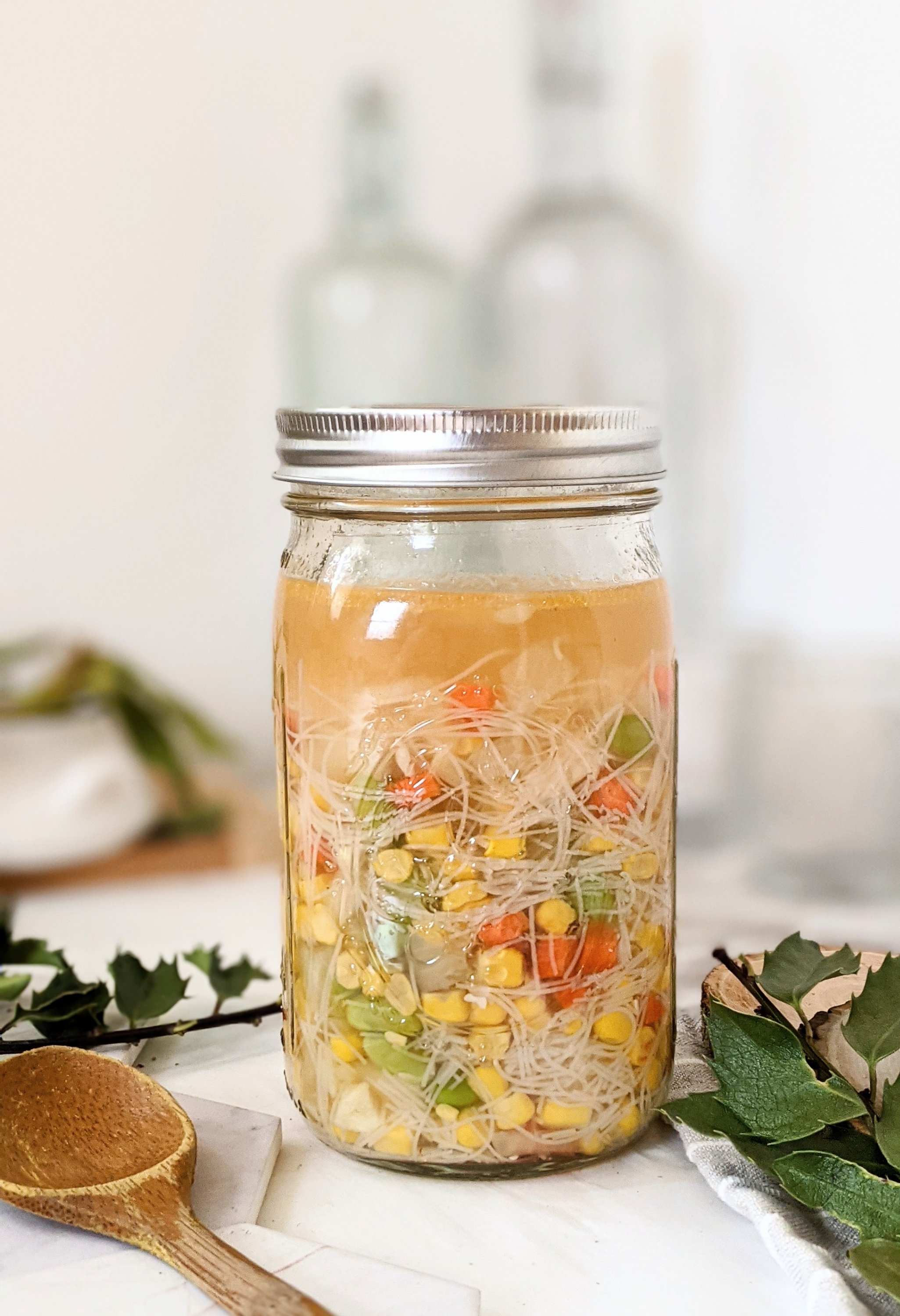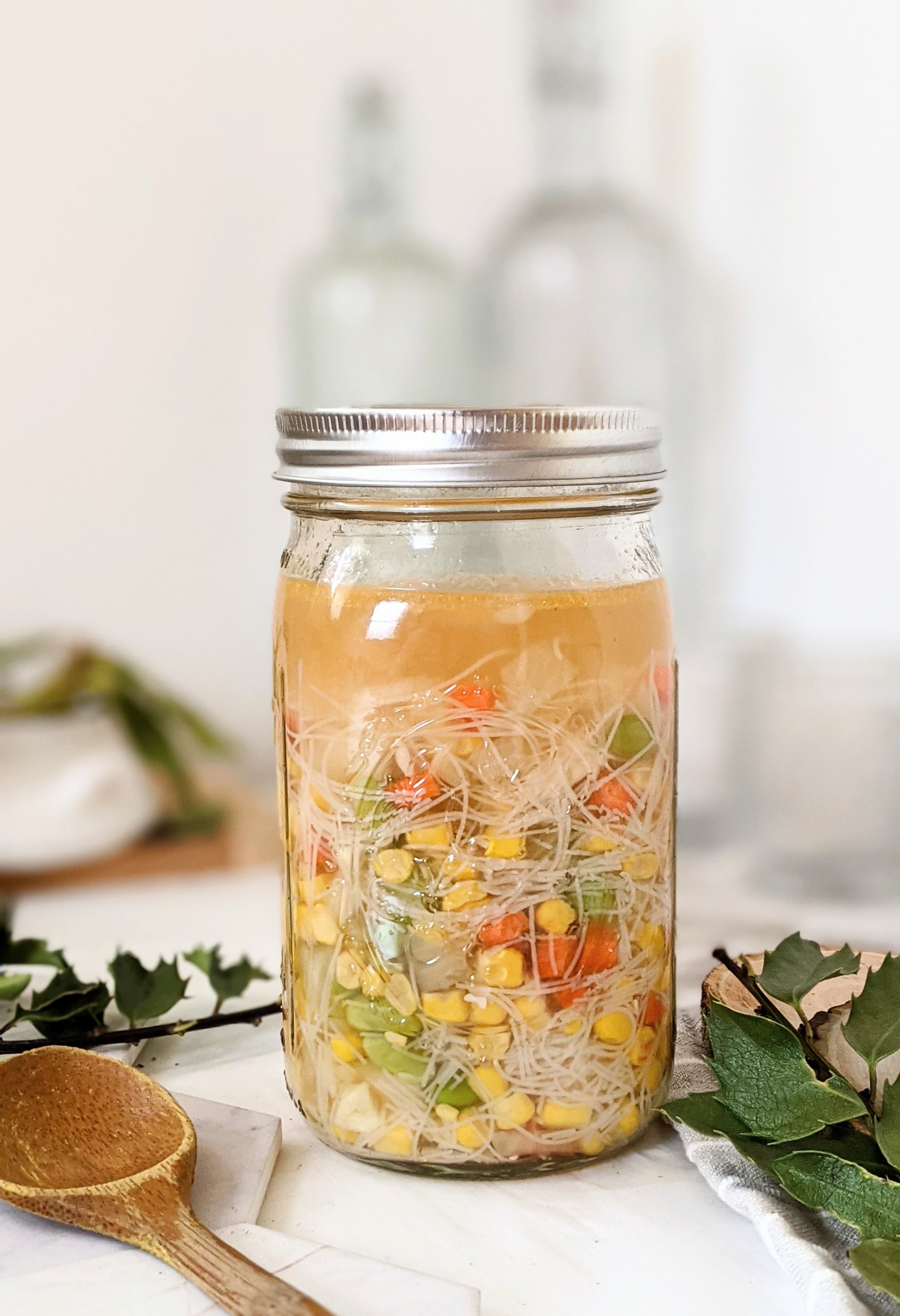 You won't miss the salt with the great flavors in this soup!  There is bright lime juice, sesame oil, sunflower oil, and spicy sriracha for a kick.  And since there is such a wide array of veggies and tofu, it will keep you full!
What's In This Mason Jar Ramen?
Tofu: I love this shelf-stable tofu from Mori-nu, it has a great flavor and texture (reminds me of the tofu in restaurant miso soups)!  Since it's shelf stable it can last for up to a year in your pantry, so I stock up. You can get a 12 pack on Amazon for under $20, and its great to add to soups, curries, or crispy baked tofu!  Easy vegan protein.
Noodles: I normally use Asian Vermicelli Rice Noodles for this, but I've also tried it with cooked angel hair pasta and it turned out amazing!
Veggies: I like carrots, corn, edamame, green onion, and some fresh herbs in mine… but you can swap anything you have on hand.
Sesame Oil: for an awesome toasted flavor, I use this sesame oil on more than just ramen; it goes into every stir fry I make!
Sriracha: just a hint of this sriracha to give this soup a brilliant spicy flavor!
Lime Juice: Brightens up the flavor and gives some great acidity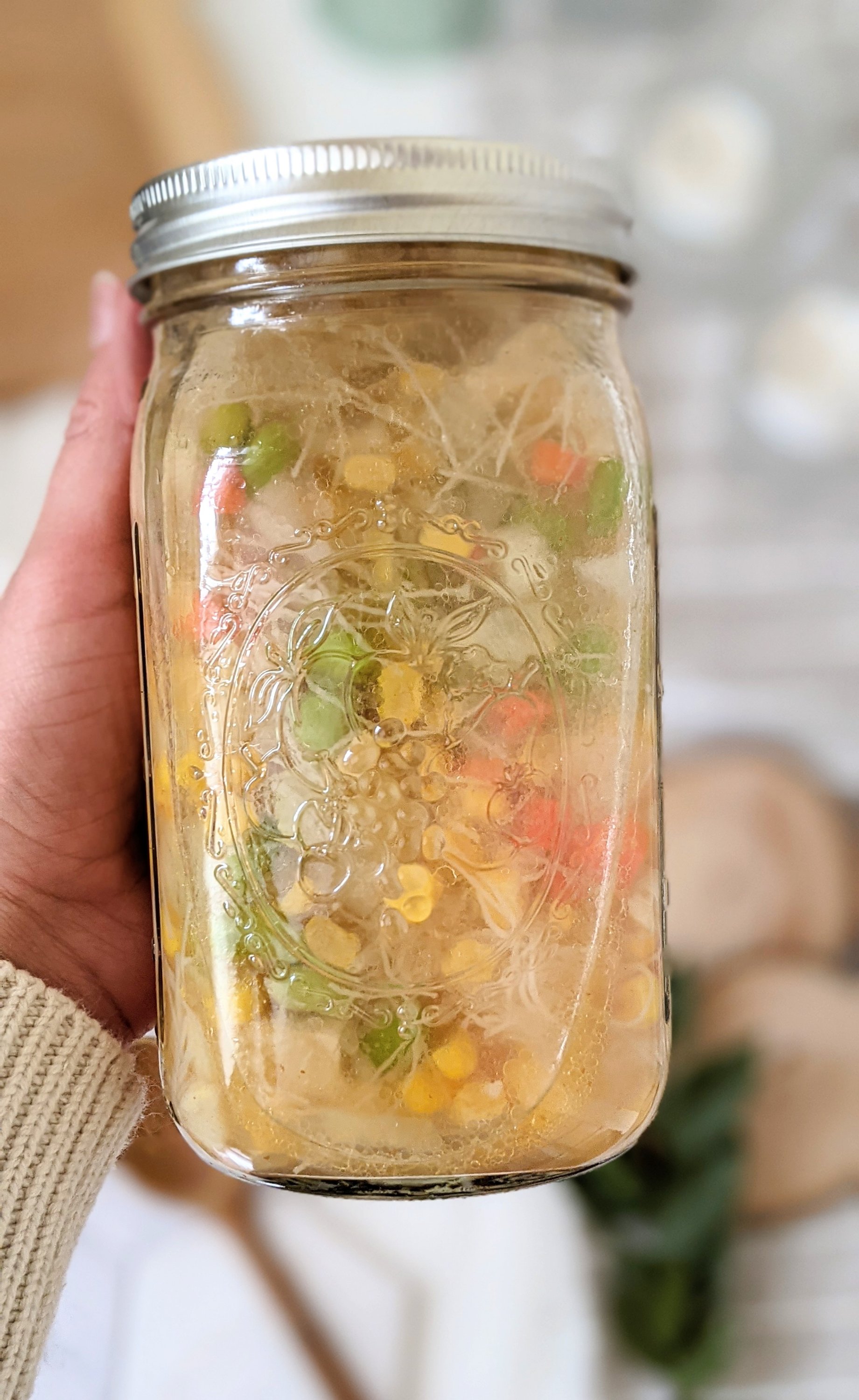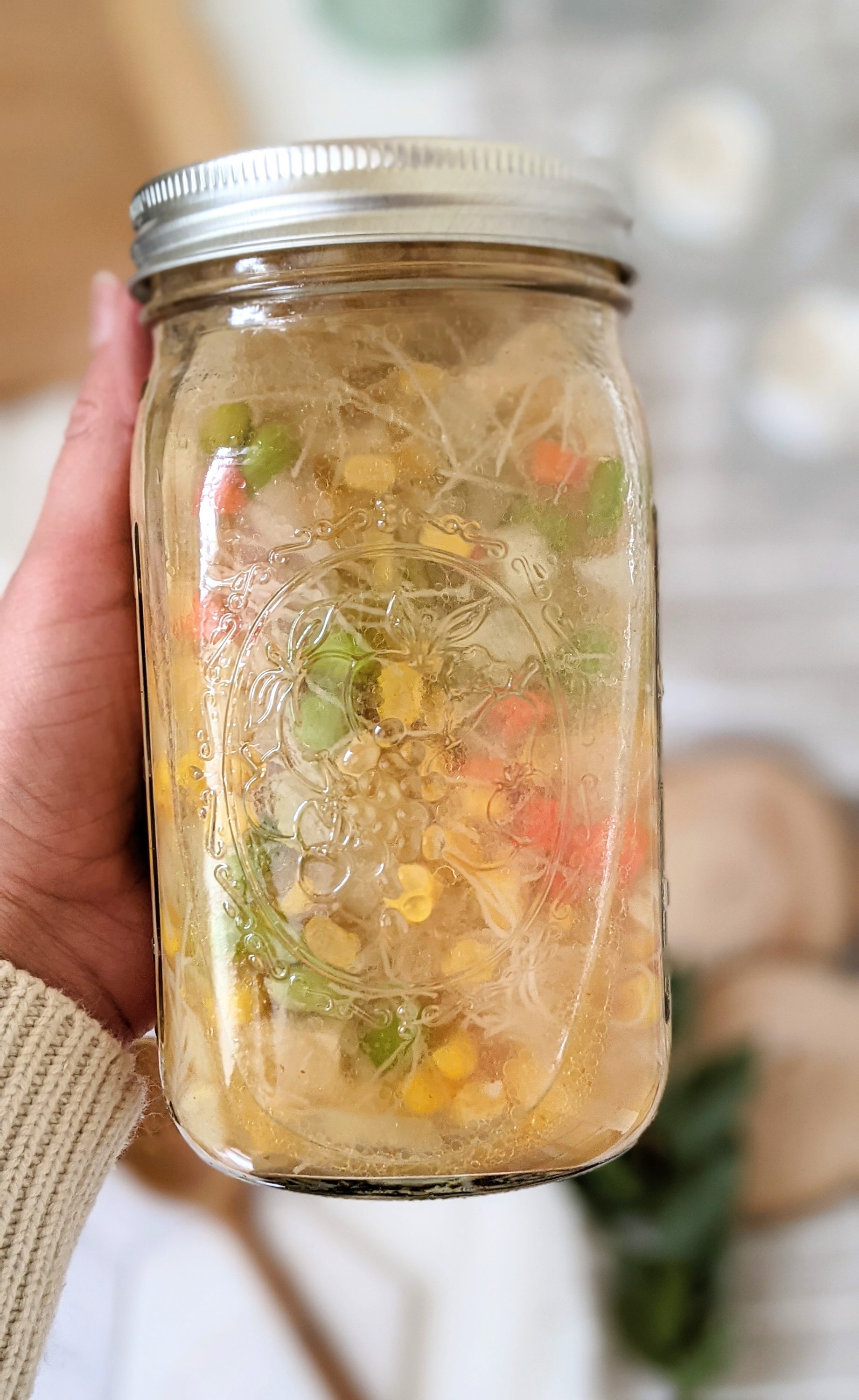 A No Cook Work Lunch, Just Add Water to this Ramen!
I love that there is no cooking time in this Low Sodium Ramen Recipe… add all the ingredients, and add hot water to heat.  The thin rice noodles cook in the water, and don't need to be microwaved at all.  This is great for the office, as I can use hot water from the coffee machine, and pour it straight in the jar!
One of the BEST Pantry Staple Lunch Recipes
This vegan mason jar ramen recipe is a fantastic pantry-staple meal!  It uses almost all ingredients you would have in your dry pantry or cupboards (and you can substitute the frozen veggies for canned!).  You probably already have a lot of these ingredients on hand!  Keeping a well-stocked pantry makes it easy to come up with delicious and healthy meals using a few staples you can rotate.  I made a list of my Top 125 Plant-Based Pantry Staples that always keep on hand. And you can check out all my favorite pantry staple recipes on TheHerbeevore.com here.  By stocking up on healthy whole ingredients you can cook delicious recipes without a trip to the store!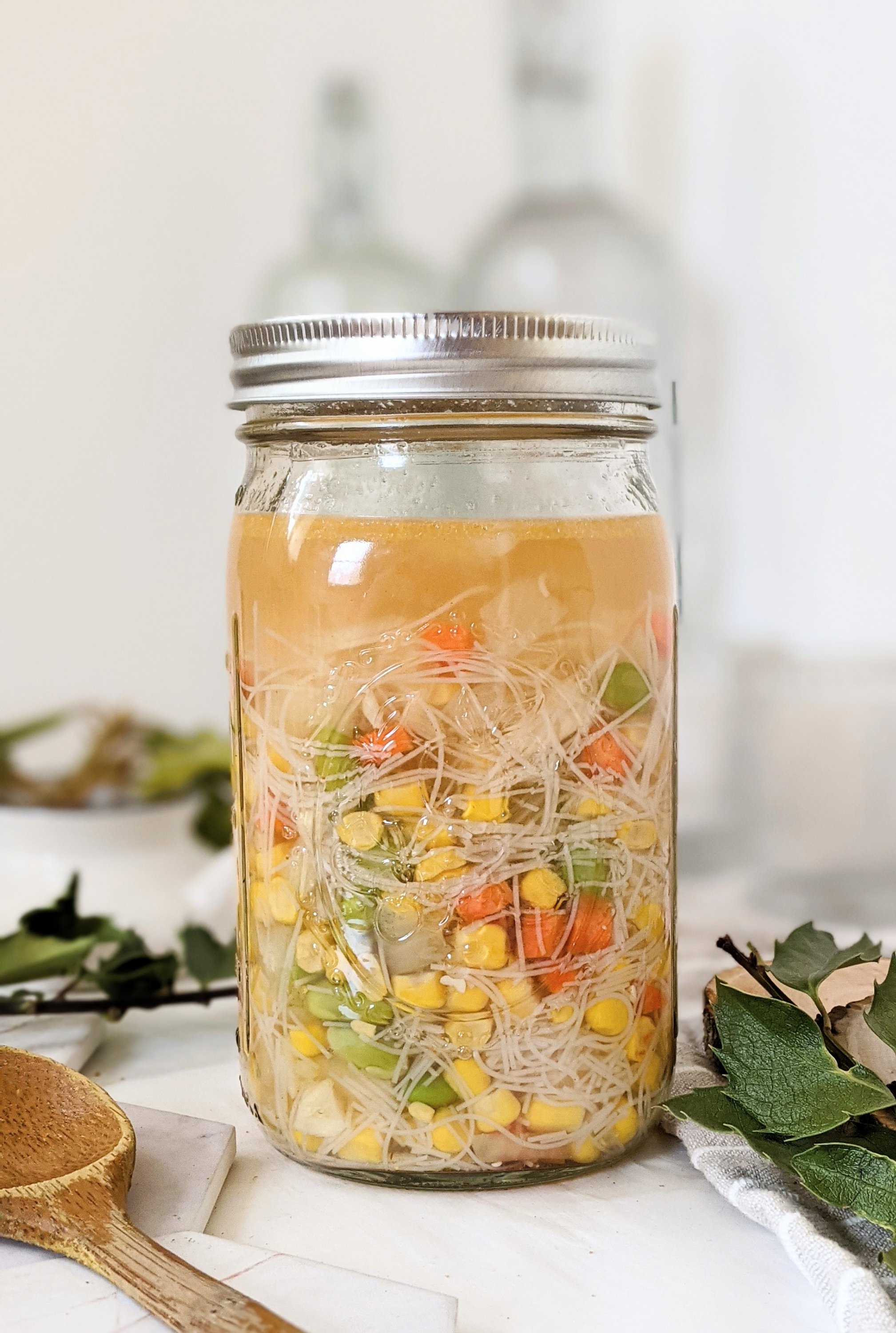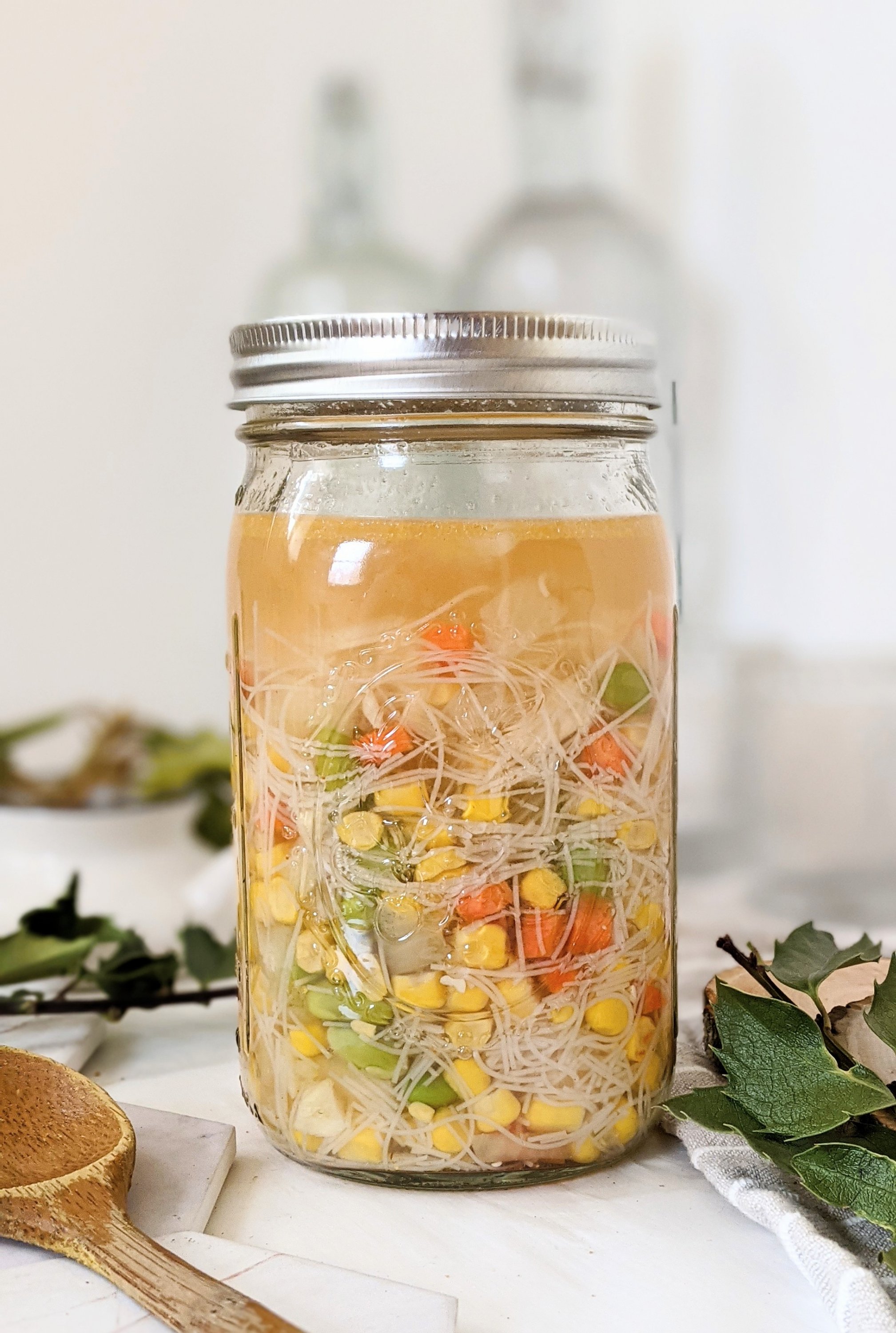 Dietary Modifications
This soup is naturally vegan & vegetarian, but if you aren't vegan and want to add some cooked meat instead of the tofu go for it.
This is gluten free, but if you aren't avoiding gluten then you can swap whole wheat spaghetti instead of the rice noodles, and soy sauce for the tamari.
This is a low sodium recipe, and has a fraction of the salt of normal ramen!  If you aren't low sodium and want to add a bit more soy sauce or tamari, then feel free to add!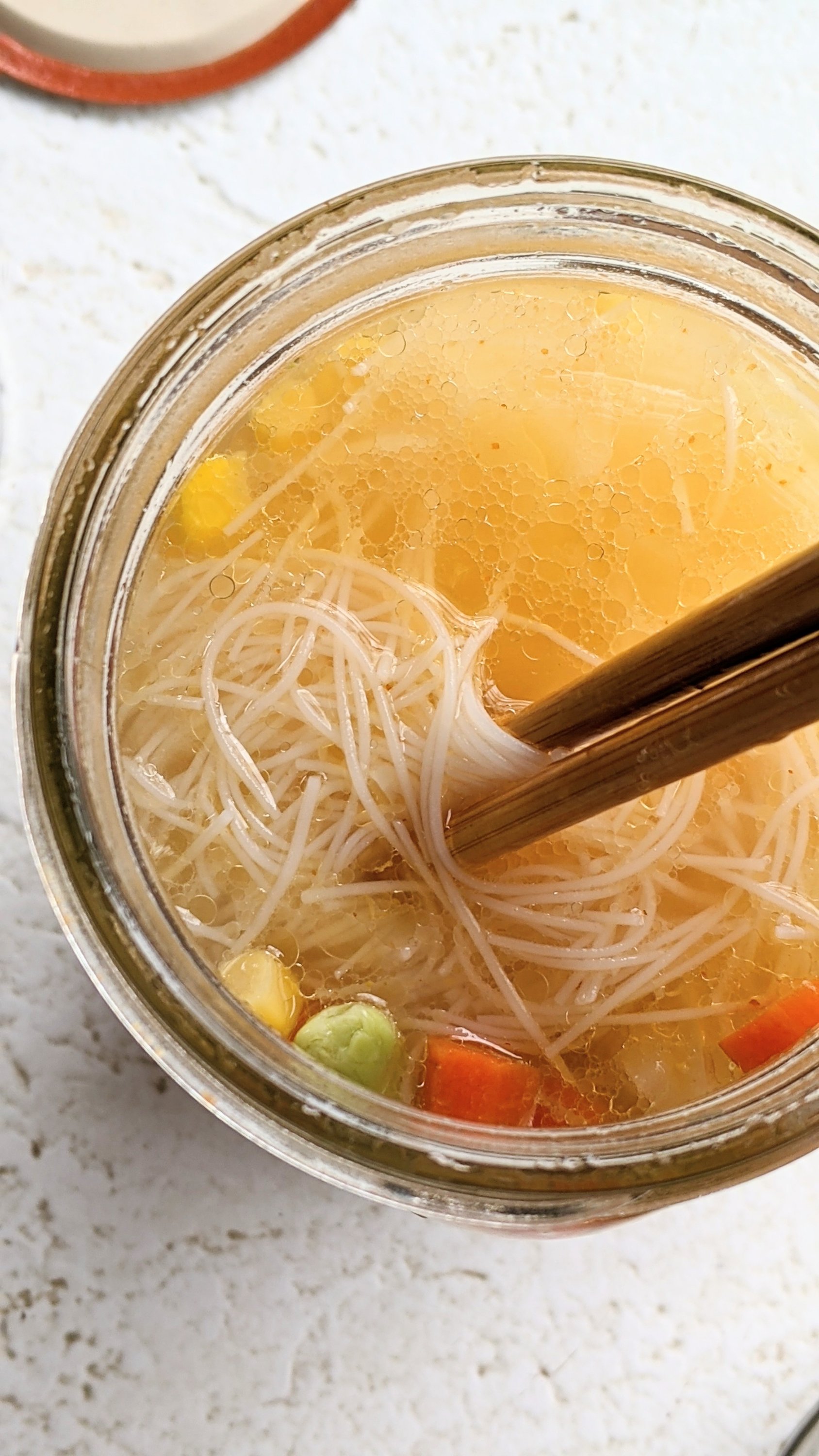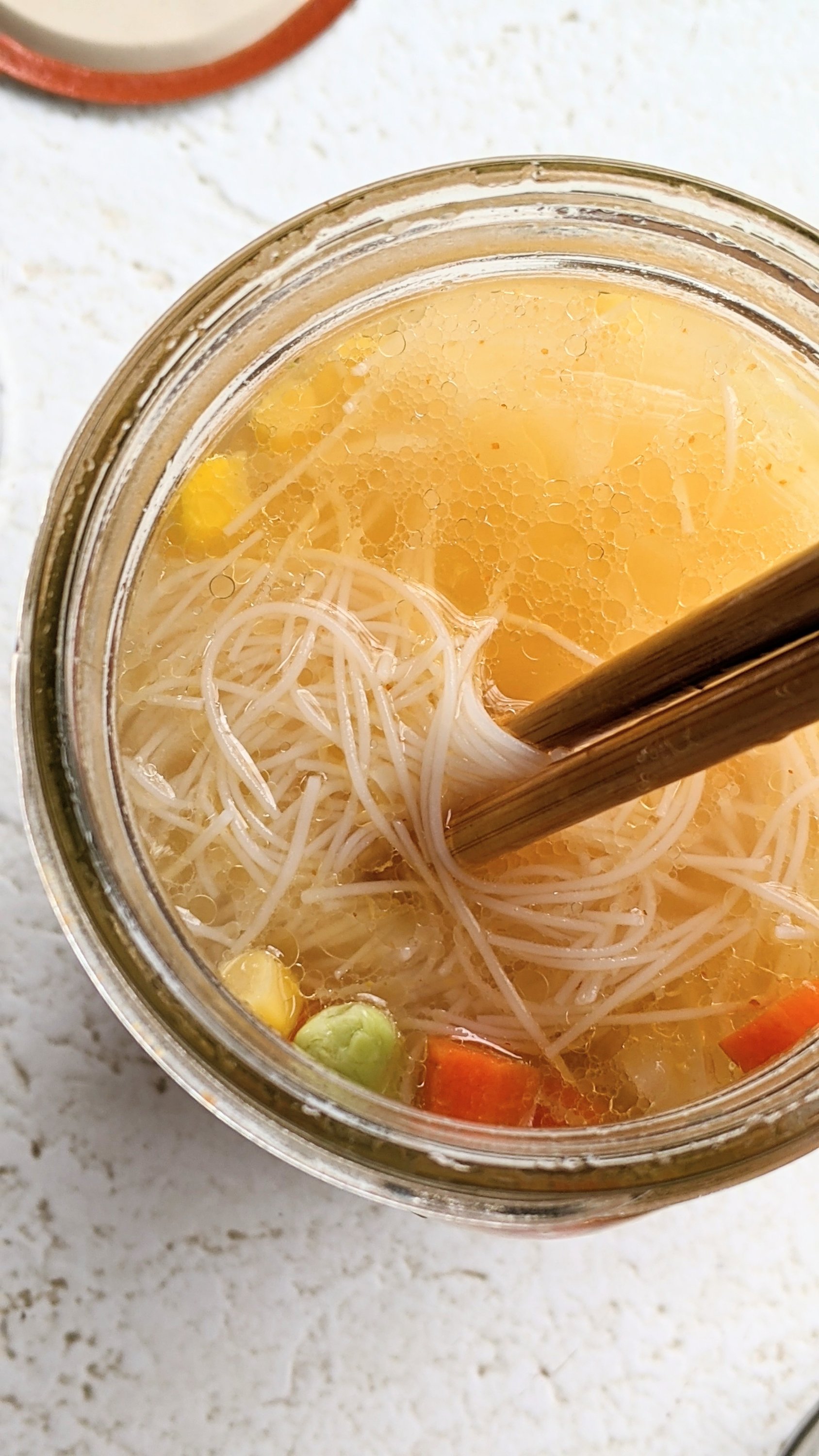 Meal Prep Mason Jar Ramen Soup!
You can easily meal prep this vegan mason jar instant ramen recipe by following the below recipe and dividing it into a few equal portions to enjoy throughout the week. I love having a healthy homemade meal ready in my fridge during the busy weekdays. By meal prepping this recipe, you can cook once and have perfectly portioned meals ready to go. I rely heavily on meal prepping and created a whole section of the site to recipes you can meal prep, batch cook, or make ahead.  Heat + eat, you're all set!
Make Instant Ramen Vegan for a Healthy Version
This vegan low sodium ramen is a simple way to get extra veggies in your diet. I'm all about making recipes plant-based when I can. Vegan cooking does NOT have to be bland, boring, or flavorless… It's quite the opposite when done right. By building meals around vegan pantry staples and swapping in a few plant-based ingredients you can make healthier meals for you and your family. I made a list of my 125 favorite vegan pantry ingredients that we use on a weekly basis, and check out all my vegan recipes here that are on The Herbeevore. These easy and healthy recipes are fantastic meatless and dairy free meals for your table.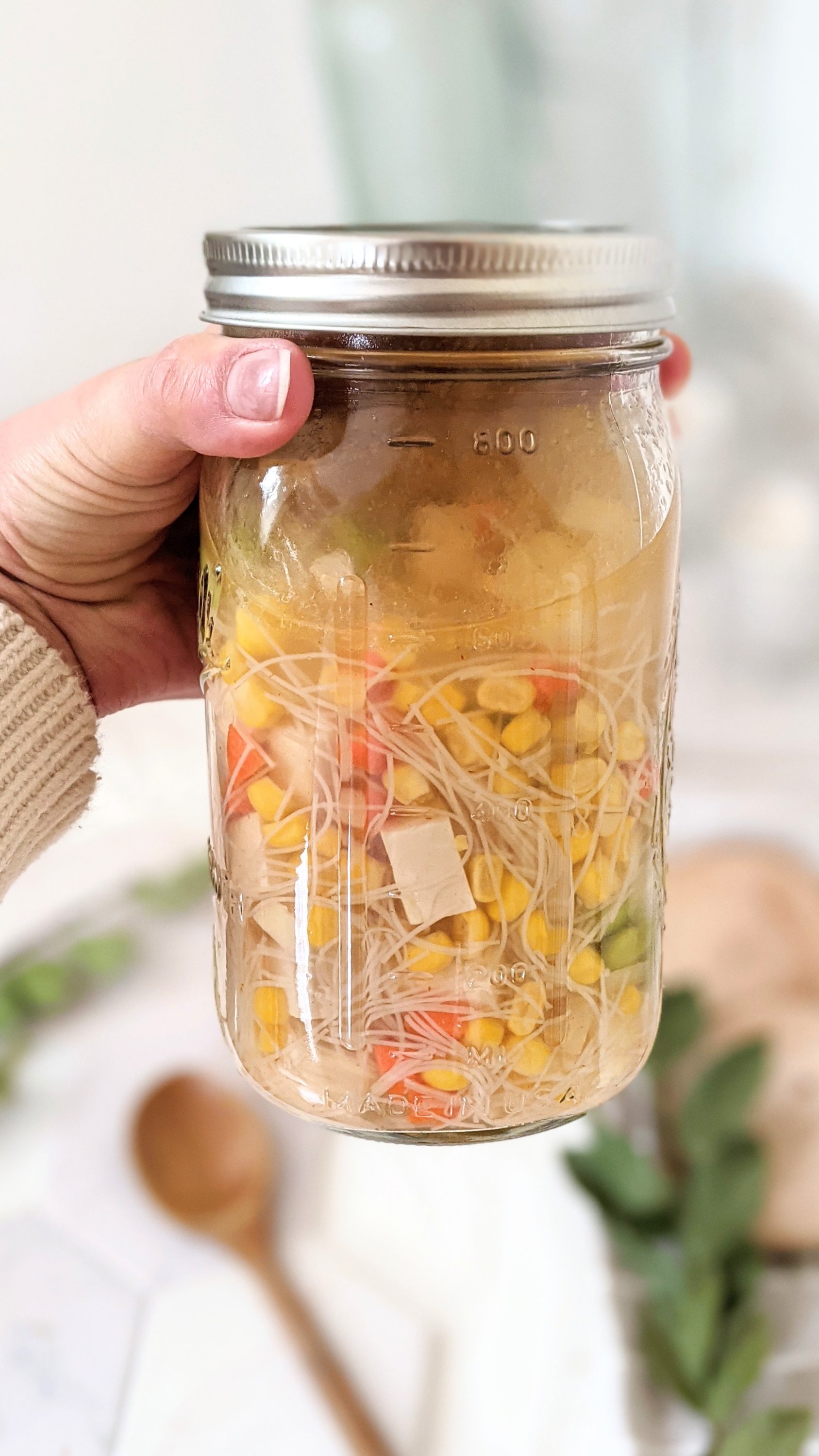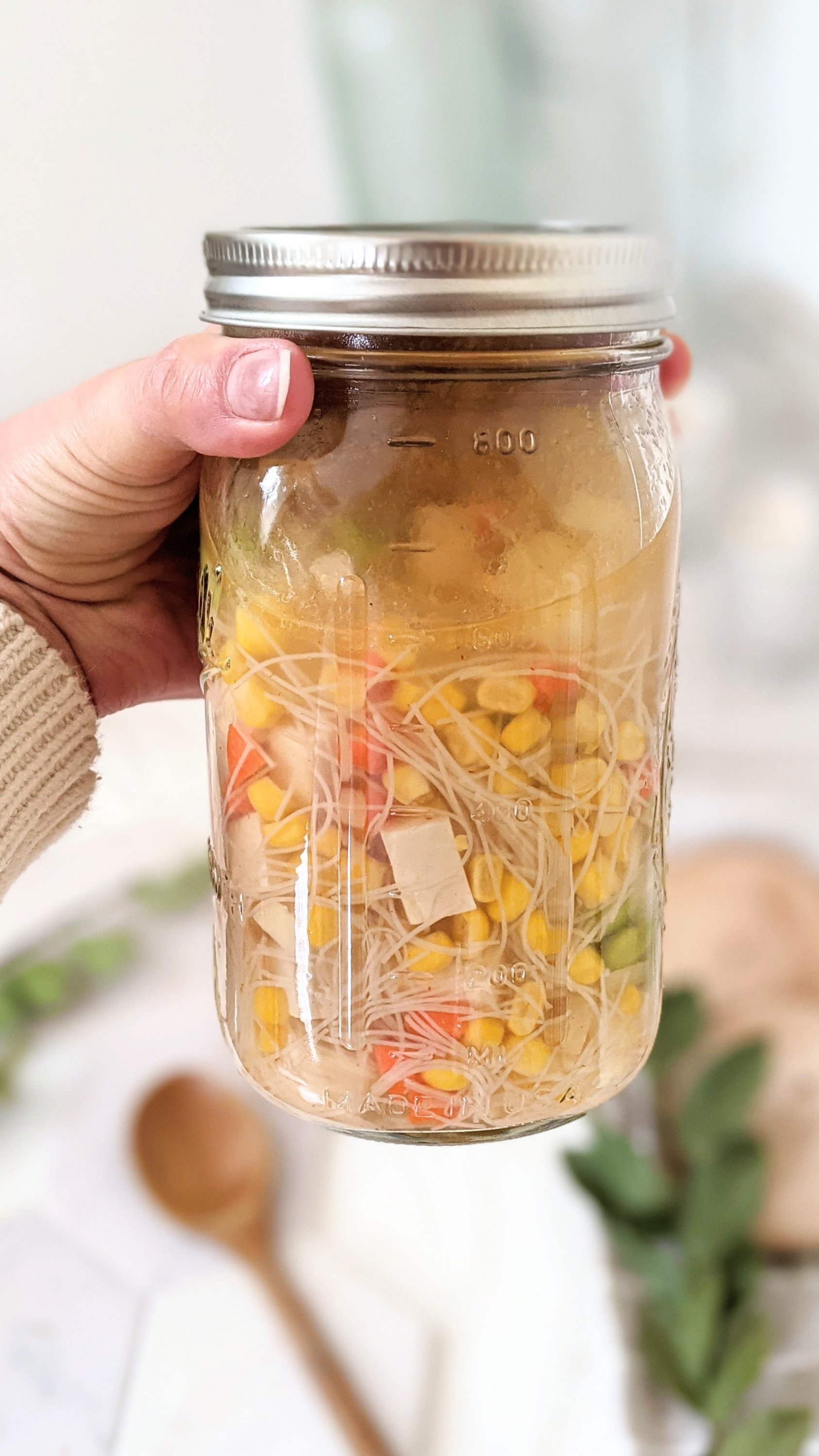 Other Healthy Meal Prep Vegan & Gluten Free Lunch Recipes:
Red Lentil Soup with Lemon (Vegan, Gluten Free, Pantry Staple)
Southwest Potato Corn Chowder (Vegan, Paleo, Whole30, Gluten Free)
Roasted Peach Summer Salad with Balsamic Vinaigrette (Vegan, Gluten Free)
Double Lentil Detox Soup (Vegan, Slow Cooker, & Gluten Free!)
Tofu 'Egg' Salad Sandwich (Vegan, Gluten Free, Dairy Free)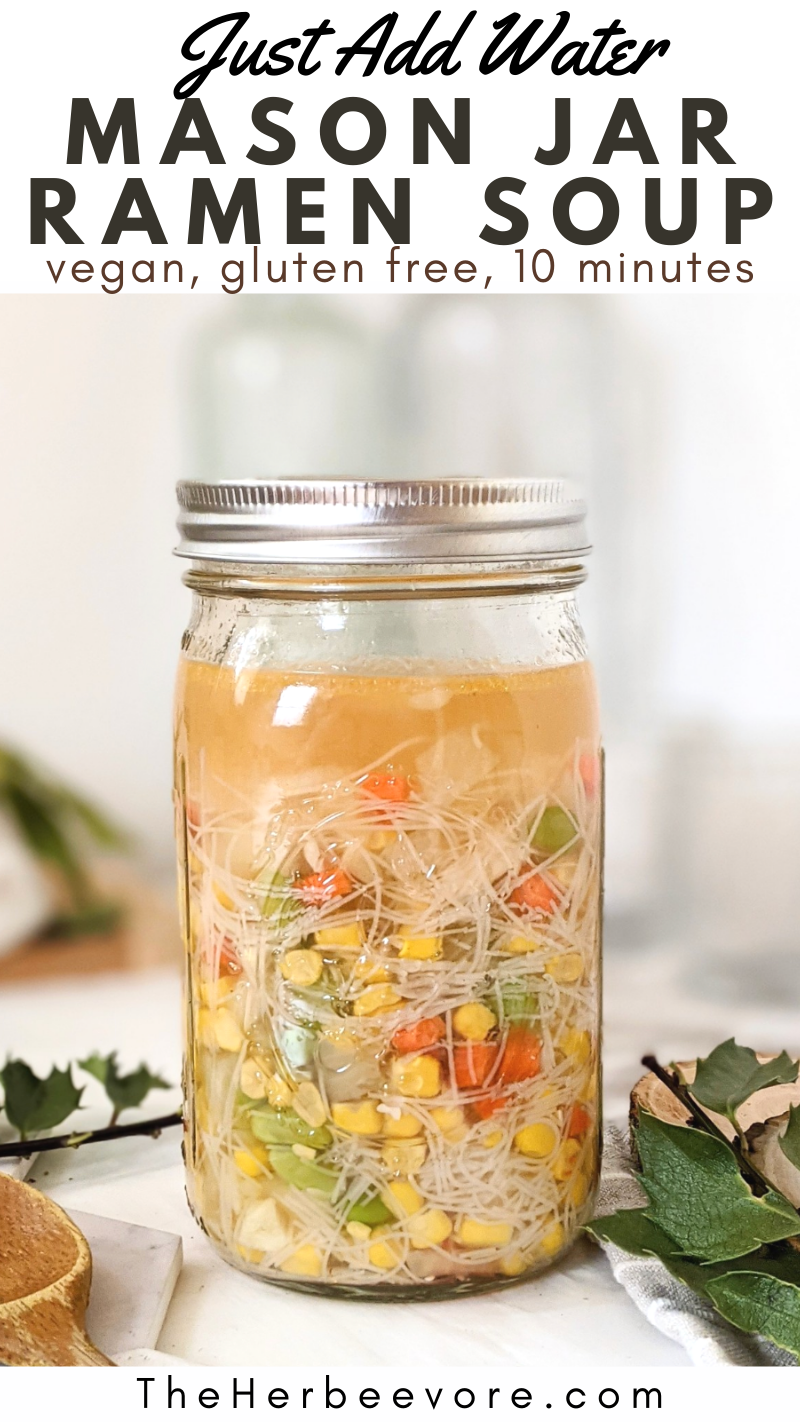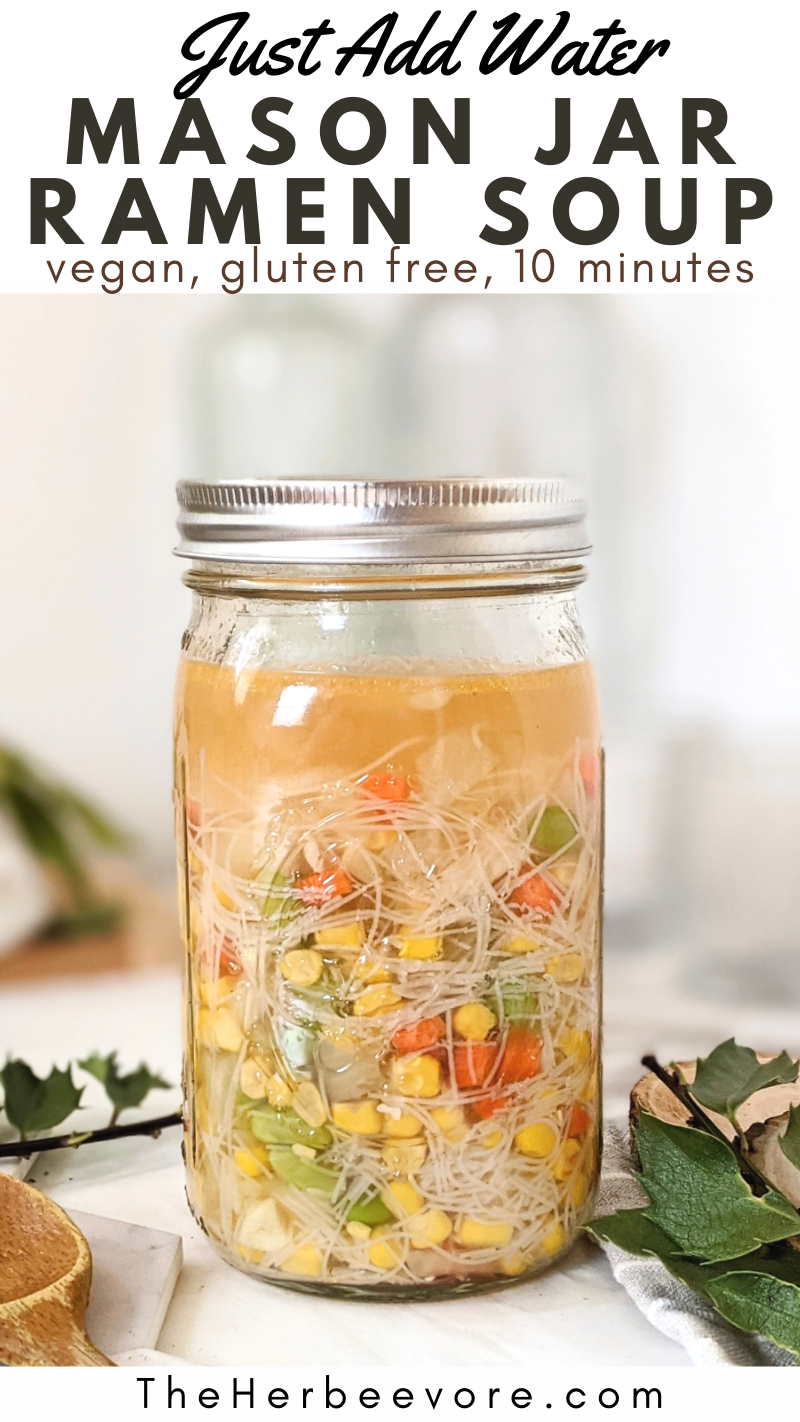 Get the Same Ingredients I Use For My Mason Jar Ramen Vegetarian Soup!
As always, if you make this vegan low sodium mason jar ramen noodle soup recipe be sure to leave me a comment, rate this recipe, and tag me on Instagram so I can feature you.  I love seeing all your photos of my recipe recreations!
And let's stay in touch – make sure to sign up for my newsletter to get healthy recipes delivered fresh to your inbox. And don't forget to follow over on Pinterest, Instagram , & Twitter– I'd love to connect with you there!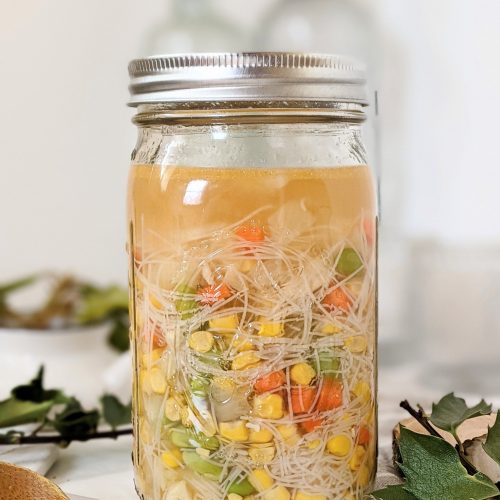 Mason Jar Ramen Noodle Soup (Vegan, Low Sodium, Gluten-Free)
This healthy ramen soup is an easy and satisfying lunch!  Better and more flavorful than Instant Ramen, this soup will fill you up with healthy vegetables without the salt.
Ingredients
For Each Quart Soup Jar
1/2

cup

tofu

cubed

1/4

cup

edamame

1/4

cup

sweet corn

1/4

cup

shredded carrots

2

green onions

chopped

1

clove

garlic

pressed/minced

1/2

lime

juiced

Few drops sesame oil

Few drops sunflower or peanut oil

1/2

teaspoon

sriracha

optional, if you like spice!

1

cup

vermicelli rice noodles

Hot water

about 2 cups
Instructions
In each jar layer: tofu on bottom, edamame, corn, carrots, green onions, garlic, lime juice, sesame oil, sunflower oil.  Top with the rice noodles or cooked GF pasta in the jar.

Place in an airtight container and store in the fridge (I always use wide-mouth quart size mason jars!)

When ready to serve, add hot water and let noodles soak for about 10 minutes until they are tender.
Nutrition
Calories:
281
kcal
Carbohydrates:
295
g
Protein:
40
g
Fat:
4
g
Saturated Fat:
1
g
Sodium:
51
mg
Potassium:
542
mg
Fiber:
16
g
Sugar:
16
g
Vitamin A:
5707
IU
Vitamin C:
44
mg
Calcium:
326
mg
Iron:
10
mg
Did You Make This Recipe?
Please leave a rating and comment below!
Or tag me @theherbeevore in your photo on Instagram!