This honey mustard macaroni salad is the perfect picnic side, pot luck dish, or salad for your summer BBQ.  Its a little savory, a little sweet, and loaded with fresh vegetables for a bright crunch.
As a beekeeper, I know honey!  I love adding honey to all kinds of sweet and savory dishes.   This honey mustard macaroni salad it tangy and delicious, and the bright honey mustard dressing gives an incredible flavor to the dish!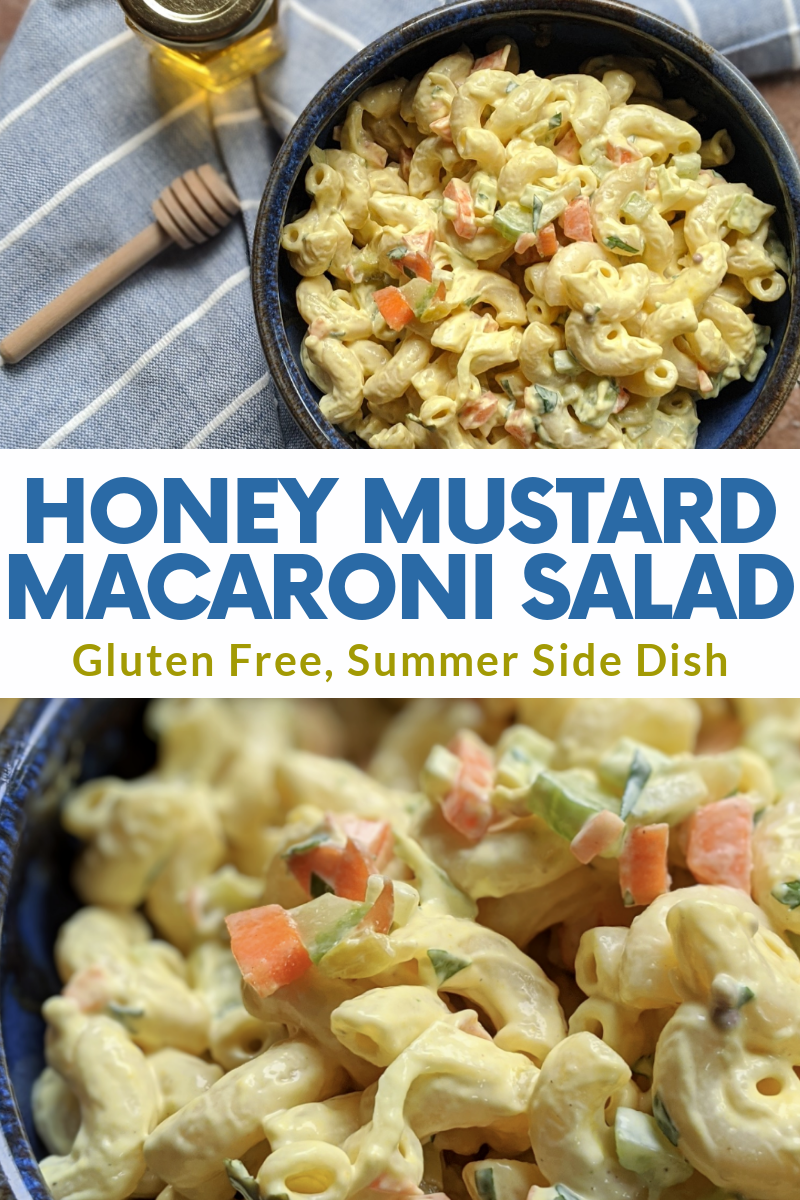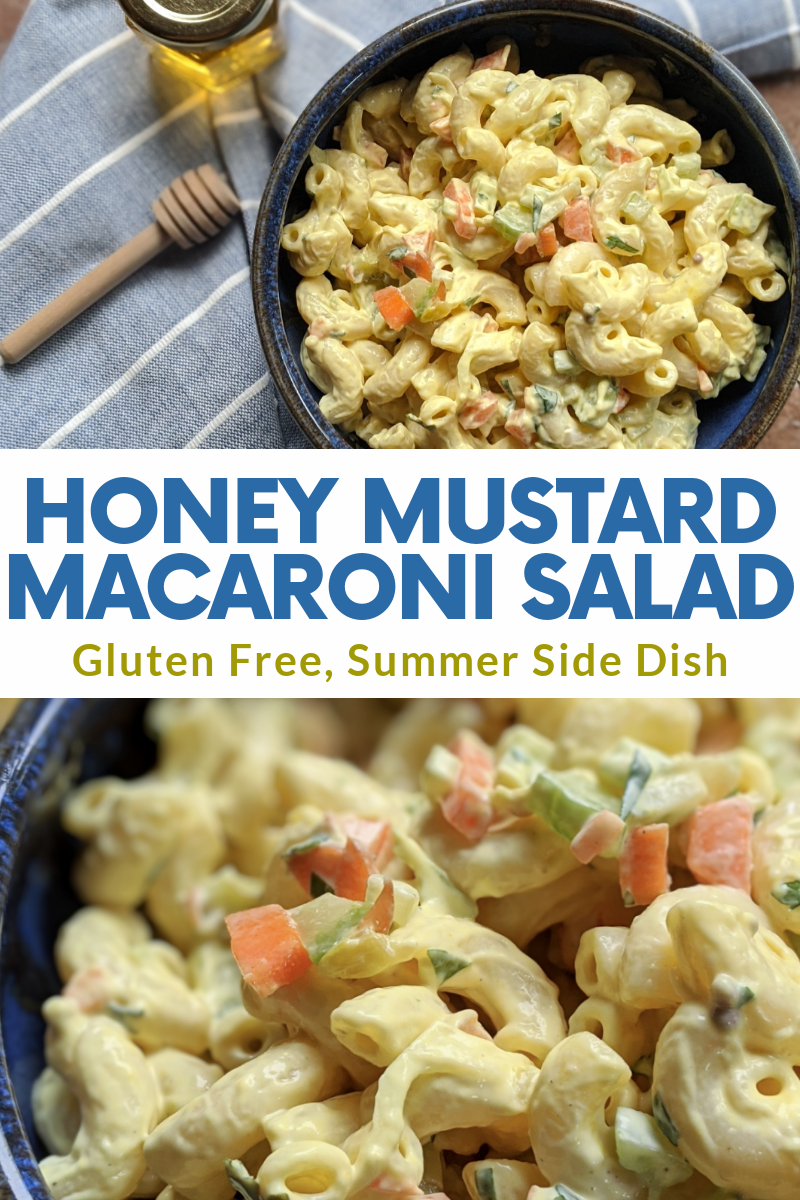 This Honey Mustard Macaroni Salad Recipe Is:
Sweet
Creamy
Tangy
Savory
Loaded with Vegetables
Versatile: you can use any vegetables you have on hand, or swap in your favorites.
Vegetarian and gluten free, and very easy to make vegan.
This is the year of the macaroni salad for me – I've been experimenting with different versions and recipes this summer. I have my Sweet Deli Macaroni Salad Recipe which gives that perfect deli-style crunch.  Classic Macaroni Salad with a Greek Yogurt dressing for a lightened up version without mayo. This delish Hawaiian Macaroni Salad with pineapple is perfect for your next luau!  Coleslaw Macaroni Salad for a cruncky, savory bite.  And last but not least, my Deviled Egg Macaroni Salad combining two of our favorite dishes!  Some serious midwestern eatin' going on over here.
Macaroni salad is so yummy served with anything coming off the grill.  Its awesome with veggie burgers, hot dogs, fresh grilled corn, or any salad.  This honey mustard salad is actually loaded with tons of vegetables in it, so it has a nice refreshing crunch in eat bite.
Whats In This Honey Mustard Macaroni Salad?
Macaroni Noodles: or any small gluten-free pasta shape of your choice.
Celery: for that extra crunch
Carrots: for sweetness and crunch
Bell Pepper: use any color you'd like, any variety will work.
Greek Yogurt: I use this in the dressing instead of mayonnaise which is traditional. It lightens up the pasta salad a bit and gives it a delicious flavor (not to mention extra protein!).  You can use regular, homemade, or a vegan version for plant-based.
Sweet Relish: I used a prepared sweet relish, which gives the macaroni salad a little je ne sais quoa.
Yellow Mustard: I used the classic prepared yellow mustard, no fancy dijon here.
Apple Cider Vinegar: for a nice acidity and a little kick.  You can also use a white vinegar or any you prefer in a salad.
Raw Honey: raw honey for a bit of sweetness.   Maple syrup would also be a delicious substitute for a vegan option!
We have tons of raw honey straight from our beehives.   We keep a few jars of honey each year for ourselves, but mostly give away what we ave to our friends and family. Last year we were able to harvest 3 times during the summer and fall, and I sold a lot of my honey at work too.  Its my favorite natural sweetener for sure!
We always had macaroni salad in the fridge growing up… or at least for a day or two, it never lasted very long!  I prefer a homemade version to the deli variety because I can add whatever veggies I want in it, and also control the amount of sodium in the dressing.  We try to eat very low sodium over here, which is super difficult to monitor when buying prepared salads from the deli.  You can check out my other low sodium recipes here!
How Do I Make This Deli Macaroni Salad Recipe?
1. Cook macaroni noodles according to package instructions.  Drain, rinse in a colander under cool water.
2. On a large mixing bowl, add the macaroni noodles, carrots, celery, bell pepper.  In a mason jar, add and shake all the dressing ingredients.  Pour dressing over the macaroni salad, and mix well to combine all ingredients.  Taste and add salt and pepper if desired.
3. Cover and refrigerate for at least an hour before serving.
This honey mustard macaroni salad is great to make ahead for a BBQ, party, or potluck.  Make it the day before, cover and let it rest overnight, and it's ready to go the following day!  Like traditional pasta salad or coleslaw, this macaroni salad tastes better if made a day or two before.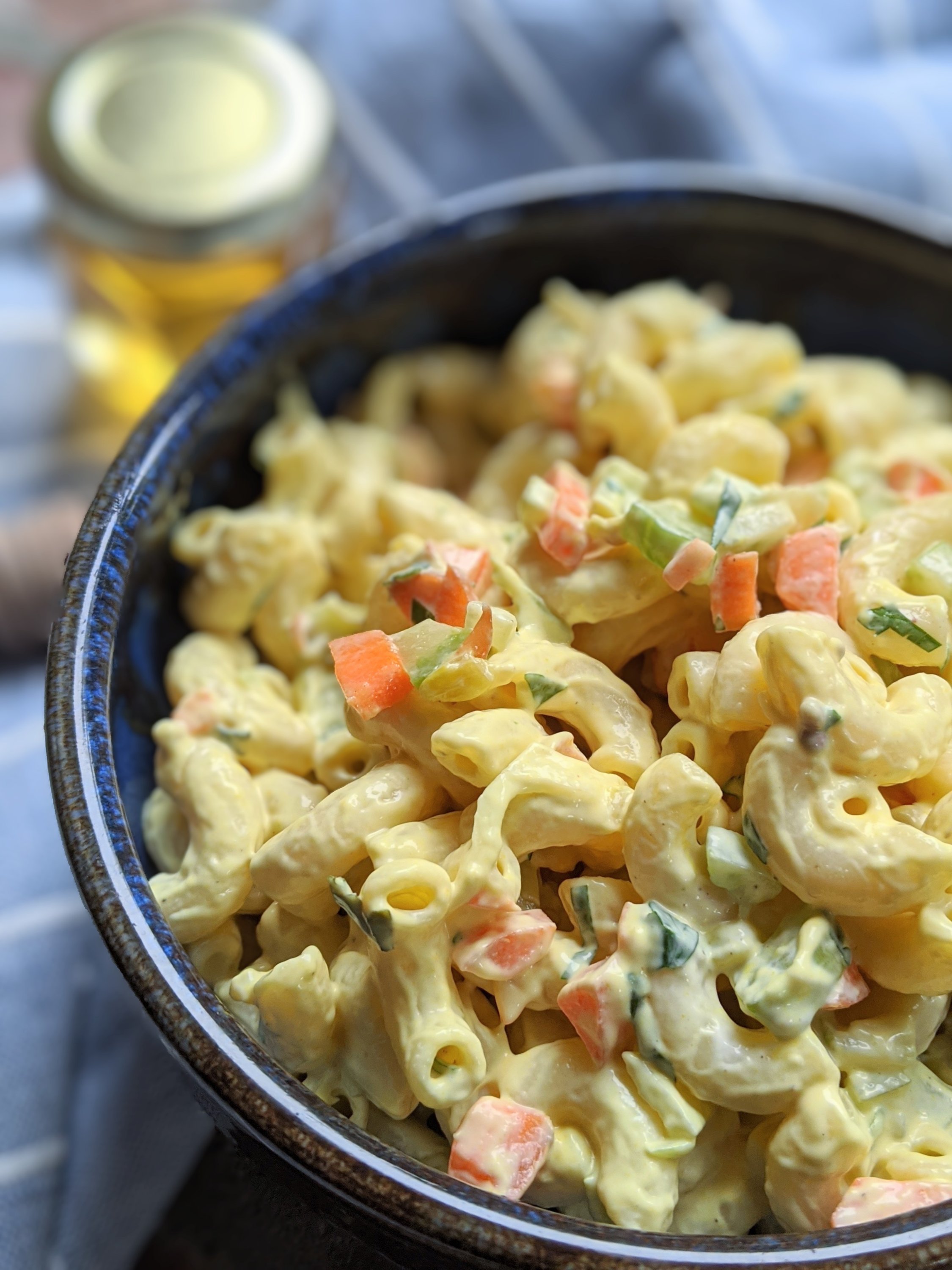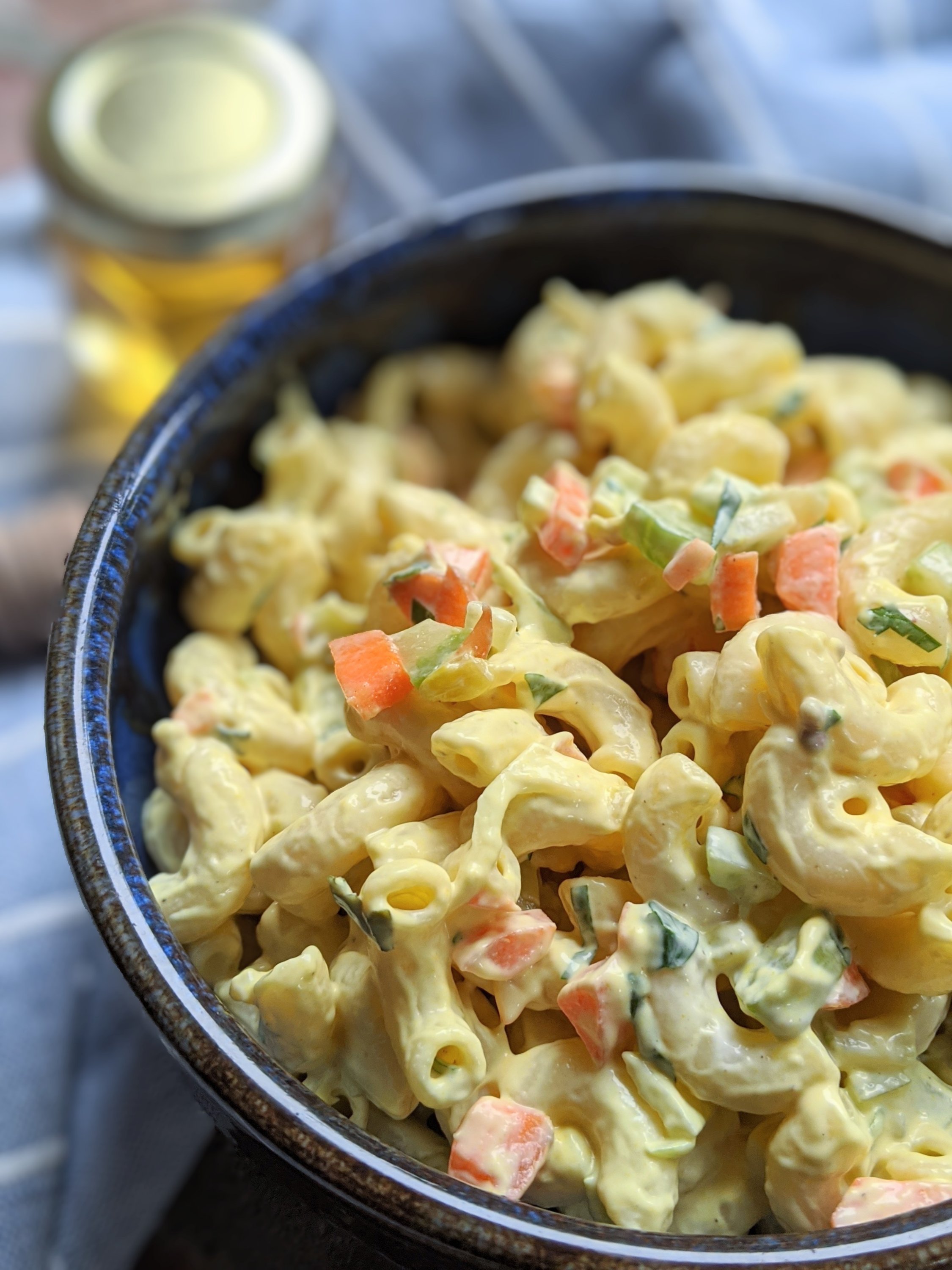 Dietary Modifications
This recipe is vegetarian, and contains no meat in the macaroni salad.
To make vegan, use a dairy-free or vegan Greek Yogurt which are super easy to find at the grocery store.  Or make your own vegan mayo!
To make gluten free, make sure the pasta or any ingredients are GF (relish, mayo, etc.)
This recipe is refined sugar free, since honey is used as the sweetener.  Just make sure there is no added sugar in the relish.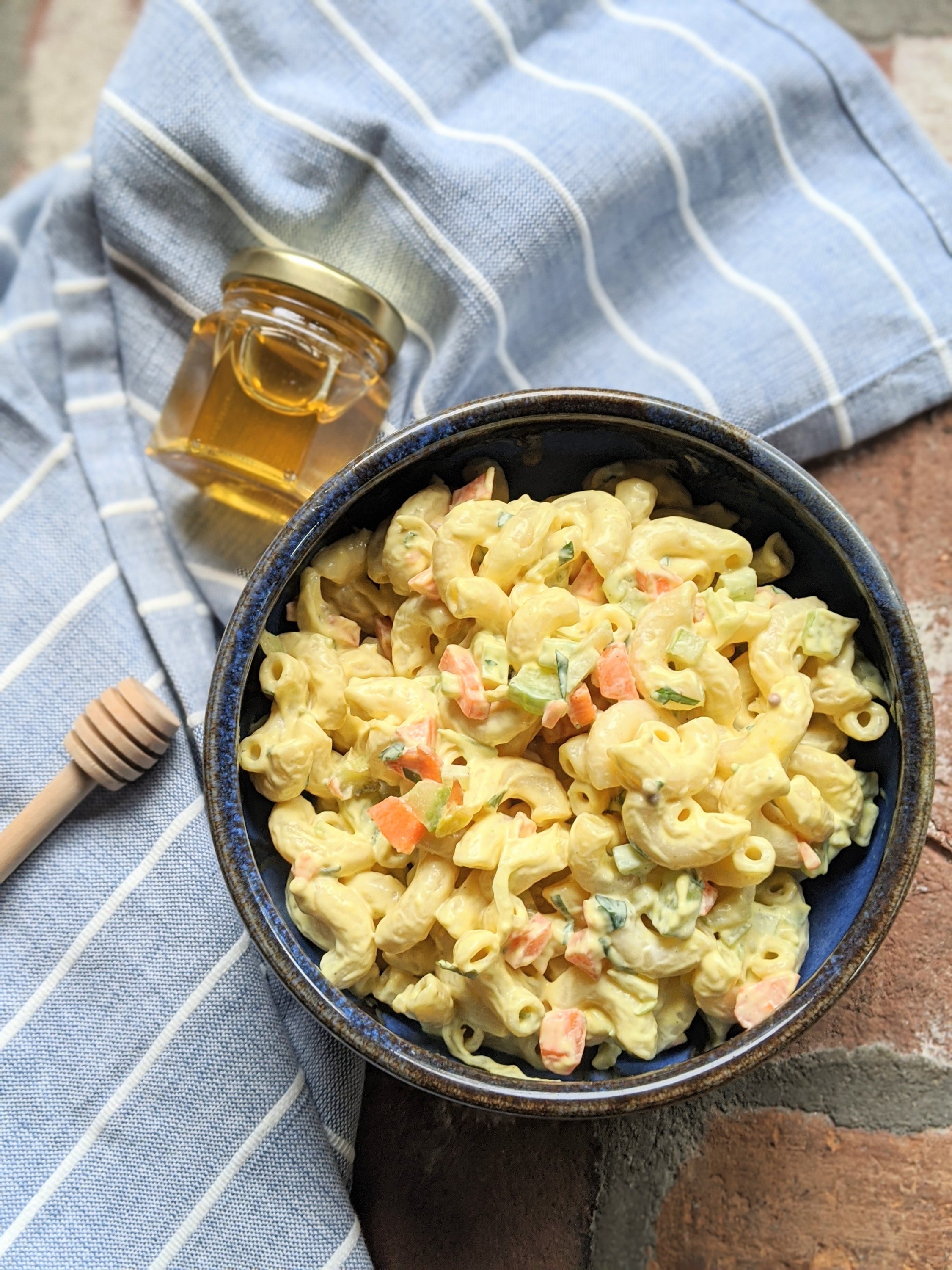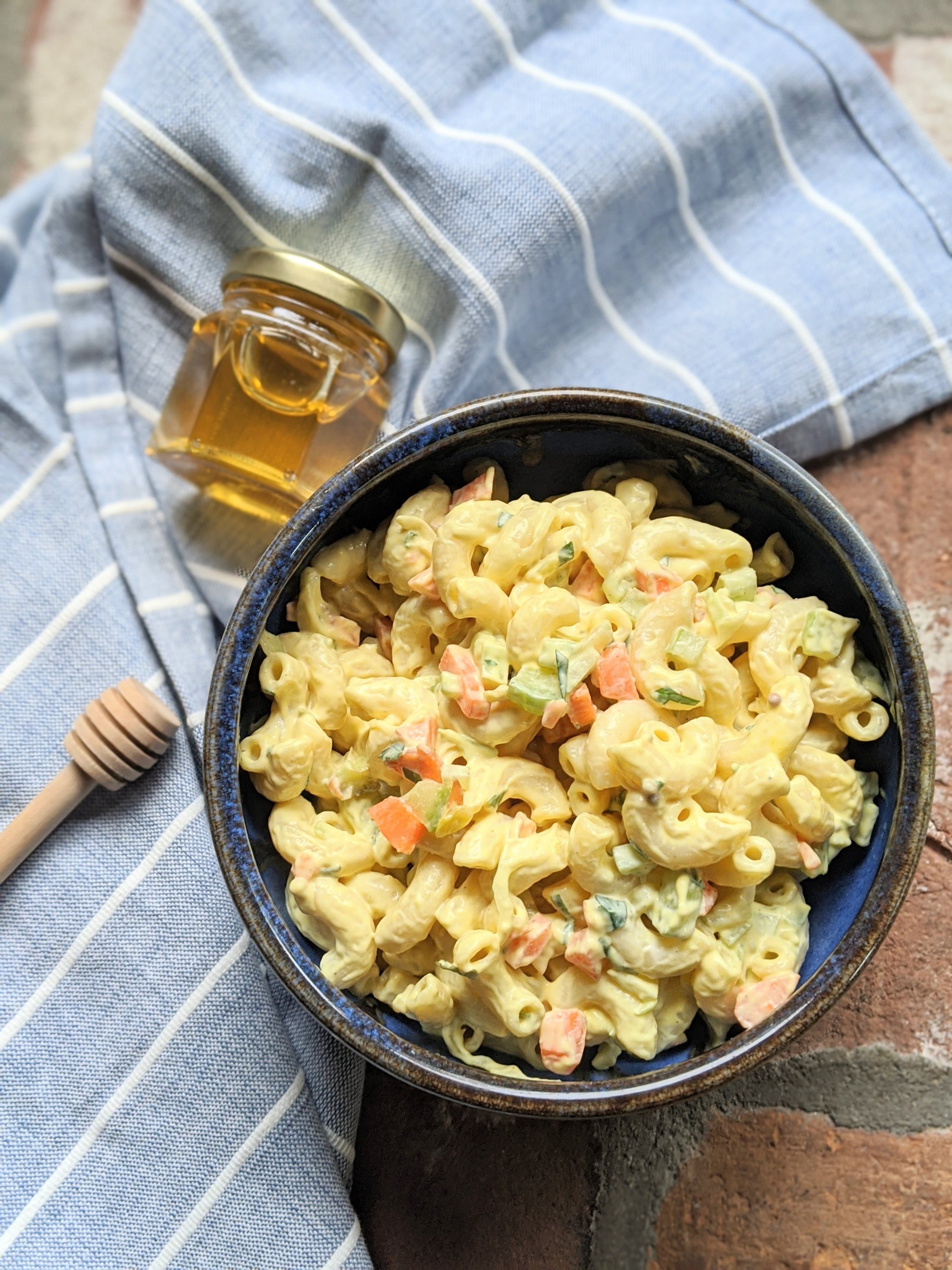 Other Macaroni Salad Recipes to Die For!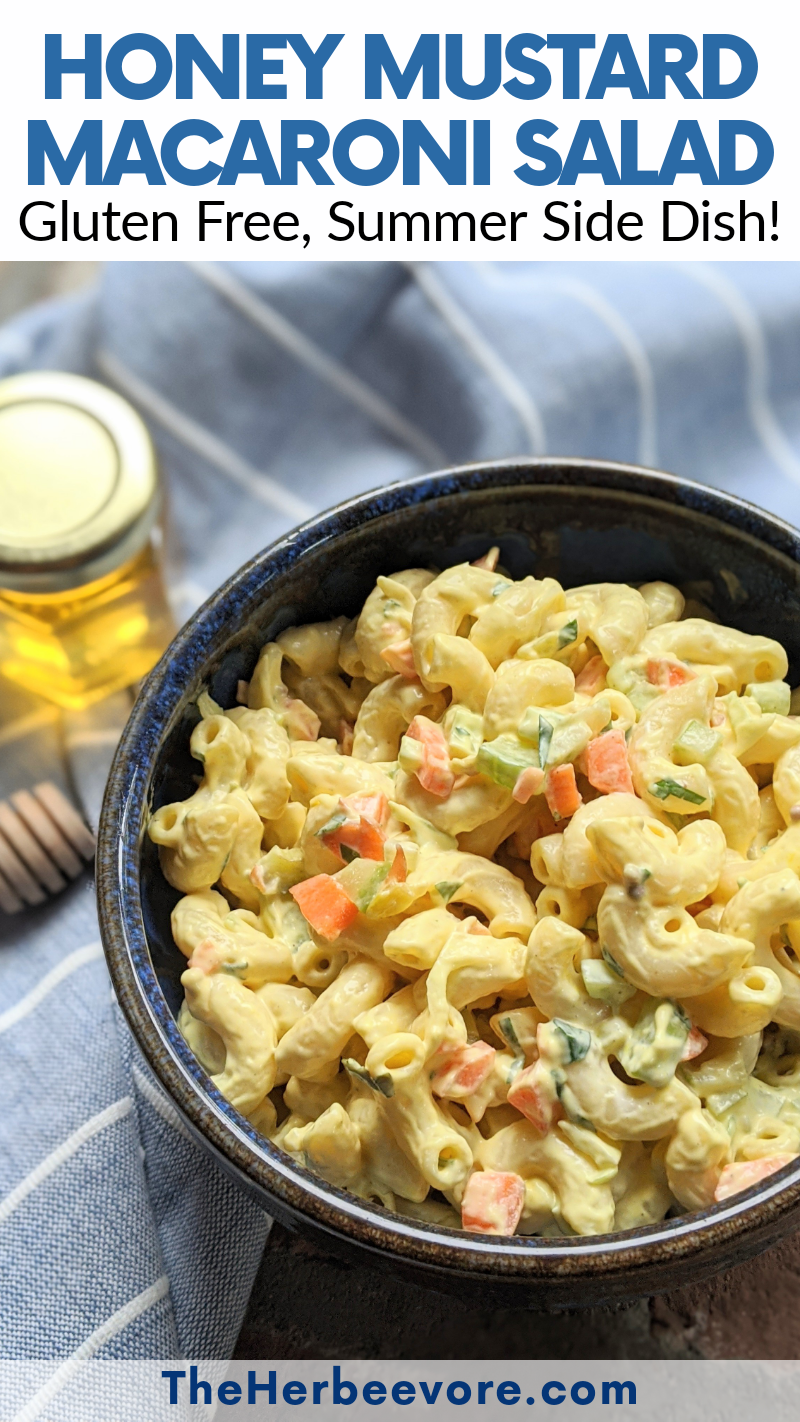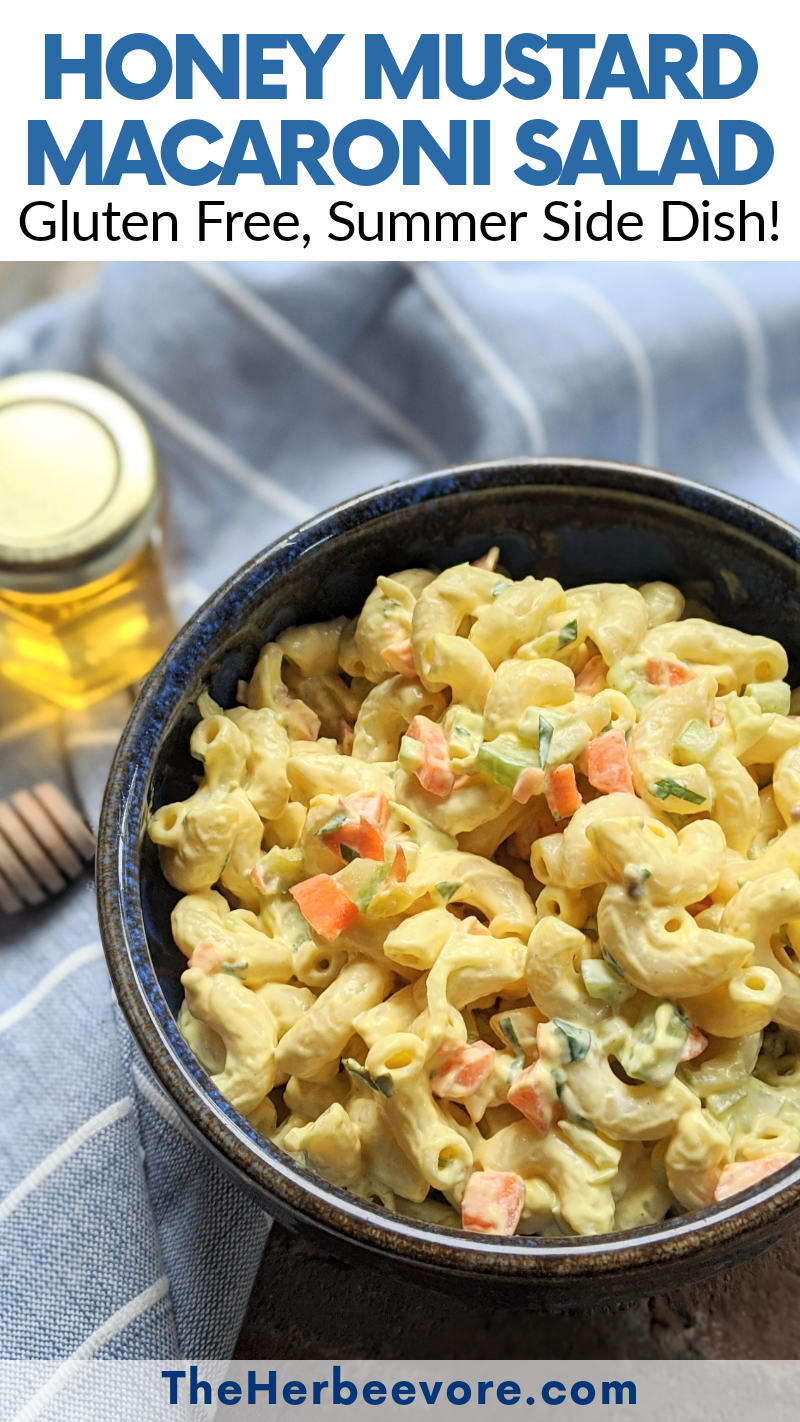 As always if you make this honey mustard macaroni salad be sure to leave me a comment, rate this recipe, and tag me on Instagram so I can feature you. I love seeing all your photos of my recipe recreations!
Don't forget to follow over on Pinterest & Instagram – I'd love to connect with you there!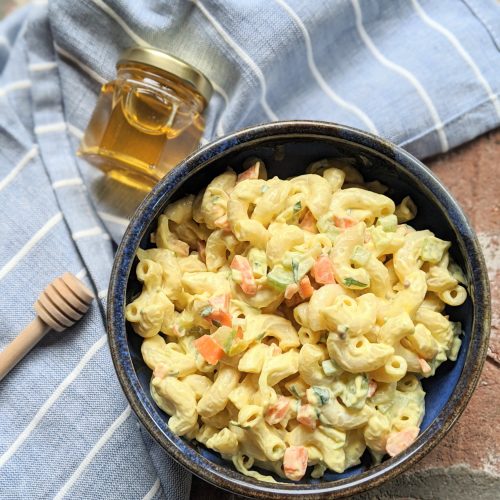 Honey Mustard Macaroni Salad
As a beekeeper, I know honey! This honey mustard macaroni salad is simple and tasty, made with fresh veggies and raw honey straight from the beehive.  
Ingredients
For the Salad
1

lb

macaroni (gluten free)

2

carrots

finely chopped

3

stalks

celery

finely chopped

1

bell pepper

chopped

2

tablespoons

prepared relish

sweet or dill
Instructions
Cook macaroni according to package instructions. Drain, rinse under cold water, and add cooked macaroni to a large mixing bowl.

To the macaroni, add the chopped carrots, celery, bell pepper, and relish.
For the Honey Mustard Dressing
In a mason jar, add all ingredients together, seal with an airtight lid, and shake well to combine.  Pour dressing over the macaroni and stir well to combine all ingredients. Enjoy!
Notes
Save Money on Organic Produce!
I get all the fresh produce for my recipes from my garden and from
Misfits Market
- they sell all organic produce at a super discounted price, and it's purchased direct from the farmers. We get Misfit Market boxes every other week and love picking out our favorite seasonal produce for delivery.  You can get
$10 off your first box by clicking here!
If you think organic produce is too expensive... think again, and give
Misfits Market
a look!
Nutrition
Calories:
278
kcal
Carbohydrates:
56
g
Protein:
10
g
Fat:
1
g
Saturated Fat:
1
g
Polyunsaturated Fat:
1
g
Monounsaturated Fat:
1
g
Trans Fat:
1
g
Cholesterol:
1
mg
Sodium:
162
mg
Potassium:
306
mg
Fiber:
3
g
Sugar:
13
g
Vitamin A:
3090
IU
Vitamin C:
21
mg
Calcium:
55
mg
Iron:
1
mg
Did You Make This Recipe?
Please leave a rating and comment below!
Or tag me @theherbeevore in your photo on Instagram!