This beeswax furniture polish recipe has two ingredients that will make wood furniture will shine. Just one coat of this simple, all-natural polish will restore beautiful color and grain.
As a beekeeper, this is one of my favorite ways to use beeswax! Make this recipe in just 15 minutes to add a beautiful natural shine to your wood for months.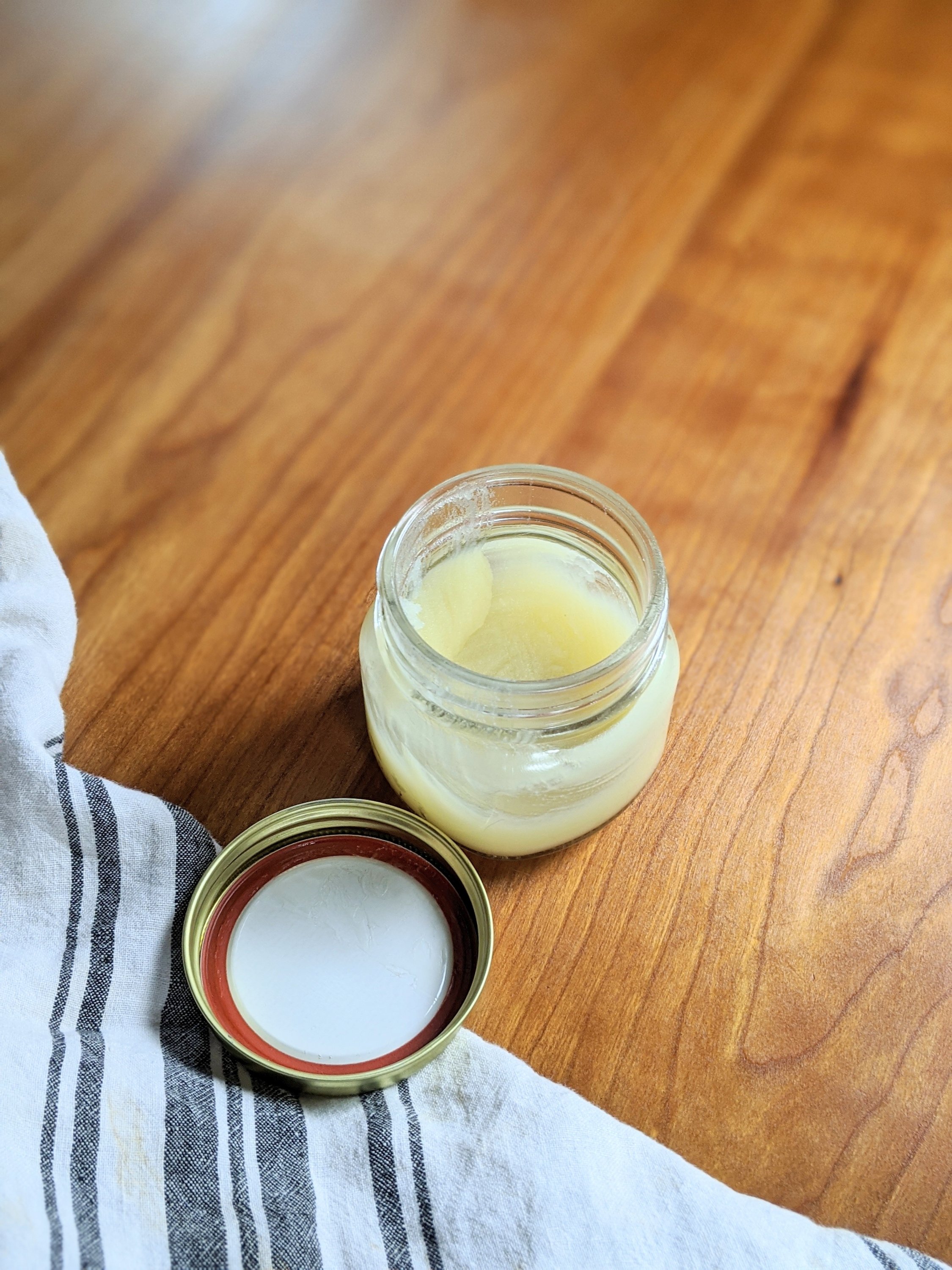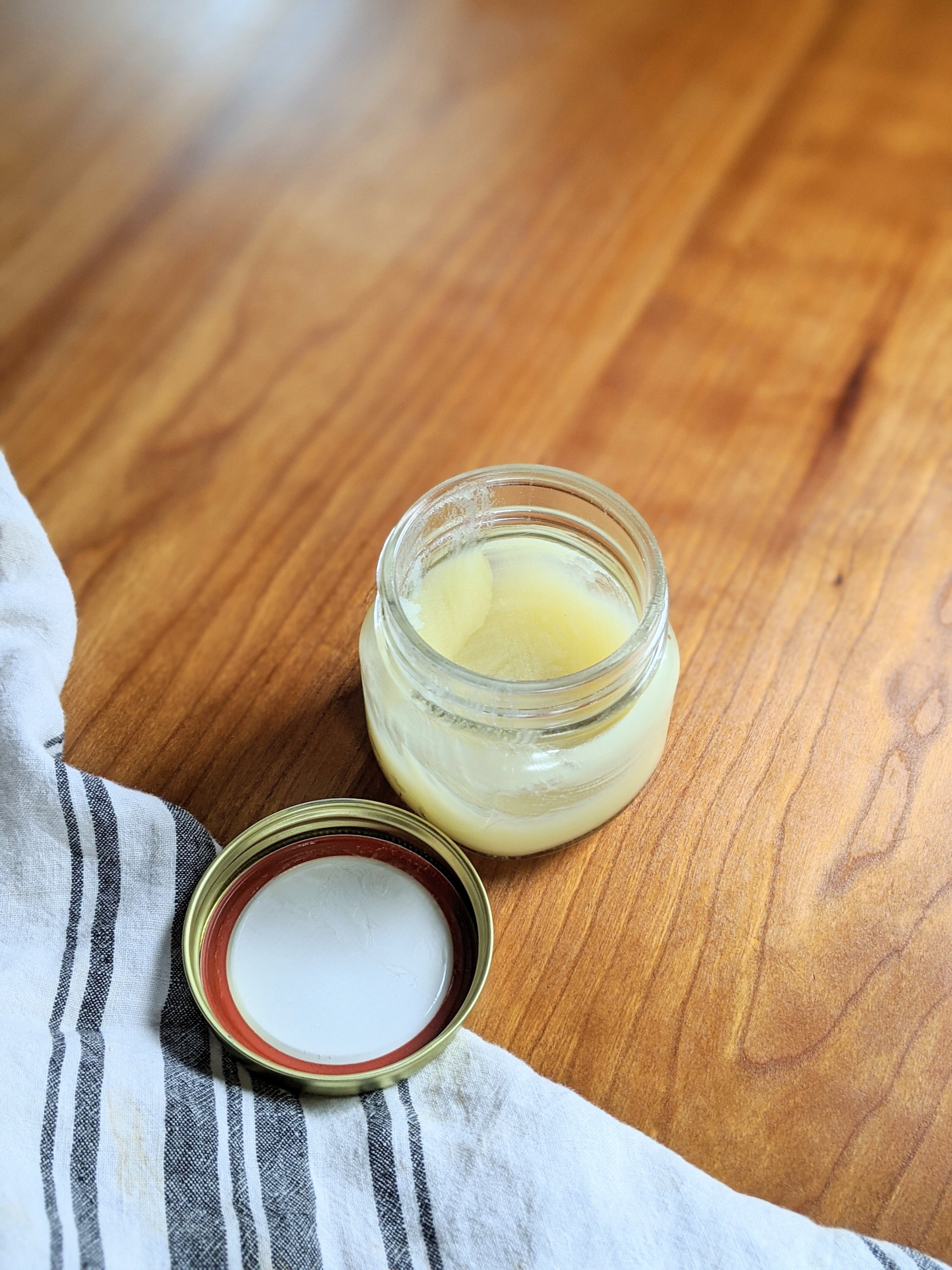 This DIY beeswax wood polish couldn't be easier to make: its just beeswax and mineral oil. We actually used the beeswax we had leftover from our beehives last year, after we harvested the honey. We melt it down, add some mineral oil, let the mixture cool, then shine away!
This wood polish recipe is perfect for making any old furniture shine like new. The beeswax wood polish protects and conditions, leaving a natural finish.
This Beeswax Wood Polish Is:
Clean & simple
Easy to make
All Natural
Made with 2 Ingredients
Great to shine up old wooden furniture
Our post-and-beam home is built entirely of wood, hardwood floor to ceilings. So needless to say, we end up using a lot of furniture polish to keep things looking bright.
Most of Brett's family are amazing woodworkers, and we have so many beautiful furniture pieces they've made for us. To keep them all shining like new, we made this simple beeswax furniture polish. We even use it on our kitchen counters, which are butcher block wood.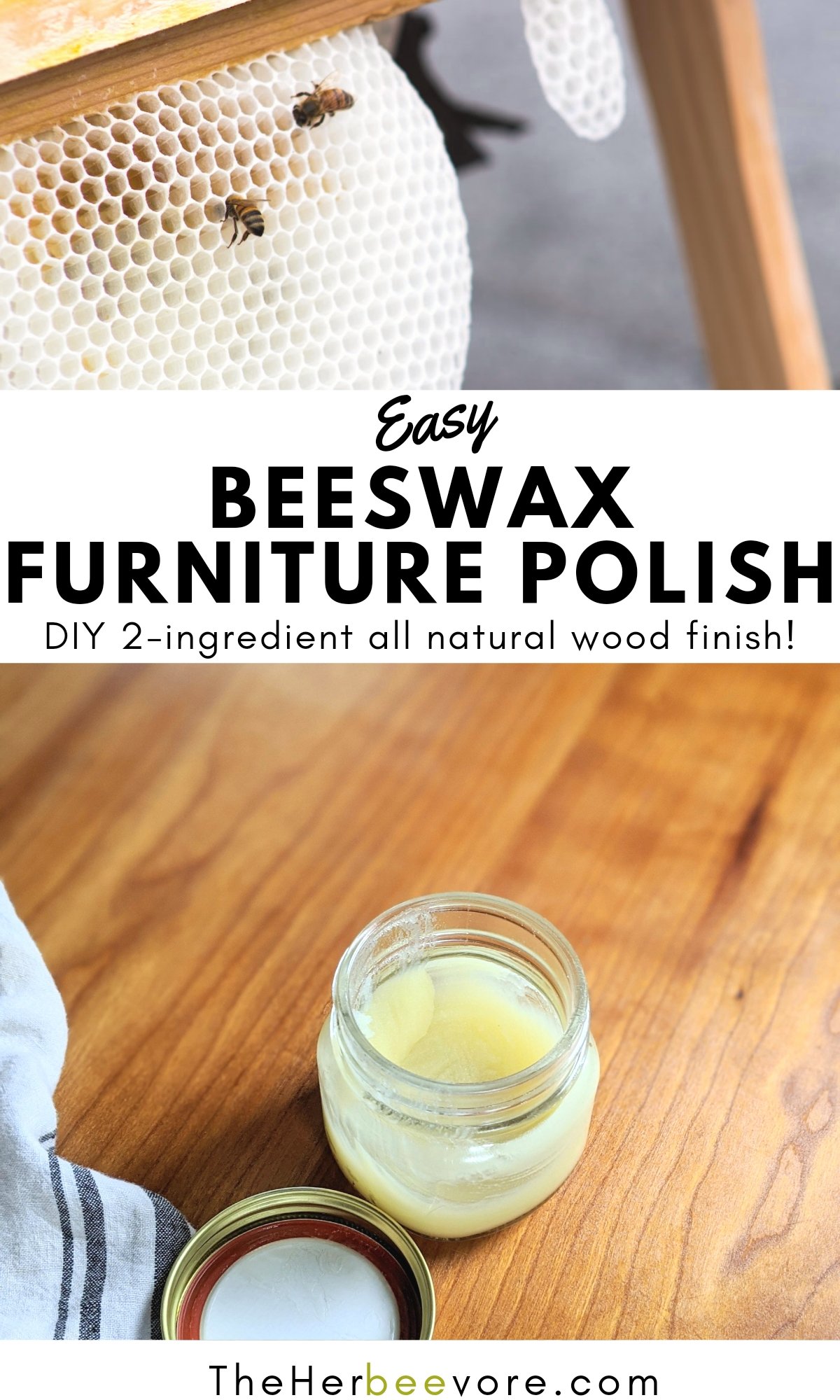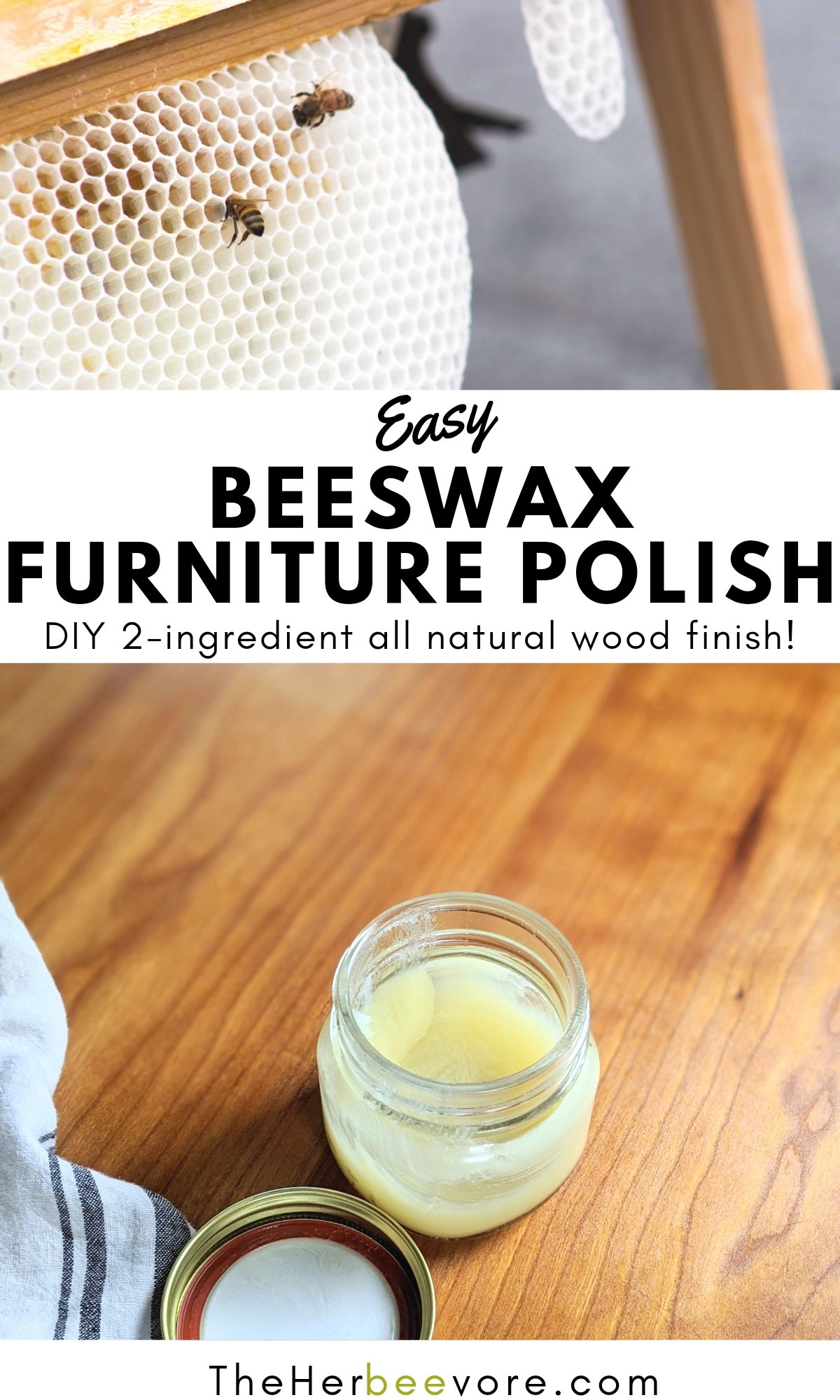 What's In This Beeswax Wood Furniture Polish?
I cook with fresh produce from my garden and from Misfits Market– they sell fantastic fruit, vegetables, & pantry staples at a discounted price. We get Misfit boxes every other week and love picking out seasonal produce for delivery. Get $10 off your first box by clicking here!
I have 2 great recipe for DIY Beeswax Lip Balm & DIY Beeswax Beard Balm that gets rave reviews. If there's a local beekeeper in your area, I'd recommended starting there for wax, but if you buy online, make sure you get the good stuff!
Food Grade Mineral Oil: Same with the beeswax, it's important to get a good food-grade mineral oil so you can use it on kitchen surfaces too. You may have leftover mineral oil from the furniture polish and you can use it to condition cracked or dried-out wooden cutting boards. The mineral oil conditions the wood and give the polish its long-lasting shine.
A Double Boiler: the safest way to melt the wax is over a double boiler on the stove top. Remember: wax is flammable, so take care to not melt the wax directly in a hot pot. A double boiler is heated with hot water, and acts as a buffer between the heat and the wax.
8 Ounce Wide Mouth Mason Jars: I like to use these larger wide mouth mason jars (rather than the taller skinny jam jars) as I found these are easier to dip a cloth or paper towel in to apply the wax. Regular mouth jam jars are too narrow for my hands, and these jars allow you to reach down to the bottom of the jar better to get that last drop of polish on.
I like that this is all-natural, and only has 2 simple ingredients. No chemicals, no junk, no ingredients you can't pronounce. Just like with the food we cook, I like to be able to know exactly what I am using and eating around my house.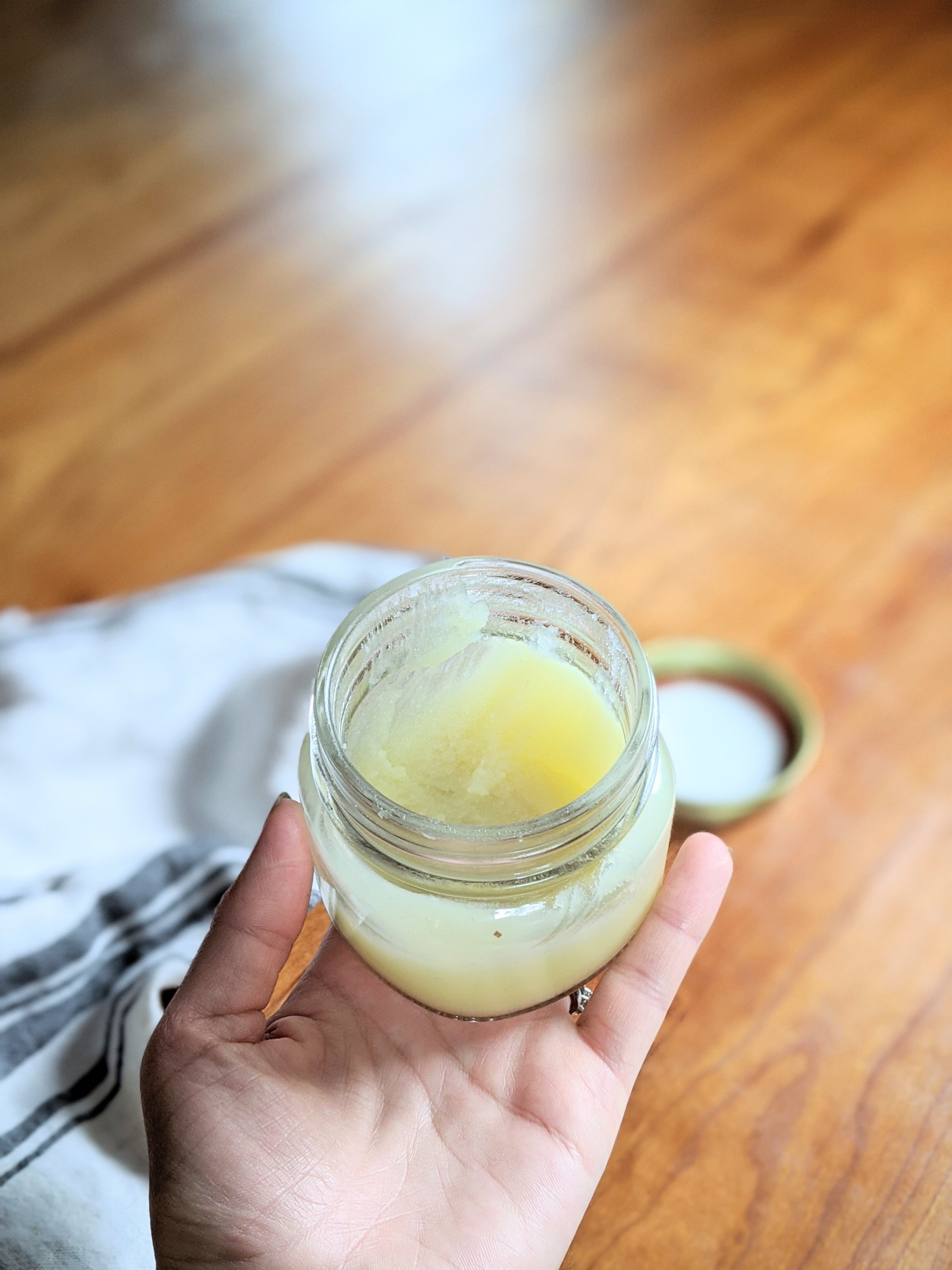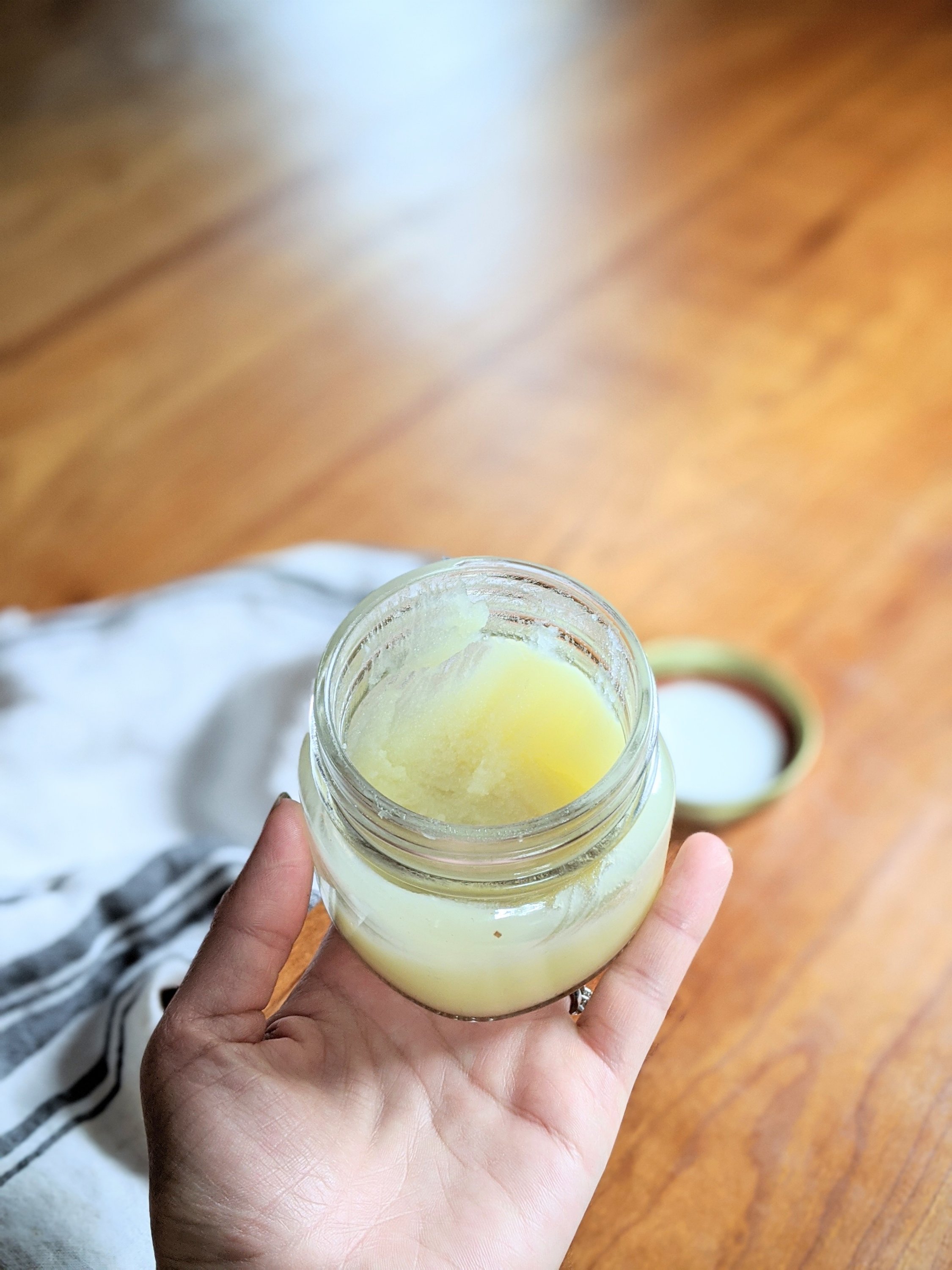 Where Does Beeswax Come From?
As a beekeeper, we save the leftover wax from when we harvest honey from our hives. Bees make the wax to create "cells", which form that hexagonal honeycomb pattern. The cells can be used to lay eggs, raise brood, and keep honey that the bees store for the winter.
The honey is stored in the hexagonal cells, and when the moisture has been cured out from the honey, the bees will cover the cells with a wax seal. This is called capping. It preserves the honey for the winter, and keeps the moisture from spoiling honey stores.
When we harvest honey, we scrape the wax to release the honey from the cells. Once the honey gets filtered into a separate bucket (which we then jar up and enjoy!) we are left with the wax. We melt the wax to remove any impurities, and then keep it to make great products like this beeswax furniture polish!
Here is a frame full of honey, perfectly capped in beeswax.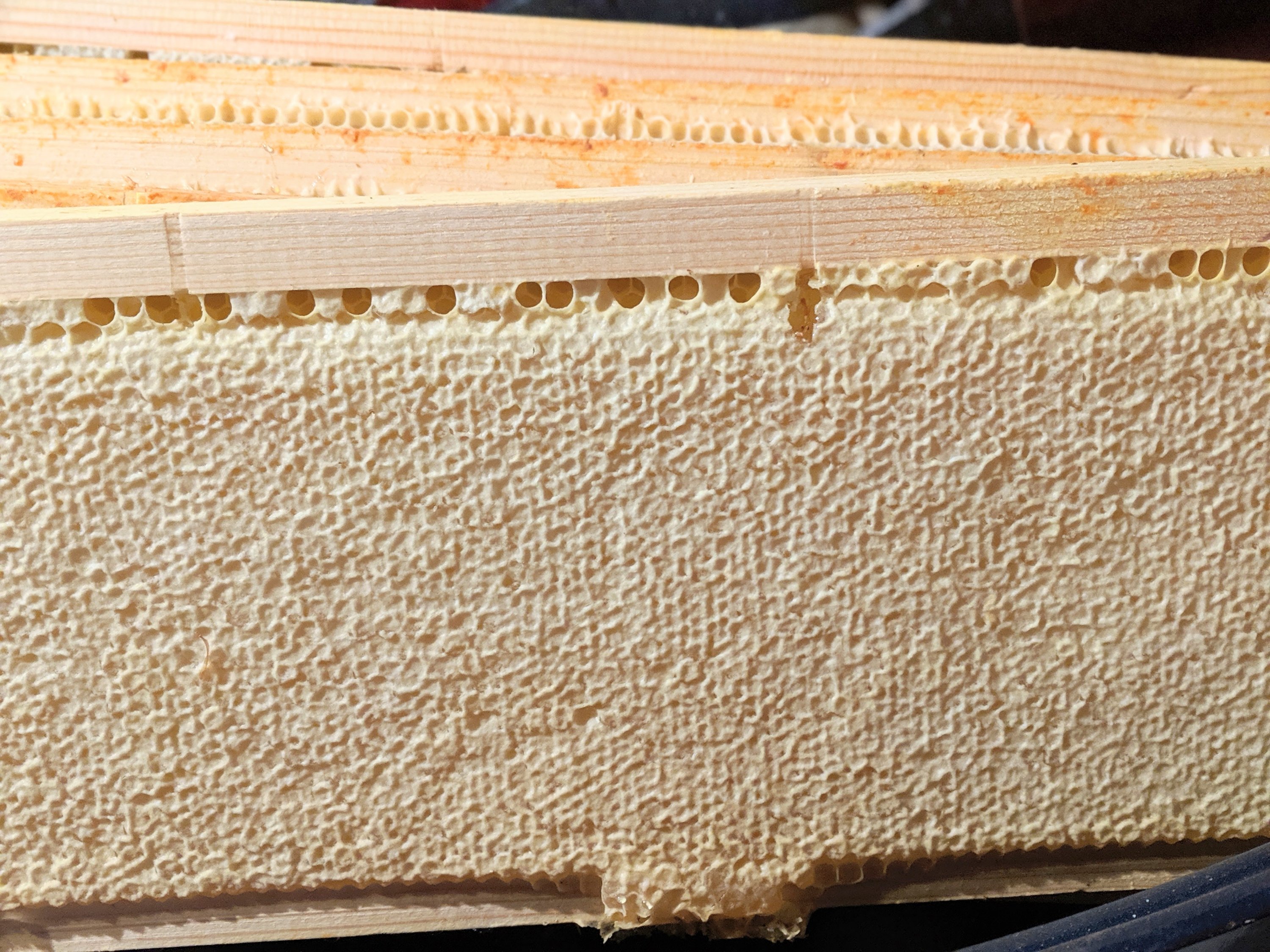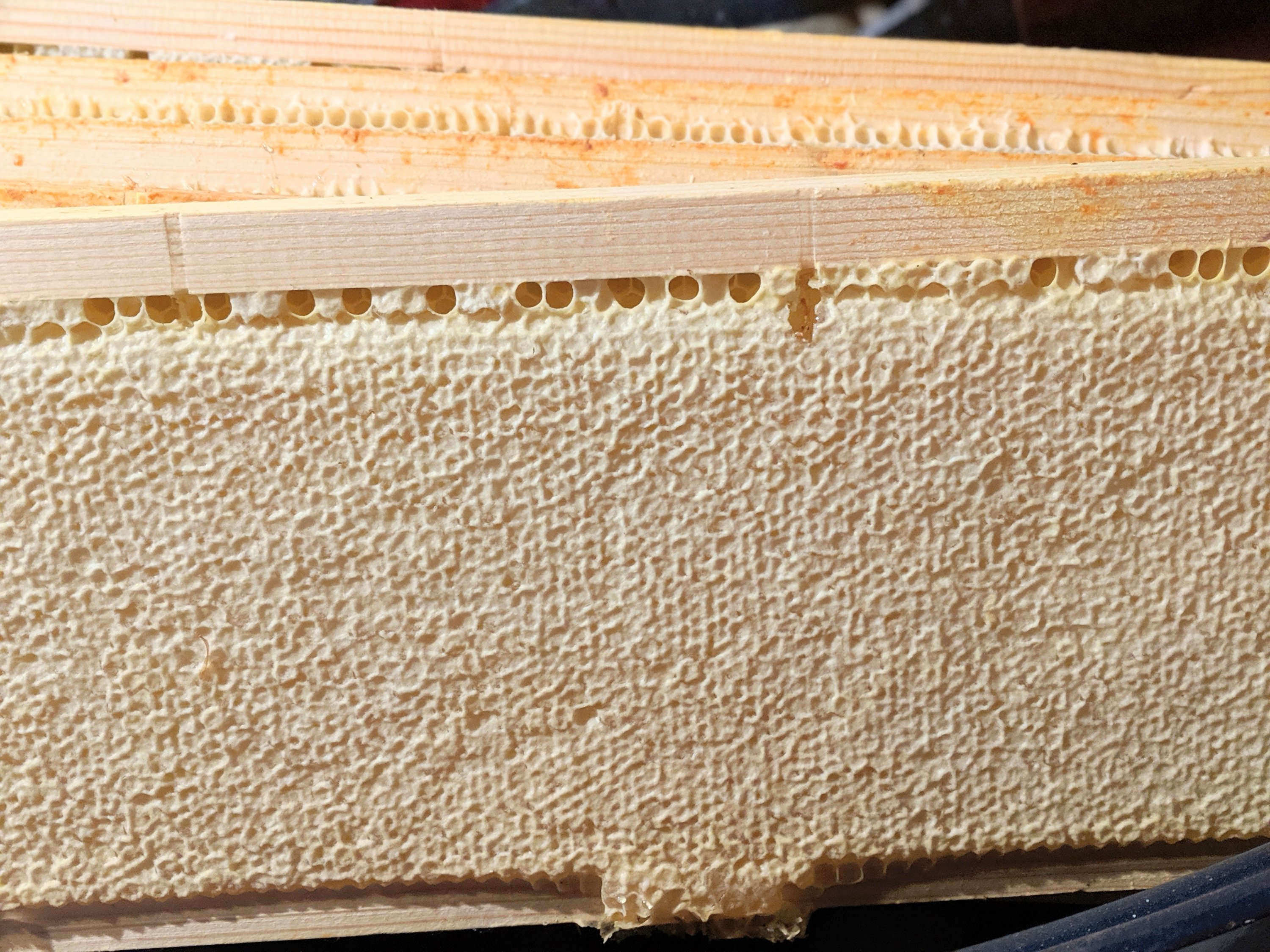 How To Make Beeswax Furniture Polish
The first step to making this furniture polish is to melt the beeswax. The best and safest way to do it this is over a double boiler on the stove top.
Let hot steam melt the wax, and be very careful not to spill any on the stove because beeswax is flammable (think candles)!
One the steam has melted the wax, add the mineral oil. Carefully stir the ingredients together until both the beeswax and oil have liquified, pour into a 8 ounce wide mouth mason jar, allow about 15 minutes to cool and solidify, and you're ready to use.
How To Polish Wood With Beeswax
Using the polish is a simple process: use a microfiber cloth to apply the wax directly to the wood surface. Allow the wax polish to sit overnight, and gently buff off the excess in the morning.
Brett has a giant cherry wood desk that he and his dad built years ago. We added a little polish to the desk, and as you can see from the pictures, it looks brand new! This simple polish is great for refreshing any old furniture in your house. We'll be using this recipe for years to come.
Tips for Using Beeswax Polish on Wood Furniture
You can adjust the consistency of the polish by adding more or less oil – more oil with make the polish a bit softer, and less will make it more firm.
If the polish is too thick, you can melt it again and add more oil.
If the polish is too thin, you can melt it, add more beeswax pellets (I would start with 1 tablespoon at a time), then let it cool and solidify before using it.
To apply the polish to large surfaces, I like using a clean cotton cloth.
To remove excess polish, use a clean cloth.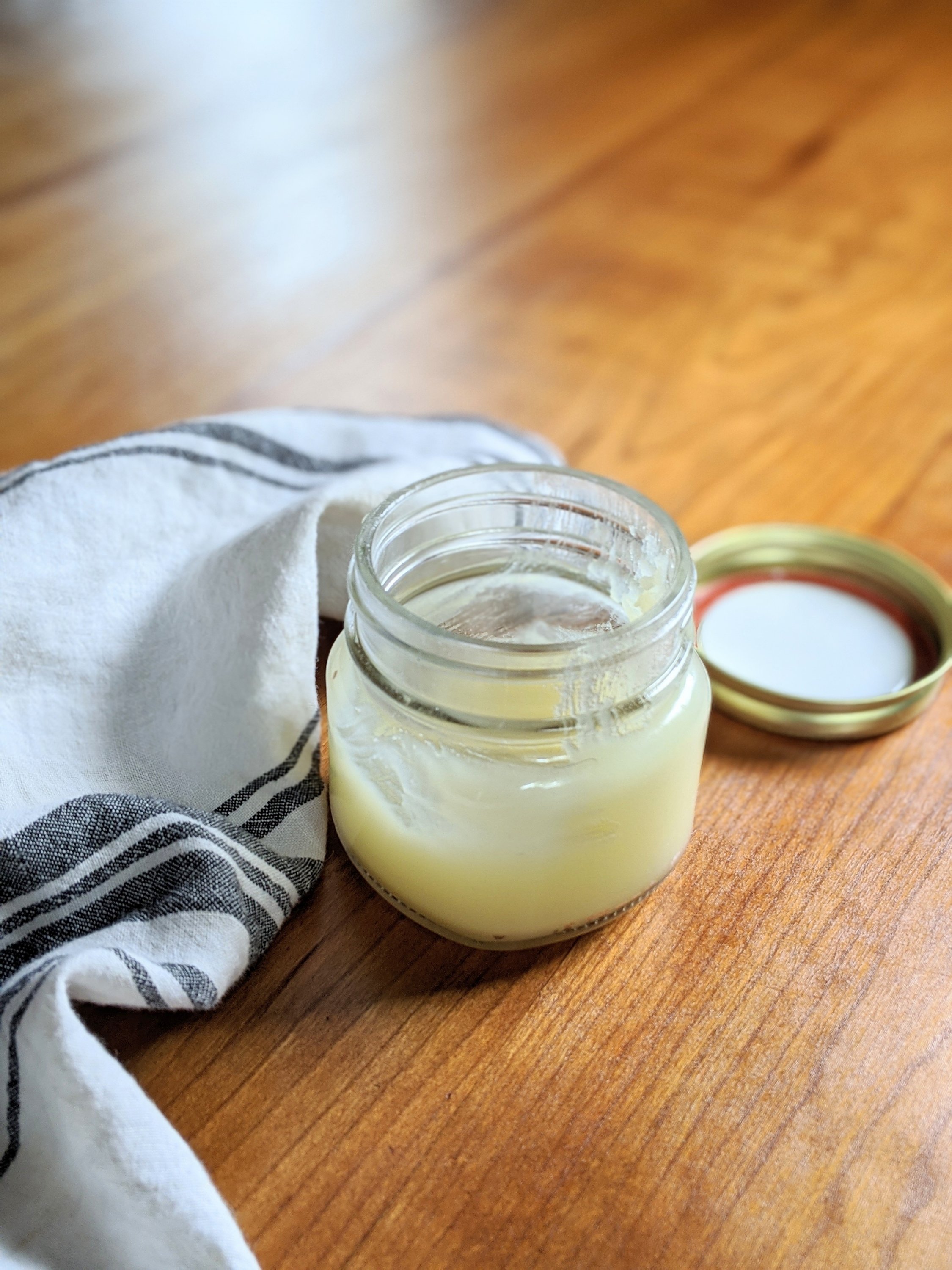 More DIY Recipes With Beeswax!
If you have any extra beeswax, I'd highly recommend these great recipes. The method of melting wax is the same, and you can make great homemade all natural products at home.
DIY Leather Conditioner Recipe with Beeswax
Headache Balm with Mint and Pine
Get Ingredients For This Simple Beeswax Wood Polish Recipe

As always, if you make this Beeswax Furniture Polish be sure to leave me a comment, rate this recipe, and tag me on Instagram so I can feature you. I love seeing all your photos of my recipe recreations!
And let's stay in touch – make sure to sign up for my newsletter to get healthy recipes delivered fresh to your inbox! And don't forget to follow over on Pinterest, Instagram , & Twitter– I'd love to connect with you there!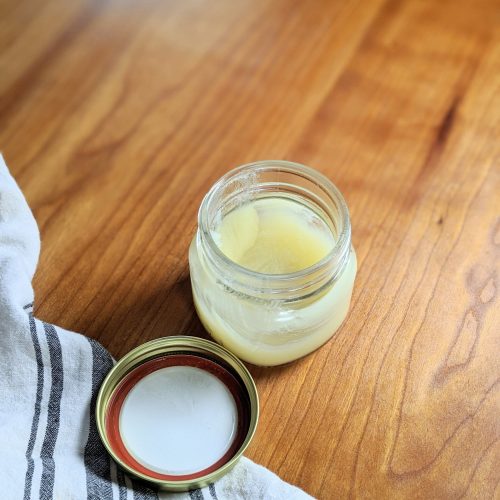 DIY Beeswax Furniture Polish
This 2 ingredient beeswax furniture polish recipe is so easy to make! Wood will shine after a coat of this simple, all natural polish.
Equipment
A Double Boiler

8 ounce Wide Mouth Mason Jars
Instructions
In a double boiler, add the beeswax until it melts.  Add in the mineral oil and stir well to combine.

With a clean cloth, add a dab to the furniture you want to polish, and in a circular motion, work the polish in.

Allow the polish to sit overnight.

In the morning, gently buff the polish off the furniture using a paper towel or non-abrasive cloth.
Notes
Save Money on Groceries, Pantry Staples, and Cleaning Supplies!
I love shopping for healthy groceries and pantry staples through
Thrive Market
- they sell non-toxic cleaning supplies, natural beauty products, and pantry staple groceries (even wine!) at a super discounted price. We get Thrive Market boxes every month and love picking out our favorite seasonal staples for delivery. 
Join Thrive Market & get 30% off your purchase & a $60 free gift!
Did You Make This Recipe?
Please leave a rating and comment below!
Or tag me @theherbeevore in your photo on Instagram!
This post may contain affiliate links. As an Amazon Associate I may earn from qualifying purchases, at no additional cost to you. Thank you for supporting the brands that support us!