These crinkle chocolate chip cookies are the BEST I have ever had in my life! Crisp on the outside and soft in the center, these pantry staples cookies are made with ingredients in your cupboards.
But THESE COOKIES, oh man!  These are the best chocolate chip cookies I've ever eaten or made in my life.  This
recipe is a definte keeper and will be my go-to cookies recipe for life.  Not even being dramatic about it, they are the real deal.
These Crinkle Chocolate Chip Cookies are:
Crunchy on the outside
Soft and Chewy in the middle
Giant, these cookies are big as my hand!
Buttery
Sweet
Can be made Vegan or Gluten Free
Easy pantry desserts!
What's In These Pantry Staple Crinkle Cookies?
All Purpose Flour:

I normally use

King Arthur organic all purpose flour

for all my baking recipes, I love the consistency and texture of the crumb

this flour

produces. If you are gluten free, then a gluten free flour would be a nice substitute in this dish.

Granulated & Brown Sugar:

I like this

organic sugar f

or my recipes, it has a really nice texture in these cookies, I'd recommend

Anthony's organic sugar f

or baking.

Butter

, can be plant based – if you don't have fresh butter on hand, this

butter powder

is actually amazing!  I've baked cookies with it, and I really like having

some butter in the pantry

in a pinch.

Vanilla Extract:

it's super important to use

real pure vanilla extract

, and not artificial baking vanilla flavor. T

his real all natural vanilla

is a fantastic ingredient to give these cookies an #extra boost.

Water
Baking Soda

: I love keep

baking soda

in the pantry for baking, and also for cleaning.

 

This baking soda

works great for both.

Eggs: If you don't have fresh eggs, we swear by these powdered dried eggs which last in the pantry for months!  Great for when you want a little extra protein without a trip to the store, and they work amazing in baked goods too.
Chocolate Chips, you can use semi-sweet or milk chocolate, or these great dairy free nut free chocolate chips.
Pinch of Salt
How Do I Make These Sheet Pan Crinkle Cookies?
Preheat the oven to 350 degrees Fahrenheit.  Line 3 baking sheets with tin foil and set aside.

In a large mixing bowl, add the butter, granulated sugar, brown sugar, egg, and vanilla extract, and water.  With a wooden spoon stir and mix well for a few minutes to combine.

Add the flour, baking soda, and salt to the bowl, and stir for another few minutes until the dough is well incorporated.  Add the chocolate chips and mix well to combine.

Measure out 1/3 cup of dough for each cookie, and place 3 or 4 balls of dough on each baking sheet.  Place baking sheet in the freezer for 15 minutes before baking (don't skip this step), then move to the oven. When one pan is in the oven, put the next pan in the freezer.

Bake cookies for 10 minutes.  With an oven safe glove, grab the sheet pan and lift the pan a few inches over the oven rack, and let the cookie pan drop onto the baking rack.  This will allow the cookies so spread out and crinkle at the edges.  Repeat this 3 or 4 more times, baking the cookies for a total of 16-18 minutes.

Place finished cookies on a wire rack to cool and do not move until they have cooled completely.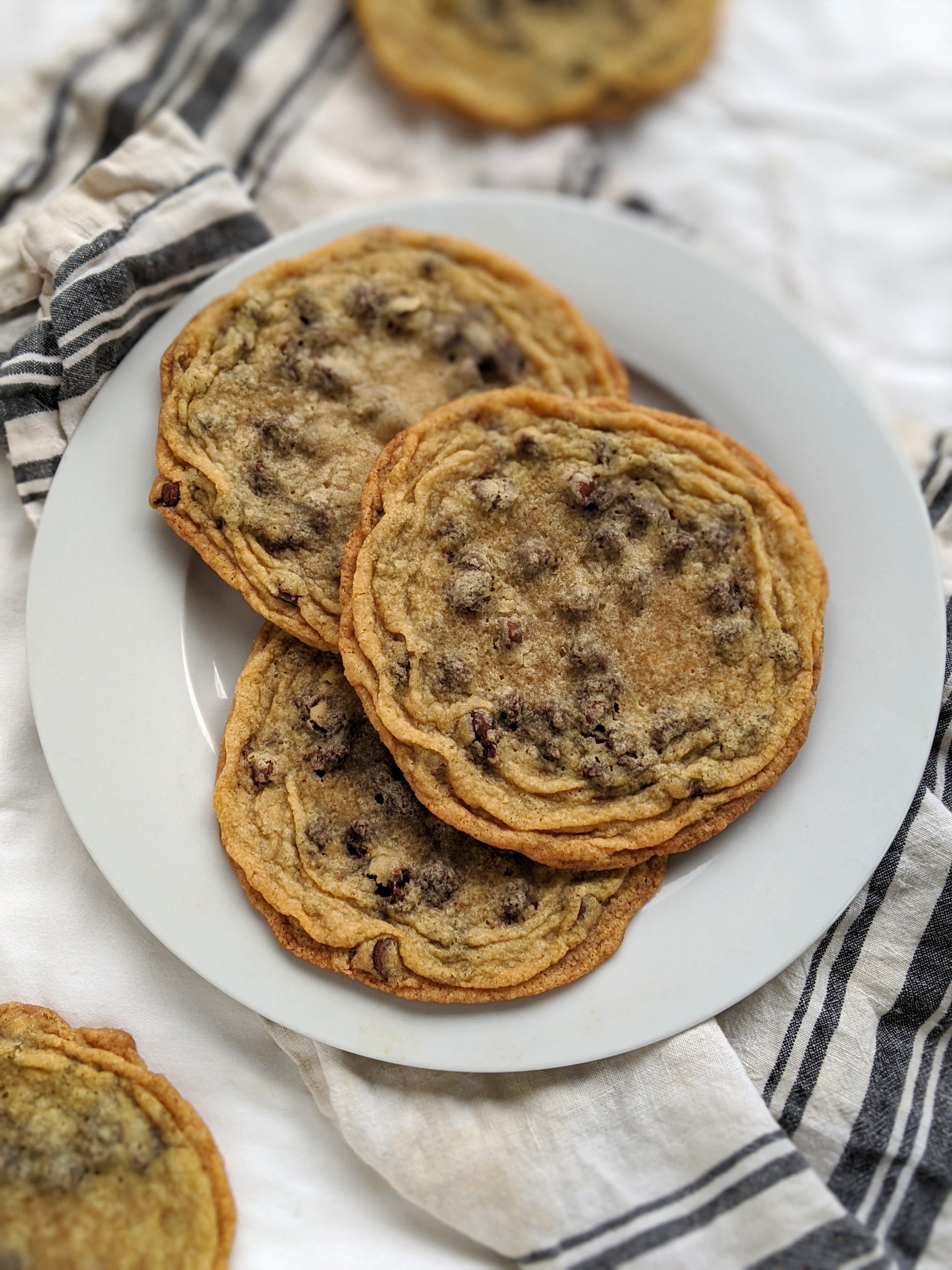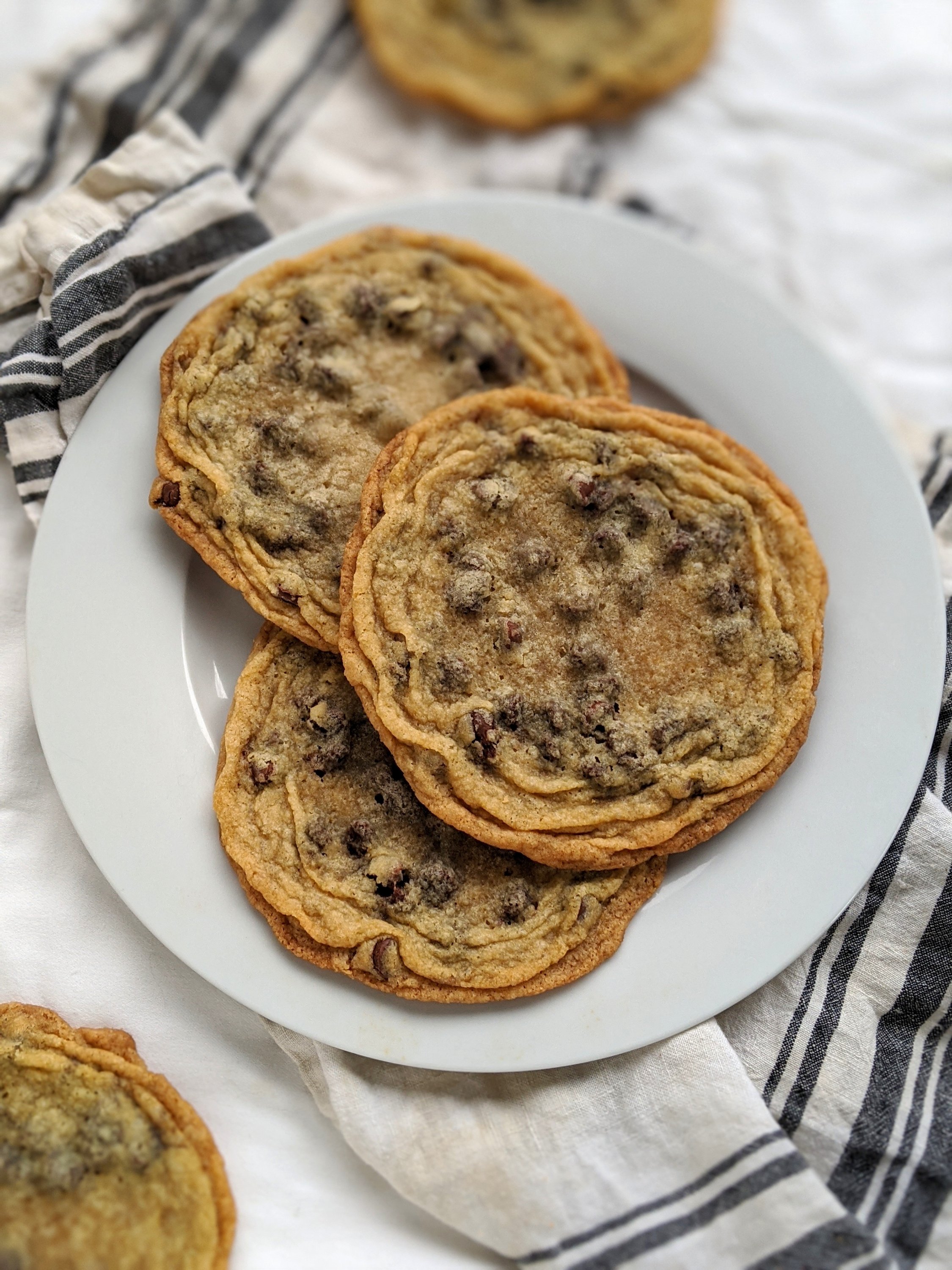 These go great with a nice cold glass of oatmilk!  My homemade chocolate oat milk recipe couldn't be easier, and compliments these cookies really well.
Dietary Modifications for these Easy Pantry Desserts
These can be made Gluten Free by substituting the all purpose flour for a 1-to-1 gluten free baking mix!
These can be made Vegan by replacing the butter with a plant-based version or replacing the egg with a flax egg (1 tablespoon ground flaxseed + 1 tablespoon water, mixed together), and using these vegan chocolate chips.
Some of Our Other Favorite Desserts:
Jammy Blackberry Oat Bars (Vegan, Gluten Free)
Rich & Healthy Sweet Potato Brownies (Vegan, Paleo, Gluten Free)
5 Ingredient High-Protein Cookies (Vegan, Gluten Free)
Simple Pumpkin Bread (Vegan, Pantry Staple Recipe)
3 Ingredient Peanut Butter Cookies (No Flour, Gluten Free, Low Sodium)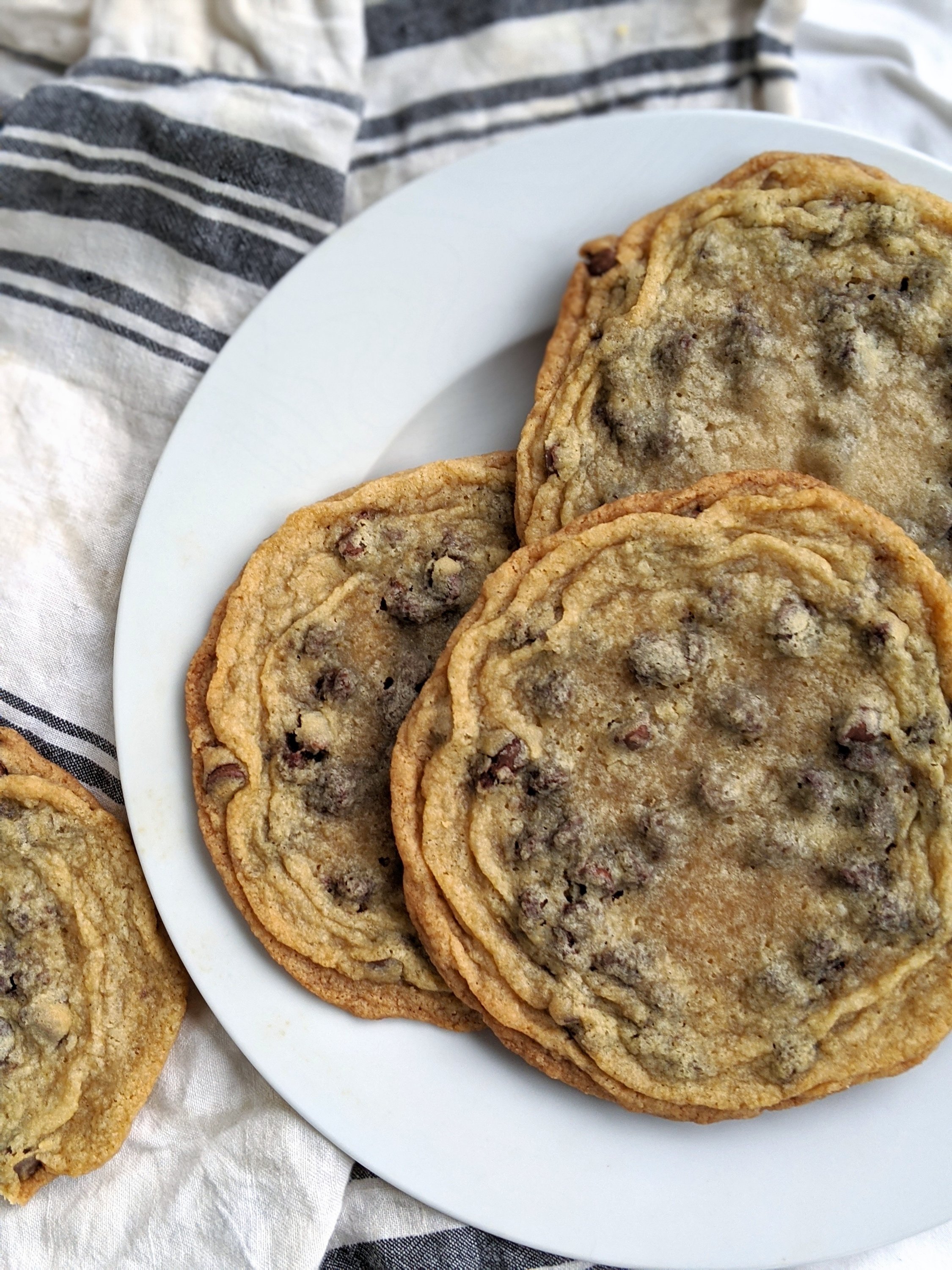 Get the Same Ingredients I Used For My Crinkle Chocolate Chip Cookies Recipe:
As always, if you make these crinkle chocolate chip cookies be sure to leave me a comment, rate this recipe, and tag me @theherbeevore on Instagram so I can feature you.  I love seeing all your photos of my recipe recreations!
Let's keep in touch – make sure to sign up for my newsletter to get healthy recipes delivered fresh to your inbox. And don't forget to follow over on Pinterest, Instagram , & Twitter– I'd love to connect with you there!