This creamy kidney bean salad is loaded with fresh vegetables, healthy beans, and dressed in a sweet and tangy dressing! This is a bright and crunchy salad that is perfect for serving at your next barbecue, gathering, or holiday meal. We always make this for company!
This creamy kidney bean salad is inspired by White Fence Farm's kidney bean salad recipe, which is incredibly delicious. I also attempted a White Fence Farm Copycat Coleslaw Recipe and their amazing White Fence Farm Pickled Beets too!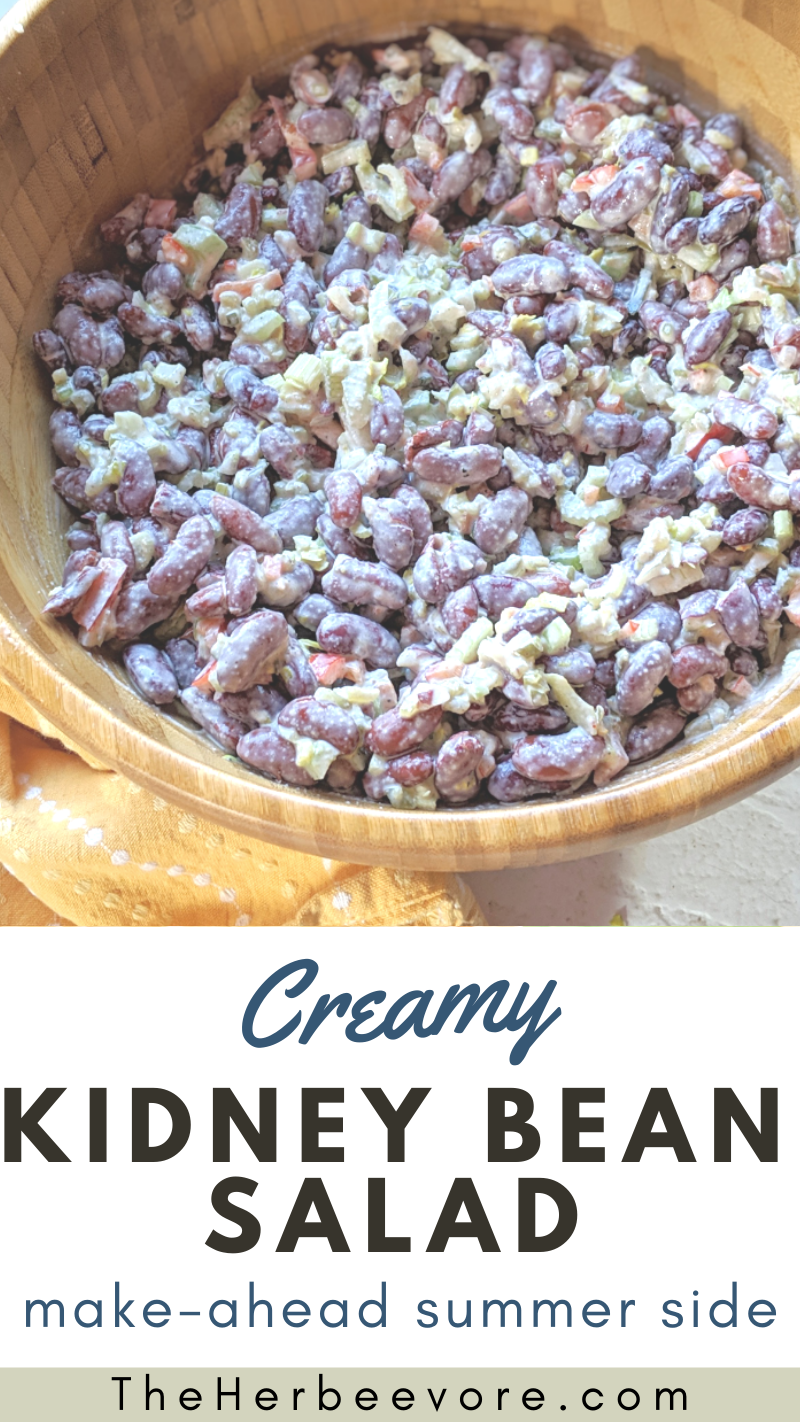 If you are a lover of kidney bean salad, this will be your new go-to recipe! It's adapted from one of my family's favorite restaurants: White Fence Farm in Romeoville, IL. I have so many memories of going there as a child. And every time I go back to Chicago now I make sure to save some room for a big meal there (which is especially easy since my husband is a WFF convert as well).
Note: This isn't White Fence Farm's official recipe, its just my adaptation!
This salad comes together in about 10 minutes if you use canned beans. It's a great make-ahead dish for your next party… and a total crowd pleaser!
This Creamy Kidney Bean Salad Recipe Is:
Bright
Fresh
Satisfying
Crunchy
A Crowd Pleaser
Vegetarian and High Protein
A Classic Kidney Bean Salad Recipe
White Fence Farm is known for their fried chicken, but a major draw is their unlimited "relishes" which come out before the meal. They made delicious fried corn fritters, coleslaw, pickled beets, cottage cheese, and kidney bean salad. I would 100% recommend a trip to White Fence Farm if you are in the Chicago area! It's a real gem. Even though I live 1000 miles away, I always make a stop there when I am in Chicago.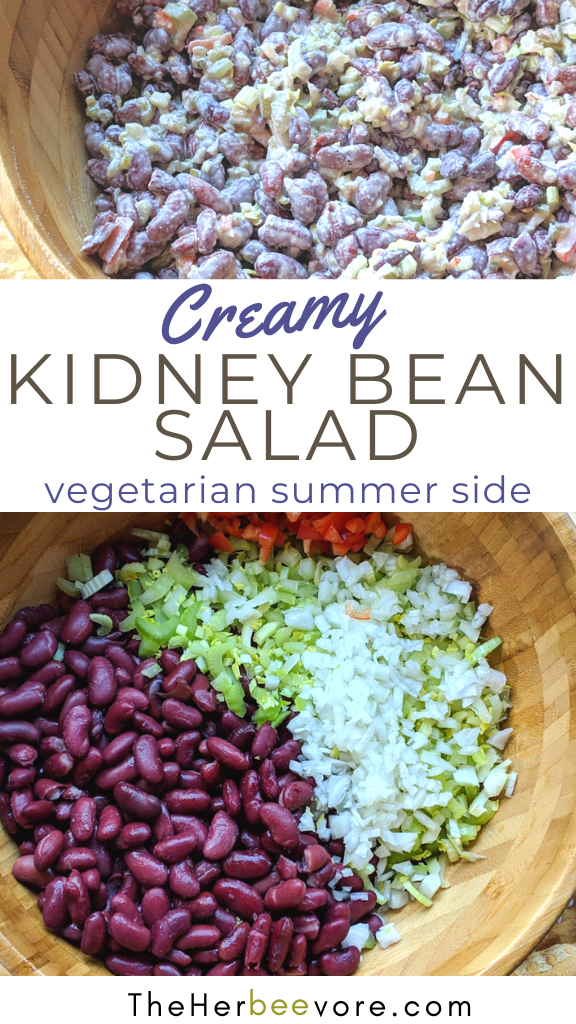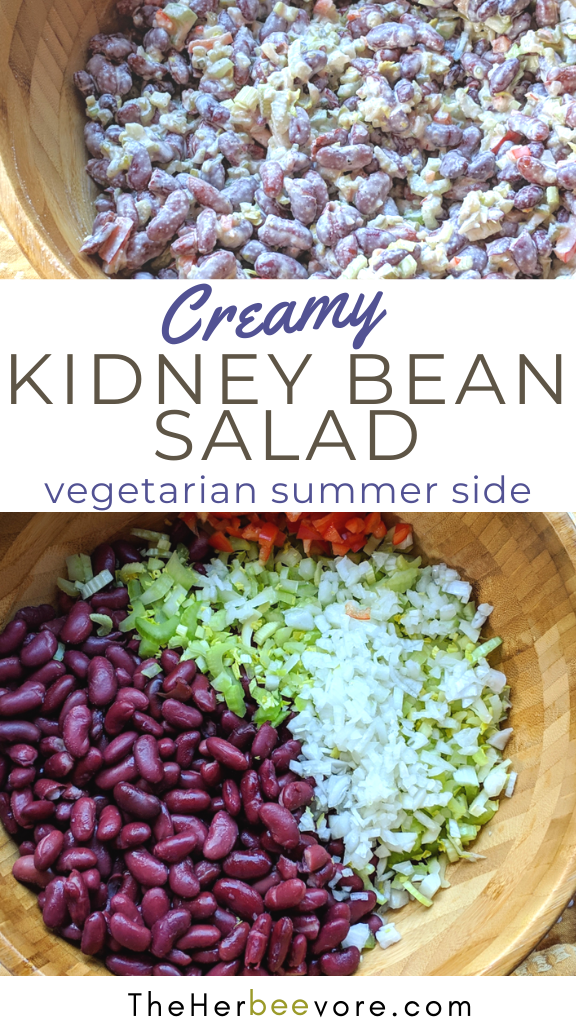 Our Favorite Bean Salad with Kidney Beans
Since my husband and I now live hundreds of miles from White Fence Farm, this recipe is perfect copy to make when I have a craving for their kidney beans. Its creamy but also surprisingly light with all the fresh chopped vegetables. I like to use dark red kidney beans, but you could use light or a combination of both. I always like making this dish when we have company… and believe me, it goes quickly!
What's In This White Fence Farm Bean Salad Recipe?
I stock up on organic produce with Misfits Market – they have a fantastic selection of in-season fruits & veggies, healthy pantry items, and great food finds for a fraction of grocery store prices! You can get $10 off your first $30 box by clicking here!
Canned Kidney Beans Versus Homemade
While I love the convenience of canned beans, I usually cook dry beans from scratch in my pressure cooker – the texture is better and it's more affordable. I use a larger 7.5-Quart Instant Pot which is larger than the standard model so I can batch cook more at a time.
If you don't already have one, the Instant Pot works wonders for cooking dried beans fast, no soaking required! While canned beans are super convenient, they are often loaded with sodium. If you buy canned beans, I always recommend using a no salt added variety so you can control the amount of salt in your dish.
Next time you reach for the canned beans, think about investing in a pressure cooker instead! Homemade beans are incredibly cost efficient, and you can add seasonings and spices to the beans while they cook for extra flavor.
This is a perfect side dish to bring to a picnic or BBQ, and comes together pretty quickly. You do need to refrigerate for a few hours before serving so make sure to plan to make this recipe the a day before for perfection.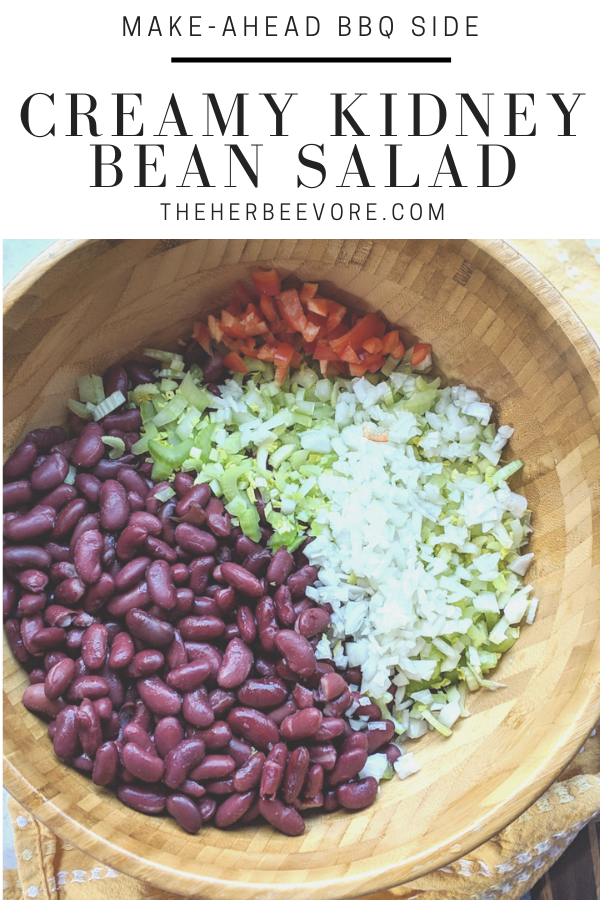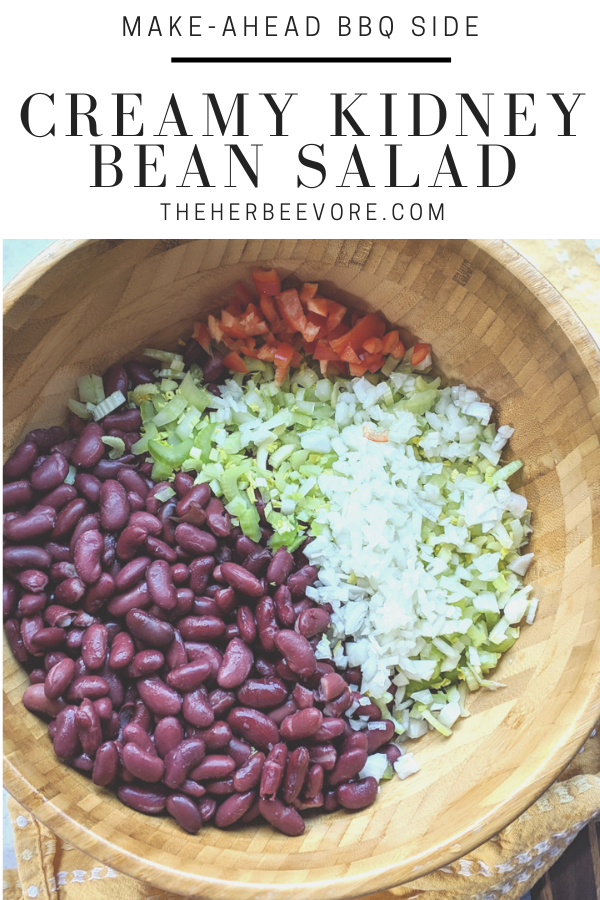 I also attempted a White Fence Farm copycat Coleslaw Recipe and their amazing White Fence Farm Pickled Beets – and we think they turned out pretty darn great, like the original!
Get the Same Ingredients I Use For My Creamy Kidney Bean Salad Recipe:
As always, if you make this vegetarian and gluten free creamy kidney bean salad recipe be sure to leave me a comment, rate this recipe, and tag me @theherbeevore on Instagram so I can feature you. I love seeing all your photos of my recipes!
Let's keep in touch – make sure to subscribe to my monthly newsletter to get free recipe inspiration.
And don't forget to follow over on Facebook, Instagram, YouTube & TikTok – I'd love to connect with you there!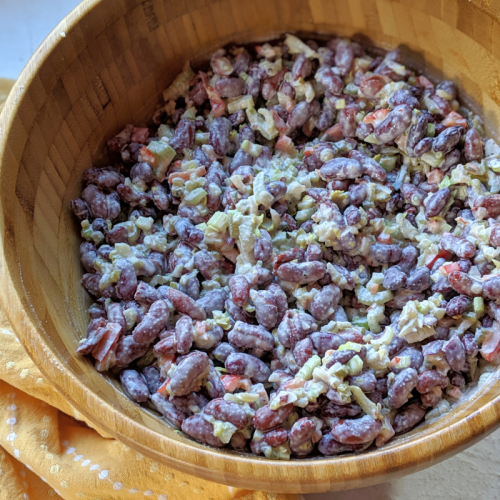 Creamy Kidney Bean Salad
This creamy kidney bean salad recipe is a bright and fresh side dish, made with beans, vegetables, and a light and tangy dressing. A fantastic copycay recipe from White Fence Farm.
Instructions
Drain and rinse kidney beans. Put them in a very large mixing bowl.

Add the onion, celery, bell pepper and stir to combine. Add the mayonnaise, relish, onion powder, seasoning salt, black pepper, and Red Pepper Flakes. Stir all ingredients together, and taste. Adjust seasoning if needed.

Cover bowl, and refrigerate 4 hours before serving, or preferably overnight.

Store in an airtight container. Leftovers will keep for 3-4 days.
Notes
Save Money on Fresh Groceries & Pantry Staples!
I get all the fresh produce for my recipes from my garden and from
Misfits Market
- they sell produce & pantry staples (even wine!) at a super discounted price. We get Misfit Market boxes every month and love picking out our favorite seasonal produce for delivery. You can get
$10 off your first $30 box by clicking here!
Give
Misfits Market
a look if you haven't tried it yet, I highly recommend it!
Nutrition
Calories:
194
kcal
Carbohydrates:
25
g
Protein:
8
g
Fat:
8
g
Saturated Fat:
1
g
Polyunsaturated Fat:
4
g
Monounsaturated Fat:
2
g
Trans Fat:
0.02
g
Cholesterol:
4
mg
Sodium:
271
mg
Potassium:
400
mg
Fiber:
7
g
Sugar:
3
g
Vitamin A:
340
IU
Vitamin C:
11
mg
Calcium:
32
mg
Iron:
3
mg
Did You Make This Recipe?
Please leave a rating and comment below!
Or tag me @theherbeevore in your photo on Instagram!
This post may contain affiliate links. As an Amazon Associate I may earn from qualifying purchases, at no additional cost to you. Thank you for supporting the brands that support The Herbeevore and our beehives!