California Pasta Salad is a great make ahead side dish, and loaded with avocado, tomatoes, basil, & a bright fresh balsamic vinaigrette. This is a fantastic summer pasta recipe to enjoy at your next gathering – it makes a great addition to the potluck table!
This delicious pasta salad is packed with in-season vegetables and great for an appetizer, a light lunch, or a side dish with anything off the grill. I love the creamy avocado in this salad, which makes each bite super luxurious!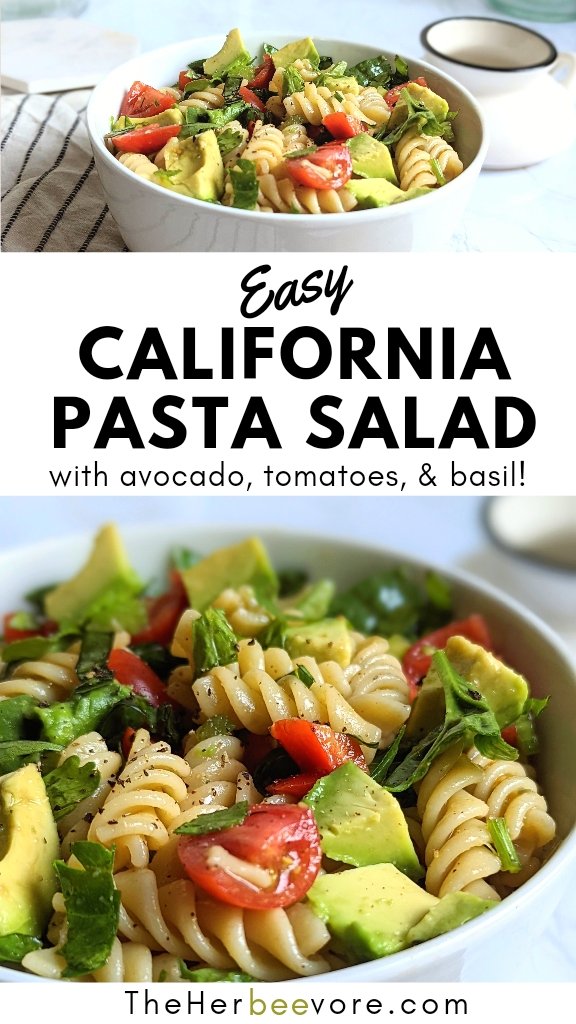 There's nothing better than a big batch of pasta salad for a cookout and BBQ ! Whether I'm hosting or heading over to a friend's place, I always try to make something that I can cook ahead of time. That way I get myself ready day-of, and grab the dish on my way out the door.
This California pasta salad takes about 20 minutes to make, and is so much more impressive than a store-bought salad. I first had a salad like this at a potluck when I lived in Los Angeles, and it was the perfect summer food! It had local avocados and summer ripe tomatoes and basil, for a super simple and elegant dish.
This California Pasta Salad Recipe Is:
Bright
Creamy
Tangy
Vibrant
Loaded with Flavor
Colorful
Vegetarian, vegan, and can be made gluten free by using GF pasta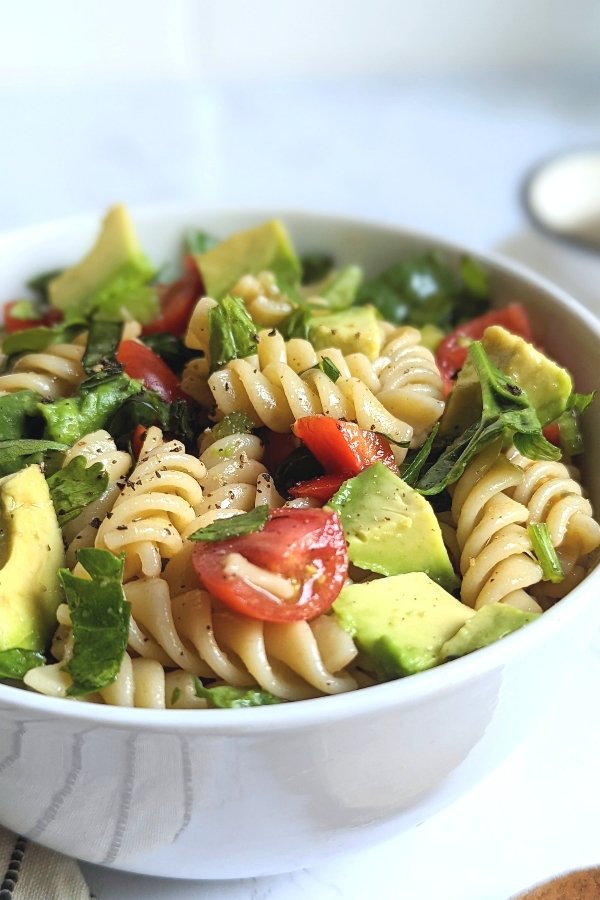 Make Ahead Pasta Salad Recipes for the Win!
You can assemble most of this pasta salad recipe ahead of time for a party, potluck, or gathering. Making this recipe in advance allows you to skip any cooking or prep on the day-of. This is a great recipe to entertain with, or bring to an event. You can cook the pasta, add some of the vegetables, and add the dressing and cover and refrigerate overnight.
Right before serving, add the avocado and basil, those should be added right before serving to prevent them from browning. I like to add a little extra balsamic vinegar too before serving for extra flavor. A crowd-pleaser that everyone is sure to love! Check out my other make ahead meals too.
What's In This California Avocado Pasta Salad Recipe?
Avocado, Tomatoes, Bell Pepper, Basil- I get all the fresh produce for my recipes from my garden and from Misfits Market – they sell all organic produce at a super discounted price, and it's purchased direct from the farmers. We get Misfit Market boxes every other week and love picking out our favorite seasonal produce for delivery. You can get $10 off your first $30 box by clicking here!


If you think organic produce is too expensive… think again, and give

Misfits Market

a look!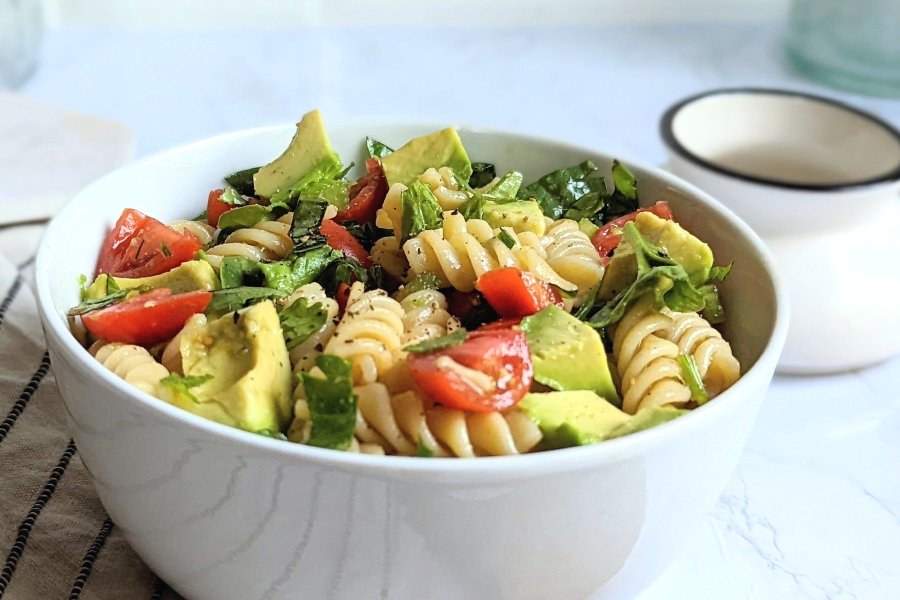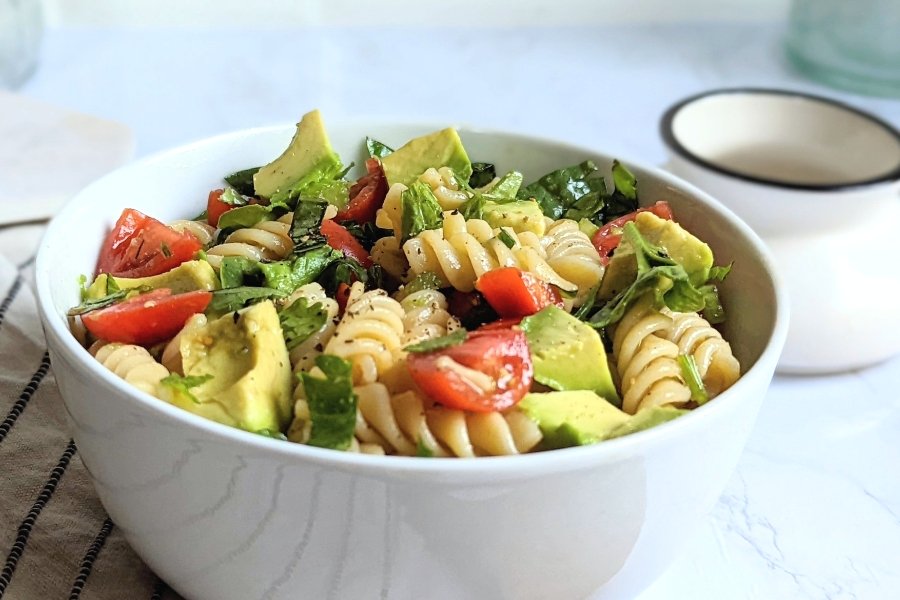 How Do I Make this Avocado Tomato Pasta Salad?
Boil a large pot of water, and cook pasta according to package instructions. Drain and rinse noodles under cold water to stop them cooking. Place drained cooled noodles into a large mixing bowl.
Dice the bell peppers and tomatoes. Add the veggies to the bowl with the pasta.
Add all dressing ingredients to a mason jar, and shake well to combine.
Pour the dressing over the pasta and veggies, and toss well to coat. Taste, and season with Salt and Pepper if needed!
If serving now, top the salad with the cubed avocado and fresh basil. If serving later, follow steps 1-4, cover and refrigerate, and add the basil and fresh avocado right before serving, with an extra 1/2 teaspoon balsamic vinegar for taste!
Eat Seasonal with This California Vegetable Pasta Salad Recipe
This California vegetable pasta salad is a great way to get in some seasonal fresh produce! Summer time means fresh garden tomatoes, basil, and bell peppers. Combine all these amazing fresh ingredients into this healthy and delicious summer bbq pasta salad. And add in some fresh chopped garlic for a little extra freshness and taste of summer!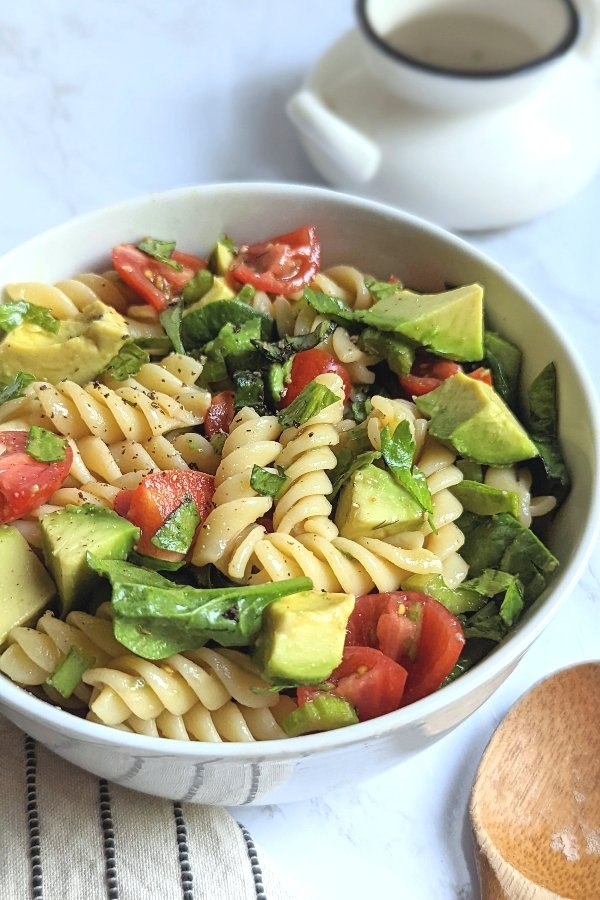 More Vegan Pasta Salad Recipes For You're Next BBQ!
Get the Same Ingredients I Use in My Vegan Tomato Basil Pasta Salad!
As always, if you make this vegan and dairy free California Pasta Salad recipe be sure to leave me a comment, rate this recipe, and tag me @theherbeevore on Instagram so I can feature you. I love seeing all your photos of my recipe recreations!
Let's keep in touch – make sure to sign up for my newsletter to get fresh recipes weekly. And don't forget to follow over on Pinterest, Instagram , & my YouTube channel – I'd love to connect with you there!
This post may contain affiliate links. As an Amazon Associate I may earn from qualifying purchases, at no additional cost to you. Thank you for supporting the brands that support The Herbeevore and our beehives!