Ricotta Toast recipes for a sweet & savory breakfast or brunch! These 12 ricotta toast ideas are hearty, creamy, tasty, and beautifully styled. Perfect for a quick and easy weekend meal that tastes like gourmet.
Whether you're hosting a brunch party for a crowd, or just making a solo breakfast at home, these great ricotta toast recipes are super satisfying and tasty meals. I absolutely love making a quick ricotta toast on the weekend (most recipes take 5-10 minutes) and loading it up with my favorite fruits and vegetables. Drizzle honey, pesto, hot sauce, or chimichurri on top to maximize flavor.
Sweet AND Savory Breakfast Recipes
The beautiful thing about ricotta cheese is that it takes on the flavor of whatever you top it with. It's a neutral cheese (think cream cheese without the tanginess) that pairs wonderfully with either sweet or savory toppings. If you're going the sweet route, bright and juicy fruits are the way to go – pears, figs, melons, or berries are all wonderful options. For savory: try it with roasted vegetables, eggs, or avocado and sprinkled with salt for that savory bite.
Our Favorite Ricotta Toast Recipes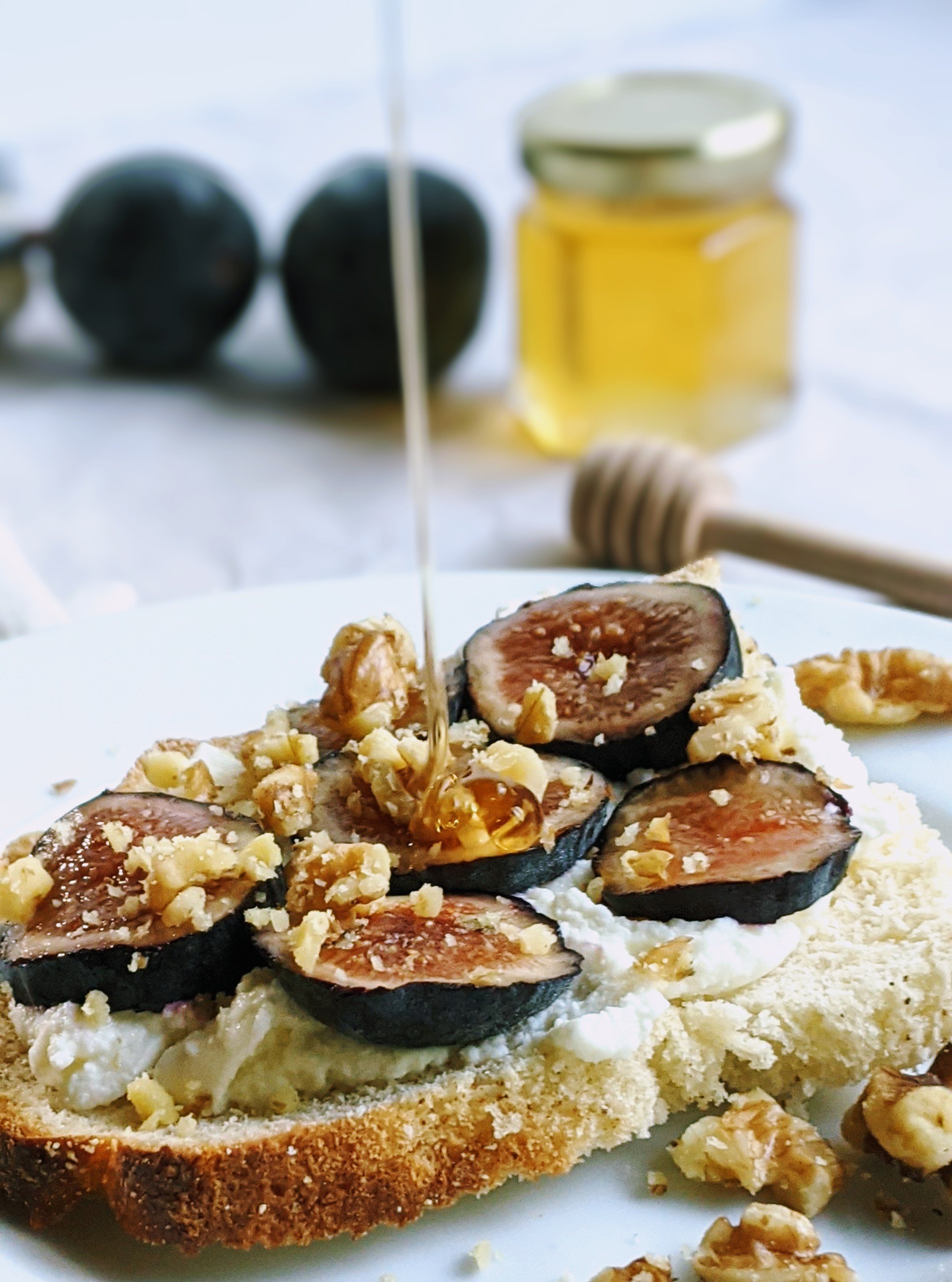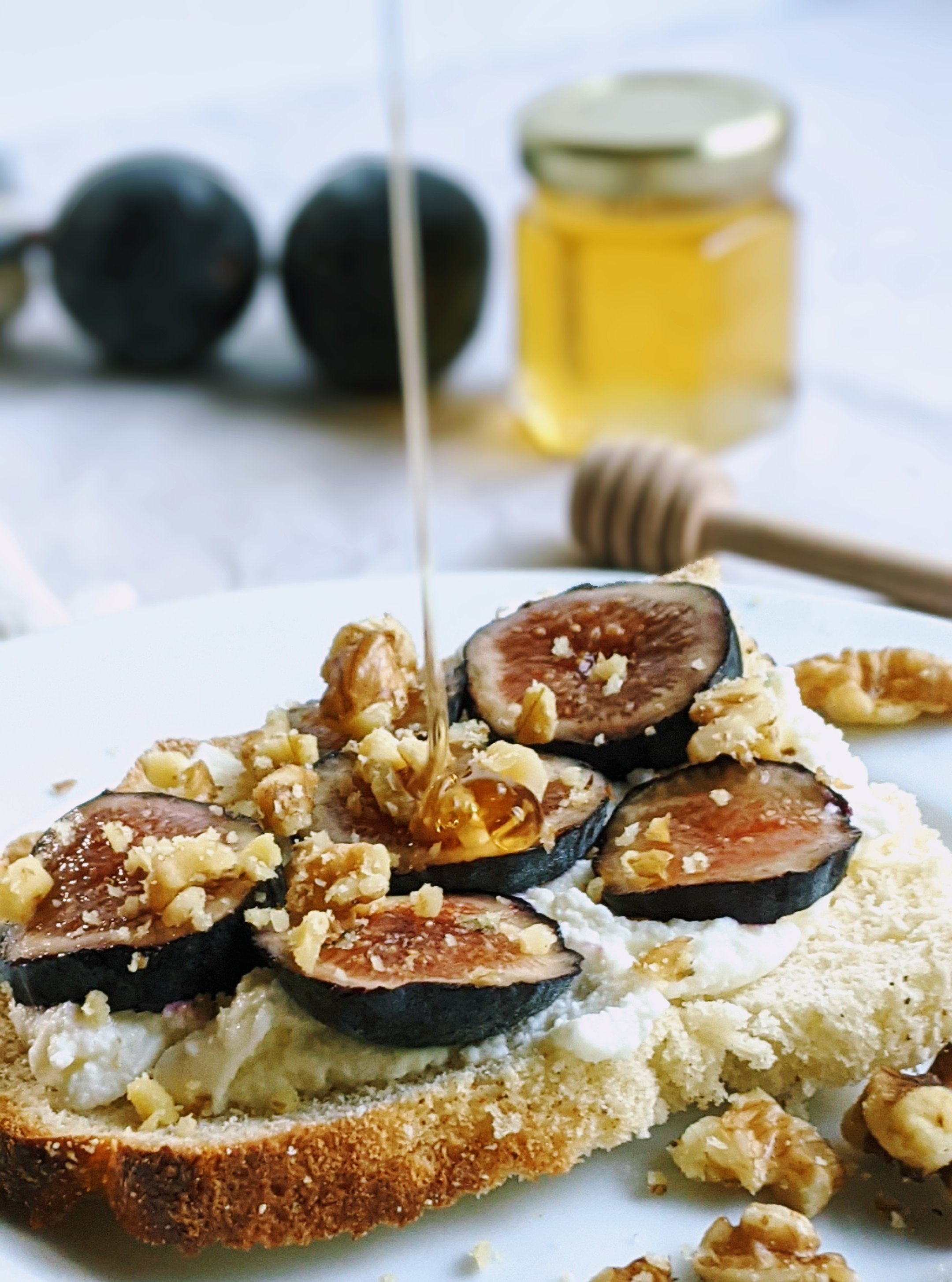 I'll kick off this round up with my absolute favorite combo: salted fig and honey on ricotta toast! I'm a beekeeper, so I always have fresh raw honey on hand… jars and jars of it. I love to drizzle it over sweet (or savory!) ricotta toast for that perfect bite. I used beautiful black figs that I got from Misfits Market – they sell all organic produce at a super discounted price, and it's purchased direct from the farmers. We get Misfit Market boxes every other week and love picking out our favorite seasonal produce for delivery. You can get $10 off your first $30 box by clicking here! If you think organic produce is too expensive… think again, and give Misfits Market a look!
Ricotta Toasts With Melon, Corn and Salami
(Image courtesy of the New York Times)
This great savory ricotta toast combines complex flavors in each bite! A little salty from the salami, a little sweet from the melon and corn, and totally delicious. Enjoy on any toasted bread of your choice for a fantastic recipe that bridges the gap between snack and meal.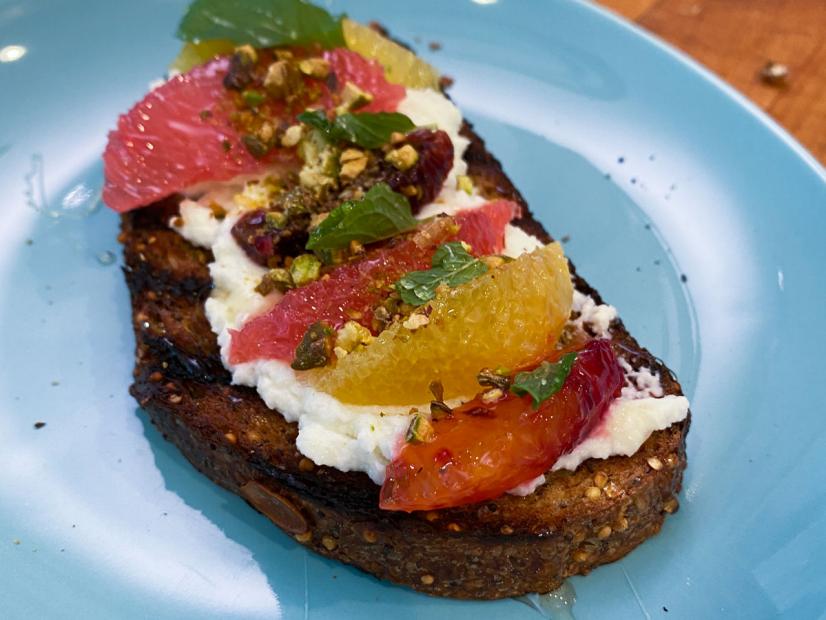 (Image courtesy of The Food Network)
As someone who frequently heads into the North End of Boston to grab some famous cannoli, I am 100% here for this cannoli-inspired ricotta toast recipe. Chef Jeff Mauro's recipe combines the classic cannoli ingredients ricotta and pistachios, with bright fresh citrus. Blood oranges, clementine's and grapefruit give the perfect amount of acidity to balance out the creamy ricotta.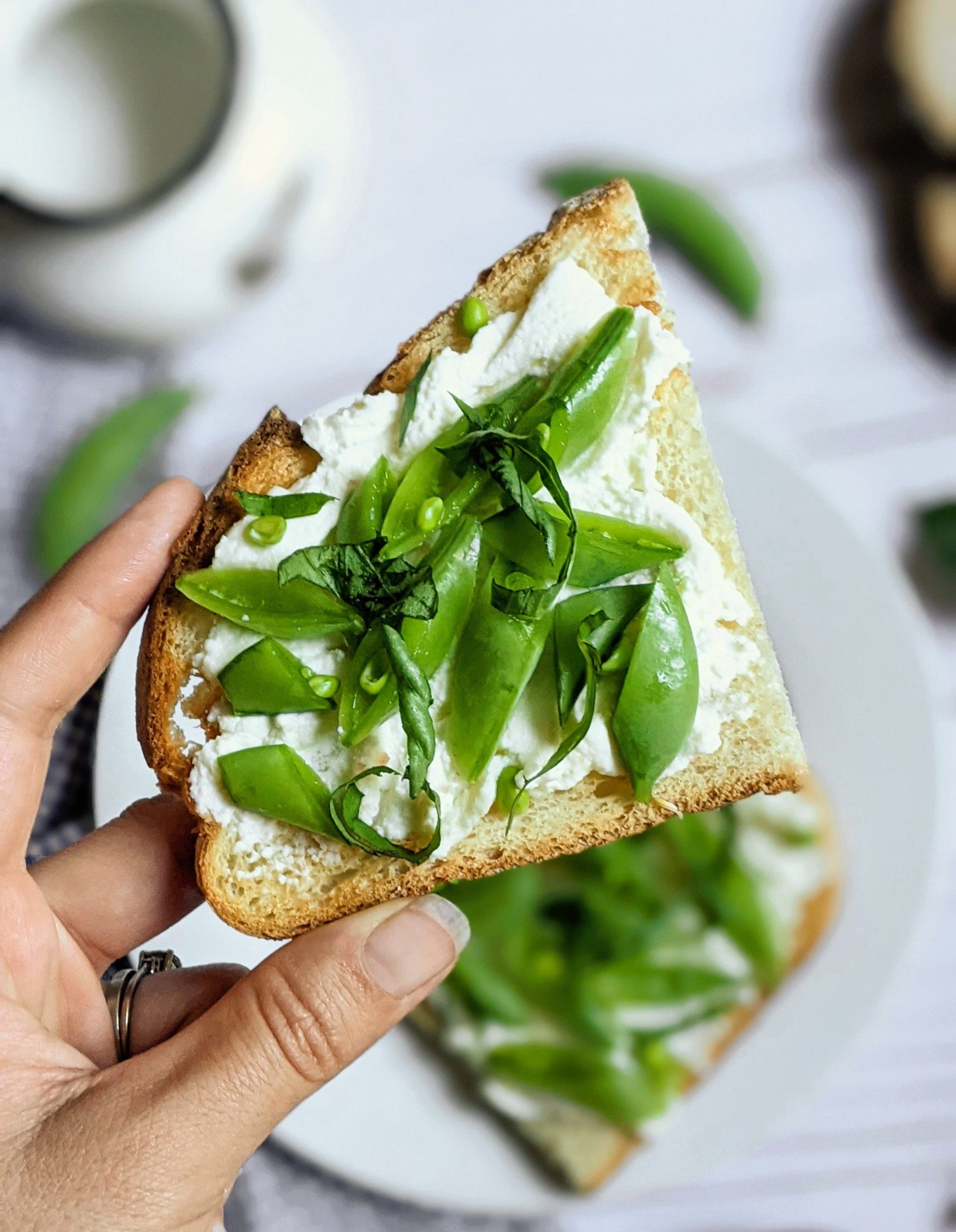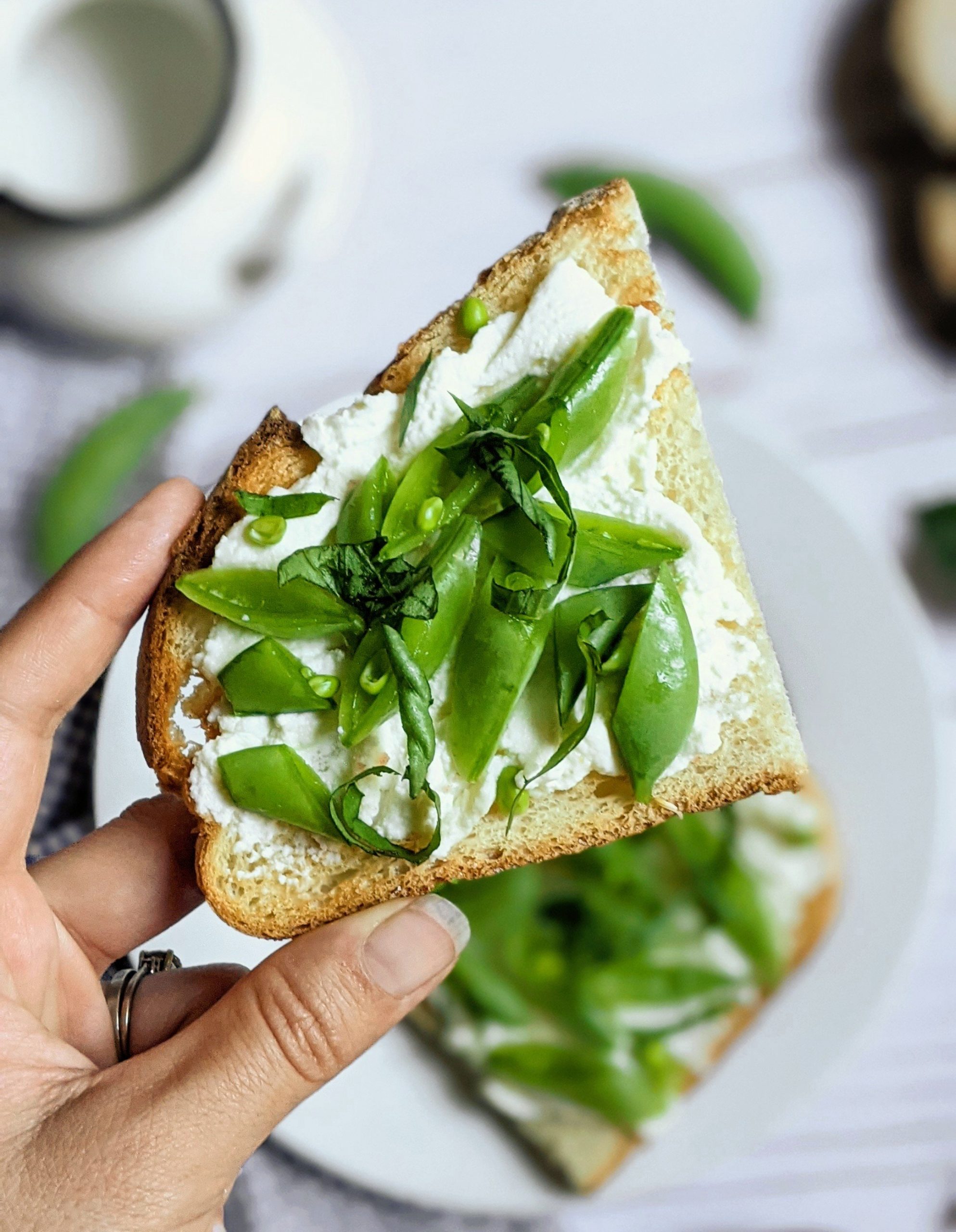 Fresh garden snap peas and basil make this ricotta toast an irresistible summer treat! It's creamy, crunchy, sweet, and savory – hits all the major notes. I like to add a little crushed red pepper flakes to this toast for a bit of extra heat!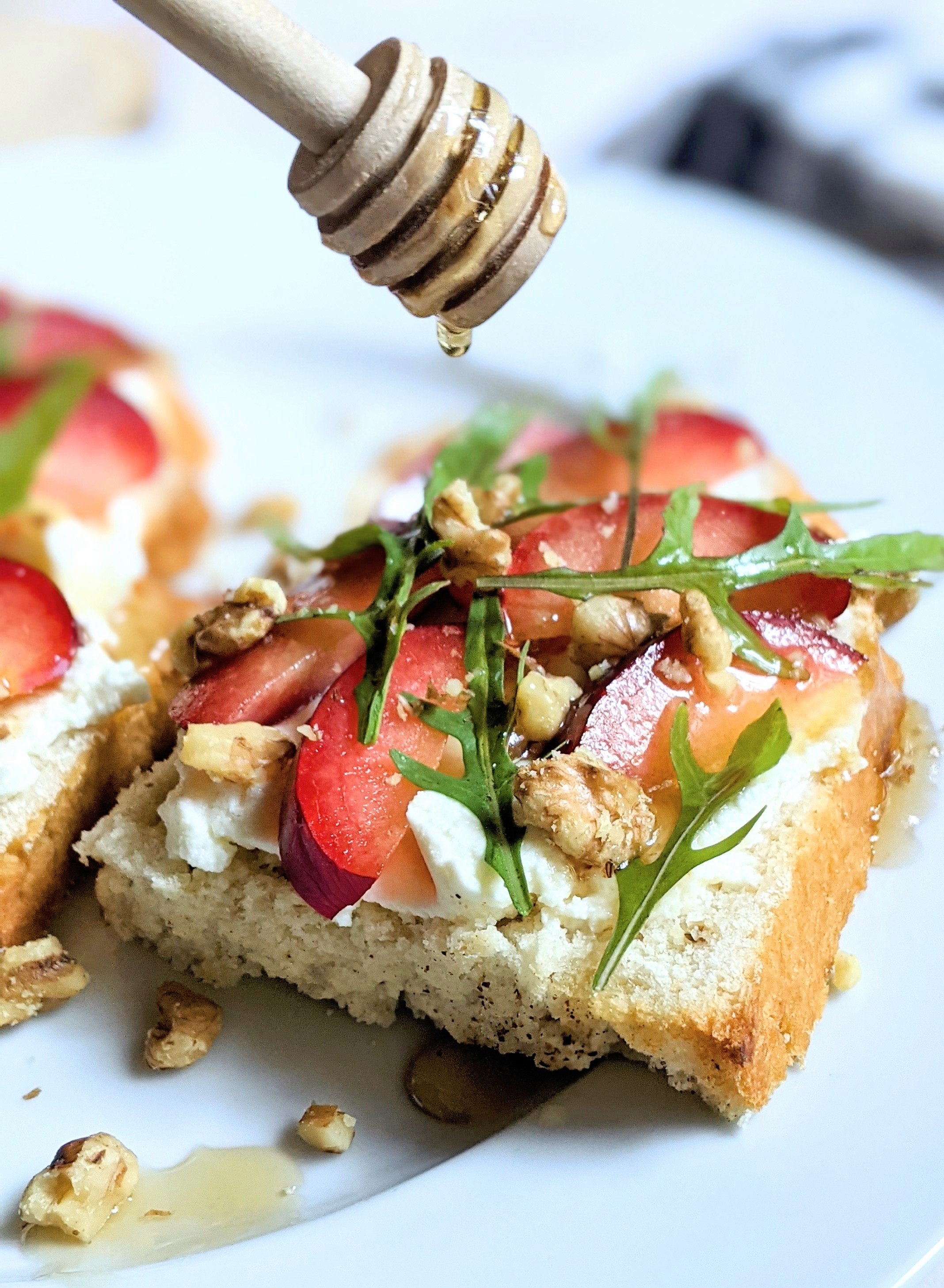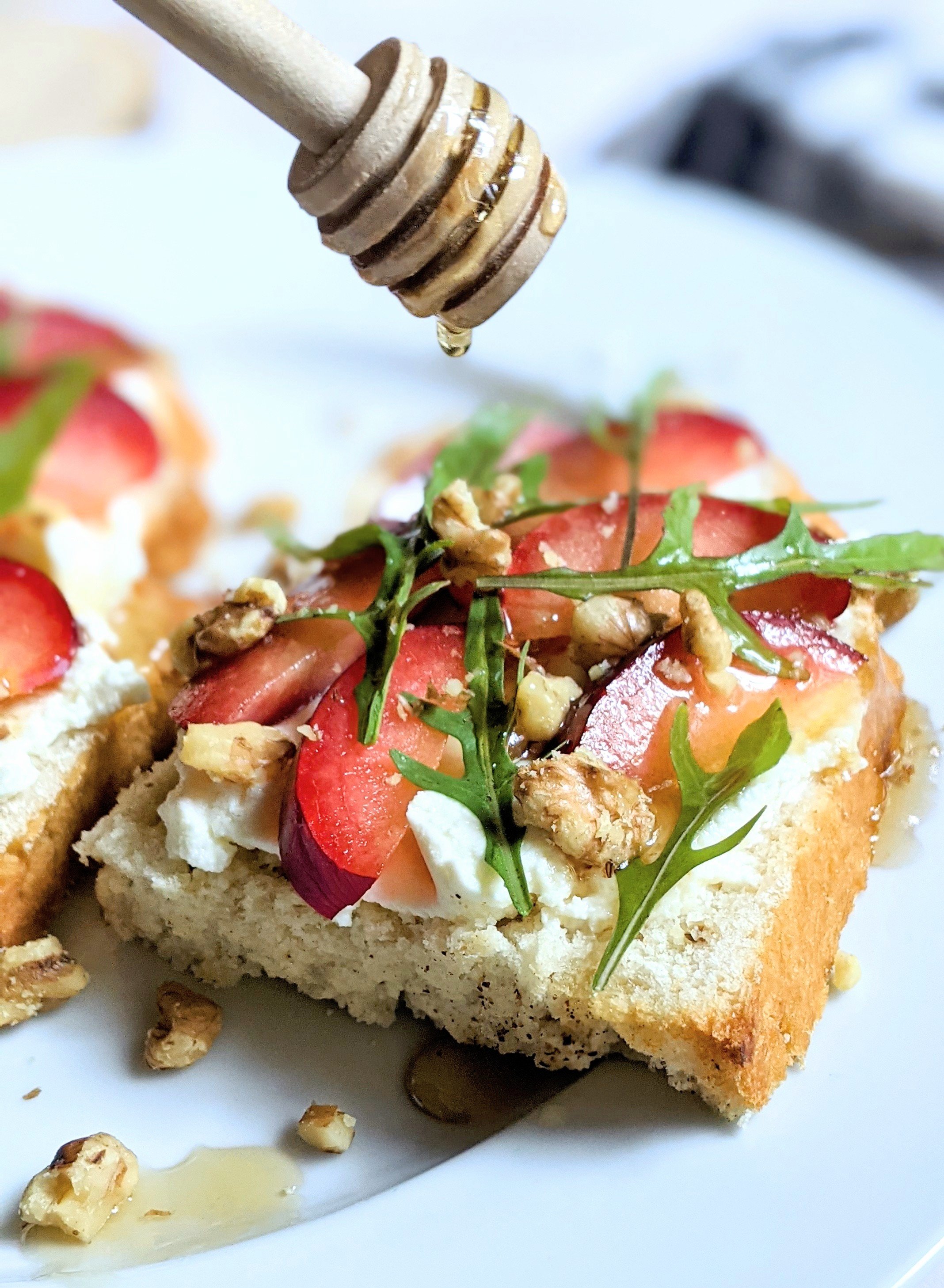 A perfect drizzle of raw honey tops this fantastic plum and arugula ricotta toast recipe. We grew a ton of arugula in our garden this year, and I love adding it to breakfasts (like this!) lunches and dinners. Arugula has a strong peppery taste and pairs really well with the sweet plums and honey. I also added a handful of toasted walnuts for that perfect crunch. And you better believe that honey comes directly from our beehives.
A Few Notes About Raw Honey
When honey is called "raw honey" it means that it has not been pasteurized. We take our honey straight from the hive, and don't process or subject it to high heat. Pasteurizing can kill bad (and beneficial) macrobiotics in the honey. You can use normal store-bought honey for this recipe… it doesn't have to be raw. That is just the way we like to keep our honey. Babies under the age of 1 should not be given honey, and pregnant women should avoid unpasteurized foods. Eat responsibly!
The best place to find raw honey is straight from your local beekeeper! Check out a farmer's market or farm stand near you – or reach out to your county or state beekeeping association to connect with beekeeper's nearby. Support local bees, local keepers, and enjoy the sweet benefits.
(Image courtesy of SkinnyTaste)
Caprese salad, but make it on toast! I love this fantastic roasted tomato and basil take on ricotta toast. The cherry tomatoes give this recipe the perfect sweetness and acidity. It's a great recipe to make with extra garden tomatoes, if ya got em! After roasting the tomatoes for 25 minutes, they blister and become sweet and tender. A great savory breakfast to enjoy for a summer brunch.
(Recipe Courtesy of justine snacks.)
How amazing does this ricotta toast with blueberries and hot honey walnuts look?! I absolutely love the color contrast between the ripe berries and cheese. And the secret ingredient in this recipe is hot sauce… really! You gotta try this one if you like a spicy and sweet breakfast.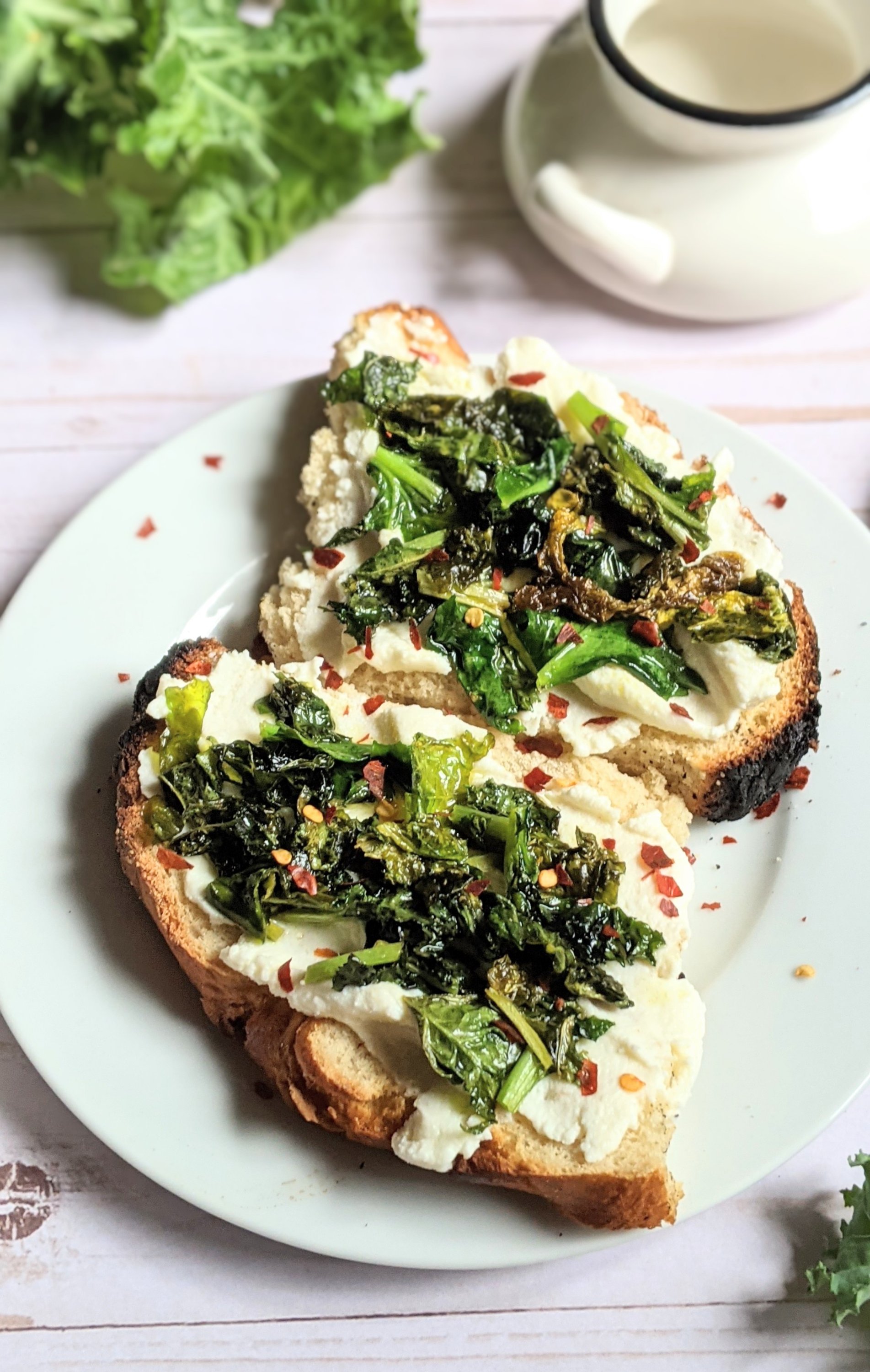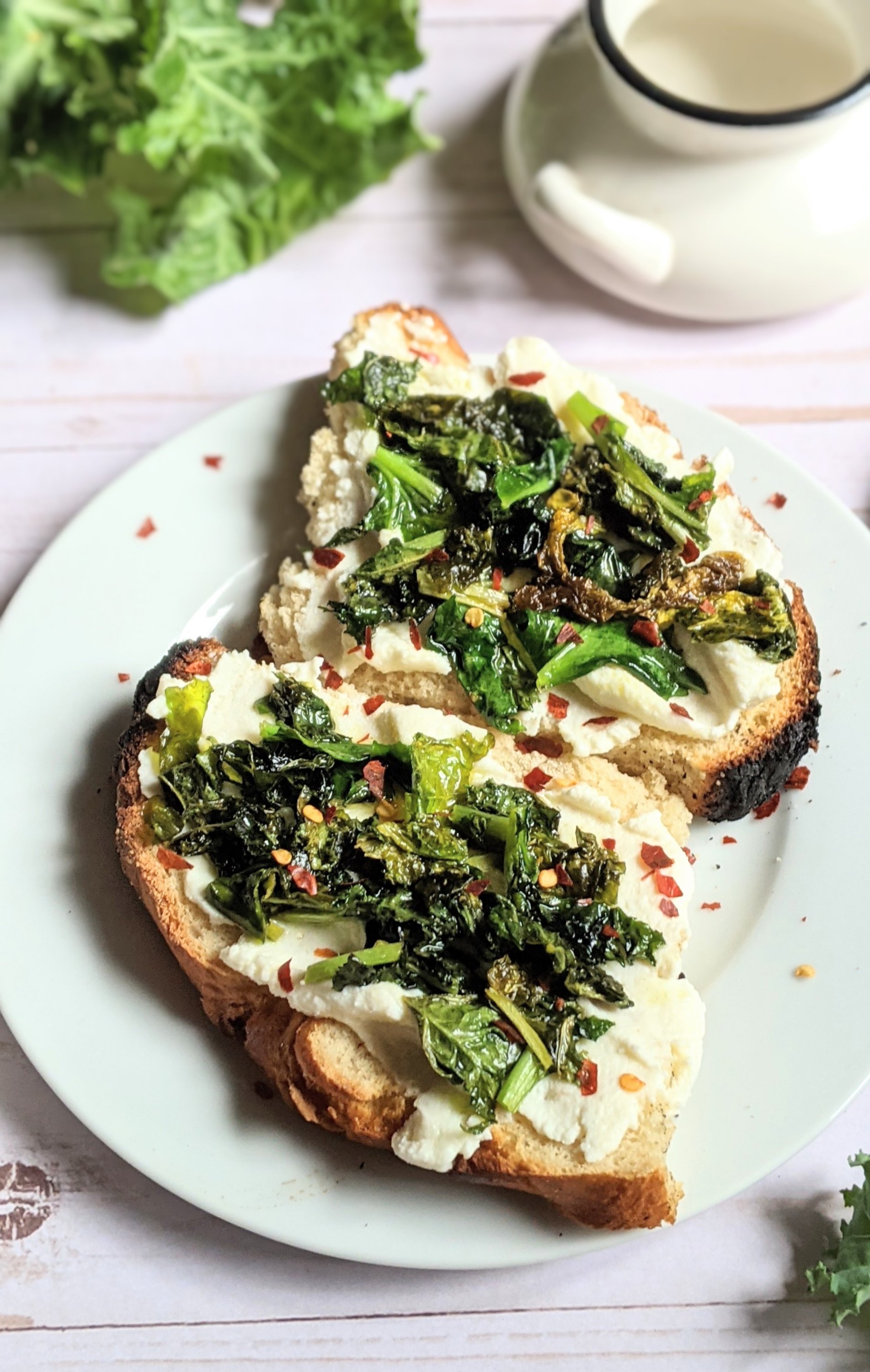 Ricotta Toast with Kale is a bright and fresh way to get those greens in! After sautéing some kale with garlic and olive oil, top it over ricotta toast, and sprinkle with chili flakes. This recipe works with either fresh or frozen kale, and it's a great way to combine a lot of fantastic flavors for a balanced breakkie.
(Image courtesy of Our Balanced Bowl)
This ricotta toast with peaches is a great southern take on a breakfast classic. It's finished with fresh mint leaves for a super herby bite.
Pumpkin Ricotta Toast
(Image courtesy of Once Upon a Pumpkin)
Jump into major fall flavors with this great pumpkin ricotta toast recipe. This toast has both pumpkin puree and is topped with pumpkin seeds (pepitas) for the ultimate fall breakfast. I love that cubed butternut squash is added on top as well for that great orange color.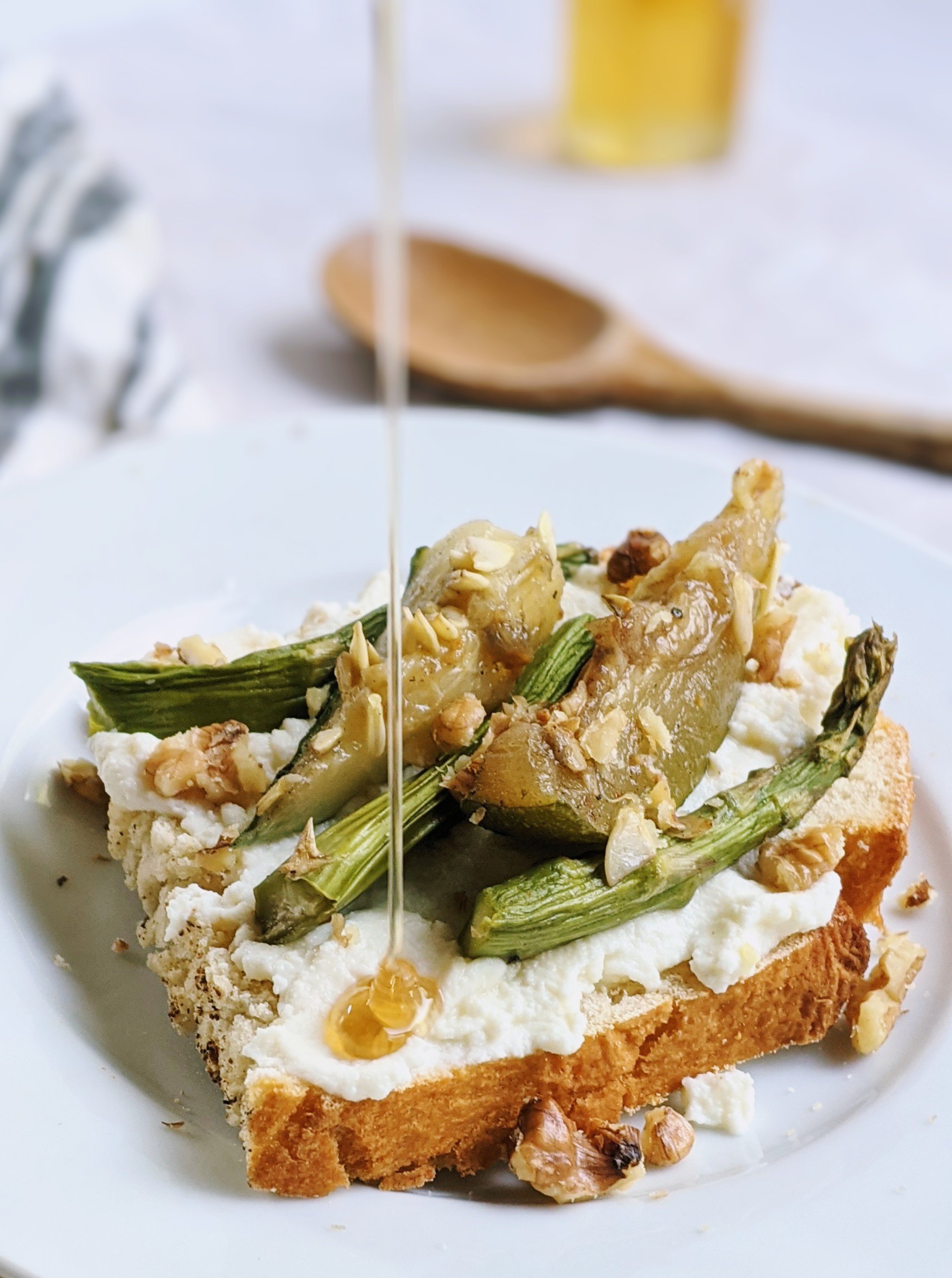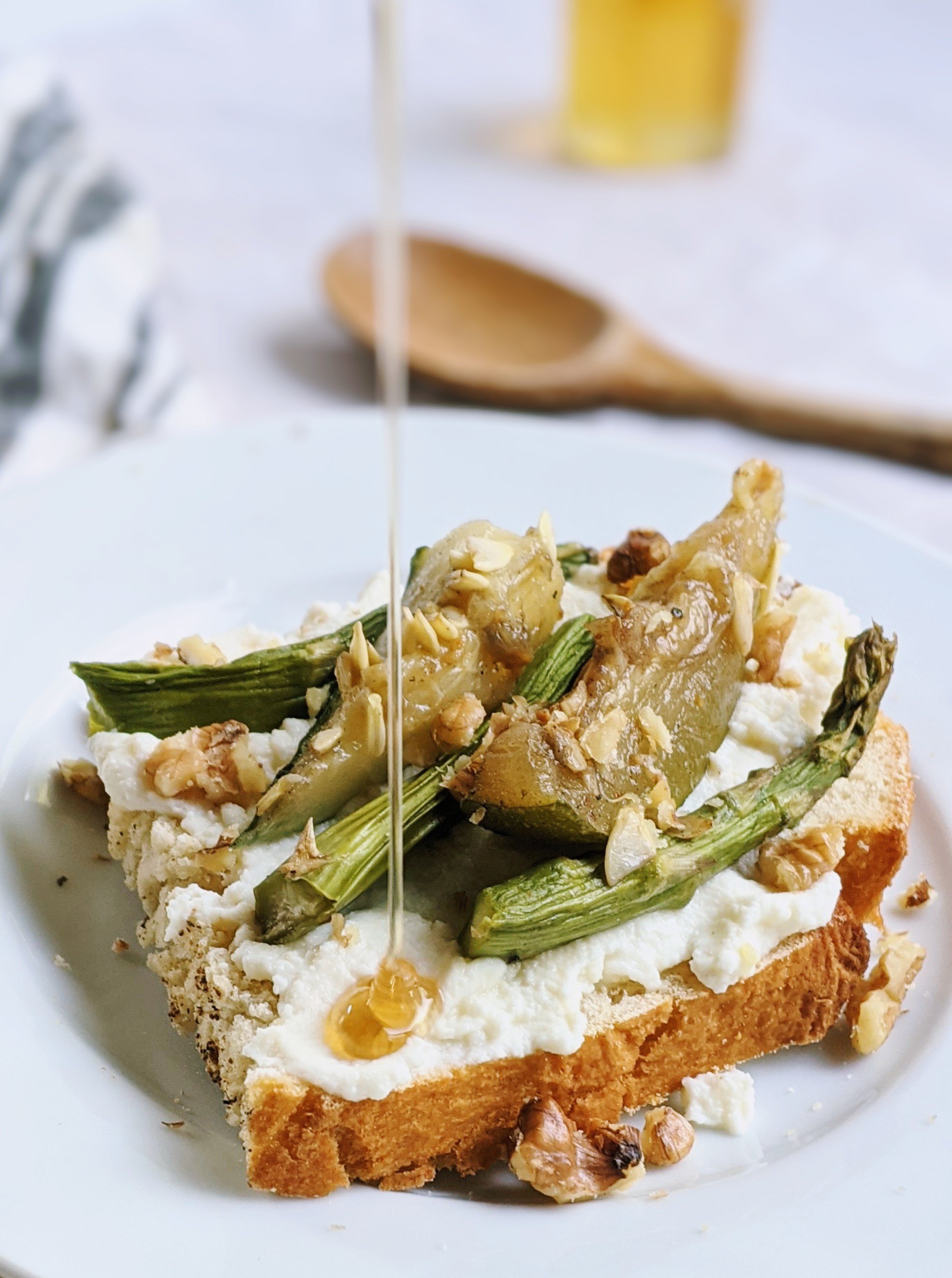 Leftover grilled vegetables are the star of this savory veggie ricotta toast with honey. I made this recipe with leftover grilled asparagus and zucchini that we made on the Big Green Egg, and drizzled the toast with some honey for the perfect sweet/salty combo! A great way to use up any leftover cooked veggies in the refrigerator.
(Image courtesy of Healthy Delicious)
This beautiful blackberry toast is loaded with flavor from balsamic vinegar and mint. Top with a little extra lemon zest for a great citrus-y finish!
Cozy Brunch Recipes for the WIN!
These ricotta toast recipes are great for a quick cozy weekend breakfast, brunch, or brinner (breakfast for dinner!). They are the perfect recipe for brunch guests, or just for getting the whole family together to enjoy a slow weekend meal. These toasts are also great for having company over for a holiday brunch as well. Most are ready in under 30 minutes, these ricotta toast recipes are simple to get on the table, and they will go fast! You can see all my breakfast and brunch recipes on The Herbeevore here, and also if you are heading to a brunch at someone else's home check out my brunch hostess gift guide for simple gift ideas the host will love!