This smashed egg avocado breakfast sandwich is the perfect weekend brunch, topped with bright citrusy avocado lime salad!  A heathy crowd pleaser brunch or light meal that is simple and ready in about 10 minutes. A fantastic way to enjoy fresh avocado with a little vegetarian protein and loads of flavor!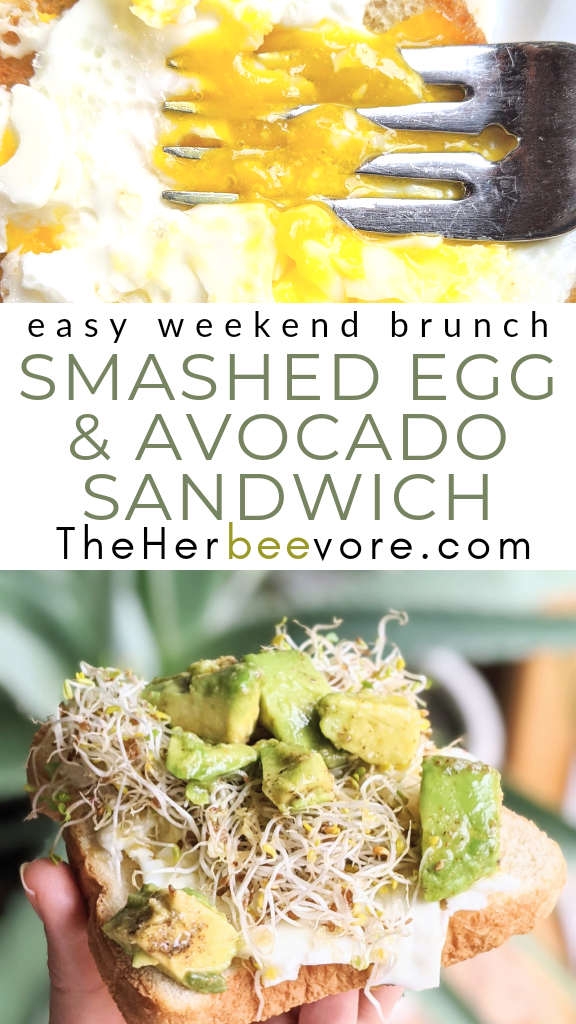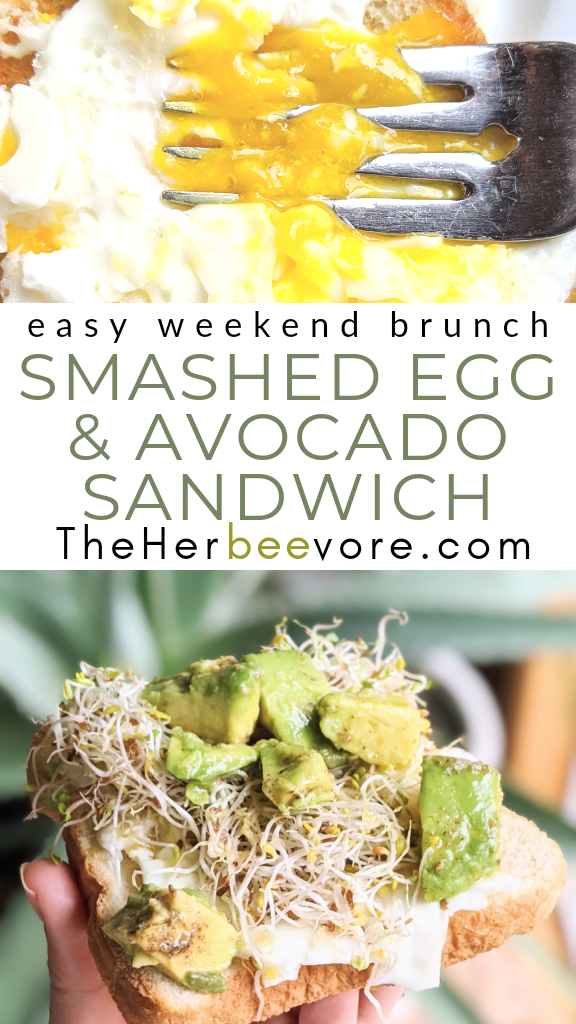 This egg avocado sandwich recipe makes the perfect lazy morning meal. Weekend brunches are a highlight on our homestead: we love cooking up big lazy meals on the weekend that will fuel us for work around the yard.  We're taking the time this spring to rip up a lot of brush in our backyard and cover it with woodchips & mulch, fix up our raised garden bed area, and clean up along our stream.  It's a lot of work, and this smashed egg and avocado sandwich makes the perfect meal!  This hearty and filling breakfast is loaded with good-for-you ingredients and will give you the fuel you need to get stuff done.
This Smashed Avocado Egg Sandwich Recipe Is:
Bright
Fresh
Satisfying
Loaded with Flavor
Earthy
Cirtusy
Vegetarian, Gluten Free, and So Yummy
Ready in About 15 Minutes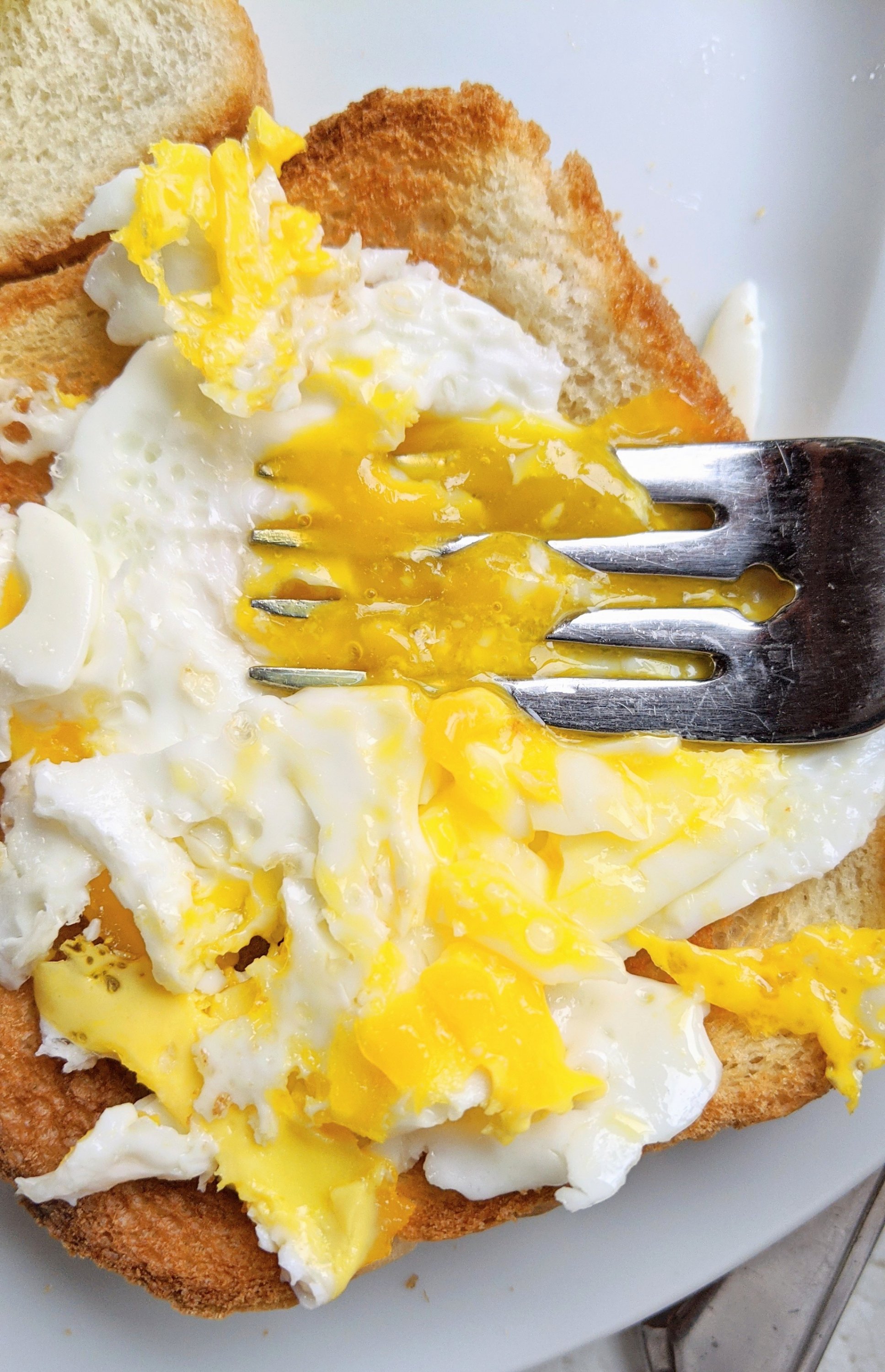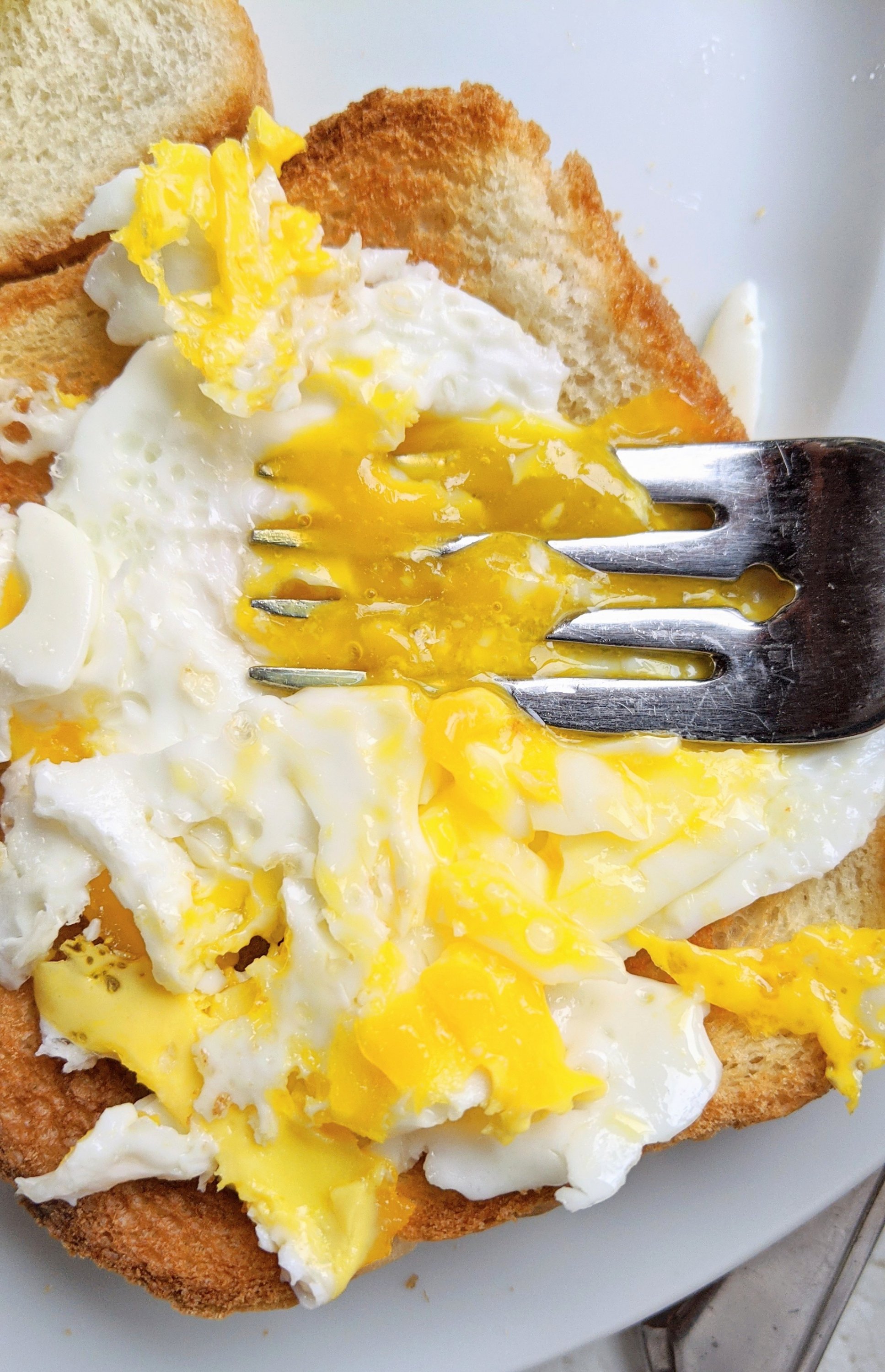 What's In This Smashed Egg Avocado Breakfast Sandwich Recipe?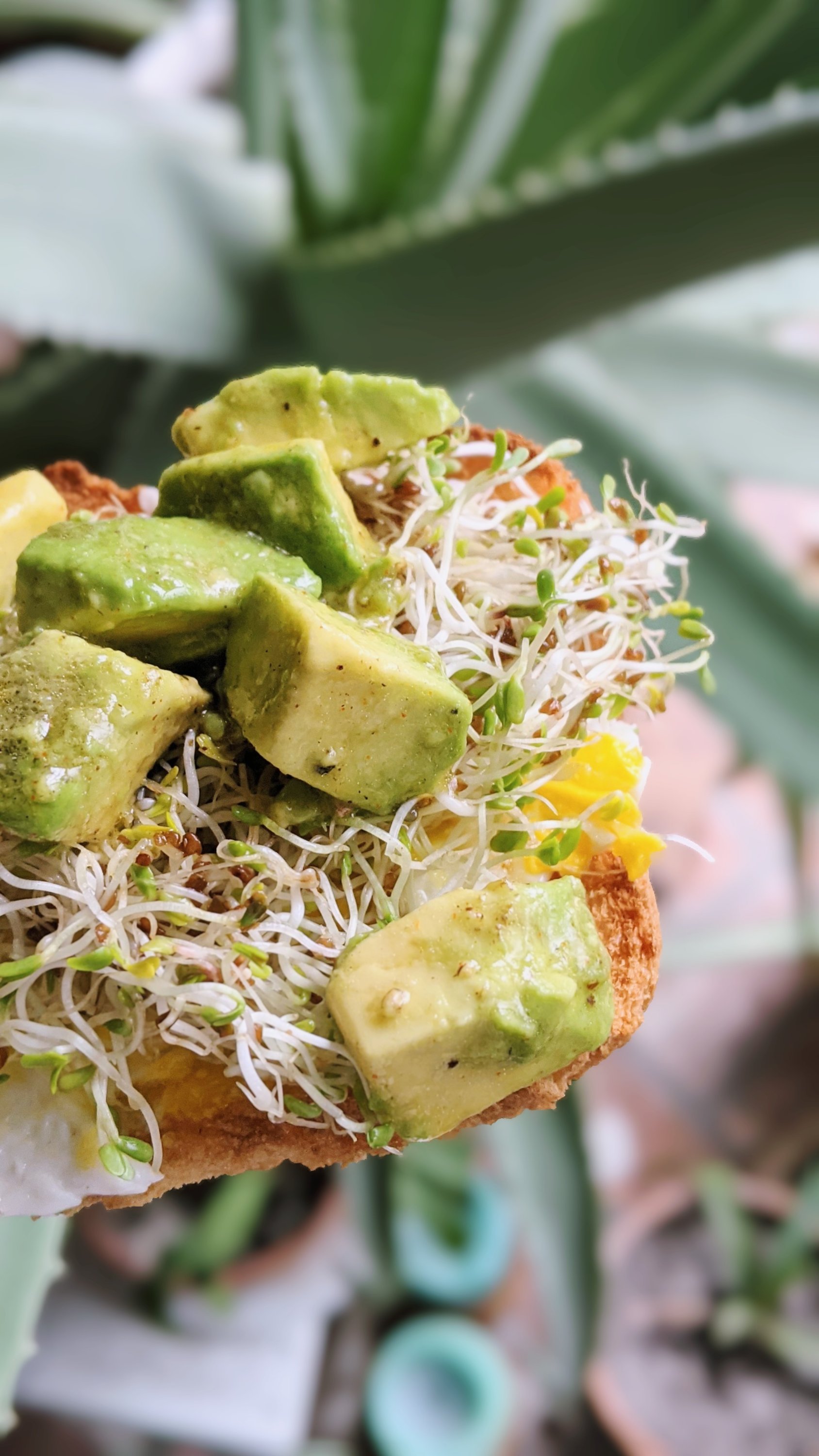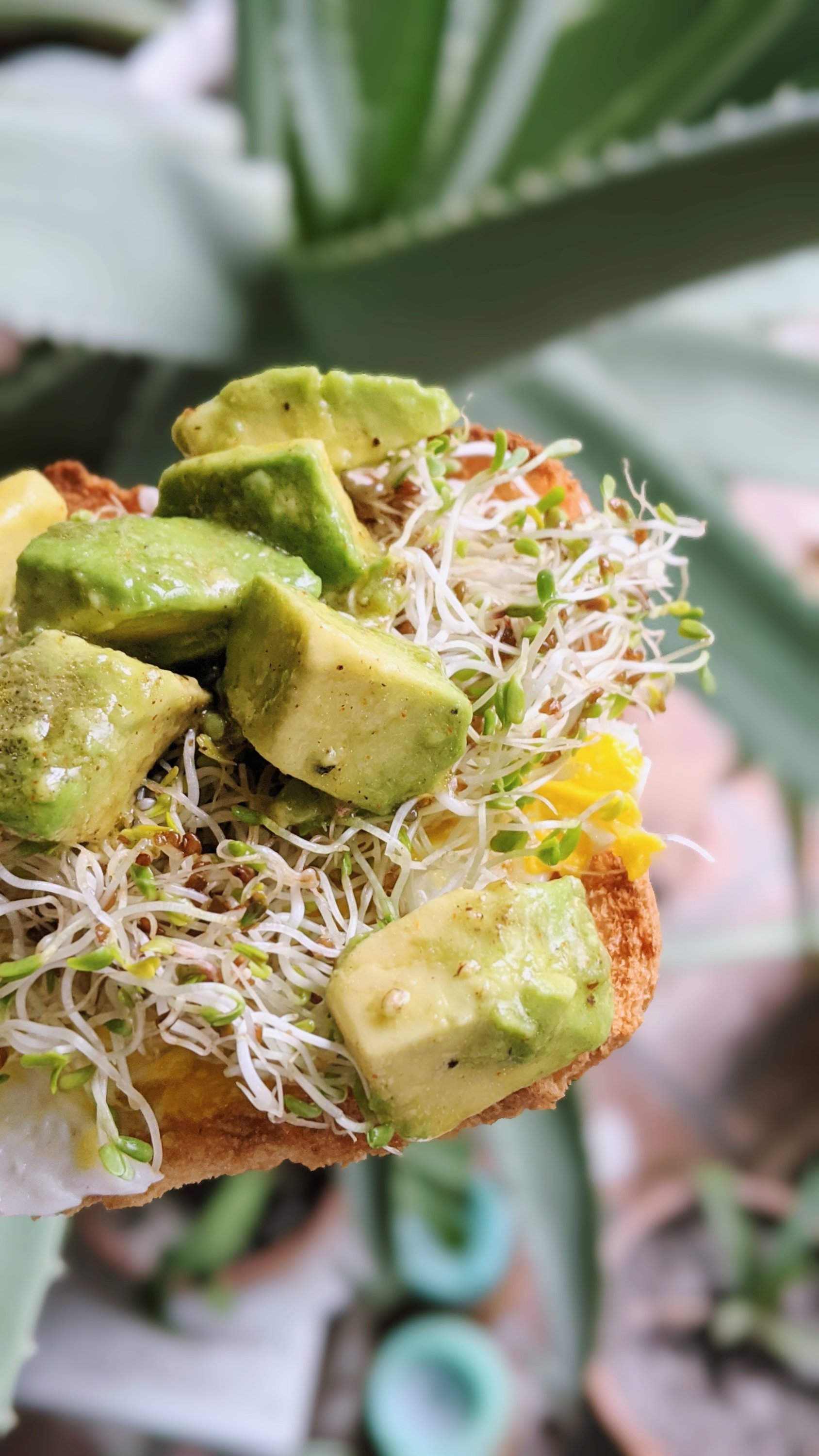 Easy Avocado Egg Breakfast or Brunch Sandwich 
Thisavocado brunch sandwich recipe  is what I call an Easy Weekend Meal – which is on your table in under 30 minutes.  These quick and simple recipes are perfect for those days when you want a healthy homecooked meal but don't want to spend hours in the kitchen. I have a whole section of The Herbeevore dedicated to Easy Weeknight Meals, that are great for the whole family. From soups and stews, to pastas and proteins – a healthy meal can be on your table in no time.  Even faster than ordering from a diner!
Grow Sprouts Indoors for A Nutritious Crunch All Year Long!
I grow my own sprouts all year long on my kitchen counters… and believe me, it couldn't be easier!  All you need are some sprouting seeds (I like these alfalfa seeds, and these bean sprouts), wide-mouth mason jars, sprouting lids, and some tap water. An endless supply of sprouts will be at your culinary fingertips anytime. I love grabbing a handful of alfalfa sprouts to add to a sandwich or a wrap, or adding a handful of bean sprouts to stir fries or ramen soup. I put together a list of all my favorite sprouting supplies – so you can enjoy fresh sprouts any time!
.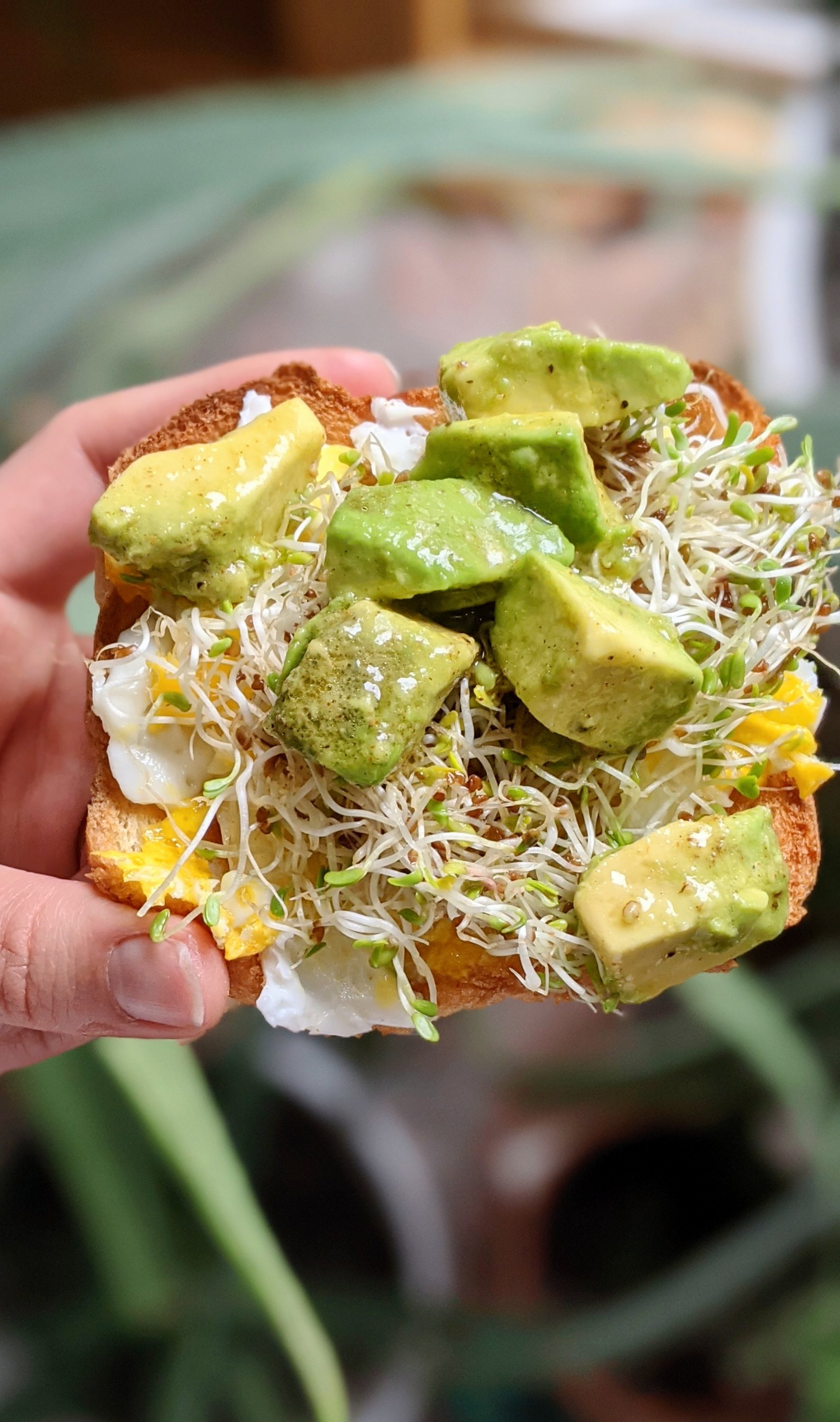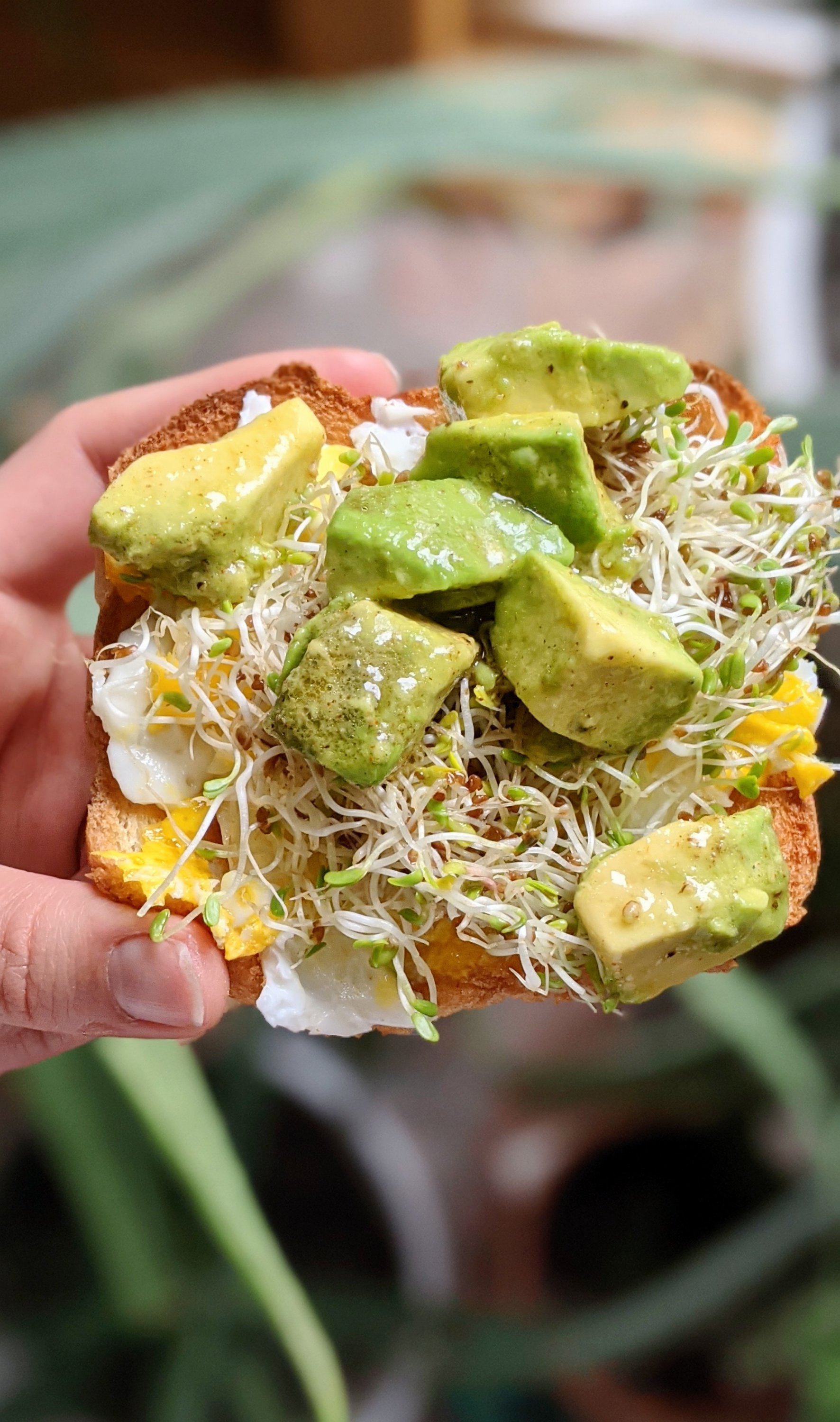 How Do I Make This Marinated Avocado Recipe?
Mix ingredients for avocado lime salad in a bowl, and toss well to combine.

Toast the bread, set aside.

Heat a small pan over low heat. Add the sunflower oil and crack the eggs on top.  Allow the eggs to cook sunny side up for 4 to 5 minutes I til the clear yolk has turned white.  Carefully flip and allow eggs to cook for 1 minute more.

Add the egg to the top of the toast. Smash with a fork to press the egg white and yolk into the toast.

Top with sprouts, then add a large spoonful of avocado lime salad. Add additional salt and pepper, and enjoy!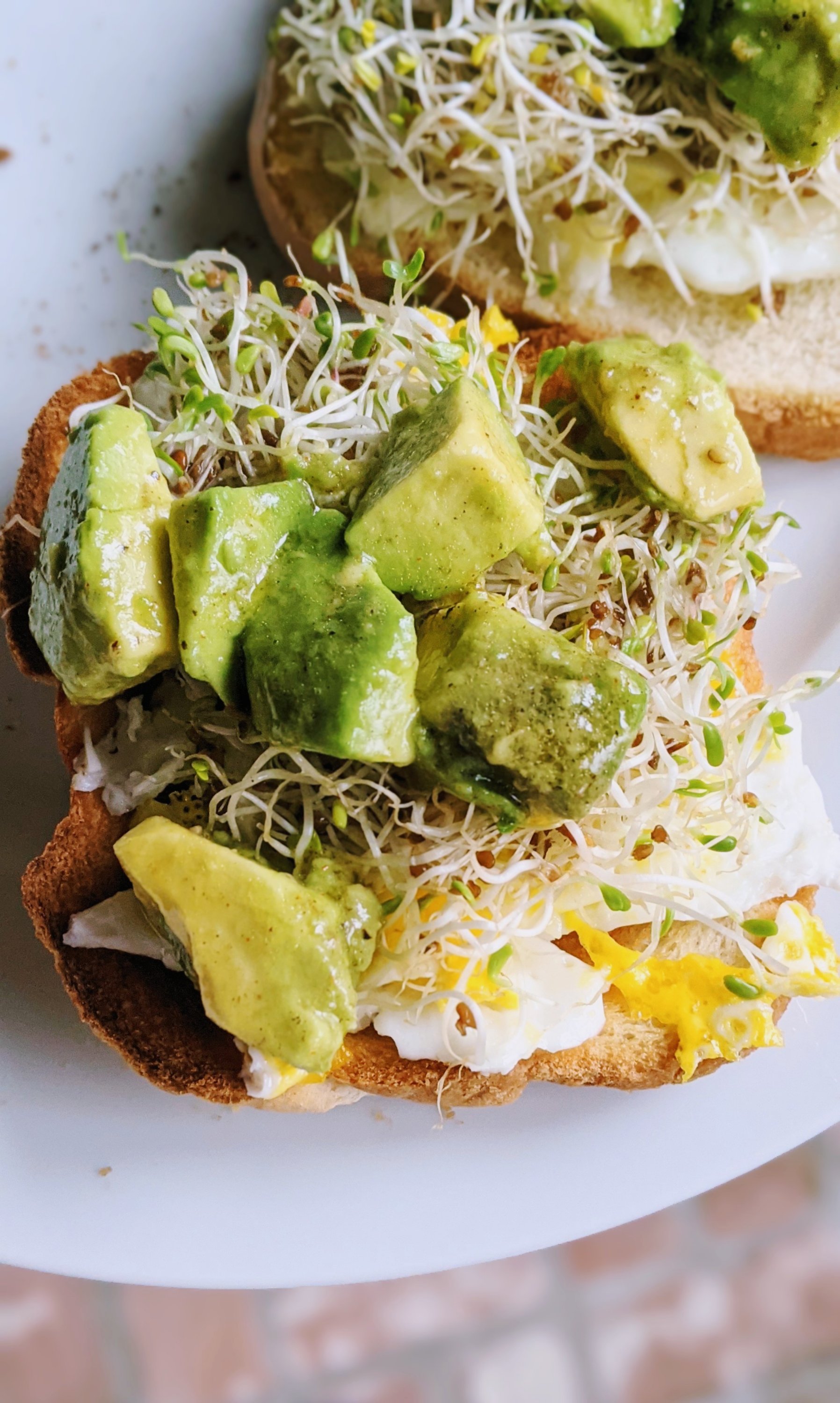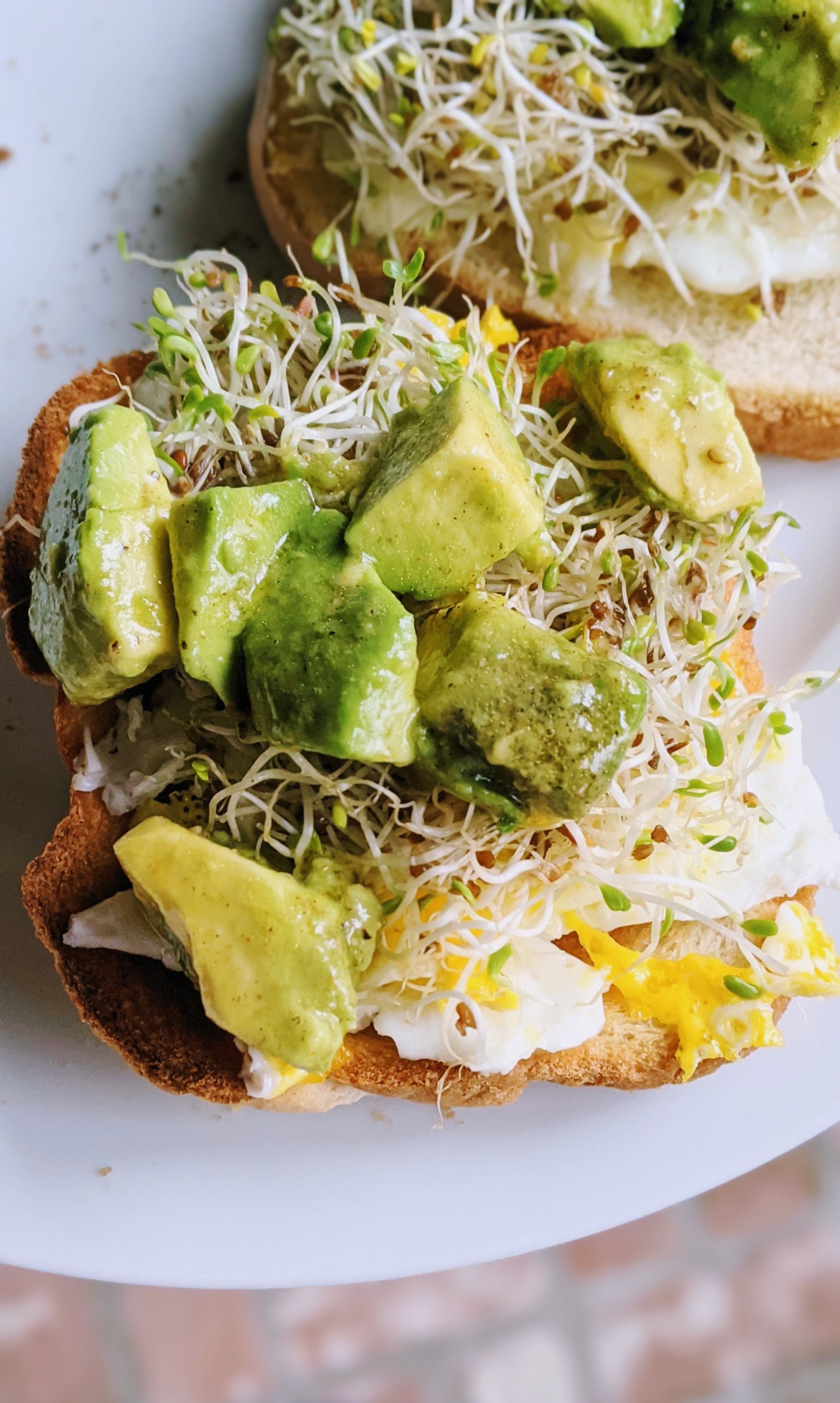 Other Healthy Avocado Recipes You'll Love!
Avocado Grapefruit Salad  (Raw Vegan, Paleo, Whole30, Gluten Free)
Avocado Parsley Pesto (Vegan, Gluten Free, Paleo, Keto, Whole30, Low Sodium)
Vegan Avocado Chickpea Salad (Gluten Free, Pantry Staple)
Pasta Salad with Avocado Dressing Recipe (Vegan, Gluten Free)
Sheet Pan Fajitas w/ Avocado Lime Crema (Vegan, Paleo, Whole30, GF)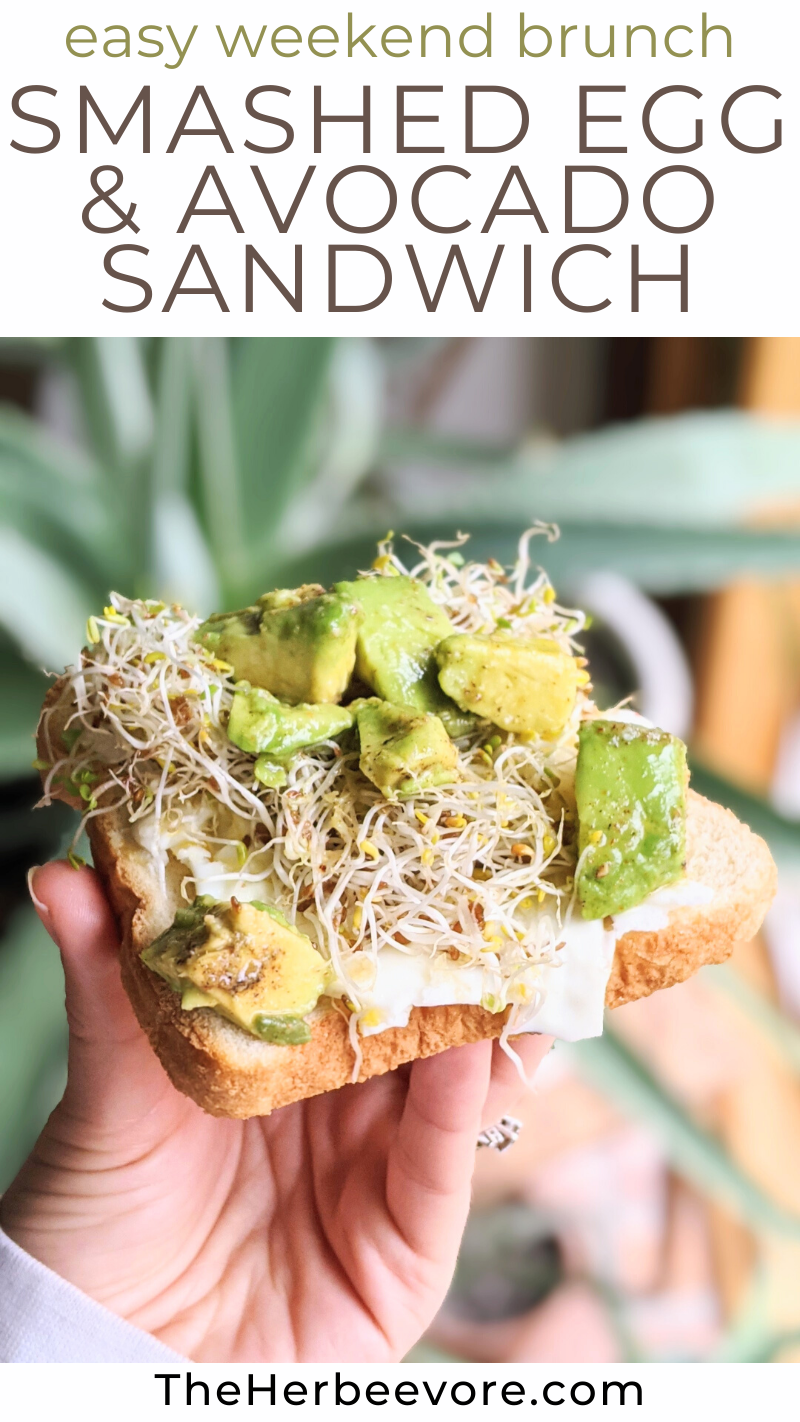 Get the Same Ingredients I Use In My Raw Vegan Avocado Lime Salad Recipe: