This Tuscan ribollita soup with bread recipe is a simple Italian recipe made with tomatoes, vegetable, olive oil, and leftover bread. A fantastic, hearty, and satisfying lunch or dinner!
I love to make this soup every time I have leftover bread. Enjoy with a side salad to make this a complete meal.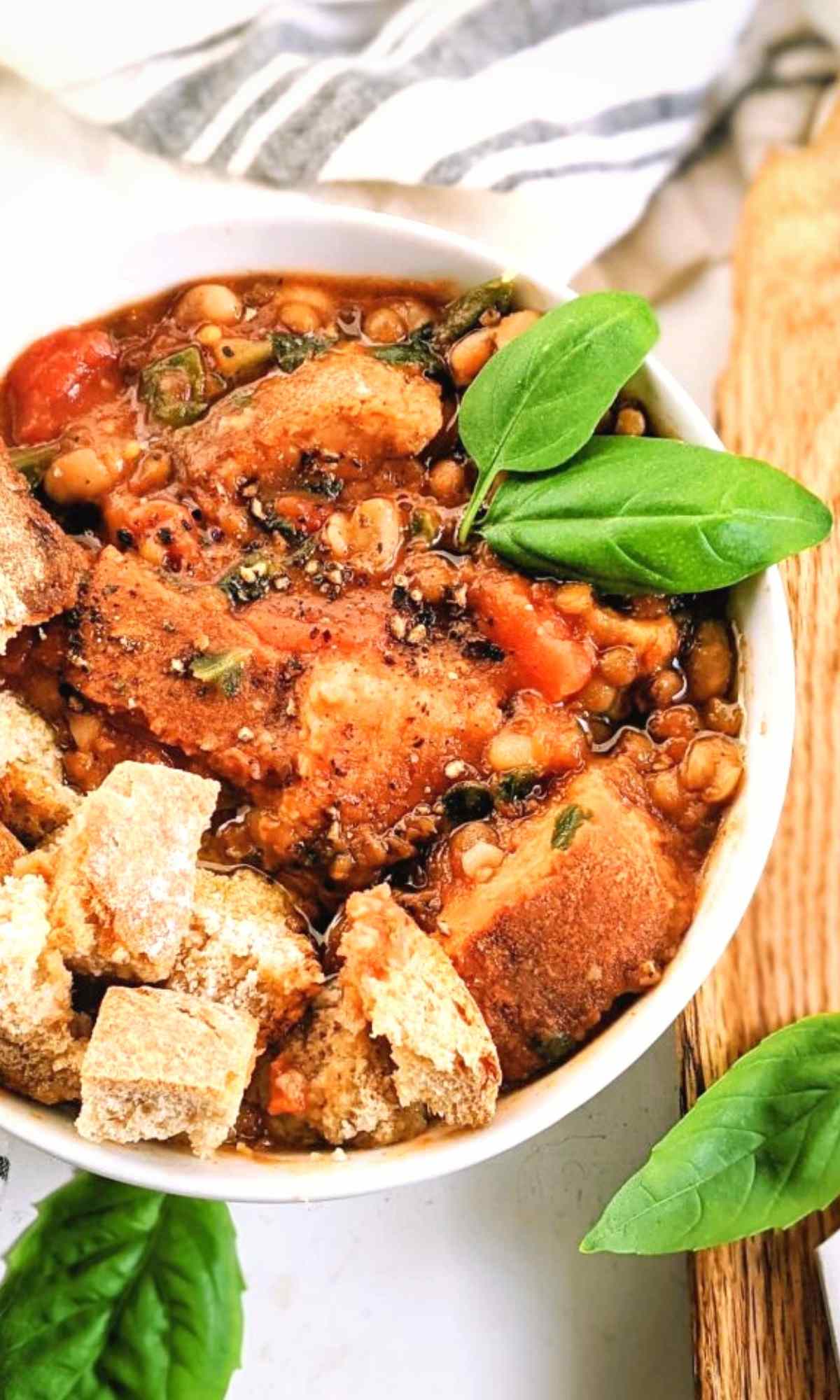 I am in full soup-mode this winter, and this Tuscan lentil ribollita soup is a total bowl of vegan comfort food! Ribollita is an italian word for "boiled twice" which is how this soup was prepared: with using leftover minestrone and leftover bread.
I love making large batches of ribollita to meal prep for the week. Cook once, portion into airtight containers (we use mason jars), and lunch is ready in just a few minutes.
This Italian Lentil Ribollita Soup Is:
Hearty
Bright
Versatile
Packed with Flavor
Earthy
Satisfying
Vegan, Gluten Free
A great lunch or dinner soup recipe
One Pot Soup Recipes For the Win!
This vegan lentil ribollita soup is the perfect one-pot lunch or dinner! I love a good One Pot Meal, especially during these fall months when the weather starts to turn cooler. Cooking everything in one pot is one of my favorite ways to get a meal on the table fast!
All the food gets cooked at once, which makes cleaning up a breeze. And the stove does all the work for you, so you can focus on other kitchen prep while the food cooks. One Pot meals are awesome for breakfast, lunch, or dinner – check out my link here to see other healthy one pot meals that are ready in no time!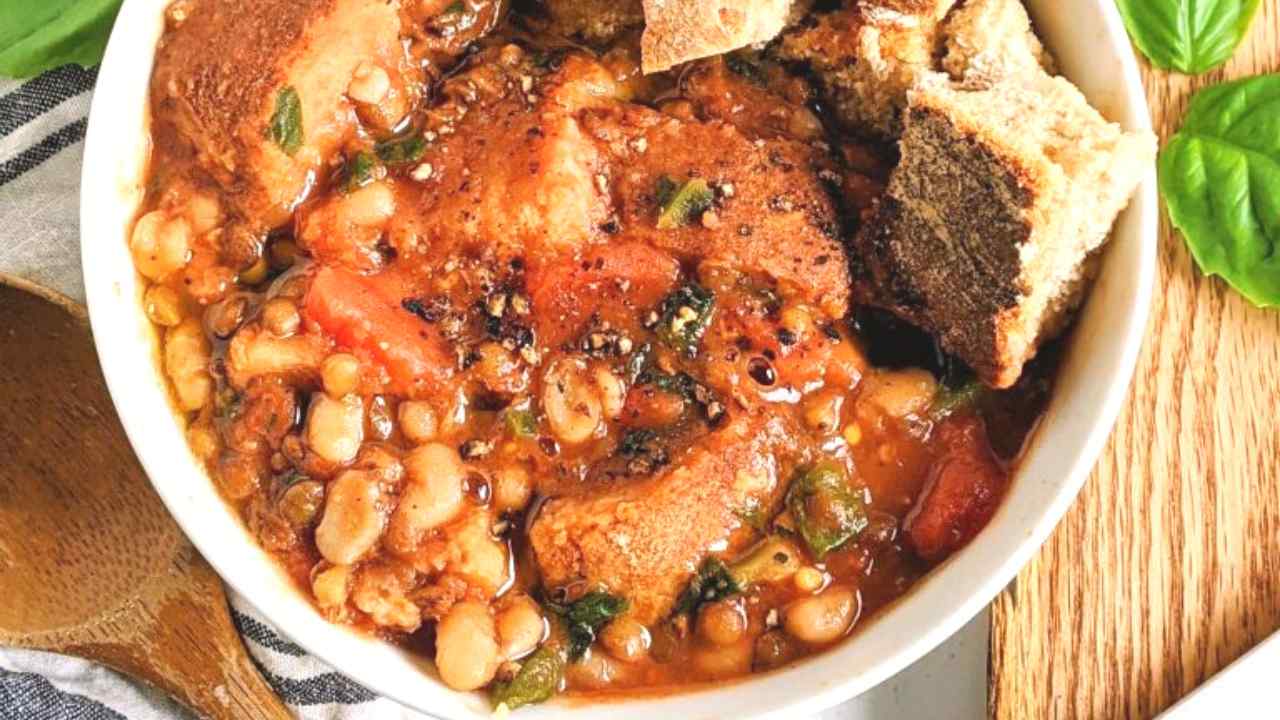 What's In This Vegan Ribollita Soup Recipe?
Leftover Bread: You can use a homemade bread, sourdough, whole wheat, vegan, or gluten free variety! This soups works best with a stale bread that is a few days old: hard and crunchy but still able to cube.
Olive Oil:

I like to use

this delicious Zoe olive oil

which has a fantastic flavor and deep color-

it's really inexpensive online here,

so I keep a few liters stocked up in my pantry. For the

quality of oil you get, it's an excellent value,

I would highly recommend!

Garlic

: I use fresh garlic when I have it, and

this great jarred organic garlic

when I don't have fresh. It's actually super convenient to have

pre-chopped garlic on hand

for quick and easy meal prep.

Onions
Carrots: for some color and sweetness
Celery: for a bright fresh crunch
Diced Tomatoes:

I only use n

o salt added diced tomatoes

,

these boxed tomatoes

are really great to stock up on! I like

boxed tomatoes better

because they are BPA free and more eco-friendly than aluminum cans.

Tomato Paste: for an amazing tomato-y depth of flavor. I like these no salt added tomato pastes, I just got a flat of these to stock up my pantry!
Lentils
White Beans: you can use navy or cannellini beans, just make sure they are cooked and not dried. If you use canned beans, make sure to get a low or no sodium variety, so the soup isn't too salty.
Kale
Veggie Stock
Salt & Pepper
One of the BEST Pantry Staple Soups
This Tuscan soup with bread soup recipe is a fantastic pantry-staple meal! It uses almost all ingredients you would have in your dry pantry or cupboards. You probably already have a lot of these ingredients on hand! Keeping a well-stocked pantry makes it easy to come up with delicious and healthy meals using a few staples you can rotate.
I made a list of my Top 125 Plant-Based Pantry Staples that always keep on hand. And you can check out all my favorite pantry staple recipes on TheHerbeevore.com here. By stocking up on healthy whole ingredients you can cook delicious recipes without a trip to the store!
Best Recipes for Stale Bread: A Great No-Waste Soup
I'm all about saving, reusing, or repurposing as much as I can in my kitchen. This ribollita soup is the perfect recipe to repurpose something you may be tempted to throw out like stale bread. Instead of tossing bread in the compost or garbage, you can cube it, and turn the bread into a delicious and flavorful soup. I'm all about saving anything I can from my kitchen, and this soup is a great way to avoid letting stale bread go to waste!
If you have bread that is about to go bad, cube it up, place it in an airtight bag, and freeze. I actually used frozen bread cubes this recipe, and they turned out just as good as fresh. There is never a need to throw away bread if you do a little prepping and planning!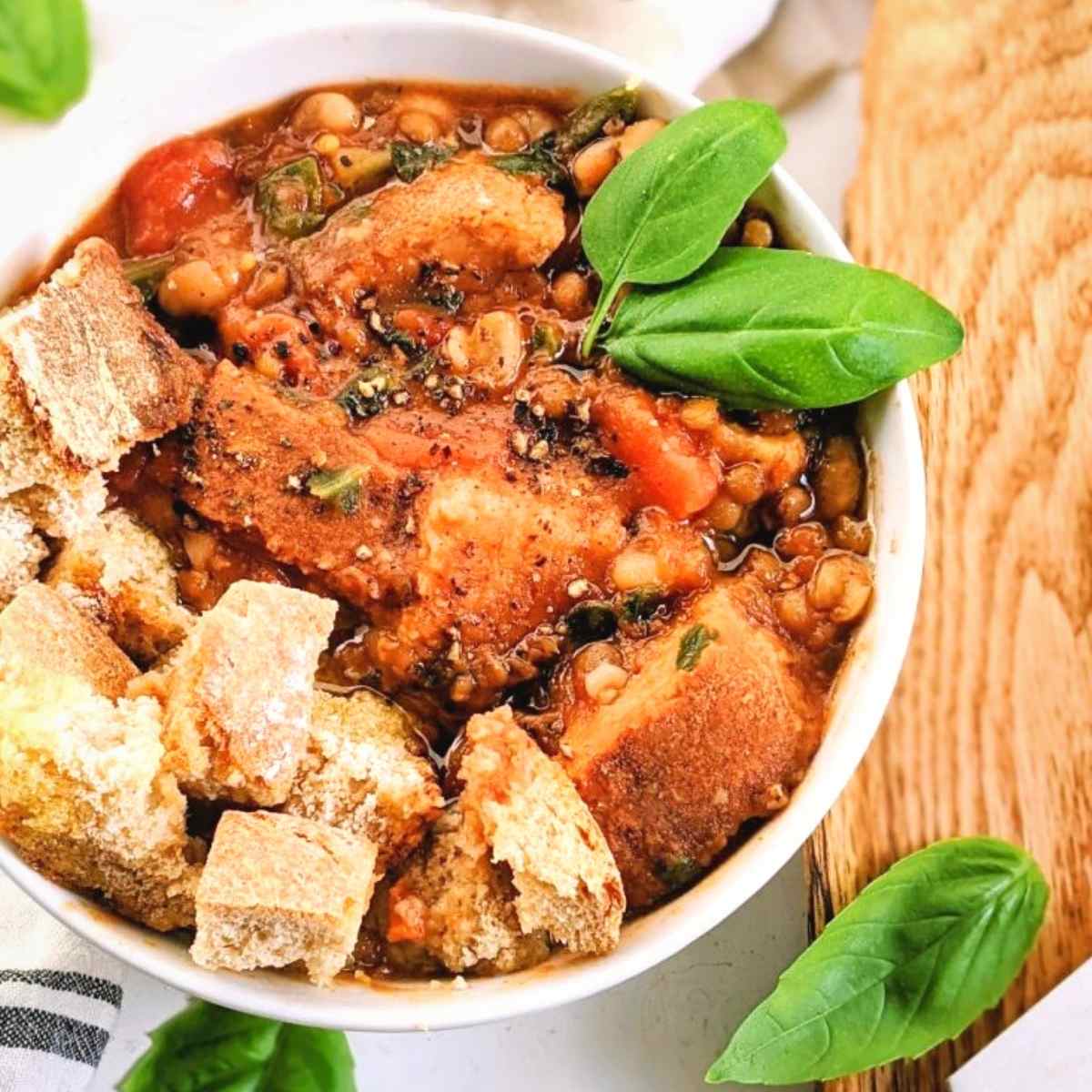 Other Hearty Vegan Soup Recipes You'll Love!
French Carrot Lentil Soup (Vegan, Gluten Free, Dairy Free)
Coconut Milk Cream of Mushroom Soup (Vegan, Gluten Free, Dairy Free)
Instant Pot Split Pea Soup with Sweet Potato (Vegan, GF, Whole30)
Mason Jar Instant Ramen Noodle Soup (Vegan, Low Sodium, Gluten-Free)
Get the Same Ingredients I Use In My Ribollita Soup with Lentils Recipe!
As always, if you make this vegan lentil ribollita soup recipe be sure to leave me a comment, rate this recipe, and tag me @theherbeevore on Instagram so I can feature you. I love seeing all your photos of my recipe recreations!
Let's keep in touch – make sure to sign up for my newsletter to get healthy recipes delivered fresh to your inbox. And don't forget to follow over on Pinterest, Instagram , & Twitter– I'd love to connect with you there!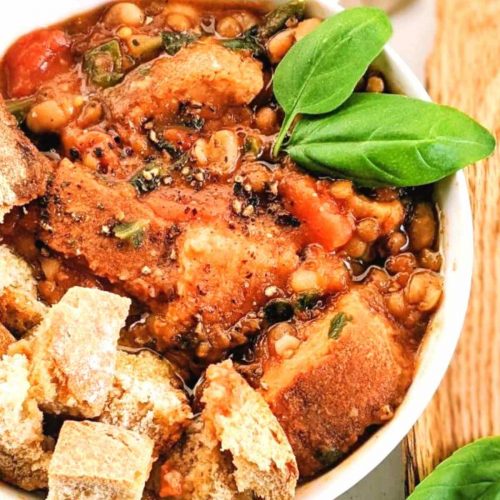 Tuscan Ribollita Soup with Bread (Vegan)
This vegan lentil ribollita soup features fresh kale, crusty bread, and hearty lentils.  Ready an hour its perfect for meal prep, batch cooking, or making ahead!
Instructions
Preheat oven to 400 degrees Fahrenheit.

In a large dutch oven, heat the olive oil over low heat.  Add the garlic and onions, and sauce for 4-5 minutes until they become soft and translucent.

Add the carrots and celery and cook for an additional 5 minutes.

Add the diced tomatoes, tomato paste, lentils, white beans, and water.  Bring to a boil.  Add about one third of the bread to the pot, stir it into the soup, and reduce to a simmer.  Cook for 20 minutes or until vegetables are tender.

Add the kale, and top the stew with the remaining bread. Place pot in the oven and bake for 15 minutes until the bread begins to brown and soup is bubbling.

Top with a drizzle of olive oil and some fresh basil, serve, and mangia!
Notes
Save Money on Fresh Groceries & Pantry Staples!
I get all the fresh produce for my recipes from my garden and from
Misfits Market
– they sell organic produce at a discounted price, and it's purchased direct from farmers to reduce food waste. We get Misfit boxes every other week and love picking out our favorite seasonal produce. 
Save up to 40% off grocery store prices
.
If you think produce delivery is too expensive… think again, and give
Misfits Market
a try!
Nutrition
Calories:
157
kcal
Carbohydrates:
23
g
Protein:
8
g
Fat:
4
g
Saturated Fat:
1
g
Sodium:
54
mg
Potassium:
509
mg
Fiber:
8
g
Sugar:
2
g
Vitamin A:
7187
IU
Vitamin C:
45
mg
Calcium:
90
mg
Iron:
3
mg
Did You Make This Recipe?
Please leave a rating and comment below!
Or tag me @theherbeevore in your photo on Instagram!