This Vegan Yellow Rice recipe will transform leftover rice with a burst of flavor from turmeric, fresh herbs vegetables, and cashews for texture. Ready in just 15 minutes – it's easy, vegan, and gluten-free!
Serve this rice up with falafel, shawarma pita, tzatziki, tabbouli, or a Greek salad.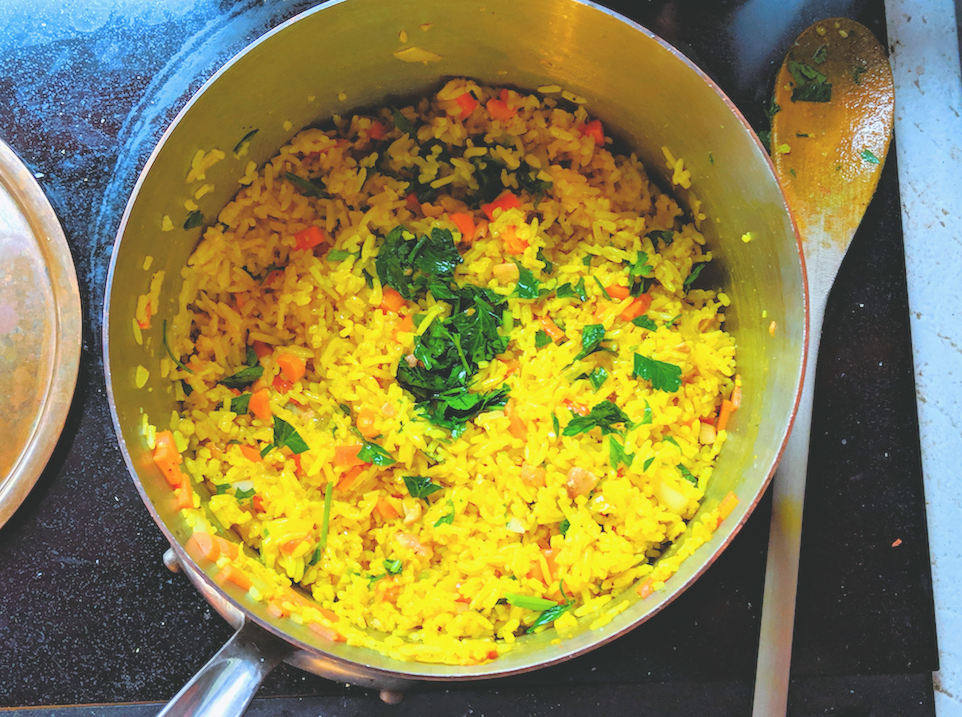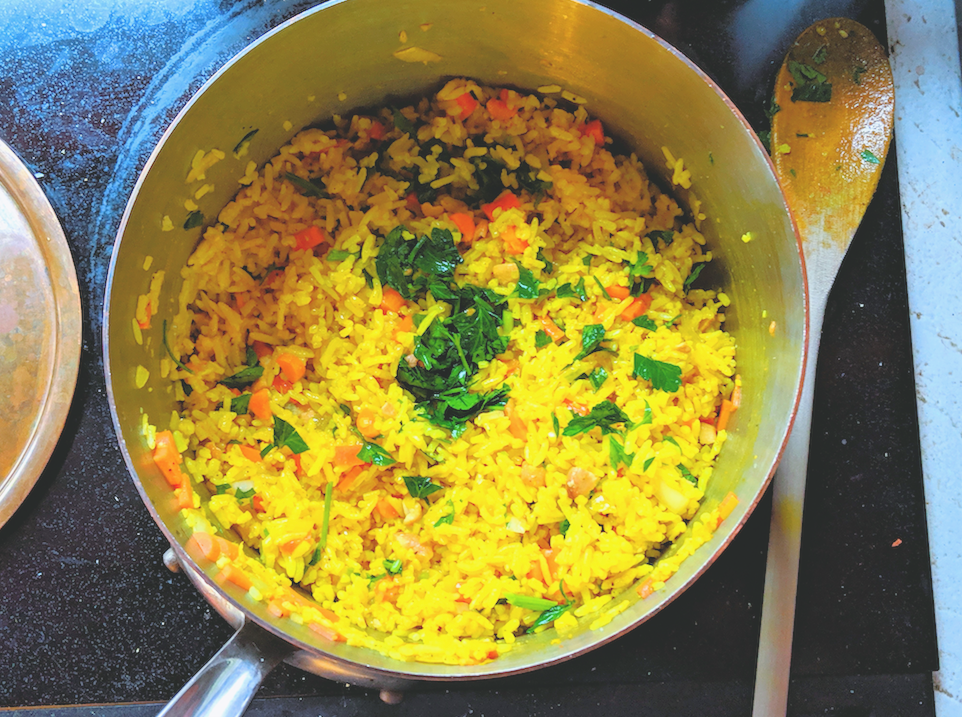 I feel like I always have leftover rice hanging around in the fridge. We eat a ton of rice on our homestead (basmati, jasmine, brown, arborio, wild, forbidden rice, sushi rice, we love it all) and eat it probably 3 or 4 times a week along side curries, crispy tofu, and stews.
This yellow Mediterranean rice recipe is perfect for using old leftover rice that is in the fridge.
If you have cooked rice, this recipe is great to sauté up with some fresh veggies and herbs for a great side dish.
This Vegan Yellow Rice With Vegetables is
Bright
Fresh
Herby
Versatile
A great way to re-use leftover rice
Vegan, gluten free, and SO yummy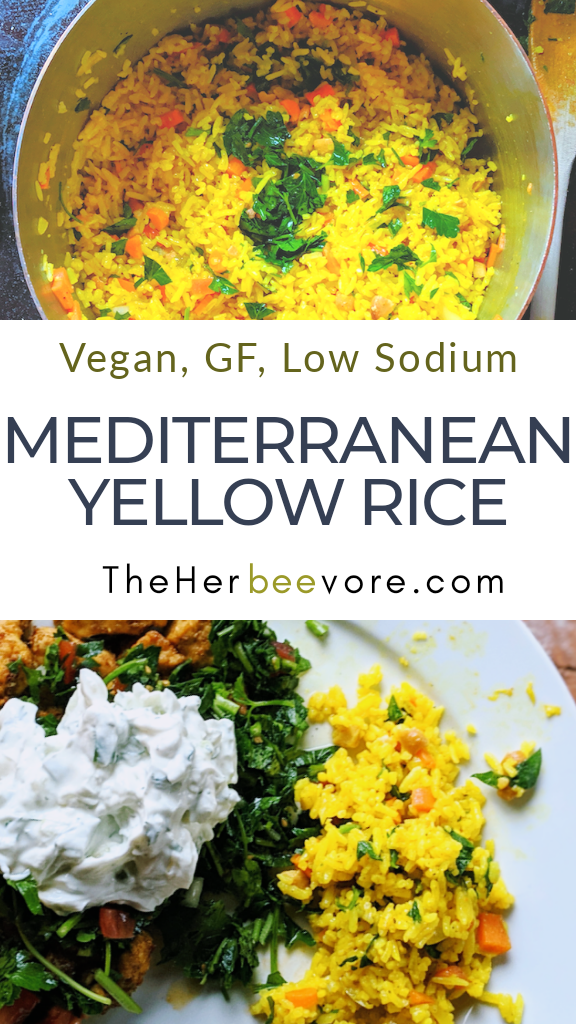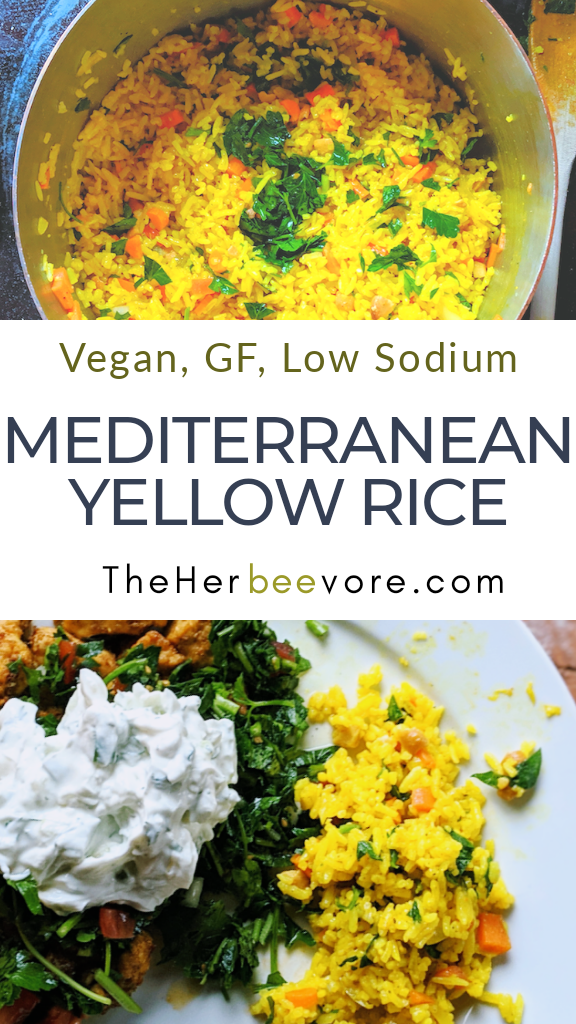 Make This Yellow Rice Vegan or Vegetarian
This vegetarian Mediterranean Yellow Rice recipe is a simple way to get extra veggies in your diet. I'm all about making recipes plant-based when I can. Vegetarian cooking does NOT have to be bland, boring, or flavorless… It's quite the opposite when done right. By building meals around vegetarian pantry staples and swapping in a few plant-based ingredients you can make better meals for you and your family.
I made a list of my 125 favorite vegan pantry ingredients that we use on a weekly basis, and check out all my vegetarian recipes here that are on The Herbeevore. These easy and tasty recipes are fantastic meatless meals for your table.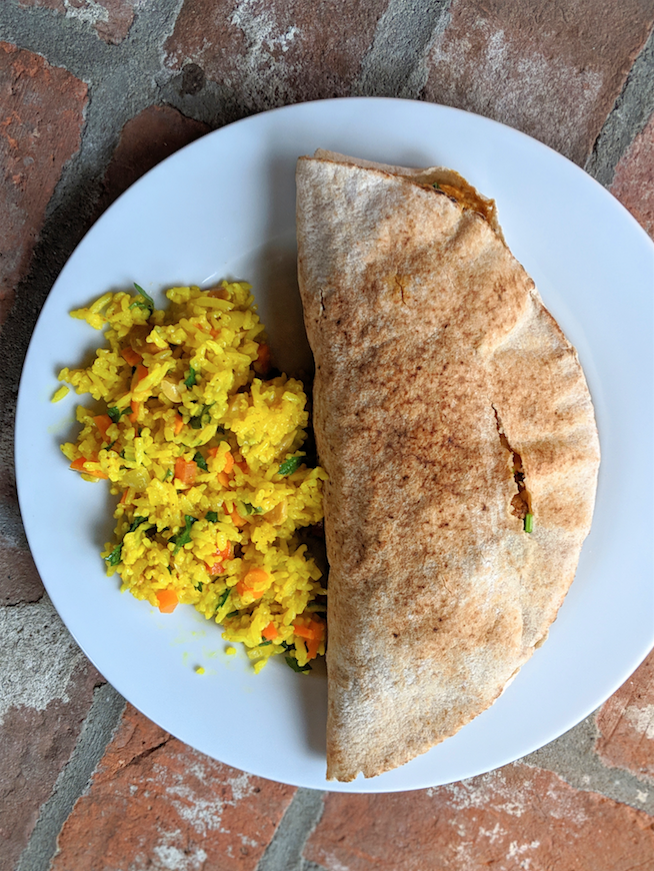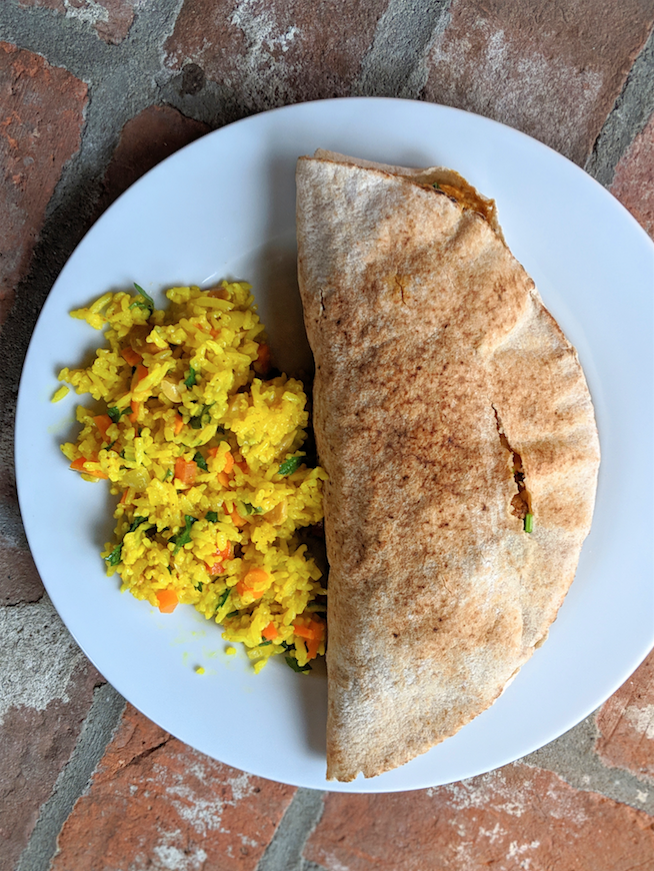 Save that Leftover Rice for a No-Waste Recipe!
I'm all about saving, reusing, or repurposing as much as I can in my kitchen. This yellow Mediterranean rice is the perfect recipe to repurpose something you may be tempted to throw out. Instead of tossing old or dry rice in the compost or garbage, you can repurpose it into a delicious and flavorful side. I'm all about saving anything I can from my kitchen, and this rice is a great way to avoid letting leftovers go to waste!
What's The Best Rice Cooker to Buy?
We have this fantastic Hamilton Beach rice cooker that has lasted us years and years, so I gotta say I've been very happy with it! It gets weekly use, and is great for cooking rice, lentils, and quinoa in the rice cooker. But I'd love to upgrade to this Zojirushi model eventually, it's THE Cadillac of rice cookers. Our family has it, and it is one fantastic rice cooker. And it has a great feature which keeps the rice warm on the counter, so you can enjoy it all day.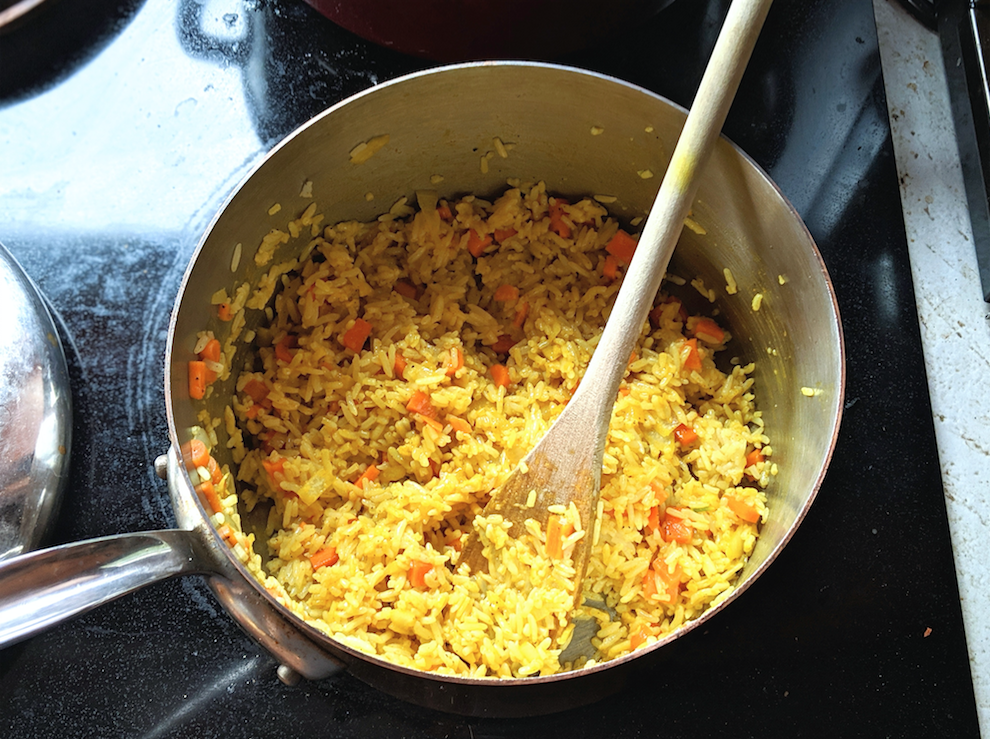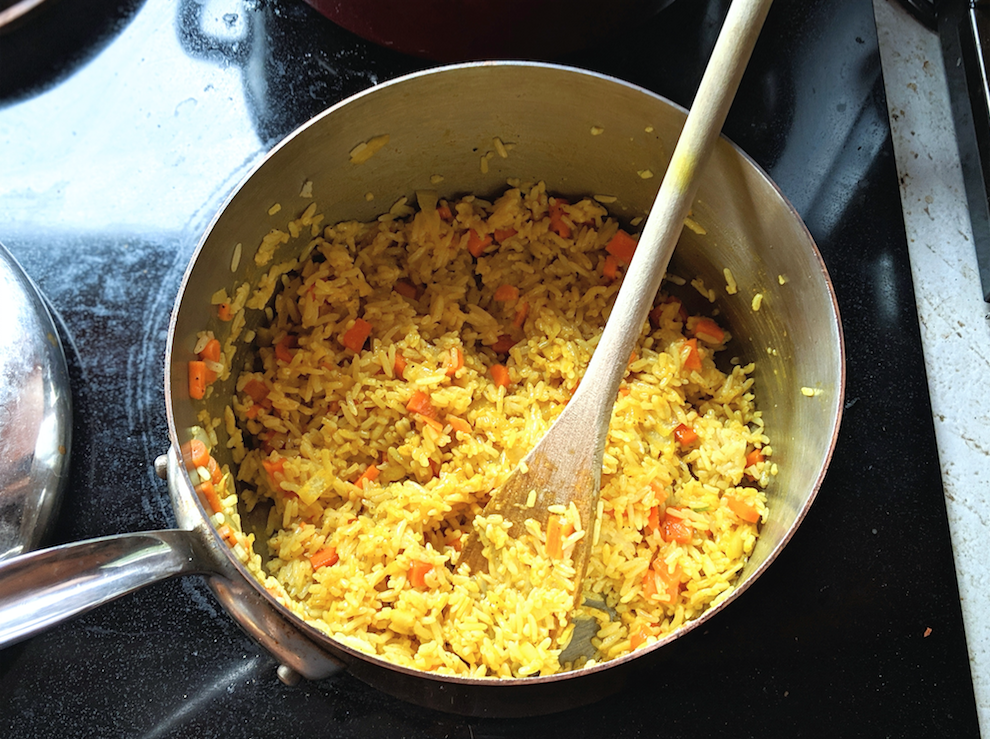 What's In This Greek Yellow Rice Recipe?
I cook with fresh produce from my garden and from Misfits Market– they sell fantastic fruit, vegetables, & pantry staples at a discounted price. We get Misfit boxes every other week and love picking out seasonal produce for delivery. Get $10 off your first box by clicking here!
Olive Oil:

I like to use

this delicious olive oil

which has a fantastic flavor and deep color-

it's really inexpensive online here,

so I keep a few liters stocked up in my pantry. For the

quality of oil you get, it's an excellent value,

I would highly recommend!

Garlic

: I use fresh garlic when I have it, and

this great jarred organic garlic

when I don't have fresh. It's actually super convenient to have

pre-chopped garlic on hand

for quick and easy meal prep.

Onion
Carrot
Turmeric – a staple in our spice cabinet! Aside from all the wonderful health benefits of turmeric, the flavor is fantastic. I try to add a teaspoon of turmeric into soups, stews, and rice dishes too.
Cooked Rice – you can use leftover rice, which for us is usually this delicious basmati rice. You can use jasmine, a medium or long grain rice. Just make sure the rice is cooked before you add it to this recipe.
Reduced Sodium Vegetable Stock or Bouillon:

I love this

Better than Bouillon Vegetable Base

for my recipes because it has a great flavor and is

lower in sodium

. I only develop my recipes with

low sodium ingredient

s so the ingredients shine. You can always add salt to a recipe if it needs it, but it's almost impossible to take it out! Start with

a low sodium broth or bouillon

, and add more salt later if needed.

Parsley
Cashews

: I love

raw unsalted cashews

in this rice.
This rice is great because it comes together really quickly and includes ingredients I always keep on hand. I love the color and flavor from the turmeric. Its such a beautiful ingredient to add that really boosts the flavor.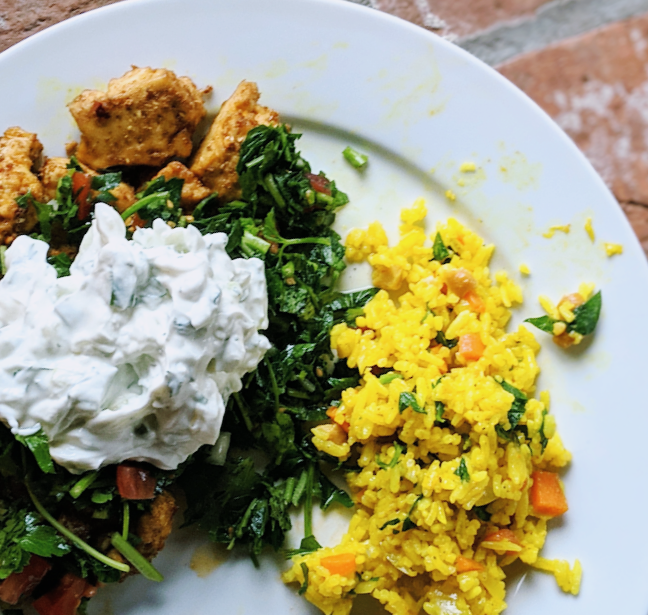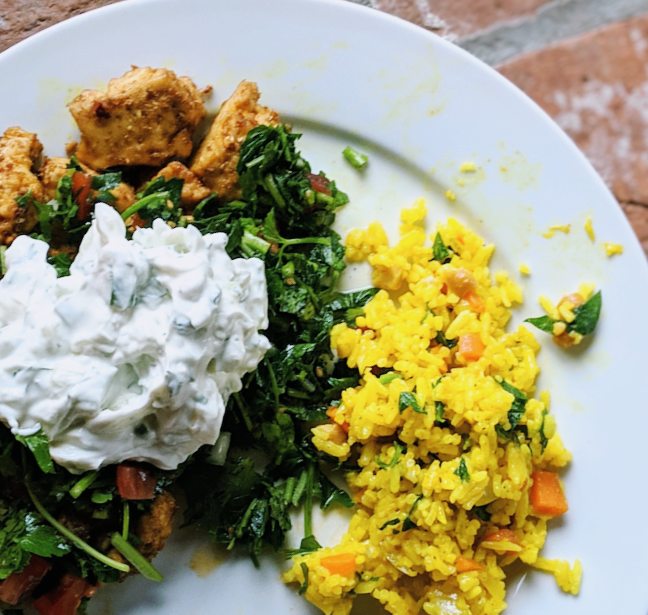 Serve This Yellow Mediterranean Rice as a Side Dish With:
Crispy Tahini Tofu Wraps (Vegan, Gluten Free, Nut Free)
Tofu Shwarma Pitas (Vegan, Gluten Free, Vegetarian)
Marinated Chickpeas Recipe (Vegan, Gluten Free)
5-Ingredient Tzatziki Sauce (Vegan, Gluten Free, Non Dairy)
Get the same Ingredients For My Vegan Yellow Rice Recipe!
I got the fresh produce for this recipe from my garden and from my Misfits Market box – they sell all organic produce at a super discounted price, and it's purchased direct from the farmers. We get Misfit Market boxes every month and love picking out our favorite seasonal produce for delivery. You can get $10 off your first box by clicking here!
As always, if you make this vegan and gluten free Mediterranean yellow rice recipe be sure to leave me a comment, rate this recipe, and tag me @theherbeevore on Instagram so I can feature you. I love seeing all your photos of my recipe recreations!
Let's keep in touch – make sure to sign up for my newsletter to get fresh recipes weekly. And don't forget to follow over on Pinterest, Instagram , & Twitter– I'd love to connect with you there!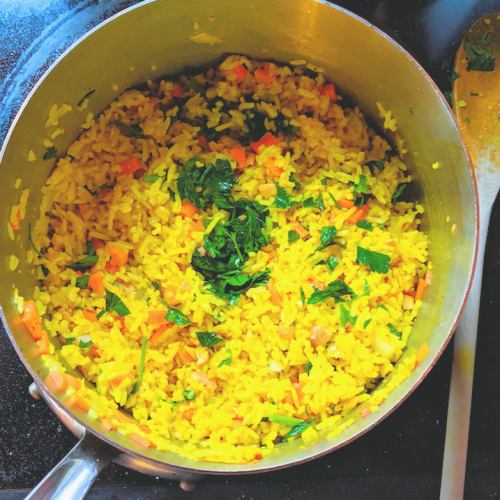 Mediterranean Yellow Rice
This Mediterranean Yellow Rice recipes will transform  leftover rice with a burst of flavor from turmeric, fresh herbs  vegetables, and cashews for texture.  15 minutes, easy, vegan, and gluten-free!  Great with a falafel, shwarma pita, tzatziki, tabbouli, or a Greek salad.
Instructions
In a medium pot, heat the olive oil over low heat and add the garlic, onions, and carrots to the pot. Sauté the vegetables for 4-5 minutes until the begin to soften. Add the turmeric and stir to coat the vegetables.

Add the leftover rice and the vegetable stock or water. Using a wooden spoon, break up the rice and stir to the veggies are mixed in and the rice begins to get a golden color from the turmeric. Cook over low heat for another 10 minutes until the rice absorbs the vegetable stock.

Add the fresh parsley and crushed cashews at the end. Stir to combine, and serve!
Nutrition
Calories:
184
kcal
Carbohydrates:
29
g
Protein:
4
g
Fat:
6
g
Saturated Fat:
1
g
Polyunsaturated Fat:
1
g
Monounsaturated Fat:
4
g
Sodium:
133
mg
Potassium:
175
mg
Fiber:
2
g
Sugar:
3
g
Vitamin A:
2905
IU
Vitamin C:
6
mg
Calcium:
27
mg
Iron:
1
mg
Did You Make This Recipe?
Please leave a rating and comment below!
Or tag me @theherbeevore in your photo on Instagram!
This post may contain affiliate links. As an Amazon Associate I may earn from qualifying purchases, at no additional cost to you. Thank you for supporting the brands that support The Herbeevore and our beehives!