Vegetarian Fall Recipes for the whole family: from easy fall breakfast ideas, to cozy soups and chili, and seasonal pumpkin and apple desserts!  These easy autumn recipes are perfect cold weather dishes to enjoy any time of day!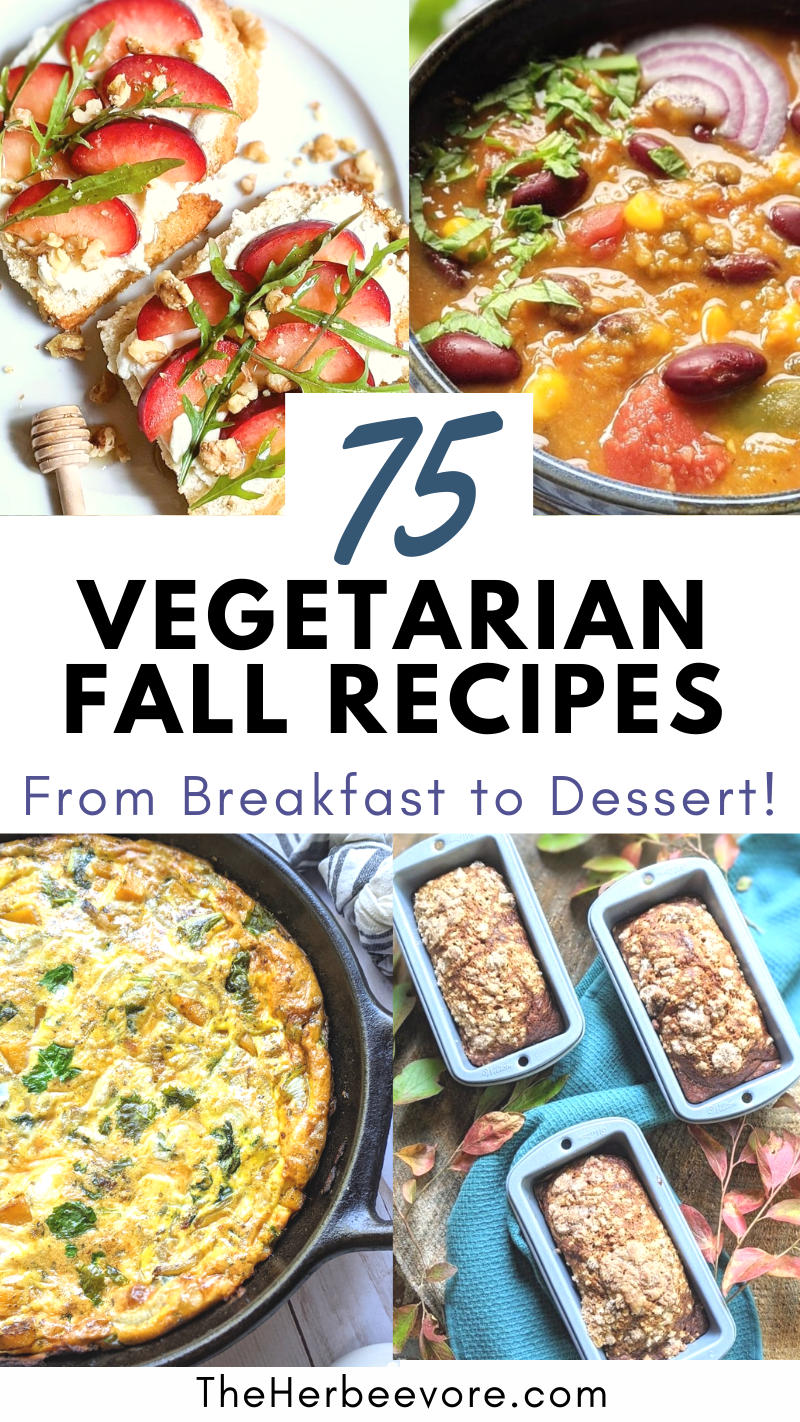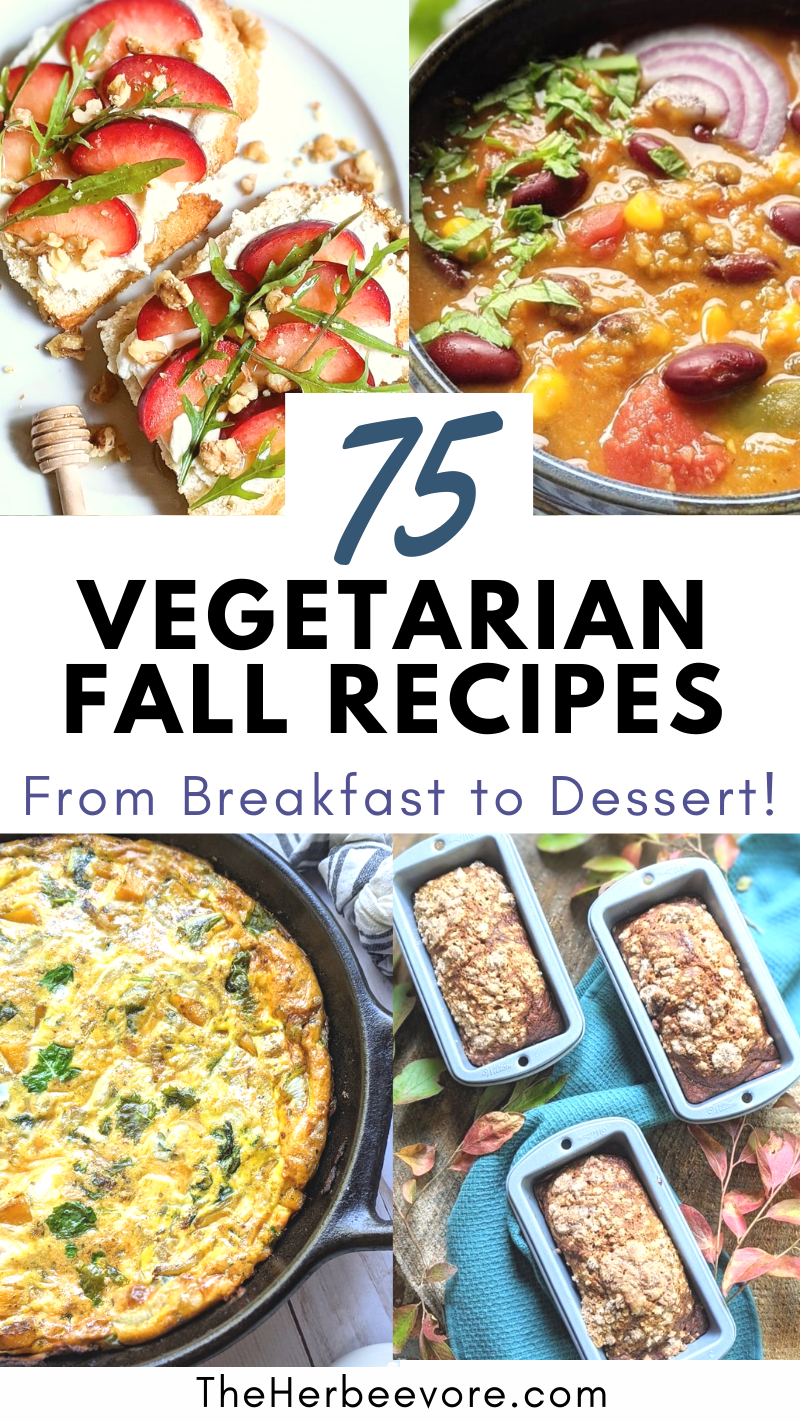 This post may contain affiliate links. As an Amazon Associate I may earn from qualifying purchases, at no additional cost to you. Thank you for supporting the brands that support The Herbeevore and our beehives!
Our Favorite Vegetarian Fall Recipes!
Nothing gets me in a fall mood like cooking up some amazing and healthy fall recipes!  I love enjoying fresh baked apples in the morning, tucking into a cozy bowl of vegetable chowder for lunch, and baking everything with pumpkin puree.
I wanted to share a few of our favorite plant-based recipes for fall and autumn with you all. These recipes are tried-and-true autumn classics we love to make again and again. They feature some fresh fall produce like squashes, corn, apples, root vegetables, pumpkins, and more!
Vegetarian Fall Breakfast Recipes
These fall breakfast and brunch recipes are great for a quick cozy weekend morning meal or brinner (breakfast for dinner!).  They are perfect recipes for brunch guests, or just for getting the whole family together to enjoy a slow weekend meal. These fall recipesare also great for having company over for a holiday brunch as well. Mostly ready in 30 minutes, these fall recipes are simple to get on the table, and they will go fast!  You can see all my breakfast and brunch recipes on The Herbeevore here, and also if you are heading to a brunch at someone else's home check out my brunch hostess gift guide for simple gift ideas the host will love!
Vegetarian Fall Soup Recipes without Meat
These healthy fall soup recipes are great to make ahead for the week. Cook a week's worth of school or work lunches on the weekend and have healthy meals ready to go. I love using seasonal fall produce and vegetables for healthier versions of classic soups. With just a little planning and prep, you can have a week's worth of recipes ready in the time it would take to make one portion.  Just batch cook, divide into individual containers, and place in the fridge or freezer for later!  I also made a list of my favorite meal prep products on Amazon that I use weekly. They make cooking easy peasy.
Vegetarian Fall Dinner Recipes without Meat
These vegetarian dinner ideas are simple ways to get extra veggies in your diet. I'm all about making recipes plant-based when I can. Vegetarian cooking does NOT have to be bland, boring, or flavorless… It's quite the opposite when done right. By building meals around vegetarian pantry staples and swapping in a few plant-based ingredients you can make healthier meals for you and your family. I made a list of my 125 favorite vegan pantry ingredients that we use on a weekly basis, and check out all my vegetarian recipes here that are on The Herbeevore. These easy and healthy recipes are fantastic meatless meals for your table.
Easy Fall Dessert Recipes & Treat Ideas!
I love how inexpensive fall desserts are to make! These fall baking recipes use a lot of ingredients you would have in your dry pantry or cupboards – most of which you probably have on hand. Keeping a well-stocked pantry makes it easy to come up with delicious and healthy meals using a few staples you can rotate.  I made a list of my Top 125 Plant-Based Pantry Staples that always keep stocked. And you can check out all my favorite pantry staple ingredients in my Amazon shop here.  By stocking up on healthy whole ingredients you can cook delicious recipes without a trip to the bakery!
If you make any of these vegetarian fall recipes be sure to leave me a comment, rate this recipe, and tag me @theherbeevore on Instagram so I can feature you.  I love seeing all your photos of my recipe recreations!
Let's keep in touch – make sure to sign up for my newsletter to get fresh recipes weekly. And don't forget to follow over on Pinterest, Instagram , & Twitter– I'd love to connect with you there!