These 75 vegan pantry staple recipes are fantastic foundations for breakfast, lunch, dinner, and dessert! Made with plant based ingredients to stock and store up on.  You likely likely have most of these ingredients on hand already, so a few simple additions make these wonderful pantry meals easy week day wins.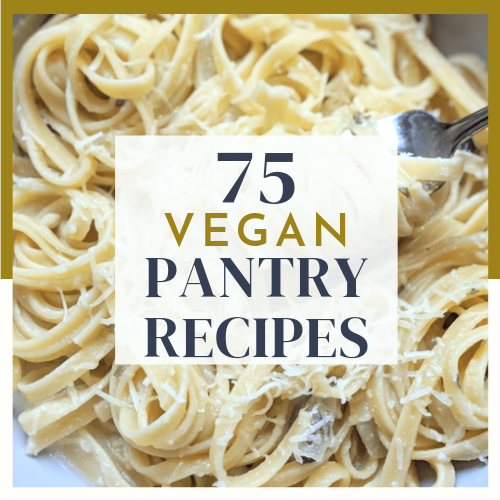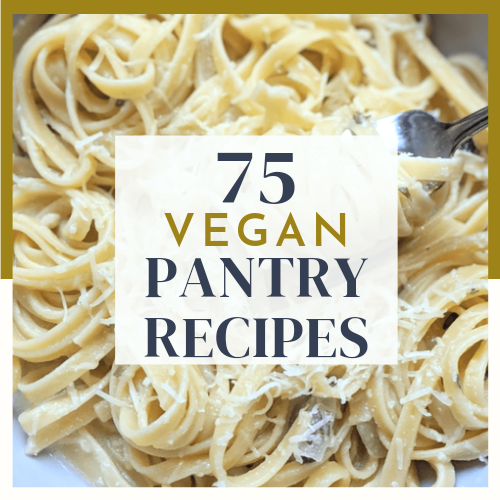 I love the convenience, versatility, and unlimited meal combination I get when I cook with pantry staple ingredients. These recipes use almost all ingredients you would have in your dry pantry or cupboards – most of which you probably have on hand. Keeping a well-stocked pantry makes it easy to come up with delicious and healthy meals using a few staples you can rotate.  I made a list of my Top 125 Plant-Based Pantry Staple Ingredients that always keep stocked. And you can check out all my favorite pantry staple ingredients in my Amazon shop here.  By stocking up on healthy whole ingredients you can cook delicious recipes without a trip to the store!
Pantry Staple Breakfast Recipes
These simple and quick breakfasts are great recipes to keep in your repertoire! I love meal prepping a big batch of muffins or a few jars of overnight oats for quick on-the-go breakfasts.  And I love slow foods like pancakes and waffles on the weekends – they feel like a treat, but couldn't be easier to make!
Easy Pantry Lunches
As you know, I am a major meal prepper, especially with lunches!  I batch cook on the weekends, and divide lunches into individual portions for the week. That way, we have ready-made meals that we can grab, heat, and eat. Lunches are especially great to make with vegan pantry ingredients: pastas, beans, and rice all lend them selves to endless combinations in soups and salads.  The below recipes are a few of our ultimate vegan pantry staple recipes for lunch!
Make Ahead Meals for the Whole Family!
A lot of pantry staple meals are fantastic and simple recipe to make ahead – since they aren't loaded with fresh produce that can wilt or spoil in the fridge. Great for a busy weeknight, for entertaining, or just for those nights when you don't feel like cooking.  I like to meal prep one a few batches ahead of time, and freeze some for later (beans and soups freeze particularly well!).  Having ready cooked meals in the fridge or freezer is a great way to enjoy home cooked meals when you don't have time in the kitchen.  Freezing ingredients is also a great way to use up food that may be expiring soon.  Check out all my make ahead meals on The Herbeevore for some inspo to help you prep, keep, heat, and heat!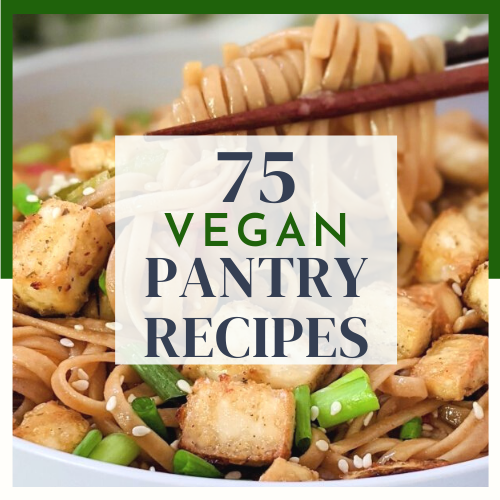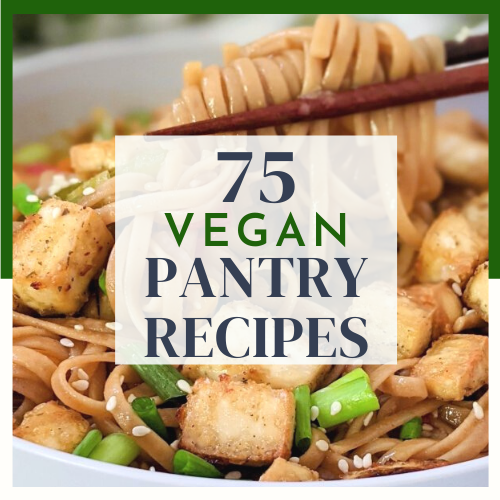 Pantry Staple Dinner Recipes
Dinners around here are always built around some staples: we love curries over rice, saucy pastas, and chilis loaded with beans. Getting plant-based protein in at dinner time can be easy with some of these great pantry recipes. One thing that has been especially life-changing for me (not exaggerating at all 🙂 ) is finding out that shelf-stabile tofu exists.  I have bought cases and cases of this tofu and it is my favorite for making creamy sauces, crispy baked tofu, and adding to pastas to make them heartier. The following vegan pantry staple dinner recipes are tried & true classics on our homestead!
Desserts with Pantry Ingredients
As I started to bake more over the last year, I loved being able to build fun new recipes and treat with ingredients I already had stored in my cupboards. It's amazing how some simple flour, sugar, and oats can turn into chewy delicious cookies… or how simple rice crispy treats are if you have plant based marshmallows. These treats are a few of my favorites over the past year!
Pantry Staple Sourdough Recipes
I totally went all-in on the sourdough craze last year. I made my sourdough starter the first day we were at home (his name is Joe Don Baker) and have had so much fun baking my way through the past year with it. It's been a year and a half, and he is still going strong!  Here are some of my favorite and most popular sourdough recipes that I've been making on repeat.
Here are a few of my sourdough essential must-haves! They make sourdough baking easy, especially lazy overnight rise loaves!  I use my silicon baking mat to roll out and knead dough, and the bamboo baskets to form perfect designs on the lop of my loaves.  Here are a few essentials to get you started on your sourdough journey, and if you have any questions, make sure to check out my 7 Day Guide to Vegan Sourdough Starter Here!
 A Few Meal Prep Products That Make Life SO Much Easier!
As a meal prepper and planner, I rely on having durable reliable equipment in my kitchen to make my life easier. Airtight food storage containers and mason jars are great ways to keep food fresh longer. I also love my Instant Pot (I swear by it!) for prepping healthy and simple meals in no time!  Here are a few of my favorite products that I use almost everyday! You can also browse a list of some of my favorite products that help me meal prep and organize for the week!
As always, if you make any of these vegan and vegetarian pantry staple recipes,  be sure to leave me a comment, rate this recipe, and tag me on Instagram so I can feature you. I love seeing all your photos of my recipe recreations!
Let's stay in touch – make sure to sign up for my newsletter to get healthy recipes delivered fresh to your inbox. And don't forget to follow over on Pinterest, Instagram , & Twitter– I'd love to connect with you there!